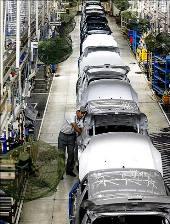 Industry body SIAM on Tuesday lowered car sales growth forecast to 9-11 per cent for this fiscal because of weak macro-economic conditions but said the country's overall vehicle sales will be more than estimated in April.

According to Society of India Automobile Manufacturers, the passenger car segment is now likely to grow by 9-11 per cent in 2012-13, instead of 10-12 per cent as projected three months earlier.

"The cost of car ownership has gone up by 2-4 per cent in recent months and there has been a moderation of per capita income. There is pressure due to high fuel prices and interest rates," SIAM president S Sandilya told reporters in New Delhi.

During the April-June period, passenger car sales increased 5.22 per cent to 4,90,802 units, as against 4,66,452 units in the year-ago period.

He, however, said if there is no further hike in fuel prices and interest rates, the passenger car segment is likely to witness higher growth.

Sandilya said currently interest rates for car loans are ranging between 12 per cent and 15.3 per cent, while that for commercial vehicles are at 15-19.3 per cent.

SIAM has revised upward the total passenger vehicle sales growth at 11-13 per cent as against 10-12 per cent announced in April this year.

Talking about the total vehicles sales of all categories, Sandilya said: "We are not so bullish about future, but at the same time we are not going into a negative scenario at this moment.

"We are kind of maintaining the forecast. It's reasonable and overall we are optimistic."

SIAM revised the overall vehicle sales projection upward to 11-13 per cent from 10-12 per cent announced in April for the ongoing fiscal.

Total vehicles sales in the last three months stood at 44,74,627 units compared to 40,69,995 units in the same period last year, up 9.94 per cent,
it added.
Comparing with the global markets, Sandilya said: "Japan, the US markets are doing very well, while China, Brazil and Europe are not growing enough. . . India is moderating."
He said SIAM has kept the growth projection for the two-wheeler sales unchanged at 11-13 per cent.
"The expected slowdown in rural growth is likely to affect growth of motorcycle sales. However, steady demand of scooters will drive growth of two-wheeler segment," he added.
In the first three months of the fiscal, the two-wheeler sales went up by 10.51 per cent to 35,19,529 units from 31,84,774 units in the corresponding period last year.
Motorcycle sales in the first quarter of this fiscal have increased by 6.79 per cent to 26,28,949 units, from 24,61,862 units in the year ago period.
SIAM said the scooter segment witnessed growth of 29.14 per cent to 6,87,333 units in April-June period this year compared to 5,32,240 units in the same period in 2011.
In the commercial vehicles segment, the growth projection has been lowered to 6-8 per cent from earlier 9-11 per cent due to poor sales of medium and heavy commercial vehicle category.
"There has been a moderation in agriculture growth and slowdown in industrial activities. . . No solution in mining issues have also impacted sales of M&HCVs," Sandilya said.
SIAM has now projected the M&HCV sales in FY'13 to fall by 6-8 per cent compared to an estimated growth of 5-7 per cent for the entire fiscal.
Light commercial vehicles are, however, expected to grow by 16-18 per cent as against a projection of 14-16 per cent in April.
In April-June period, the total commercial vehicle sales have grown by 6.06 per cent to 1,83,215 units from 1,72,751 units in the same period last year, SIAM said.
Sandilya said the three-wheeler segment is likely witness a rise of only 0-2 per cent as against 5-7 per cent growth projected earlier.