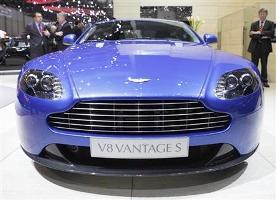 A rare 1966-Aston Martin sports car which sat in a barn for 30 years, caked in mud and rust, has sold for a staggering 107,900 pounds at an auction.

The dilapidated Aston Martin DB6 Vantage, filled with boxes of junk, was sold for a whopping auction price despite requiring a six-figure sum to restore it.

The car's late owner bought it for 4,000 pounds in the 1970s but locked it away in a barn in 1983, the Daily Express reported.

The only portion of the UK built classic motor car not covered in mud was its four-litre, six-cylinder engine which was rebuilt, fully lubricated and stored in a container.

During the auction, a unique 1960 DB4 GT Jet coupe set the world record for the most expensive Aston Martin ever sold, fetching a whopping 3.249 million pounds.

The car, described as 'one of a kind', was part of the sale held by Bonhams at the Aston Martin factory in Newport Pagnell, the report said.

"I thought this was going to be one of those special days and it was, culminating with the new world auction record," James Knight, Bonhams Group motoring director, said.
The photograph is for representational purpose only
Image: A new Aston Martin V8 Vantage S car is displayed during the first media day of the 81st Geneva International Motor Show at the Palexpo in Geneva | Photograph: Denis Balibouse/Files/Reuters