In a fresh twist to the death of Karl Slym, Tata Motors Managing Director, Thai police on Tuesday said that the 3-page handwritten note found in his hotel room from where he plunged to his death, was written by his wife Sally.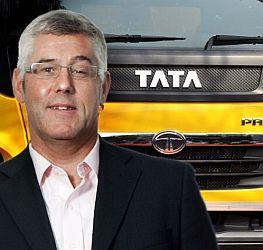 The note mentioned "domestic problems", Police Lieutenant Somyot Booyakaew said.

"The letter was written by Karl Slym's wife about domestic problems," Somyot told PTI, adding that Slym's death was not a murder.

51-year-old Slym's body was found on Sunday by the staff of the riverside Shangri-la Hotel on the balcony of the fourth floor after plunging from the 22nd floor.

He was here to attend a meeting of the Board of Directors of the Thai subsidiary of his company.

Somyot earlier said there were no signs of a struggle in the British national's room, which did not have a balcony but had a big sealed glass window and another smaller window that could be opened.
The room has a big sealed window overlooking the Chao Praya River and a smaller window which could be opened nearby.

The police said yesterday that they were translating the note into Thai language as part of the investigation.

Sally, Slym's wife of 30 years, was with him in the room and was woken by hotel staff on Sunday morning after they found his body.

Slym was leading Tata Motors at a time when the auto industry was grappling with a prolonged slowdown.

He joined the auto major in 2012 as part of a major management overhaul and was responsible for charting the company's strategy to regain momentum in the Indian market.

Expressing condolences at the sudden demise, Tata Motors Chairman Cyrus P Mistry said: "Karl (Slym) joined us in October 2012, and was a valued colleague who was providing strong leadership at a challenging time for the Indian auto industry. In this hour of grief, our thoughts are with Karl's wife and family."

Before joining Tata Motors, Slym was the executive vice president, SGMW Motors, China (a General Motors Joint Venture). Prior to that, he was president, managing director and board member of General Motors in India during 2007-11.

For over two decades, Slym was with Toyota and General Motors in various positions across geographies.