Mahindra & Mahindra (M&M) said it would stop work at two of its tractor plants for a few days to cut back on inventory.
M&M informed the BSE on Tuesday it would halt production at Jaipur for five days and at Rudrapur for two days during the last week of the month.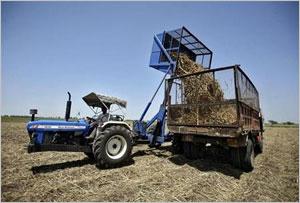 The shutdown is to align production with sales requirements, M&M said. Being the largest tractor producing company, Mahindra & Mahindra is bearing the brunt of the slowdown in sales.
"The management does not envisage any adverse impact on availability of tractors in the market due to adequacy of tractor stocks to serve the market requirements", stated the company which has 41 per cent market share in tractors in the domestic market.
Tractor demand is expected to stay muted in the coming months owing to factors like costly loans and lower rural incomes, putting pressure on tractor manufacturing companies.
The drought-like situation in Maharashtra and lack of state and central government intervention towards relief efforts for farmers is expected to put further pressure on the tractor market, say market experts.