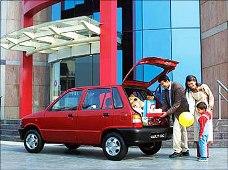 Maruti Suzuki India on Thursday said government should keep automobiles out of the proposed free trade agreement between India and EU as such a move could impact job creation in the country.

"Keep high value-add products like cars out of EU FTA as they have a huge multiplier effect for economy, employment and capability," Maruti Suzuki Head (Corporate Affairs) Rahul Bharti said here at a Federation of Indian Chambers of Commerce and Industry function.

He said that the trade policy should encourage investments not imports.

"Allow
Indian SMEs to achieve global economies of scale, which will make them globally competitive and give market access only against investment commitment in India," he said.
India and the 27-nation European Union are negotiating Broad based Trade and Investment Agreement since June 2007, but a breakthrough has not yet been achieved due to strong differences on several of the issues.
The EU is demanding significant duty cut in automobile sector, a demand which was strongly opposed by domestic auto industry body SIAM.
Further, he asked the industry to work in the direction of upgrading ITIs in the country to boost manufacturing sector.