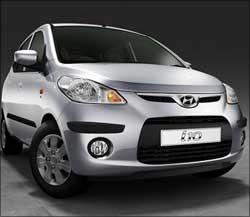 With the domestic small car market heating up, Korean major Hyundai Motors is lining up a new release for India. The vehicle, which is slated to hit the roads in the second half of 2011, is likely to sport a price tag not much higher than that of Maruti's cheapest variant -- the Maruti 800.
Expected to house an 800 cc engine, research and development of the small car is currently being undertaken in Korea. "We are primarily looking at a petrol variant, with a price tag in the range of Rs 2 lakh (Rs 200,000)," a company official said.
The Maruti 800 MPI BS III, with air conditioning, is priced at Rs 2,16,475 (ex-showroom Kolkata), while the Hyundai Santro, which is the Korean auto major's cheapest domestic vehicle, costs Rs 2,71,331 (ex-showroom Kolkata).
However, with the Hyundai i10 taking over from the Santro as the highest selling vehicle within its stable, the new small car is possibly aimed at reclaiming the mass market segment that is slated to grow robustly.
Apart from Hyundai, Nissan is also working on developing a small car in collaboration with Ashok Leyland to target the mass market. Moreover, Renault, which also has a partnership with Nissan, is combining with Bajaj to build an ultra low-cost vehicle for India.
The recently launched Ford Figo, which marks the American carmakers' foray into the Indian small car segment, has an entry-level variant priced at Rs 3.66 lakh (Rs 366,000).
Hyundai to hike prices by 1 per cent from April
Hyundai Motors India will hike the prices of its vehicles by about 1 per cent from April 01 due to the new emission norms, company officials said.
This comes months after the carmaker had been forced to revise prices due to the change in excise duty subsequent to the budget as well as increase in the cost of raw materials. "After April, Hyundai will not look at revising prices for the next two quarters," an official added.