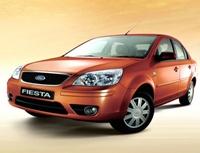 US auto maker Ford, which is eying at becoming a significant player in the Indian car market by entering the compact car segment, on Monday announced plans to license its brand in the country to sell merchandise as part of an image building exercise.
The company, through its global licence agent Beanstalk Group, has entered into a tie-up with Delhi-based licensing management firm Licence India for selecting licensees in the country for manufacturing and retailing of products.
"We want to extend the brand through the licensing programme. It will help in reaching to more consumers as well as creating brand awareness. The first product would be out in the market in the first half of next year," Ford Global Brand Licensing Mark Bentley told reporters.
Ford, which entered India in 1995, has been struggling to make a mark in the country and has only 2.07 per cent share in the over 12 lakh-units Indian passenger car market. It will be launching its compact car Figo in India next year, with which it aims to be a significant player in the market.
Bentley said the company will introduce various merchandise in a phased manner, starting with car accessories, followed by apparel in the first quarter next year.
Bentley, however, did not disclose details regarding the sales target for Ford's merchandise and the number of licences the company plans to award in India.
Ford has a global licensing business of $1.5 billion and India is among the new country on the company's radar after the US, Europe, Mexico and Australia. The company has a portfolio of 350 licensee partners globally.
"India, China and South America are the next big markets with potential for licensing of our brand," Bentley said.
The company would license its Ford Blue Oval logo, besides its subsidiary Mustang and For Truck's 'Build For Tough' logo.
Ford India, the Indian subsidiary of the US car maker, would act as a consultant in the licensing programme which would see the company brining out a range of products including clothing, head-wear, toys, home ware and decorative vehicle accessories.
"The Indian licensing market is only of around Rs 500 crore (Rs 5 billion), while corporate trademark licensing is still in an infancy in the country. Ford's decision to foray into the sector here would certainly be a pioneering effort," license India president Gaurav Marya said.
License India also currently manages the Indian licensing business of some other major global firms like PepsiCo, Polo, Santa Barbara and Hallmark.