Italian car maker Fiat is gearing to launch a crossover in India under its own brand next year as it expands here a year after it broke a distribution alliance with Tata Motors, said a company source.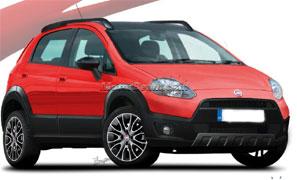 The new crossover and fully imported models of the Jeep brand will increase Fiat's product line-up that has shrunk to just two at present — the Punto premium hatchback and the Linea sedan. The crossover will be the first of its kind launch by the Italian company in India..

But unlike the two completely built units (imported) of the Jeep, the crossover will have " considerable" local content and be made at the Ranjangaon factory, near Pune, in Maharashtra, owned by Fiat and Tata Motors.

The model will be a hybrid of a hatchback and sports utility vehicle. It will likely sport the same compact diesel engine that powers the Punto. Tata's multi-seater Aria is the only crossover on sale in India at present. Since April, when
Fiat broke away from its venture with Tata Motors, the company has rapidly expanded its dealer count. It is confident of achieving a target of 100 dealers by end of December, three months before its earlier target of March.
Fiat is trying to spruce up its image and improve sales through new launches, expanded sales network and finance tie-ups. Over the next four years, Fiat will launch as many as 12 models, including five brand-new ones. The rest will be "refreshes" and upgraded models.
Fiat had initially planned to launch the the Jeep Cherokee and the Jeep Wrangler brands in India in September. However, a falling rupee against the dollar and an adverse market dissuaded the company.
Despite a sluggish market, where passenger vehicles sales have declined by nearly five per cent during April-October year-on-year, Fiat's sales grew 15 per cent in the period to 6,015 vehicles. Beside the Jeep imports, Fiat will launch three compact SUVs, two of which will be under the Jeep brand. New models of the Punto and the Linea will also be introduced next year.