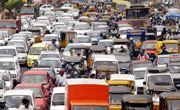 Aiming a five per cent market share in the Indian automobile market, Fiat Group Automobiles India said on Tuesday it is planning to have 112 independent dealerships in India by March 2014.

"Last year, 76 million units were sold globally, while Fiat sold 4.7 million units worldwide, which is around five per cent," said FGAI VP Sales and Dealer Development Ravi Bhatia, on sidelines of the dealership launch in Ahmedabad.

"Our target is to have a similar market share in India too. The aim is to have 112 independent exclusive dealership outlets in India to achieve that target," he said.

The company opened its dealership in Ahmedabad today, which is 28th in the country and the second in Gujarat, after Surat.

"Dealerships in Rajkot and Vadodara will be opened," Bhatia said, adding that their presence in Ahmedabad and Vadodara will
also be strengthened.
"The company had sold 10,000 units in India last year (2012) and in next three year aims to double the sales every year, to gain ambitious five per cent share in Indian car industry," he said.
In a bid to push sales, the company has proposed to introduce several new models in India over the next three years, including Abrath, its racing car brand and Jeep in SUV segment, a fast growing vertical in Indian car industry.
It proposes to introduce two completely built units of its Jeep brand from the Chrysler portfolio-Jeep Cherokee & Jeep Wrangler-by last quarter of this CY in India.
"Fiat is also evaluating the possibilities to locally manufacture B and C segment SUVs at its Ranjangaon facility in Pune, a Tata-Fiat joint venture," Bhatia said.
Among other models to be rolled out would be refreshed models of Fiat's hatchback-Punto-in the B plus category, and Linea, a sedan in the C plus segment.