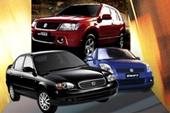 Close on the heels of the Indian economy booming at a better-than-expected 7.9 per cent in the second quarter, the auto sector too has kept pace with the healthy economic activity, with the latest data suggesting that the country's leading auto companies have made some really strong sales for the month of November.
India's largest car maker, Maruti Suzuki India, on Tuesday reported 66.57 per cent jump in its total sales at 87,807 units during November. The company had sold 52,711 units during the same month last year.
In the domestic market, Maruti sold 76,359 units from 47,704 units in November 2008, an increase of 60.07 per cent, Maruti Suzuki India (MSI) said in a statement.
Exports surged by over two-fold to 11,448 units from 5,007 units in the year-ago period, it added.
Sales of the company's once bread-and-butter model M800 grew by 31.77 per cent at 3,040 units compared to 2,307 units in November 2008, while A2 segment (comprising Alto, WagonR, Estilo, Swift, A-Star and Ritz) witnessed 60.12 per cent growth at 56,005 units compared to 34,976 units in the same month a year ago, the release added.
A3 segment sales (consisting of SX4 and DZiRE) increased 46.30 per cent to 8,741 units compared to 5,975 units in the corresponding period a year ago, the company said.
MSI's passenger car sales rose 61.57 per cent at 76,106 units against 47,103 units in the same month in 2008, the filing said.
Meanwhile, Hyundai Motor India Ltd, the country's second largest car manufacturer and the largest passenger car exporter registered record cumulative sales for the month ending November 30, 2009. The cumulative sales accounted for 55,265 units which reflect a 28.5 per cent growth as compared to last November.
The domestic market was the biggest gainer as it almost doubled its sales to 28,162 units this month registering a growth of 92.8 per cent over the same month last year. The exports however showed a slight decline as it fell by 4.6 per cent as compared to the same period last year. In September, 2009 HMIL had clocked cumulative sales of 53,802 units which had been the highest till now.
HMIL's total sales for November, 2009 stood at an all time high of 55,265 units against 43,020 units in November, 2008 registering 28.5 per cent cumulative growth. The domestic sales grew at a whopping 92.8 per cent and accounted for 28,162 units as against 14,605 units in November, 2008 while the exports dipped marginally to 27,103 units as compared to 28,414 units last November - a fall of 4.6 per cent.
Commenting on November, 2009 sales Arvind Saxena, Sr. Vice President - Marketing and Sales, HMIL said, "The overall economic scenario has been positive and this has translated in to more footfalls in the showroom and higher automobile sales as indicated by this month's figures. We hope the economy will continue on a growth trajectory as it will help the Indian automotive industry to maintain a double digit growth figure."
 The segment-wise cumulative sales in the month of November, 2009 are as follows: A2 Segment (Santro, i10, Getz & i20) 50,501 units; A3 Segment (Accent & Verna) 4,748 units; A5 Segment (Sonata Transform) 15 units; and SUV Segment (Tucson) 1 unit.
Two-wheeler major TVS Motors posted a 23 per cent growth in total two-wheeler sales for November 2009, clocking more than 1.20 lakh vehicles even as it experienced a dip in total motorcycle sales and export of two-wheelers.
The company posted total two-wheeler sales of 1,20,844 units against 98,402 units in the corresponding period of the previous year, TVS Motors said in a press release here.
It said that TVS Motors continued to post sales growth for the eighth consecutive month, with a cumulative growth of eight per cent, with sales of more than 9.89 lakh units in the current financial year upto November 2009, as against over 9.17 lakh units in the same period last year.
Domestic sales witnessed a 'quantum increase', posting a growth of 38 per cent, selling more than 1.06 lakh units in November 2009 as against 77,491 in the corresponding period of the previous year, the release said.
While the company's scooter sales grew by 38 per cent to more than 25000 units,total motorcycle sales however declined.
Total motorcyle sale for Nov 2009 stood at 45,080 units in November 2009 compared to 45,276 units in November 2008. Exports too did not post growth as sales decreased from 20,911 in November 2008 to 14,008 in November 2009.
Citing the newly launched products, the 110cc motorcycle TVS Jive and TVS WEGO, the automatic scooter with an equal CC power, the company said it "hopes to add around 15 to 20 per cent to its monthly sales, once these new products are made available in the market."
India's biggest two-wheeler maker Hero Honda Motors Ltd on Tuesday reported 32 per cent jump in November sales at 3,81,378 units as against 2,89,426 units in the same month last year.
"This is the 11th consecutive month that we have registered sales of over three lakh units. We hope to maintain the momentum in the coming months too," Hero Honda Motors Ltd Senior VP (Marketing & Sales) Anil Dua said.
In November, the company crossed the three-million sales mark, he said, adding, "we will be crossing our original indication of four million-units mark much earlier than the close of this fiscal".
The company's cumulative sales in the financial year so far (April-November, 2009) have risen to 30,37,556 units, a 21 per cent growth over 25,08,214 units in the corresponding period last year.
Dua said the growth has been driven by models across all segments. While the 100 cc segment grew over 20 per cent, the 150 cc and above segment witnessed 30 per cent growth and scooters grew around 40 per cent, he said.
The company has, however, not shared the sales break up of each segment.
"In terms of market also, there has been equal growth from both rural and urban ones," he said, adding, while the premium segment got very good response in cities, the entry level bikes were doing well in rural areas.