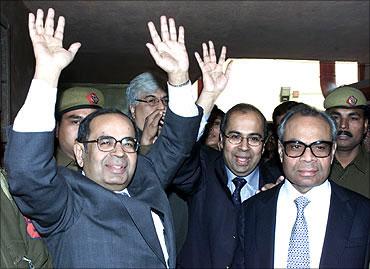 The Hinduja Group said on Thursday that it is looking to expand the geographical reach and production capacity of flagship automobile firm Ashok Leyland in a big way to make the company one of the top 10 global commercial vehicle producers in the next five years.
"Our aspiration in the next five years is to be a really global top 10 company in commercial vehicles and this is a step in that direction," Dheeraj G Hinduja, the president of the Hinduja Group of Companies, told PTI on the eve of the inauguration of the company's new state-of-the-art bus and truck manufacturing facility in the Ras Al Khaimah Free Trade Zone in the United Arab Emirates.
He said the auto manufacturer is looking to do this by expanding its geographical reach, so that production centres are closer to customers, and capacity expansion.
Ashok Leyland's new plant was inaugurated in Ras Al Khaimah by Shaikh Saud Bin Al Qasimi, member of the UAE Supreme Council and the ruler of Ras Al Khaimah, in the presence of UAE minister of higher education and scientific research Shaikh Nahyan bin Mubarak Al Nahyan and Hinduja Group chairman Srichand P Hinduja and his brothers.
The venture, which reportedly entailed an investment of around $50 million, will have an initial annual capacity to assemble 2,000 buses of international styling and quality.
However, the company plans to manufacture truck models being sold in Europe at the UAE facility in the near future.
"It is supposed to be a dedicated facility for buses. But we realised the potential and we are bringing in the launch of our European trucks as well. So far we have been selling our Indian products," Dheeraj Hinduja said.
The first European models to roll out from the new RAK factory will be the D75-140, a 7.5-tonne truck powered by a 140-hp engine, and the D120-180 (12-tonne, 180-hp engine), with wheel base options.
He also said the company is looking to expand its facilities "because we are growing a lot more within Middle East, specifically the GCC countries, and we feel this is the right base to service those markets from."
According to him, the launch is significant because it allows the company to tap the market for both value and premium products.
"It requires value product. It requires premium products. And we have being advantages position to offer both to this market," he said.
In October, 2006, Ashok Leyland had signed a memorandum of understanding with the Ras Al Khaimah Investment Authority for setting up the assembly unit.
Dheeraj Hinduja termed the timing of the launch appropriate and said that the investment decision is not based on a particular economic cycle.
"It's a long-term industry. It's a long-term investment. We felt that based on demand of product, we needed to be closer to the customer. In that respect, it was most appropriate to be in the Middle East. And when we started exploring which is the right destination for us, we zeroed in on RAK," he said.
On Ashok Leyland's partnership with Nissan, which was announced two-and-a-half years ago, he said a collaborative agreement to manufacture the Japanese firm's light vehicle models was in place.
"We currently make vehicles at Ashok Leyland with 7.5-tonne (capacity) upwards. With the Nissan collaboration, we will be making vehicles below 7.5 tonne," he added.
He also expressed happiness over the domestic (Indian) market. "Home market is doing very well. Last year, we did around 63,000 vehicles. This year, we should exceed 90,000 vehicles. So that shows the robustness of the domestic market.
"We have expanded our capacity. So the capacity constraints are no longer an issue for us," he said, adding, "In terms of exports, we are starting (to enter) many new markets, such as South America, CIS countries and also various African countries."
"Ashok Leyland has enjoyed a dominant position in the popular bus market of the Gulf region and therefore, it was only natural for us to set up a manufacturing base closer to our customers. This facility will not only cater to the growing markets in GCC, but also to African and European markets too. This new facility will be a great fillip to the local economy," said RAKIA chief executive officer Khater Massaad.
"It will provide more employment opportunities, world-class vehicles and the 'Made-in-RAK' tag will surely find great acceptance in the local markets, which will in turn help the economy grow," he said.
Occupying over 100,000 square meters of land with a built-up area of 20,000 sq metres, the vehicle factory is a world-class facility with an initial annual production capacity of 2,000 buses and trucks per annum.
There are two separate weld lines that can handle multiple models, a conveyorised paint line consisting of a paint booth, baking zone and cooling zone; two conveyorised trim lines and an extremely flexible vehicle assembly line suitable for current and prospective models -- all supported by modern facilities to test multiple product features.