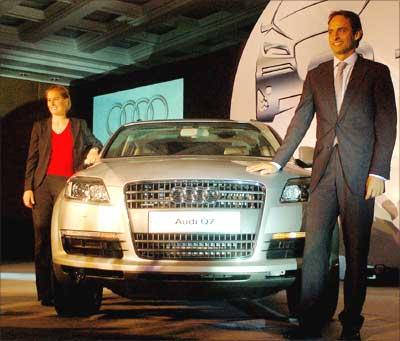 German car maker Audi on Friday said it is exploring options for assembling cars in India as the company introduces new models in the luxury segment.
"We are investigating the possibility of local manufacturing in India, though it is some time away," Andre Konsbruck, regional manager (overseas) said.
The company on Friday launched its sports-utility vehicle 'Q7' priced at Rs 61 lakh (ex-showroom Delhi), increasing its portfolio in the market.
The company already has its 'A4', 'A6' and 'A8' models in India and is looking to sell 300 units in 2006 and 600 in 2007.
"We feel that the market for luxury cars in India will expand in the coming years and thus it is an opportunity for us to bring in models here," he said.
Asked whether local assembling operations by DaimlerChrysler and BMW could see the company's operations at a disadvantage, he said the other German companies were not much of a threat for Audi.
"I think competition is good as it will help expand the market. We only have to bring in newer models to give choice to customers," Konsbruck said.
On starting assembling operations in India, he said the company will do that only when it reaches "optimal sales volumes".
"We have to sell enough numbers to justify such kind of a set-up here," he said. The company has three dealers in India, which would be scaled up to eight in the next two years. -- PTI
(Above) Audi executive director Andre Konsbruk (right) and product manager Sandra Berger pose with Audi Q7 sports utility vehicle unveiled in New Delhi on Friday. The SUV costs Rs 61 lakh.
Photograph: Dijeshwar Singh/ Saab Pictures