Bandhs and agitation have severely affected economic activities in trouble-torn Assam though the state is endowed with plenty of natural resources such as minerals and tea estates.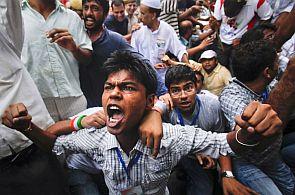 It is a well-known fact that the oil and tea industry in Assam had to bear the brunt of the militancy during its peak during late 1980s and 1990s.

The Assam Agitation against illegal Bangladeshi migrants too affected the oil industry during early 1980s, as the agitators often resorted to blockade of oil to mount pressure on New Delhi to heed to its demands.

Though the militancy is now on the wane and Assam Agitation has become a part of Assam's modern history. Localised issues continue to spark agitations in the oil bearing and tea producing eastern Assam industrial belt.

The Public sector oil giant Oil India Ltd (OIL) which has it's headquarter at Duliajan in Dibrugarh district of eastern Assam is facing trouble and huge production loss for such local level agitations called by various organisations.

The OIL has suffered a loss of at least Rs 200 crore (Rs 2 billion) during fiscal 2012-13 due to as many as 290 bandhs, blockades called by numerous organisations in three eastern Assam districts Sivasagar, Dibrugarh and Tinsukia where the company has its oil and gas fields, according to OIL's Chairman and Managing Director (CMD) S K Srivastava.

He said here, "Numerous bandhs and blockades have severely
affected our drilling and production activities in Assam. With 290 bandhs, blockades and obstructions by various organisations big and small, the OIL has suffered a loss of at least Rs 200 crore during the last financial year."
He informed that while OIL's crude oil output came down from 3.95 million metric tons in 2011-12 to 3.71 million metric tons in 2012-13. In monetary terms the loss amounts to about Rs 200 crore.
The CMD said there were certain genuine grievances as aired by some of these organisations and it was the responsibility of the OIL to address and resolve these.
"These issues and related agitation programmes, however, created an adverse atmosphere that seriously affected the OIL's crude oil exploration and production operations during 2012-13," he said.
"Besides production loss, we also suffered a lot of damages to our vehicles, equipment and other property, leading to a serious impact on the morale of our workforce," the CMD said.
Oil India Ltd, which had netted Rs 3,589-crore (Rs 35.89 billion) profit after tax during 2012-13, which was a 4.13 per cent jump over the previous year.
According to the OIL chief executive the demands of the agitating organisations calling for bandhs ranged from construction and repair of roads and schools to providing drinking water in villages.
Some of the organisations even called for reservation of certain percentage of jobs and contracts for different communities in the PSU while some asks for development package for villages.