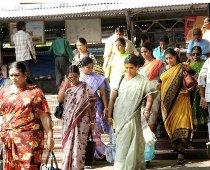 Asian countries, including India, need to address the growing gender inequality in the labour market by increasing quality employment options for women, the Asian Development Bank and the International Labour Organization said on Friday.

The report, titled Women and Labour Markets in Asia: Rebalancing for Gender Equality, noted that although Asia's economic growth of 6.2 per cent in 2000-2007 exceeded the
global average of 4.2 per cent, the average growth in women's employment was just 1.7 per cent -- below the world average of 2 per cent.

Notwithstanding the resurgence of the job market in some developing countries, particularly in East Asia, as much as 45 per cent of the vast productive potential of Asian women remains untapped, compared to just 19 per cent for Asian men.

"There is now a window of opportunity to address systematic gender inequalities as well as the symptoms thrown up by the crisis and achieve full labour market recovery and
successful rebalancing," the report says.

The female labour force participation rate in Asia was 55.5, while that of males was 80.7 per cent.

The largest gender gaps were in Central Asia and South Asia, the report said.

For India, the LFPR was a low of 32.8 per cent, while for Nepal, it was as high as 63.3 per cent.

In India, women represent only 31 per cent of the total workforce and 32 per cent of the informal workforce but of the female workforce, 96 per cent are informally employed, it added.

The report complimented initiatives like the Unorganised Sector Workers Social Security Bill, 2005,
and the setting up of a National Social Security Fund for unorganised sector workers in India, saying these steps show that such measures are possible and crucial for the welfare of poor workers.
ADB vice-president of Knowledge Management and Sustainable Development Ursula Schaefer-Preuss said this report 'sheds further light on the negative impacts of gender discrimination in the labour force and provides a new chance for governments and societies to increase quality employment options for women.'
In Asia, female youth unemployment is high and women are still largely perceived as a buffer workforce or secondary earners next to men.
"Asia faces both old and new challenges and it needs to address both if it is to reap the social and economic benefits of gender equality," ILO regional director for Asia and the Pacific Sachiko Yamamoto said.
The drive to rebalance towards more sustainable, fairer development must not distract policymakers from dealing with ingrained gender inequalities, Yamamoto added.
Meanwhile, according to estimates by the United Nations Economic and Social Commission for Asia and the Pacific, even before the crisis, Asia was estimated to be losing $42-47 billion a year because of limits on women's access to employment opportunities.