120 new malls came up in last two years, but 30-40 of their older peers downed shutters

India saw 120 new malls in each of the past two years, but that's just one side of the story. In the same period, 30-40 malls either shut down or became non-functional.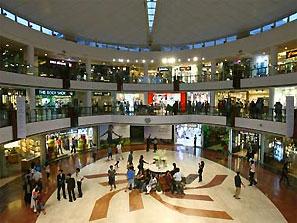 The economic slowdown apart, retail experts said poor sales model and management of malls were the main reasons for such a high mortality rate. Susil Dungarwal, founder and chief mall mechanic, Beyond Squarefeet Advisory, a mall management company, said while the majority of failed malls were in Ahmedabad, others were in the National Capital Region, Chennai and Mumbai. But for poor planning, India can take 2,000 malls, he said.

Take the Palm Beach Galleria, once a sprawling 380,000-sq ft mall, in Navi Mumbai. Launched with much fanfare in 2006, it has now mostly become just a favourite dating spot for couples, in its food court.

Spencer's Plaza in Chennai is another example of the mall story going wrong, as a majority of the retailers shifted to nearby ones offering better services. The City Centre Mall in Navi Mumbai was closed for renovation; it is expected to be converted into a commercial project, consultants said. That's not all. Mumbai has seen several others, such as the once-bustling City Mall at Andheri, close down suddenly.

Consultants said Indian mall management firms need to put in more thought on design, instead of their current approach of have-space-will-build. In a study, Mirae Asset said small things matter a lot while planning a layout. For instance, having electronic shops next to shops selling women's apparel is a great idea because it allows bored husbands to browse for gadgets while their wives are trying on clothes in the nearby shops.

Bappaditya Basu, senior vice-president at property consultant Jones Lang LaSalle, said most of the new malls that have come up in the past two years were planned way back in 2005-06 but got delayed due to the economic slowdown. "Nobody is planning new malls now. Especially in cities such as Kolkata, you do not see any new malls coming up," he said, adding retailers who wanted to open stores in 2015-16 were not getting any properties due to runaway valuations.

According to a recent research report by realty consultant DTZ, seven malls, totalling 2.58 million sq ft, scheduled to be completed in the second quarter of 2013, were delayed by up to six months in the hope that demand would improve for these spaces.

Last year, 58 per cent, or 4.8 million sq ft, of the total expected supply was deferred for the same reason, realty consultant Cushman & Wakefield said. Mumbai and Chennai were the only cities to witness new supply in the second quarter of 2013, increasing national stock by two per cent to 62.9 million sq ft of Grade-A retail space.

Retail rentals have also largely remained flat since vacancy levels are high, research by DTZ India shows. In smaller towns, for example, a third of the space is unoccupied, as against just seven per cent in 2007.

Many mall developers have converted their projects into residential and commercial ones due to unviability, retail consultants said. "Developers have either converted mall projects into residential or commercial or office projects," Dungarwal said.

Mall developer Prozone Liberty converted some of its retail projects in the country into residential ones for business prospectus. The south-based TTK Group changed its plan for a mall project on a 6.3-acre site in Dooravani Nagar, Bangalore, into a residential project a couple of years ago.

According to consultants, developers such as EWDPL, which develops malls in Tier-II and -III towns, and the Avni group in Kolkata have already kept their mall projects on hold due to the slowdown.

Samantak Das, chief economist & director-research & advisory services at Knight Frank India, said the segment was seeing low traction due to economic slowdown. "It (malls) is the worst-hit asset class. We know the office segment is stagnated. But malls are much more than that. In the office segment, at least owners negotiate and hold back tenants. In malls, retailers cannot sustain the rents due to low consumption."

According to Das, vacancy in malls in the NCR and Mumbai metropolitan region are between 15 and 20 per cent. "In some areas such as Navi Mumbai, we have seen 30-40 per cent vacancy. The worrying factor is that vacancy levels are not coming down. They may go up," he added.


Mall magic over?

7 malls, totalling 2.58 million sq ft, scheduled to be completed in the second quarter of 2013, were delayed by up to 6 months

62.9 million sq ft of total Grade A retail space at the end of Q2 2013; Mumbai and Chennai were the only cities to witness new supply during the period



O

ver 58% or 4.8 million sq ft of the total expected supply was deferred in 2012



M

umbai and Hyderabad saw none of the planned supply entering the market



M

alls that came up in 2012-13 were planned in 2005-06