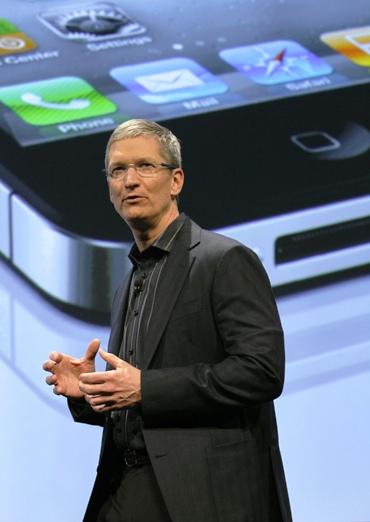 Bowing to pressure mounted by Chinese official media, Apple Inc CEO Tim Cook has apologised for company's warranty policies in China, saying the company is sorry for any "concern or misunderstanding" in the country.
"We are aware that due to insufficient communication, the public holds the idea that Apple is arrogant, disregards or pays little attention to the feedback of consumers," read a Chinese statement to consumers signed by Cook and posted on Apple China's website.
"Therefore, we want to express our sincere apology for any concern of misunderstanding arising from the process," said the statement issued late last night.
An English-version of the statement is not immediately available on Apple's website, state-run Xinhua news agency reported.
Cook said over the past two weeks, Apple has received feedback concerning its warranty policies in China and the company has "reflected" over such opinions.
"We have always respected China and Chinese consumers have always been our priority among priorities," Cook said, adding that Apple has studied the warranty policies in China with authorities, examined the way it communicated over and reviewed the management standards of Apple Authorised Service Providers.
Cook's apology comes after the China Consumer's Association (CCA) asked Apple to "sincerely apologise" to Chinese consumers and "thoroughly correct its problems," after the US firm took little action to address waves of criticism started by the national broadcaster China Central Television, according to media reports.
State-run CCTV in a documentary accused Apple of offering discriminatory after-sales services in China in a special TV programme to mark the International Day for Protecting Consumers' Rights on March 15.
However, Apple insisted in the statement that "nearly 90 per cent of consumers are satisfied with our warranty policies. "
In the statement, Apple said the company is making four major adjustments to improve its after-sales services for Chinese consumers, including improving its warranty for iPhone 4 and iPhone 4S, enhancing supervision over and training for authorised service providers.
"Apple is making greater efforts to ensure Apple Authorised Service Providers follow our policies and offer high quality services to consumers," Cook said in the statement.
Apple was told earlier by the CCA to equalise the warranty periods in China with other countries. The association argued Chinese buyers of iPads, after the company admitted the device is classifiable as a portable computer, are entitled to two-year after-sale service packages for its key components.
Complaints about after-sale service account for 25.6 per cent of the total 2,170 complaints the association has received about Apple products, seven percentage points higher than the average data for the home appliance sector, according to the CCA.
Data from iiMedia Research Group showed Apple has only 7.7 per cent of China's smartphone market, behind 22.5 per cent of Samsung, 10.7 per cent of Lenovo and three other domestic brands.
Smartphone sales hit 169 million in China last year, according to iiMedia Research.