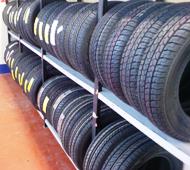 Apollo Tyres said on Wednesday it will hike prices of its products by up to 6 per cent from April to offset spiralling raw material costs.

The market leader also cautioned that the tyre industry could be in red unless there is a substantial increase, a minimum of up to 10 per cent, in product prices.

"From April onwards we will be increasing tyre prices as the overall raw material costs have gone beyond manageable levels," Apollo Tyres chief (India operations) Satish Sharma told PTI.

From the first quarter of the next fiscal, Sharma said prices of bias commercial vehicle tyres will go up by 3 per cent while that of truck and bus radial tyres will be dearer by 6 per cent.

"For the passenger cars, we had increased in February by about 3 per cent and again we will raise it by another 3 per cent," he added.

The prices of the company's passenger vehicle tyres vary between Rs 2,150 and Rs 12,500 per unit.

The radial tyres of truck and bus are available for Rs 16,900-Rs 20,200.

In the ongoing fiscal, raw material prices have gone up about 35-36 per cent against which the company has raised tyre prices by 16-17 per cent, he added.

Sharma said the domestic tyre industry is facing a tough situation as competition and market forces are preventing it from hiking prices beyond
three per cent.
"Globally, since January Michelin and Bridgestone have increased prices by 8-12 per cent, while Goodyear has upped by 15 per cent. In India we also need to take a cue from them," he said.
Citing the company's internal study, he said in the first quarter of the next fiscal the raw material cost are expected to be 20 per cent higher than the last quarter of the ongoing financial year.
"Our understanding is that it will remain at that level.
"If nothing is done, the industry will be in the red. It will require a minimum price hike of 10 per cent for the tyre makers to be in black," he said.
For Apollo Tyres, the margins have shurnkshrunk in this fiscal he said, stating it has gone down to 10.5 per cent in the third quarter of this fiscal as compared to 16.5 per cent in the whole of the previous fiscal.
"The graph has been going down and one can easily guess what it will be like it the fourth quarter of this fiscal," Sharma said.
Considering the present circumstances, he said it would be helpful to the tyre industry if the government allows duty free import of good rubber.
Currently, natural rubber attracts 20 per cent import duty, while finished product is at 10 per cent, he added.