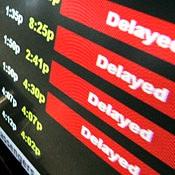 The Air Passengers Association of India on Tuesday requested the director of general civil aviation to make modifications in the draft guidelines pertaining to compensation payable to passengers in case of delays or cancellation of flights.
The clause which stipulated that no compensation shall be payable to any of the affected passengers in cases where cancellation and delays were due to extraordinary circumstances beyond the control of airline, 'should be completely removed (from the draft)', APAI president D Sudhakara Reddy told reporters in Chennai.
He said as per the clause in the draft the airline would not have to pay any compensation to passengers in cases where the cancellations and delays of flights were caused by 'extraordinary circumstances' like 'political instability, natural disaster, strikes and labour disputes'.
On flight delays, he said that irrespective of long distance flights, (if there is a flight delay), 'it has to be a maximum of two hours and not as mentioned in the draft'.
As per the draft, there has to be three hour or more in case of flights having a block (flight) time of more than 2.5 hours and upto five hours.
He also said the compensation should be calculated on the total fare charged and the payment should be made to the passengers within two weeks.
Besides the recommendations on the Draft, Reddy mooted setting up a regulatory authority for the aviation industry.
"When there are regulatory authorities for the telecom and insurance industries, why not an authority for aviation industry?" he asked.
He suggested the DGCA should provide the clearance to all the Airlines which already have their licenses to fly A380s in the country.
"Facilities for landing of A380 aircraft in Delhi, Bengaluru and Hyderabad Airports have already been created. If the government gives the clearance, it would highly benefit the passenger and the airlines", he said.
He said APAI national vice-president Milan Ratilal Zatakia had recently met the Civil Aviation Ministry Officials in this regard.
Reddy also said several air passengers were not aware that they were entitled for a compensation to the tune of Rs 4,000 if their baggage was lost in the country.
"Many passengers are not aware of it. Suppose, if a baggage is lost in the aircraft, the passenger can approach the Counter appointed by the Airport Authority of India (at the airport) who in turn will inform the Airline officials.
After verification, the airline has to provide a compensation of Rs 4,000 for a lost baggage", he said.
However, the compensation was low compared to Europe and the United States, he said. Headquartered in Chennai, APAI currently has over 10,000 people as its members, he added.