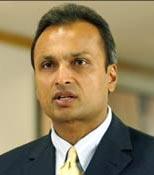 What Buddhadeb Bhattacharjee did so well, Mamata Banerjee will try her best to replicate.

Anil Ambani, chairman of the Anil Dhirubhai Ambani Group, has shown interest in meeting the West Bengal chief minister separately, ahead of the investors' meeting slated for June 18.

Banerjee's office had sent an invitation to Ambani, among other potential big ticket investors, said West Bengal commerce and industries minister Partha Chatterjee at the Writers' Building on Saturday.

"Many investors, including some foreign ones, have shown interest in coming to West Bengal. Anil Ambani has also expressed interest to meet Chief Minister Mamata Banerjee. We had sent him an invite for the meet and he, along with other domestic and foreign investors, will be attending the meeting," Chatterjee told reporters.
Local ADAG officials, however, denied any knowledge of Ambani's plans to travel to Kolkata.
"We have received no intimation. I do not know of any such plan," an eastern region official at Reliance Communications told Business Standard.