The food subsidy bill which was tabled last week could not be taken up for a debate due to the ruckus in Parliament

Nobel laureate Amartya Sen on Saturday called it unfortunate that Parliament could not pass the food security bill due to frequent adjournments and questioned the level of debate in India over the pressing development issues. He also regretted there was always a comparision in India between its growth and that of China's, but never about how much each country spends on development activities, say health.
"We need to identify the challenges. It is unfortunate we are not able to pass the Food Security Bill because the Parliament is not able to meet," Sen said at a panel discussion at Asian Development Bank (ADB) in Noida.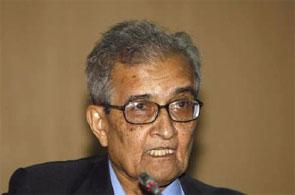 The professor of Economics and Philosophy with Harvard University decried the level of debate in India, saying it is argued that food security will dent the exchequer by over Rs 20,000 crore (Rs 200 billion). "In diesel, the subsidy provided is about two per cent of GDP," Sen said. As per advance estimates of 2012-13, subsidy to the tune of two per cent of GDP would mean about Rs two lakh crore.
"We have to think about getting our priorities right. I think we should be in a position to make public understand about the real debate," Sen said.
The food subsidy bill was tabled in Parliament earlier this week, but could not be taken up for a debate due to ruckus. In the pre-recess part of the Budget session, the bill was not allowed to be tabled.
He said there is always a debate between growth rates in India and China. But, it was never debated that India spends only 1.2 per cent of its GDP on healthcare, while China puts in 2.7 per cent of GDP in this sector. "Growth in India has come down. But it is pretty high compared to Europe."
He clarified that he did not mean that growth is not important, but it should be a sustainable growth.
Sen said there are local needs to be understood for development activities, but international experiences should not be ignored. India should take lessons from these experiences.
He cited the example of defining moment in Japan and south Korea when their population was made literate.
The other third defining moment, he said was in China which after a gigantic famine and a rather confusing cultural revolution settled down to a period of economic reforms and made use of dynamism of the private sector.