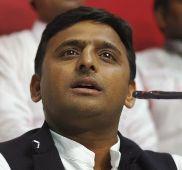 Uttar Pradesh Chief Minister Akhilesh Yadav's first budget made a special provision of Rs 4267 crore (Rs 42.67 billion) for development of youth of the state.

This is in keeping with the promises that he made to the younger generation prior to the Assembly election.

However, there was no indication of any reduction in value added tax on petrol much against the expectations of the people.

The promise made in Yadav's 2012 election manifesto of giving an unemployment dole of Rs 1,000 found precedence in his maiden budget speech.

"A special provision of Rs 1,100 crore (Rs 11 billion) has been made in my budget to give unemployment allowance to the youth", he told the house amid cheers from the treasury benches.

What came next was his promise of giving laptops and tablets to young students.

"We have made a provision of Rs 2,721 crore (Rs 27.21 billion) for giving tablets to students clearing the Class X examination and laptops to those passing Class XII", the chief minister said.

As many as 25 lakh (2.5 million) youth is expected to be benefitted from this scheme.

Yadav allocated Rs 446 crore (Rs 4.46 billion) for motivating young girls to pursue education beyond Class X.

"Our objective is to revive the Kanya Vidhyadhan scheme that was initiated by the earlier Samajwadi Party government but discontinued by the Bahujan Samaj Party government", said Yadav.

Under the scheme, all girls clearing Class X and seeking further studies, would be entitled to an ex gratia of Rs 30,000.

The new chief minister said he was able to make these allocations by cutting down the wasteful spending which the Maywati government did on building memorials and erecting her statues.

"We will not spend a penny on building memorials or statues; instead we will allocate funds to ensure the well being of youth, farmers, women and other weaker sections of society", he told a press conference that followed the presentation of the budget in the assembly.

The Rs 2-lakh crore (Rs 2 trillion) budget includes a provision of Rs 23,591 crore (Rs 235.91 billion) for development of infrastructure like roads, bridges, irrigation facilities and energy.

Yadav made a provision of Rs 400 crore (Rs 4 billion) for ensuring timely payment to sugarcane farmers and Rs 500 crore (Rs 5 billion) for writing off farmers' loans up to Rs 50,000.

However, it was not quite clear whether only the small and marginal farmers or all could avail of the loan waiver scheme.
Image: Akhilesh Yadav | Photograph: Rediff Archives