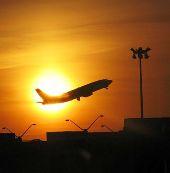 The Competition Commission of India is examining a complaint of cartelisation against Jet Airways, SpiceJet, Air India, GoAir and IndiGo, according to an official source.

The alleged cartelisation was aimed at levying a uniform fuel surcharge on air cargo, the source added.

The complaint was lodged by Mumbai-based Express Industry Council of India, which represented major express courier and cargo companies such as DTDC, Aramex India, Blue Dart, DHL Express, GATI and First Flight, the source said.

"We have received a complaint recently against five airline operators, alleging there is a concerted effort by them to levy a uniform rate of fuel surcharge on air cargo, often on the same day.

"This is affecting the services of cargo companies and their consumers," the source, privy to the developments, said.

When contacted, GoAir said so far it hadn't received any communication from CCI and, therefore, wouldn't be able to comment. While Jet Airways declined to comment, email queries to SpiceJet and IndiGo didn't elicit any response. Air India officials were unavailable for comment.

According to official data, last financial year, air cargo traffic in India stood at 2.19 million tonnes (mt).

Of this, about 33 per cent was international cargo with foreign carriers with a market share of about 80 per cent.

The remaining international cargo was accounted for by the five Indian carriers.

Domestic cargo traffic stood at 0.78 mt.

According to the source, the complaint said while airline companies bought fuel from oil marketing companies at different prices, when it came to levying
fuel surcharges on cargo operators, they fixed a uniform rate.
"The allegations are this practice started from 2008, and there are no legal provisions under which fuel surcharge can be imposed," the source said.
It is likely CCI would seek responses on the allegations from the airlines soon. If it found prima facie evidence against the airlines, the case would be referred for further probe under its director general (investigation), the source said.
According to the Competition Act, 2002, a cartel is said to exist when two or more enterprises enter into an explicit or implicit agreement to fix prices, to limit production and supply, to allocate market share or sales quotas, or to engage in collusive bidding or bid-rigging in one or more markets.
So far, the competition watchdog has examined charges of cartelisation across industries. Last year, CCI had imposed a fine of Rs 6,300 crore (Rs 63 billion) on 11 cement manufacturers for alleged cartelisation to fix prices.
However, tyre companies, who faced similar charges, were given a clean chit, as there wasn't enough evidence against them.
Recently, the commission ordered an investigation into alleged cartelisation by state-owned oil marketing companies for fixing petrol prices.
DISTORTING THE MARKET?
Mumbai-based Express Industry Council of India, which represents major express courier and cargo companies such as DTDC and Blue Dart, has complained to the Competition Commission Of India that Jet Airways, SpiceJet, Air India, GoAir and IndiGo have formed a cartel to levy uniform fuel surcharge on air cargo
The complaint points out while airlines buy fuel from oil marketing companies at different prices, they levy fuel surcharge on cargo operators at a uniform rate