Kingfisher Airlines flagged off services between Hong Kong and Mumbai with its inaugural flight taking off from Hong Kong's Chek Lap Kok Airport on Wednesday.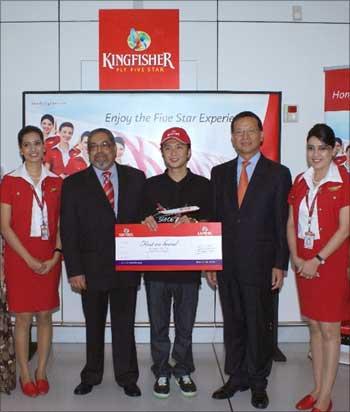 Addressing media persons who had gathered to witness the flag off A K Ravi Nedungadi, director, Kingfisher Airlines Limited said, "A growing number of travellers from India to Hong Kong and the South East Asia are demanding more choice, greater luxury and better value for money when choosing flights for business and leisure trips to India.
"There is tremendous potential for this route which Kingfisher Airlines is committed to develop with its new aircraft and superior service."
Earlier in the day, the maiden flight of Kingfisher Airlines was welcomed by Howard Eng, executive director, Airport Operations, Hong Kong International Airport.
Starting today, Kingfisher will also launche flights between Mumbai and Singapore.
Kingfisher has a fleet of 71 aircraft and flies to 65 cities in India and 7 international destinations. It has over 360 daily departures on its domestic route network with 126 flights a week on its international route network.
---
Image: Wong Kwan Lok (C)the first passenger to receive his boarding pass for Kingfisher's inaugural flight from Hong Kong to Mumbai, is flanked AK Ravi Nedungadi (L), director, Kingfisher Airlines and Airport Authority Hong Kong CEO Stanley Hui Hon-chung.
Photograph: Courtesy, Kingfisher Airlines.