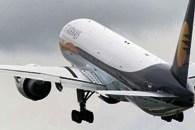 Passengers were left stranded at the Sardar Vallabhai Airpot on Tuesday as two Mumbai-bound flights of Jet Airways were cancelled from Ahmedabad after the airline pilots went on mass casual leave.
"The two Mumbai-bound flights of Jet Airways 9W328 and 9W2506 whose scheduled departure was 12:15 and 14:50 hours respectively were cancelled due to operational reasons," Jet Airways airport staff said.
Passengers of the two flight were left stranded as no alternative arrangements were made by the airlines, sources in the airport said.
"The flights were cancelled due to non-availability of pilots," Jet's airport staff said. According to sources in airport director office, Jet Airways has informed the airport about the cancellation of two of its Mumbai-bound flights.
"The third flight to Mumbai 9W7104 scheduled to depart at 21:10 hours is as per schedule from here. It will be a code share flight of Jetlite," they added.
However, the New Delhi-bound flights were unaffected and were operating as per schedule, Jet staff claimed. The pilots did not report on duty in protest against sacking of two of their colleagues by the airline, they added.