State-run Air India plans to keep a tab electronically on fares offered by its peers, both on domestic as well as international routes, and accordingly chart out its strategy.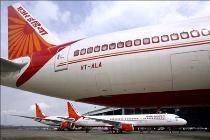 The airline has decided to implement a fare tracking system which would enable it to monitor and compare various basic fares, taxes and other charges by airlines across geographies.
Besides tracking changes in fares, surcharges, taxes made by its competitors on various sectors, the system would also generate alerts every six hours. Air India had recently invited tenders from interested FTS suppliers to install the system.
According to the tender document, NACIL, which operates Air India, aims to empower its headquarters, regional office, 6 bases in India and all international stations with access to the FTS.
The system, once in place, would be available at around 45 locations/access ids, the document said.
FTS would also maintain database of historic fare/surcharge/taxes offered/changes made, going back past two years.
The national air-carrier plans to track 300 origins and destinations with an average of five airlines per O&D, spread across NACILs domestic and international network, the tender document said.
NACIL currently operates across 93 destinations in India and overseas with an annual passenger carriage of more than 12-million.