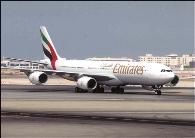 If  Emirates Airlines is caught in the Dubai debt crisis, it may force the carrier to moderate its expansion, which could hurt aircraft manufacturers like Boeing and Airbus, as it has placed orders worth $55 billion with them.

And, it will enthuse rivals in a key market like India. Emirates is the largest and most aggressive foreign carrier out of India.
Travel agents believe any impact on Emirates could help other carriers operating out of India - Air-India, Lufthansa, British Airways, KLM-Air France and Singapore Airlines.
Average yields have fallen 20 per cent since March this year, as businesses curbed travel to cope with the downturn. If Emirates is forced to cut capacity on Indian routes, it will improve occupancy for other airlines, and eventually, improve yields.
Kapil Kaul, CEO, Indian sub-continent & Middle East, Centre for Asia-Pacific Aviation, feels Emirates is strategic to Dubai and would be the last asset it would touch. ''If the distress becomes large, Emirates may have to moderate their growth,'' he said.
That's the worry for aircraft manufacturers like Boeing and Airbus. As mentioned, Emirates, has $55 billion of orders with the two manufacturers; two weeks earlier, it had actually said it might take over orders its rivals are looking to delay or cancel (Boeing 777s or Airbus 330s). It is also the biggest customer for the A380 super-jumbo and has booked 58 of these.
But Dubai's airline has emerged as a potential pawn in the city-state's scramble for financial stability. Experts say the airline's future could be determined by Dubai's sister emirate, Abu Dhabi, which could demand ownership of the company for bailing out its neighbour if the troubles at Dubai World worsen. Emirates is owned by the Investment Corporation of Dubai, which is controlled by the Dubai government.
International analysts say the airline could be put on the table if the crisis deepens, though it is one of Dubai's crown jewels and enjoys a strong reputation. If it continues its present growth trajectory, Emirates could emerge as one of the biggest long-haul carriers within a decade, as it strives to make Dubai an international travel hub, linking Europe and North America to West Asia, Asia and Australia.
Emirates Airline President Tim Clark recently said that ''Dubai will navigate itself out of this, as will we. I am confident the airline will not be affected by this". Clark said his airline did not intend to cancel any orders for new aircraft and its finances would not be impacted by the current crisis. The airline has independent sukuks (Islamic bonds) and bonds, maturing in 2010 and 2011.
Unlike many of its global peers, Emirates is profitable. Its profits rose 165 per cent to $205 million in the six months ended September. Started in 1985, the airline has been making a profit every year, from the third year of its operation. With 137 aircraft, it flies to over 100 destinations in 60 countries and is still expanding. But, experts feel the airline may have over-expanded.
Like many other carriers, it was caught in a "whirlwind of expansion" syndrome. It is funded well, had limited competition and tried to expand its market as much and as fast as possible. ''It was successful in doing so and perhaps too much,'' says Steve Forte, a former CEO with Jet Airways. Nobody had anticipated the severe economic downturn in Dubai, although there were signs in the air.
''For years, Emirates has cashed in on business traffic, but clearly thought such a bonanza would last indefinitely. Their massive orders of the A380 is a good example of that. Now, they have to reel in their oars,'' says Forte. Pressure to maintain high profitability could build if Dubai put Emirates up as collateral for the billions of dollars it needs to get out of the woods.
With much fanfare, Emirates launched the first A380 service on the New York route in March, but has quietly retired it from the route since then. There are several critics that already call the A380 "the white elephant" of aviation. ''The aircraft was conceived at a time of quasi-prosperity...By the time it was delivered to the market, conditions had changed for the worse. Emirates has a heck of a problem on their hands and they have no option but to delay future deliveries and even cancel some of them,'' says Forte.
Airbus is likely to be hurt, and hence is pouring on efforts to develop the A350, which will fill the gap between their A340s and A380s. Analysts feel Boeing will gain if it is able to roll out their new airliner (the B787 Streamliner).