National carrier Air India has lost over Rs 48 crore (Rs 480 million) due to delay of its flights in last three years and its services on only 14 routes out of 202 were meeting the total cost of operations.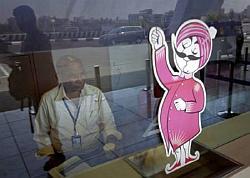 "The estimated loss to Air India as a result of delays to its flight during the three years were Rs 13.44 crores (Rs 134.4 milion) in 2009-10, Rs 15.75 crore in 2010-11 and Rs 19.48 crores in 2011-12," Minister of State for Civil Aviation K C Venugopal informed the Rajya Sabha on Thursday.

He said at times flights are delayed due to technical, operational,
commercial, weather and miscellaneous reasons which are beyond the control of the airlines.
While replying to a separate question, the minister said that out of 202 routes where AI is providing its services, only 14 were meeting the total cost of operations.
Services on 12 routes were not meeting the fuel cost while 74 of them were meeting the fuel cost but not meeting the cash cost, Venugopal said.
The national carrier's 102 routes were meeting the cash cost, but not the total cost, he said.
The minister also informed the House that the government had infused equity of Rs 9,000 crore (Rs 90 billion) in the airline since 2009-10 till date.