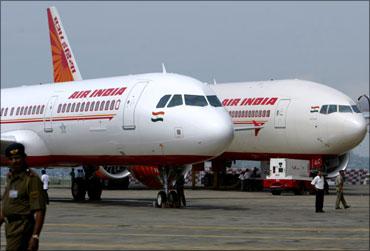 To increase its passenger share, Air India on Tuesday launched a service to connect this industrial city with Delhi and Kolkata as part of its plans to connect tier-II cities with metros.

"Air India is making efforts to connect major cities like Kanpur with metros where there is a high demand.

"If the occupancy remains high, the national carrier plans to connect it with Mumbai and Ahmedabad soon", Civil Aviation Minister Vayalar Ravi said at Chakeri Airport in Kanpur.

The airline is operating the flight AI-9801 with a 70-seater Canadian Regional Jet aircraft, which on Tuesday had an occupancy of 50 from Delhi.

The Kanpur-Kolkata leg was flagged off by Ravi and Union Coal Minister Sriprakash Jaiswal, who represents Kanpur in the Lok Sabha.

On the demand of the locals for a new terminal building, Ravi said the Indian Air Force, which controls the airport, has given four acres of land for the purpose.

Jaiswal said the reasons for delay in launching the flights had been sorted out and the airport at Kanpur would gradually see more flights.

Asked about issues like wild animals, including neelgais straying into the runway, Ravi said the Air Force would have to take effective steps to prevent such occurrences.

Air India has now started focussing on connecting tier-II and tier-III cities with the metros and several new such connections are on the anvil.

The Delhi-Kanpur-Kolkata flight was the third in the series after the Delhi-Gwalior-Mumbai and Delhi-Ranchi-Kolkata flights, which were launched recently.

The national carrier expects the regional sector to be the growth driver for India's aviation industry as more of such cities require connectivity to major metros.

"The airline would be focussing on these attractive routes in the coming days to gain back our market share by providing the cheapest possible fares on them," a senior Air India official said.

The competitive fares on these flights would be a major reason to attract passengers. The average fare for a Delhi-Kokata direct flight is Rs 6,000 which goes up as the seats are booked.

But Air India would be offering a seat at Rs 4,000 on the Delhi-Kanpur-Kolkata route with little chance of escalation of fare.

The company expects that operating small planes like the CRJ and the turbo-prop ATRs would lower its operating costs due to the hefty concessions on landing and parking charges.