Air India and Jet Airways have cut travel agents' commission to one per cent from the existing three per cent, as the airlines struggle with high debt and losses. Travel agents have opposed the cost-saving measure and urged the airlines to defer the move, which comes into effect from July 16.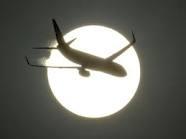 At present, Air India spends about Rs 1,000 crore (Rs 10 billion) annually on distribution, which includes agent commission and fees for use of reservation systems and global distribution systems that hold ticket inventories.

This is about six per cent of the Air India's annual expense. Over 80 per cent of the airline's tickets are sold through offline agents and portals. Both Air India and Jet Airways are trying to increase web sales to reduce distribution costs.

Jet Airways spent Rs 1,261 crore (Rs 12.61 billion) on ticket distribution and sales in 2010-11 and this accounted for 10 per cent of its expenditure, according to its annual report.

At a recent interaction with equity analysts senior Jet executives had said the airline was looking to restructure
agents' commission.
The airline spokesperson did not respond to an email query. Kingfisher spokesperson too did not respond to a query but the airline may also follow Air India and Jet Airways in reducing commission.
Jet Airways ended 2011-12 with a consolidated net loss of Rs 1,420 crore (Rs 14.2 billion). Air India, which is yet to finalise its accounts, is estimated to have lost about Rs 5,500 crore (Rs 55 billion) in the same year.
International airlines, like Air France, KLM, British Airways and Lufthansa, do not pay regular commission. Indian low-cost airlines too, do not pay commission and agents charge a transaction fee on bookings on these airlines. Those who give commission include Emirates, Cathay Pacific, Gulf Air and Sri Lankan Airlines, among others.
Opposing the reduction in commission, Travel Agents Association of India Chairman Iqbal Mulla said, "With the current situation of Air India, where flight schedules are disrupted due to the ongoing strike of the pilots, this reduction would discourage the agents from promoting the airline, which would lead to further losses." Mulla has asked Air India to defer the proposal till October 31.