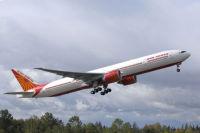 Air India Express, the low-cost arm of loss-making state-owned carrier Air India, will move its engineering and maintenance facilities to Thiruvananthapuram from Mumbai in three months.
The move, according to airline officials, will help AI Express reduce costs and increase fleet utilisation.
AI Express Chief Operating Officer S Chandrakumar confirmed the development.
"We hope to start the maintenance facilities in June. The Airport Authority of India is constructing an approach taxiway to the hangar and that is expected to be complete by May-end," he said.
It has already set up a hangar to accommodate two Boeing 737 planes and hopes to utilise the facility to service planes of other companies.
"This will serve as a revenue stream for the airline,'' an airline official said.
The airline has 21 Boeing 737-800 planes and almost all of these are based either in Kochi, Kozhikode, Mangalore or other cities in South India.
These planes largely fly on the busy Gulf routes, which account for about 40 per cent of international traffic from India.
Since there is no engineering set-up
in any of these cities, these planes fly to Mumbai once a week or once a fortnight for routine maintenance.
The flight schedule is prepared keeping in mind the maintenance schedule.
"On any given day, 18 of the 21 planes are in operation and three are undergoing maintenance and repair.
"We hope we will be able to utilise the fleet better once the engineering base moves to Kerala. We will hope to utilise 19 planes per day,'' the official said.
AI Express would gains as these planes need not fly all the way to Mumbai for maintenance.
Although the airline manages to get full loads on these domestic flights - like Kochi-Mumbai and Mangalore-Mumbai - because of low fares, the flying time is higher.
While the flight time from Kochi or Thiruvananthapuram to Mumbai is around two hours and the cost of fuel burnt is about Rs. 2 lakh per hour, the flight time from Kochi or Kozhikode to Thiruvananthapuram is 20 to 25 minutes.
It earned about Rs. 1,400 crore (Rs. 14 billion) during April 2010-January 2011 and hopes to earn Rs. 1,700 crore (Rs. 17 billion) in 2010-11.
It will have an estimated net loss of Rs. 360 crore (Rs. 3.6 billion) after sharing 25 per cent of its revenue with AI.