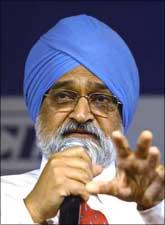 Deputy Chairman of Planning Commission, Montek Singh Ahluwalia, is among 19 members chosen by UN chief Ban Ki-moon for a high-level advisory group on Climate Change Financing tasked with mobilising funds pledged during the Copenhagen meet to tackle global warming.
Apart from Ahluwalia, philanthropist George Soros and British academic Nicholas Stern are among the members of the the body co-chaired by UK Premier Gordon Brown and his Ethiopian counterpart Meles Zenawi.
President of the Republic of Guyana Bharrat Jagdeo and Norwegian Prime Minister Jens Stoltenberg are also part of the group, whose other members include diplomats, bankers, businesspersons and philanthropists.
The Copenhagen Conference on Climate Change in December last year had failed to produce a legally-binding treaty. Instead, it settled for the Copenhagen Accord, whose key elements included a limit of 2 degree rise in global temperature; $100 billion in long-term financing to developing countries and $30 billion in short-term financing to the poorest and most vulnerable nations.
There is still no clear mechanism for the actual collection and disbursement of this aid, but the next round of formal negotiations on the issue are scheduled for May in Bonn.
The advisory committee on Climate Change Financing is tasked with presenting a report to Ban on the best way to collect and dispense this money, before the next big Climate Change meeting scheduled for the end of the year in Mexico.  The Advisory Group will have its first meeting on March 29 in London.