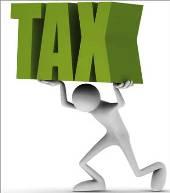 With the Delhi High Court expected to hear the case of an earlier tax notice of Rs 2,500 crore (Rs 25 on cellphone maker Nokia, the Income Tax department seems to be readying another notice for the company, a television channel reported.

The notice will be for the failure to pay tax on royalty income.

It could be served to the parent company, Nokia Finland, for an amount of Rs 1,700-Rs 1,800 crore (Rs 17-18 billion).

Tax
authorities had already sent a notice to Nokia India for failing to collect tax deducted at source.
The notice alleged that Nokia had earned an income of $3.26 billion from its Chennai operations, for which it failed to pay the taxes.
The bill of Rs 2,500 crore (Rs 25 billion) has been disputed by Nokia.
The tax department had alleged the company failed to pay taxes over six years, dating back to 2006, according to the report.
The court had granted a stay on proceedings and Nokia had denied any wrongdoing.