Year 2009 began on a gloomy note for the labour and employment ministry with the recession, resulting in a job crisis in the country, though the mid and later half showed promising signs of revival.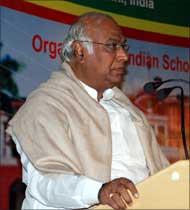 Labour unrest and lockouts hit various parts, but the stimulus injected by the government proved to be a shot in the arm for the ministry as the July-September data of the Labour Bureau revealed signs of recovery and creation of 500,000 job opportunities.
The stimulus increased liquidity in the economy, thereby giving a boost to both production and consumption sectors.
Previous quarterly surveys said while employment declined by 491,000 during the October-December quarter last year, it increased by 276,000 during January-March quarter this year and again declined by 131,000 in April-June.
A positive outcome in the year was when India signed an ILO-sponsored 'jobs pact' in July and put employment and social protection at the centre of crises responses.
The year also saw setting up of National Skill Development Corporation by Finance Minister Pranab Mukherjee to address huge deficit of skilled hands, which the labour ministry said is evident in 20 high-growth industry sectors and the unorganised sector.
The NSDC, funded by government and industries in the ratio of 51:49, will train about 150 million people by 2022 to meet the growing demand for skilled workforce.
Dalit Congress leader from Karnataka M Mallikarjun Kharge, who took charge of the ministry on May 29, said his effort would be to expand the skill development initiative to help groom around 50 crore (500 million) people by 2022.
The government's initiative consists of the Prime Minister's National Council on Skill Development for apex level policy directions, a national skill development coordination board and a national skill development corporation.
The ministry also embarked on a project to modernise and upgrade employment exchanges across the country under the National e-Governance Plan to provide speedy access to employment-related information to job seekers and employers.
Kharge told Parliament that a national web portal would be developed to serve as a virtual job market. It would contain all relevant information on availability of skilled persons and requirements in industries.
On September 11, the ministry held a conciliation meeting with Jet Airways pilots and the management under the Industrial Dispute Act to end a stir over formation of unions and other issues.
The ministry was also confronted by labour unrest across the country especially in the industrial belt of Gurgaon and Faridabad where workers accused employers of victimisation for raising their voices and demand for formation of unions.
Industrial unrest took an ugly turn in mid-September when a senior executive with auto parts maker, Pricol in Coimbatore, was allegedly murdered by striking workers, forcing the Labour Ministry to seek a report from the Tamil Nadu Government.
During labour agitations in Gurgaon, CPI MP Gurudas Dasgupta meet Kharge complaining that he was prevented from addressing striking workers there.
The first report of the Industrial Disputes (Amendments) Bill, 2009, tabled recently in Parliament, seeks establishment of grievances redressal machinery in every industrial establishment employing 20 or more workmen for resolution of disputes arising out of industrial grievances.
As part of legislative measures, a bill to amend the Workman's Compensation Act, 1923 and make it gender-neutral was passed by both Houses of Parliament during the last session.
Similarly, a bill to amend the Payment of Gratuity Act, 1972 to cover the teachers in educational institutes was passed by Lok Sabha on December 16.
The minimum wages was also revised from Rs 80 per day to Rs 100 per day with effect from November 11.
Towards the end of the year, retirement fund manager EPFO once again deferred a ticklish issue of investing 3-5 per cent of its Rs 257,000 crore (2,570 billion) corpus in stock indices.
EPFO's advisory body, facing strong opposition from the union members, had turned down the Finance Ministry's proposal to invest 3-5 per cent of funds in stock indices.
In August, Kharge released the first set of 'Pehchan' Identity Cards to 25 employees of state insurance in Bangalore as part of ESIC's drive to make its services online.
About 50 million beneficiaries are receiving medical care under the scheme today. It has 144 functioning hospitals and 1400 dispensaries to provide services to its beneficiaries.
Towards October end, the National Policy on HIV/AIDS and the World of Work, a policy document formulated by the Ministry of Labour and Employment, was released by Kharge.
The policy aims at preventing transmission of HIV among sex workers and their families protecting rights of those who are infected and providing access to available care, support and treatment facilities.