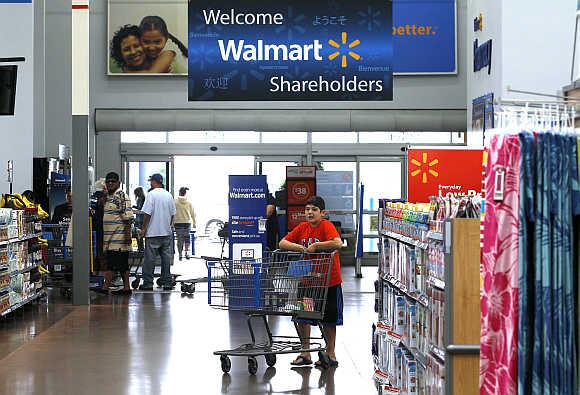 The government will take necessary action on lobbying by Walmart to enter India if US authorities come out with "something tangible" on this matter, but a probe in India could not substantiate allegations against the global retail giant, Corporate Affairs Minister Sachin Pilot says.
While pitching for a public debate on corporate lobbying, the minister also said that the two issues -- need to define lobbying in India and the alleged impropriety by Walmart -- are different from each other.
Government had ordered a probe in December 2012 into lobbying activities undertaken by the US-based Walmart to enter Indian retail market.
However, the government-appointed one-man inquiry panel in its report, which was tabled in the Rajya Sabha last month, could not "conclude in the absence of any material evidence available on record up till now, that Walmart indulged in any lobbying/bribery to Indian officials".
While the probe was ordered after a huge uproar by opposition parties in Parliament, the enquiry report could not be debated when it was tabled due to repeated disruptions.
"What happened in Parliament is something we are all saddened by and we could have had discussions on it," Pilot told PTI in an interview.
"The short point is that the committee was set up as a response to the issues raised in Parliament about allegations of bribery etc.
"So whatever evidence, material and individuals were called they gave their accounts to Justice Mukul Mudgal (head of the enquiry panel) and his committee, they were reported. What the company has reported in the US, we are not privy.
"If more such issues come up or something tangible comes up which is taken cognisance by the US authorities then we will certainly look at it. So far in his findings, he did not find anything to substantiate the allegations made," Pilot said.
Walmart is separately being probed in the US for alleged foreign bribery charges, while it had also instituted some internal investigation into these matters.
Asked about the need to clearly define lobbying, Pilot said that the larger issue remains "whether we should have definition, clarifications about the concept of lobbying, what it means etc.
"I am of the view that we have to define it at some point of time, today or later, but times are demanding for us to come out with clear definitions about legality and illegality, or, what is allowed and what is not allowed."
Pilot, whose ministry was the nodal agency for Walmart probe committee, further said that a clear definition of lobbying would help "see good from bad".
"If companies are doing something which is illegal under the garb of lobbying then they must be taken to task, but if someone is doing advocacy and putting things into light, keeping the interests of stakeholders, policymakers in one place, those are different things," Pilot said.
"But that needs to be defined in India. But, first we don't have the framework to define that (lobbying)," the minister added.
The issue of lobbying has caught public attention many times in the recent past, including in the wake of probe into whether Walmart violated rules by indulging in India-specific lobbying activities.
According to lobbying disclosure reports filed by Walmart in the US, it has been lobbying with American lawmakers since 2008 for facilitating its entry into the Indian market.
Lobbying is a legal activity in the US, but all the companies and their registered lobbyists need to file quarterly disclosure reports with the Senate and the House of Representatives.
In its Action Taken Report on Walmart probe, the government had said it would initiate fresh action against Walmart if an ongoing 'foreign corrupt practices' probe by US authorities reveals any violation in India by the retail major.
The government has also said it is "continuously monitoring" developments in the US with regard to such lobbying activities and an ongoing investigation into bribery charges against the company.
Going by the suggestions made by the probe panel, the government said in its ATR that the "Ministry of External Affairs through Embassy of India in Washington is continuously monitoring developments" in these matters.
The developments are being monitored so that "appropriate action could be initiated as and when relevant information becomes available at a future date or the results of any ongoing investigation under USFCPA (US Foreign Corrupt Practices Act) reveals commission of any offence under Indian law", the report had said.