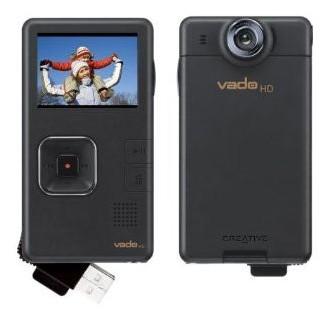 Creative Vado HD Price: Rs 19,999
Creative is no newcomer in the consumer electronics market -- they have been making audio and video products for ages -- but it still doesn't take an expert eye to conclude that Creative's Vado, a pocket-size camcorder, is strikingly similar to the popular Flip camcorder from Pure Digital.
Creative Vado is admittedly more stylish than the Flip Video Ultra. The 3.9x2.2x0.6-inch Vado is thinner and lighter than the Flip. It is also easy to slide into your pocket and be there without causing a bulge. In fact, the 4.1x2.2x1.2-inch Flip can no longer claim to be the world's simplest or the smallest camcorder.
Next to the Vado, the Flip Ultra actually feels overgrown. A tiny 2-inch LCD screen is a viewfinder and also the playback screen for this pocket camcorder. The Vado includes not only the expected composite video port for connecting the camera to a TV, but also an HDMI port, a feature that is distinctive to the Vado.
Just like other pocket camcorders, the Vado HD too lacks an image stabiliser and an optical zoom (it does have a 2x digital zoom) and offers no control over white or colour balance.
Keeping the controls simple, Vado comes with a single record button and a four-position switch for zooming, adjusting volume and navigating from one saved clip to another.
The first time you plug the Vado HD into your computer, it installs Vado Central, a simple video-viewing application. From within Vado Central, you can instantly upload your clips to Youtube, Photobucket or Box.
During our review, Vado's audio output was impressive. For instance, in outdoor recordings, the camcorder picked up all the noises brilliantly. As far as recording in low light goes, it still won't be a replacement for a camera with night vision, but it gives a decent recording quality indoors. Creative Vado HD is available at Rs 19,999.
PROs
Very compact and sleek design
High definition recording
HDMI cable supplied
CONs
Lacks a memory card slot
Digital zoom is inadequate
Battery needs frequent recharging
Kodak Zi6; Price: Rs 7,200
After Sony, Pure Digital and Creative launched their pocket camcorders, Kodak too carted out the Zi6, a diminutive camcorder, in the market. The Zi6 does mobile phone video one better and adds HD capability. It is easy to use, feels good in the hand and ships with good software for uploading to video sharing sites like YouTube.
Buttons on the Zi6 are minimal, but they allow toggling between close-up and normal shooting modes. It also comes with a SD/SDHC card slot, snap-out USB plug and output jacks for SD and HD video.
The front of the camera hosts the 2.4-inch LCD screen, which has a passable frame rate and resolution. The Zi6 shoots video at VGA resolution or 720p high definition video at 30 or 60 fps. Kodak offers both the options because the 30-fps video takes less space, but the 60-fps one is a lot smoother. The good news is that the SD/SDHC slot on the Zi6 can take cards as large as 32GB, and because it has just 128 MB of internal memory, you will require an SD card in any case.
There's not really much to the camera as far as options go. You can't set the shutter speed, you can't control the light sensitivity, and you can't change the white balance. You basically hit record and go. And, even though it has no in-built image stabiliser feature, the camera does carry a plastic tripod mount at the bottom, should you need to hold it rock-steady.
The Zi6 has all its software onboard like every other pocket camcorder. The software allows direct uploading to YouTube, although the user cannot select privacy settings beforehand, as one can with Pure Digital's Flip.
With its minimal feature set, it's really cheap for a video camera. But then at (approximately) Rs 7,200, you can't really ask for more.
PROs
Lightweight and easy to use
Supports SD/SDHC cards
Takes AA rechargeable batteries (included)
CONs
Flimsy USB jack
Insufficient in-built memory
Poor quality recording in low light
Image: Creative Vado HD