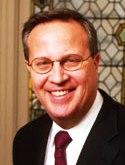 Yale University president Richard Levin said last week that the university may have a possible role in contributing to the set of innovation universities that the Indian government is seeking to establish through various mechanisms.
In an interview with rediff.com ahead of his departure for India where he is to take part in Yale CEO Leadership Summit of the Chief Executive Leadership Institute, Levin said that Yale has a long history with India and rapidly growing set of significant connections to the country in many areas -- the government, business sector, academic community, civil society, and other areas.
Noting that the human resources minister Kapil Sibal reiterated during discussions with him that the Indian government is committed to increasing the number of collaborations between Indian and American institutions and expanding the scope and intensity of the collaborations in a range of fields, he said he and Sibal discussed the possible roles for collaboration in terms of innovation universities.
"Sibal and I discussed a possible role for Yale to contribute to the set of innovation universities that the government of India is seeking to establish through various mechanisms. Our discussions were exploratory and highly preliminary since this was the first occasion that these proposals were presented to Yale. The proposals are ambitious and necessary for India to develop a world-class platform for higher education in India," Levin told this correspondent.
The summit will convene over 100 world-renowned business leaders in New Delhi November 5 and 6 to discuss the theme of 'Navigating the Global Oceans of Opportunity for Indian Business.'
Asked why Yale is interested in India Levin said that by 2030, India will have the largest population of any country and by 2050, India is likely to have the second largest economy in the world after China.
"Yale trains its students for leadership in all areas of human endeavor, and as such, Yale students need to have a broad exposure to India because India along with China will disproportionately have a critical role in geo-political and economic affairs in the years ahead," Levin said.
What can Yale contribute to India's higher education as far as non-traditional, research oriented universities are concerned?
"The research ethos is critical to a university. Advancing knowledge through research is a vital dimension of any university and institutions like Yale -- through collaborations with Indian institutions and by sharing its best practices -- can impart on Indian higher education the value and necessity of research in the knowledge enterprise," Levin who is on a weeklong trip to India, said.
Besides addressing the New Delhi summit, Levin will be in Mumbai to advance the Yale India Initiative and will help launch India's green buildings standards.
While in New Delhi, he will host a reunion of the 2007, 2008, and 2009 cohorts of the India-Yale Parliamentary Leadership Program.
"I will also be meeting ministers Jairam Ramesh and Sibal, Prime Minister Manmohan Singh, Congress party chief Sonia Gandhi and others in the Indian government," he said.
Image: Richard Levin