The way India dealt with the impact of the global economic crisis and failure of the South-West monsoon was praise worthy, said Prime Minister Manmohan Singh in Lok Sabha on Friday.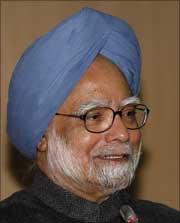 This year we hope to achieve 7.2-7.5 per cent economic growth and next fiscal we expect to achieve 8 per cent and year thereafter we expect to return to 9 per cent growth rate, he added.
"I am confident that macro-economic fundamentals of the economy are strong. We need to invest more in education, health, rural and urban infrastructure," he said.
If we manage our economy well, if we manage creation of social infrastructure well, there is no barrier to India's entry in the age of double digit growth. He also said that the government has been worried by the behaviour of food prices in last one year and have taken steps and are ready to take any practical measure that gives relief to people.
"We have not allowed large scale unemployment to emerge as a problem in the country. If we manage our fiscal position well, we can tackle sharp edges of poverty in five years," he added.
Prices of sugar have been rising due to three-year crop cycle. Government will explore ways and means to check sugar prices, assured the PM.
Last year, agriculture sector growth was minus 2 per cent because of drought. It has grown at rate of 4 per cent from 2005 as against 2 per cent from 1997 to 2002, he informed.
On one-rank, one-pension for retired army personnel, five recommendations by the committee headed by cabinet secretary have been accepted, said PM.