Minutes after signing the agreement to acquire Zain Africa, Sunil Bharti Mittal spoke to Business Standard over the phone from Amsterdam. Excerpts: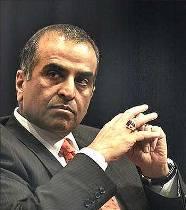 What are the next steps after signing of the agreement? How will the deal be structured?
We will now apply for regulatory approvals in 15 African states. We hope this will be done soon and we are confident that the clearances will come soon. We have already formed a special purpose vehicle in The Netherlands which will buy 100 per cent of Zain Africa BV, which is also based in The Netherlands. This makes the transaction simpler. There are also some tax benefits.
Are there regulatory issues in Gabon? Are they opposed to the deal?
There is nothing like that at all. We will now apply for regulatory approval and knowing the good relationship that India has with all the countries in Africa, I don't see any issue.
How will you deal with the minority shareholders in Nigeria, who seem to have some issues with the deal?
We have 65 per cent stake there and we will talk to the minority shareholders .
Will you bring the Airtel brand to Africa?
Yes, we will introduce the Airtel brand in Africa in all the markets, we will start the process a few months after the deal is closed. It will be something like the Vodafone brand launch in India.
Who will head your African operations, and will you continue with the Zain employees or get Airtel executives from India to run the show?
Manoj Kohli will head the Zain Africa operations and will be spending a lot of time there. Zain has to be run by Africans even though the Bharti model has to be embedded there. We might have 30-40 expatriates from India who will oversee the operations.
What does the buying out mean to Bharti?
It's a game changer, for it will give an Indian company a global telecom footprint.