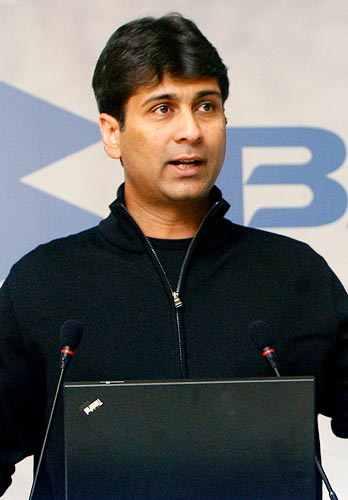 Production has crippled at Bajaj Auto's Chakan plant in Maharashtra following a labour strike which entered its third day today. Rajiv Bajaj, managing director, is hoping production will get back to normal as the company makes alternative plans. He spoke to Surajeet Das Gupta and Swaraj Baggonkar. Edited excerpts:

Has any violence been reported inside the Chakan plant?
Not at all. We have been fortunate. The police has been very good. They have provided enough security at the plant. Whoever is coming in is doing so because he/she wants to work. We have 50-60 girls out of 1,500 people and 30-35 of them are reporting to work. We have made some special arrangements for accommodation because some of them were threatened by these goons.

Is it possible to move production to other Bajaj plants?
If this (labour issue) is going to extend over the next two months, then certainly we can do that and we will do that. When you buy 80 per cent (of the parts) from the suppliers, the suppliers can supply to any plant.

And, the rest of the welding, painting, assembly you can always do at another plant. But I would do that only after waiting for a couple of weeks. If the situation drags on for a few months, then obviously we would do that. We can do it at Aurangabad, at Pantnagar or at both places because the same set of vendors supply to both. In fact, a small production of Pulsars has started at the Aurangabad plant. So, when 500-600 bikes were produced at Chakan yesterday, about 100 Pulsars were made at Aurangabad.

How did things come to such a pass?
Dilip Pawar, who belongs to our Akurdi plant, is trying to impose himself from outside on the Chakan plant.

He tried to create some trouble in Pantnagar but was thrown out of the plant and work has been normal since then. He then turned his attention to the Aurangabad plant to garner support but they asked him to get out from there, too. In the last couple of years, he has been trying to give false ideas to people at the Chakan plant.

For a plant which has worked perfectly for the last 14 years, we have had trouble only in the last two years,
where we had hiring issues and loss in production issues.
The workers have asked for equity shares. What is the situation currently?
This is a public limited company, not a kirana shop that I can handle (company) shares like that. We are not going to do anything of that sort. The police have already registered First Information Reports and arrested a few persons, because they have been locking people in their homes, threatening their families, misbehaving with female workers, and even assaulting others. There is nothing the company can do about it. The police has to act on that.
Has the state government intervened?
Nothing so far, at least. We have to wait and watch.
Will you look at ironing out the issues?
There are lots of issues which might need to be ironed out and we are very happy to sit with our people and iron them out. But if they think they can bully us into something, they have to think again.
Are you readying other plants for KTM production?
Not at all. KTM production will be at Chakan. If I knew today it is going to take two-three months, anything is possible. But I would very much like to believe this would not be the case and therefore I am hopeful to do that here (production). Also, our first priority in terms of production is to produce KTM for export and domestic and the second priority is to produce Pulsars for export.
How comfortable are the inventory levels?
There is a four-five week long inventory with Bajaj Auto and its dealers, depending upon which state we are talking about. For a customer buying a Pulsar, there will be no issue.
How long will you wait to take a decision about shifting production?
We will have to look at it one day at a time. I do not think I can put a number on that right now because ultimately we have to judge the situation more qualitatively. Let us say by Sunday or Monday, we have 300-400 people working there. That could tell me things are heading in one direction. But let us say there is a sudden outbreak of violence for some reason and suddenly nobody comes to work, then it would mean something else.