Prithvi Raj Singh Oberoi, chairman of the Oberoi group of hotels, says many people had approached him for picking up stake in EIH, but their investment objectives were not compatible with the company's. Excerpts: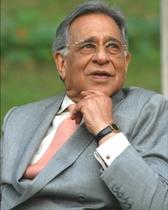 Why are you selling and reducing your holding?
Reliance wanted to invest in the hospitality industry. They are a very strong, progressive Indian company and we welcome their investment and interest in EIH.
The hospitality business is very capital-intensive. EIH has a growth strategy and it needs strong committed shareholders to support the company in the long term. We see Reliance satisfying these criteria.
Why Reliance?
We have been approached regularly by many people with different interests. However, in each case, the investment objectives of the various parties were not compatible with our objectives.
Reliance is a very strong and progressive Indian company with both an Indian and international focus. It has visionary leadership. It is a long-term investor. It does not have any conflict of interest. Reliance believes in EIH, what it has achieved and its future and we think this is a good basis for its investment.
How will Reliance's investment affect EIH and what role will Reliance take in EIH?
Reliance is an investor; it will have no involvement in management or operation. The promoters will continue to manage and operate EIH.
Will Reliance have EIH Board representation?
This is a matter for EIH and its board.
Will this deal lead to EIH managing properties owned by RIL?
This is a matter for EIH and RIL to decide. EIH has made it well known that it would like to expand its management contract business for hotel owners in India and overseas.
What will the promoter holding be as a result of the transaction?
The promoter holding is 32.31 per cent.