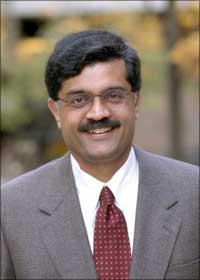 Dr Venkatram Ramaswamy, Hallman Fellow of Electronic Business and Professor of Marketing at the Ross School of Business, University of Michigan, Ann Arbor, USA, is in India to speak at Guruspeak, an annual event organized by IIM-Calcutta.
As part of the event organised by IIM-C's Alumni Association, the author of numerous articles and award-winning book, The Future of Competition, co-authored with late Dr C K Prahalad, Prof Ramaswamy will be conducting a day-long workshop on November 25 at Trident, Nariman Point, Mumbai.
The well-acclaimed scholar found some time out to reply to an e-mail questionnaire on his visit to Mumbai, his vocation as a teacher, the late Dr Prahalad and what could India and its corporates do to enhance their competitiveness in the global arena. Excerpts:
What brings you to India?
Kind invitations to speak at the IIM-Calcutta Alumni 50th anniversary event on 'Co-Creating the Future', and participate in an internal 'Mahindra Rise thru Co-Creation' initiative.
From mechanical engineering at IIT Madras to teaching marketing and computer and information systems at the Ross School of Business, University of Michigan. . . How did this transition happen? Were you always interested in teaching?
Yes, I suppose in retrospect. I happened to be one of the early few from IIT Madras who went to the United States back in 1984, to pursue a PhD in Business.
I got my doctorate from Wharton in Marketing, taught for two years at the University of Texas at Austin, and was poached by Michigan in 1990, where I have been ever since.
Please tell us about your association with the late management guru C K Prahalad? What kind of influence did Prof Prahalad have on you?
When I joined Michigan, C K Prahalad had just published his classic work on Core Competence. I had always been at the intersection of theory and practice, and was fascinated with Dr Prahalad's approach to what he famously called 'mid-level theory building through amplification of weak signals from emerging and next practices'.
Once I obtained my early tenure and full professorship, I had the good fortune of teaching together with him in the Executive Global Program for Management Development in India, as far back as 1997 when we coined the term 'co-creation'.
This gave the opportunity to have informal interactions with him, discussing what was happening with the emergence of the Web, and the changing relationship between companies and customers.
He used to take interest and sit in my sessions, which was unnerving and inspiring at the same time, as it would kick-start challenging conversations.
Prof Prahalad had this amazing ability to fold the future in. I remember discussing with him a question: what would happen if three billion people had cellphones in their pocket, and they had access to information and were connected and networked as never before.
Would it be more of the same or would it structurally alter the relative balance of influence between institutions and individuals? And here we are in 2011 with close to five billion phones on the planet and a whole new age of engagement.
Yes, C K Prahalad was my mentor and I carry his spark of intellectual curiosity in my heart. We wrote several articles together during 1998 to 2004, when we subsequently published The Future of Competition, and I learned a lot from working with him.
Can you tell us about the values your parents taught you when you studied in school and college?
They are classic traditional Indian values. My father introduced me to my spiritual guru, Swami Krishnananda (Divinee Life Society), and his writings on Indian Philosophy, the Upanishads, and Advaita Vedanta, which have greatly influenced my thinking on human beings and their relationship with the world.
What, according to you, are the qualities required to achieve success in whatever one does?
Dedication, persistence, and ironically, not worrying about success as such. The journey itself is the reward. As the Indian scriptures remind us, focus on actions and not its fruit, which is not in our hands.
How has Indian and US education changed over the years? Do you think Indian universities are at par with top universities abroad?
I would like to tackle this question somewhat differently.
First of all, I believe we are witnessing fundamental changes in value creation through 'democratisation of engagement', no matter what the field of activity.
Interestingly, in an age of distributed knowledge creation, most universities in general around the world have been slow to grasp this huge shift that is taking place, which has enormous implications for both the act of research and teaching.
Those universities that can transform themselves by embracing a more co-creative approach to education are the ones that are likely to be seen as 'top' in the future as it is becoming.
What's your prescription for Indian as a country and its businesses to enhance their competitive levels?
Build next generation enterprises by innovating together with the young generation of talent and consumers (India's unique demographic dividend for now), harness India's enormous diversity through continuous experimentation with new value creation ideas, and lead with humanism in inclusive growth and prosperity through private-public-social partnership models that expand ecosystem development, infrastructures, governance, and resilience.
Image: Dr Venkatram Ramaswamy | Photograph, courtesy: www.venkatramaswamy.com