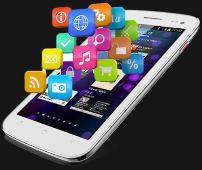 Mobile commerce is on the cusp of taking off in India  and the growth curve would be a hockey stick shaped one, says Shubhradeep Guha, Global Capability Lead and Country Manager, SapientNitro (India), an integrated marketing, commerce and technology services firm, part of the $1.02billion Boston-based Sapient Corporation (2011).

In an interaction with Business Standard, he shares his insights on how brands should behave when the mobile and tablet screens become the hub of communication with consumers.

Excerpts:

India is expected to cross 100 million-mark in mobile internet users sometime around mid-2013. How are mobile devices  and tablets set to influence purchases?

Smartphones and tablets are proving to be a critical bridge in connecting experiences across multiple channels.

In fact, TV is considered the first screen experience.

However, we continue to work on our mobile, tablet or laptop -- the second screen -- even when the TV is on.

For a sizeable section of young population mobile will become the first screen.

Mobile anyway has become the first piece of individual technology ownership.

This means TV content companies would have to change the way they produce content.

According to a recent study by Google, 9 out of 10 people use multiple screens simultaneously and smartphones serve as the common starting point for their online activities.

Searches from mobile have increased four times since 2010. So a lot of online (and even offline) purchases originate from mobile devices.

Mobile devices are emerging as an everyday platform for consumers and have the highest number of user interactions. Smartphones and tablets play different roles in the purchasing process.

Sometimes they are used for purchasing directly,  some times they are used to research. User experience of tablets, along with personal nature of the device when coupled with engaging content provided by retailers would help drive conversion.

From marketing and advertising perspective, how will story telling change?

Stories comprise a series of brand experiences and delivering 'wow' experience at every moment that matters. Mobile devices are carried by the consumer constantly, so they become powerful tools for creating multi-channel brand ecosystems that can deliver real value.

The phenomenal uptake of tablets and smartphones is consequently driving huge change in the ways brands tell their stories to the consumers.

Mobile consumers share their location, their preferences and their needs.

Brands can (and must) contextualize their interactions and experiences using
the data shared by the mobile consumers. We expect contextual behavior in brand communication to take off in a big way in 2013 and 2014.
Mobile commerce adoption has been slow in India. What are the connotations for m-commerce in light of the UID roll out?
One of the sub-sections of m-commerce that has just about taken off in India is mobile money transfer.
Given the large number of people without a bank account in India, mobile money products that facilitate person-to-person money transfers and payments towards essential services such as utilities is likely to fuel growth in this space.
That UID will facilitate m-commerce is as much a statement of hope as it is an assumption.
Mobile commerce will have the same transformative impact that ATMs had on the banking sector.
Mobile money is safe and auditable, and far easier to top-up when in need.
As an alternative method of payment, mobile money has the potential to augment and even dis-intermediate debit cards, credit cards or even cash.
Another big impact will be in our buying behaviour.
Besides promoting micro-transfers and remittances, mobile money will unlock buying potential of segments that do not have debit and credit cards.
Since it leverages the high mobile phone penetration in India, growth curve of mobile commerce is likely to take a hockey-stick shape.
Despite the huge traction of young consumers to social media sites, most Indian brands still seem to be figuring out their act for brand building and consumer connect. Why?
Consumption patterns for social media amongst college kids and youngsters are markedly different from ours.
And that is based on specific truisms, for example a lot of the action in the social sphere is conversational: people are talking a lot.
The conversations may not be transactional in nature but they do help to collect information or arriving at a decision while making a buy.
So brands need to find a way to join (and in future initiate) relevant conversations rather than merely setting up a Facebook page.
Secondly, for most brands digital still is an after- thought, and social more so.
For them 'social' ends with having a Facebook page and counting the 'likes'. Social is about building connections that help brand loyalty and commerce.
Social is also about creating opportunities within the context of on-going conversations.
Brands need to figure out ways to facilitate consumer-to-consumer conversations and these conversations could either be on a social networking site, or a brand's owned media.
Brands, including celebs, would have to look at ways to monetize their 'fan' base through the social media.  Brands need a comprehensive digital strategy.