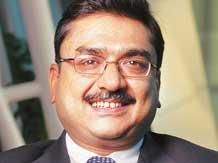 In line with its larger peers Tata Consultancy Services and Infosys, HCL Technologies Ltd reported strong financial results for the first quarter of FY14.

HCL's president & CEO Anant Gupta talked to Business Standard about the demand environment, its in the European market and Roshni Nadar's induction into the company's board of directors.

Excerpts:

The Indian IT sector has suddenly become very upbeat about the demand environment. What has changed in the last quarter?

Global multinationals have lost 250 basis points of market share last year.

Obviously, a lot of it has been gained by Indian players.

And we have also got a good share of that. Customers are very bullish.

They have a task to do and they are just executing it.

They have to make their companies enterprises for the future and that is something on which we are supporting them.

So, they have to drive all agendas at the same time.

They have to squeeze and unlock capital from operations and they will need credible players to run their business programmes, and then take the money out and execute what is called the commercial excellence programme, which is to help the business grow, be more agile, get more leads, etc.

However, overall spend is not going up too much. What is happening is that there is a market share movement between different vertical and services.

While Europe has been challenging for your peers, HCL has done very well in that geography? Is it the AXON edge which is helping HCL?

We entered the market ahead of others.

We also took a plunge consciously, knowing that the margin mix could be different due to onshore presence.

Since the projects are very complex, clients are looking at vendors who can do it end-to-end. It is a difficult market, but one will have to walk that market, there will be a change in the way HR (human resources) practices will be run, etc.

So, there is a lot to be built to be able to deliver that.

And we have built it to a large extent in many countries across Europe, which is why we are seeing that customers are confident moving contracts to us.

Plus, culturally, they are changing their attitude towards outsourcing.

They also realise that they need to do it if they have to survive.

What are your thoughts on Roshni Nadar's induction into the company's board?

It is a very positive move.

She has been the CEO of HCL Corporation, so I think she brings in a very fresh perspective to the board.

As far as the diversity of the board is concerned, it brings good improvement there as well.

From a shareholder representation perspective also, it is there. I just see it as a positive movement.

Her passion is in multiple areas, so the foundation work will continue.

Does it signify she will have a larger role in the operations of the company?

It is very difficult for anyone to predict. I would say her interests are in what she wants to do, and she continues to have a very strong passion in there. But from a shareholder's representation, and other aspects it is a positive.

There are some rumours about a possible acquisition of HCL by a large MNC IT player?

It is all rubbish.
Image: Anant Gupta; Photograph, courtesy: Business Standard