It has been a hectic week-long visit for William Owens. The vice chairman and CEO of telecom giant Nortel has been jet-setting between Delhi, Mumbai and Bangalore meeting his staff, vendors, potential customers and top government officials to keep them abreast of Nortel's new aggressive India strategy.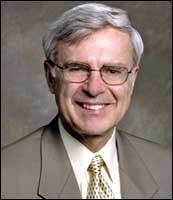 Owen, who was earlier the vice chairman of the Joint Chiefs of Staff in the US, is not a stranger to India. But he now promises to visit the country every six months to keep a "personal" watch on Nortel's expansion drive here.
He spoke at length to Surajeet Das Gupta on, among other issues, appropriate technology solutions for increasing connectivity in rural India, and the company's expansion plans. Excerpts:
Indian telcos are grappling with the task of increasing penetration in semi-urban and rural India. The key impediment is the cost of deployment. Is Nortel working on low-cost solutions?
I have been a poor farm boy so I am keenly interested in such solutions. One such solution is the CDMA 450, which operates on 450 MHz.
So it provides you the capability to transmit long distances, and its cost is one-tenth that of a CDMA 1900 network. It could be a good product for India if the government can release the 450 MHz spectrum.
Then we have towers and equipment that allow you to transmit more than double the distance from a normal tower. Indeed, our sister companies build virtual towers -- a large balloon is tethered by cables, which can put up a radio transmitter over 100 metres and is deployed in 24 hours.
Nortel's wireless mesh networks are another effective low-cost solution -- we are building a Wi-Fi network across the city in Taipei and in China where millions of people will get large amounts of bandwidth.
It is a cheap technology and we are planning to demonstrate this in India.
Right now, there's a lot of controversy in India about 3G services. How do you see the 3G roadmap, is India prepared for 3G?
This year, 3G growth will be seen in China, Korea and some of it will happen in the US. We are, in fact, already working on 4G, which has demonstrated speeds of 20 megabits per second.
It is possible to broadcast from a geo-stationary satellite directly to the phone and there are companies offering such a solution with 10 channels.
It might be a good thing to watch for a while and see the full range of 3G applications before starting operations, but you can't leave it too late as you surely want to be in the forefront of the telecom revolution.
You make equipment for both CDMA and GSM. Which will emerge the winner?
There is not much to choose between the two -- GSM dominates Europe while CDMA is in the US, Korea and China. I think the technologies will merge as they advance.
CDMA is already working on a follow-up version beyond EVDO (evolution data only) and EVDV (evolution data voice). GSM is also advancing to HSDPA (high-speed downlink packet access) and HSOP (high-power small-outline package).
What is happening in both cases is that wireless is getting packetised. And once you reach that stage it will be very difficult to choose between the two.
In the interim period, the choice of technology will be based on costs, and the range you can operate at with different frequencies.
Are you looking at setting up an R&D centre or a manufacturing base in India?
Nortel outsources most of its manufacturing. But if it is an important element, which has to be manufactured we will surely look into it. I also don't rule out setting up an R&D centre in India
At the moment, India is a small market for you. Do you see it ranking amongst the top five markets in the coming years?
I hope, so we have already got a large contract from BSNL (Bharat Sanchar Nigam Ltd) for GSM deployment. We are in discussions with the Tatas, have met Bharti and would like to participate in any of their future proposals.
Almost every equipment-maker is in India. What is your strategy?
We have developed a great relationship with many vendors who are equipment manufacturers, software companies or service providers who put up towers.
The professional capability of these people is world-class and they can work with us in other international markets as our partners.
That will help us in reducing our costs. We have already done that with some vendors whom we have developed for the BSNL contract.
We already have over 2,000 people in R&D for Nortel in India and 3,000-odd involved in manufacturing towers or components for us.
We also run about 90 networks across the world, and while we have still not started it yet, we see a substantial part of this being outsourced to India.
Are you picking up equity in Indian companies?
We have done it in a small way with Sasken Technologies. Nortel does about $ 6 billion of work with vendors around the world, and we expect a lot of it will come to India.
India will be, we hope, amongst the top three outsourcing destinations. We will look at equity participation in companies that have a unique strategic capability, like niche software capability, skills in managed services or well-respected companies in the field of e-governance activity.
Is the government a potential buyer of your products?
I had the opportunity to talk to some of the senior military leaders here. Nortel is engaged in core technologies in 12 defence ministries around the world, and it provides the backbone and the packetisation of IP for the US Defence.
Nortel does a lot of things with police departments across the globe, law enforcement agencies and social security as well as border security. So we are much more than just a telecom equipment provider.
Powered by