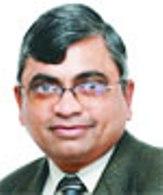 Ever since MindTree, the mid-sized information technology and research services firm, acquired Aztecsoft in 2008, it has had a clear strategy in mind. First, to strengthen its product engineering business, and then, to grow the testing practice.
Since then, it has made selective acquisitions and launched new businesses internally, with the aim of $1 billion in revenue by 2014, now looking unlikely.
Krishnakumar Natarajan, co-founder, CEO & MD of the Bangalore-based company, had answers to this and which way the company is heading, in a chat with Bibhu Ranjan Mishra. Edited excerpts:
You last quarter's financials were not up to expectations.
There are many elements to measure the performance of services companies; unfortunately, people look at growth as the only parameter. We had a four per cent q-o-q growth. But our volume growth of about 7.2 per cent was actually one of the best in the past eight quarters.
However, people just picked up the profit and said it had fallen by 71 per cent. But they were comparing the profit of a (last) quarter when we had a mark to market loss (writing down value of assets) of about $2.3 million with a quarter (corresponding quarter, previous year) when we had a M2M gain of about $23 million.
As a part of Vision 2020, your aim was to reach $1 billion by 2014. At the current run rate, this seems unachievable.
When MindTree was just about four years old, we articulated a five-year vision to touch $231 million in revenue by the end of fiscal 2008. We could not make it, as we were $192 million in that year. But we were in the run rate of $231 million in Q4 of that year. But it certainly did introduce a certain level of positive energy in the whole organisation.
This could be equally be true at this time. We have already lost two years in the interim (due to global slowdown). We may not be able to achieve it ($1-billion revenue mark) in 2014, but it might be possible in 2015.
It also depends on factors like the success of your innovation strategy and ability to shop for companies?
Yes. Last quarter, our revenue was about $77 million and going by the same run rate, we might close the fiscal at about $308 million. We expect the existing businesses to be about $500 million by the end of 2015, and to build a business of about $250 million by incubating five business ideas in the adjacent areas, as a part of our 5/50 strategy.
There will be some strategic acquisitions, which we expect to contribute 15-20 per cent of that $1 billion.
Are you not looking for bigger acquisition opportunities?
Our thinking has been to do smaller acquisitions if it is very strategic for us. We did a small acquisition in the infrastructure management space this year, with acquisition of 7Strata. It was a Sequoia-funded company and had built a good platform for remote infrastructure management.
That was important for us, as in the infrastructure management business, productivity is very important.
But your Aztecsoft acquisition was a bigger one?
It was probably the only large acquisition we have done so far. Our intention was to pull the product engineering business out of Aztecsoft and integrate with our product engineering business, which was more hardware-centric. By combining the two, we expanded our product engineering business that now addresses right from creating hardware product to cloud engineering or 'chip to cloud' product engineering capability.
Besides, they (Aztecsoft) had a fairly sizeable testing business, which combined with ours, made us one of the biggest independent testing services providers.
After Aztecsoft, you were left with very little cash?
Not really. We might have taken a debt of about $50 million for the Aztecsoft acquisition, which we have fully paid in about five quarters. We now have cash of about $35-40 million. But if you consider the cash and cash equivalents, we have close to $90 million. Our ability to raise resources is not an issue, as we are a zero-debt company.
Is MindTree going more in the product way with launch of the Digital Surveillance business?
We are being driven by an IPled strategy wherein we are not positioning ourselves as a product company, but a provider of ready-to-brand products for global markets. A digital security platform is the first of that initiative. In the smartphone segment, we are adopting the same strategy.
How does the US market look like now?
Overall, the mood looks sober because clearly none of the data shows there is a real recovery. Jobs have not got added, even though job losses have reduced. We do clearly see a pentup demand in that market, as customers who stopped their strategic projects earlier are starting it again.
After bagging the UID (Unique Identification project) contract, industry has started looking at you as a serious player.
UID certainly has given us a lot of visibility. More than anything else, it has given a tremendous confidence to the whole organisation.
We are of the firm belief now that even in large projects, where we have the competency, we can compete against the best in the world and win. Going ahead, we certainly see India as an important part of our strategy. In the past two-three quarters, our India business has shown steady growth and now accounts for about 8.5 per cent of our revenue.
The way you outbid the competition for the UIDAI contract is surprising.
We did a proof-of-concept totally based on the open source tools and technology, where we effectively demonstrated that through open source architecture, you can build such an application and scale it. All others (who bid for the contract) built it on commercially available software, which added on to the cost.
Again to be honest, we are hungry for business in India. For an Accenture or an IBM, the UIDAI contract is like another large project. But for us, it was like doing something to make an impact on something which all of us passionately believe is very important in the context of the country. So, sometimes, you can't give a commercial value to that passion.