US-based Eli Lilly - amongst the top 10 global pharmaceutical companies, with annual revenues of $21.8 billion in 2009 - has planned to continue its focus on innovation-driven products, instead of opening up to opportunities in off-patent generic drugs, being tapped by its larger competitors like GSK and Pfizer.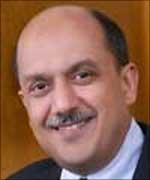 Best known here for its Huminsulin, the Indiana-based company plans to launch three new devices in the country this year, to add to the nine products it currently sells. Lack of intellectual property protection is, however, a concern, Sandeep Gupta, chairman and managing director of Eli Lilly (India) Pvt Ltd, tells Business Standard in an interview. Excerpts:
Let's begin with intellectual property rights, since many multinational companies have issues with that. What is your perception of India's product patent regime?
By introducing a product patent regime in 2005, India signalled to the world that it was ready to value and protect innovation. However, this has not been fully implemented in the true letter and spirit. For instance, India's move of not recognising patents on incremental innovations, unless a significant improvement in 'efficacy' is demonstrated, is actually
discouraging innovations that can be of great help.'
For instance, insulin, the mainstay of patients of diabetes, is a heat-sensitive product and gets degraded at extreme temperatures. It has to be stored between 2-8 degrees Celsius only. If say, tomorrow, an inventive step could be added that would make insulin withstand temperature excursions, making it a more stable product, would it not be a much desired advantage to the patient population? Shouldn't this innovation be protected?
A related issue is data protection. How critical is that for innovation-driven companies like Lilly?
World-over, innovator companies spend millions of dollars to generate extensive clinical trial data to prove safety and efficacy of a drug and obtain marketing approvals from regulators.
India doesn't allow protection to such data and proprietary scientific data of innovator companies are used for granting approvals for generic/second applicants. If this is not unfair commercial use, then what is?
Further, in the absence of a patent linkage mechanism, regulatory authorities continue to grant marketing approvals for a certain product, regardless of its patent status.
Is it due to patent-related issues that your products available in India are limited?
Currently, we have a range of nine products, with each of these having many different formulations. We are essentially a diabetes and oncology company in India, although we have steadily built our presence in the bone health and critical care segments as well.
None of the products marketed today in India are patent-protected. Bringing or not bringing a product to India is more a business decision, depending on several factors. These include market size, our existing presence in that segment, sales force capability and many more. IPR does play a role in arriving at that decision but is not the only driver.
Going ahead, is the business case looking better for new products?
Our global growth plan is to focus on four major therapeutic categories - oncology, diabetes, CNS and cardiology. In India, also, our major thrust area continues to be the diabetes and oncology segments. Apart from these, we will evaluate what other opportunities make sense for us.
We are committed to bringing into India research products from the Lilly stable as soon as possible, with a minimum time lag between their launch in the other major pharmaceutical markets of the world. This year, we are in the process of launching three new devices in the diabetes and osteoporosis segment.
Lilly's global plans include doubling its revenues from emerging markets, including India. Do you have a country-specific strategy to achieve this?
India is one among the top seven countries that constitute the emerging markets for Lilly. Strategy wise, Lilly has its road map clearly laid out. Having excellent in-house talent and resources is one of the pillars of our R&D success, but at the same time, we're excited about the opportunities to collaborate with other companies.
That's why we are continuing to transform Lilly from a fully integrated pharmaceutical company to a fully integrated pharmaceutical network model. Within this more networked structure, we're teaming with other companies to access innovation and capabilities, reduce costs, share risks, and accelerate productivity.
To illustrate, we already have six-seven research tie-ups in place in India. The tie-up with Zydus Cadila was announced just a few months earlier. Suven, Piramal, Jubilant are some of our other research collaborators.
Apart from these research tie-ups, are there any other collaborations in India?
We have a tie-up with TCS (Tata Consultancy Services) on pharmacovigilance (data analysis and report generation) and medical writing, besides a global tie-up with them in the IT area.
Some of our other collaborations include a manufacturing tie-up with our third-party contract manufacturing organisation, Sun Pharmaceuticals. Our biggest insulin formulation -- the entire U-40 range -- is getting manufactured there. A couple of years earlier, we also engaged a contract sales organisation,  Invida India Pvt Ltd (erstwhile PharmaLink), for co-promoting our insulin range in India in certain markets.
What is Lilly India's growth rate?
Our endeavour has been to be beat the industry growth, year on year. In the last three-four years, Lilly has recorded a healthy 15-17 per cent growth, while the industry at the same time has grown 12-13 per cent. We are committed to continue to maintain and build on that momentum.
What is your take on the drug pricing scenario in India?
Drug prices in India are among the lowest in the world. Talking of Lilly, the price of our insulin range here is one of the lowest in the world. The same is true for some other products as well. That said, we feel that all of us, including the government, should be more concerned about access issues related to medicines, rather than just pricing of medicines.