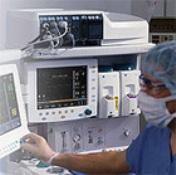 GE Healthcare, the $17-billion medical technologies unit of General Electric Company, sees 10-15 years of unabated growth in India.
V Raja,
president and chief executive officer of GE Healthcare India, shares with
K Rajani Kanth
the company's plans for India. Excerpts:
What products are currently being developed at your Bangalore campus?

A lot of infant deaths happen due to the absence of proper infant care products. We are developing products related to infant care, including baby warmers, phototherapy and incubators, and MAC 400, an ECG designed to help physicians predict and diagnose patients at risk of heart attacks.

Ultrasound and X-ray applications on digitised platforms are also being developed here. Price becomes a challenge in a country like India and, hence, we are trying to halve the cost and give higher outcome.
About transferring some of your technologies to India and localisation of your products...

As we launch any product globally, we try to bring it to India at the same time. Our idea is to bring and sell at an affordable price point in India. We are looking at a couple of modules to enlarge our manufacturing footprint here by way of our engineering and technological capabilities.

While continuing to manufacture components and accessories for the global markets, our goal is to make finished products in the country. At present, 8-10 per cent of what we sell here is made in India and we aim to take this to 25 per cent in the next three years and to 50 per cent in five years from now.
Now that you have formalised product development and localisation plans, are you looking at scaling up your headcount?

Our 40,000-sq ft lab in Bangalore has 1,000-odd engineers and scientists focusing on designing and development of medical technologies. In the next two years, we should be adding 150 to 200 people each year.
How much does India contribute to GE Healthcare's global revenues and what is your outlook for the coming years?

Globally, we are a $17-billion company and the domestic market's share of this is half-a-billion dollars, including exports. We should be able to clock 20 per cent growth every year and reach $1 billion in the next five years.
What is the current status of GE Healthcare's PPP (public-private-partnership) initiative?

There is huge healthcare infrastructure in India, but the utilisation is very low. Hence, we are partnering various state governments to provide holistic solutions. We have signed an MoU with the Gujarat government to deploy technologies in all the teaching and medical hospitals under the PPP model, besides implementing the same in Madhya Pradesh and Uttar Pradesh.
We are now in the process of (also) working with five to six other state governments. We have started with diagnostic imaging solutions and people are seeing a lot of merit in this. We plan to replicate this PPP model with other technologies as well, including maternal and infant care.