December 30, 2011
2011: Stocks ditch investors, gold remains true friend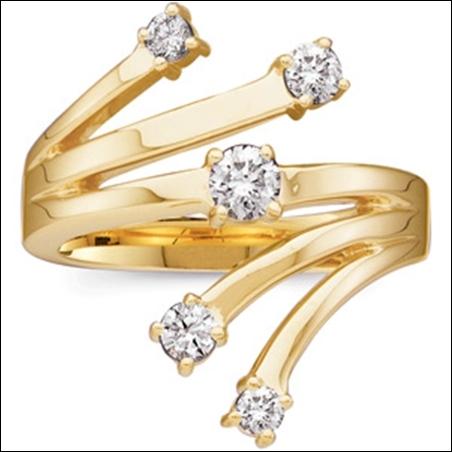 As the investors burnt their fingers with heavy losses in the stock market in 2011, the tried-and-tested gold added to its glitter and silver could retain only part of the sheen it gained during the year.
Rs 40,000-crore tax mop-up SHORTFALL looms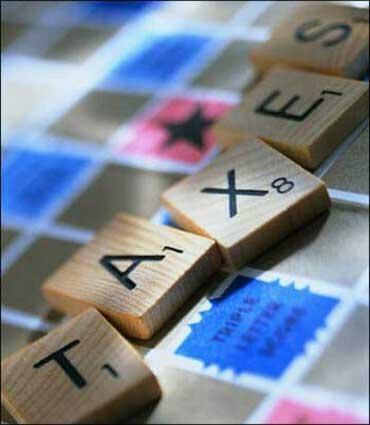 Barely four months are left for the financial year to end and the government has reached only the halfway mark of its tax revenue collection target.
Slow hiring, double-digit pay hikes likely in 2012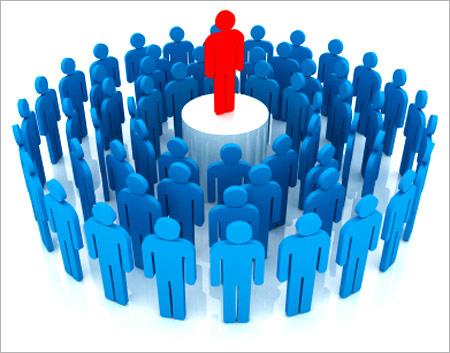 The Indian job market is expected to see slower hiring activity, but double-digit salary hikes next year as employers are embracing a "cautiously optimistic" approach amid the economic uncertainty.
Great start, sad ending: That's 2011 for auto sector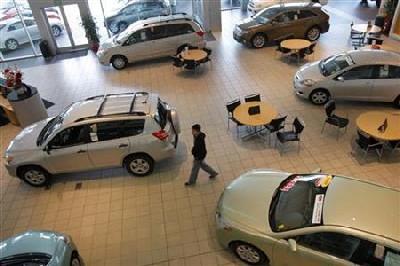 A year that began with a bang only to fizzle out in the end with car sales posting the steepest fall in nearly 11 years; a year marred by strikes -- 2011 will be one that the Indian automobile industry would like to forget in a hurry.
Rural India: The next big market for car companies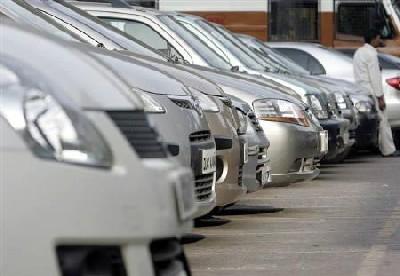 Car makers are reaching out to consumers in rural centres as high lending rates slow urban demand.
Millions of jobs created in 2011, but strikes marred labour arena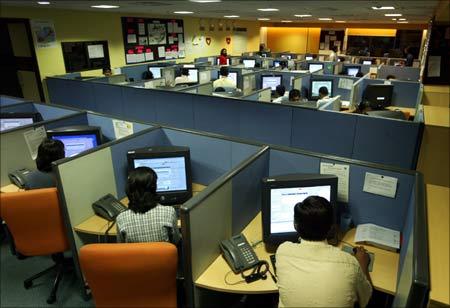 Reaching out to the working class, especially in the unorganised sector, the government rolled out several measures in 2011, raising minimum daily wages, enlarging health insurance coverage and also notifying Majithia Wage Board recommendations for newspaper and news agency employees.
Healthcare: Of misery tax, expansion and tragedy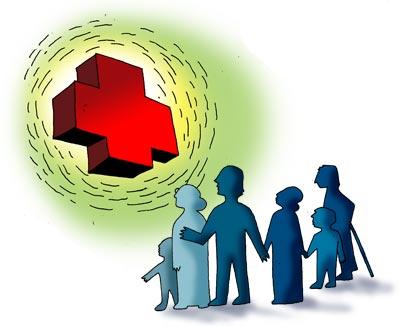 For India's healthcare industry, expected to double to $100 billion by 2015, this year was marked by expansion and consolidation as well as painful moments of the Kolkata hospital fire.
Newsmaker of the year: Cyrus Mistry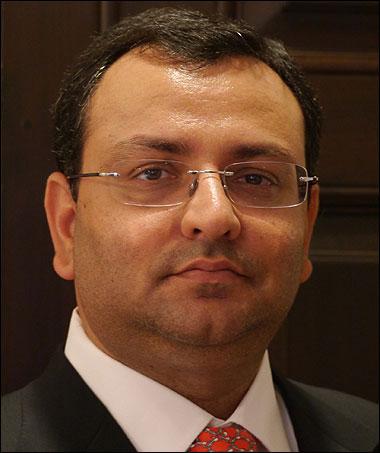 Like JRD Tata, Mistry also loves Cantonese-style Chinese takeaway from Colaba's cult restaurant Ling's Pavilion.
Classpad takes a cue from Akash tablets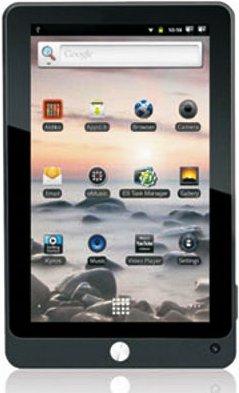 Delhi-based Classteacher Learning Systems, an education solution provider, has come out with a new tablet, Classpad.
TCS beats Reliance to be India's most valued firm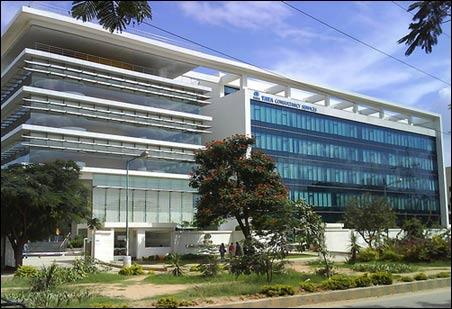 Reliance Industries lost its position of the country's most valued company to Tata group firm TCS this afternoon, as the shares of billionaire Mukesh Ambani-led corporate giant fell sharply in a weak market.
IMAGES: 8 most expensive jets owned by Indian billionaires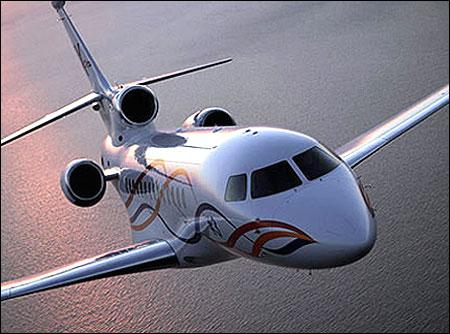 Today, India boasts of about 515 private aircraft, including 257 fixed-wing planes and 258 helicopters.
2011: Uncertainty over EPFO rates haunted subscribers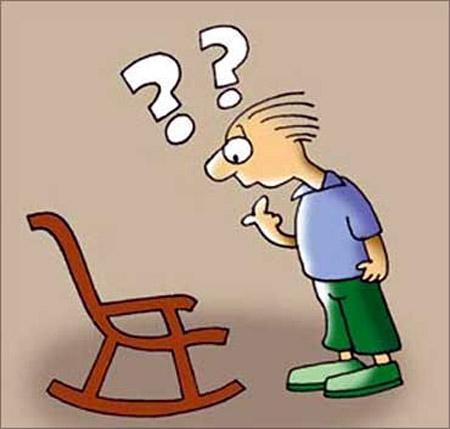 The 4.7 crore (47 million) EPFO subscribers were left guessing during the year on continuance of 9.5 per cent interest rate for this fiscal, with the retirement fund body, in an unprecedented development, deciding to refer it to the finance ministry for a final decision.
Cyber criminals eye year-end online shoppers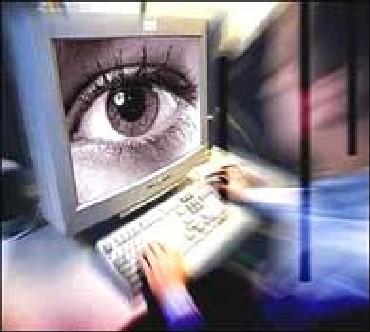 A phishing scam targetting those buying via eBay was discovered recently.
Stocks of controversial groups beaten down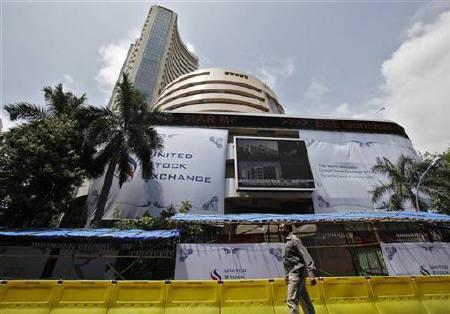 But analysts advise against dumping, say these could recover if market conditions improve.
Net widens on IPO rigging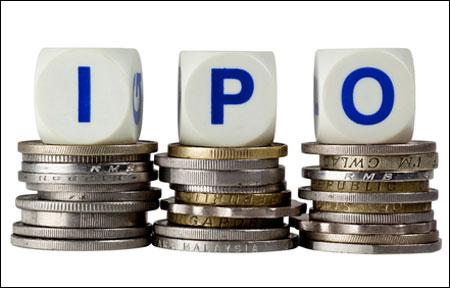 Multiple agencies to probe, regulatory crackdown on more companies expected.
Amazing PHOTOS: World's 15 strangest bridges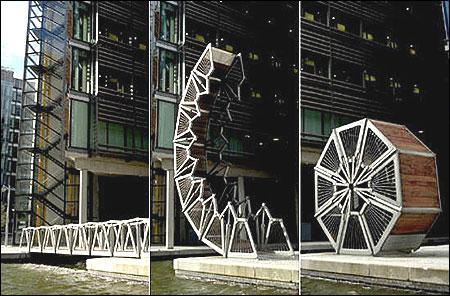 Some of the world's most remarkable infrastructure projects are bridges.
Rajat Gupta: Man who had everything but blew it away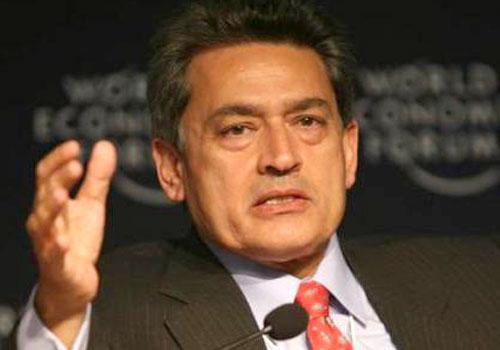 Rajat Gupta was the former head of bluechip consulting firm McKinsey.
Oil sector: Arbitrariness shakes investor confidence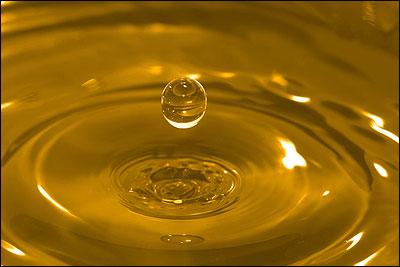 The way the government treated miner Vedanta Resources' proposal to buy majority of UK's Cairn Energy in Cairn India and RIL selling 30 per cent of its stake in 23 properties, including the prolific KG-D6 gas block to BP, goes to the heart of the mistrust between India Inc and United Progressive Alliance-2 in 2011.
Telcos yet to make good money from 3G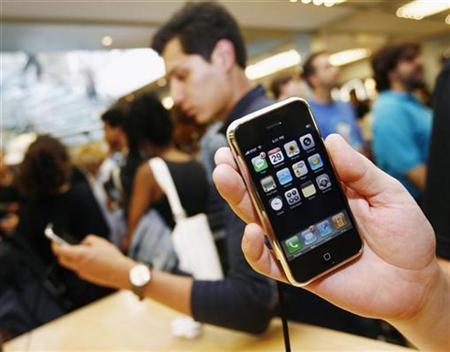 Number of 3G subscribers in India is more than 12.2 million.
Amazing PHOTOS of Ice Hotel in Romania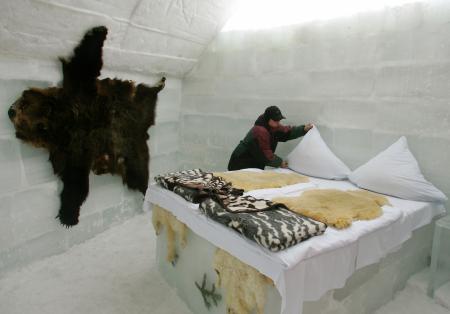 The Ice Hotel is rebuilt every year - so no two years are the same.
Telecom sector maintains shimmer despite controversies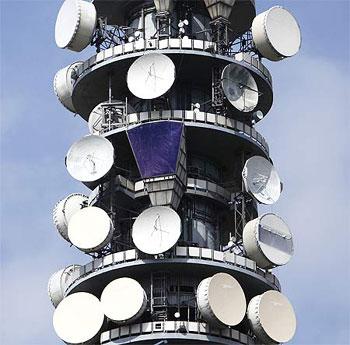 Though the multi-crore 2G scam had come to light last year, it was 2011 which was action-packed as Raja, telecom ministry officials along with many high-profile business heads were put behind the bars for their alleged involvement in the case.
IMAGES: 10 most expensive buildings in the world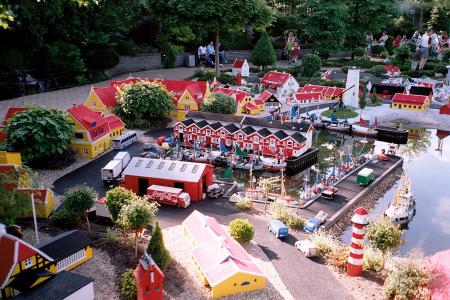 Some buildings cost billions of dollars to build.
Stunning PHOTOS of 2013 Mercedes Roadster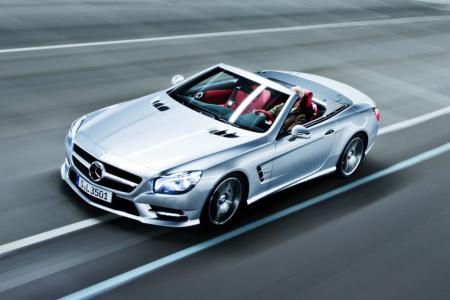 Luxury car manufacturer is planning to launch a new model, 2013 Mercedes-Benz SL.
December 29, 2011
Ratan Tata calls on Narendra Modi along with Cyrus Mistry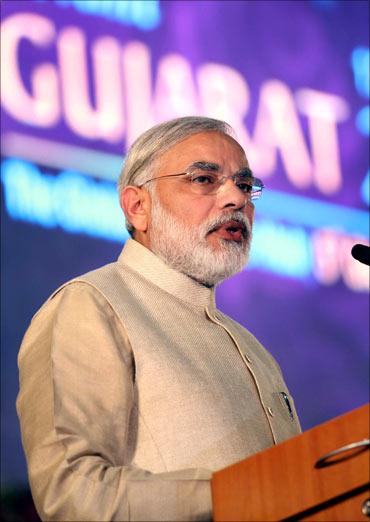 Ratan Tata, the outgoing chairman of over $80-billion Tat Group, on Thursday introduced his successor Cyrus P Mistry to Gujarat Chief Minister Narendra Modi during a courtesy visit to his residence in Gandhinagar, a top state official said.
IMAGES: 25 best skylines in the world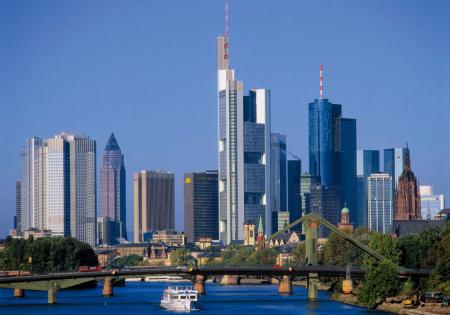 There are some cities in the world, such as New York City, that are famous for having beautiful skylines.
Telecom: How Ambani brothers can rule the roost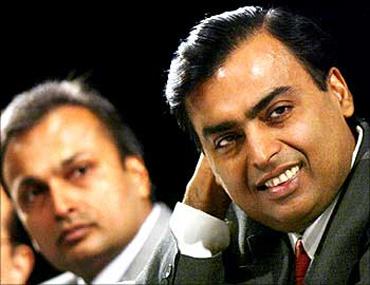 Anil's RCom straddles 2G, 3G; Mukesh has spectrum to operate in 4G.
Special: It was never in Jamsetji Tata's ken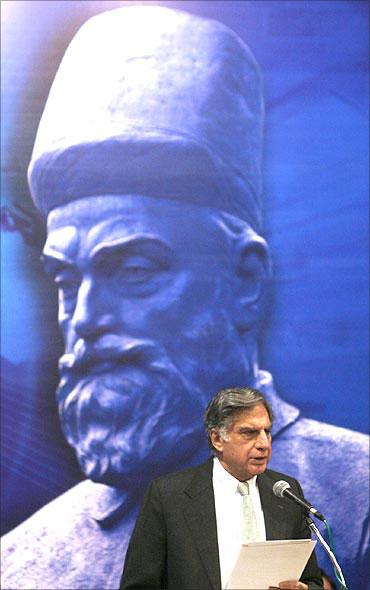 But the Tata Group is an established and growing brand in Australia, affirm top local managers.
India twiddles its thumbs as foreign airlines grab traffic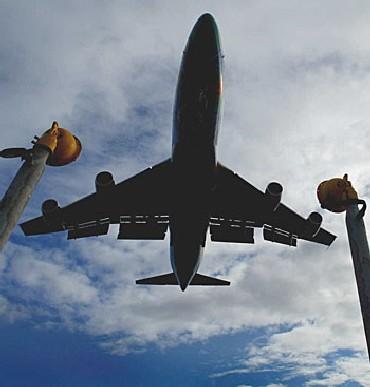 Private airlines wait for permission to fly abroad, foreign carriers walk away with the traffic.
Column: Why our rulers want people to remain poor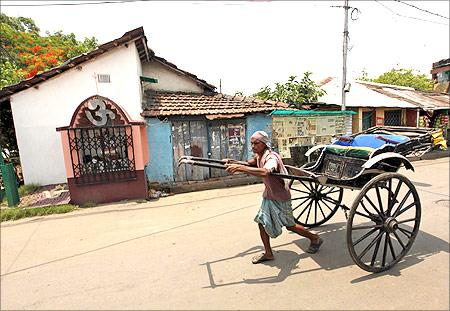 Deep down, our rulers don't want the aam admi to get out of his rut.
PHOTOS: World's 25 most amazing offices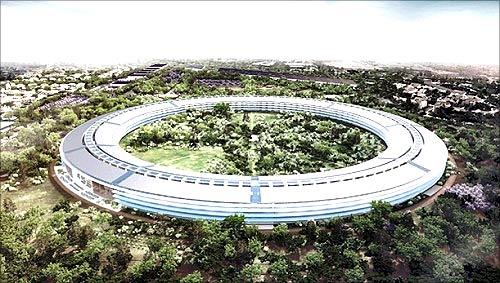 Many offices are now turning into stylish spaces, looking cool, comfortable and attractive.
GOOD NEWS! Food inflation plunges to six-year low of 0.42%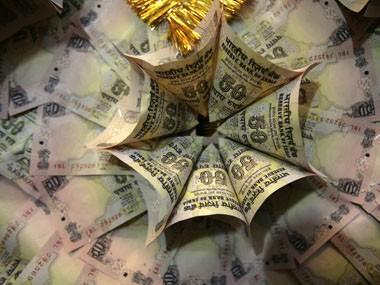 According to official data released on Thursday, onions grew cheaper by 59.04 per cent year-on-year during the week under review, while potato prices were down by 33.76 per cent.
You can buy a listed company for Rs 1 crore!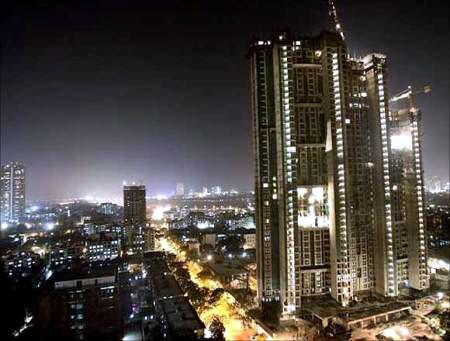 You may not be able to buy you a decent flat in Mumbai with Rs 1 crore (Rs 10 million), but stock prices have fallen so much this year that the sum may buy you an entire listed company, maybe even two.
Slowdown-hit tourism sector struggles to move ahead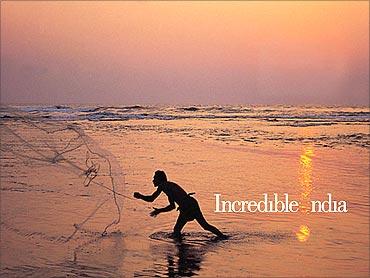 In mid-October, travellers from the US, the UK, New Zealand, Canada and Australia were advised by their governments to exercise a high degree of caution when travelling to India, citing terror threats.
Coming soon to India! Low-priced, shorter cars!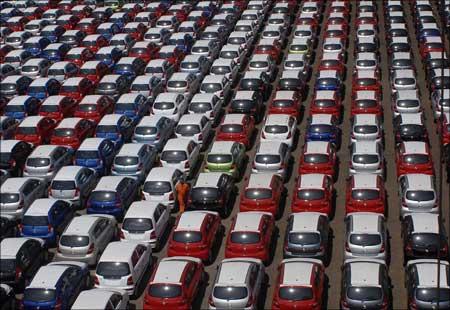 After witnessing a plethora of car launches in 2011, the Indian automobile industry is set to welcome some new models, reworked versions and new variants in the New Year.
FDI flow soars but policy inertia SPOILS party in 2011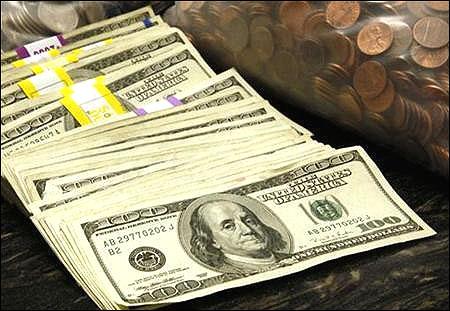 On the face of it, the country attracted FDI worth $22.52 billion between January and September, 2011 against $15.97 billion in the same period last year.
Chennai hub of gaming, android-based tech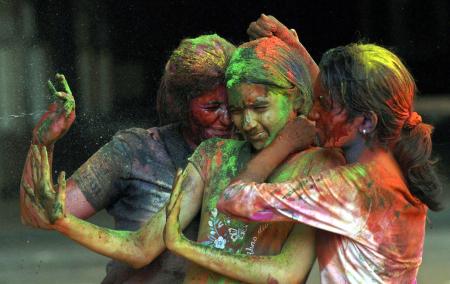 Chennai is slowly becoming a hub in providing support for gaming and android-based technologies.
In PHOTOS: 16 cool products expected in 2012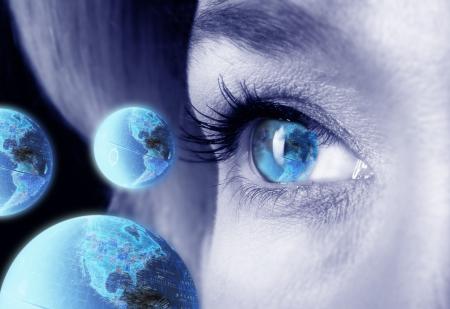 The next year is expected to see more exciting gadgets enter the global market.
2011 second worst for investors in 14 years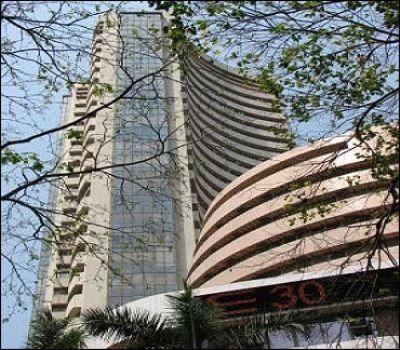 It is second only to the disastrous 2008.
Tendulkar gets Rs 100 cr cover for Bandra house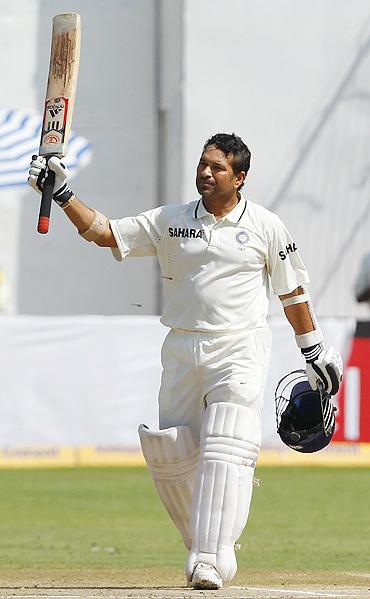 The cover, touted as one of the highest taken by an individual, is in two parts: a fire insurance policy of Rs 75 crore (Rs 750 million) and an additional cover of Rs 25 crore (Rs 250 million) for items within the house.
Stunning IMAGES of the COSTLIEST hotel in India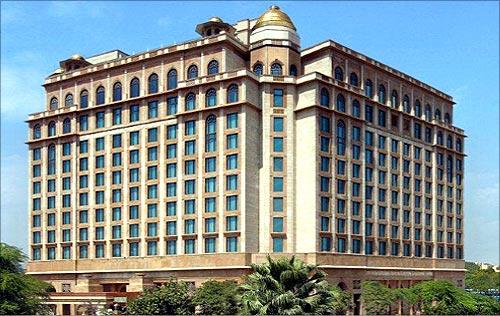 The Leela Palace New Delhi is indeed a star among the luxury hotels in India.
IMAGES: EcoSport, Ford's new SUV will soon be in India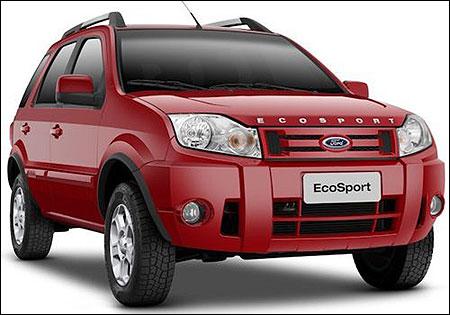 EcoSport has unbelievable fuel economy and a fascinating futuristic look.
December 28, 2011
Farewell: Delhi will miss 'Metro Man' Sreedharan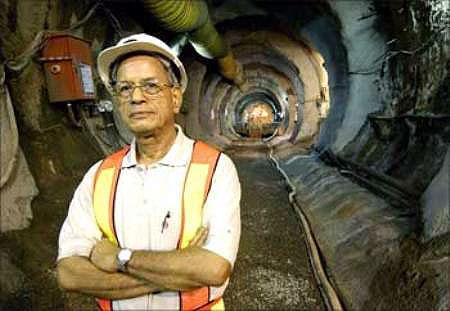 Describing E Sreedharan as a man of great vision and impeachable integrity, Chief Minister Sheila Dikshit has said the Metro Man, who retires on Saturday, gave Delhi a "new identity" for which people of the city will always miss him.
Brothers Ambani come together at Dhirubhai's memorial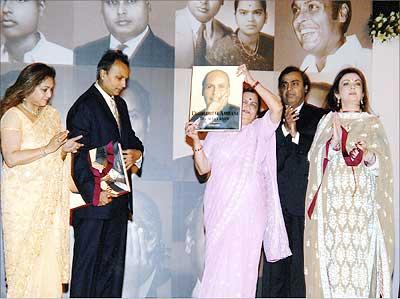 The Ambani brothers -- Mukesh and Anil -- came together for the inauguration of a memorial for the legendary industrialist and founder of Reliance Group Dhirubhai Ambani in Chorwad town in Junagarh district on Wednesday, in the presence of the entire family.
Falling rupee to shave Rs 4,000 cr off Nifty cos: Crisil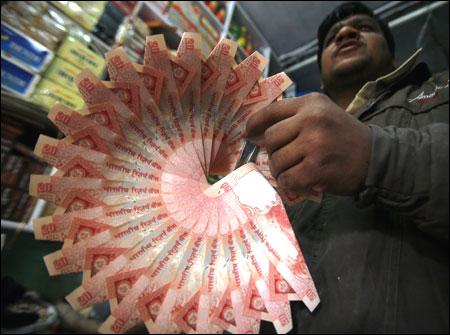 Credit rating agency Crisil on Wednesday said depreciation in the rupee will shave off up to Rs 4,000 crore (Rs 40 billion) from the profits of Nifty companies in the December quarter.
Manufacturing growth: Bihar on top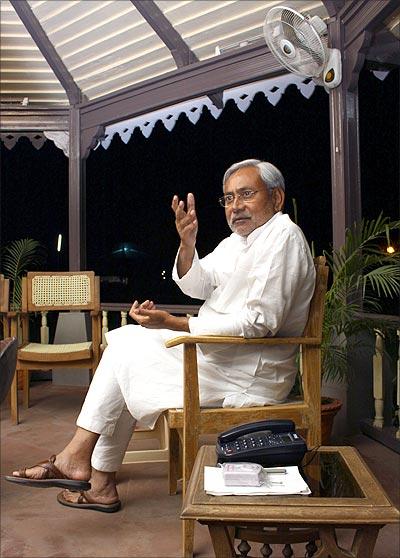 Manufacturing growth in Bihar stood at 15 per cent in 2010-11 against 15.2 per cent a year ago and 21.9 per cent in 2008-09, according to data provided by Commerce and Industry Minister Anand Sharma in a written reply in the Lok Sabha.
IMAGES: The BEST Amul advertisements in 2011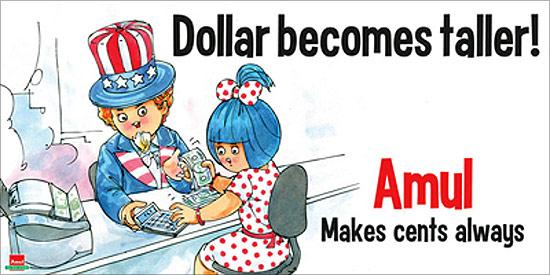 Amul's ads have touched the hearts of millions of Indians since decades.
2011: Of 2G, illegal mining and the Supreme Court!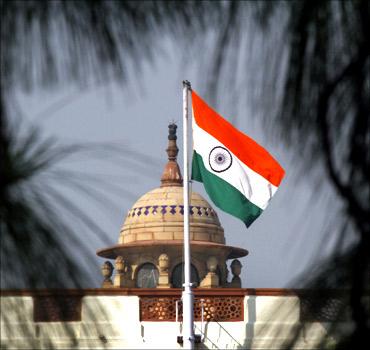 The corporate world in 2011 found itself on tenterhooks as various scams in the telecom and the mining sector came under the prying eyes of the Supreme Court.
Gold and silver touched all-time highs in 2011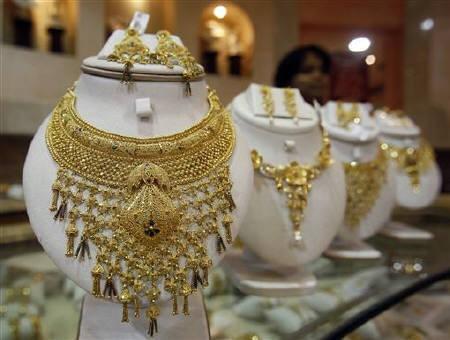 Continuing their record-breaking spree, gold and silver galloped to all-time highs in 2011 on strong demand for precious metals considered as a 'safe-haven investment' in times of economic turmoil and rising inflation.
Amazing PHOTOS of Maserati's exclusive model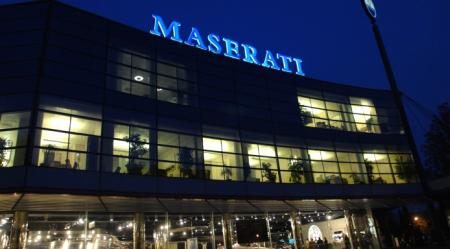 Maserati has launched a super exclusive model of its luxury car.
Slowdown? Not for these cars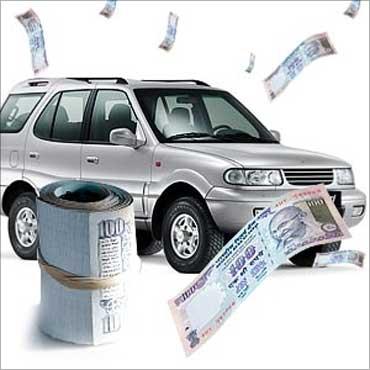 Petrol cars like Jazz and diesel variants of Ritz, Swift Dzire and Manza see strong demand.
How Indian policy makers made a mess of the finances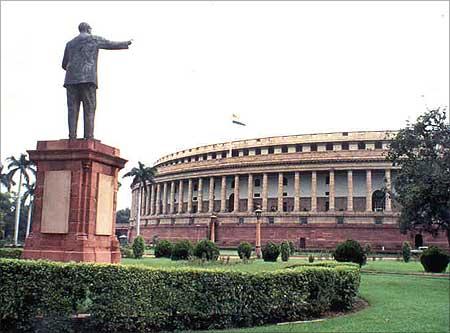 It is customary at this time of the year to look back and assess how the year set to end in a few days went by.
2011: Investors lost Rs 20,000,000,000,000 in stocks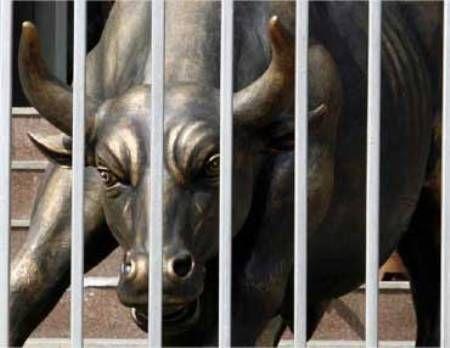 In a departure from big gains in the past two years, investors saw around Rs 20 lakh crore of their wealth eroded as Indian equities tanked in 2011 because of inflation, high interest rates and the uncertain global growth environment accentuated by the euro zone debt crisis.
SHOCKING: India ranks 73rd in personal freedom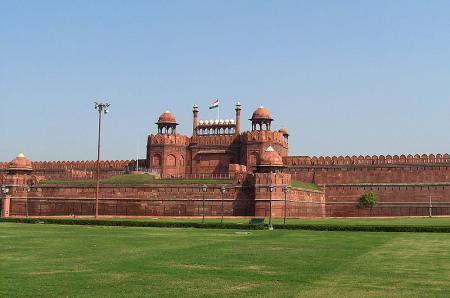 When citizens enjoy their rights, their country enjoys higher levels of income.
Stunning IMAGES of world's top 6 SUVs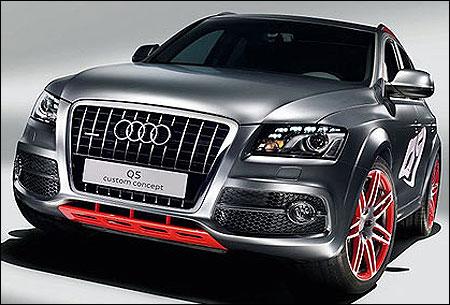 The SUVs are perfect amalgamation of space, safety, features and performance.
IMAGES: Any buyer for this stunning $8.9 million bungalow?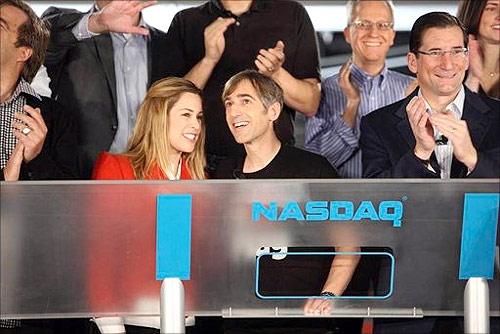 Zynga CEO Mark Pincus plans to sell off his palatial bungalow at San Francisco.
AMAZING things that happen online every 60 seconds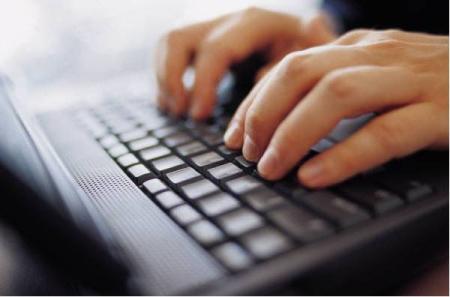 While we know that technology travels at lightning speed on the Internet, but what actually happens online in just 60 seconds?
December 27, 2011
Debt recast: Banks ask for Air India board seats
Air India is the second Indian carrier to get a large bailout this year.
UK subway drivers' strike affects holiday shoppers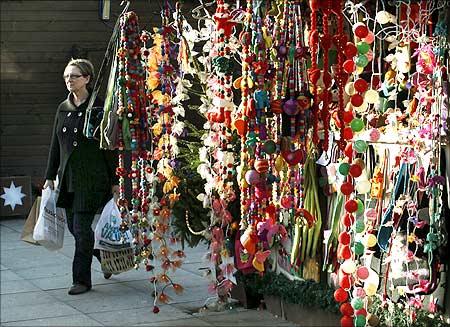 Trains throughout the UK were operating a significantly reduced service, with only five rail companies out of 25 running a 'limited' Boxing Day service, a public holiday in Britain.
IMAGES: Changi Airport makes fresh attempt to enter India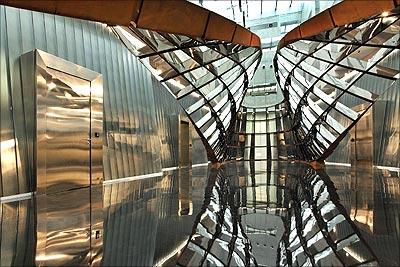 Said to be in talks with Hyderabad-based GVK Group; if the deal sails through, the alliance would be the biggest player in India's airports market.
Rupee fall: How it has changed currency traders' lives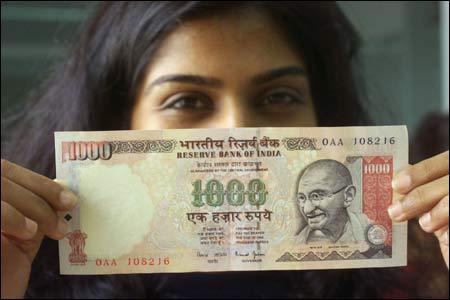 With the rupee falling 20 per cent since June 30, the Reserve Bank of India first intervened, and later introduced policy measures to control the outflow and improve dollar liquidity.
'Inflation should start abating in a few months'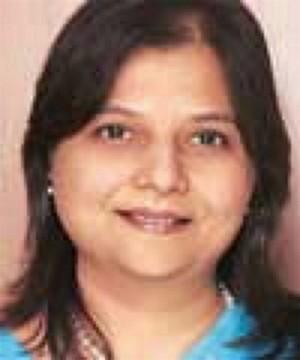 "The calendar year 2011 has seen tremendous wealth destruction and volatility, both in India and globally. In 2012, while the first quarter will continue to be extremely challenging, it will prepare a base for creating long-term wealth, particularly from an Indian perspective."
Special: Most CORRUPT industries in India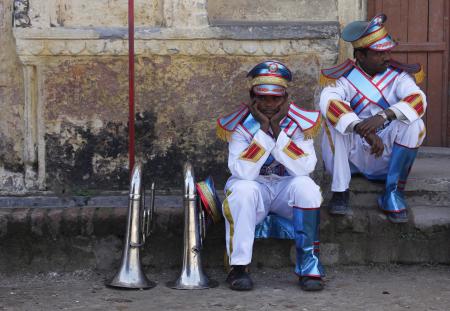 Report also stated that some 68 per cent of India's aggregate illicit capital loss occurred after India's economic reforms in 1991.
SPECIAL: She fought cerebral palsy to be an entrepreneur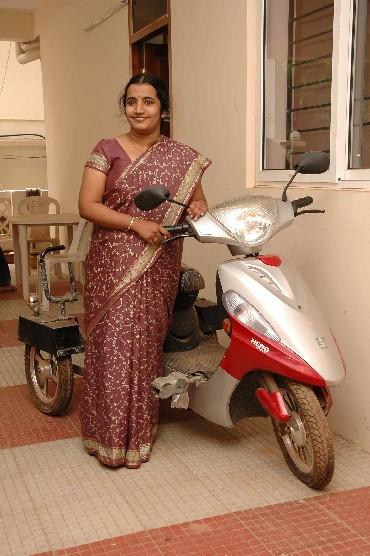 Twenty-eight year old Archana Achuthan is mildly affected by cerebral palsy, but that has not deterred her from studying and becoming a social entrepreneur.
Will Emami Group survive the AMRI Hospital fire?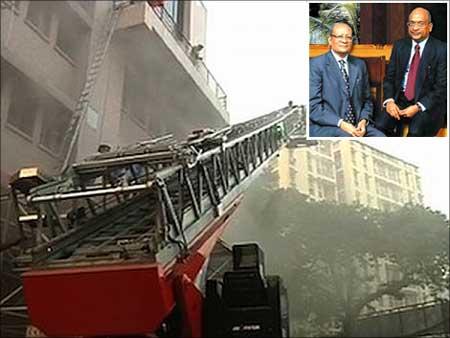 Emami's soaring fortunes have been dragged down to earth by the blaze that torched its AMRI Hospital, killing 93 people. With seven directors -- six of them family members -- in jail or absconding, can the Emami Group survive the rocky road ahead?
GOLDEN tips on how best to build your MF portfolio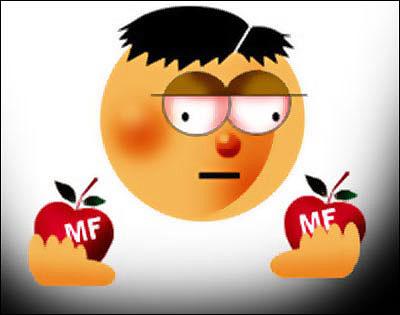 Every investor must have a clear game-plan and set financial goals based on certain pre-defined objectives with specified time frames.
India to become 5th LARGEST economy by 2020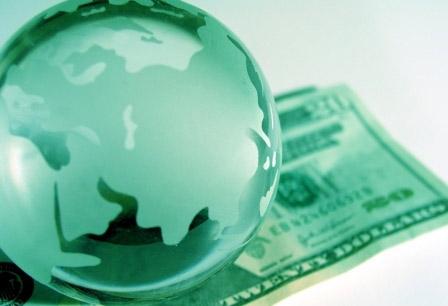 Brazil now has a bigger economy than the United Kingdom.
Why China's growth is set to fall in 2012
China's growth rate may fall to about 8.5 per cent if the European Union crisis deteriorates into a global meltdown.
Consumer durable companies also had a tough year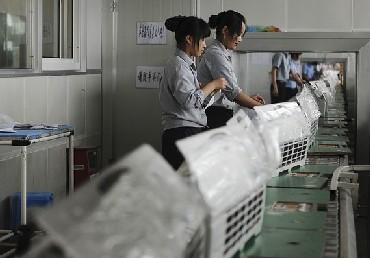 According to the Consumer Electronics and Appliances Manufacturers Association (CEAMA), the estimated Rs 35,000 crore (Rs 350 billion) Indian consumer durables market, which has giants like LG, Sony, Videocon, Samsung and Panasonic, did not grow as expected, with air-conditioners being the biggest spoilsport.
IMAGES: World's 20 BEST airports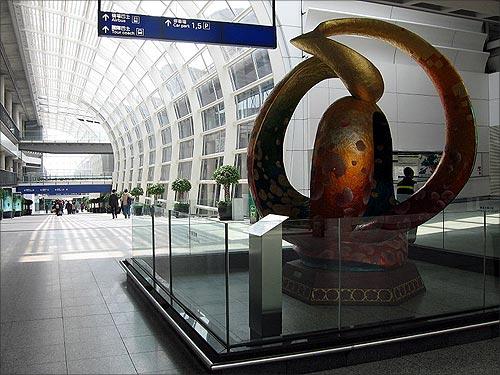 Asia boasts of some of the world's swankiest airports
Ten key trends that will redefine consumer behaviour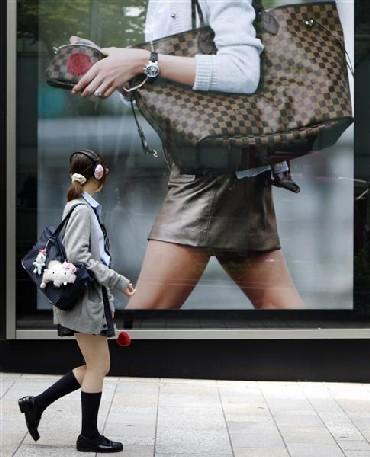 Every year, marketing and communication giant JWT surveys the markets around the world to spot the following year's trends. Here's a snapshot of the trends it has spotted for 2012.
India Inc milks weak rupee through overseas trades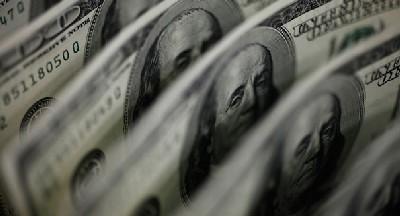 Bigger players tap non-deliverable forwards market to make a killing.
India is changing, but for whom?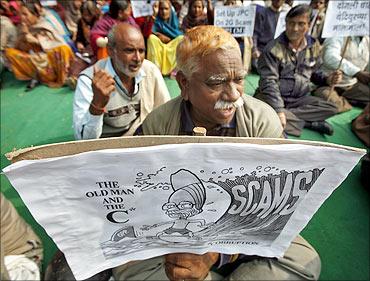 While India's economy is changing, its guts are still being gnawed at by corruption.
Government in ICU, economy in ICCU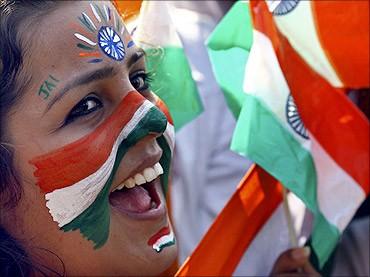 One wants to partner success, not failure: this is especially true of global investors. Once Indian entrepreneurs invest and are successful, foreign investment will partner them.
In GRAPHICS: The state of the Indian economy
In GRAPHICS: The state of the Indian economy.
IMAGES: 8 stunning cars that you will soon see in India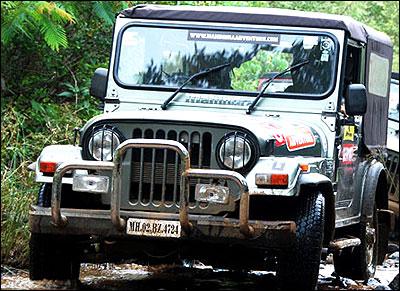 In less than two weeks, the 11th Auto Expo will start in New Delhi.
Mother hints at closeness between Ambani brothers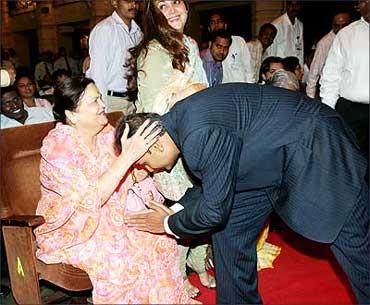 The markets had been speculating for weeks, but on Monday corporate India's first family got into it as well.
IMAGES: A stunning Superbus that beats a private Limo!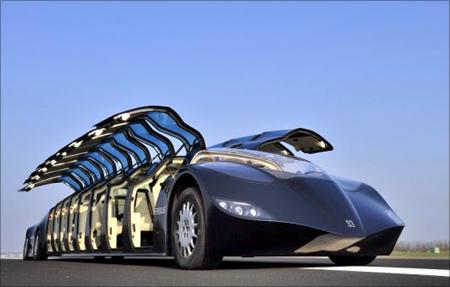 This Superbus is a 15-meter long electric vehicle with seating for 23 passengers and it travels at a speed of 250 kilometres per hour.
IMAGES: 30 most-visited attractions in the world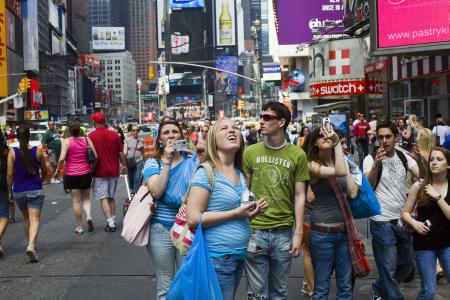 People, including Indians, are travelling more to see some of the most amazing places in the world.
SPECIAL: How your HRA helps you save tax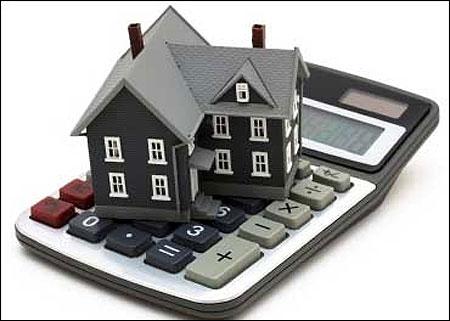 There are many tax components you need to be clear about and also figure out how to plan your investments to gain maximum returns as well as maximum tax benefits.
December 26, 2011
Industry leaders must not only CRIB about policy coma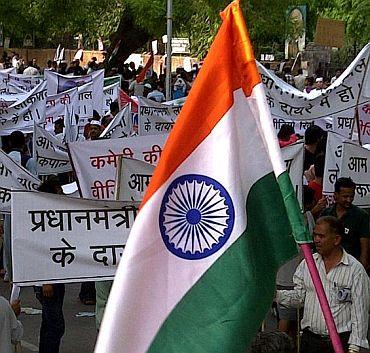 Heads of the leading business chambers -- Ficci and Assocham -- on Monday said the industry has 'equal responsibility' along with the government to pull the economy out of slowdown without always 'cribbing about policy paralysis'.
Tata to REPLACE starter motor in 140,000 Nano cars!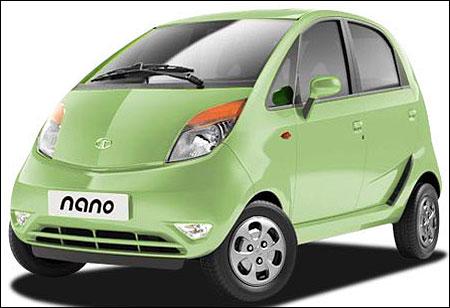 In the biggest-ever replacement exercise in Indian automobile history, Tata Motors has asked an estimated 1.40 lakh (140,000) Nano owners to bring back their cars for change of the starter motor free-of-cost.
Battery woes? Hydrogen powered gadgets from Apple soon!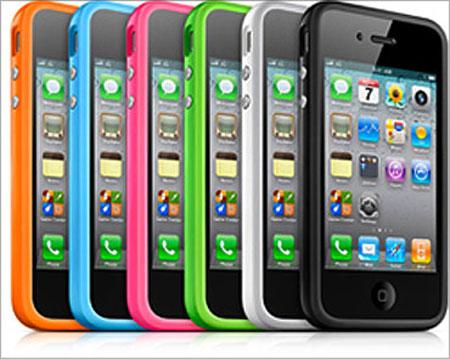 Apple is said to be working on laptops and smartphones powered by hydrogen fuel cells that would last for weeks without needing to be refuelled.
5 corporate honchos who will rule Indian business in 2012
Meet the corporate biggies who will make it big in 2012.
Hurry! Book your car and get huge DISCOUNTS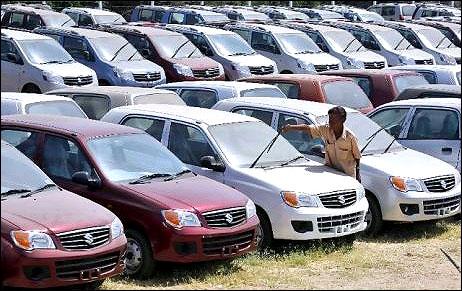 Most of the discounts are being offered on the petrol versions of the cars.
Bihar: From Bimaru to booming?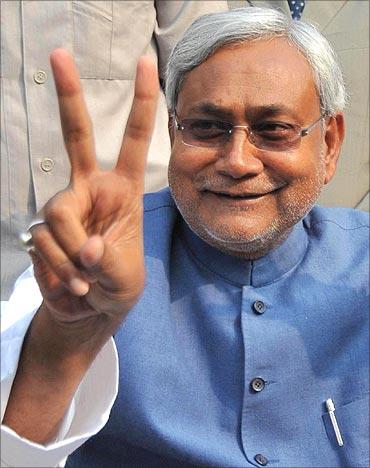 All may not be hunky-dory in Bihar, but its chief minister and people deserve full marks for trying.
Why 2012 may be GOOD for Indian economy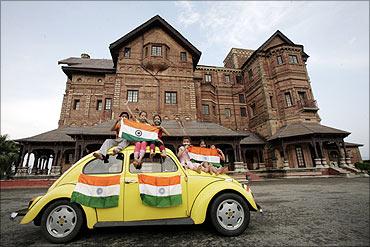 If the government can get even a minimalist agenda going while improving its management of infrastructure, and if the Reserve Bank of India can cut interest rates quickly, the Indian script for 2012 could change.
Slow growth, lack of reforms to weigh down markets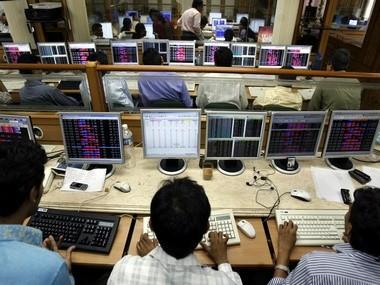 Indian shares may not be able to build solid gains on last week's relief rally as concerns surrounding slowing growth in Asia's third-largest economy and lingering worries over euro zone debt crisis will continue to temper investors' enthusiasm.
Domestic traffic: India's busiest airports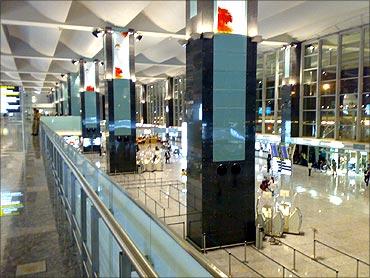 Bengaluru International Airport Limited (BIAL), among India's five privately owned airports, has said it is now the country's third busiest in terms of domestic traffic.
India's small units faced big problems in 2011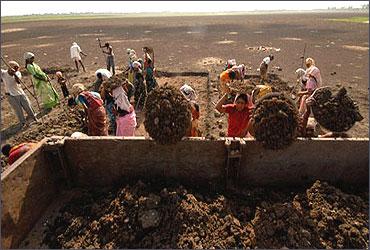 MSMEs contribute immensely to the industrial landscape of the country in terms of their 45 per cent share of manufacturing output and 40 per cent of exports.
Mobiles apps to get bigger and better in 2012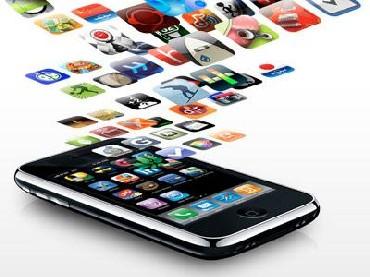 Mobile Apps revolution. Internet usage on mobile phones is growing at a scorching pace, giving rise to predictions that mobile internet usage will soon overtake desktop computers. It is estimated that the apps market in 2012 will be worth $17.5 bn.
Silver lining in the dark clouds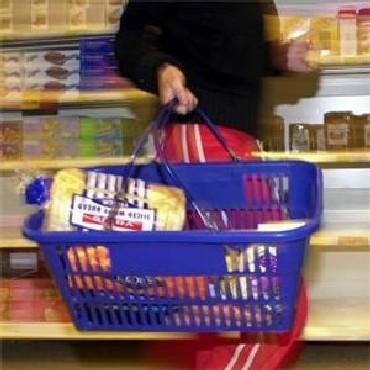 Companies are focusing on building a larger market base through mass market or alternative product variants, shedding premium tags for technically advanced products, providing cost efficient solutions and exploring synergies to match the ever decreasing customer threshold for consumption against the grim economic background.
Images: 5 STUNNING cars to be launched next week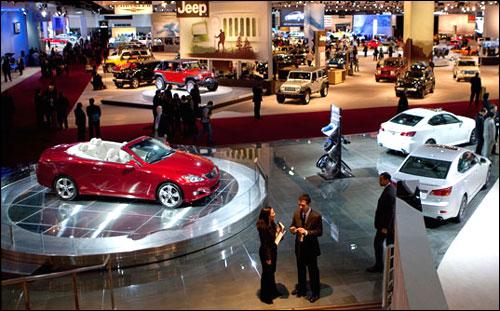 Going one step ahead, a number of car makers are planning to launch their new car models in the first week of the January 2012.
COLUMN: India needs to rethink the notion of 'smart cities'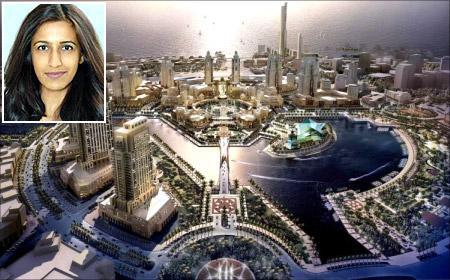 Influx of millions of rural hopefuls chasing the middle-class dream will stretch the capacity of cities, says .
PM's lament unjustified, govt must buck up, says India Inc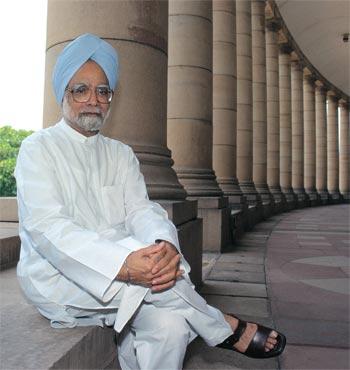 Differing with Prime Minister Manmohan Singh, who feels the corporate sector has been harsh in blaming the government, leading players in India Inc say a policy paralysis in the government and its inability to push reforms have indeed led to an economic slowdown and Singh's criticism is not justified.
2011: High traffic, yet huge losses for India's airlines!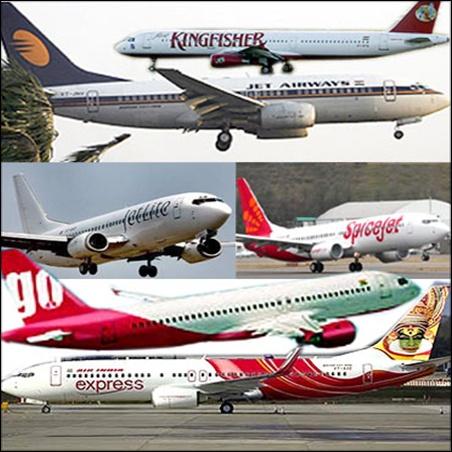 The Indian aviation industry faced a paradoxical situation in 2011 suffering huge losses in the face of a burgeoning domestic air traffic, as it battled high fuel costs and fierce competition while looking up to the government for help.
Mamata's promises of resurgence stare at Bengal's economy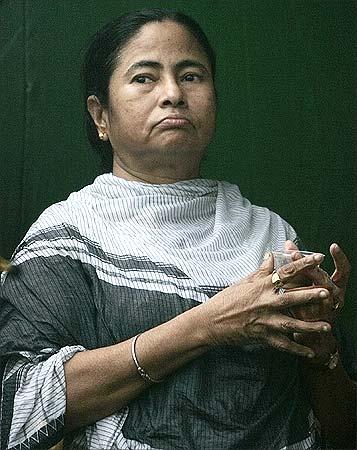 Even existing projects are yet to take off, courtesy land policy.
Amazing and historical PHOTOS of Saab's cars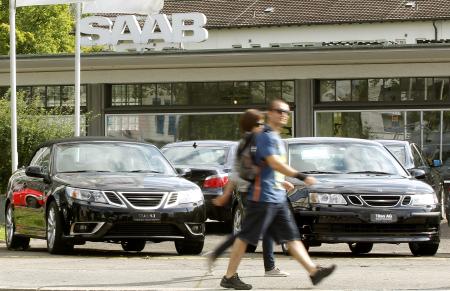 Swedish car manufacturer, Saab, has filed for bankruptcy.
IMAGES: America's 30 largest companies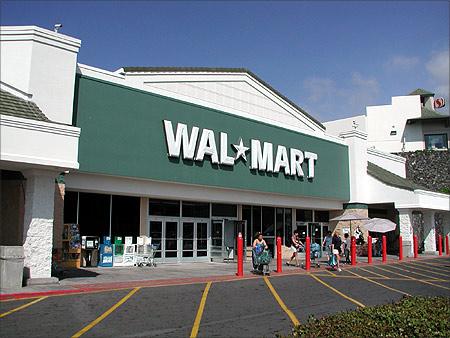 Wal-Mart Stores continues to top the Fortune 500 list.
Top global challenges and opportunities in 2012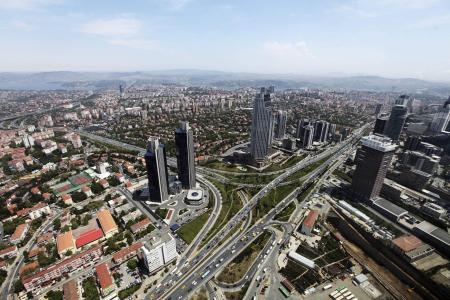 Faced with a challenging and unfavourable economic backdrop, institutional investors should focus on agility, flexibility and efficiency.
December 23, 2011
COLUMN: Towards catastrophic 4-degree global warming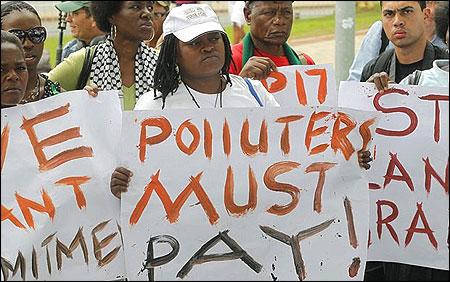 Durban will create climate apartheid, under which rich polluters evade responsibility, but underprivileged people suffer the worst effects of climate change for which they are least responsible.
The fall of the rupee: When is it going to stop?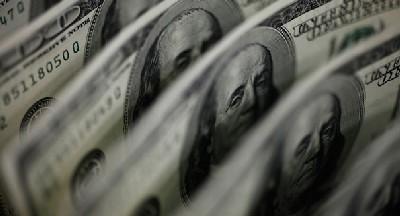 As the rupee continues its downward slide it could have some unpalatable consequences.
'The US has a fairer environment to succeed'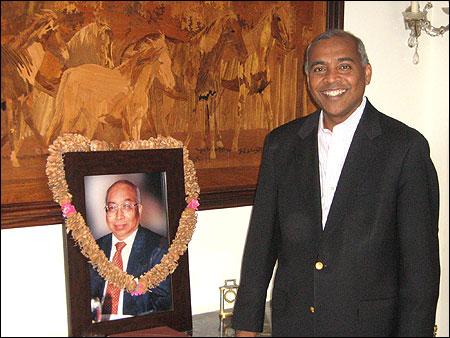 I think competing in India is very difficult.
PHOTOS: India's BEST performing airlines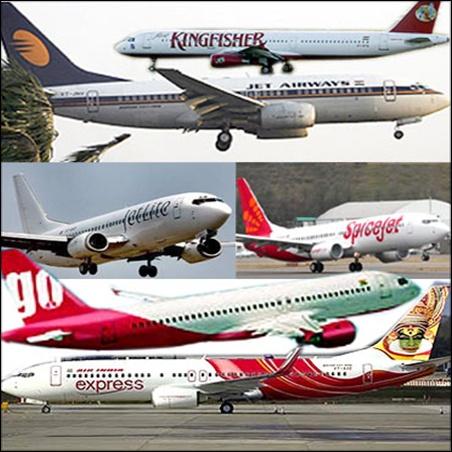 Domestic airlines carried 550.32 lakh passengers during January-November 2011 as against 468.09 lakh passengers during the corresponding period of previous year, registering a growth of over 17.6 per cent.
Small stocks take big beating in 2011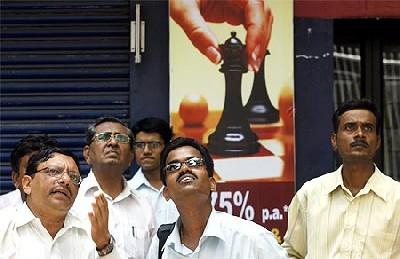 The downslide on Dalal Street did not spare big names in 2011, but small stocks lived up to their nomenclature with a much more sickening slump and investment in mid-cap companies also turned out to be messy affair.
Republicans give in to Obama's pay roll tax cut demand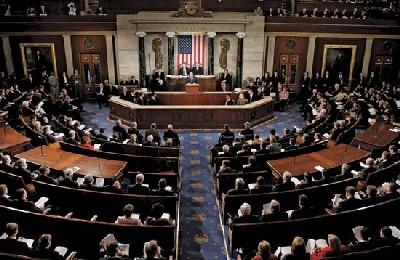 The Republicans, who hold the majority in the US House of Representatives, finally caved in and agreed to extend the pay roll tax cut for two months, as demanded by President Barack Obama and thus gave him a big political advantage on the eve of the election-year.
Govt trying for consensus on FDI in retail, reforms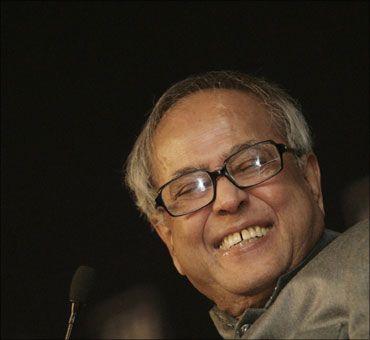 Expressing commitment to push forward economic reforms, Finance Minister Pranab Mukherjee today said the government is making efforts to build a consensus on important economic legislations, including PFRDA and foreign investment in multi-brand retail.
2 basic errors that could CRIPPLE India's growth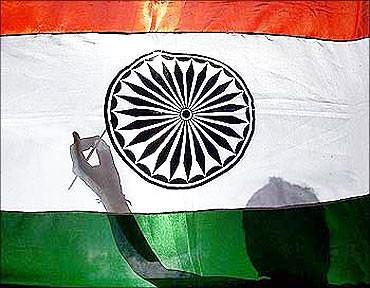 If either failure of comprehension stays uncorrected, 2012 will be a singularly disastrous year, says .
Credit ratings: Weak economies ranked HIGHER than India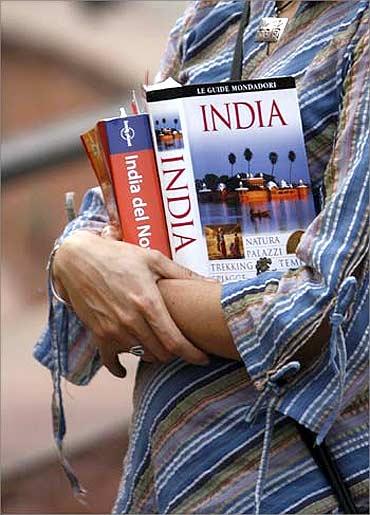 Moody's upgrade should start a long-overdue correction. Credibility of the big credit rating agencies is under threat.
Beware of these 12 online Christmas scams!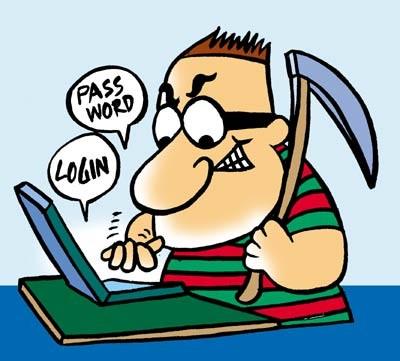 According to a report released by computer security company McAfee, there are many scammers out there who are trying out numerous ways to take advantage of innocent shoppers.
Say goodbye to cheap new drugs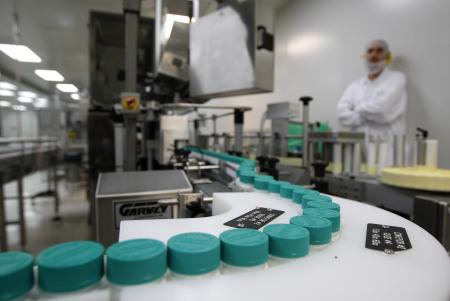 Government plans to move from controlling bulk drugs to formulations.
DoT stops 3G services under roaming pacts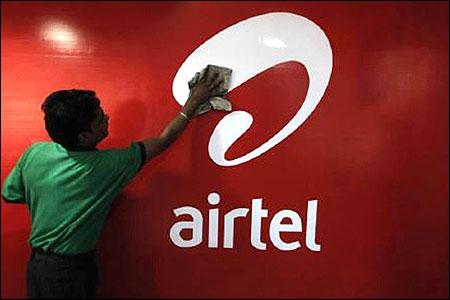 Says Airtel-Vodafone-Idea pacts violate licence terms; firms may move TDSAT.
IMAGES: India's BEST railway, road bridges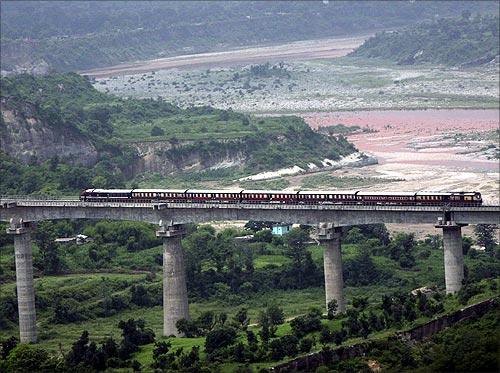 India has an impressive network of road and railway bridges.
2013 will be a better year, says StanChart head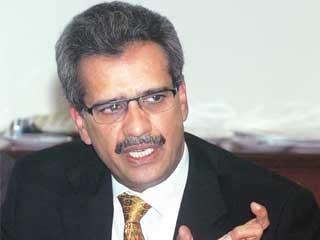 This is a significant slowdown - no doubt about that, says Neeraj Swaroop.
Indians may get 12% salary HIKE in the New Year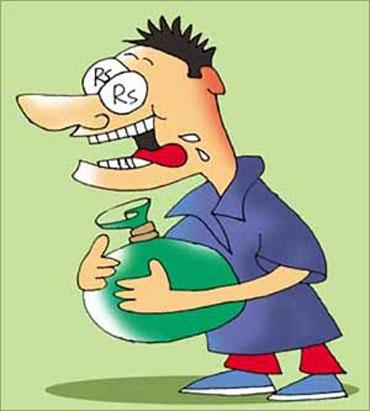 Amid economic sluggishness, employees in the country have a reason to smile as a survey has predicted up to 12 per cent pay hikes in the New Year.
Politicians, cops most corrupt in India: Survey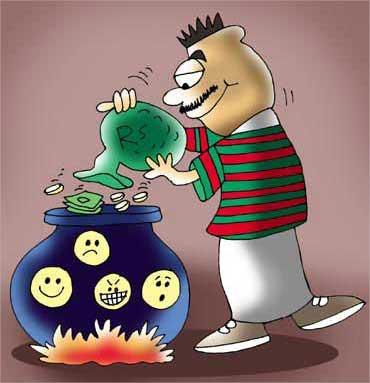 Seventy-four per cent Indians feel that the level of corruption in the country has gone up in the last three years and perceive politicians and police to be the most corrupt, according to a survey.
Most stocks prove DUDS in a nightmarish year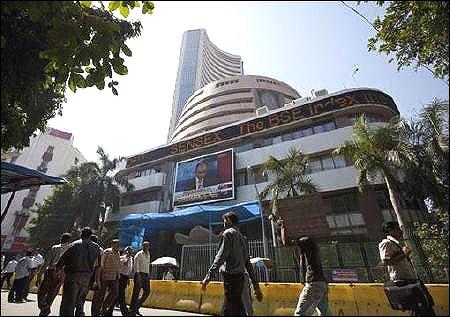 % stocks in BS 200 underperform the Sensex in 2011.
Leaders in a hall of mirrors
Most corporate bosses suffer from delusions of indispensability.
30 countries that face most or least VISA restrictions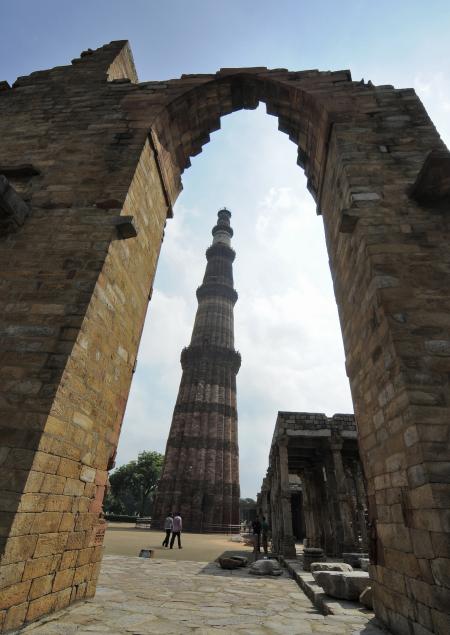 There are some nations whose citizens can travel to almost anywhere without any restriction.
IMAGES: India's 8 fastest-growing companies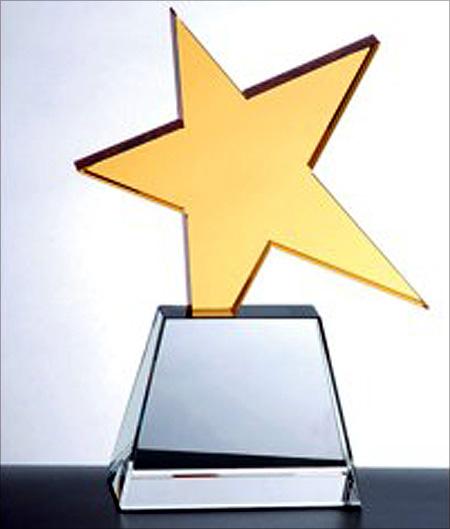 These companies are poised to be star performers of the future.
Toyota to recall 41,000 Etios, Liva models in India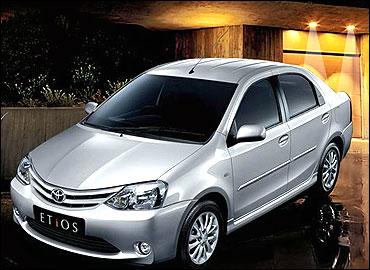 Japanese carmaker Toyota is recalling 41,000 units of its sedan Etios and small car Liva in India to replace faulty inlet pipe to fuel tank.
December 22, 2011
US Bill on outsourcing cause of concern: India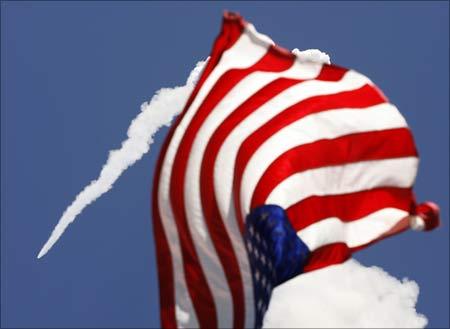 India on Thursday expressed concern over the proposed US Call Centre Bill, but said that it is premature to assess the impact of the decision on the domestic IT industry.
Banking system stable, but weak spots in economy: RBI
India's banking system is stable and can withstand global shocks, but there are weak spots like decelerating growth and rising fiscal deficit which need to be addressed, said a Reserve Bank report.
Indian stocks markets may FALL further!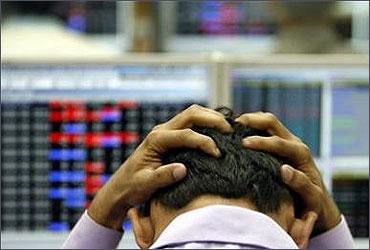 According to global equity research firm CLSA, the Indian market is still trading with a 'premium', although it has come down considerably.
Force Motors to launch hybrid version of Traveller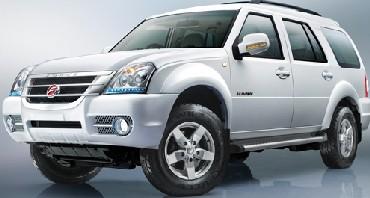 Force Motors on Thursday said it will launch a hybrid variant of its commercial vehicle 'Traveller' by the end of 2012 after unveiling to the public at the upcoming Auto Expo next month.
PHOTOS: India's BEST performing airlines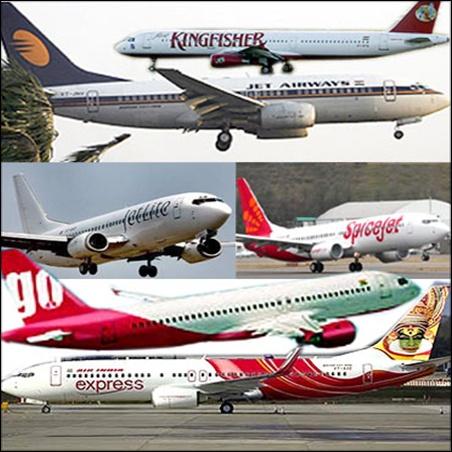 Domestic airlines carried 550.32 lakh passengers during January-November 2011 as against 468.09 lakh passengers during the corresponding period of previous year, registering a growth of over 17.6 per cent.
Mahindra to launch its first compact car next year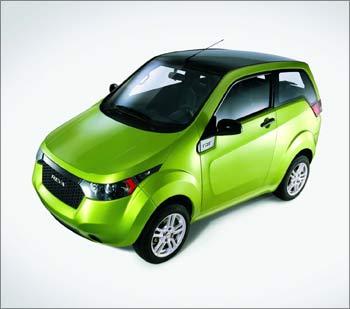 More than a year after Mahindra & Mahindra bought stake in Reva Electric Car Company, the SUV-maker is gearing up to launch its first compact car -- it promises nine times the mileage generated by the country's most fuel-efficient petrol-powered car.
India's 30 BEST cities to live and work in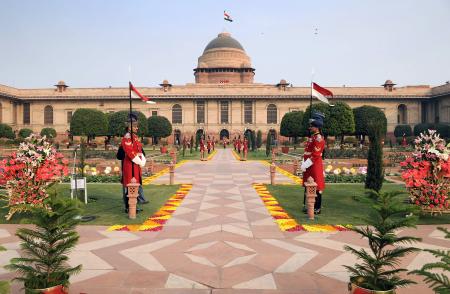 A livable city is one that directly benefits the people who live and work in it.
'Slowdown will continue in Oct-Dec quarter'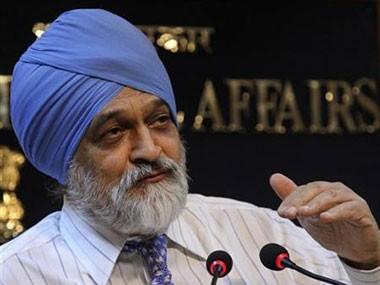 India may end the financial year with a seven per cent GDP growth rate, as the economic deceleration is expected to continue in the third quarter, said Montek Singh Ahluwalia, deputy chairman of the Planning Commission.
Food inflation plunges to 4-year low of 1.81 per cent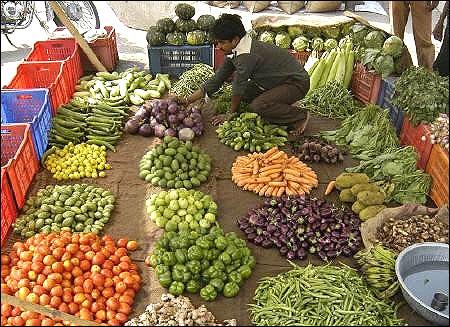 Food inflation fell sharply to a near four-year low of 1.81 per cent for the week ended
A tale of West Bengal's missing data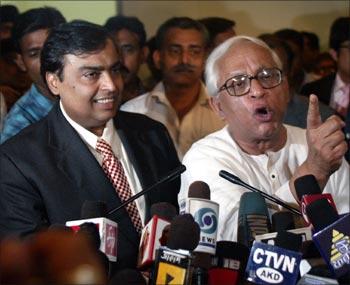 In a central govt report, the state only has figures from 2001-02 to 2003-04. But nothing after that.
Asia to be fastest-growing banking hub by 2015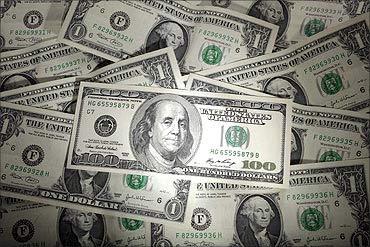 Asia would become a major hub for corporate and investment banking in five years, according to a report released by McKinsey.
Little known and MEGA events will reshape future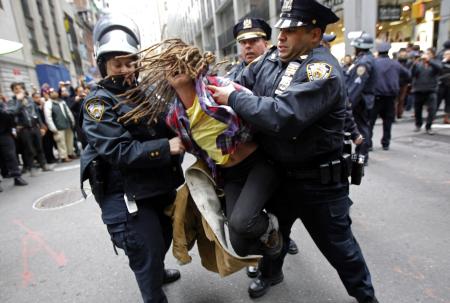 As the year 2011 comes to a close we are faced with extremes of hope and despair.
What India can do to track black MONEY abroad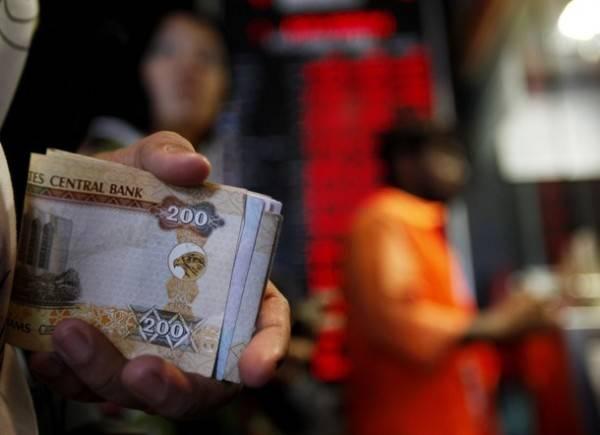 There is much more that the government can do to track money hidden abroad.
Buying peace of mind after the SPLURGE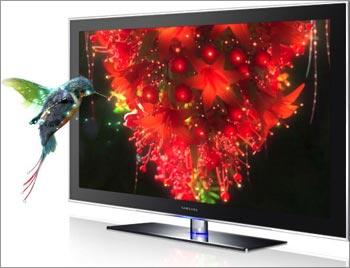 An extended warranty is often more than worth the cost; though expensive, manufacturer's warranty works best for electronic items.
India's economy is running out of POWER!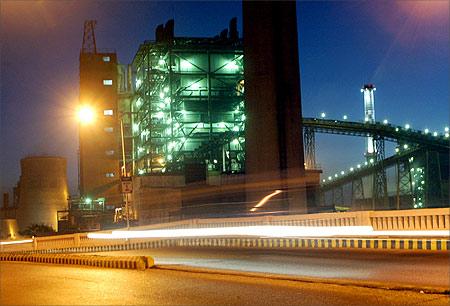 India's economy is running out of power. Separate the markets for base- and peak-load power consumption, says .
The GOLDEN journey of Honda City, since 1981!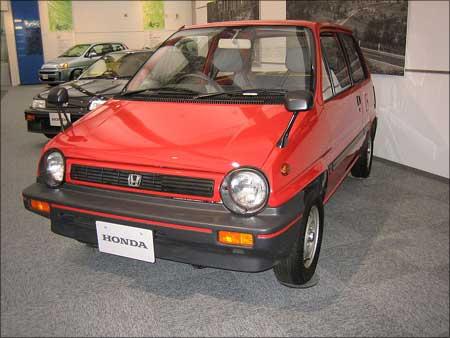 The glorious journey of Honda City began in 1981. From then on, Honda City has gone through several transformation phases.
PHOTOS: India's 30 biggest companies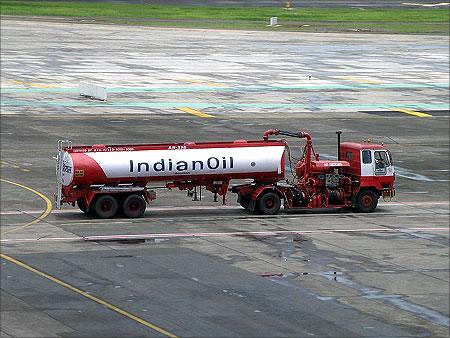 India's biggest companies are public sector undertakings (PSUs) in the oil & gas sector.
The 7 most-SEARCHED Indian cars on the Net!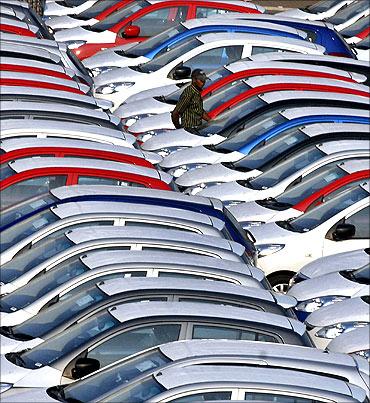 Here's the Google Zeitgeist list of the most sought-after cars in India. Seven cars from different car manufacturers top the list.
Auto Expo: 50 global launches, but visitors to be restricted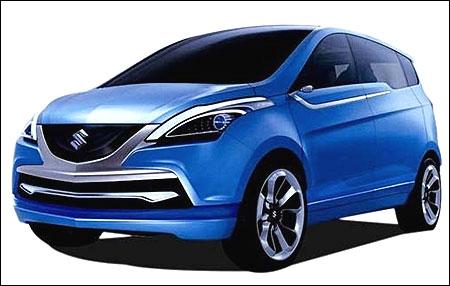 As many as 50 global brands will showcase products at the 11th Auto Expo next month, although organisers have decided to restrict the number of daily visitors which could cost the show its tag of the world's second largest auto show in terms of footfalls.
December 21, 2011
India back in trillion-dollar market-cap club!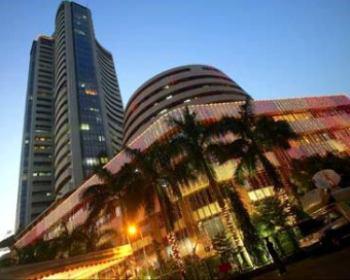 Within a day of slipping out of the coveted league of countries with trillion-dollar-size stock markets, India today regained this status as a 510-point strong Sensex rally boosted its market capitalisation to $1.02 trillion.
2G: Essar surprised by CBI stance; Ravi Ruia quits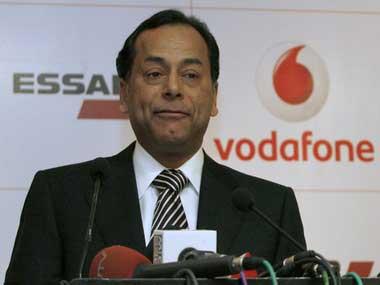 Essar Energy chairman Ravi Ruia on Wednesday announced his decision to step down from the post amid the Central Bureau of Investigation claiming that the Essar Group had suppressed facts related to its equity holding in Loop Telecom, an allegation denied by the conglomerate.
Moody's upgrades Indian bonds, pegs GDP below 7%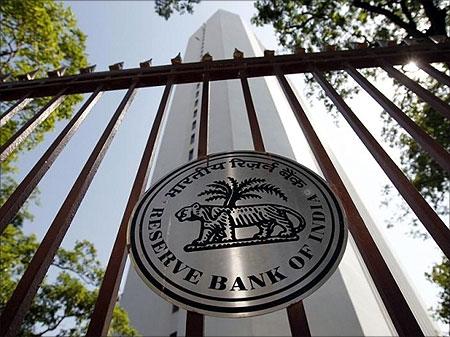 The same rating agency, however said India's GDP growth rate would go below 7 per cent in the current fiscal from 8.5 per cent a year ago.
Gold glitters with second biggest gain in 2011; up by Rs 1,025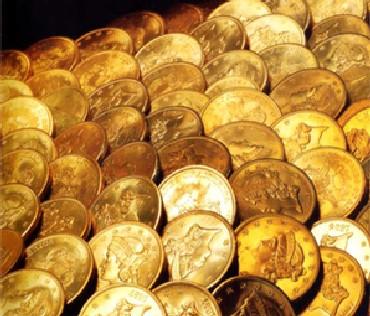 Gold today zoomed by Rs 1,025, its second biggest rise this year, to Rs 28,990 per 10 grams, on brisk buying by stockists and investors amid a firming global trend and shifting of funds to the precious metal from volatile equity and forex markets.
Ranbaxy settles case with USFDA, to pay $500 mn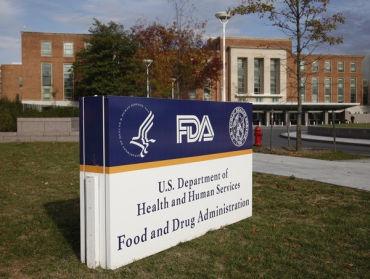 Drug-maker Ranbaxy Laboratories on Wednesday said it has signed an agreement with the US health regulator to lift a ban on the import of drugs from certain manufacturing plants in India and will pay up to $500 million to settle a case lodged by the Department of Justice.
Sensex zooms riding on European cues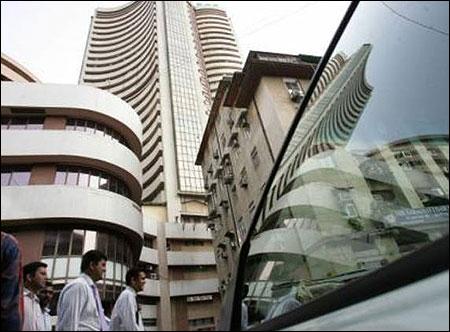 Markets extended their gains in noon trades led by banks, capital goods and index heavyweights Reliance Industries, HDFC and Infosys and ICICI Bank.
The 30 highest paid CEOs in the US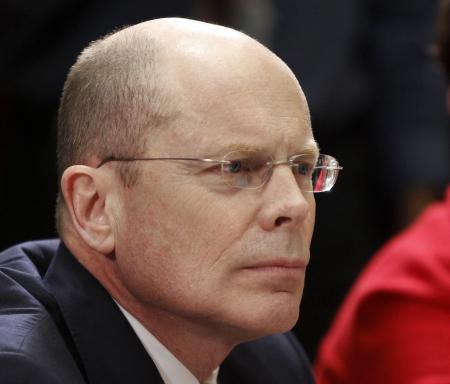 There are some CEOs who not only get paid millions of dollars, but are also rewarded with shares.
Ten Indians in Forbes '30 under 30' list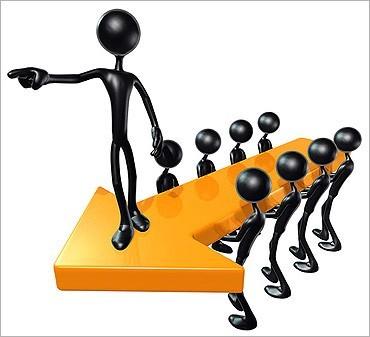 From a 29-year-old Goldman Sachs director to a graduate student developing energy conserving sensors, about 10 Indian-origin young turks have been named in a Forbes list of "tomorrow's brightest stars" who are "reinventing the world".
India is too emotional, says world's top analyst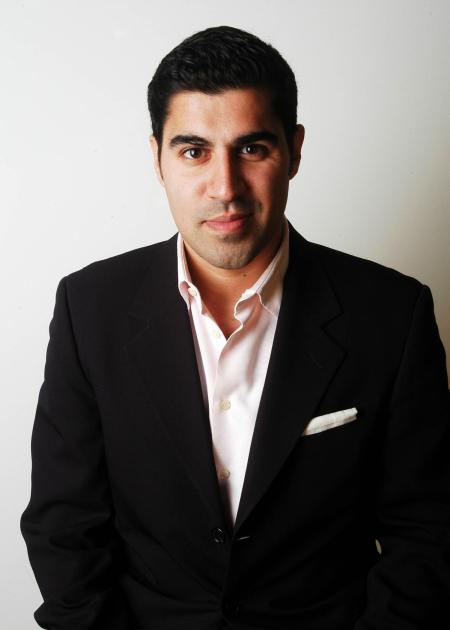 When the world is happily dealing with unstable countries, why shouldn't India? asks world's leading geo-strategist Parag Khanna.
IMAGES: 10 best SUVs in India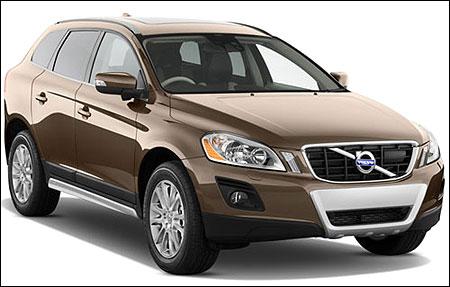 The manufacturers are not only keen to introduce small cars in India but also luxurious sedans and stunning SUVs.
Audi snaps at Mercedes' heels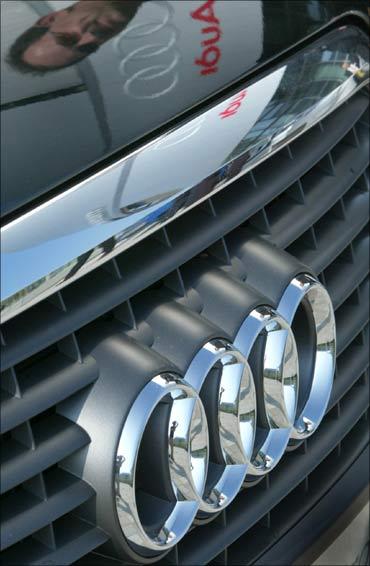 Audi, the premium car maker from the Volkswagen fold and the latest entrant in the luxury segment, has declared its intention: topple Mercedes Benz from its second spot in the next two years.
The crisis now is worse than in 2008: India Inc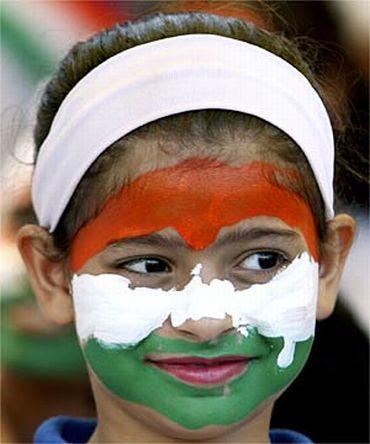 Some still hopeful, most say lack of confidence has made the difference.
IMAGES: 30 Indian cities that will soon boast of solar power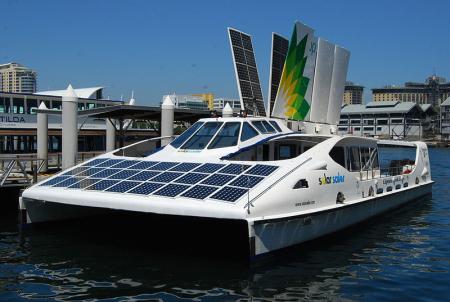 India's Ministry of New and Renewable Energy proposes to develop 60 cities as solar cities.
30 countries that have MOST holidays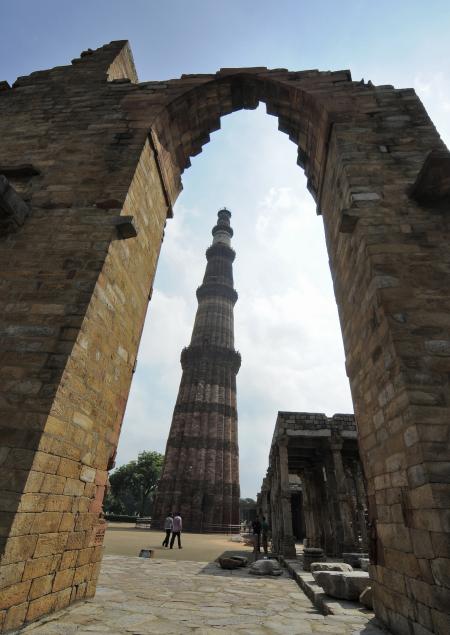 Employees in Asia fare poorly compared with the rest of the world.
PHOTOS: Onboard India's most expensive train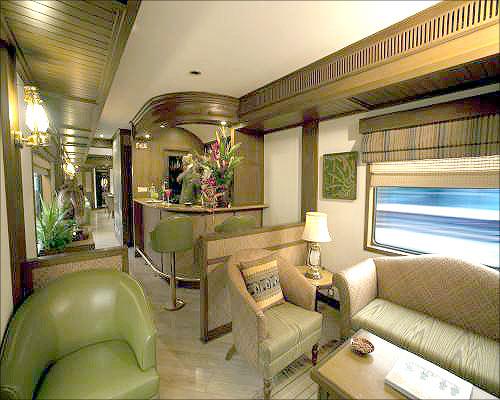 Luxury knows no bounds on India's most expensive train, The Maharajas' Express.
Nokia's Windows phone Lumia shines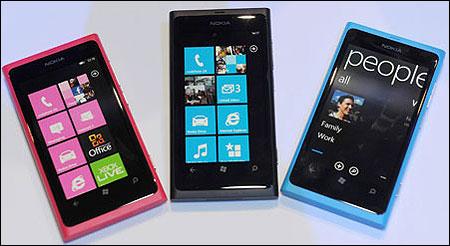 Lumia range is make-or-break for both Nokia and Microsoft where each is desperate for a successful device that can take Windows operating system to the masses.
December 20, 2011
IMAGES: It's raining superbikes in India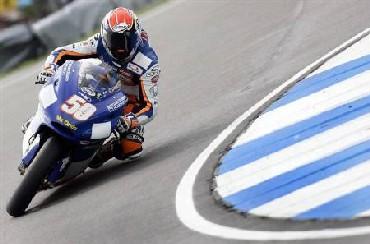 The sales of superbikes are happening fast, even with the eye-popping prices that they sport. The bikes are moving off the shelves faster than perhaps the bikes themselves.
Turbulent times ahead for the insurance sector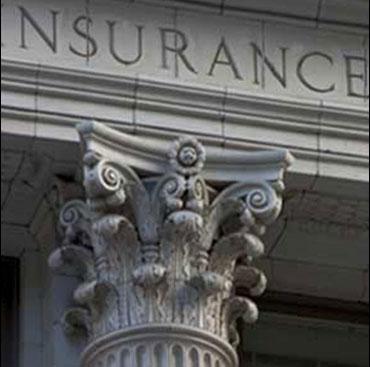 Low margins and cash crunch have resulted in job cuts and a decline in the insurance industry. A policy roadblock is making it worse.
US call centre bill aims to STOP jobs coming to India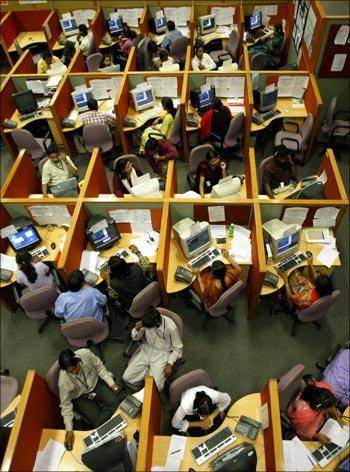 A bipartisan Bill has been tabled in the US House of Representatives to make companies that move call centres overseas ineligible for grants or guaranteed loans from the American government, a move aimed at stemming the tide of jobs heading to nations like India.
How New Companies Bill will empower small investors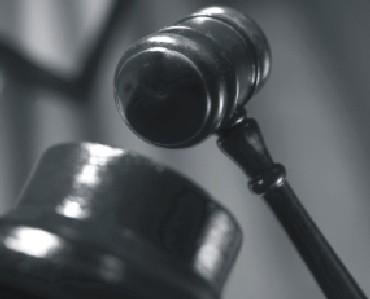 The class action suit, a handy weapon for small investors seeking relief from errant corporations, will soon be available in India.
Why are small saving schemes no longer lucrative?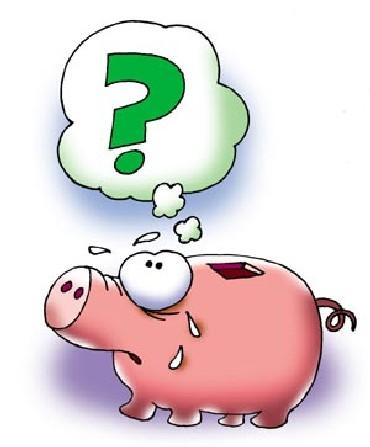 These schemes now cease to be lucrative in spite of a raise in most of their returns. Reason: These schemes are now linked to the market.
Striking IMAGES from the world of business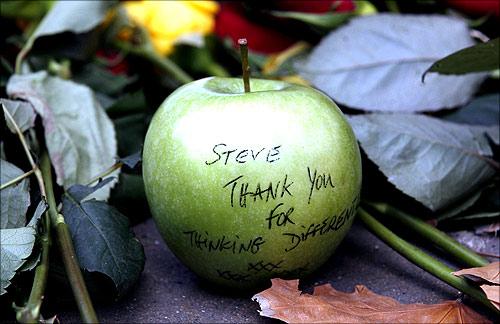 Take a glimpse at the striking images from the world of business in 2011.
FinMin on what's hurting India's growth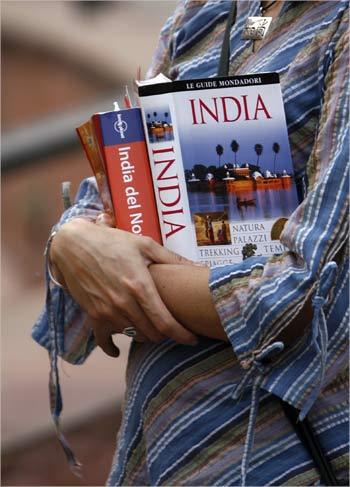 Attributing the slowdown to the Reserve Bank's tight monetary policy and global problems, the government on Tuesday informed Parliament that economic growth in 2011-12 will moderate to 7.5 per cent, from 8.5 per cent in the previous fiscal.
Rs 300 crore in black money unearthed in Apr-Oct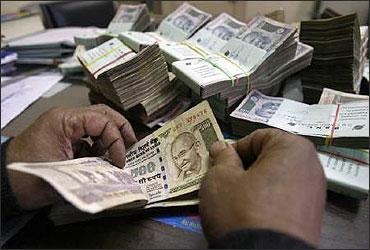 The I-T department has issued 2,190 warrants and seized assets worth Rs 299.63 crore (Rs 2.996 billion), Finance Minister Pranab Mukherjee said in the Rajya Sabha.
Year-end break? It's work time for 71% Indians!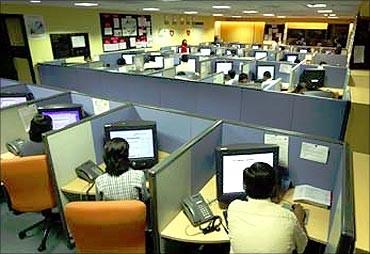 The upcoming festive season will be work-time for an average of seven in every ten employees in India, but a vast majority of them still expect the level of productivity to remain low during this period, says a survey.
Sumant Sinha: The wind talker in pinstripes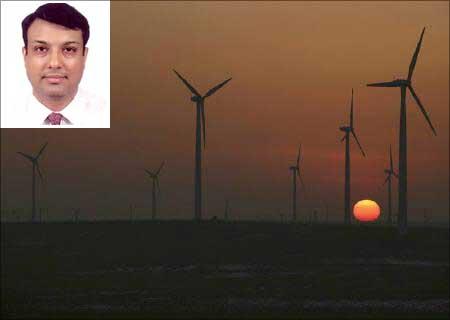 Why Sumant Sinha, chairman & CEO, ReNew Wind Power sees value in the renewable energy business.
HSBC to cut jobs in India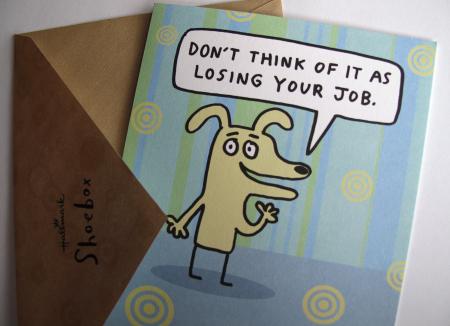 The move is aimed at reducing costs and improving efficiency.
STUNNING pics: World's 30 most unusual buildings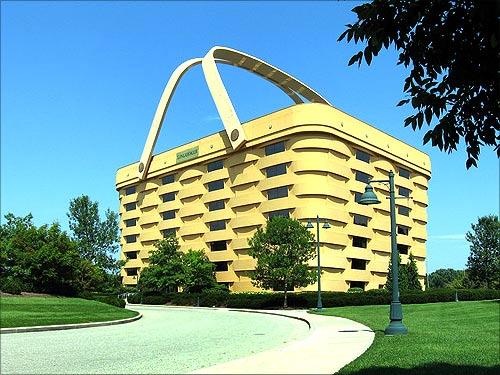 These are the modern architectural wonders of the world.
REWIND: Some Best Ads of 2011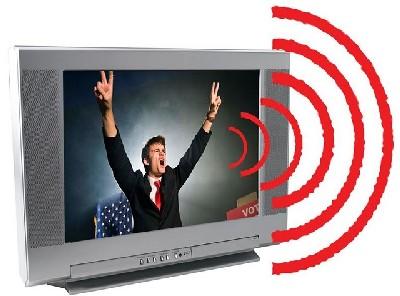 The flavour for this year was Musicals. Apart from the usual suspects, some unusual product categories like fans (consumer durables) and industry bodies like World Gold Council managed to surprise us with some interesting concepts.
Maruti Alto K10 vs Hyundai Eon: And the WINNER is...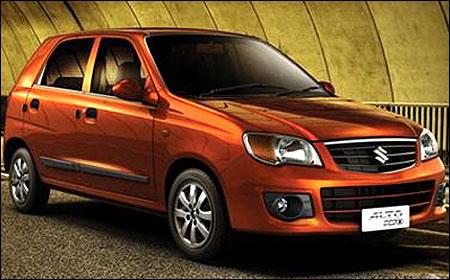 Eon has enough substance to disrupt Alto's free run.
'Uncertainty the biggest challenge for IT sector'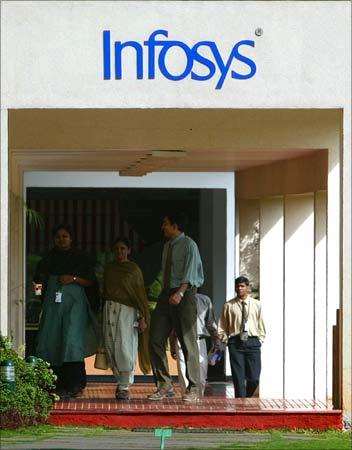 The IT companies are not getting clarity about clients' IT budgets because of this uncertainty.
PHOTOS: Onboard the world's BIGGEST cruise ship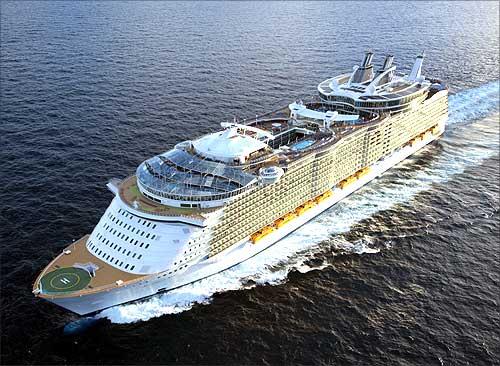 The world's biggest cruise ship, Allure of the Seas is indeed a floating palace.
Economic development: India ranks among the TOP nations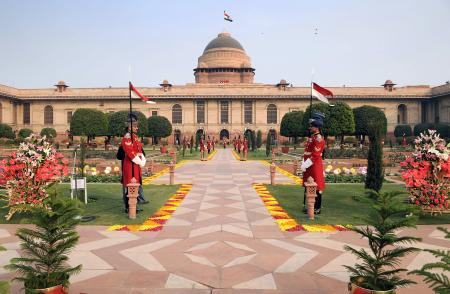 Index analyzes drivers of financial system development that support economic growth.
December 19, 2011
PHOTOS: Amritsar to get a modern pod-car system!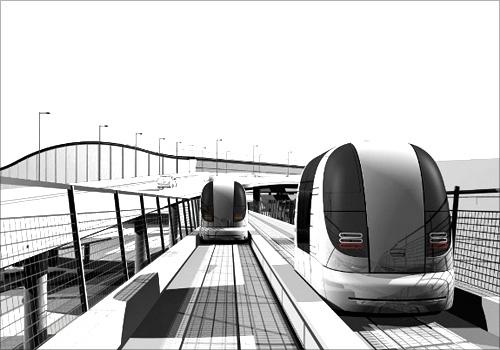 Amritsar can soon boast of one of the most modern modes of transport.
India's root problem? Labour laws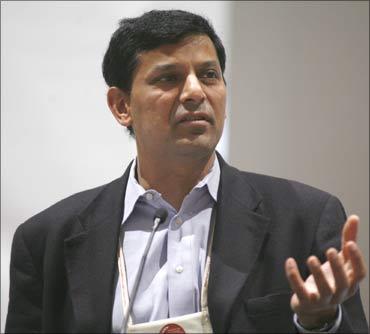 The answer to the problems of high inflation and slowing growth, and low farm incomes, would lie in addressing the basic reforms that India is still to attempt -- like labour laws, says .
Now, a superfast camera that captures the speed of light!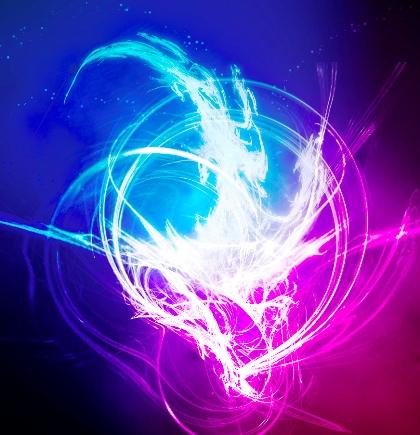 A team at the Massachusetts Institute of Technology claims its superfast camera can show a bullet-shaped pulse of light travelling from one end of a laboratory flask to another in a fraction of a second, the British media said.
Special: The STAR stocks of 2011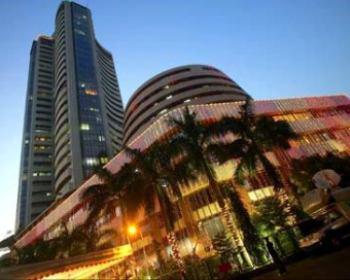 stocks in the BS 200 list have stayed in the positive territory.
Primary capital market: Fund-raising at 8-year low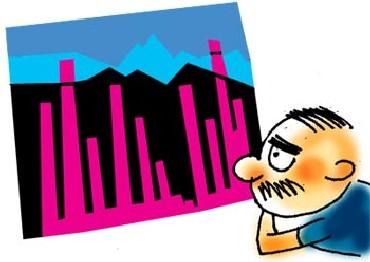 Fund-raising from primary market by listed and unlisted companies has hit an eight-year low in 2011. The calendar year has seen the lowest realisations from public offers since 2003, mainly on account of poor conditions in the secondary market.
Watch out retail giants! Online majors aim for the sky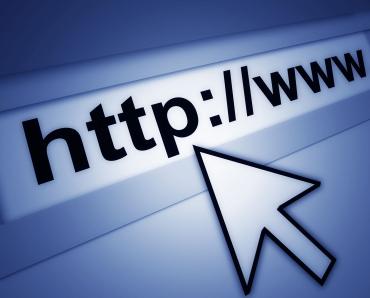 Indian non-store market set to touch Rs 57,500 crore by the end of the year.
With dollar shining, NRIs on a property-buying spree!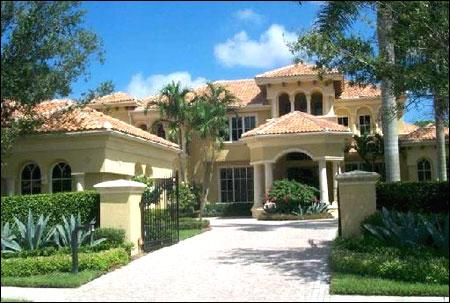 Most developers Business Standard spoke to claimed a 25 to 30 per cent spurt in sales to NRIs over the last two months.
RARE images: New York's infrastructure since 1904!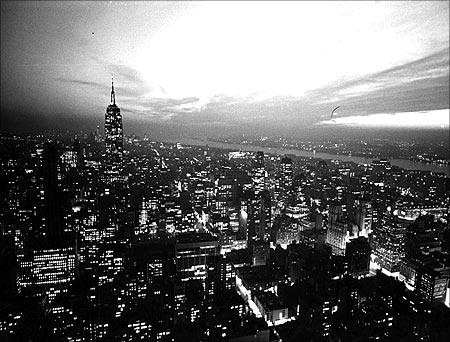 If New York were an independent nation, it would rank as the 16th largest economy in the world.
Re drops by 48 paise to breach Rs 53/$ again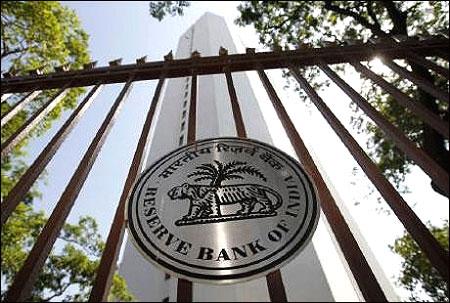 The domestic currency moved in a range between Rs 52.80 and Rs 53.18 per dollar during morning deals.
Microsoft takes on Apple, Android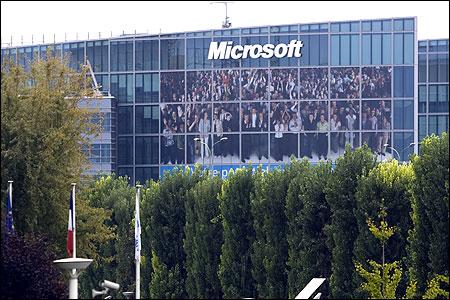 Code named Mango, this new OS for mobile handsets comes powered with many familiar applications of the most popular operating system in the PC world.
IMAGES: 30 richest Indians in the world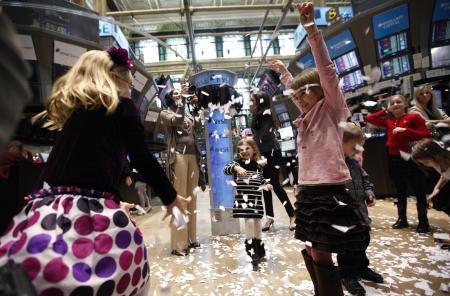 Although the world economy is going through tough economic times, the number of Indians making it to the global rich list is increasing.
New direct taxes code unlikely in next Budget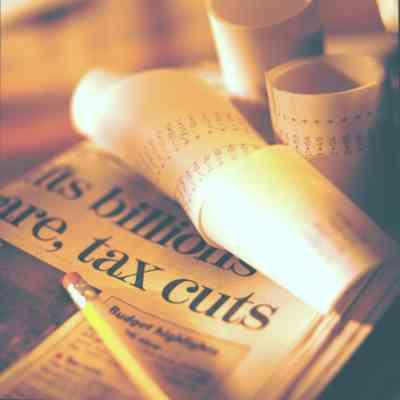 But, govt plans to bring some provisions that can't wait.
PHOTOS: Inside the stunning transparent Airbus and A380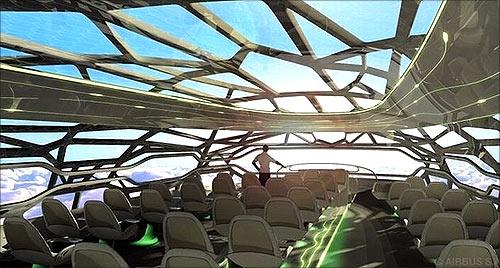 Come 2050, and you can fly in a fully transparent plane enjoying the panoramic views of the sky.
IMAGES: 30 most expensive cities in the world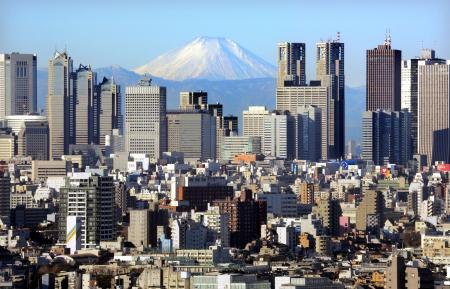 Last 12 months have seen considerable increases in the cost of food, oil and other commodities in many parts of the world.
December 16, 2011
Arrest warrant against Mukesh Ambani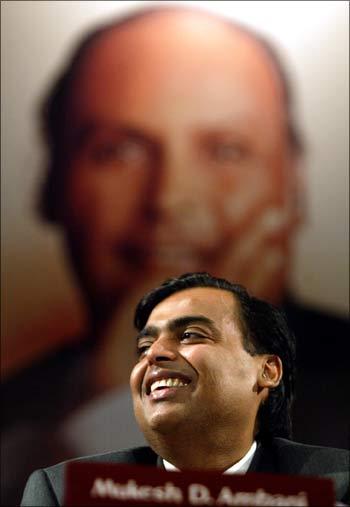 A bailable arrest warrant has been issued against Mukesh Ambani, chairman and managing director, Reliance Industries Ltd, by a consumer forum in Thissur for failure to pay Rs 24,000 fine to a person who had purchased a mobile from a Reliance outlet in 2003.
Experts welcome RBI decision to keep rates unchanged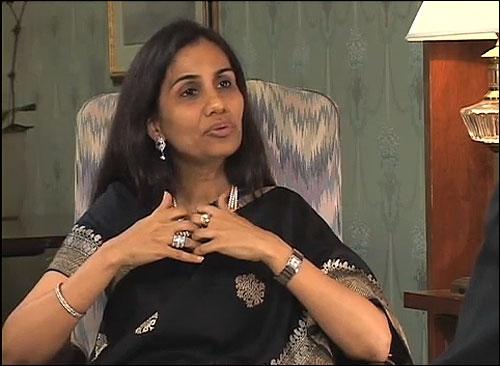 The Reserve Bank of India's move to pause its hawkish Monetary Policy stance is on expected lines as high interest rates affect the economic growth, bankers and analysts said.
Auditors should provide early warning signals: Subbarao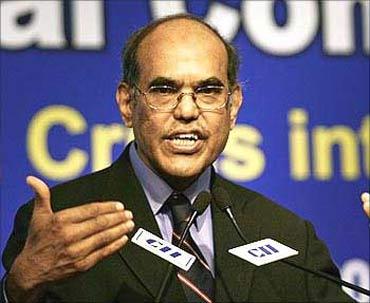 Terming auditors as the 'eyes and ears' of the central bank, Governor Duvvuri Subbarao on Friday said accounting professionals should provide early warning signals so that better supervision can be ensured in the banking system and also called for an inter-disciplinary approach to the job.
INTERESTING story of India's first e-toilet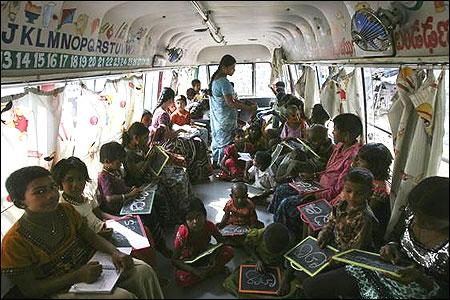 A government girls' school in Ernakulam has become the first school in the country to get an electronic public toilet.
Inflation can bounce back again, warns RBI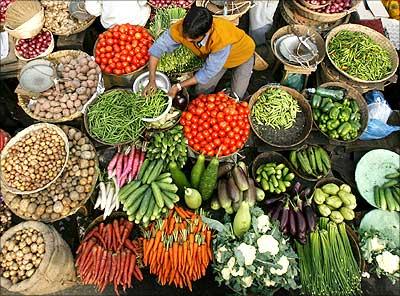 The Reserve Bank of India said it is closely watching the rupee situation and will respond appropriately, even as the local currency recovered against dollar by 2 per cent in the opening trade.
No rate hike by RBI makes India Inc happy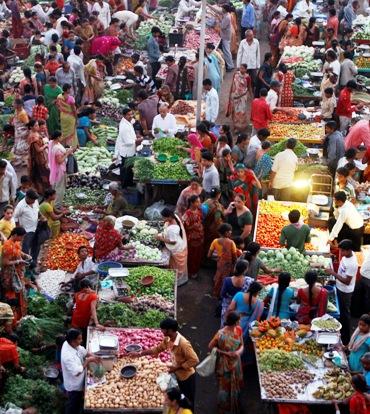 The halt in the RBI's monetary tightening drive comes after 13 hikes since March, 2010.
Can't speculate if we will start cutting rates soon, says RBI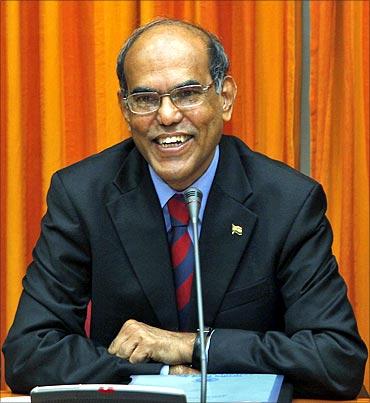 Reserve Bank of India Governor D Subbarao on Friday said he cannot speculate on when he will start cutting policy rates, but assured that the central bank will ensure that there is enough liquidity in the system by conducting open market operations.
Here's how FDI in retail will help farmers, kirana stores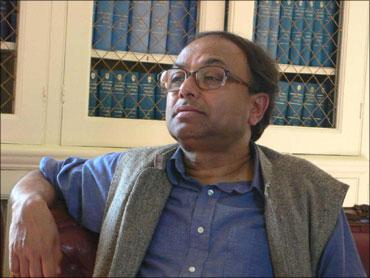 Opposition to FDI in retail is misguided, says Pranab Bardhan, professor of economics in University of California, Berkeley.
Rupee fall: RBI must be seen to be in control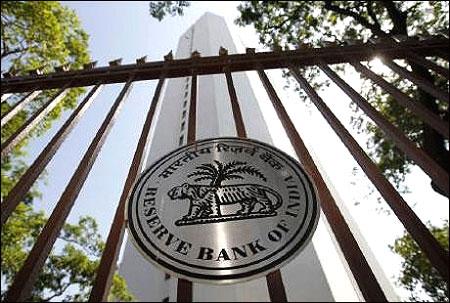 Like inflation targeting, regulating a floating currency is all about managing expectations. The RBI cannot manage expectations if it appears helpless.
PHOTOS: The devastating effects of global warming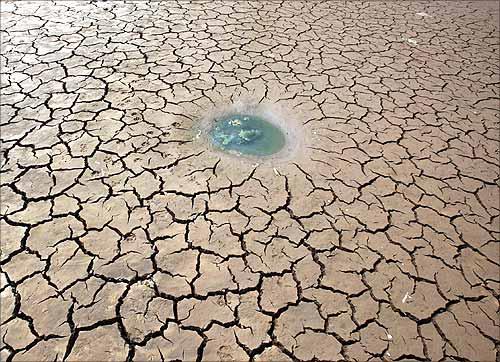 In the last 100 years, the earth's average surface temperature rose by about 0.8 degree Celsius with about two thirds of the increase occurring over just the last three decades.
How market uncertainty affected fund managers' net worth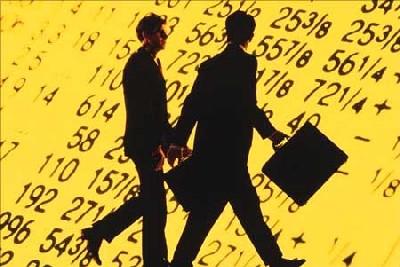 The fund managers of Smart Portfolios' Season 4 generally remained on the sidelines during the past week, with few transactions to their credit. The uncertainty of the markets reflected on the fund managers' net worth.
IMAGES: When CEOs set the ramp on fire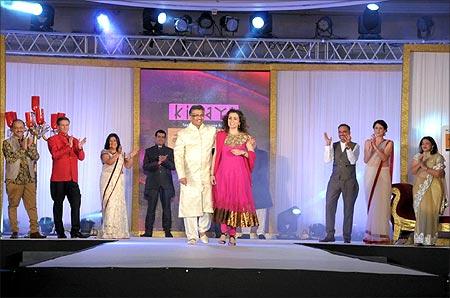 For once they shed their formal wear and business suits to set the ramp on fire!
India is not going to hell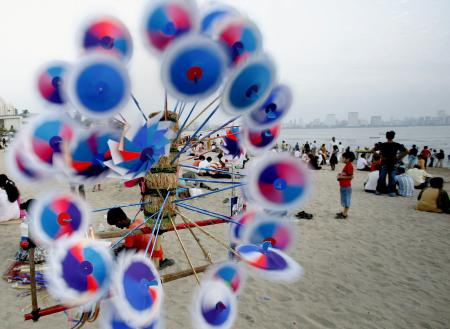 To read the daily papers, it would seem that India is going directly to hell.
BSNL's quest for IT: Challenges, solutions and results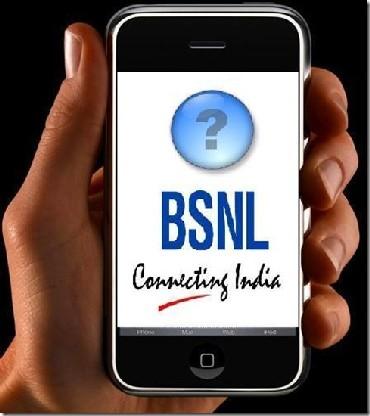 In the past, BSNL had invested in IT, but it could never get the desired effect. In fact, a report pegged the company's expected 2010-11 losses to be over Rs 6,000 crore (Rs 60 billion).
RBI gives a breather, NO hike in interest rates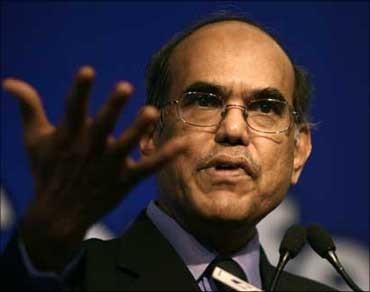 Consequently, the reverse repo rate under the LAF will remain unchanged at 7.5 per cent and the marginal standing facility (MSF) rate at 9.5 per cent.
'US economy owes a lot to the immigrants'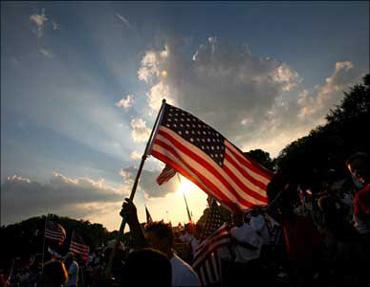 Republican presidential candidates today vowed to revamp the flawed immigration system of the country, in particular the legal immigration, with onenoting that half of the Fortune 500 companies in US were founded by immigrants.
Re woes: Caught on the wrong foot, firms take short-term bets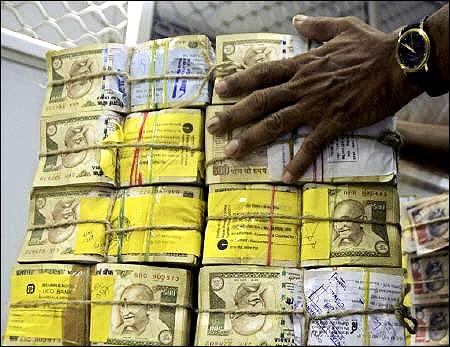 With the 21 per cent depreciation this year making most hedging strategies redundant.
REVEALED: How Indians are making money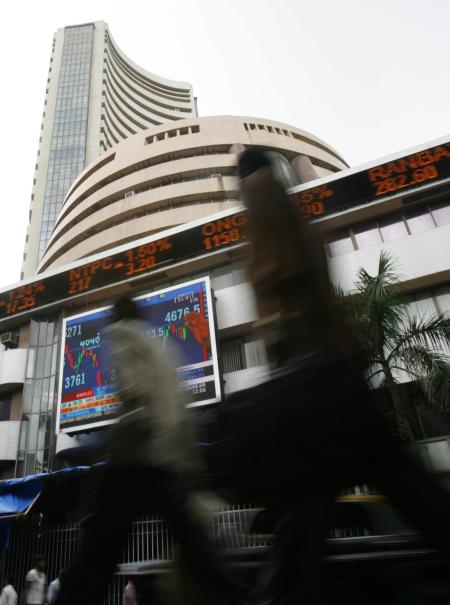 Individual wealth of Indians is expected to triple by financial year 2016 to Rs 249 lakh crore.
Here's what taxi ride COSTS around the world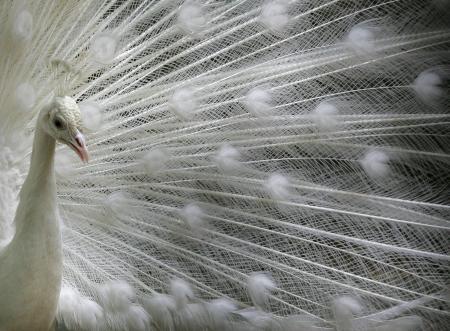 Taxi prices can be very confusing in any given city, so trying to compare all the cities together is complicated.
IMAGES: All new Honda City at Rs 6.99 lakh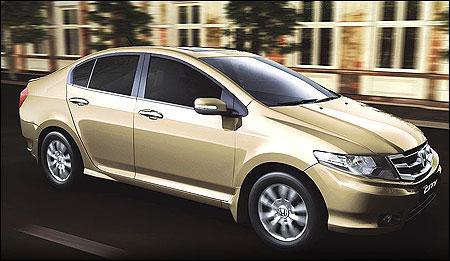 Honda has made the new City more premium and stylish.
Slowdown no issue; Indians plan to travel more in 2012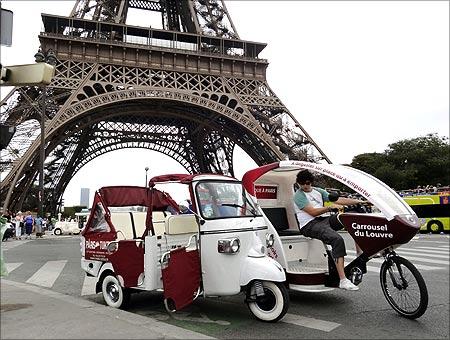 The study, conducted by travel portal TripAdvisor, also found that 44 per cent of Indians plan to spend more on leisure travel next year despite the current economic climate.
December 15, 2011
UPA-II must close ranks behind its only workable big idea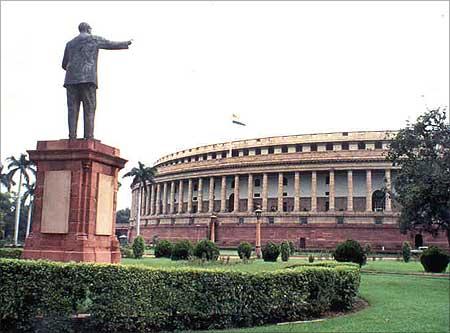 The committee's objections are a curious mixture; some attack the very basis of the project, others question its implementation.
Indians pay Rs 3,700-crore bribe a year for land services alone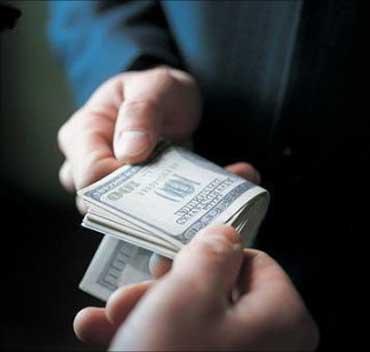 A whopping $700 million (about Rs 3,700 crore) is paid annually as bribe in India for land administration services, a joint study by United Nation's body FAO and Transparency International has observed.
RBI may give a breather, pause interest rate hike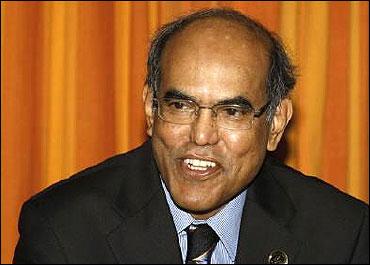 Amid declining growth and moderating inflation, the Reserve Bank of India is likely to pause hike in interest rate at the mid-quarterly review of the Monetary Policy on Friday.
India's highest advance-tax payers in Q3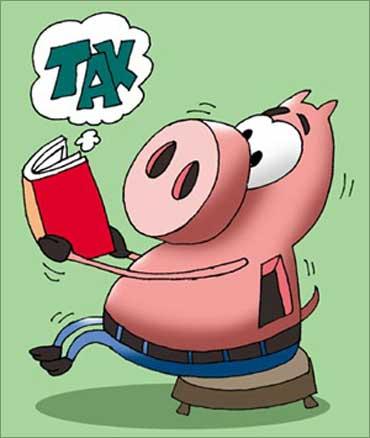 The largest financial institution, LIC, led the list of companies that paid up their advance tax this morning, with a spike in the amount to Rs 1,200 crore (Rs 12 billion) from Rs 1,070 crore (Rs 10.70 billion) a year ago, a senior income tax official said in New Delhi on Thursday.
US to certify Indian NGOs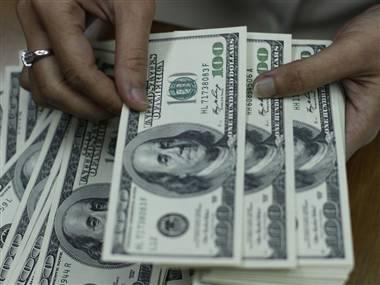 Amid concern over some NGOs misusing foreign aid, the United States is preparing an online searchable database containing a vetted list of transparent and accountable Indian non-government bodies so that philanthropists can safely donate funds to them.
IMAGES: Italy shows off its new high-speed train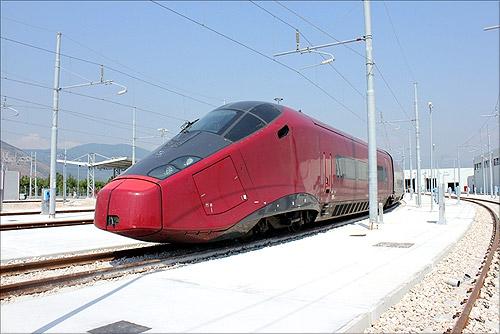 Italian operator Nuovo Trasporto Viaggiatori (NTV) launched its new high-speed trains called .Italo on December 13 at Nola, northwest of Naples.
REVEALED! How an IPO scam takes place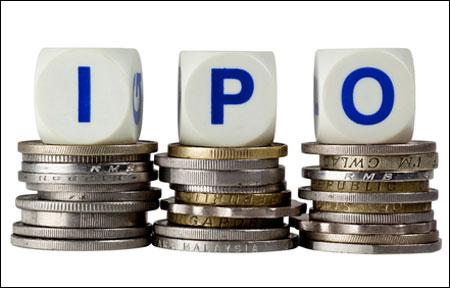 how operators and promoters relieve themselves on the heads of gullible and greedy retail investors.
Sibal meets social networking representatives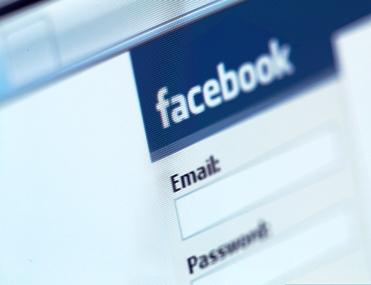 The government has called for an open dialogue with the social media firms and asked for opinions on how social media and e-governance can empower individuals and citizens of this country, Telecom Minister Kapil Sibal said after meeting representatives of these firms.
What India must do to keep its economy BOOMING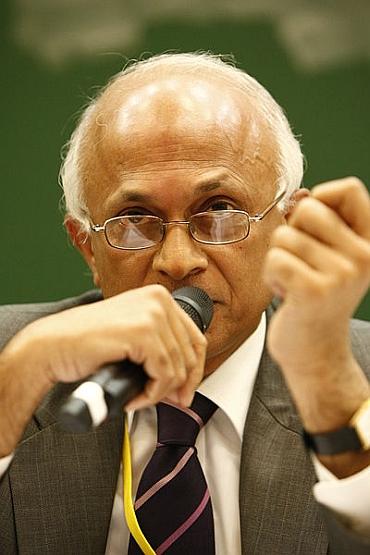 India's Foreign Secretary listed out some economic policies that emerging nations, particularly India, must adopt to keep them from driving off the growth path and also spoke about how these policies are closely linked with the nations' foreign policy.
Food inflation eases to nearly 4-year low of 4.35%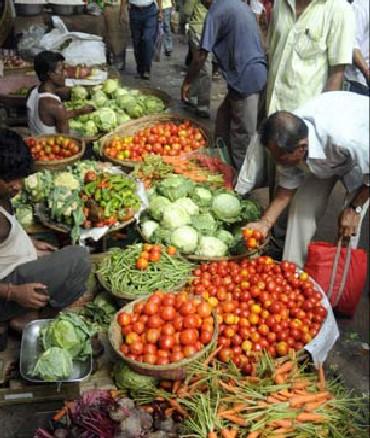 Food inflation, as measured by the Wholesale Price Index, stood at 6.6 per cent in the previous week.
China's doom story: The signs of a downfall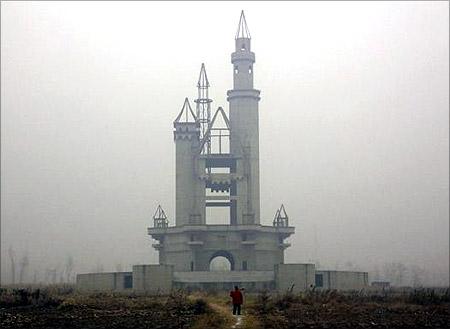 Among its various records, China now has the world's largest vacant malls, empty cities, and stalled amusement parks.
Debt crisis: Will a political UNION rescue Europe?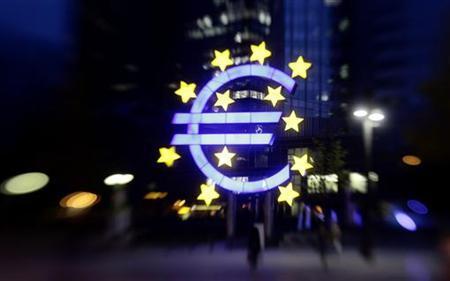 Debt levels in 18 OECD countries have gone up from 167 per cent of GDP back in 1980 to 314 per cent of GDP now.
Buying a second-hand car? Here's some GREAT advice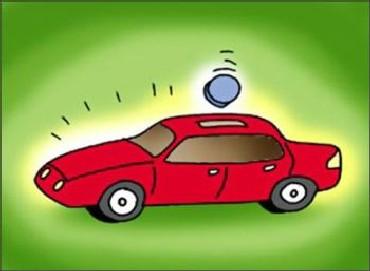 A used set of wheels is cheaper by 10-70 per cent. In fact, the moment a car rolls out of the showroom it is considered to be a used car and its value depreciates.
Beware: Banks may protect their employees over their customers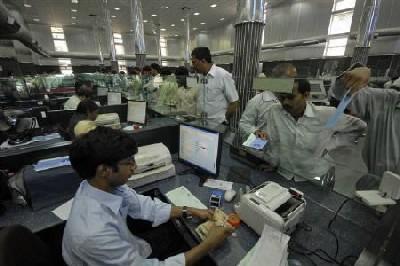 The bank will take its time to look into the complaint and carry out an investigation. Ultimately, if the bank refuses to admit its liability, the customer is forced to take recourse to legal action.
Bankers tried to create illegal investment arm for Anil: FSA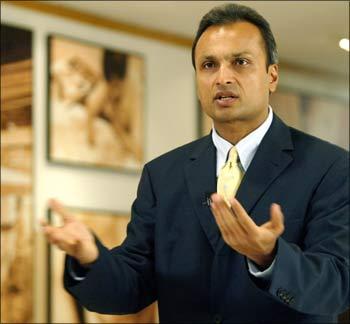 According to a report in the Financial Times, two UBS bankers tried to create Pleuri, an offshore vehicle through which Ambani 'could illegally invest in securities at home'.
Low business interest dogs PM's visit to Russia
India and Russia may have last year elevated their strategic partnership to "special and privileged status," but there seems no evidence of private enterprise in both countries following in the footsteps laid down by their respective governments.
IMAGES: 30 best companies to work for in India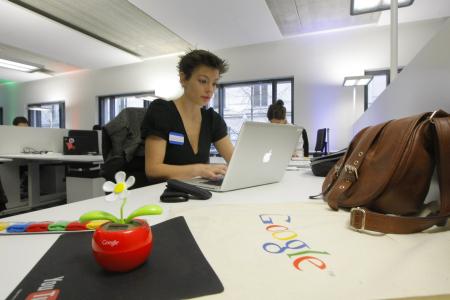 There are some companies where work is a chore, while in some it is fun.
'Re plunge to cut India Inc's slowdown pains'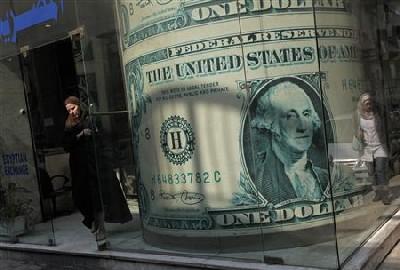 The domestic currency had tumbled by 48 paise to close at a record low of Rs 53.71/72 per dollar in the previous session on strong demand for the American currency and strengthening of the dollar against its rivals overseas.
The mystery of the Rs 1,00,000-cr bill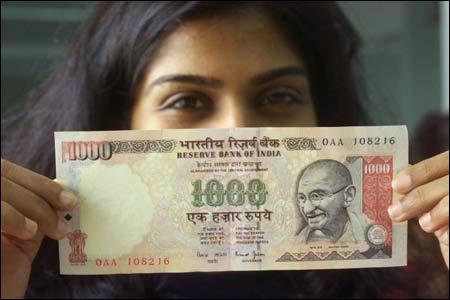 An avalanche of delayed projects has meant huge cost overruns where the taxpayer is left to foot the bill.
PHOTOS: The stunning City of Silk in Kuwait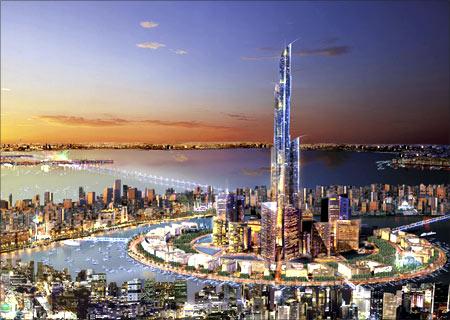 A few years from now, a billion-dollar city will come up in Kuwait.
IMAGES: The stunning Nissan Sunny diesel at Rs 7.98 lakh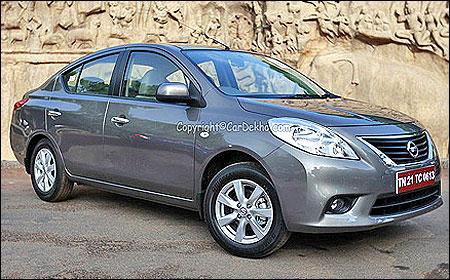 The Nissan Sunny diesel silently crept in the Indian market and the car maker has brought two variants -- XL and XV.
Re: Free fall continues, worst not over yet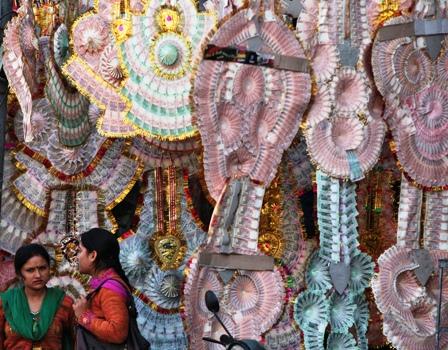 In a poll conducted by Business Standard, a majority of respondents said the rupee would fall further at least till March, taking cues from global economic conditions and strong demand for dollar in the country.
IN PIX: Low-cost tablets try hard to woo buyers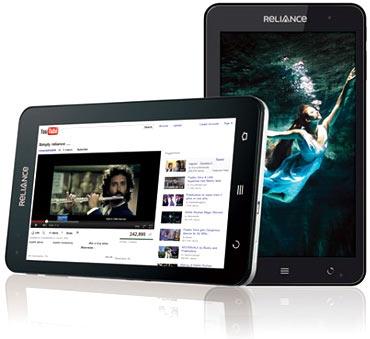 There are many buyers in the market looking for low-cost tablet PCs.
Illegal investment arm for Anil? Reliance denies charge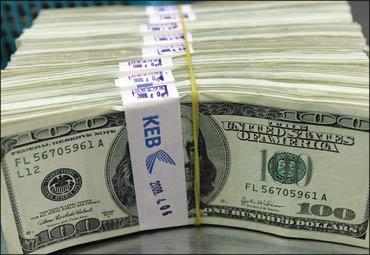 In a statement issued from New Delhi, Ambani-led Reliance group, however, said that no charges have been levelled against them by the UK regulators in these proceedings.
December 14, 2011
CBEC de-freezes Kingfisher, Air India bank a/cs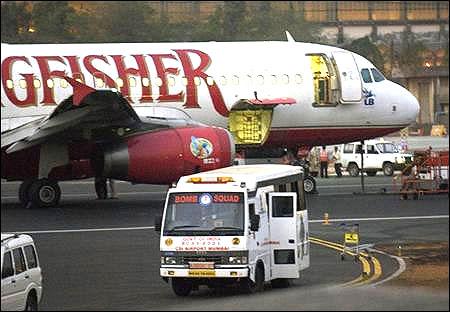 The government has de-frozen the bank accounts of debt-ridden Kingfisher Airlines and Air India after the two air carriers made part-payment of their service tax dues.
RBI must focus on controlling inflation: PMEAC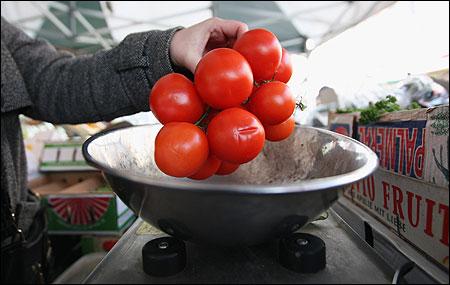 With inflation still ruling above the 9 per cent mark, Prime Minister's Economic Advisory Committee (PMEAC) on Wednesday suggested that the Reserve Bank should continue to focus on controlling the rising prices.
Petrol may cost 65 paise per litre MORE from Friday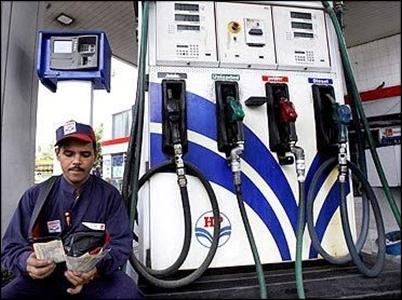 Petrol prices may be hiked by Rs 0.65 per litre this week if state-owned oil firms manage to get political approval for the move.
US fee hike: India hopes for early resolution to issue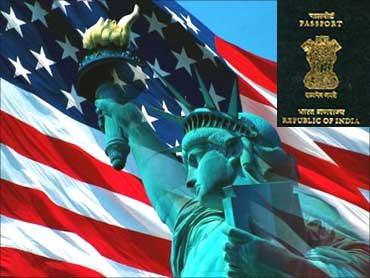 India said on Wednesday that it has conveyed its concerns to the United States over the hike in fees for H1B and L category visas and hopes for an 'early resolution' of the issue as the move was affecting Indian companies.
Why companies increasingly opt for arbitration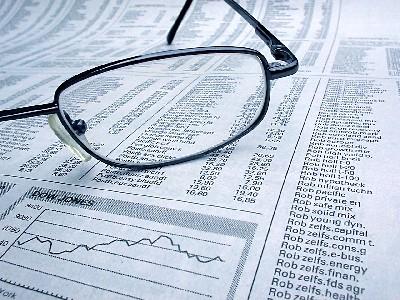 "Companies ideally like to resolve issues across the table through discussions but this requires decisions to be taken by the government and that does not happen often," says a person who is closely associated with one of the high-profile arbitration cases with the UPA government that has now landed in the courts.
What makes Samsung Galaxy Note a cut above the rest?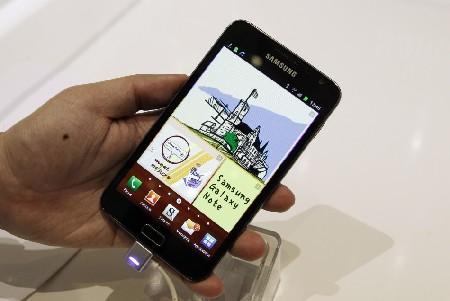 Big -- that's how you would summarise Samsung Galaxy Note, the latest smartphone that claims to be a tablet too. The question that needs to be answered is why there is a buzz about the Samsung Galaxy Note, when the Dell Streak 5 too tried the same thing and pretty much collapsed in the process.
Asia to overtake US as world's top casino market by 2013: PwC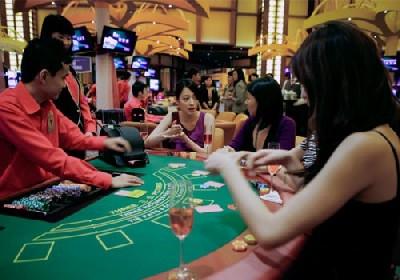 Asia will surpass the United States as the world's largest casino gaming market in 2013 on account of the region's robust economic growth and growing people interest for gambling, says a report by PwC last week.
Land utilisation: Car firms in slow gear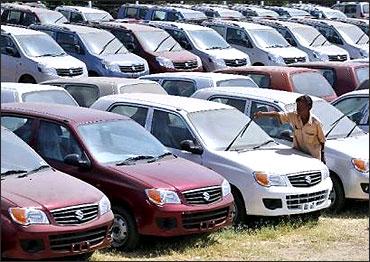 Automobile companies in India may have many headaches, but land availability doesn't figure in that list.
Anoop Prakash: The ex-US Marine who now sells Harleys in India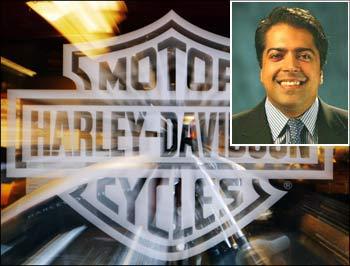 The ex-Marine is on a mission to capture the Indian market for heavyweight bikes.
Re tumbles further to a record low of Rs 53.8/$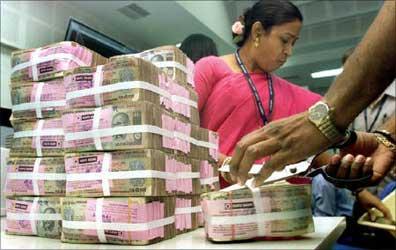 The rupee resumed lower at Rs 53.54/55 per dollar on the Interbank Foreign Exchange, as against its previous close of Rs 53.23/24 per dollar, and declined further to a record low of Rs 53.80 against the American currency before quoting at Rs 53.60/61 per dollar at 1030 hours.
Here is PM's prescription for 9% growth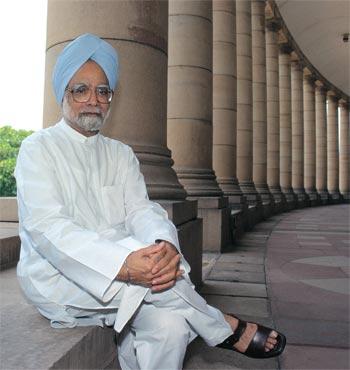 India needs to rapidly increase energy consumption to achieve the ambitious target of 9 per cent economic growth in the 12th Five-Year Plan (2012-17), Prime Minister Manmohan Singh said on Wednesday.
India's BEST cities: Here are the toppers!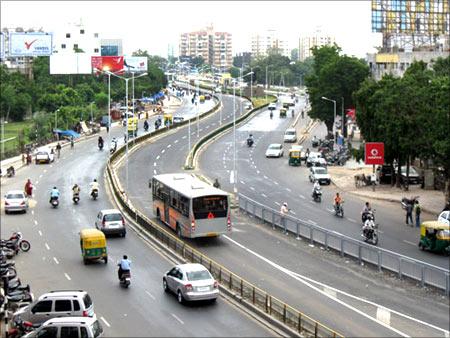 Ahmedabad has been ranked as the best mega-city in India.
IMAGES: Oracle CEO's beautiful Woodside villa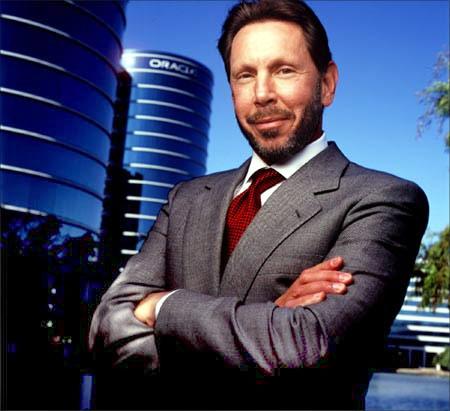 Passionate about buying land, Ellison, co-founder and chief executive officer of Oracle Corporation, has acquired some of most beautiful houses and land since the 1990's.
IMAGES: World's most STUNNING railway stations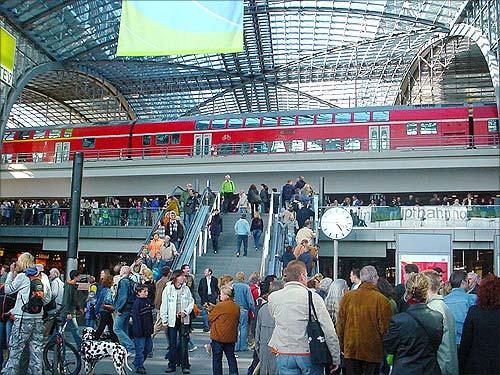 These swanky railway stations are a travellers' delight.
IMAGES: The top 20 companies in India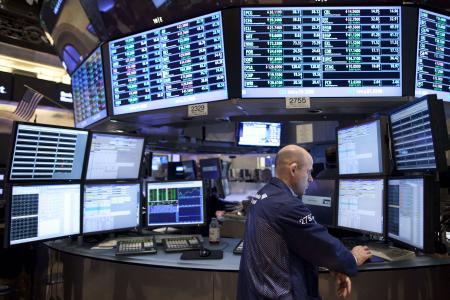 Ranking is based on latest sales and gross revenue figures.
December 13, 2011
Air India's debt to oil cos: A whopping Rs 4,170 crore!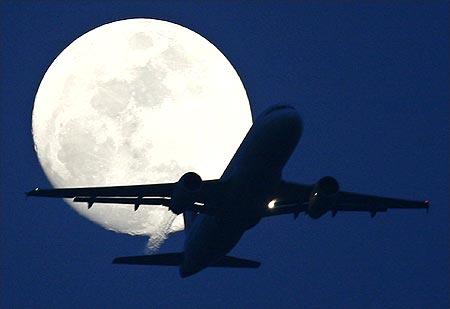 Besides, it owes an interest of Rs 423.43 crore (Rs 4.23 billion) to IOC, Rs 92.73 crore (Rs 927.3 million) to BPCL and Rs 66.17 crore (Rs 661.7 million) to HPCL.
Fitch revises India growth projection to 7% in 2011-12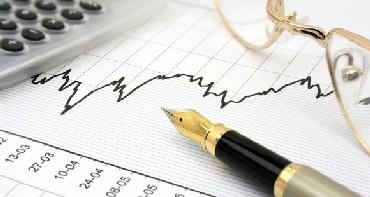 In its report, 'Global Economic Outlook: December 2011', the agency said the Indian economy is likely to regain the 8 per cent economic growth trajectory only in 2013-14.
Curtain raiser: 9 STUNNING cars at the Auto Expo 2012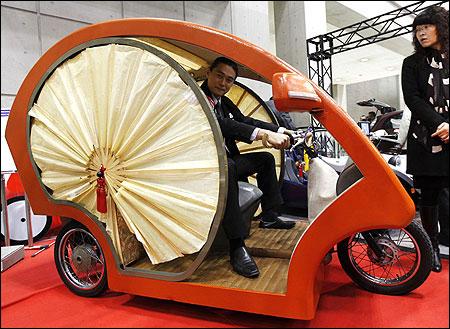 In 2012, the Auto Expo will witness more than 55 new cars
Infosys, not RIL, is India's most influential stock!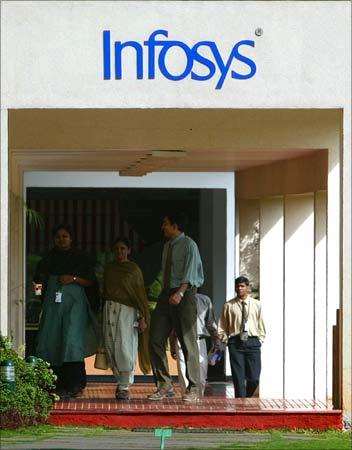 Billionaire Mukesh Ambani-led Reliance Industries Ltd has lost its position as the Indian stock market's most influential individual company to IT major Infosys, following a recent plunge in its share price.
No policy paralysis; India can beat economic crisis: FM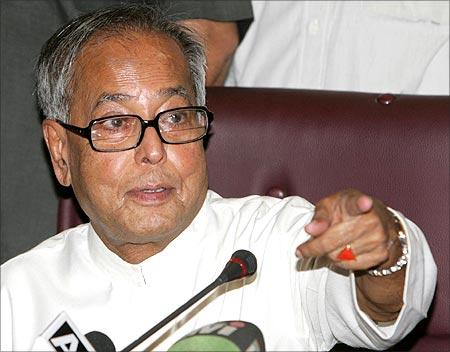 India has the capacity and the resilience to overcome economic crisis, Finance Minister Pranab Mukherjee said on Tuesday in the Rajya Sabha.
Here's how you can combine innovation with a social cause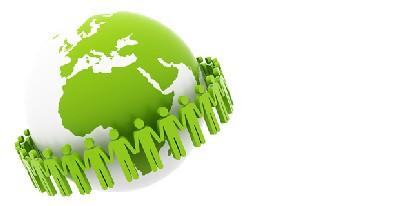 There is good news for Kolkata and maybe, eventually, the rest of urban India too. A report says that a Danish firm has designed a cart for food hawkers – there are 1.25 lakh of them in the city – which will enable them to ply their trade in a clean and hygienic way while taking up less space than do today's carts.
Investments for saving tax is just not enough
As the calendar year comes to an end, employees are asked to file investment declarations to their companies.
How to choose between safe and short-term investments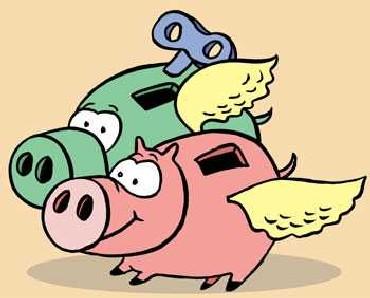 Bank fixed deposits offer assured returns but are entirely taxable. Ultra short-term debt funds can't specify returns but are tax efficient.
Capt Nair, Leela Group's boss, shares his success story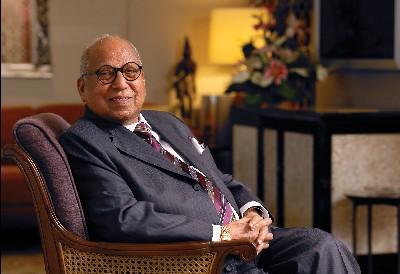 Nair is credited for introducing the West to a fabric called Bleeding Madras. It used vegetable dyes and the colour washed away with every wash. He marketed it in the United States as a fabric that would look different after every round in the laundry.
PHOTOS: World's most expensive business jets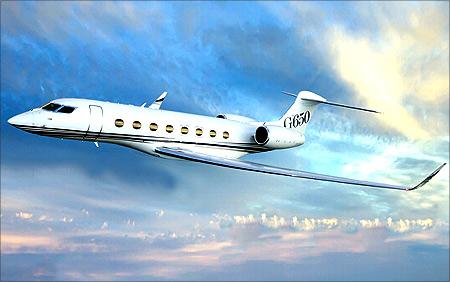 These luxurious business jets are made for the billionaires and celebrities.
The money story: From barter to currency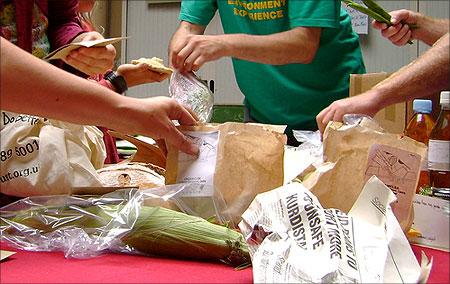 Money has been a part of our history for the last 3,000 years.
Re drops to a historic low at 53.40/$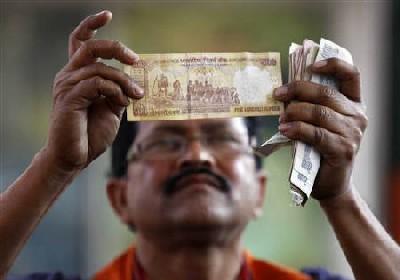 Dollar gains against other currencies overseas amid euro zone debt concerns also put pressure on the Indian rupee.
India's 50 most COMPETITIVE cities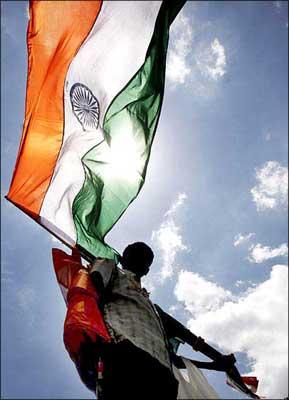 Which are India's most competitive cities? The City Competitiveness Report 2011 -- unveiled by an international think tank, Institute For Competitiveness (IFC) -- aims to answer this question. Read on . . .
Rare IMAGES of Delhi's infrastructure since 1858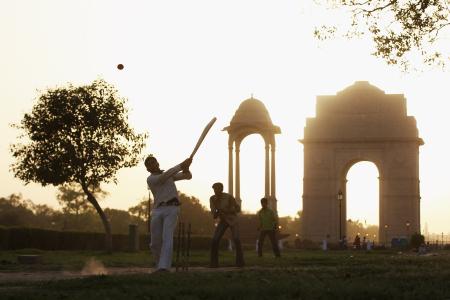 Delhi was once a provincial town and small commercial centre, but one decision changed its destiny forever.
December 12, 2011
Unemployment is the world's fastest-rising fear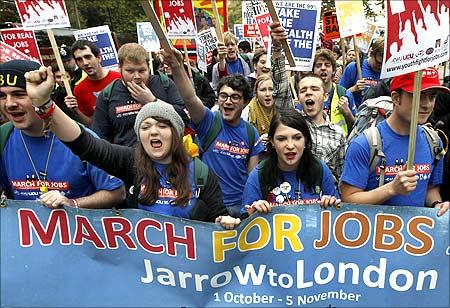 The most frequently discussed issue in India while unemployment is the world's fastest-rising fear, according to a survey by the BBC covering 11,000 people in 23 countries.
Rupee in free fall; plummets to all-time low of 52.85/$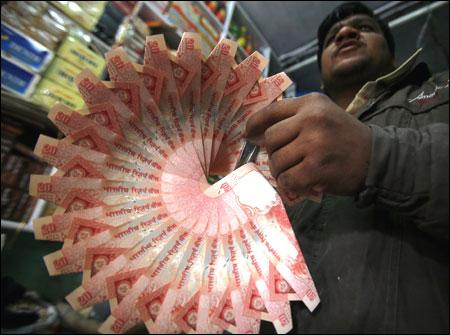 Forex dealers said a slew of measures like plunging stock markets, dollar gaining strength against its rivals in the overseas market weighed against the local currency which lost a whopping 81 paise against the Greenback on Monday.
Fraud alleged: Legal tussle over Sebi probe on DLF intensifies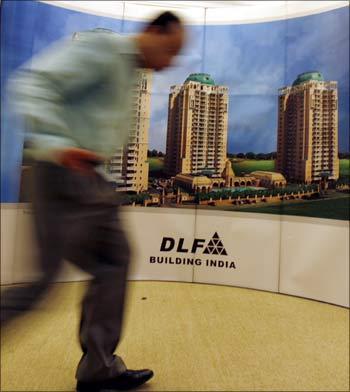 A complainant has alleged that he was duped of his land worth Rs 34 crore by the DLF Group and following a direction by the Delhi high court, Sebi has ordered a full-fledged probe into the complaint.
2G: Essar bosses chargesheeted; deny role in scam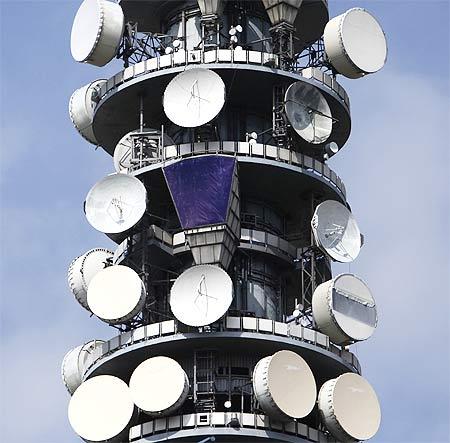 Besides Ruias, the CBI charged Essar Group director (strategy and Planning) Vikas Saraf, Loop Telecom promoters Kiran Khaitan and her husband I P Khaitan.
Metro Man Sreedharan to retire, says stint was 'very satisfying'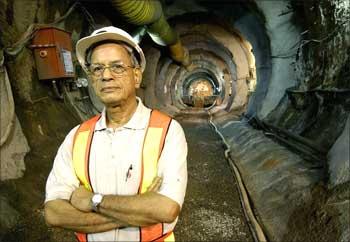 Set to retire on December 31, Delhi Metro chief Elattuvalapil Sreedharan sums up his 16-year experience as a 'very satisfying' and attributes the organisation's success to the 'different work culture' and fast decision-making process.
IMAGES: Cars that you will see at Auto Expo 2012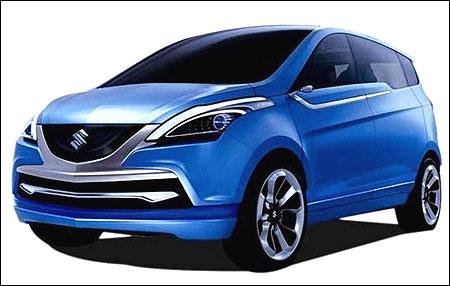 The 11th Auto Expo will be held from January 7 - 11, 2012, at Pragati Maidan in New Delhi.
Rich should stop buying subsidised LPG voluntarily: RPN Singh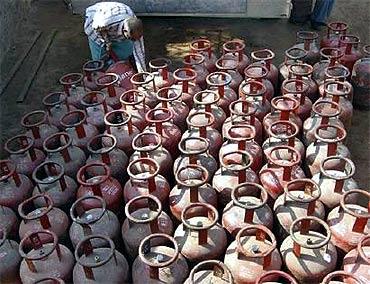 In a bold suggestion, Minister of State for Petroleum R P N Singh today said affluent people should voluntarily stop buying subsidised LPG and said he will be the first person to pay market price for the fuel, which is Rs 287 per cylinder more than the current rate.
Now, world's smallest steam engine that actually works!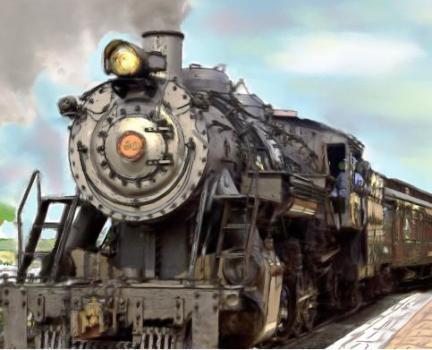 Although this cannot be used as yet, the experiment carried out by the researchers at the University of Stuttgart shows that an engine does basically work, even if it is on the microscale.
IN PIX: Luxury hotel chains to check into India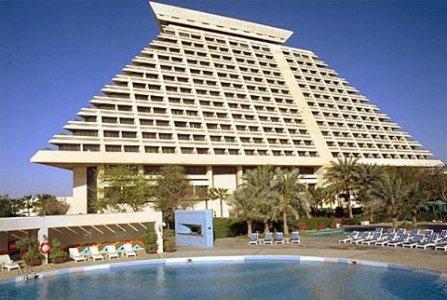 Many of the best luxury and ultra-luxury hotels from all over the world are readying plans to enter the India market, and are expected to set up chains over the next couple of years.
Spending on festivals: Where does India rank globally?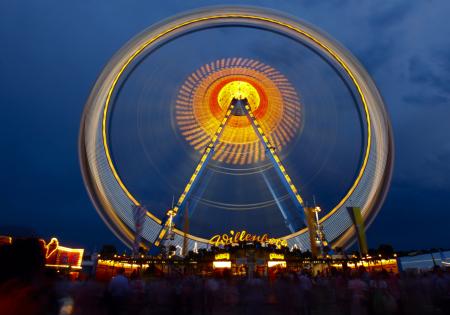 Are Indians able to stick to budget when it comes to spending on festivals?
Revealed: How Maruti plans to boost its sales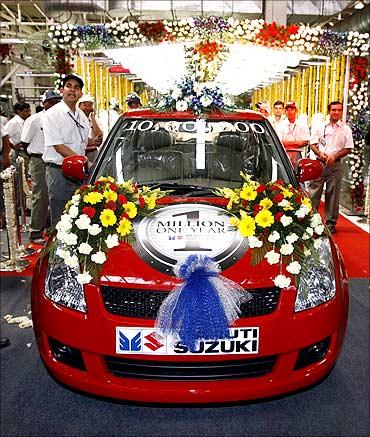 So at the beginning of the current financial year when the domestic automobile industry started to depict the first signs of a slowdown, MSIL resolved to intensify focus on such niche segments to bring in the additional numbers.
GDP at 6.5%: What lies ahead in 2012?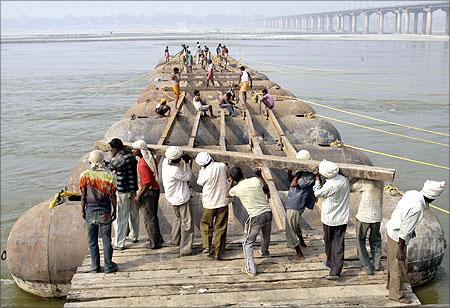 If the nascent US upturn gathers momentum, then the global scenario could look less disaster-prone a year from now.
Court stays order to REVEAL top loan defaulters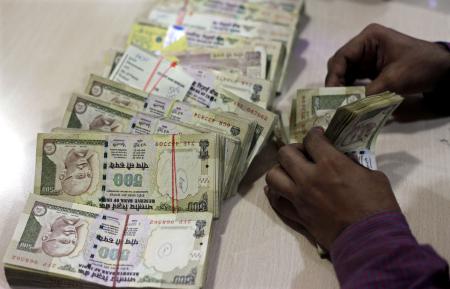 A court has stayed an order to Reserve Bank of India to publicly name top 100 loan defaulters.
Malware re-birth a new threat?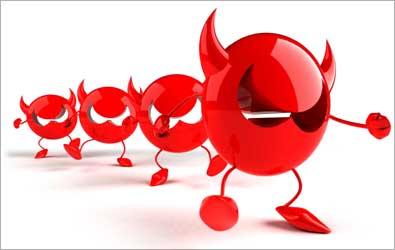 An international team, led by Murray Brand, says that a theoretical attack strategy it calls a malware rebirthing botnet would render existing antivirus measures obsolete by using different kinds of malware in a coordinated strike.
Delhi bucks national trend, consumes less petrol
It's a capital shock. Delhi, which has more cars than the three other metro cities put together, is seeing a drop in petrol consumption. This is against the national growth trend. The consumption of the fuel declined by a startling nine per cent in November, while diesel grew by 19 per cent. CNG sales have also grown by around 15 per cent.
PHOTOS: India's 20 most sought-after cities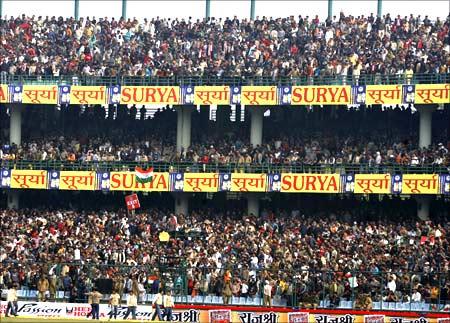 Indian cities are getting more crowded as people continue to migrate in search of better prospects.
India's industrial output contracts by 5.1% in Oct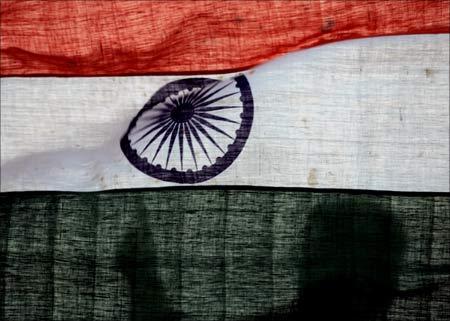 As per data released by the government on Monday, industrial output grew by 3.5 per cent in the April-October period this fiscal, as against 8.7 per cent in the same period last year.
GoAirHow GoAir plans to attract passengers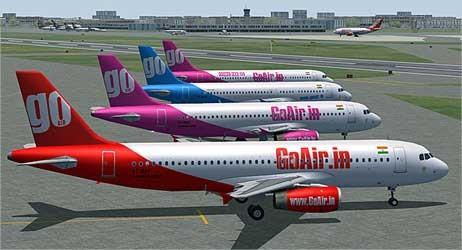 GoAir, run by the Wadia Group, has come out with an innovative way to attract passengers and reduce distribution cost. The smallest of all domestic airlines by market share, GoAir has rolled out a loyalty programme making it the first low-cost carrier to launch such a scheme.
IMAGES: Durban climate deal sealed, mixed outcome for India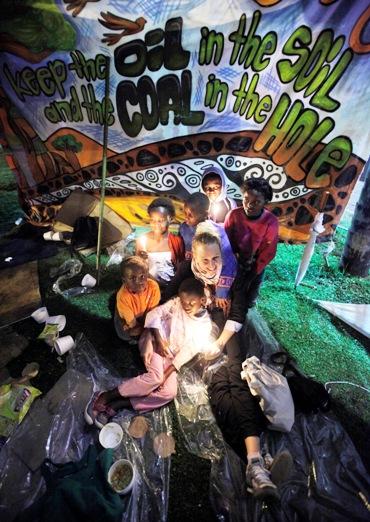 Road map agreed for future treaty to legally bind polluters to cut emissions.
Stunning PHOTOS of Apple's new store in New York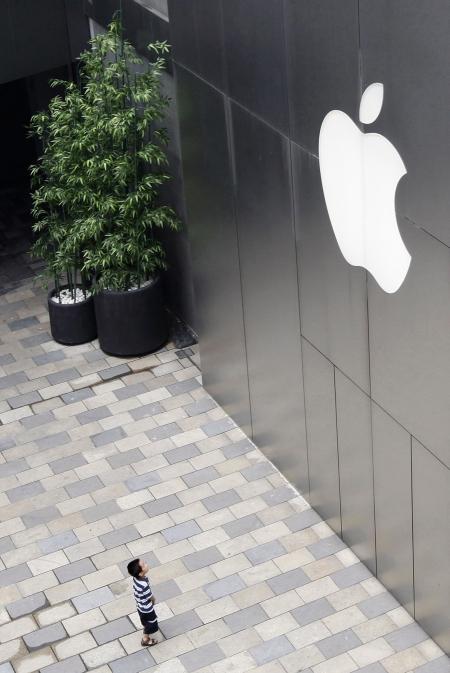 Apple has opened its latest retail store in New York's historical Grand Central Terminal.
Income of Indians will DOUBLE faster than...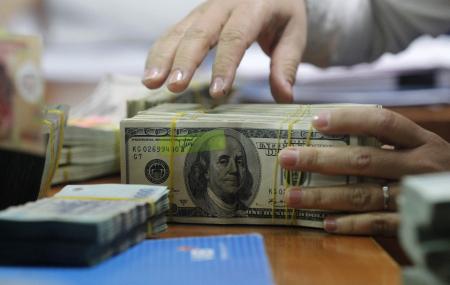 Until recently, average incomes in advanced countries were increasing at much faster rates than in the rest of the world.
10 BIGGEST corporate layoffs in US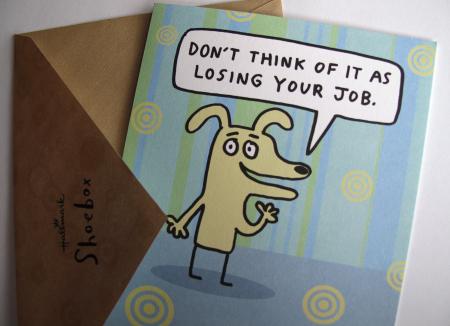 With the world going through tough economic times, companies around the world are handing out pink slips.
Prepare for pay CUTS amid poor results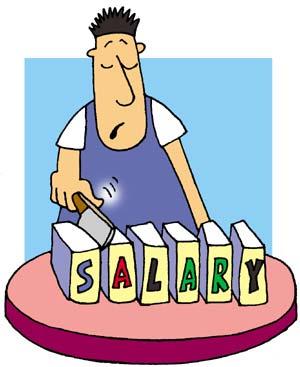 Indian companies have had a dismal last quarter, as is evident from their September quarter results. The slowdown seems to have alarmed companies enough to begin cutting corners.
December 09, 2011
Govt doesn't intend to meddle with social media: Sibal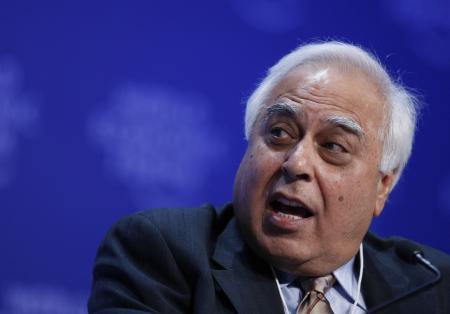 He said the industry should develop a set of guidelines for screening of objectionable content after it is uploaded.
IMAGES: The 15 Euro nations that face a downgrade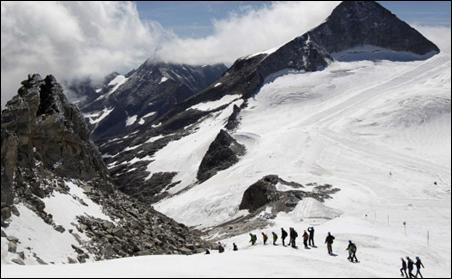 Standard & Poor's has placed the sovereign ratings of 15 euro zone nations, including AAA-rated Germany and France, under 'CreditWatch'.
DLF eyes three big-ticket sales in 2012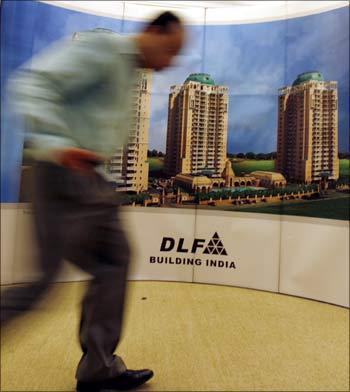 The developer needs to realise Rs 3,000 crore (Rs 30 billion) to Rs 3,500 crore (Rs 35 billion) from non-core asset sales, to reach its 2011-12 goal.
7% growth? Concerned FM seeks Oppn's help
Contending that economic growth has been high during United Progressive Alliance rule, he admitted that gross domestic product of 7 per cent was 'not adequate' but refused to accept the opposition contention that it was all time low.
Why global auto majors are RUSHING to Gujarat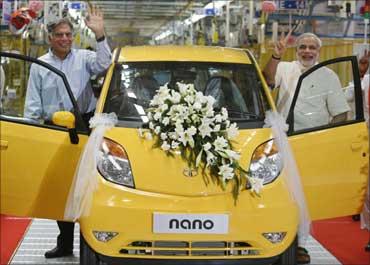 Consider this: by 2015-16, nearly one of every three cars that roll out in the country could be from Gujarat. If that's not enough, in the next three-five years, half the installed capacity for making cars in India will be located in the state.
Price rise, global slowdown hurting India, says Pranab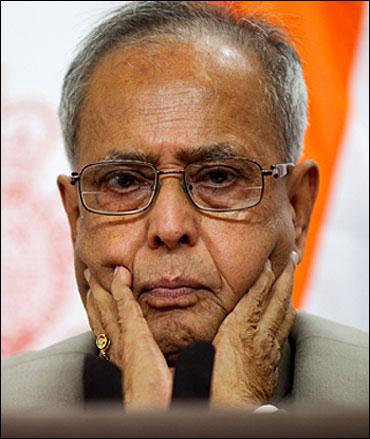 Finance Minister Pranab Mukherjee on Friday said surging food and fuel prices amid weak global economic growth are adversely impacting GDP growth of the country.
Will start work on West Bengal centre in 3-6 months: Infosys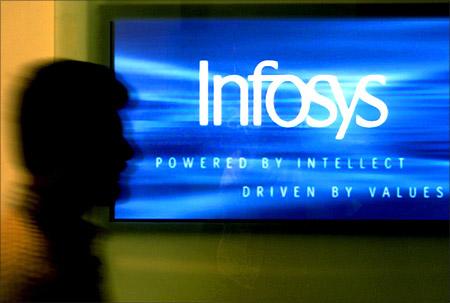 IT major Infosys Technologies will start construction work on its first software development centre in West Bengal, at Rajarhat near here, in three to six months, a top company official said on Friday.
Probability of global recession low: RBI governor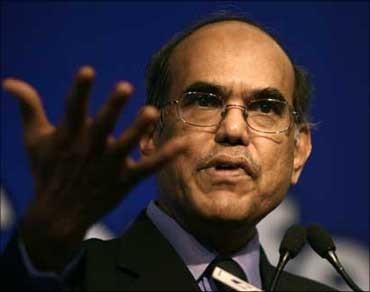 The probability of a global recession is low, even though the United States is growing slowly and Europe is experiencing negative growth, Reserve Bank of India Governor D Subbarao said on Friday.
Govt lowers GDP growth forecast to 7.5 per cent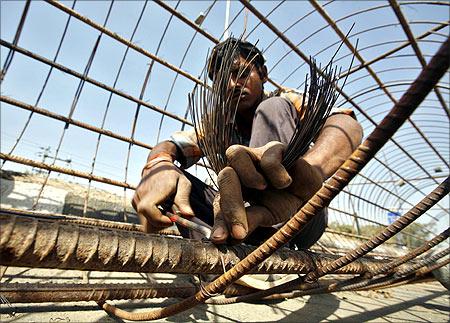 The government has pegged GDP growth for 2011-12 at 7.5 per cent (plus/minus 0.25 pc).
This is how a rising star was brought down to earth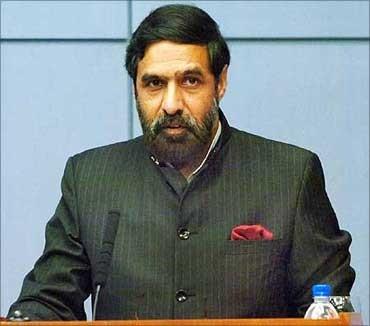 Commerce and Industrial Promotion minister Anand Sharma's rise in government has been dizzying, which is why his current setback is also precipitous. Ahead of the cabinet meeting that took place after Sharma's project -- to ensure the approval of Foreign Direct Investment (FDI) in retail -- was given the thumbs down, his colleagues are asking some searching questions and seeking some hard answers.
Historical and amazing PHOTOS of Rolls-Royce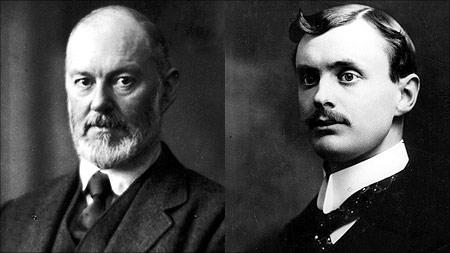 We take a look at Rolls-Royce's amazing and path-breaking journey.
The secret world of Maharashtra's PSUs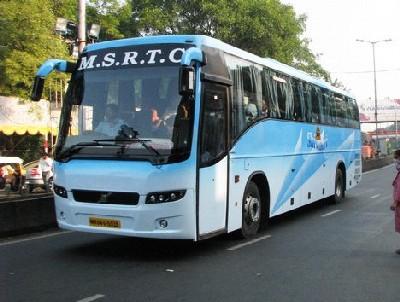 State-run public sector undertakings live in a mysterious world, without scrutiny from analysts or the public. Here's an overview of Maharashtra's PSUs.
Indian airlines: The WINNERS and the LOSERS!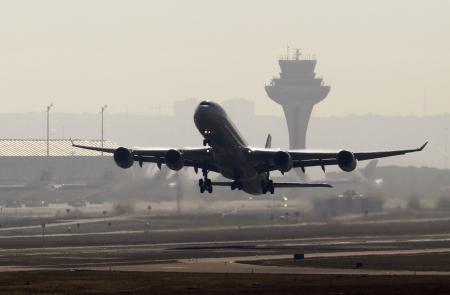 There is a high possibility that one or two Indian airlines might not survive the rough weather.
IMAGES: World's most STUNNING airports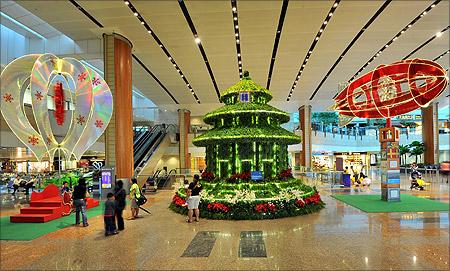 These airports with all the modern amenities make travel a memorable experience for passengers.
Businessmen who shaped Tamil Nadu's economy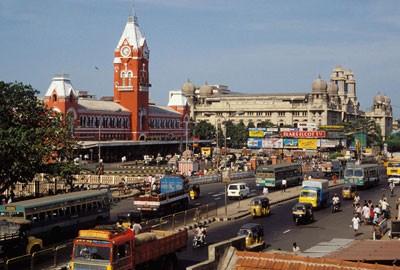 Chennai, the fourth-largest metropolitan city in the country is a good example of how a place can converge tradition and modernity amicably.
In India, these sectors have MOST and LEAST jobs!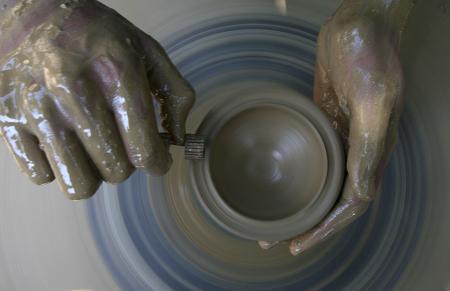 Some industries in India are booming, while some are not witnessing impressive growth.
Govt ties itself in knots on web pre-screening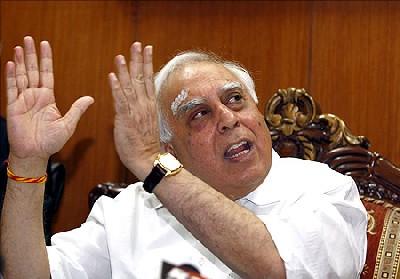 While the government defends itself, citing the 'seriousness' of the issue, the Opposition suspects the attempts to 'censor' these online platforms by the government are also targeted at quashing the space for public criticism they enable.
Brinjal debacle still raw, Bt rice on course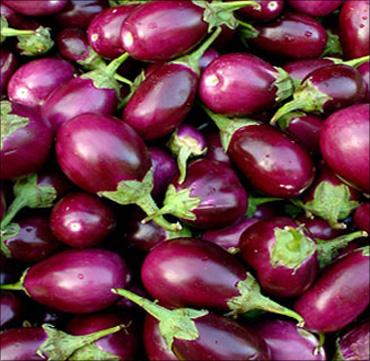 Mahyco confident of regulatory approvals, plans launch within a year.
Gambling losses in top 15 countries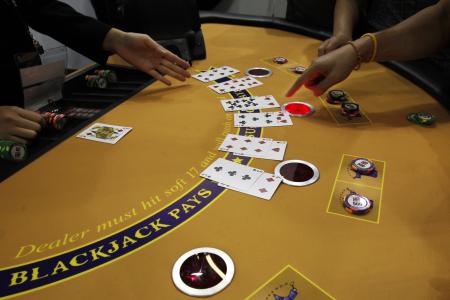 Some people bet big, really big.
December 08, 2011
These smaller foreign food brands are eyeing India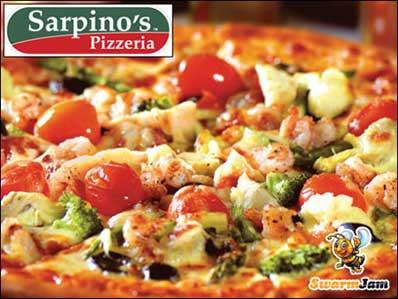 At a time when India is looking to open up its retail sector to foreign investments further, lesser known international food brands such Loon Tao, Berrylite and Sarpino's Pizzeria are set to announce their entry into the country to cash in on the opportunity.
Banks upbeat on credit card biz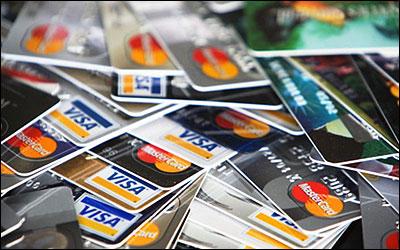 Bankers are confident that unlike the last time, there would not be significant erosion in asset quality, since their expansion strategies are backed by rich information on borrowers' credit histories.
Security glitch: Photos of Facebook CEO that got leaked!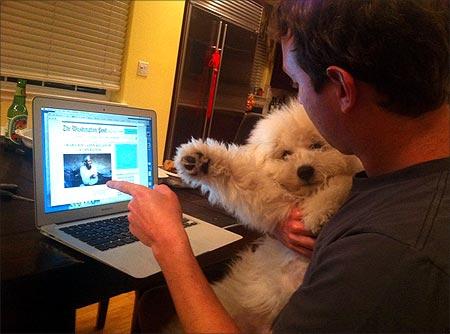 A security flaw in Facebook has exposed photographs of its founder Mark Zuckerberg from his private page.
Eurozone crisis to HIT global airlines hard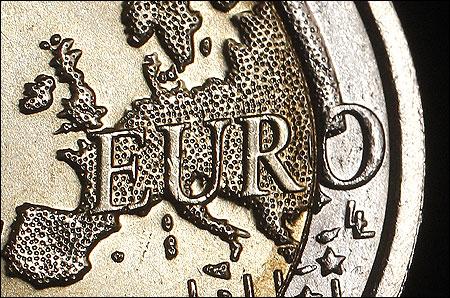 Airlines in Asia-Pacific expected to post losses worth $1.1 billion out of a total industry loss of $8.3 billion next year.
S D Shibulal: 'Middle class risk taker' who became Infosys CEO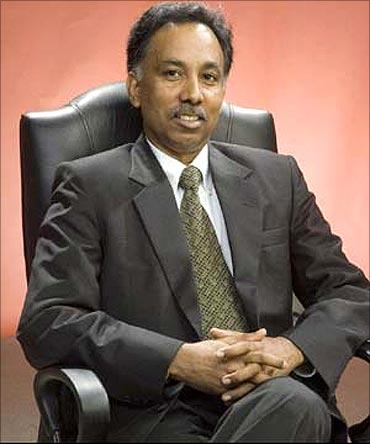 Infosys' co-founder on multitasking at Infosys and the game-changers that made the company.
Food inflation declines sharply to 6.60%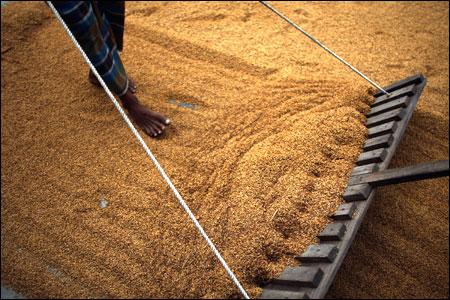 According to data released by the government on Thursday, onions became cheaper by 39.20 per cent year-on-year during the week under review, while potato prices were down by 15.75 per cent.
Can the government muzzle websites?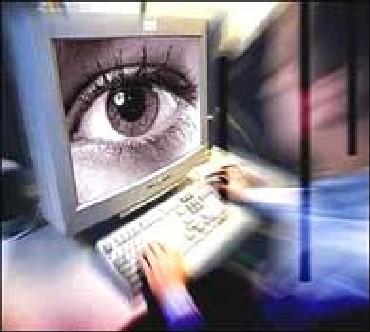 Legal experts say under existing Indian cyber laws, Sibal cannot do much harm to Google, Yahoo, Facebook or the like. They are not so clear on whether it can be done, or to what extent.
Why internet companies are upset with Kapil Sibal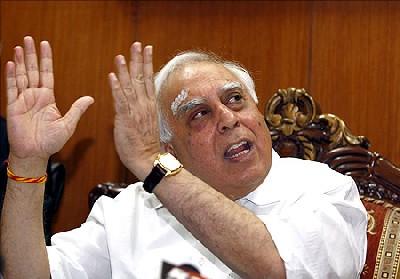 Kapil Sibal has caused a furore by suggesting that internet companies need to 'pre-screen' pages. Here's a peek at some of the chief issues being debated.
Is industrial growth really slowing?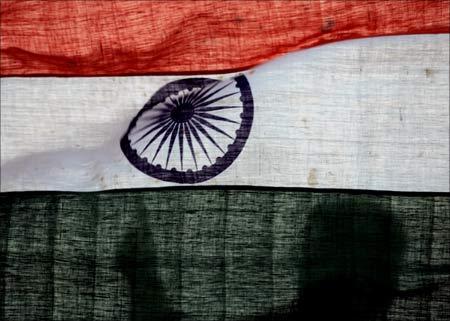 India's industrial growth has been crawling below five per cent for months now and overall economic growth has moderated to a two-year low of 6.9 per cent in the second quarter of this financial year, say the statistics.
What makes Wal-Mart the world's LARGEST retailer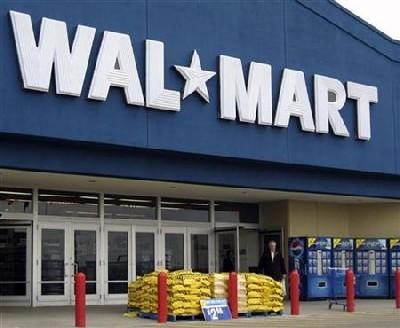 It is, in fact, so big and so furtively powerful that it has become an entirely different order of corporate being.
Why the govt wanted 358 items removed from Google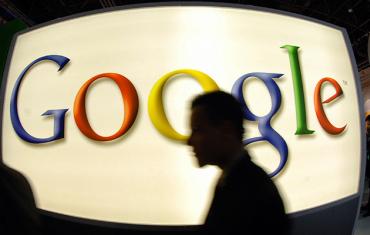 Google has received government requests for removal of 358 items from its services, including YouTube and Orkut, during the January-June period, according to a report by the Internet search giant.
Credit Suisse on the Sensex crash in 2012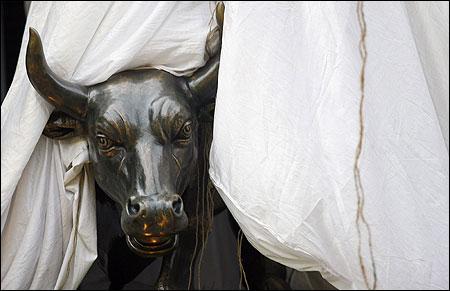 The Sensex is likely to rule between 13,200 and 14,400 points and the rupee may touch Rs 54-55 by June next, Credit Suisse India has said in a report.
Will Hyderabad-Chennai route have these high speed trains?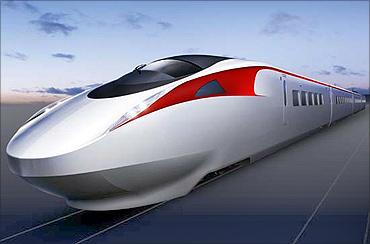 Japan External Trade Organisation (Jetro) and Oriental Consultancy along with Parsons Brinkhoff India has bagged the contract to conduct the pre-feasibility study on the proposed 664 km long Hyderabad-Vijaywada-Chennai route for running the high speed train, a senior Railway Ministry official said.
IMAGES: America's stunning architectural marvels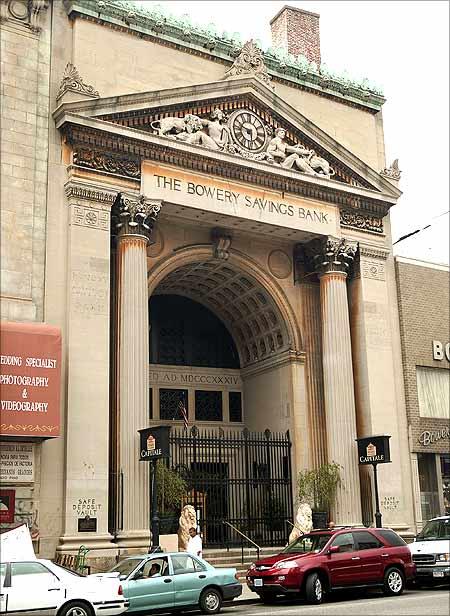 Here's a look at some of the most stunning buildings in the US cities...
Indian cities with MOST and LEAST jobs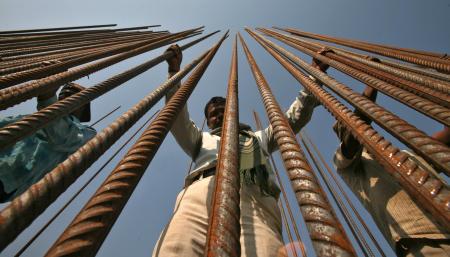 Here we present five Indian cities that are witnessing growth in job opportunities and five that are not.
New offer: Air India launches marriage gift vouchers!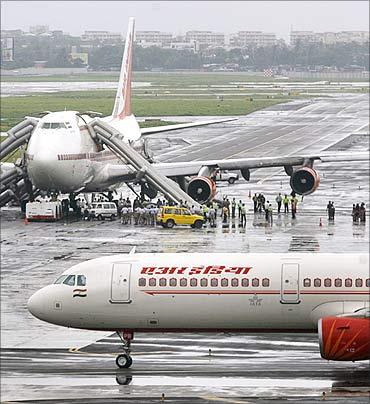 Air India has come up with a "gift" this marriage session - 'Shagun Vouchers'.
IMAGES: Why the Tata Nano is here to stay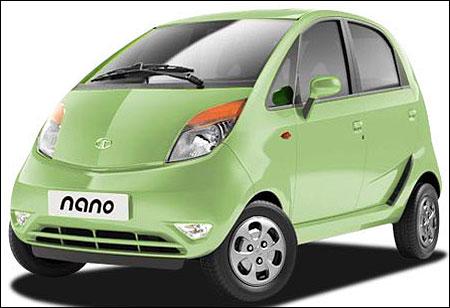 In November Tata Motors launched a brand new variant of Tata Nano.
December 07, 2011
Inflation a concern but fundamentals are strong: Pranab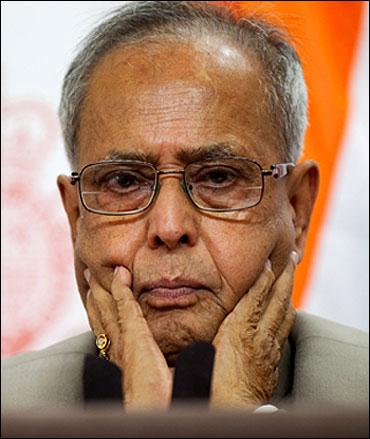 Finance Minister Pranab Mukherjee said on Wednesday fundamentals of the Indian economy are strong despite concerns of inflation and growth, and the overall environment will improve significantly if Parliament functions and approves important legislations.
Crusade against black money to show results in 5 years: FinMin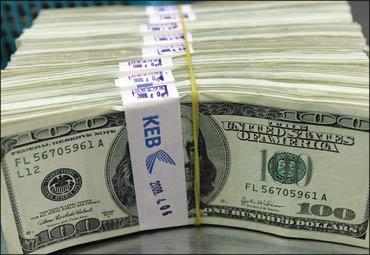 Armed with information on secret bank accounts of citizens from 10 countries, the Finance Ministry said on Wednesday the results of its crusade against black money will be visible over the next five years.
Would you go for Walmart or 'Agarwalmart'?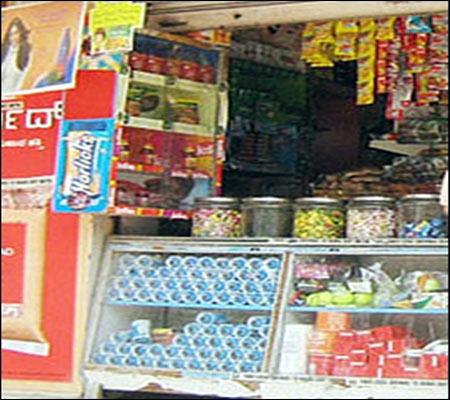 Indian retail chains have not put small stores out of business.
Govt to look into telecom operators' concerns: PM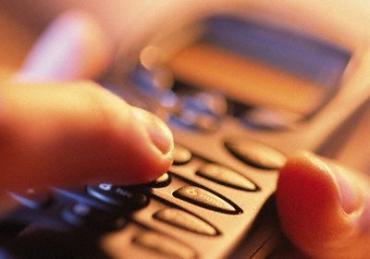 Telecom Ministry over issues ranging from one-time spectrum charges to 3G roaming and a uniform licence fee.
IMAGES: This is Google's new office!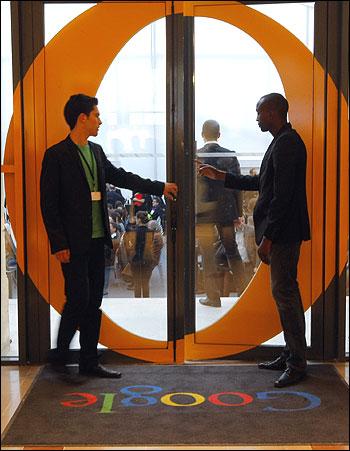 The centre will work on open data, improving Google video search technologies and the Chrome operating system.
Obama to extend higher taxes for the rich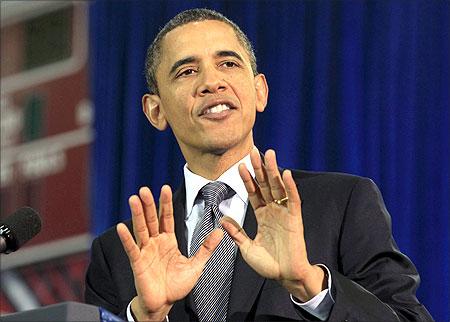 US President Barack Obama has defended his administration's push for extension of a payroll tax break package, which has run into a Republican roadblock in Congress, emphasising the widening inequality between the rich and middle class in America.
DTC to come into force from next fiscal: FM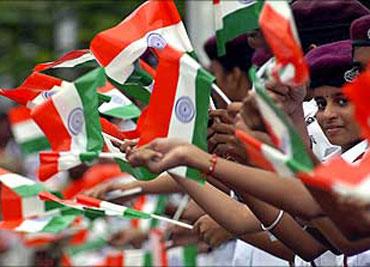 To modernise the tax system, the government has proposed to replace the Income Tax Act, 1961, with a new legislation.
Sibal's move to control Internet is wrong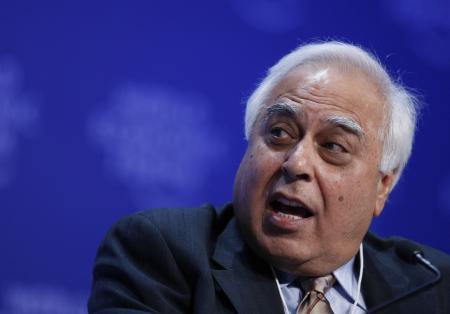 Government wants social-networking websites to pre-screen content.
US govt puts bill to ease green cards on hold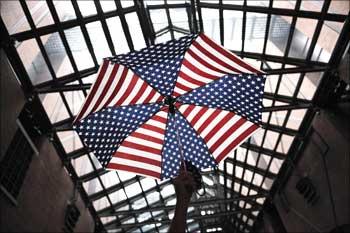 The bill, the 'Fairness for High-Skilled Immigrants Act' (HR 3012), which sailed through the US House of Representatives last week on a 389 to 15 vote, had been sent to the Senate for consideration.
Top 10 mobile application trends for 2012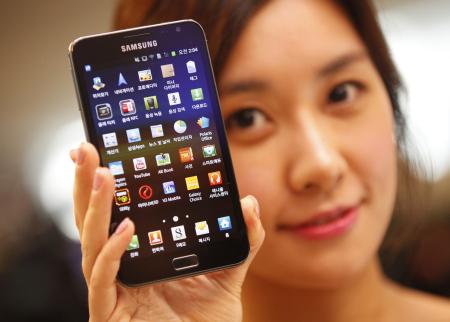 Analysts have identified the top 10 cutting-edge technologies and trends for 2012.
Citigroup to axe 4,500 jobs soon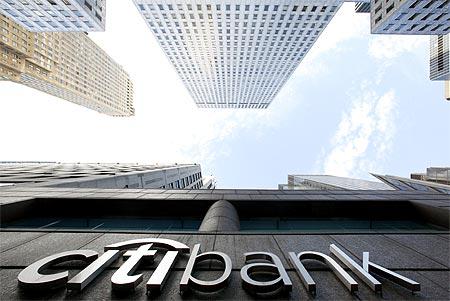 The job cuts will begin this quarter and be completed 'over the next few quarters' across a range of businesses, Pandit said at a Goldman Sachs Financial Services conference in New York.
Mallya's 'associate' white knight for Kingfisher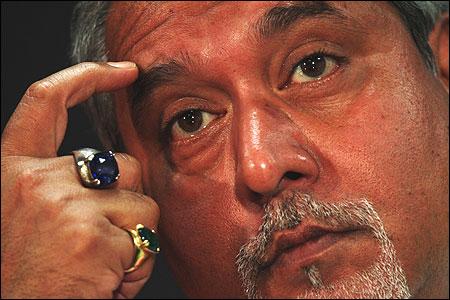 Though the UB Group chairman didn't name anybody, some of these associates could be the owners of Balaji Distilleries, whose breweries and distilleries were acquired by UB Group companies -- United Spirits and United Breweries -- during the last financial year.
Top 10 technology trends for 2012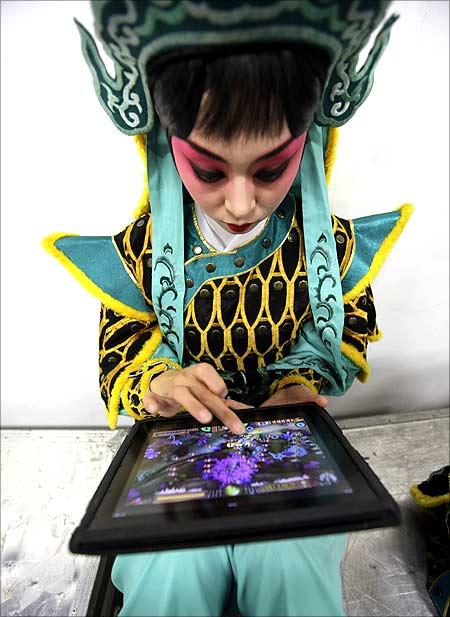 The year 2012 is expected to be an exciting year for technology lovers.
DON'T MISS: Top 10 logo designers of the world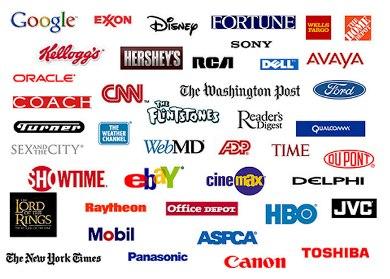 We present here 10 most famous and successful logo designers whose creations redefined the world of art.
Derogatory content: Govt, Google lock horns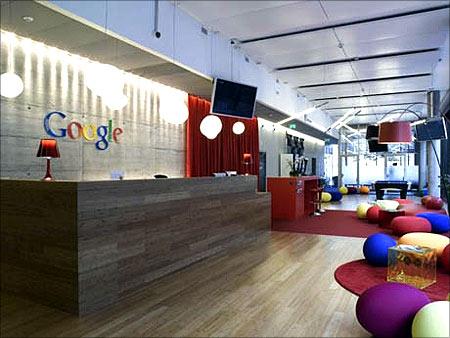 Amid the raging controversy over content regulation online, Internet search giant Google India on Tuesday said it complies with the law of the land but will not remove any material just because it is controversial.
December 06, 2011
FDI in retail: What will the government do now?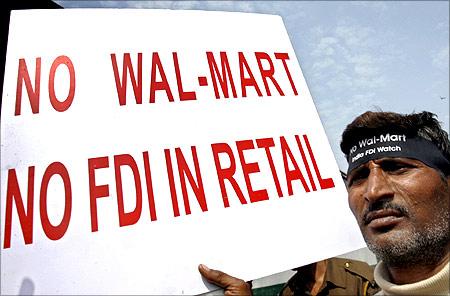 Intriguingly, the agenda for the Cabinet meeting convened on Wednesday evening has not been circulated as the government wants to study the Opposition's mind before deciding how the Cabinet handles the FDI-in-retail decision it had taken on November 24.
Won't settle for anything less than FDI roll-back: Karat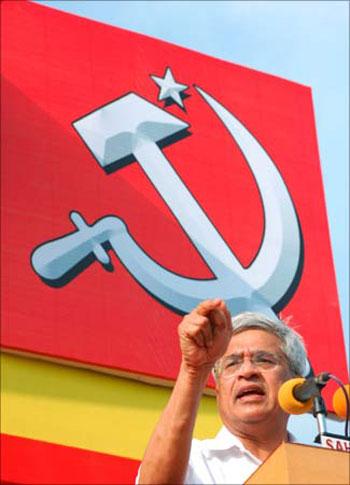 CPI-M general secretary Prakash Karat also reminded the government that it should not think of bringing back FDI in retail sector after the winter session of Parliament and his party will unite with other forces to oppose any such move.
Ministry moots corporate funding for zoos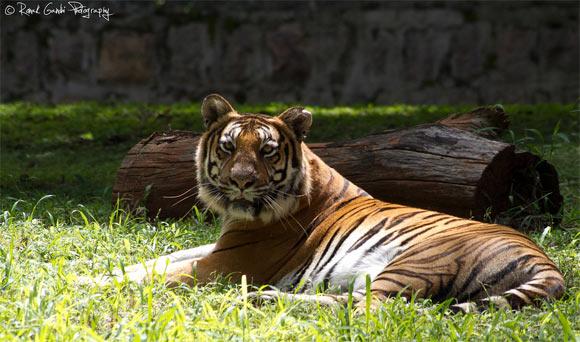 The Union Ministry of Environment and Forests has mooted corporate funding of zoos and recruitment of volunteers to give a fillip to Indian zoos, on the lines of the foreign zoos, to make them a great attraction for tourists.
Why are all eyes on the media industry?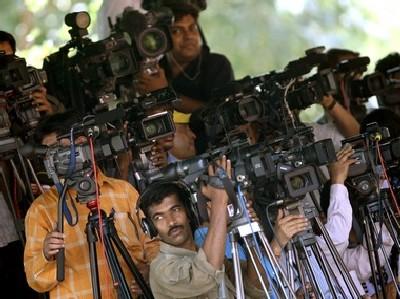 Are we getting somewhat blinded by television news channels and an English press that is obsessed with itself? Have we forgotten how to wield the power of media with responsibility? And every time someone reminds us, we bristle.
Move permitting 26% FDI in aviation gets FinMin nod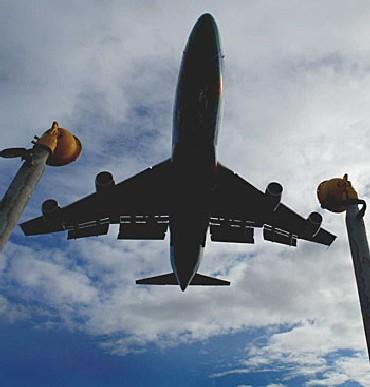 In what may help beleaguered airlines Kingfisher, the finance ministry has approved a draft Cabinet note floated by the commerce and industry ministry allowing foreign fliers to acquire up to 26 per cent stake in India's aviation companies.
FDI in retail: Kiranas unfazed; ask what's the fuss all about?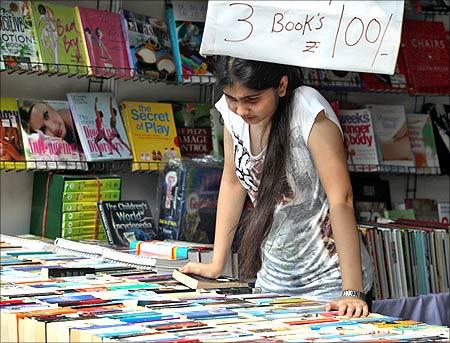 Kirana stores, equivalent of 'mom-and-pop' stores in the US, seem confident of holding their own against any foreign investment onslaught in retail.
Why sports education is BIG business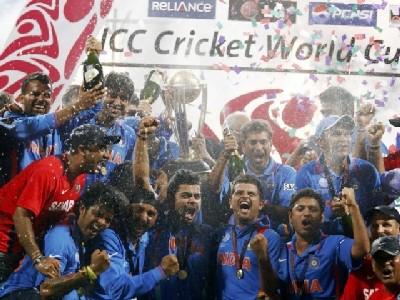 If sports is becoming a serious business, sports education and management can't be far behind. The last year and a half has seen over half-a-dozen players setting up shop.
RIL plans to offer low-cost 4G service on Rs 3,500 tablets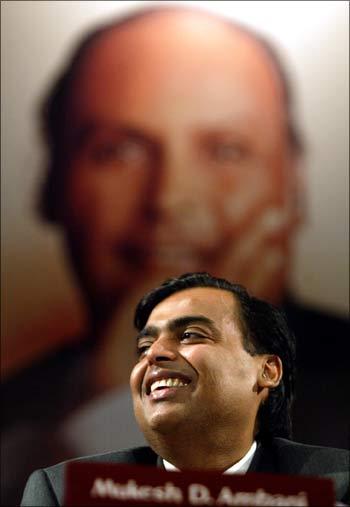 RIL mulls launching tablets at around Rs 3,500 and bundle it with data offering 1 GB at Rs 10, a tenth of the current 3G prices.
Ratan Tata's 20-year tenure: Only a few red marks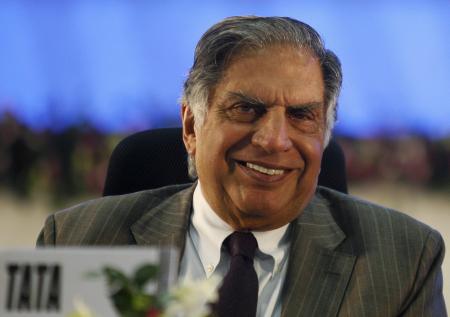 When he took over as chairman of the Tata Group in 1991, the majority perception was the untested nephew of J R D Tata would be a pushover.
Spend more to beat slowdown, experts to govt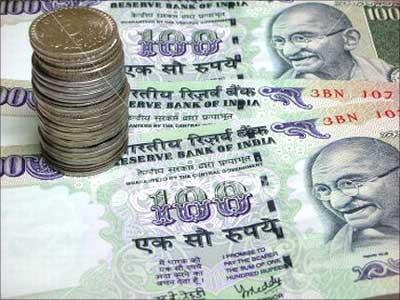 Now, experts say strains on fiscal deficit are coming from the revenue side and the administration should, if anything, step up expenditure to prop up the economy that is slowing down.
IMAGES: World's 20 largest mobile operators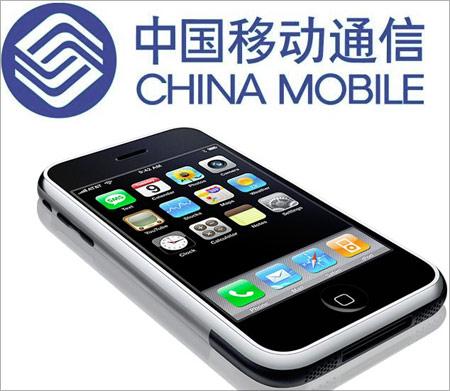 China dominates the world of mobile telecommunications with the largest subscriber base.
Euro zone is too diverse to manage single currency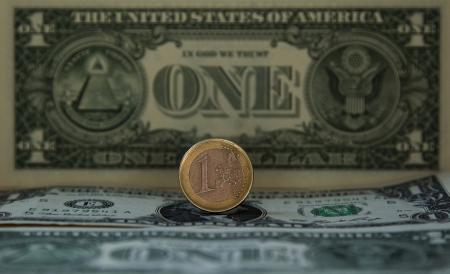 European politicians who insisted on introducing the euro in 1999 ignored the warnings of economists.
Why political debacle over FDI retail is damaging for India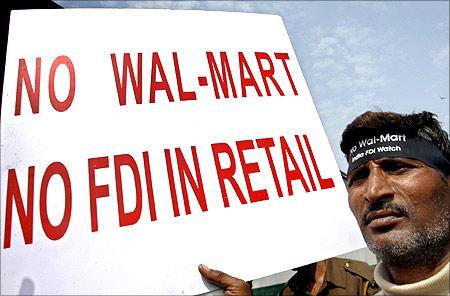 it is a clear indication that the country's politicians do not hesitate to play politics with economic reforms and nor do Indian industry leaders seem unduly worried about economic policy stasis.
SNAPSHOTS: When the Euro was launched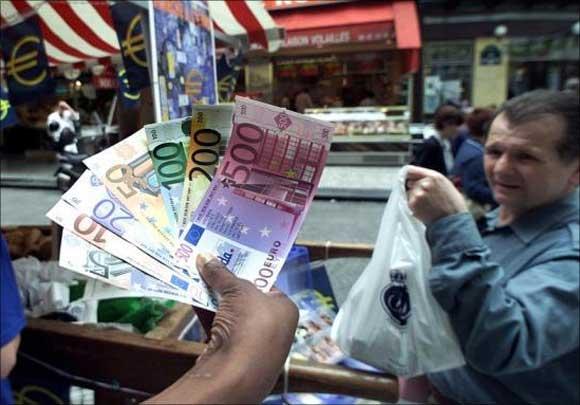 The Euro was formally launched on January 1, 1999, but the currency has only been used for non-cash transactions such as cheques and bank transfers. The Euro notes and coins were officially launched on January 1, 2002, with the new currency becoming the sole legal tender of the Eurozone on March 1, 2002.
Images: 23 STUNNING cars that were launched in 2011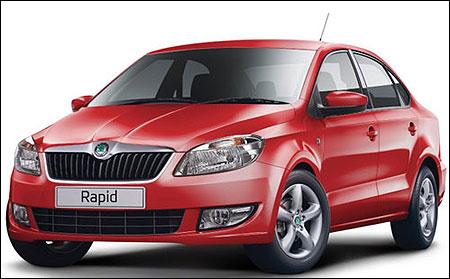 The cars mentioned here do not include facelift, new variants or upgrades of any existing car.
Indian companies that have made it big abroad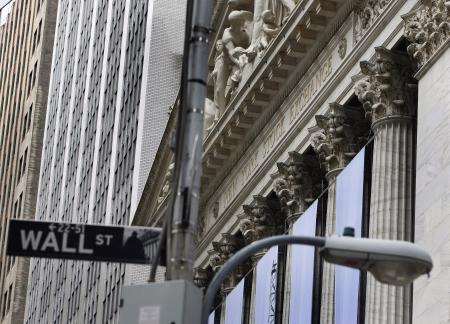 Indians companies are becoming major players around the world.
Indian retail KINGS around the world!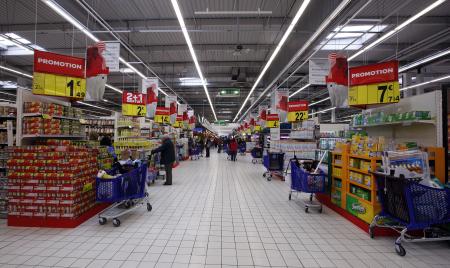 India has been doing business with the world long before most countries realized the power of trade.
Wanted: System change not climate change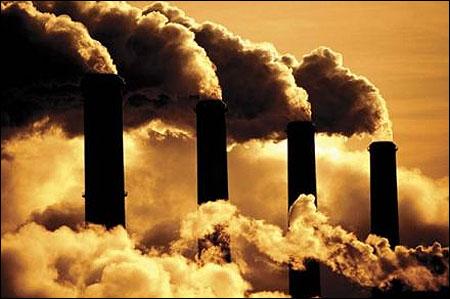 Many people who recognise the grave implications of climate change find it difficult to grapple with it. The problem is too big and thinking about it can be unbearable, says .
'We don't want FDI in retail in Bihar'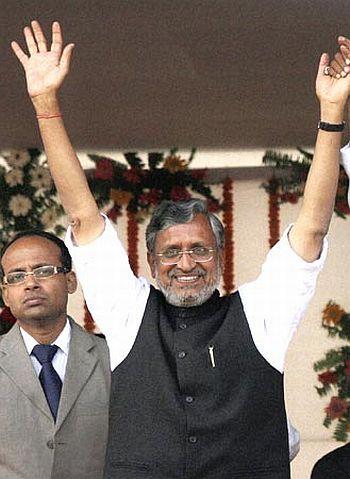 Bihar Deputy Chief Minister Sushil Modi tells Business Standard that foreign direct investment (FDI) in retail will cause job losses and the state doesn't want it. Edited excerpts:
December 05, 2011
Social indicators: Here's where India lags Bangladesh, Nepal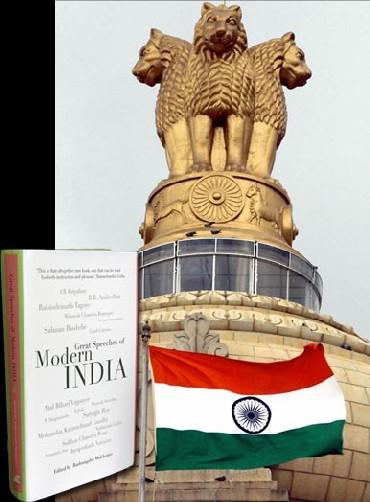 India is the fastest growing economy after China, and is the fourth largest economy in purchasing power parity terms in the world, but lags neighbouring least developed countries like Bangladesh, Bhutan and Nepal in terms of various social indicators.
Raise income tax limit for peak rate to Rs 12 lakh: Ficci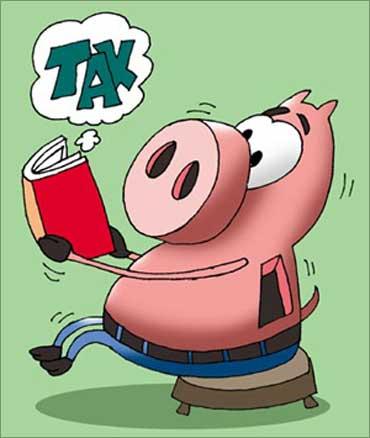 As the Indian economic growth slowed to a nine-quarter low of 6.9 per cent in the second quarter of this financial year, Ficci has urged the finance ministry to provide more disposable income at the hands of the people by raising the personal income tax slab for the peak rate of 30 per cent in the next budget.
Photos: India's longest train journey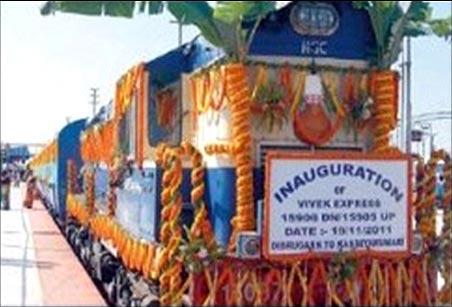 The journey would take 83 hours or three-and-a-half days - and take in 54 stations in eight states.
India should cut rates, boost spending, says economist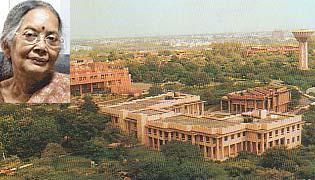 India needs to cuts interest rates and expand public expenditure if it wants to boost growth rate, says Sunanda Sen.
No more SMSes, apps the way to go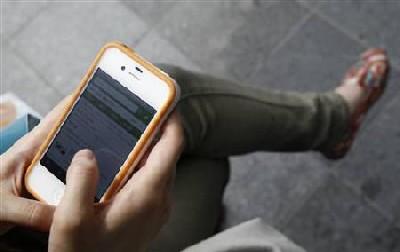 No matter how expensive the phone is, apps that allow free messaging (like BlackBerry's popular messenger service) are always in demand. Here are five such apps that will help all the twiddling thumbs to cut down on their phone bills by sending free SMSes.
Industry sees red over flip-flop on retail FDI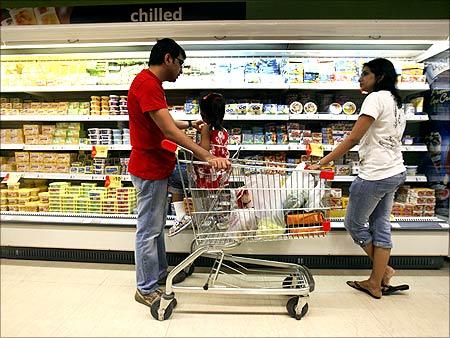 The industry is counting minutes and hours in the run-up to the Parliament session on Wednesday, as finance minister Pranab Mukherjee has said any announcement would be made in the House.
Why FDI in retail MUST be supported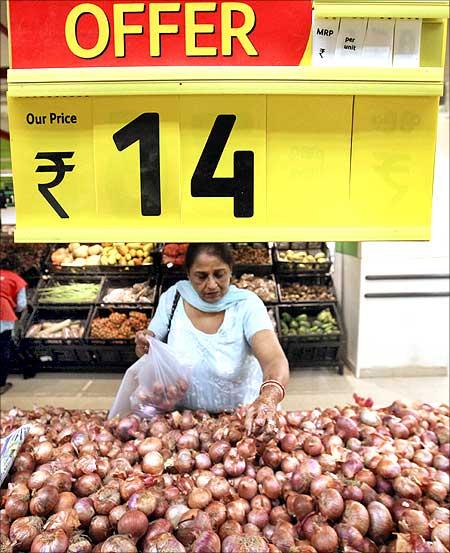 Meanwhile, Parekh and Ganguly make a strong and compelling case for FDI in retail. Read on…
Trip from Shimla became a learning experience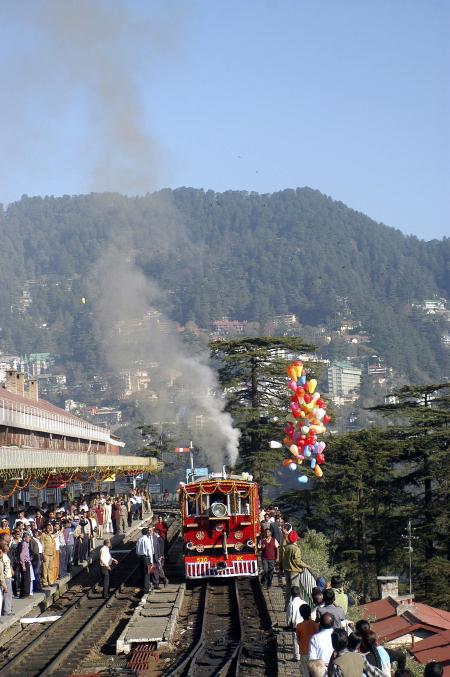 A taxi driver laments the state of affairs in Shimla.
Are you into console gaming? Here's list of best buys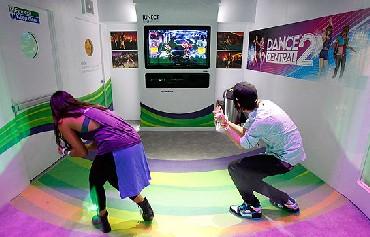 Console gaming is not just about fun, but a great way to bond with your family too.
How politics continues to rule business in India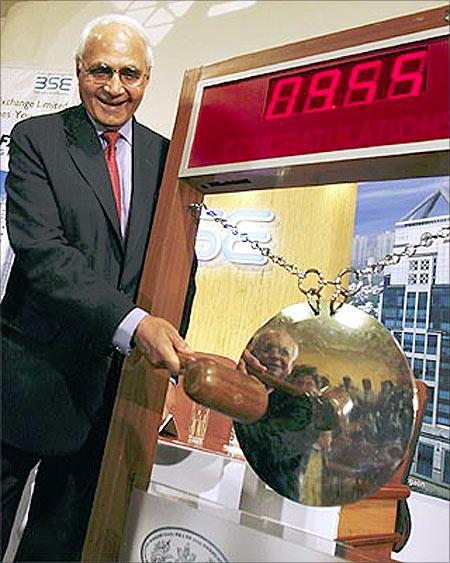 The head of a global advisory firm in the US said in a recent conversation that India was the most unpredictable territory because nowhere else in the world did you have the same combination of complicated rules and enforcement with a random harshness.
The Indian engineer behind the world-famous Malkha fabric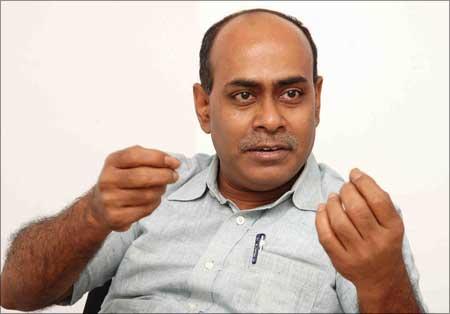 If rural artisans are today able to spin yarn in the confines of their homes, it is because of the micro-spinning line of carding machine, draw-frame and flyer-frame, designed by L Kannan, a mechanical engineer from IIT-Madras.
India puts FDI in retail on hold; govt gives in to pressure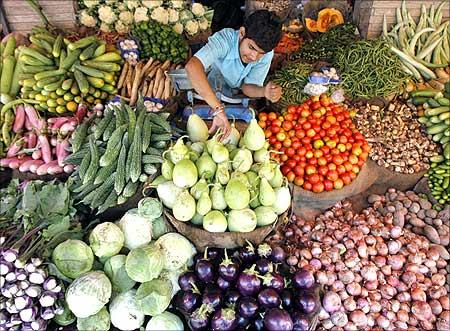 According to sources, Finance Minister Pranab Mukherjee on Monday spoke to Opposition leaders about this decision. Details awaited.
A bus ride that's worth Rs 100 crore!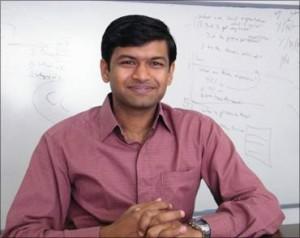 A bad experience led to Phanindra Sama's good idea: why not sell intercity bus tickets online?
MNCs keep the faith while India Inc frets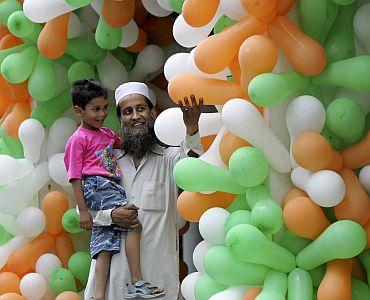 In automobiles or retail, engineering or even the regulated insurance sector, the traction for foreign investors seems to be rising.
IMAGES: World's most beautiful cable car rides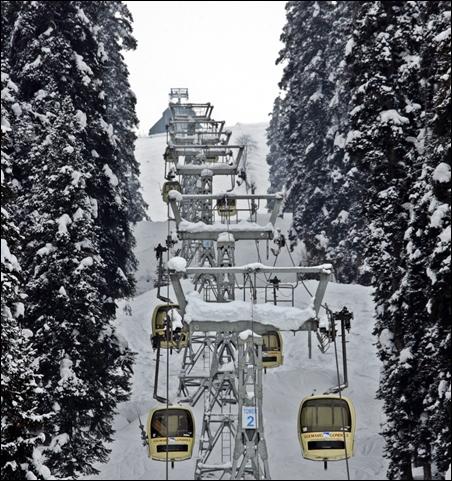 India prides to have the Gulmarg Gondola Project, one of the highest and largest ropeways in Asia.
PHOTOS: World's 30 most corrupt countries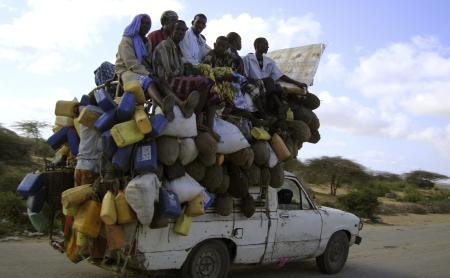 Public outcry at corruption, impunity and economic instability sent shockwaves around the world in 2011.
How India story is losing sheen with PE investors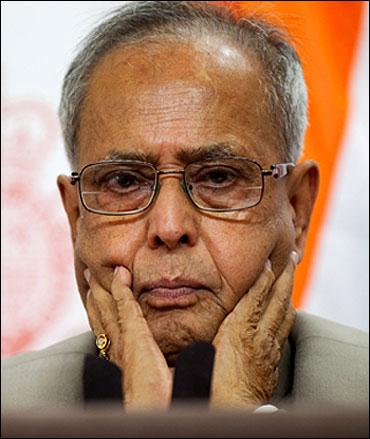 About 75 India-focused funds have hit the road to raise nearly $50 billion.
MUST READ: Some harsh truths about child labour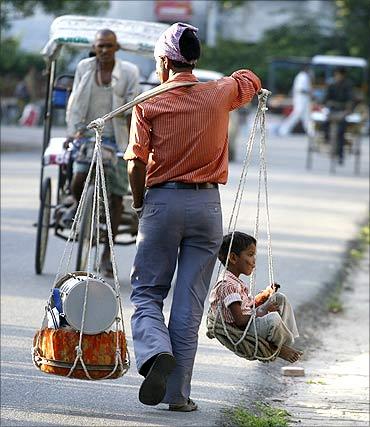 It pains to think that all over the world, children continue to work, putting at stake their education, their health, their normal development to adulthood, and even their lives.
PHOTOS: India among worst countries to do business in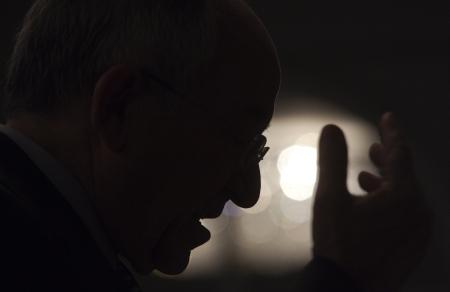 Bureaucratic rules and regulations in the developing countries are making investment decisions difficult.
December 02, 2011
RBI taking steps to deal with rupee fall: FinMin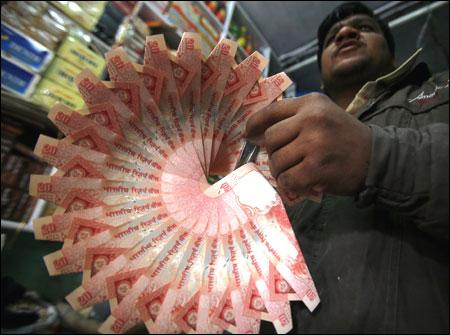 Rupee has depreciated against major international currencies since July 2011.
RBI to adjust rates in tune with price situation: FM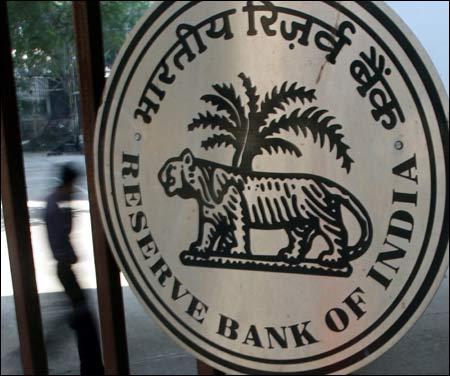 Meanwhile, Minister of State for Finance Namo Narain Meena, in a written reply to the Lok Sabha, said, "In the forward guidance of the second quarter review of the Monetary
Why the Opposition is wrong and FDI in retail is good for India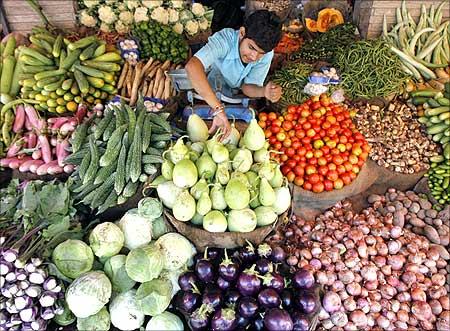 With the middleman being bypassed, the farmer will get more money and the end-consumer will benefit as prices will fall, says .
Halt austerity, avoid recession: UN to rich nations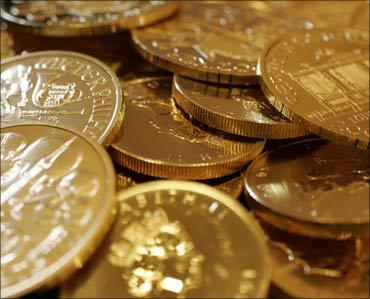 While growth in India and China is likely to remain robust, the rest of the world risks falling back into recession if developed countries embark prematurely on fiscal austerity measures, says a United Nations report, released in New York on Thursday.
Sensex may surge by 16% in 2012: Morgan Stanley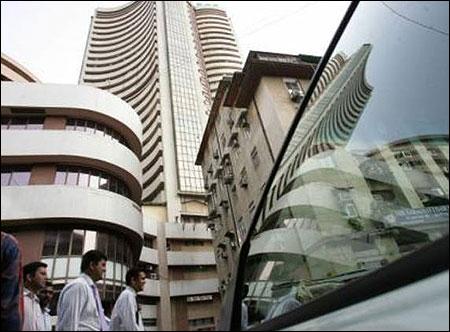 The Sensex is down by nearly 22 per cent from an all-time high of 21,206.77 points scaled on January 10, 2008.
How this sleepy town became the centre for a major steel plant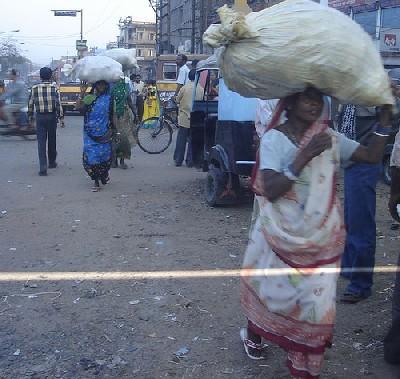 With 22,000 people working relentlessly to complete a Rs 17,000 crore (Rs 170 billion) makeover for IISCO Steel Plant, formerly, Indian Iron and Steel Company, the energy is palpable.
PHOTOS: Here's how 25 countries are projected to grow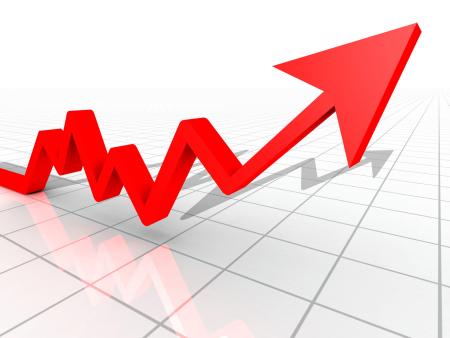 Contrary to what was expected earlier this year, the global economy is not out of the woods.
FDI in retail: How it could enslave, bankrupt Indians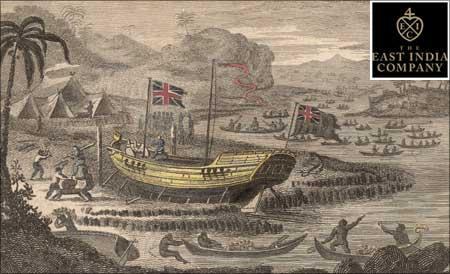 The push for FDI in retail by foreign interests smacks of the East India Company syndrome and Indians have the right to protest any attempt by a class of corporate cronies to rule India by proxy, says .
Now, low-priced smartphones to target the masses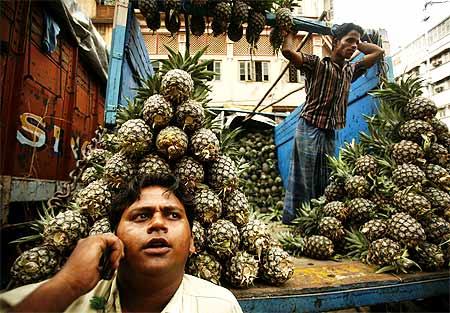 Experts say Tier-II and Tier-III cities and smaller towns have a role to play in growth in smartphone sales. Mritunjay Kapur, managing director, Protiviti Consulting, said, "There is definitely a market in Tier-II, Tier-III and Tier-IV towns. Smartphones are fast becoming important as a business communication tool. This is especially true for sales people, and 'fleet-on-the-street'," he said.
Beware! Spy agents can monitor all your email, phone calls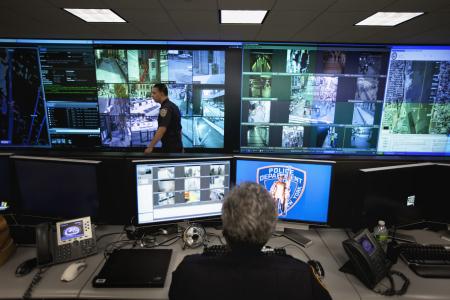 Wikileaks has revealed how technology is being used to monitor everybody's emails, text messages and phone calls.
Warning: Beware of fake Chinese firms!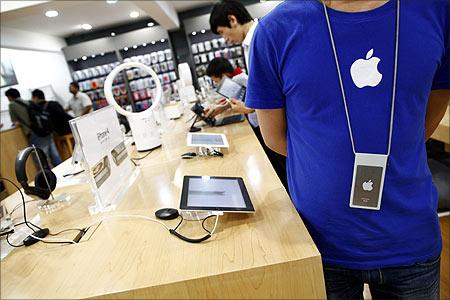 Alarmed by increasing incidents of Indian firms being cheated by their Chinese counterparts, the Indian embassy here has put out an advisory warning traders from entering into any financial dealings, without doing due diligence first.
Measure your risk ability, then invest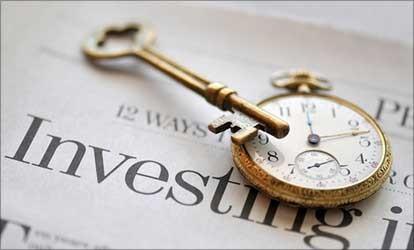 Classify goals into those for the short, medium and long term to arrive at a risk mitigation plan, advise experts.
Looking for a smartphone? Here are some GREAT options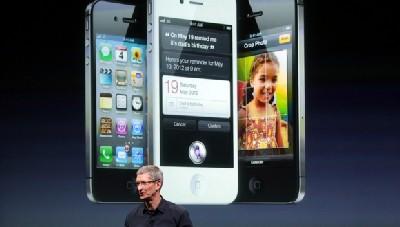 A smartphone is more than a necessity these days. This is true for everyone, irrespective of your status professional, employed, student, homemaker. Isn't it? So, as the race to own a smartphone gets charged up, so does the market.
The fall of the Indian rupee: How it helps NRIs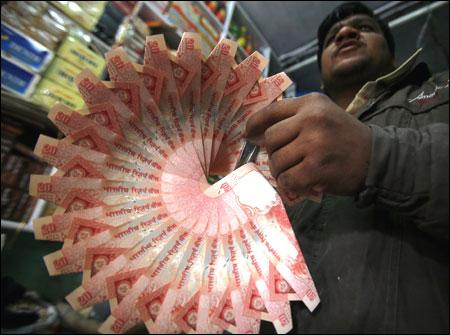 India's rupee woes seem to have worked in favour of non-resident Indians (NRIs). Last week, the Reserve Bank of India increased the cap on foreign currency non-resident (FCNR) and non-resident external (NRE) interest rates.
India's economy is SLOWING down, admits Pranab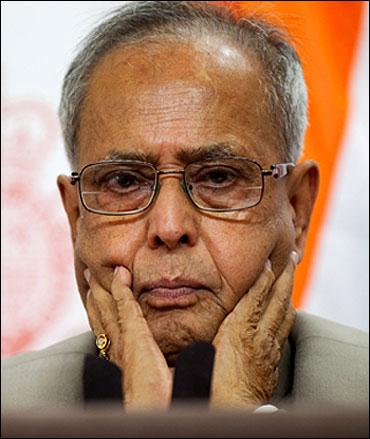 GDP growth in 2010-11 stood at 8.5 per cent.
PIX: Chinese economy in trouble as manufacturing slows down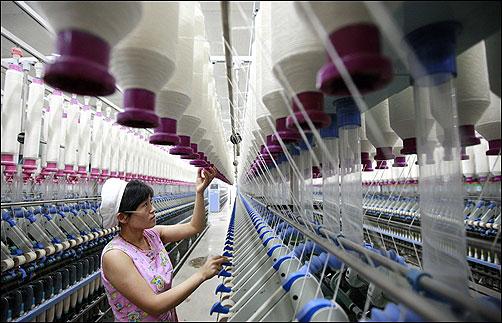 The Chinese economy is headed for troubled waters, with its manufacturing sector shrinking in November for the first time in nearly three years, in a fresh sign of a further economic slowdown that may prompt it to loosen its monetary policy.
Telecom firms pitch for 2G spectrum auction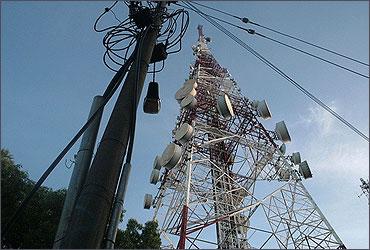 If accepted, the plan could give the sector Rs 70,000-crore (Rs 700-billion) relief.
IMAGES: World on brink of another economic meltdown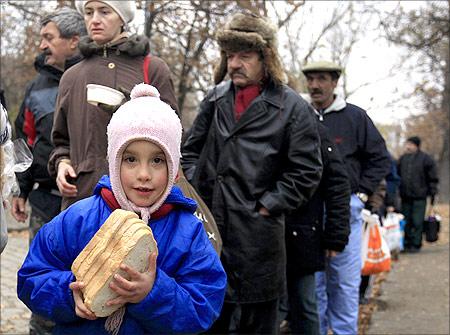 The United Nations has warned that the world is on the brink of another recession, projecting that global economic growth will slow down further in 2012 and even emerging powerhouses like India and China, which led the recovery last time, will get bogged down.
PHOTOS: The all new Chevrolet Sail will soon be in India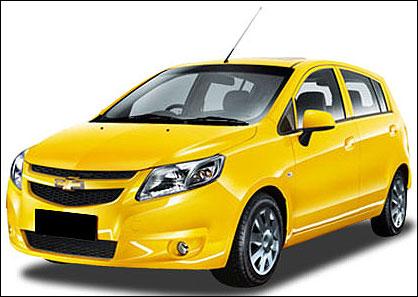 The new hatchback will likely be powered with either 1.2 litre or 1.4 litre petrol engine.
Tata, Infosys among 20 most ADMIRED firms globally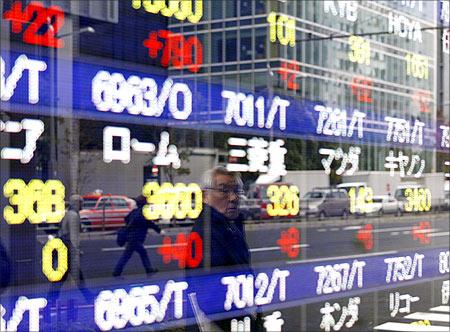 A panel of Global Fortune Global 500 senior executives and leading knowledge experts selects the Global MAKE Winners.
Indians are vacation-deprived, Japan tops list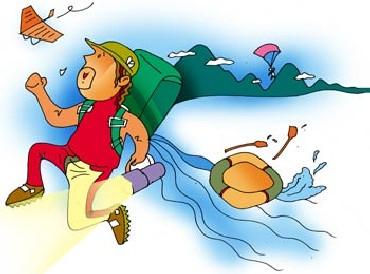 Indians are the fifth most 'vacation-deprived' in the world. A recent survey conducted by online travel firm, Expedia, said that Indians get an average of 25 vacation days in a year, but one-fifth of these goes unused.
Swadeshi retail icon to drop label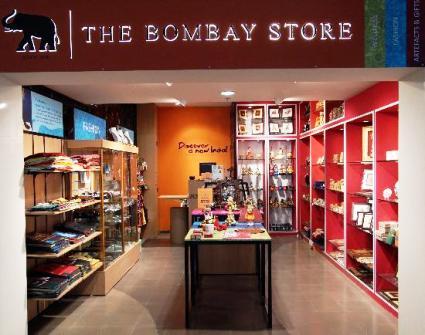 While protests are mounting against the government policy allowing foreign direct investment in multi-brand retail, the chain, founded by Bal Gangadhar Tilak and supported by the likes of Ratanji Jamshedji Tata, is in the midst of change. Besides foreign money, it is also keen on establishing a global presence.
Railway usage: Top 10 nations, India No.1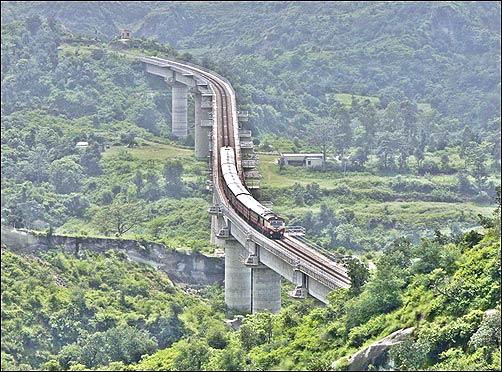 Railways are one of the best modes of transport.
December 01, 2011
Don't allow political differences hurt progress: Tata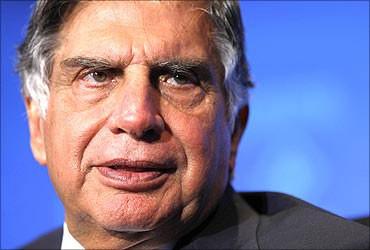 Other corporate leaders, including Biocon chief Kiran Mazumdar Shaw, UB Group Chairman Vijay Mallya and Mahindra Group vice-chairman Anand Mahindra, have also expressed concerns over the current state of economy in the country.
Nokia's Lumia to hit Indian markets this month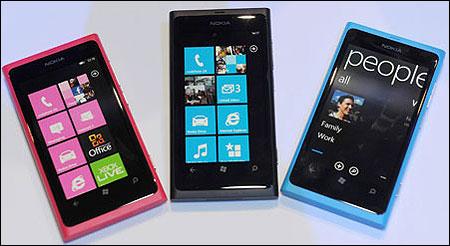 It was launched globally in October.
Exports grow by only 10.8 pc in Oct, lowest in 2 years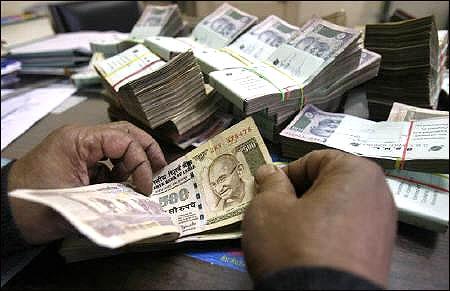 The growth rate has been the lowest since October, 2009, when it contracted by 6.6 per cent.
Slowdown: RBI may halt rate hike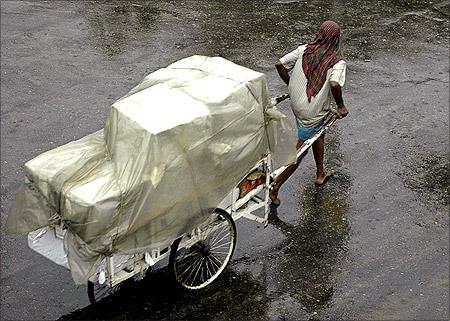 Moderating economic growth and easing inflation may prompt the Reserve Bank to halt interest rate hike in the upcoming mid-quarterly credit policy review later this month, according to analysts.
Get this card; travel on train, bus, metro in most Indian cities!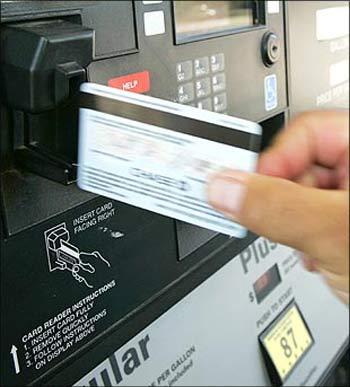 Soon city commuters will be able to use a single, rechargeable master mobility card to hop onto any metro, local train or government bus across all major Indian cities without the hassle of queuing up to buy paper tickets.
6,994 crore! That's Air India's estimated loss in 2010-11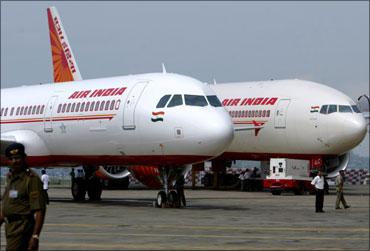 Replying to several questions about Air India in the Rajya Sabha, Minister of Civil Aviation Vyalar Ravi gave details of the national carrier's financial woes.
FDI in retail: No rollback, says govt; deadlock on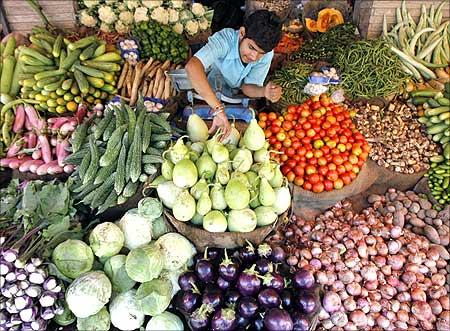 Ruling out any rollback of the policy to allow foreign investment in multi-brand retail in the country, the government on Thursday said it would issue the guidelines in due course.
Now, Montek pitches for FDI in medical education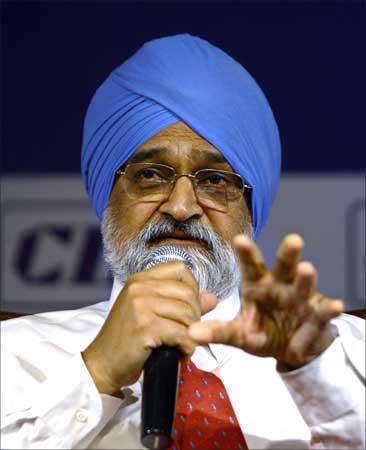 Ahluwalia's comment comes at a time when the government is facing flak over its decision to open up the multi-brand retail sector to foreign investment.
Rupee impact: Car makers to HIKE prices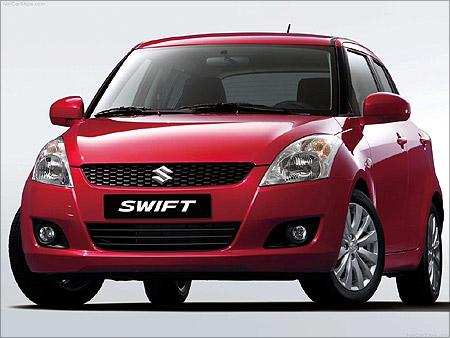 Maruti Suzuki India on Thursday said it is considering an increase in prices of its products from January next year to offset the impact of rupee depreciation.
In Nov, FIIs sold Indian stocks worth Rs 3,200 crore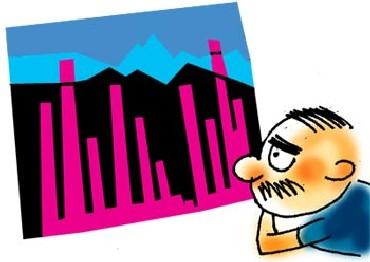 Foreign funds withdrew over Rs 3,200 crore (Rs 32 billion) from the Indian securities market in the month of November amid concerns over the worsening debt crisis in the Eurozone.
Mixed response to all-India traders' strike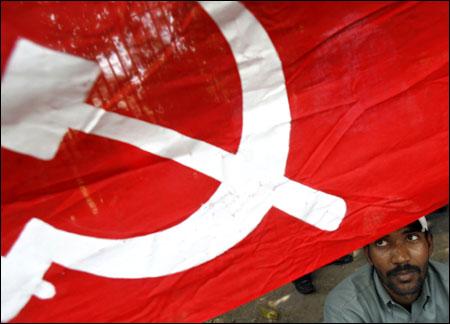 pkeepers in many cities took out marches demanding a rollback of the government move on FDI in retail.
Worli-Haji Ali sea link project faces further delay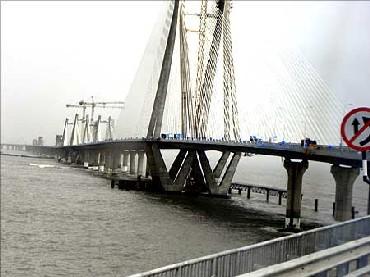 MSRDC wants to complete this process before exploring options of arbitration and termination of concession agreement signed with the RSOPL for the project.
PHOTOS: World's 30 least corrupt countries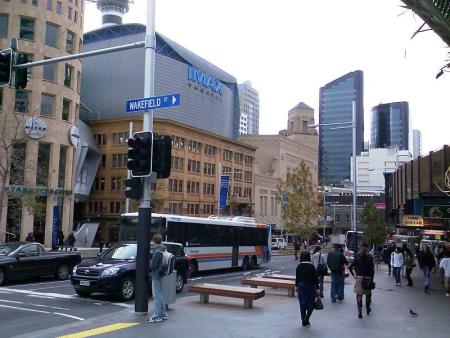 Public outcry at corruption, impunity and economic instability sent shockwaves around the world in 2011.
Food inflation down to 8%; FM upbeat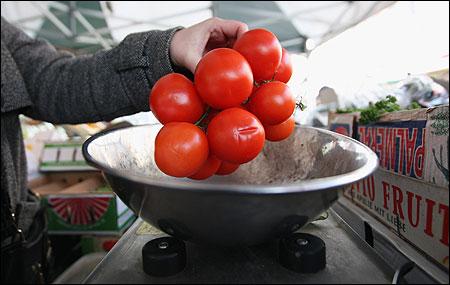 Fuel and power inflation stood at 15.53 per cent during the week under review, compared to 15.49 per cent in the previous week.
Markets start Dec on a promising note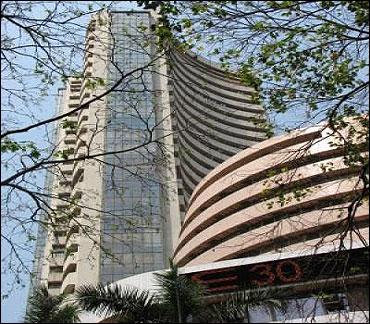 The rally was owing to Central Banks (ECB, US Fed, BoE, Central Banks of Canada, Japan and Switzerland) liquidity move to get dollars at subsidised rates.
Car majors' sales rise, Maruti suffers setback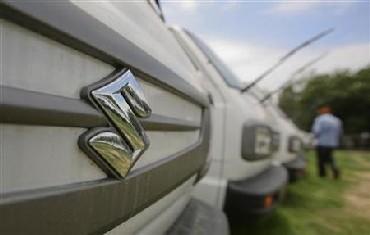 The national capital-based company recorded sales of 82,870 units in the domestic market last month, a 19.15 per cent fall from 1,02,503 units in November, 2010.
IMAGES: The amazing world of technology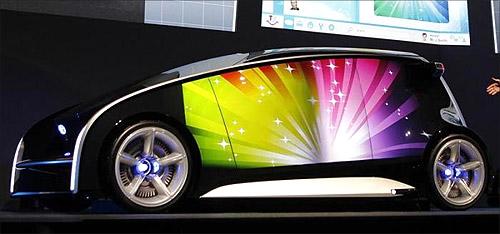 Toyota's concept vehicle Fun-Vii shows a display content on its body during its unveiling at a pre-Tokyo Motor show.
India to see HIGHEST foreign remittances in 2011: World Bank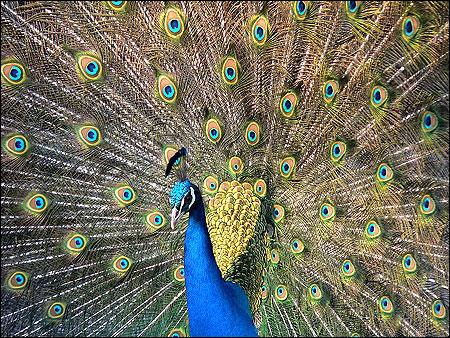 In all, worldwide remittances -- including those to high-income countries -- will reach $406 billion in the current calendar year.
IMAGES: 20 countries with lowest tax rates!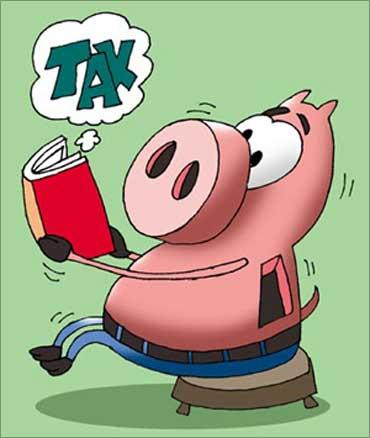 'Taxes are what we pay for a civilized society'.
'Don't be surprised if growth rate slips below 7% next year'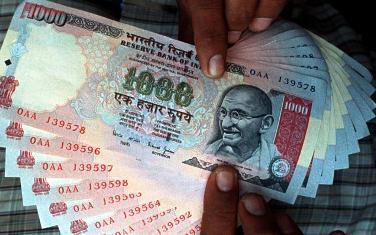 The signs were visible for a while, but reality has finally hit home.
Top FREE apps for iPhone and iPad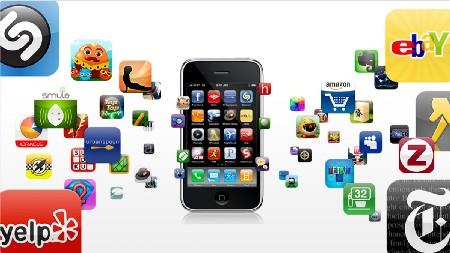 The number of apps for iPhone, iPad and iPod touch is huge, and chances are that someone, somewhere is always working towards developing a new app to suit your need. This is not the best part. The good part of having apps, apart from their usage is that surprisingly many of the best apps are free.
US House eases wait for green card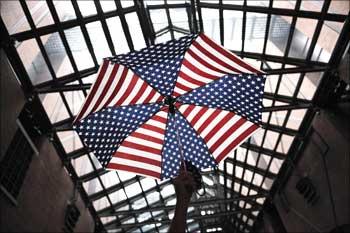 The legislation aims at eliminating a country-by-country cap on visas offered to skilled workers for obtaining a green card.
Why the Indian rupee is FALLING; how NRIs can gain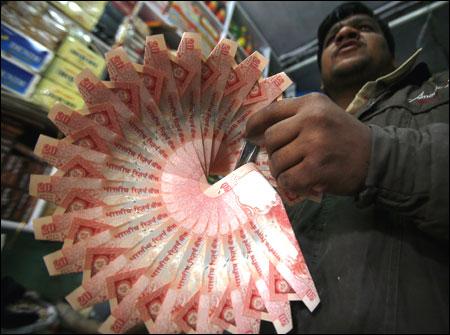 The general perception amongst experts is that until the global macro-economic environment stabilises, the rupee will continue to be under pressure.
India's 5 best cities: Bengaluru is No. 1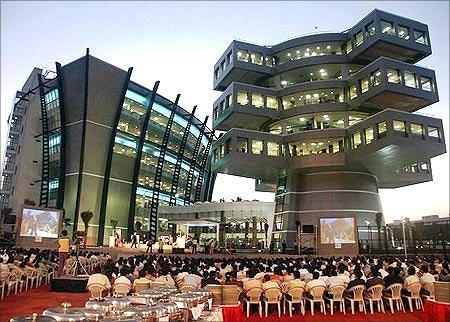 Though Bengaluru has been ranked as India's best city, it has been placed at 141st position worldwide.
November 30, 2011
Petrol price further cut by 78 paise a litre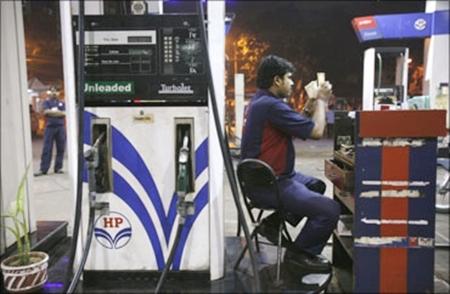 Petrol prices may be cut by Rs 2 a litre from on Wednesday as global oil rates have softened and the rupee has stabilised against the US dollar.
Here's why BJP is opposed to FDI in retail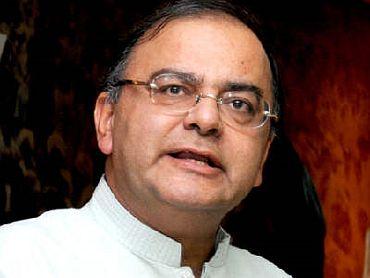 The time for allowing FDI in retail sector in India has not yet come. Such a move may end up hurting domestic interests, says .
UK crawls as millions go on strike against pension cuts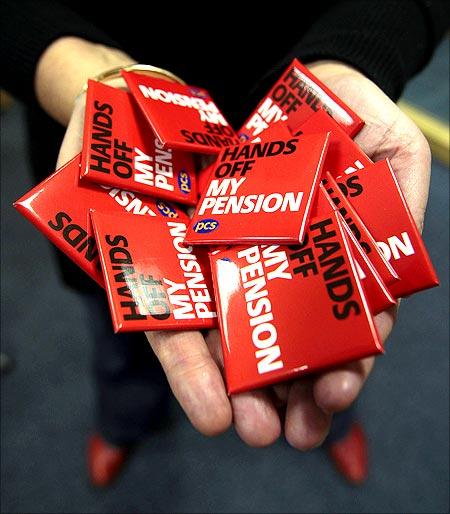 The 24-hour strike is expected to disrupt hospitals, courts, job centres, driving tests and council services, such as libraries, community centres and refuse collections.
Slowdown? Growth not disappointing, says FM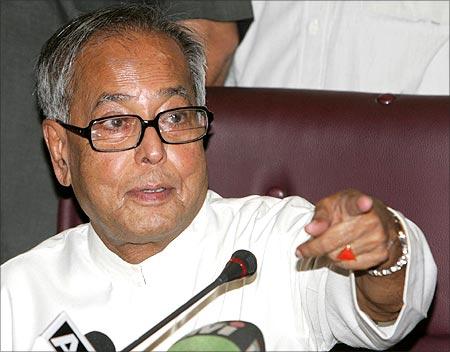 GDP growth in 2010-11 stood at 8.5 per cent.
Now, get ready for a bigger HOLE in your pocket!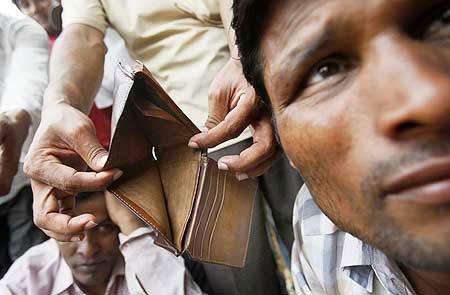 Household budget may make a larger hole in the pockets of Indian consumers in the coming months, as an estimated 41 per cent of food and beverages businesses are looking to hike their prices over the next one year, a survey has said.
India may become Honda's global hub for bikes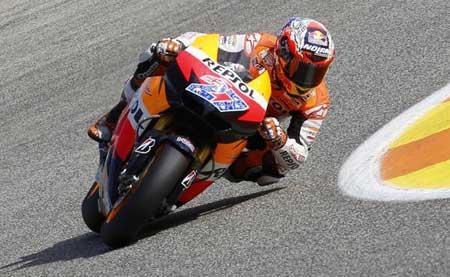 Japanese auto major Honda Motor Co will commence exporting bikes by next year from India, a country which it sees as a future global hub, particularly for mass market models.
Cybercrime! The most and the least vulnerable nations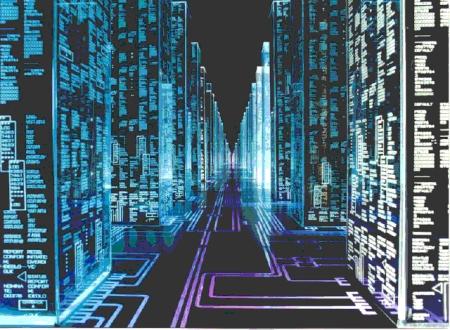 Cybercrime ranks as one of the top four economic crimes.
Mounting losses: Air India leases planes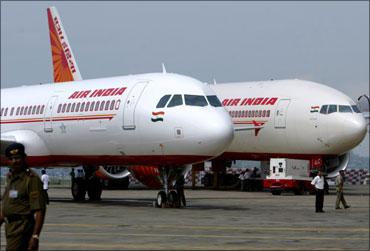 The airline's board met in the national capital on Tuesday, and decided to go in for sale and leaseback of Boeing 787 Dreamliners, due for delivery next month.
FDI in retail: Whom are you kidding, Mr PM?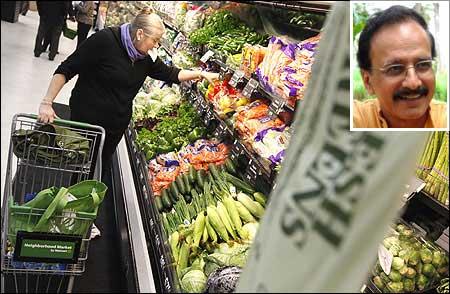 In India, it is markets that sustain the farmers and not subsidies. We are therefore importing a failed model from America.
India Inc sitting on a mountain of cash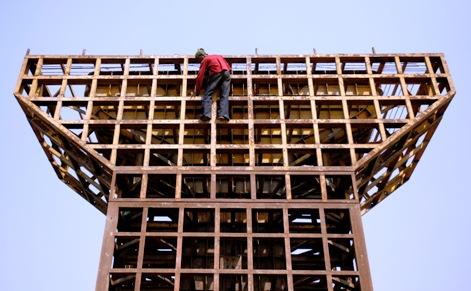 India Inc (excluding trading and financial services companies) was sitting on a cash mountain of Rs 456,700 crore (Rs 4,567 billion) as on September 30, up 21 per cent from the same time a year before.
Here's what is missing from India's FDI in retail debate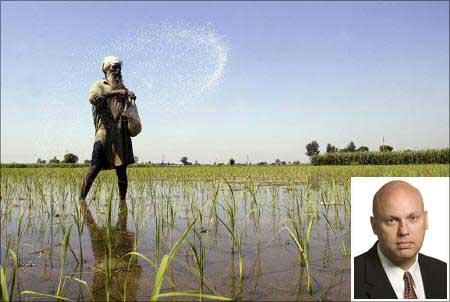 makes a strong case for FDI in India's retail sector emphasising that farmers and urban consumers will benefit the most from this move.
Slowdown: India's GDP growth falls to 6.9%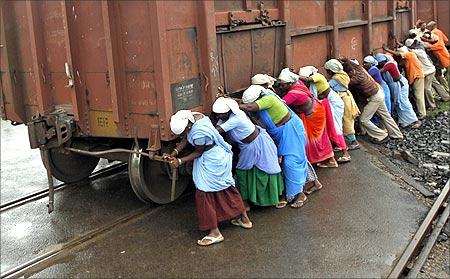 India's GDP growth has slowed down to 6.9 per cent in second quarter of 2011-12 from 8.4 per cent in corresponding period of previous year.
FDI issue: Pranab meets Sonia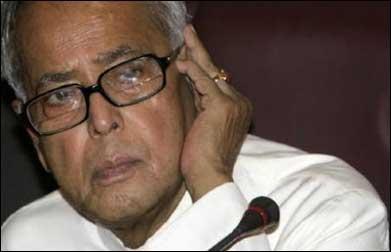 Ahead of his meeting with Congress members of Parliament to allay their apprehensions on FDI, Mukherjee met Gandhi at her 10, Janpath residence for about 10 minutes, party sources said.
FDI issue: PM's hard talk cuts no ice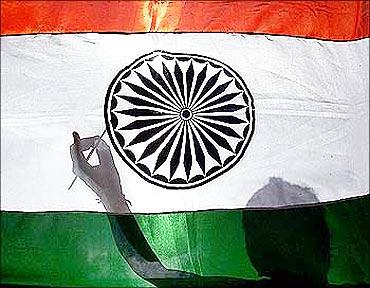 Opposition firm on its demand for FDI decision reversal, even as PM asks dissenters to fall in line.
Why does US hail FDI in retail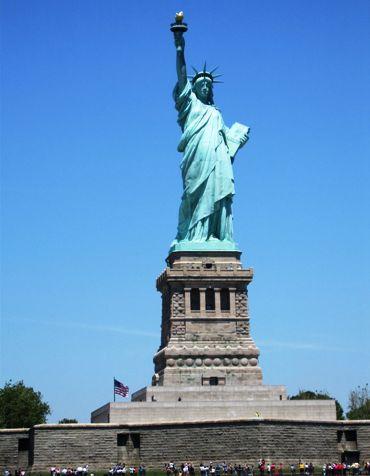 Foreign direct investment in the retail sector was one of the wish list of the US companies and the US had been pushing for it for quite some time now.
IMAGES: World's best and worst cities to live in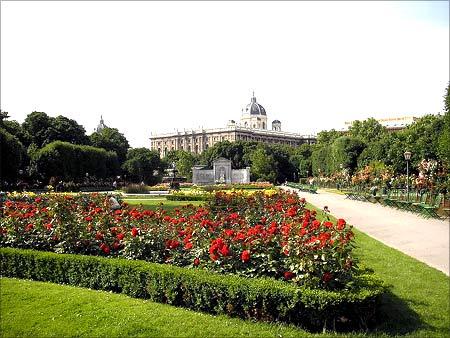 European cities are the best places to live in, finds the Mercer survey.
IMAGES: 25 countries with highest tax rates!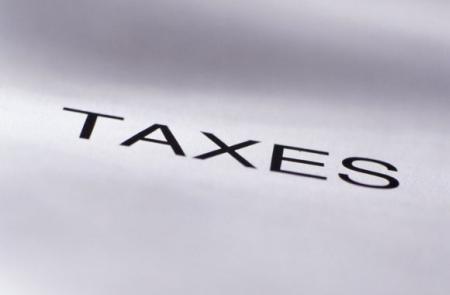 Governments in economies of all sizes and at all stages of development are struggling with the tax policy choices available to them.
Photos: The world's top 10 retail giants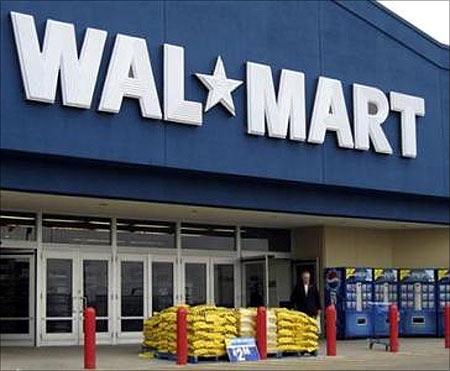 The world's largest retail company, Wal-Mart was founded by Sam Walton in 1962.
November 29, 2011
FDI decision taken after lot of consideration: PM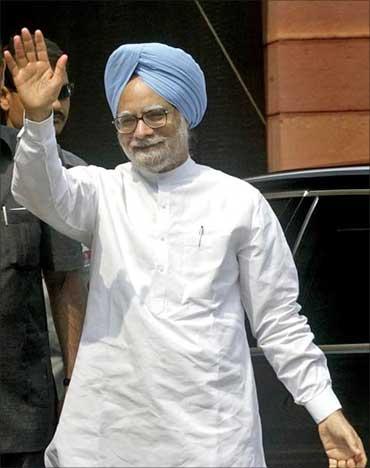 Virtually rejecting demands from within United Progressive Alliance and outside for rollback of foreign direct investment in retail, Prime Minister Manmohan Singh on Tuesday justified the decision as a well considered move.
Petrol in India COSTLIER than in the US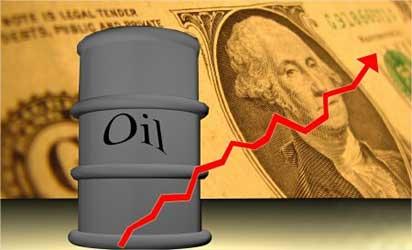 Nearly 45 per cent of the current retail price of petrol in Delhi is made up of taxes.
India's most and least DESIRABLE cities to live in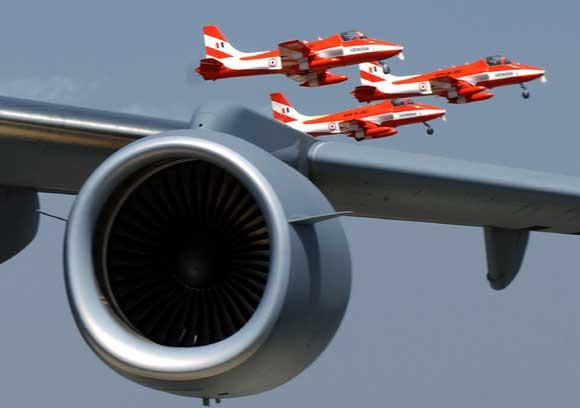 Chandigarh, Bengaluru and Pune have emerged as the three most desirable Indian cities to live in, reveals a survey conducted by real estate portal 99acres.com and YouGov, an international Internet-based market research firm.
Investors pull out $2.7 bn from emerging market funds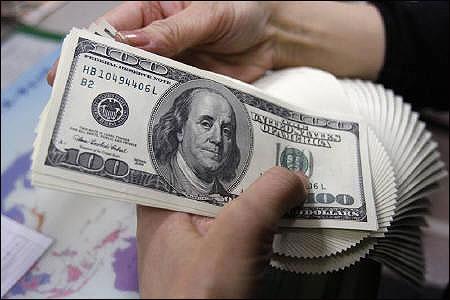 This was the biggest weekly outflow from emerging market equity funds since early October and has taken the total outflow from these funds since the beginning of 2011 to $39.9 billion, EPFR said.
EU, US crisis could be reason for slow Q1 growth: Govt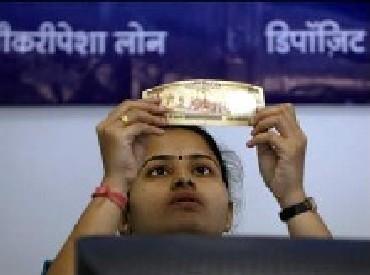 The government on Tuesday said the slowdown in the Europe and US may have contributed to the moderation in India's economic growth rate to 7.7 per cent during the first quarter of the current fiscal.
Is India heading towards a great transformation?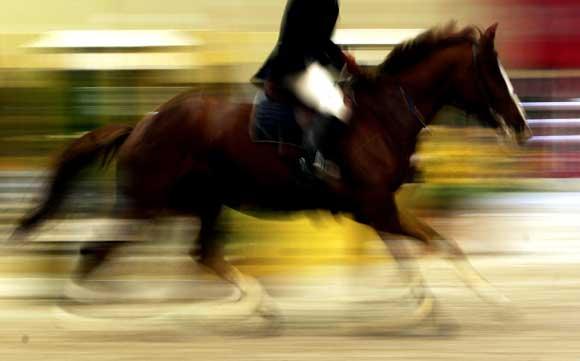 A large proportion of Indian population has begun its journey towards an urban lifestyle -- we simply do not seem to know whether to call them villagers or townies.
Prince who did not want to be king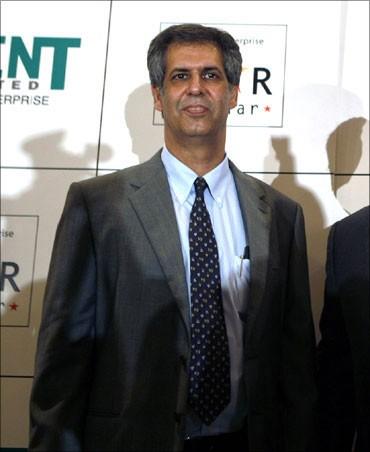 on how it was Noel Tata's own choice to stay away from the corner office at Tata Sons.
Not correct to say IIT students' quality is poor: IIT director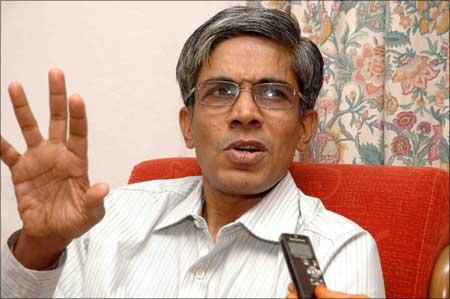 An interview with Prof. Bhaskar Ramamurthi, the newly appointed director of IIT Madras, who is also alumnus of the same institution.
'We will all be slaves to MNCs,' says Saravana Stores founder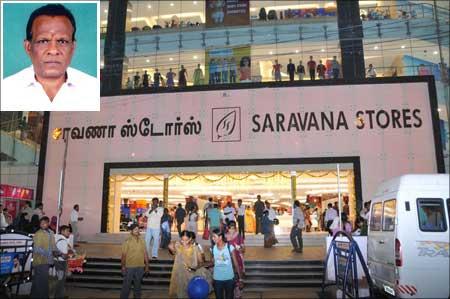 S Rajarathinam is the founder-owner of this retailing giant. We asked him about his opinion on the government's decision to allow 51 per cent foreign direct investment in India's multi-brand retail trade and 100 per cent FDI in single-brand retail trade.
How retail chains can help farmers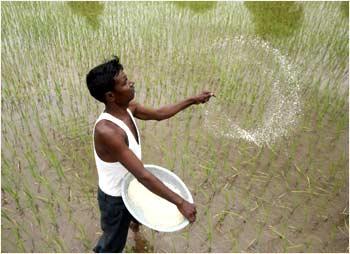 Regardless of the merits and demerits of foreign direct investment in retail, the fact is that a tie-up between organised retailers and farmers benefits both, as also consumers of farm goods, writes Surinder Sud.
World's top thinker's take on what ails India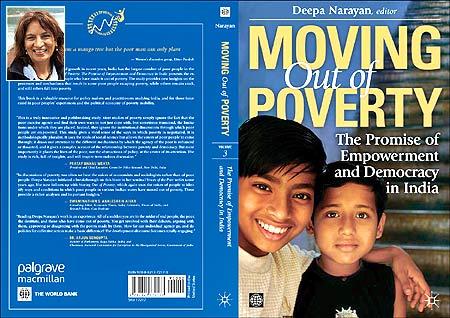 India needs to tackle three problems if it wants to post good growth, says Deepa Narayan.
Coming soon: Maruti's 'nano' @ Rs 300,000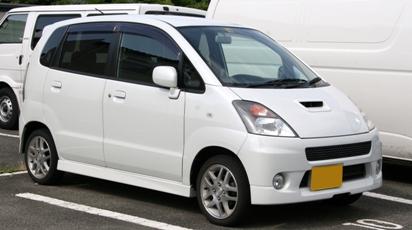 The 660-cc car will be priced higher than the Alto.
Setback: Deadlock over FDI in retail continues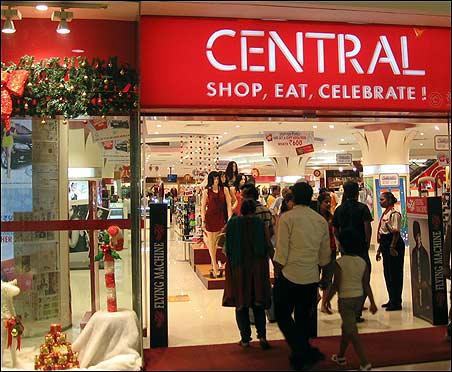 The deadlock over foreign direct investment in the retail sector continues as government officials on Tuesday informed parties opposing FDI that they will discuss their demands with the Prime Minister Manmohan Singh.
Indian bosses mentor juniors, finds survey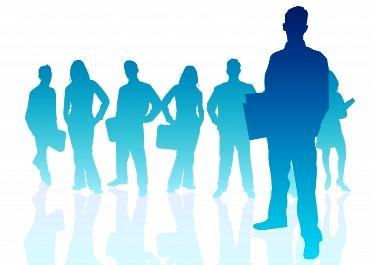 The findings, part of the Kelly Global Workforce Index, obtained views of approximately 97,000 people in 30 countries, including almost 2,000 in India.
How rupee fall affects your investment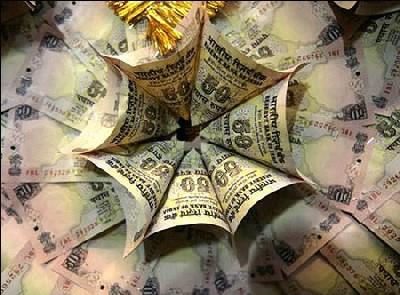 Most investors do not read between the lines regarding how rupee fluctuation impacts their investments.
Toyota to bring Lexus to India by 2013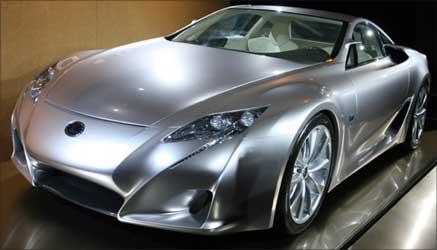 The Japanese multinational automaker's Lexus cars will be sold in India through an exclusive network of dealerships by 2013, executive vice-president Yukitoshi Funo said on Monday.
How FDI in retail will help consumers, farmers, economy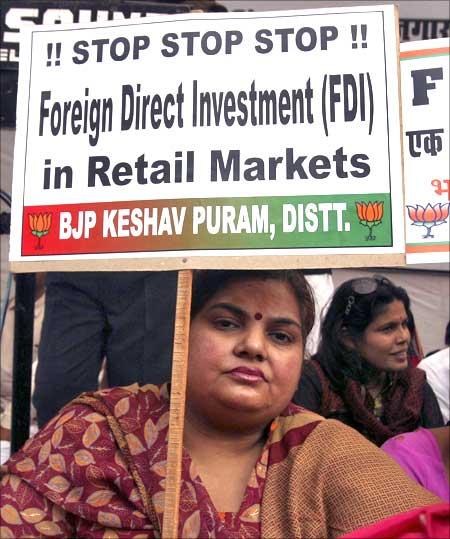 The recent Cabinet decision to allow 51 per cent foreign direct investment in the multi-brand retail sector in India has deeply divided the nation's political, social and trading classes.
PHOTOS: World's topmost thinkers; 6 Indians too in the list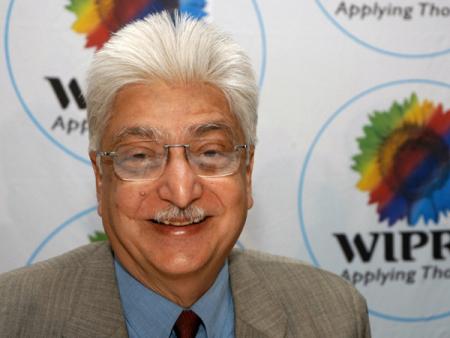 There are some who go with the flow, while there are others who try to change the world for better with their revolutionary thinking.
November 28, 2011
No 51% FDI in retail in West Bengal: Mamata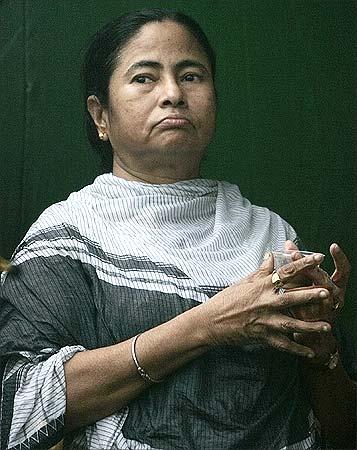 The Union Cabinet on November 24 approved 51 per cent FDI in multi-brand retail paving the way for global giants like WalMart to open mega stores in cities with population of over one million.
FDI in retail: Why this Kolaveri di?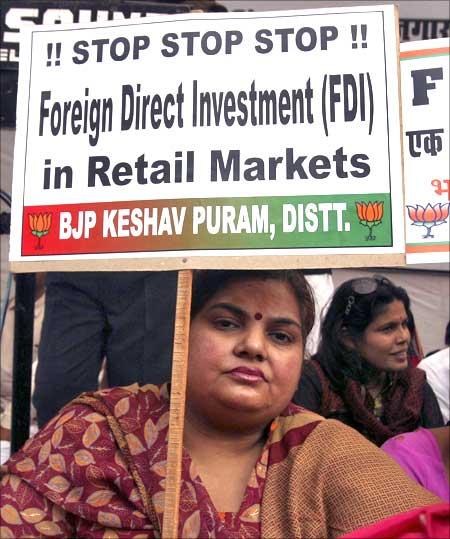 In Thailand and Brazil, within years, they have been seen to have destroyed domestic competition. Moreover, uniformly they are accused of adopting bad labour practices, squeezing manufacturers and following predatory pricing policies, says .
Averting climate talks disaster: What India should DO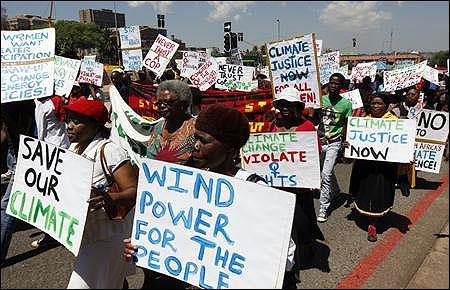 Catastrophic, irreversible climate change represents the gravest threat today to human civilisation.
FDI in retail: Are there any takers?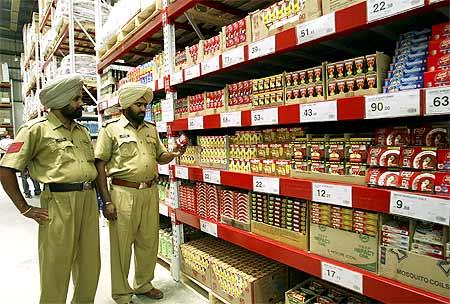 While Federation of Indian Chambers of Commerce and Industry extended an all-out support to the government, Confederation of Indian Industry recommended 'a calibrated approach for introducing FDI in the retail sector in terms of the percentage and minimum capitalisation requirements'.
Here's what IT firms PAY in 20 countries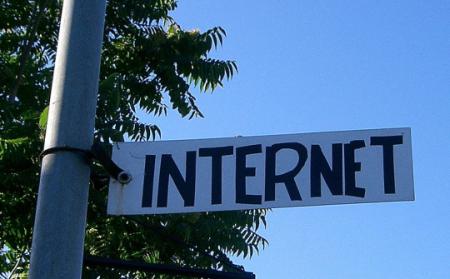 It is a common perception that IT specialists are paid handsomely the world over.
MUST READ: World's 15 richest tech billionaires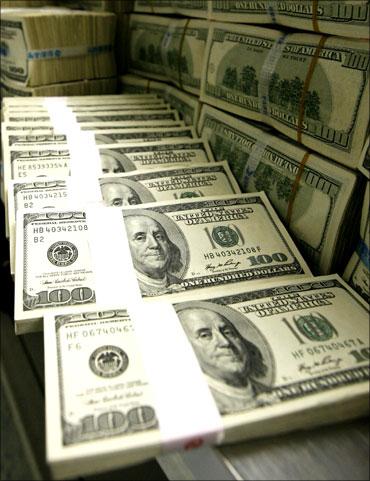 Recently, Forbes 400 published names of 15 richest tech people.
The great mobile phone robbery!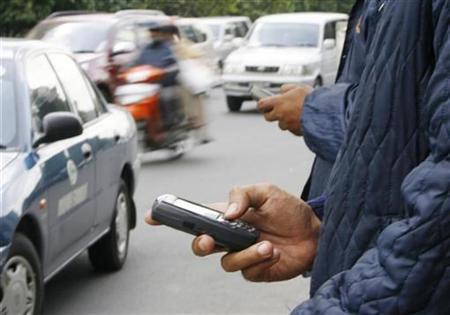 It is estimated that 840 million Indians lose their mobile phones.
SPECIAL: What is Vijay Mallya doing to keep Kingfisher alive?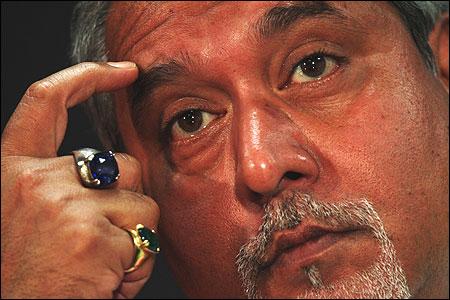 The government's stated position is that it cannot tailor a bailout package for Kingfisher Airlines alone.
BJP claims Congress opening retail due to US pressure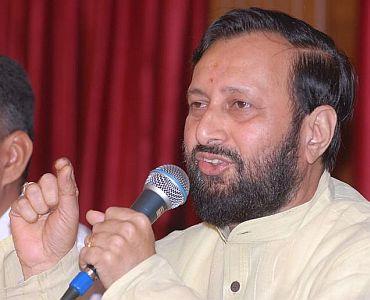 Prakash Javadekar says Congress is allowing FDI into retail to boost profits of foreign chains.
Rupee fall: Textile, IT earnings to get a boost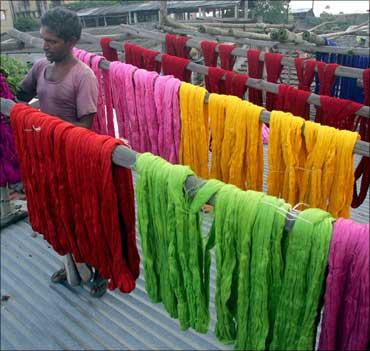 While a weak rupee is a bane for most sectors, the country's two key export-oriented sectors -- IT and textiles -- are expected to gain from the phenomenon.
Here's how the world generates electricity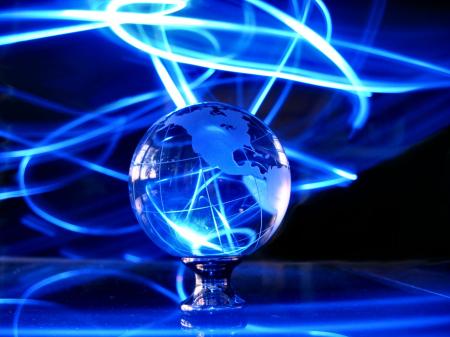 World uses different types of sources to generate electricity.
Rupee fall spells windfall for Kerala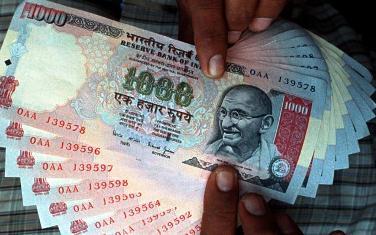 The steep fall of the Rupee is not just making things scary for the Indian economy and economists.
Amazing and historical PHOTOS of New York's financial district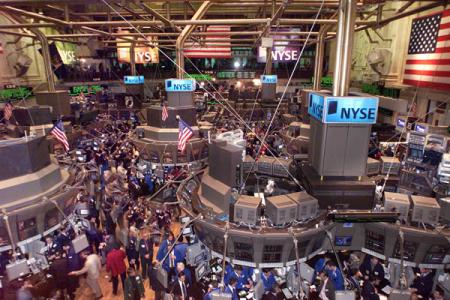 New York's financial district has changed a lot since 1900.
November 25, 2011
FDI in retail to create over 10 mn jobs, says govt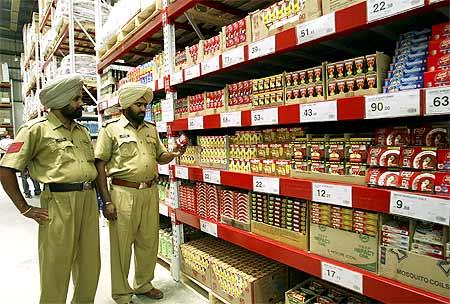 The guidelines regarding the decision to allow 51 per cent FDI in the multi-brand retail will be issued by next week.
Growth story: 10 challenges that India faces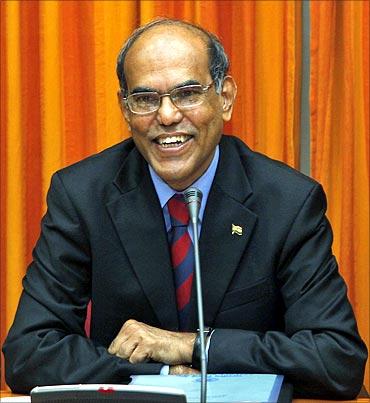 For India to regain its growth momentum and indeed accelerate it further, we need to address several challenges, said , Governor, Reserve Bank of India, while delivering the Haksar Memorial Lecture.
SPECIAL: The king of poverty relinquishes throne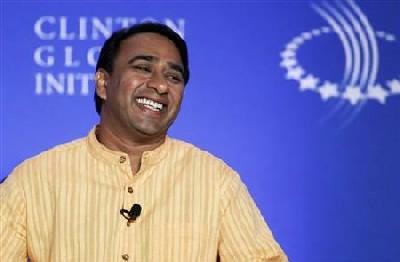 Clad in his trademark kurta pyjama Vikram Akula has never been at a loss for words while articulating to the media the pivotal role that micro-lending can play to liberate the rural poor from the clutches of money lenders. It earned him the status of poster boy for the microfinance industry.
IMAGES: Indian billionaires' favourite playgrounds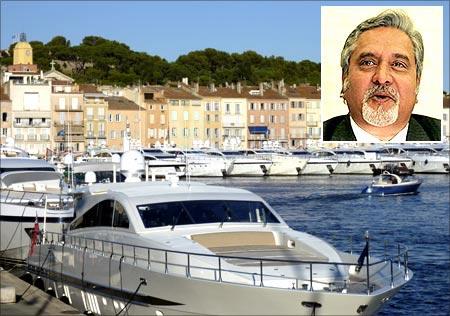 French Riviera turns out to be Vijay Mallya's favourite destination
How Mahindra is scripting a 'rising' on the Internet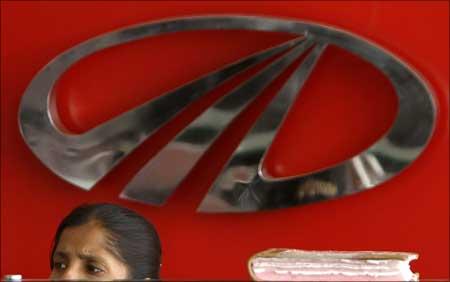 The story of Mahindra's Rise campaign talks about how the company is keeping things real . . . and hoping to disappoint cynics in the process.
iDubba: Watch TV, then share socially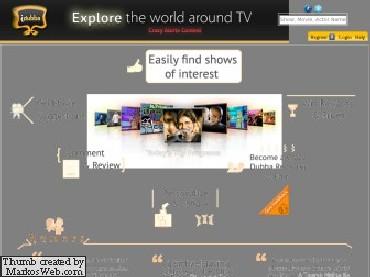 iDubba claims to be India's first (and only) television programme-recommendation and social-sharing platform. Adding 444 channels in the last five years, the platform aims to connect TV audiences by recommending relevant programmes.
Jayalalithaa gives freebies to poor, taxes middle class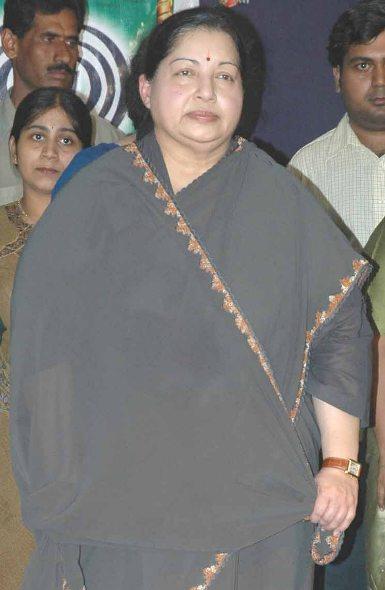 A financially destructive populist culture of giving voters freebies in TN has left the state with massive bills.
Exiting fixed income funds? Read on…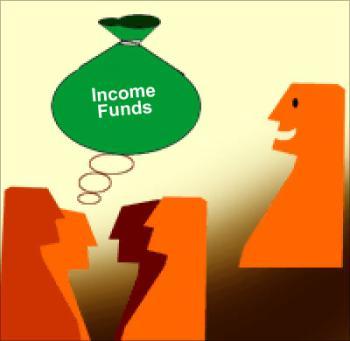 Those getting into debt instruments like short-term funds, ultra short-term funds and income funds may need to extend their investment horizons or pay higher exit loads. The past couple of months have seen 16 such funds either raising their exit loads or increasing the scheme's lock-in period.
Buying resale property? Follow the checklist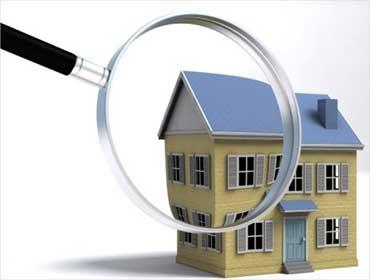 Despite their age, ready property prices are rarely discounted. "Due to the prevalent high real estate prices, generally, the cost of a ready property and an under-construction one are almost par," says Amit Shah, vice-president, indiaproperties.com, a Pune-based property portal. In fact, sometimes, ready properties may even be available at a premium.
How euro crisis can change Europe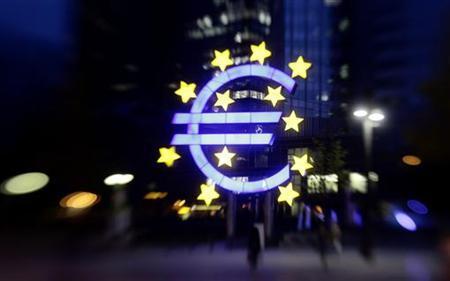 Stratfor analyses the predicament of the states caught between a changing euro zone and a resurgent Russia.
IN PIX: This is what billionaires' houses cost in global cities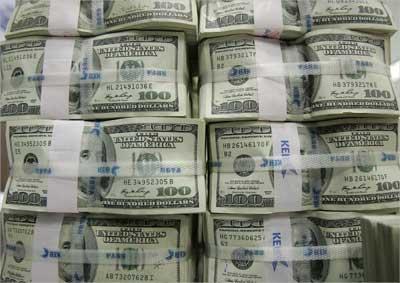 Price growth of high value homes has been highest in emerging markets like Singapore, where prices have increased 144 per cent since 2005 and Mumbai, where prices have jumped 138 per cent in the same period.
Top MNCs jostle with India Inc to secure Mumbai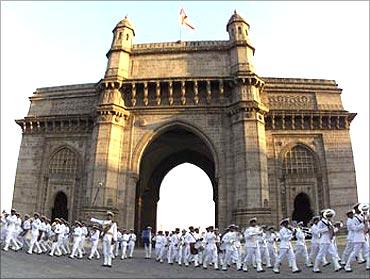 As third anniversary of 26/11 draws near, a new homeland security project gets underway.
The funny thing about foreign money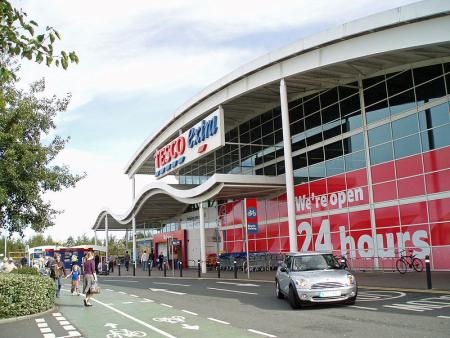 The Cabinet has agreed to the suggestion of the Department of Industrial Policy and Promotion or DIPP to allow companies like Walmart and Tesco to set up shop in the country.
Stunning PICS: Inside the most luxurious yachts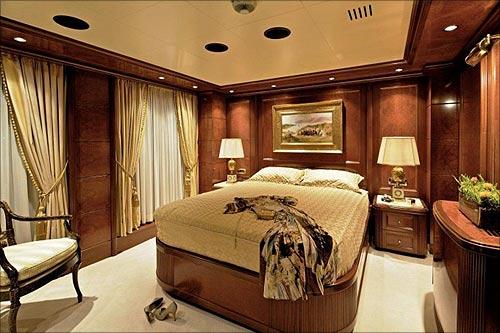 These luxury yachts are truly floating palaces.
It's more than change of boss at Tata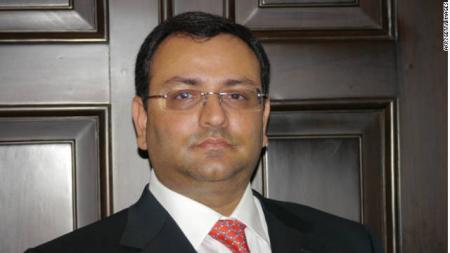 Tata is separating management from shareholding control.
PHOTOS: Here's what the inflation rate is in 20 countries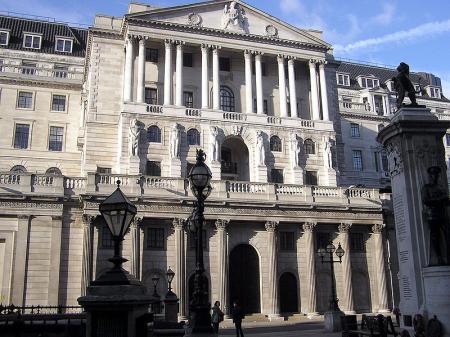 Everyone is worried about inflation making their money worth less or even worthless.
Why the Re will remain weak in 2012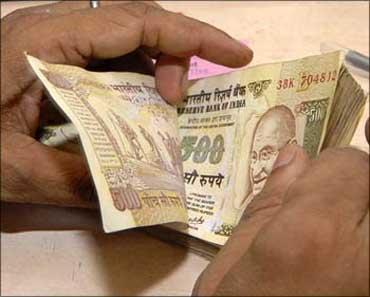 Could plumb to 57 against the US dollar if macro dynamics continue to weaken.
Here are the stocks that Amitabh Bachchan buys!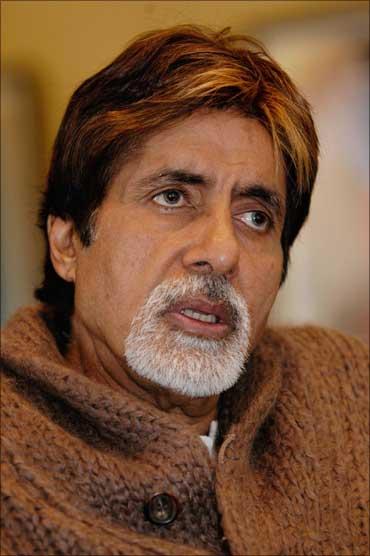 Mega star Amitabh Bachchan, known as the Big B of the Bollywood, invests in small and mid-sized companies as well when it comes to stock market purchases, and is sitting on losses on some of his recent investments.
November 24, 2011
Historic decision: Govt allows 51% FDI in retail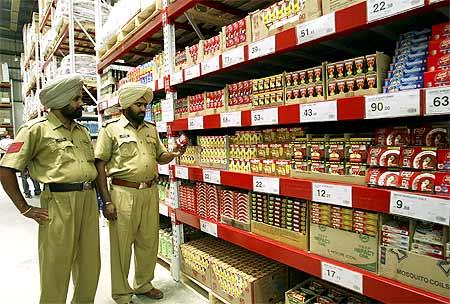 In what will be a historic decision, the Union Cabinet is likely to clear a policy paper that seeks to allow 51 per cent FDI in multi-brand retail trading and 100 per cent FDI in single-brand retail on Thursday.
Shares worth Rs 1.1 trillion pledged by promoters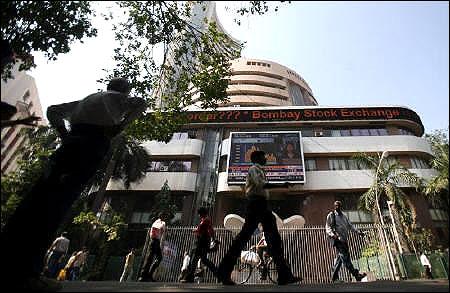 Investment in such companies exposes an investor to severe price volatility in case a promoter is not able to meet payments.
Black money: CBI gets names of LGT bank account holders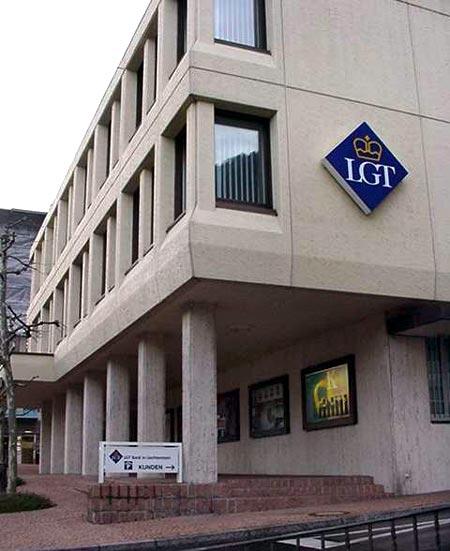 The CBDT has provided to CBI for possible action the names of those individuals whose names have figured in the LGT Bank accounts for stashing illegal funds abroad.
RIM launches three BlackBerry 7 smartphones in India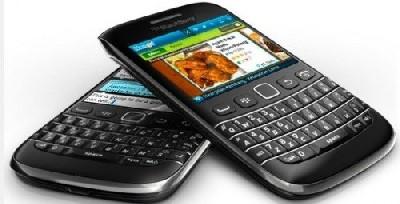 Canadian firm Research In Motion (RIM) today announced the launch of three new handsets based on its BlackBerry 7 operating system in the country.
Get your iPhone 4S at the stroke of midnight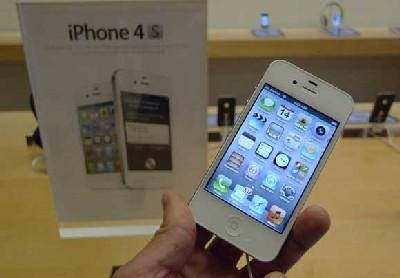 Leading telecom operators Airtel and Aircel will launch the much-awaited iPhone 4S smartphone in the country at midnight on Thursday at prices starting from Rs 44,500.
PHOTOS: World's most business-friendly countries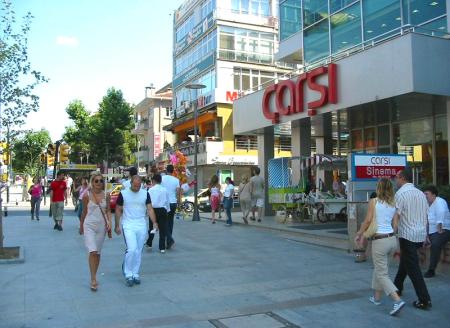 Vibrant private sector promotes growth and expands opportunities for the poor.
Photos: The RICHEST people in 30 countries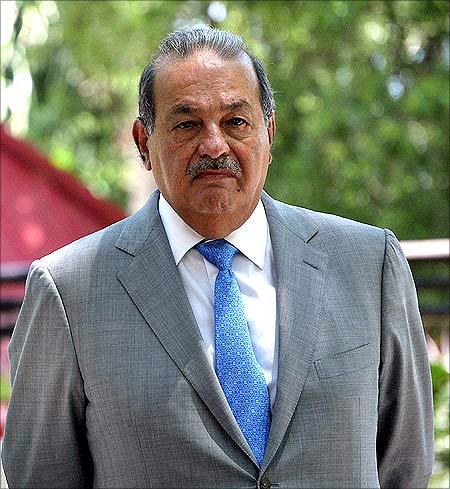 The world has 1,210 billionaires with a combined wealth of $4.5 trillion.
Food inflation falls sharply to 9.01%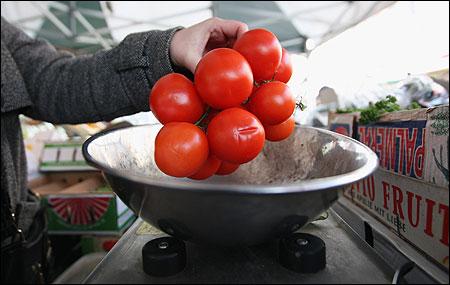 However, prices of most agricultural items, barring potatoes, onions and wheat, continued to rise.
Rupee fall due to FII pullout? Time to end P-Note menace!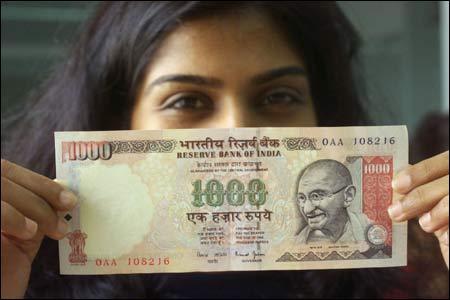 Participatory Notes (P-Notes) are derivative instruments issued by FIIs to foreign investors -- individuals or corporates -- who want exposure to Indian equities, but do not want to register with Sebi.
'Tata family is small. So, there isn't much to choose from'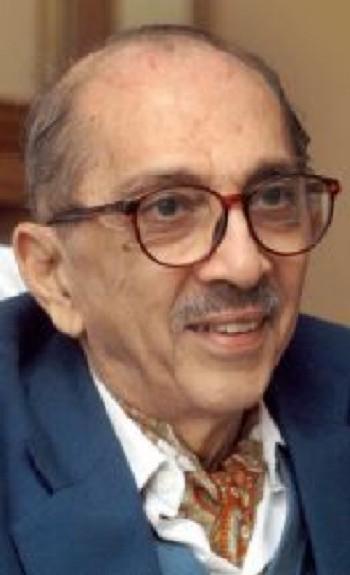 Russi M Lala, 82, celebrated chronicler of Tata Group stories, has seen the top leadership for two generations very closely. He was JRD Tata's biographer and also director of Tata's premier foundation, the Dorabji Tata Trust, for 18 years. He talks about the new leadership and what it means for the Group.
IMAGES: Strong winds damage Beijing's stunning airport!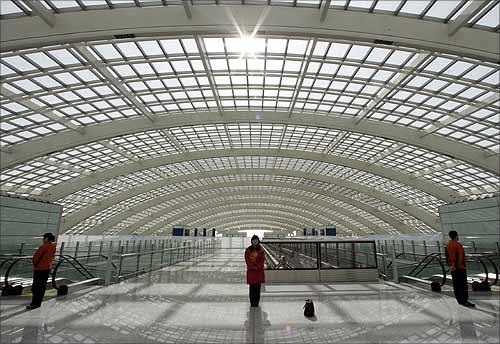 Strong winds damaged the roof of third terminal building at the much admired Beijing Capital International Airport for the second time in a year, raising doubts about the resilience and the quality of construction of the land mark structure.
Meet the new crown prince of the Tata group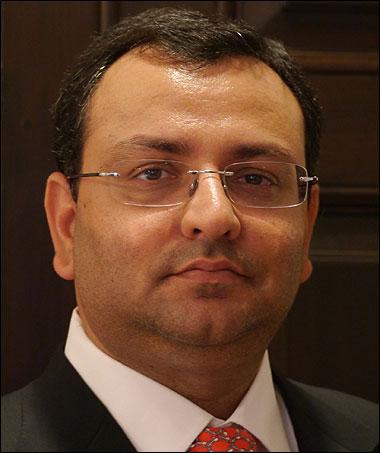 "A reclusive construction tycoon" is how an industry captain, who claims to be his friend, describes Cyrus. In that sense, he has striking similarities to the man he is succeeding and who he admires the most. Even after so many years of staying in the limelight, Tata also remains low-key and shy.
Special: 10 companies that rule the world!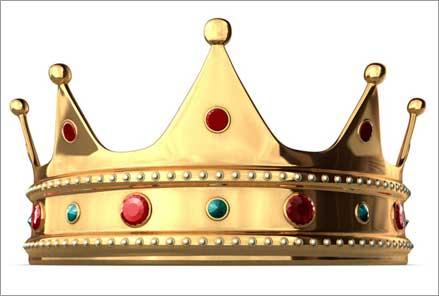 It is no secret that a small group of financial institutions run a major part of the world.
How Cyrus Mistry steered Shapoorji's fast-track growth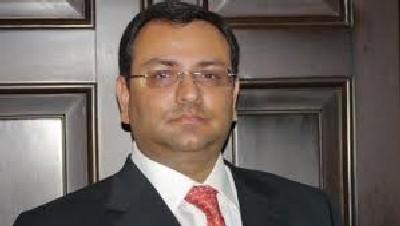 In the decade and a half he has been at the helm of the Rs 9,000-crore group (Rs 90-billion), Mistry has helped it build an impressive portfolio.
Tata succession: How the 'Mistry' was solved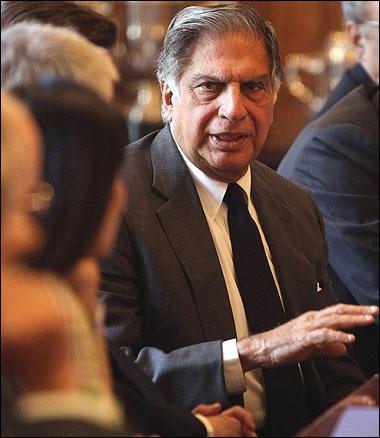 They had to finalise Ratan Tata's successor by the year end and they had already cast their net wide.
Jobs: South Asian nations that are booming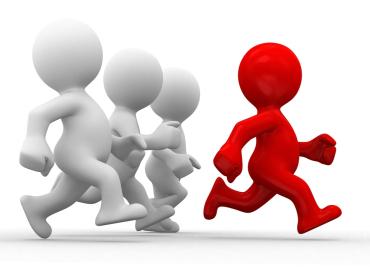 While workers in the United States and Europe are having a difficult time in not only finding a job but also keeping it, the situation in South Asia, including India, is somewhat different.
10 best smartphones to gift!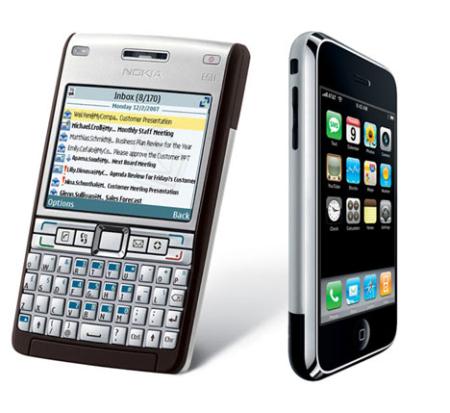 With Christmas and New Year approaching, it is once again time to make endless trips to shopping malls to select the best gifts for the holiday season.
November 23, 2011
Govt to allow 51% FDI in multi-brand retail: Cabinet note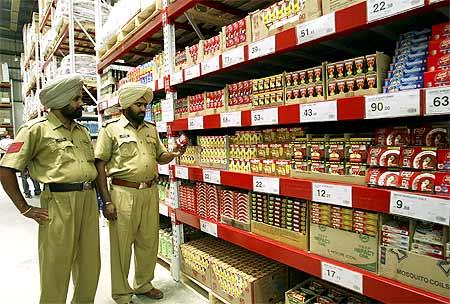 In what will be a historic decision, the Union Cabinet is likely to clear a policy paper that seeks to allow 51 per cent FDI in multi-brand retail trading and 100 per cent FDI in single-brand retail on Thursday.
FIRST LOOK: The man who will succeed Ratan Tata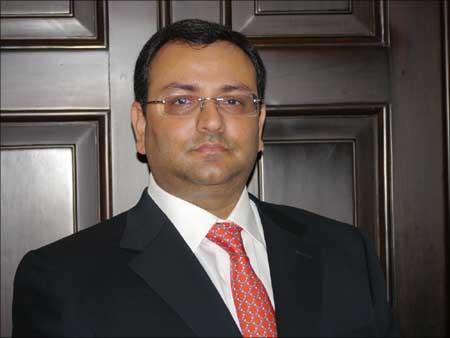 Mistry will work with Ratan Tata over the next year and take over from him when he retires.
Occupy Wall St: Who will meet protestors' demands?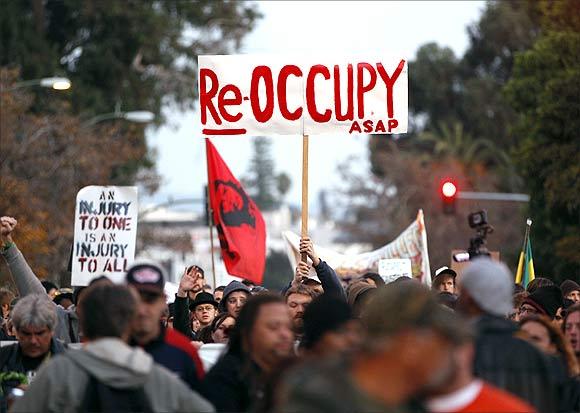 Last week's police actions against the 'Occupy' encampments -- from Oakland to New York in the United States -- will not snuff out the underlying energy, says .
Sabeer Bhatia on his new venture, JaxtrSMS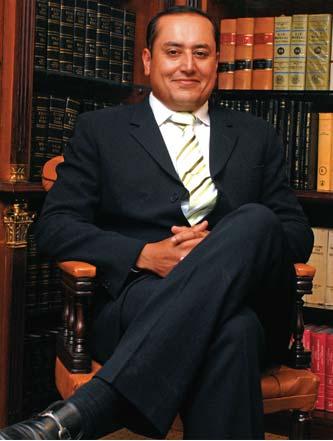 JaxtrSMS, co-founded by Bhatia and Yogesh Patel, is an application that allows users to send text messages for free anywhere in the world. It took Bhatia and a team of 50 people over a year to come out with the latest offering. While Bhatia has announced three more ventures - Arzoo, Instacoll and SabseBol - after Hotmail, JaxtrSMS would see him back at the helm as a chief executive officer.
PHOTOS: 15 most innovative gadgets in the world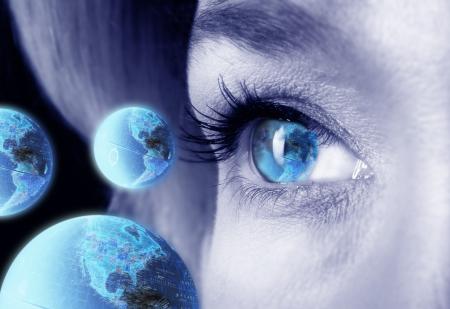 World is witnessing introduction of most innovative gadgets.
Special: Pressure on Anil Ambani, Tata off in 2G scam case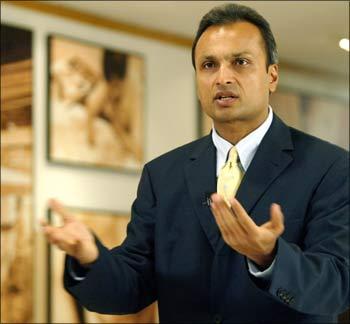 Gautam Doshi, Surendra Pipara and Hari Nair, senior executives of the Reliance ADA Group who were granted bail on Wednesday by the Supreme Court in the 2G spectrum scam case, will provide major relief to their high-profile boss Anil Ambani.
Property prices go down across 9 cities in September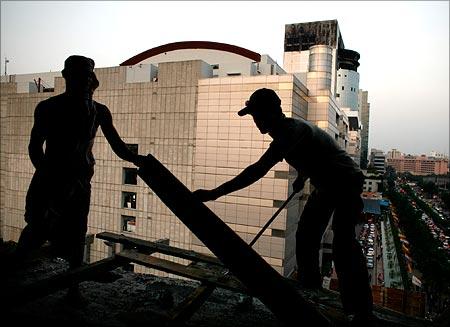 The number of cities with property rates rising was down to six in the second quarter, against 12 earlier, according to the NHB index.
IMAGES: These 8 cars will sport a new look in 2012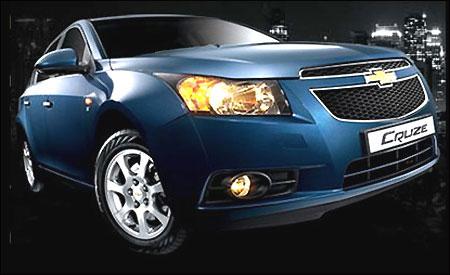 Some of facelifts in India will include cars from highly prominent car makers.
Column: Rising disparity: How to bridge the gap?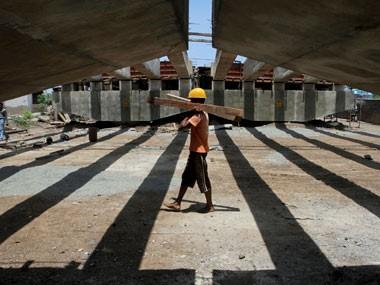 India's disappointing human development status is well known. It is a virtual tailender among the newly emerging BRICS economies Brazil, Russia, India, China and South Africa which are expected to become the engine of global economic growth as the developed countries slow down.
Faces of the 2G spectrum scam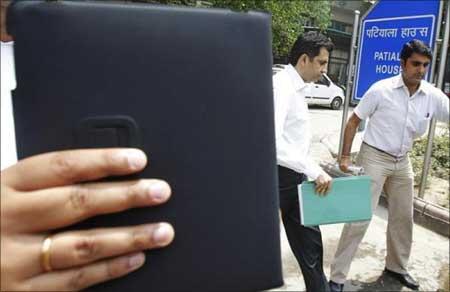 Here are some of the top executives and politicians who have been linked to the 2G spectrum scam in India.
MAYHEM! Why Sensex crashed by over 500 points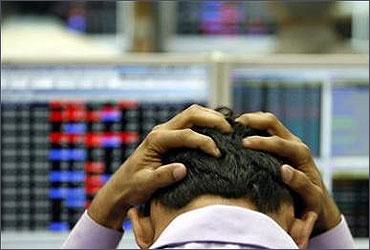 The Bombay Stock Exchange's benchmark Sensex crashed by 580 points to 15,484 at 1230 hours on Wednesday as operators succumbed to fresh selling pressure amid a rapid pullout of foreign capital as a poor manufacturing outlook for China and weaker-than-expected growth in the United States spurred fresh fears of a global slowdown.
What makes Assam's Muga silk as expensive as gold!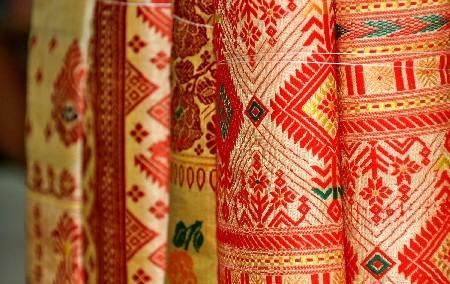 Muga silk (Muga Paat) or the golden silk is not only a nature's gift to Assam, but also a symbol of rich Assamese culture. It represents the brilliance of traditional attire of the region. The most significant characteristic of 'Muga silk' is its golden bright hue.
Job freeze casts a chill again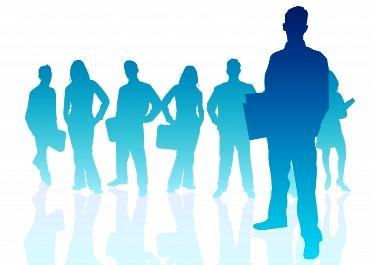 India Inc is not flashing the pink slip yet, but multitasking is the buzzword.
End 'decision-making paralysis': Industry to UPA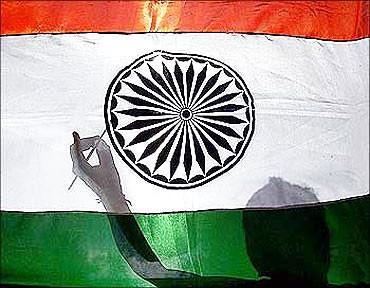 Reminding the UPA-II government about the need to reverse the negative perception of a 'decision-making paralysis', industry body Assocham has made a pitch for second-generation reforms in various sectors, including finance, banking, taxation and agriculture.
2G scam: Five top executives get bail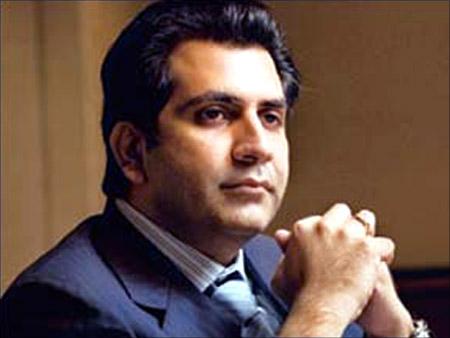 The Supreme Court has granted bail to five corporate executives in 2G spectrum case.
IMAGES: 25 stunning cars that will make you drool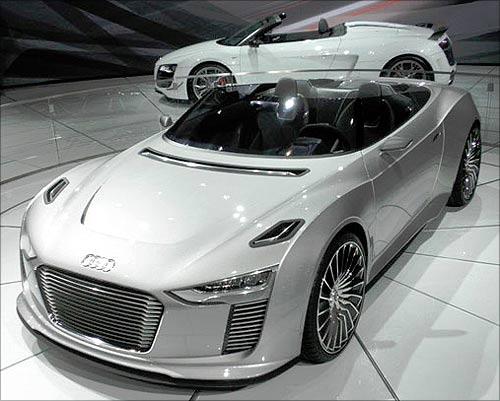 The Los Angeles Auto Show had an interesting showcase of the latest vehicles.
10 BEST IT companies to work for in 2011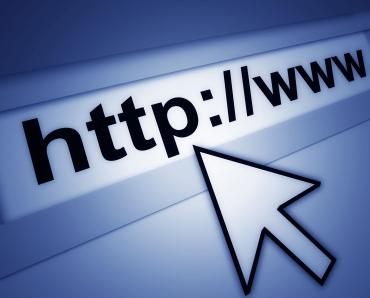 Information technology companies have always dominated Fortune magazine's '100 Best Companies to Work For' list for many years.
PHOTOS: Splendid interiors of the Burj Khalifa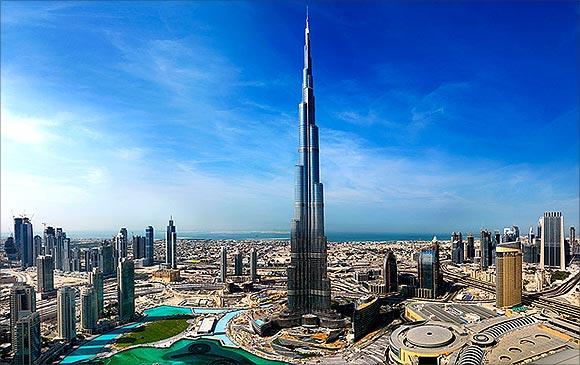 The world's tallest tower is Dubai's masterpiece, Burj Khalifa.
November 22, 2011
Your foreign travel is COSTLIER now! Here's why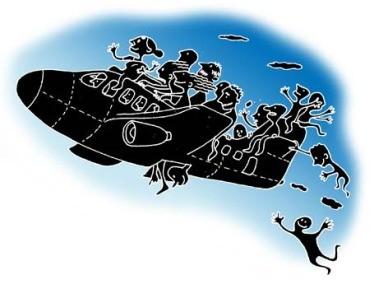 The depreciating rupee against dollar is burning a bigger hole in the pockets of Indians travelling abroad with travel firms hiking charges to offset the impact.
Falling rupee scares car makers; price hike likely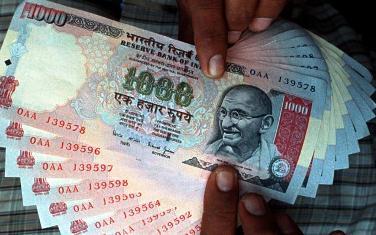 Hit by the depreciating rupee, auto companies, including General Motors India and Toyota Kirloskar Motor, are mulling hike in prices to offset the rising cost of component imports.
No names before launch of prosecution: FinMin on black money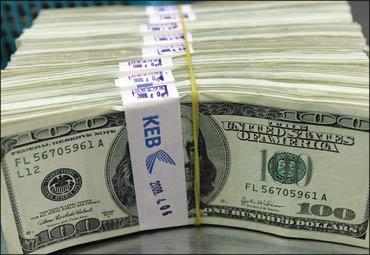 The government on Tuesday said it cannot disclose the identity of persons involved in black money cases before initiating prosecution proceedings.
PHOTOS: 12 fastest growing economies in 2012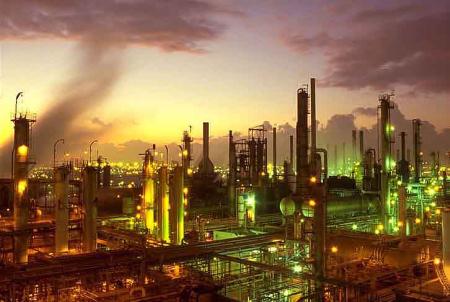 Some countries, including India and China, that are poised to post impressive growth numbers.
Govt hopes inflation to come down to 6-7% by March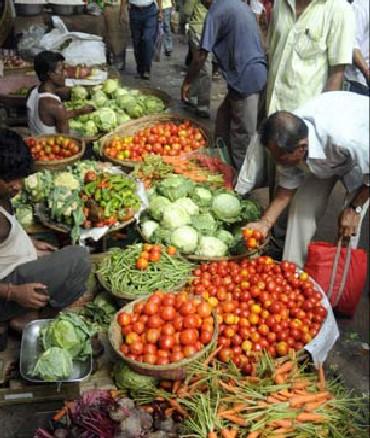 The finance minister attributed the rising prices to demand-supply mismatch, depreciating rupee, global commodity prices and easy monetary policy followed by some countries.
Who is Kingfisher's latest 'white knight'?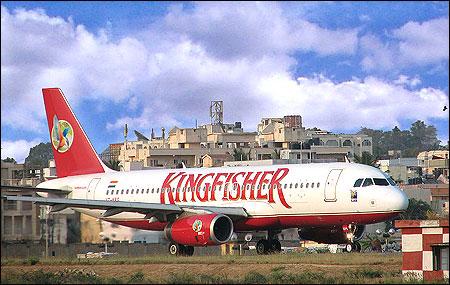 Malvinder Singh's name is thrown up by rumour mills, after Tata, Reliance & Sahara.
Smart tips on short term trading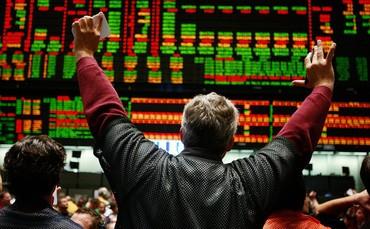 Apart from knowing the rules, investors should also understand that short term trading mostly relies on luck and on study, which at best can be termed speculative.
Rupee at all-time low; RBI move won't stop fall, says Pranab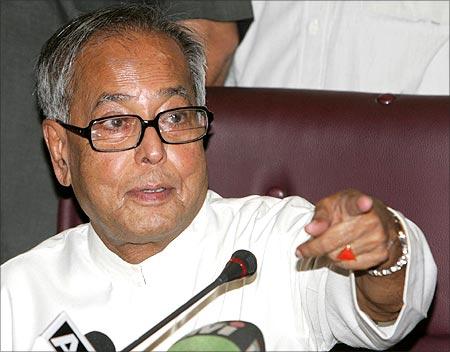 The Indian rupee dropped by 58 paise to a lifetime low of Rs 52.73 per US dollar in early trade on Tuesday on persistent demand for the American currency from banks and importers amid sustained foreign capital outflows from the equity market.
Want to transfer your insurance policy? All you need to know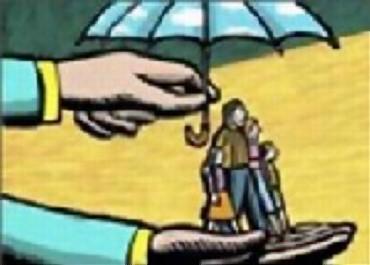 Effective 01 October 2011, health insurance has become portable and you are now free to move to another provider and carry along all the credits gained for having been loyal.
Debt story: Indian banks with HIGHEST NPAs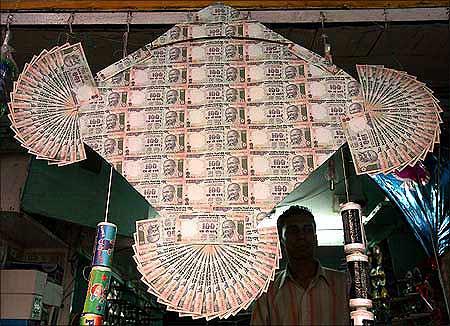 Bad loans are turning nightmarish for Indian banks.
Solve this employee harassment case and win Rs 25,000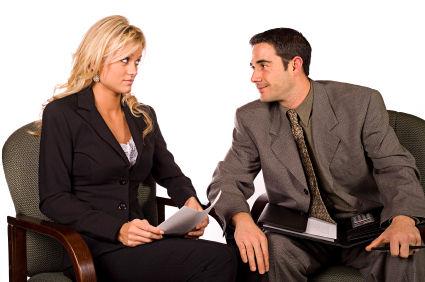 An alleged case of harassment against one of his employees by business associates puts an hotelier in the biggest crisis of his career.
US-India partnership can bring poor into knowledge pool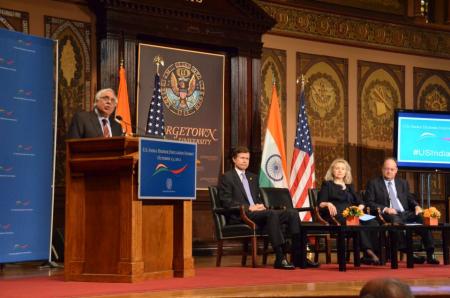 It is time for the US to reposition its foreign policy.
How Mahindra developed XUV500. The TRUE story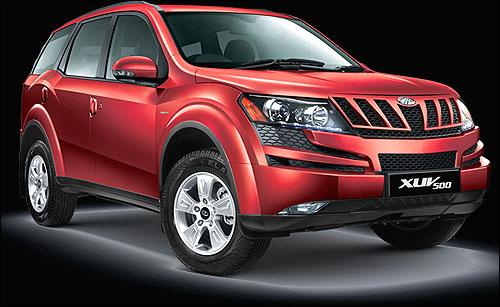 Tracing the development of the Mahindra XUV 500, the company's first four-wheeler to be fully styled in India.
Special: Why India too is a TAX haven now!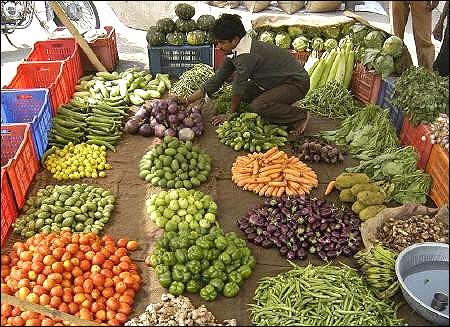 It would seem when it comes to secrecy on bank accounts the Indian government seems to have a tacit arrangement with the Swiss -- even if the Swiss fail in protecting the identity of crooks, India will, says .
MUST READ: The happiest cities in India; Jaipur tops!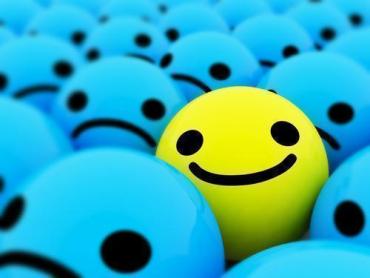 With slowing down of the Indian economy and inflation gnawing into the entrails of our existence, any information on the happiest cities of India makes interesting reading.
November 21, 2011
Infosys sounds the WARNING for IT sector!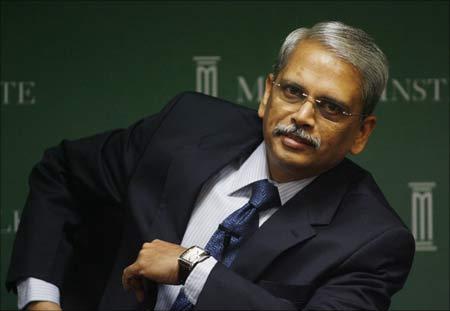 Infosys says further deterioration of economic conditions in US and Europe could hit the domestic IT sector.
Rupee, Asia's worst performing currency, in a free fall!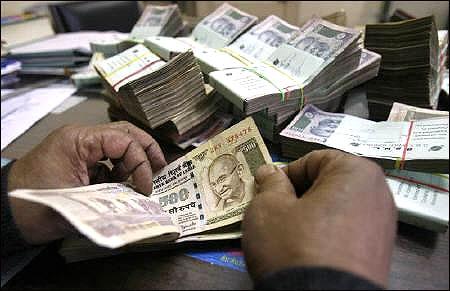 The rupee plunged to nearly 33-month low of sub-52 level after losing a whopping 81 paise against the United States currency on sustained dollar demand amid weak trends in stock markets and deepening euro-debt crisis.
Are UPA's long-term policies counterproductive?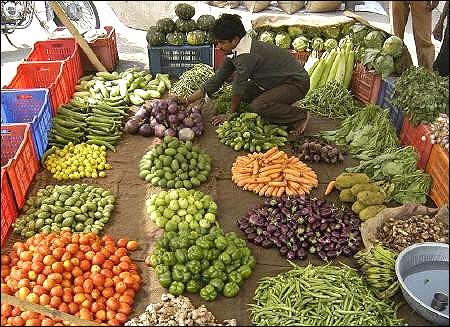 The only option is to cool demand. In other words, cut back on spending and aim for slower growth.
Buying a smartphone? First, know its operating system…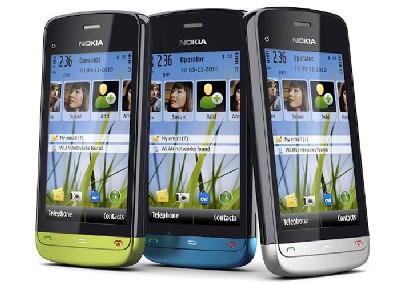 There are five main mobile operating systems (OS); each claiming superiority over the other. Arguably, options are always good for users but with mobile phones it means making a confusing choice between the latest devices in the market and going by someone's recommendation. Here's what you should consider before getting your OS.
Tata Motors launches more powerful Nano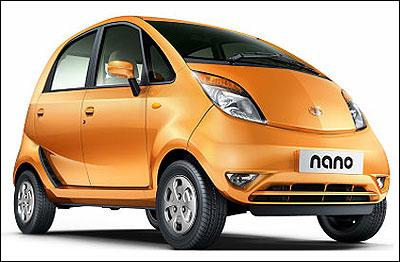 The car's 624cc engine has been made more powerful.
AC rail travel may cost MORE in negative list of services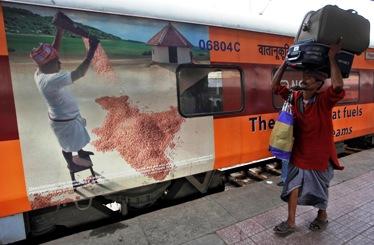 There could be rise in the cost of construction work, renting of vacant land and rail travel in air-conditioned coaches, if a set of government proposals on taxing services comes into effect.
Kingfisher may hive off ATR aircraft fleet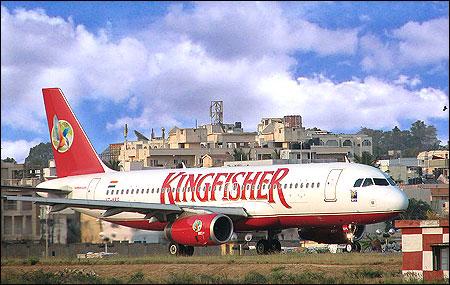 Kingfisher Airlines, struggling to stay afloat, may spin off its ATR fleet and loyalty programme (frequent flier programme) into separate units.
iPhone 4S bookings open @ Rs 50,900!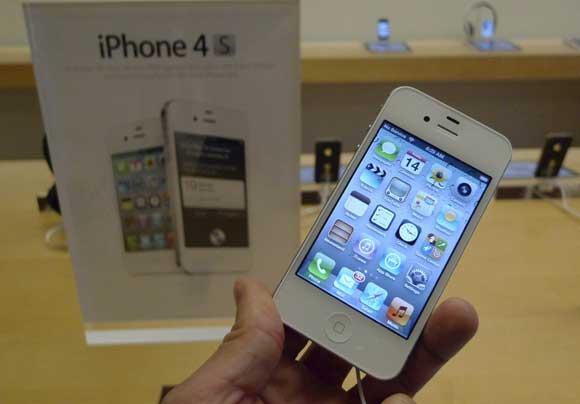 The latest version of Apple's iPhone 4S is now open for pre-bookings in India, at a price which is more than that in other countries.
Rise in demand for Indian workers abroad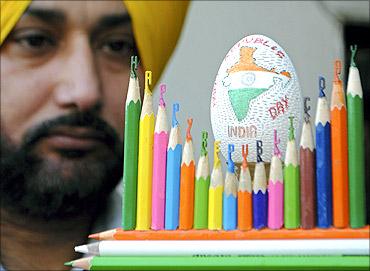 Indians are emerging as favourites of overseas companies looking for temporary but experienced workforce for specific requirements available at low cost, says experts.
Labour woes, rising costs hit realty firms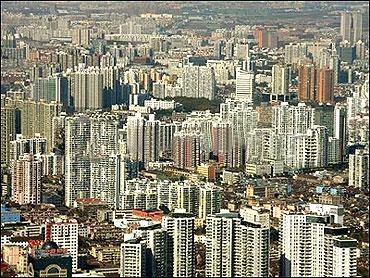 The shortage of labour, a fund crunch, high interest rates and steep input costs have hammered the net profits of major real estate developers in the second quarter.
Good news! Tatkal booking in one day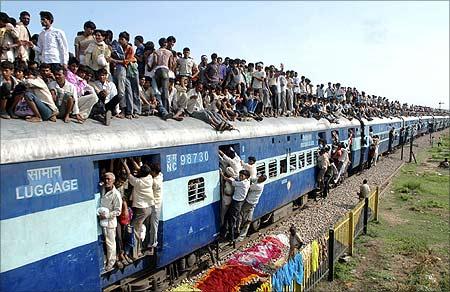 The new Tatkal booking scheme in which the train reservation period has been reduced to one day from two days will come into effect from Monday.
WARNING: Beware of the virus attack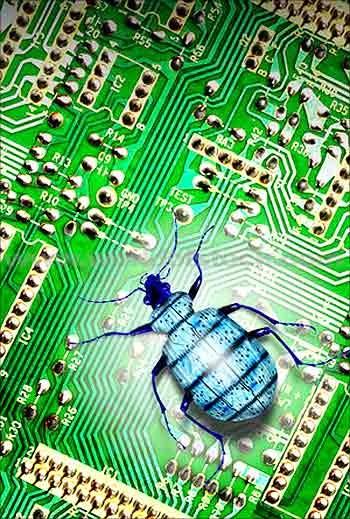 According to the Security Threat Report organisations across India spent an average of $7.2 million (Rs 32 crore) in 2010 to deal with damages caused by data breaches.
Govt nudges LIC to buy 10% stake in Kingfisher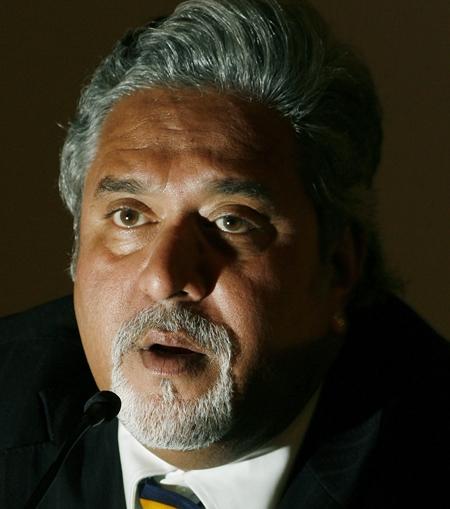 Its lenders, who hold around 23 per cent of the debt-laden airline, have asked the promoters to bring in equity before they lend more.
IMAGES: Dazzling cars at the Los Angeles Auto Show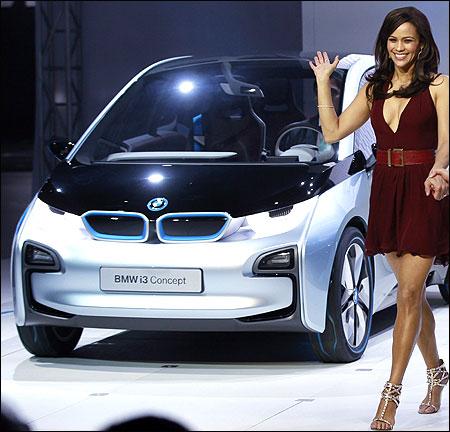 Started way back in 1907, the Los Angeles Auto Show has an illustrious history.
Images: World's 20 TALLEST towers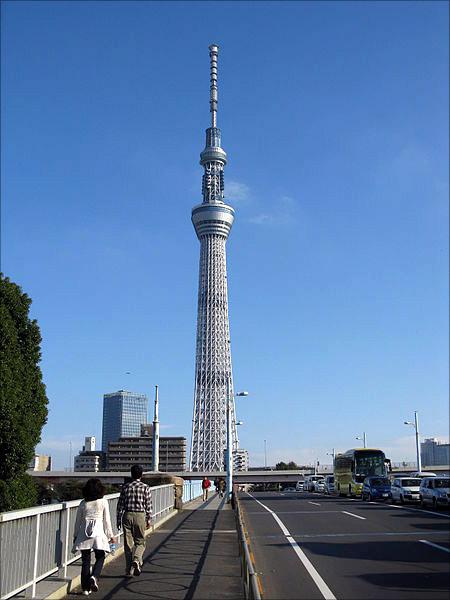 While the world's tallest building is Burj khalifa in Dubai, the world's tallest tower is Tokyo Sky Tree.
MUST READ: India's 15 best banks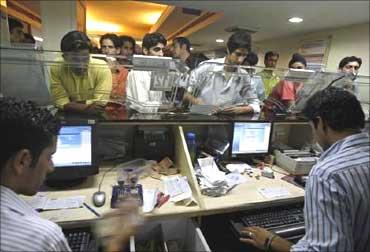 All the banks mentioned here have balance sheet size greater than Rs 50,000 crore (Rs 500 billion).
Past imperfect, future tense for India Inc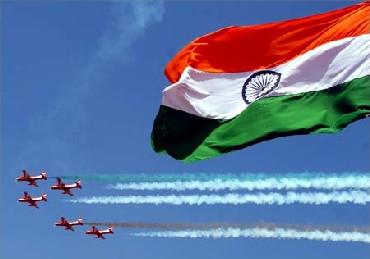 And, Future Group chairman Kishore Biyani, who has copyright on the famous ad tagline, admits even steep discounts didn't help much in many regions this year.
Check out these attractive double-decker buses!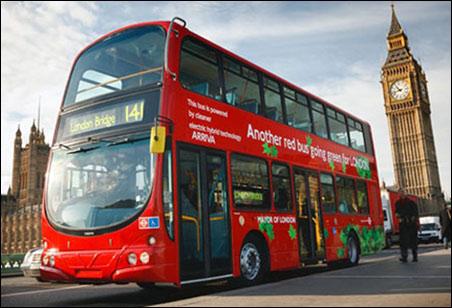 Double-decker buses are a big attraction for commuters.
November 18, 2011
Diesel, LPG prices UNLIKELY to be hiked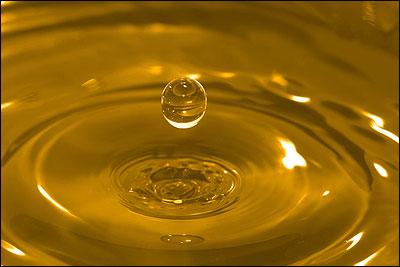 A top oil ministry official said it will be "suicidal" to even think of raising prices of diesel, LPG or kerosene just before Parliament is to meet.
Infrastructure? India needs $20 trillion in 20 years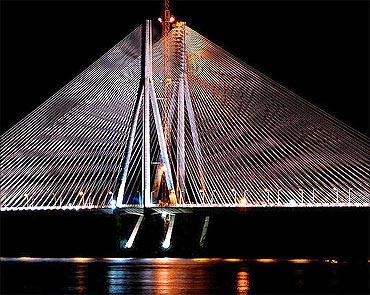 The report, 'The roots of growth: Projecting EM infrastructure demand to 2030', produced jointly by Cambridge Judge Business School and the Royal Bank of Scotland, predicts that the emerging world will need to spend $20 trillion dollars on infrastructure over the next 20 years.
India's quarterly gold demand declines 23%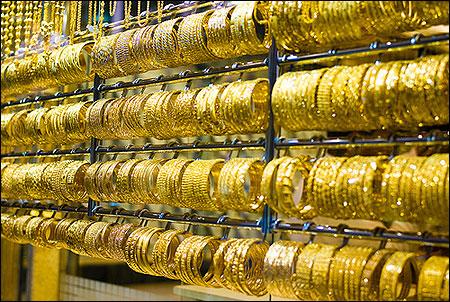 Slump after 5 quarters amid high prices, rupee depreciation.
Cityscapes: STUNNING photos of world's great cities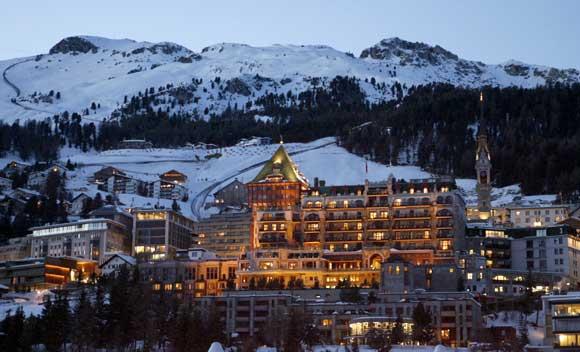 Here are spectacular photographs of the skylines of some of the greatest cities in the world.
Dubai Airshow records USD 63.3 billion worth of orders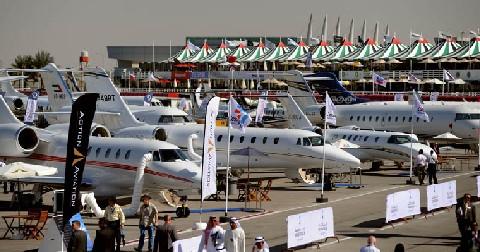 The orders for aircraft, maintenance services and flight training programmes at the 12th edition of the airshow, which concluded on Thursday, are much higher than the last edition in 2009 which recorded orders worth USD 14 billion.
Indian HNIs feel inherited wealth a burden: Survey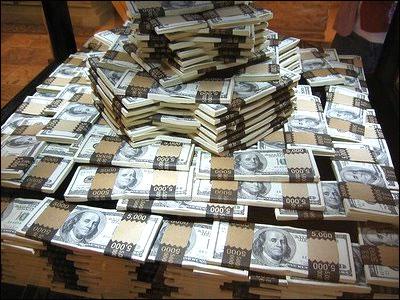 India has more of first generation high net worth individuals than the one who have inherited wealth.
IMAGES: 55 new cars arriving in 2012 even as old sell less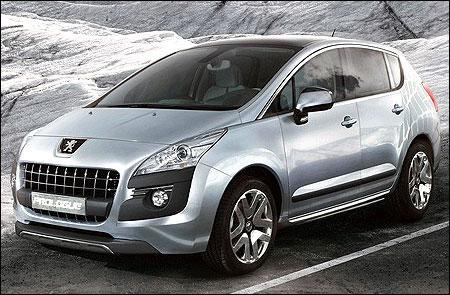 The last edition (in 2010) featured 50 launches, including 10 global debuts.
PHOTOS: Benetton's most controversial ads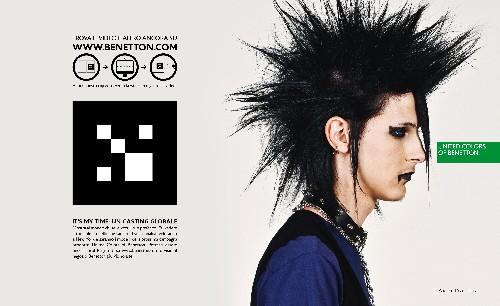 Each time Benetton releases a controversial ad, it is making a statement by pushing a political agenda, or sensitive subjects that are deliberately offensive to some people. In a way, it takes the age-old advertising tactic of challenging reality to its extreme.
IMAGES: Climate change: 10 nations that face highest RISK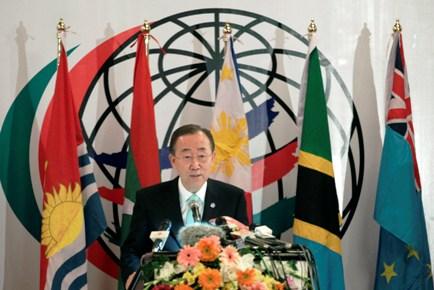 The British risk analysis firm Maplecroft recently released a 2011 scientific report ranking the top 10 countries at extreme risk for impacts from climate change.
Kingfisher cancellations EXTENDED till March 2012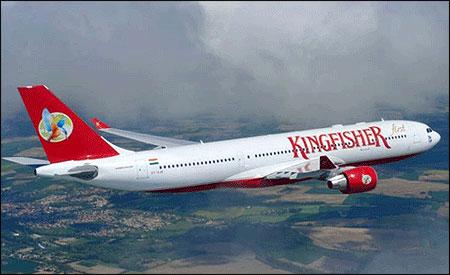 The carrier is loaded by debt of as much as Rs 7,000 crore.
8 Indians amongst world's TOP management gurus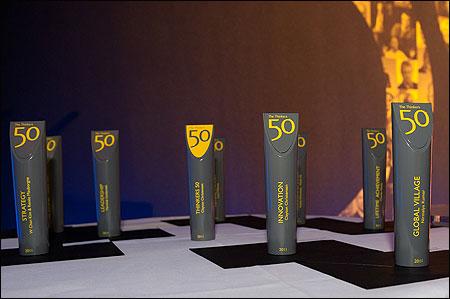 These are people known little to the general public but revered throughout the business world.
The most EXPENSIVE iPads, phones and laptops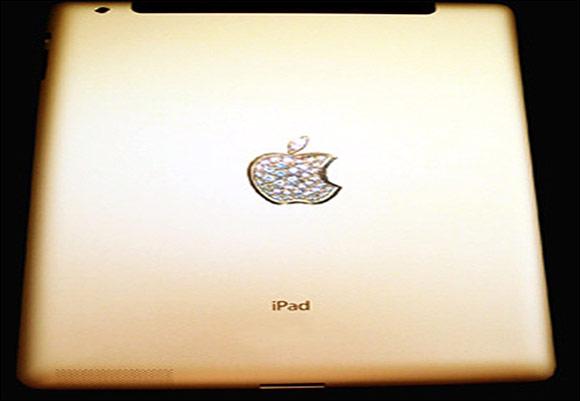 UK designer Stuart Hughes is known for crafting masterpieces with the latest tech gadgets.
November 17, 2011
FinMin okay with 51% FDI in multi-brand retail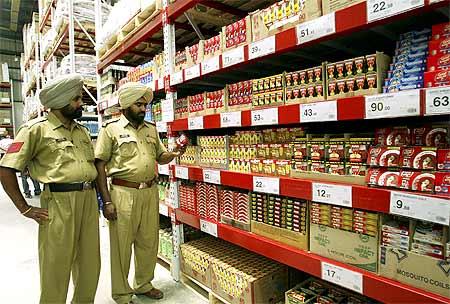 The finance ministry has given its consent to the draft Cabinet note on opening the multi-brand retail to foreign investment, an official said.
Needed: $1,000,000,000,000 for India's infrastructure!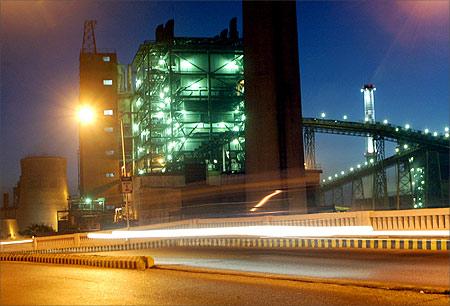 India's infrastructure sector will require investment of about $1 trillion in the 12th Five-Year Plan, double the amount envisaged in the ongoing Plan period, a report says.
India plans super-regulator for aviation sector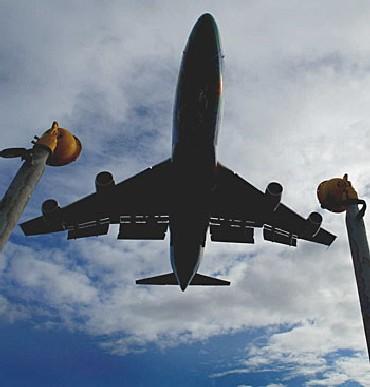 A draft bill to set up a powerful Civil Aviation Authority for better regulation of the aviation sector is in an advanced stage of getting the official nod, official sources said on Thursday.
IIM-A to give marketing lessons to Gujarat prisons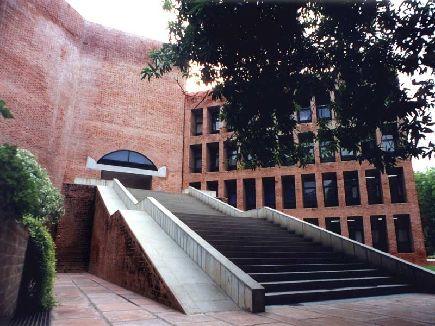 Sabarmati Central Jail in Ahmedabad and Central jail in Baroda have contacted IIM-Ahmedabad to help them in issues related to sale, distribution and management of factory products and also help inmates acquire more skills which they may be able to best utilise outside when they are released from prison, Dheeraj Sharma, associate professor of marketing and international business, IIM-Ahmedabad, said.
Is the green Ministry reactive, not pro-active?
A rash of clearance issues with infra projects raises the question of who really is responsible for the delays.
MNREGA: Ramesh writes to Mayawati again on irregularities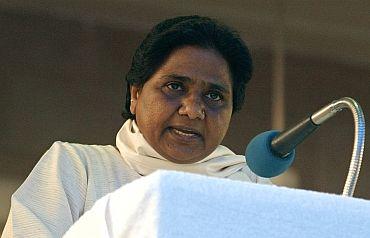 In a 14-page letter to Mayawati, Ramesh cited the instances of alleged irregularities and corruption in implementation of the scheme in Balrampur, Gonda, Mahoba, Sonbhadra, Kushinagar, Mirzapur and Sant Kabir Nagar.
Has Pak granted MFN status to India? Not yet says Gilani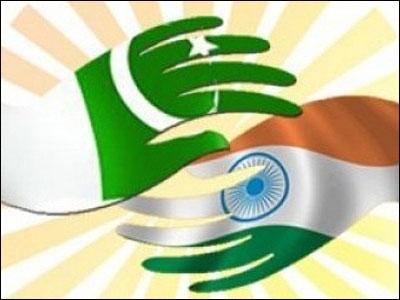 Gilani said the people and Parliament would be taken into confidence on the issue of giving MFN status to India.
Airlines WARNED on mounting fares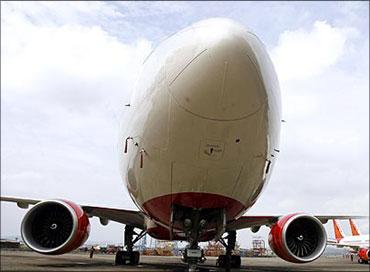 With airfares mounting in the last couple of weeks primarily due to cancellation of Kingfisher flights, aviation regulator DGCA on Thursday warned airlines not to raise air ticket prices beyond a given range.
Decision on foreign airlines buying stake soon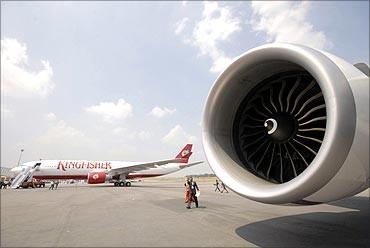 The government is likely to take a final decision on allowing foreign airlines to pick up stakes in Indian carriers in a 'couple of weeks', with the Union civil aviation ministry proposing a 24 per cent cap as against 26 per cent recommended by the industry ministry.
Aviation fuel price 50% HIGHER in India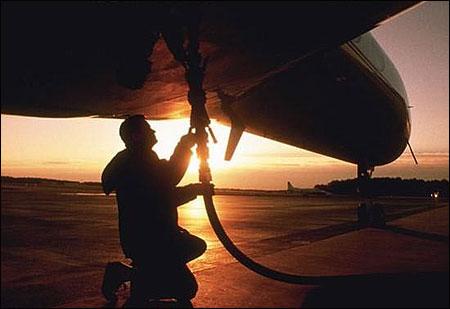 Even flights on foreign routes pay more when they refill in India.
Airlines hit by rising fuel price, lower fares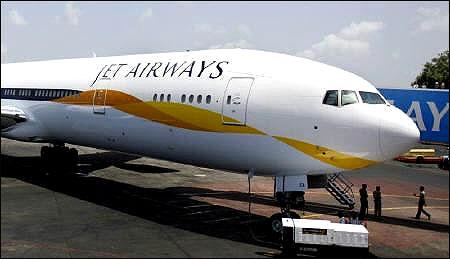 Jet, Kingfisher, SpiceJet in the red during September quarter, despite 20 per cent rise in passenger numbers.
IMAGES: The world's top 10 emerging economies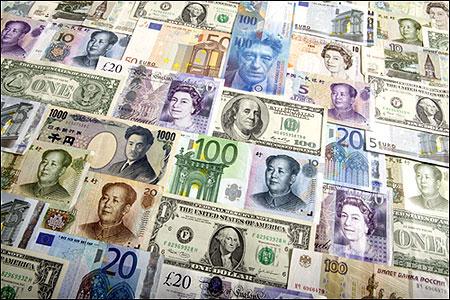 Even though emerging markets generally do not have the level of market efficiency and strict standards, they are most sought after by investors.
Why Indian American entrepreneurs are key to Indo-US relations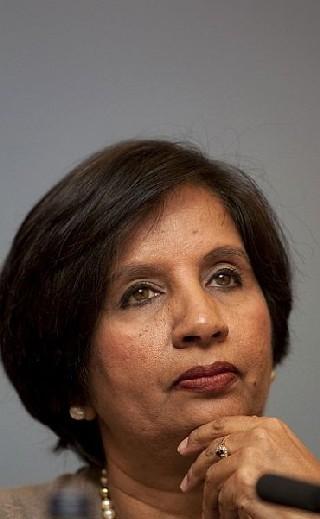 Ambassador Rao says role of Indian American entrepreneurs take on new meaning; also acknowledges the contribution and inspiration of Nobel Laureate Hargobind Singh Khorana.
IIT Bombay alumni appointed CIO of Washington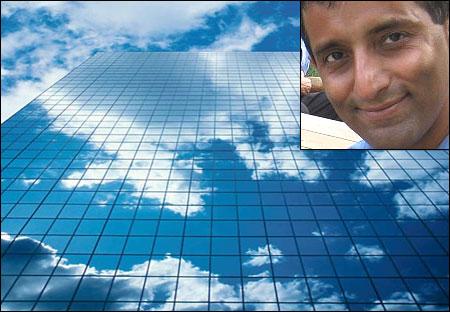 Shyam's appointment was announced by Washington Governor Chris Gregoire on Monday.
Falling rupee may breach 52 level against US$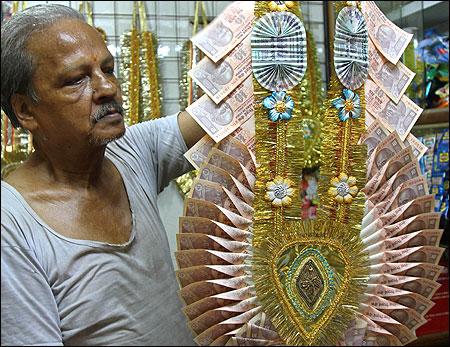 Global risk aversion and India's widening current account deficit have dragged the rupee close to all-time low.
Images: The FASTEST growing cities in India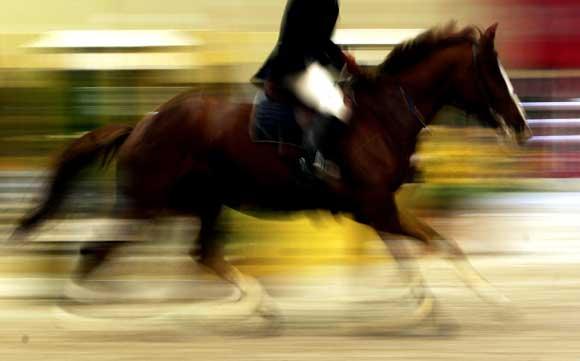 There are 37 Indian cities among the world's 300 fastest growing urban centres, according to a survey conducted by the City Mayors Foundation, an global think tank on urban affairs.
Photos: Meet India's most INNOVATIVE young minds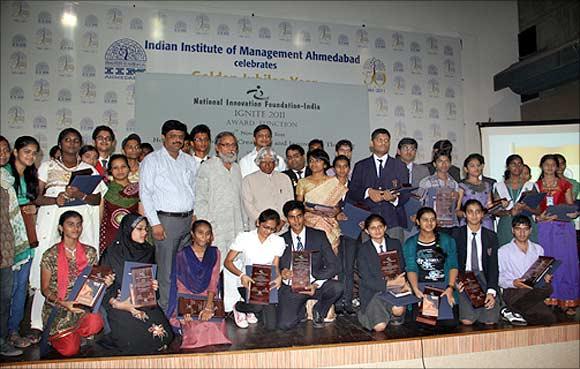 IGNITE is a national competition to harness the creative and innovative spirit of school children organized by the National Innovation Foundation.
Hopes run high as PM leaves for ASEAN meet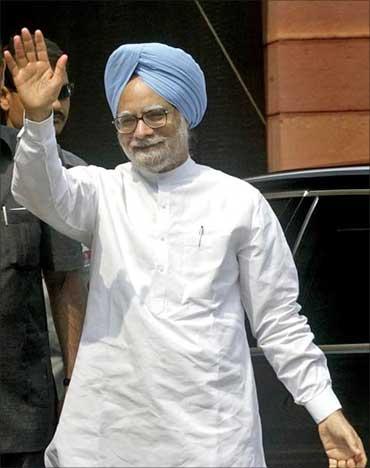 Prime Minister Manmohan Singh left for Bali and Singapore on Thursday.
US debt tops $15 trillion. HIGHEST in world history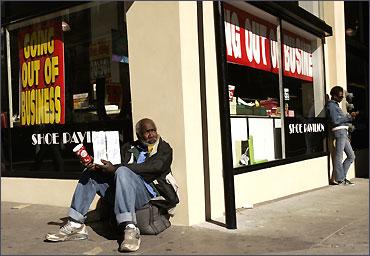 Once the envy of the world, these nations are now posing a threat to the world economy.
IMAGES: Stunning IT parks of India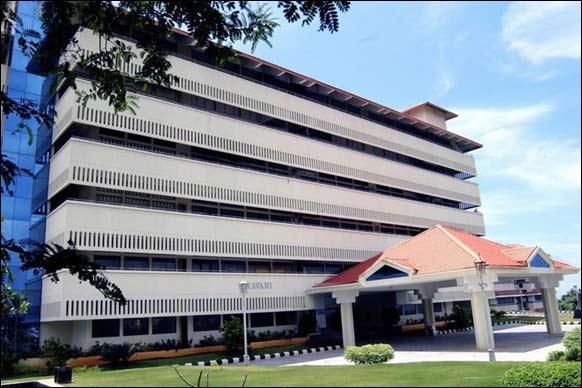 India has some of the best IT parks in the world.
November 16, 2011
The 6 outstanding winners of the Infosys Prize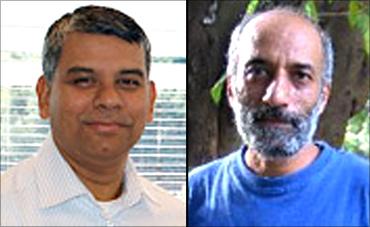 Infosys Science Foundation announced 2011 prize winners across five categories.
IMAGES: The Rs 6.75 lakh Skoda Rapid launched!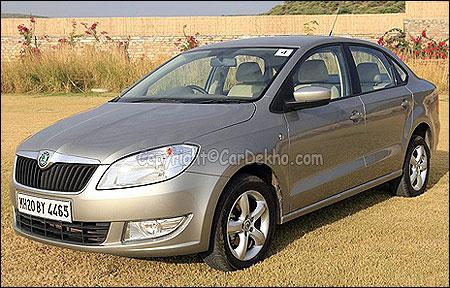 Skoda launched Rapid in both diesel and petrol variants in order to boost up sales substantially.
Now, Indian scientists produce petrol from plastic!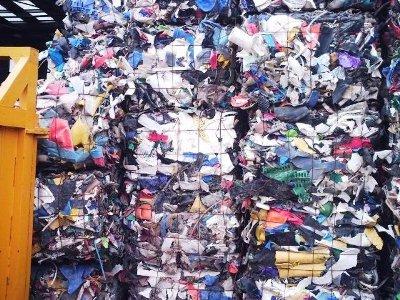 A team of scientists at the Indian Institute of Petroleum in Dehra Dun has developed a new technology to convert environmentally-hazardous plastic into petroleum products.
COLUMN: Building Bridges in South Asia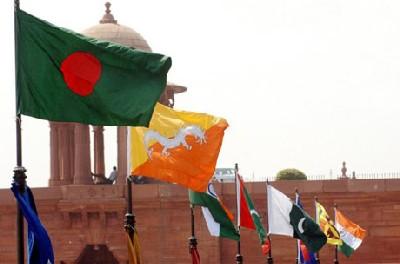 "Building Bridges" was the theme of the recently concluded South Asian Association for Regional Cooperation, or Saarc, summit in Addu (Maldives).
7 of the world's most beautiful mobile phones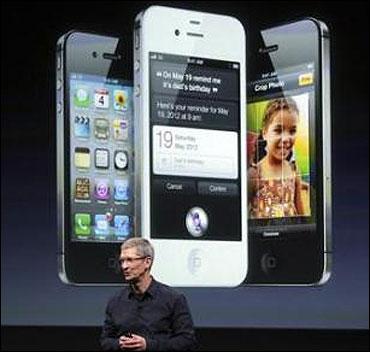 Here's we have listed the world best-looking mobile phones, ever.
Sanjaya Baru: America's strategic Pacific offensive!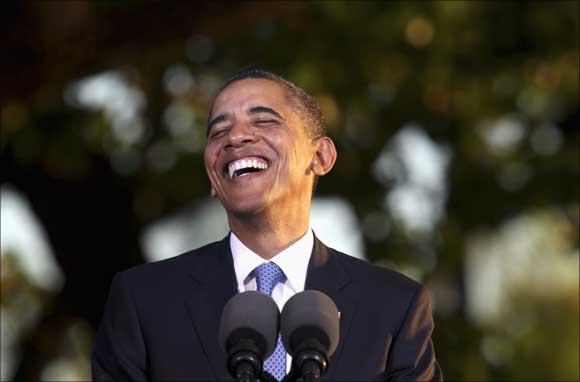 The United States is creating a new strategic framework for the 21st century and its Trans-Pacific Partnership is just one of the pillars of the new edifice, says .
China overtakes US in Land Rover sales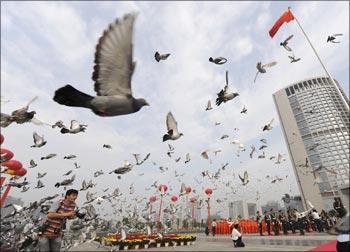 The UK is the single largest market for Land Rover.
Now, credit ratings agencies under EU scanner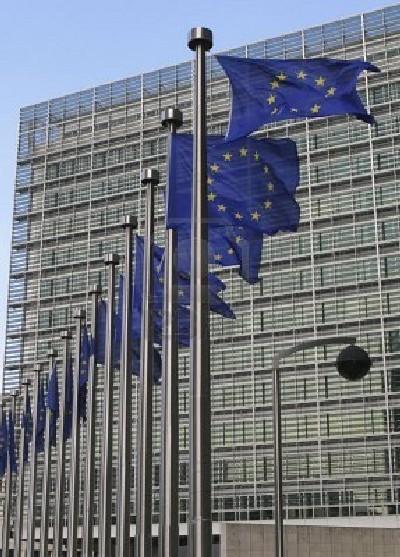 Responding to what is widely felt by the political establishment in Europe to be the "destabilising" role played by credit ratings agencies in the ongoing euro zone crisis, the European Commission unveiled measures to curb their power.
For old age, pick mutual funds over retirement schemes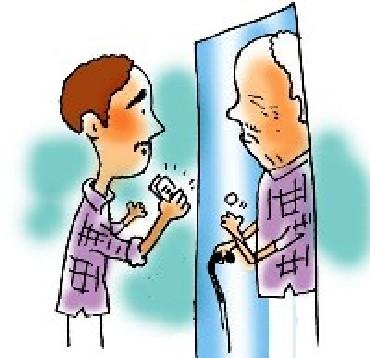 There are various mutual fund schemes to choose from, such as equity-diversified funds, mid- or small-cap funds, debt funds and so on.
IMAGES: World's 25 BIGGEST renewable power stations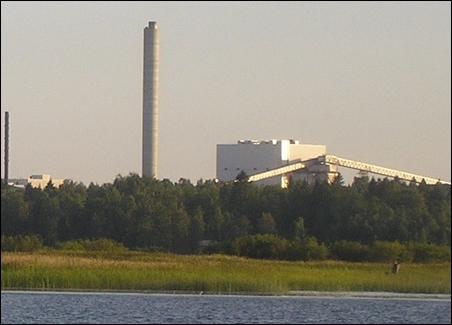 Renewable power stations run on fuel sources such as biomass, geothermal heat, water, solar and tidal energy.
Aviation turmoil: How some investors checked out in time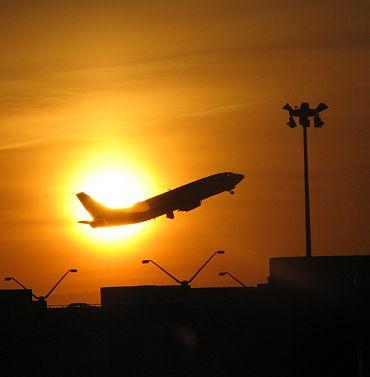 Their success formula was to enter the business at the right time and exit at the opportune moment.
Kingfisher promoters open to reducing stake to 26%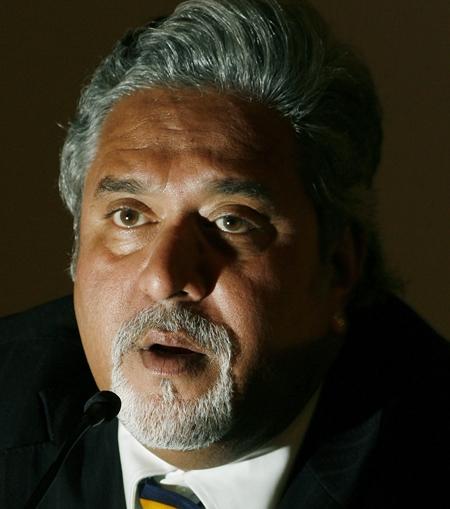 Talks initiated with Indian investors, private equity players.
IMAGES: The 8 stunning hatchbacks coming in 2012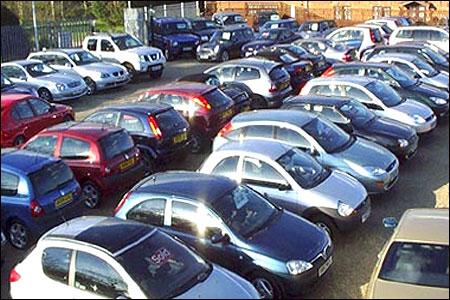 In India, major demand is for hatchback cars.
Scientist who runs world's most cost-efficient microfinance firm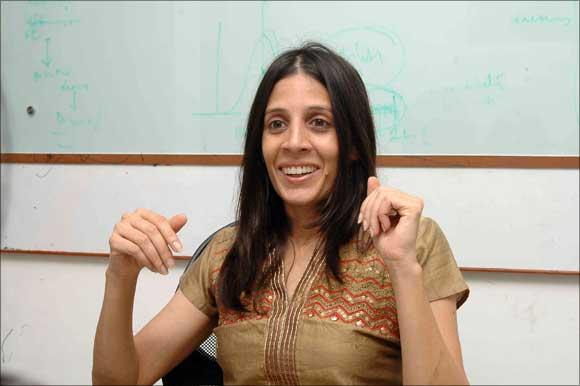 Dr Tara Thiagarajan is the chairperson and managing director of the Rs 200-crore (Rs 2 billion) Madura Micro Finance Ltd. She is also the director of Microcredit Foundation of India.
How the rasogolla became a global name!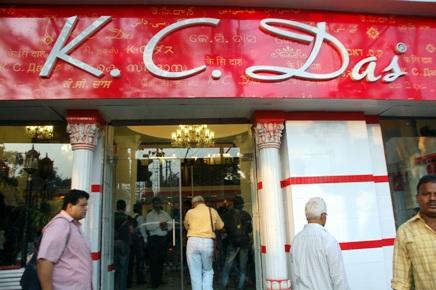 We recently paid a visit to one of the retail outlets-cum-restaurant run by K C Das, the company that played a significant role in granting the rasogolla international status.
Financial technology: World's top 20 companies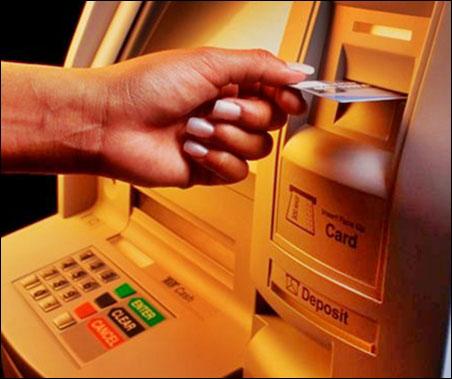 Even as uncertainty continued to hamper the financial sector, these companies tided over the difficult times.
Huawei launches world's 1st cloud phones in India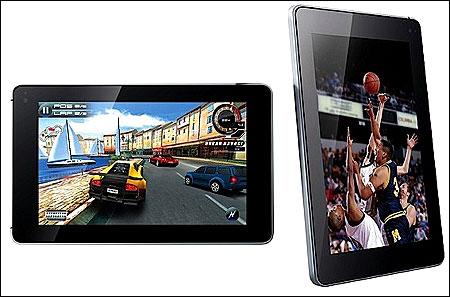 The company, which has just 6-7 devices in its portfolio as of now, is also looking at expanding its product range aggressively in the next few months.
November 15, 2011
Flying from Delhi? Now pay Rs 200 development fee!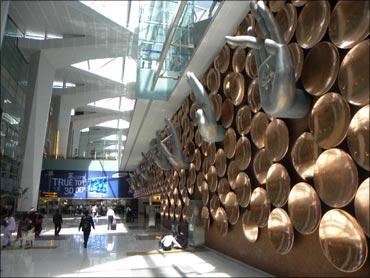 In an order, the Airports Economic Regulatory Authority has fixed these rates to be charged by the Delhi Internal Airport Limited with effect from December 1 for 18 months till May 2013 to help it bridge a funding gap of Rs 1,230.27 crore (Rs 12.30 billion).
Deve Gowda was napping when Indian Inc met him: Book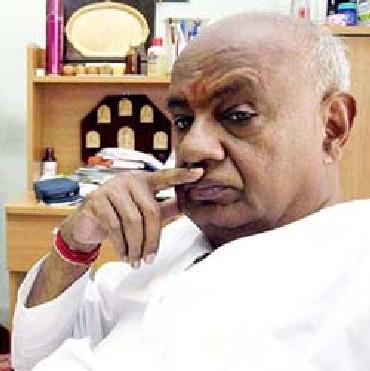 Known for his habit of dozing off, India's former Prime Minister H D Deve Gowda was literally caught napping when industry leaders went to meet him to discuss the deteriorating state of the Indian economy, DLF Chairman K P Singh has recollected in his autobiography.
STUNNING products at Japan electronics show!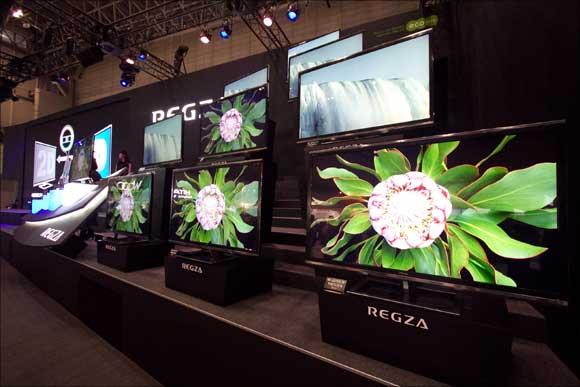 3D televisions were a major attraction at last month's CEATEC (Combined Exhibition of Advanced Technologies) show -- Japan's premiere consumer electronics event, held each year at Makuhari Messe, a convention centre outside Tokyo.
Kingfisher not shutting down, has not sought bailout: Mallya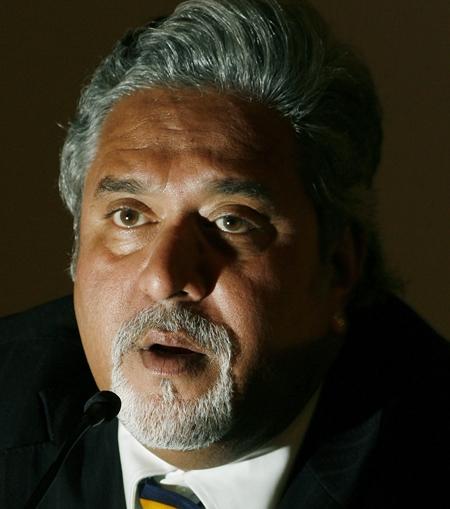 Battling financial crisis, Kingfisher Airlines Chairman Vijay Mallya on Tuesday said he has not asked for a bailout from the government but wants the lenders to help with Rs 700-800 crore (Rs 7-8 billion) working capital as short-term need and interest concessions.
Chidambaram: Caught by courts, bowled by Swamy?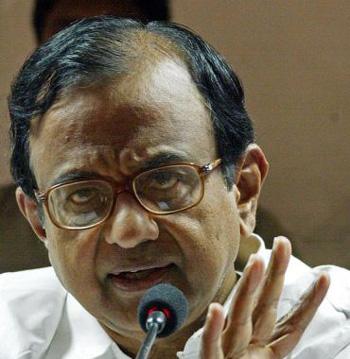 There are some rather inconvenient questions related to the 2G spectrum scam that the former finance minister may have to answer in the coming days, says .
Wealth woes: India tops in family feuds over inheritance!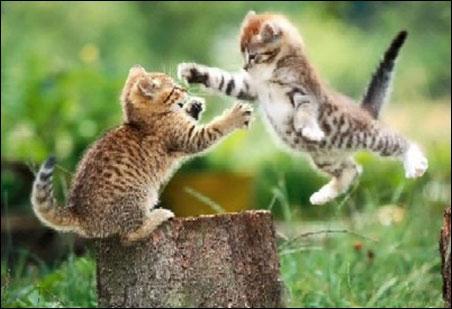 Forty per cent of the globe's wealthy population has direct experience of their family fortune leading to disputes, but the percentage is even higher in India, where 61 per cent of the rich have seen relationships deteriorate into feuds over money, according to a new report.
PHOTOS: Cops evict Occupy Wall St protestors in midnight raid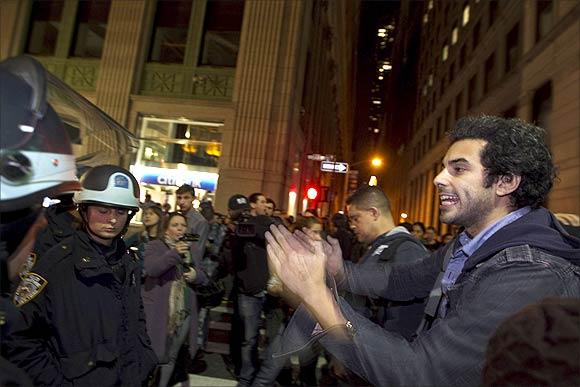 Police in New York City police descended on Zuccotti Park in the wee hours of Tuesday to forcibly remove Occupy Wall Street protestors who have been camping in Lower Manhattan since September 17.
5 marketing lessons from Ra.One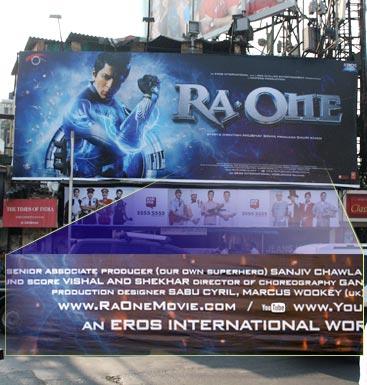 Endless promotion works only up to a certain point, says .
IMF calls for reform in China's financial system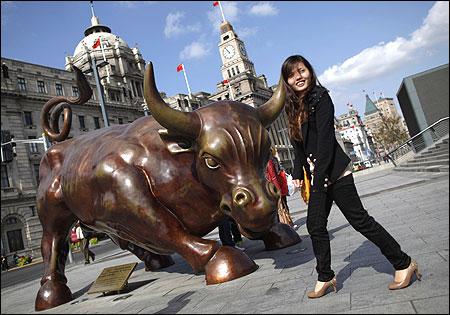 China's banks and financial sector are healthy, but there are vulnerabilities that should be addressed by the authorities.
Indians' spending on FMCG at malls set to skyrocket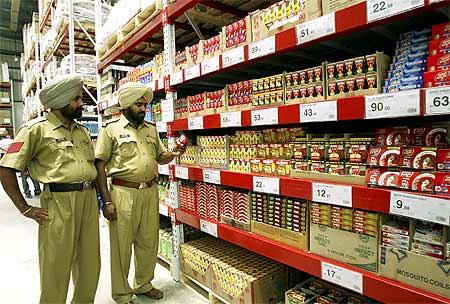 Indian consumers' spending on FMCG items at modern retail stores is set to nearly triple to $5 billion by 2015 from $1.8 billion at present, according to market research firm, the Nielsen Company.
Govt grants Rs 100 cr to fund low cost innovation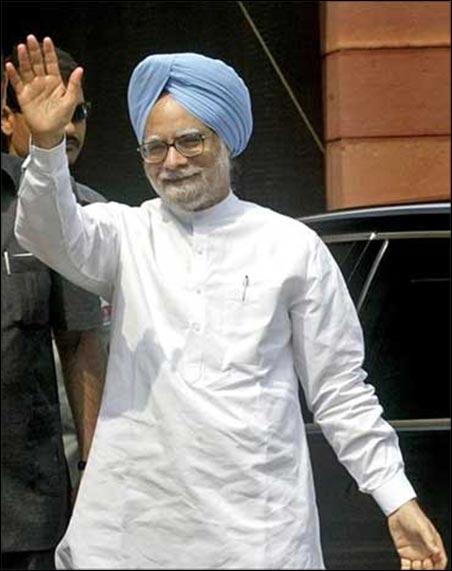 Prime Minister Manmohan Singh on Tuesday said the country needs creativity and innovation to address the problems of poverty, health and environment.
Govt may impose 0.003% stamp duty on commodities, stocks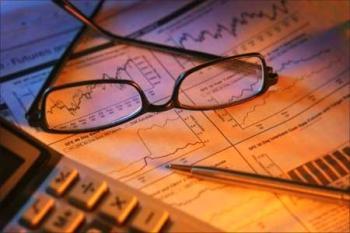 The government may impose a stamp duty of Rs 300 per crore (0.003 per cent) on transactions in commodities, stocks and other derivatives, with the Finance Ministry moving a proposal to Cabinet for taking the final call, sources said.
Rupee is SINKING! Hits 32-month low; may touch 51/US$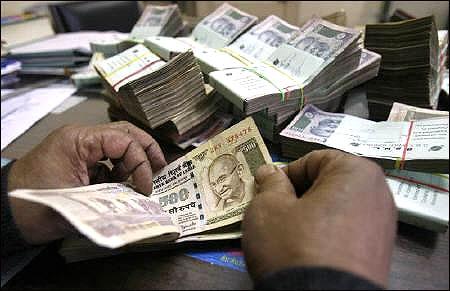 The rupee resumed lower at Rs 50.40/41 per dollar on the Interbank Foreign Exchange.
Wary Indian companies wake up to UK law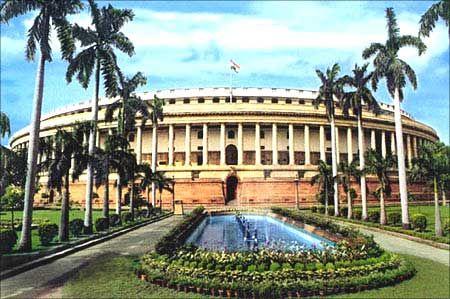 The law's ambit has been widely framed, with severe penalties such as prosecution and jail in the UK for a bribe given in India.
Super-rich: India has 8,200 high net worth individuals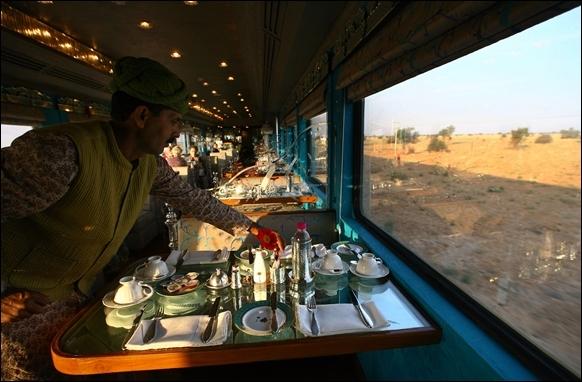 India is home to as many as 8,200 ultra high net worth (UHNW) individuals whose combined wealth amounts to a whopping $945 billion, says a study.
Petrol prices SLASHED by over Rs 2.20 a litre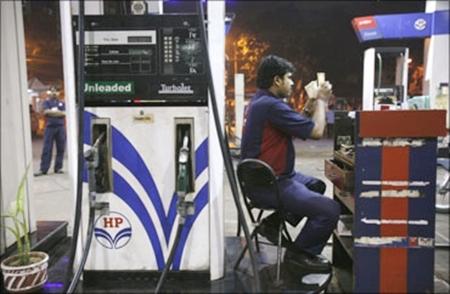 Petrol prices may be cut by Rs 2 a litre from on Wednesday as global oil rates have softened and the rupee has stabilised against the US dollar.
LESS turbulent skies ahead for Jet Airways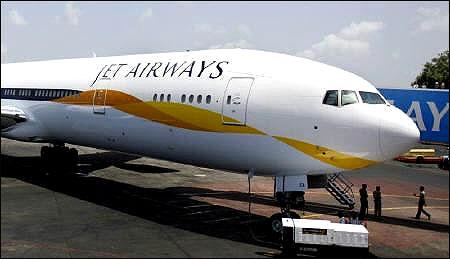 Easing competitive pressure, rising ticket prices offer respite from high fuel costs and effects of weak rupee.
IMAGES: All new Ford Fiesta automatic soon in India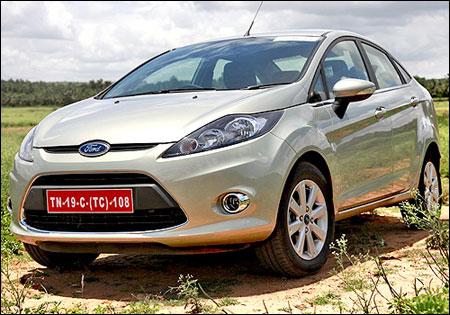 Since a couple of months, Ford India is busy giving a makeover to its cars.
Check out these 2 NEW smartphones from Nokia!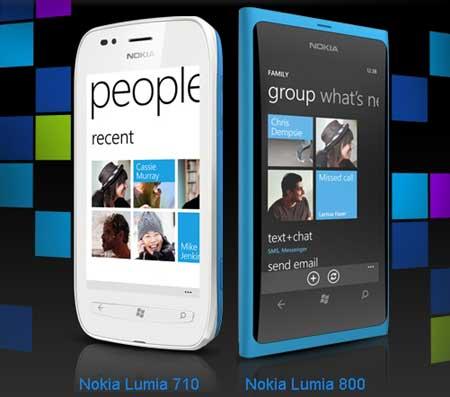 Aimed at strengthening its position in the smart phone segment, Finnish handset giant Nokia on Monday launched the 'Lumia 800' and the 'Lumia 710', the first devices from its partnership with software major Microsoft.
November 14, 2011
Indians more OVERWORKED than global peers!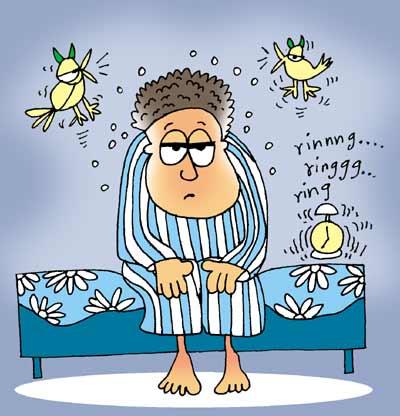 A high rate of economic growth seems to be taking a toll on people's work-home balance and more Indians are overworked than their global peers, according to a survey.
Big deal: Coca Cola to invest $2 billion in India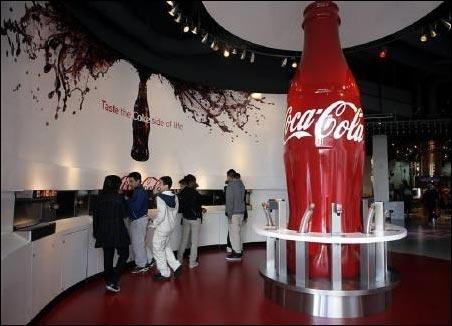 In one of its single biggest investments, beverage major Coca Cola and its partners will invest $2 billion (around Rs 10,000 crore) over the next five years to enhance its operations in India and set up a new plant.
IMAGES: Workers flock to Kerala in search of greener pastures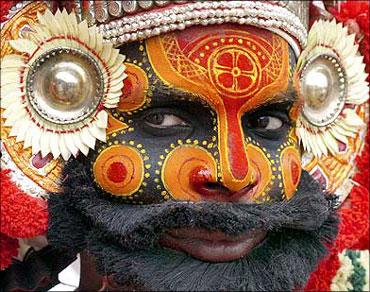 Kerala, which largely depends on remittances of around two million Malayalis working in the Gulf, has now become a thriving job market for workers hailing from Assam, West Bengal, Bihar and Orissa.
CAG official says 2G scam loss only Rs 2,645 crore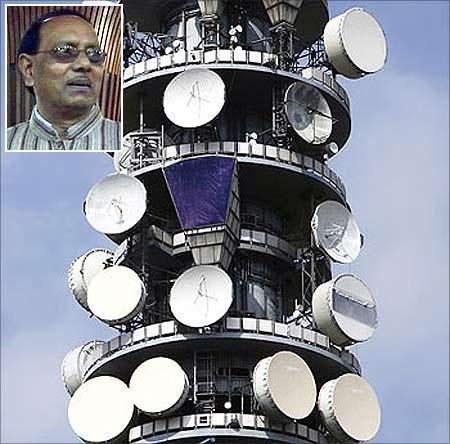 Former top CAG official R P Singh on Monday appeared before the Joint Parliamentary Committee looking into the 2G spectrum scam and is understood to have stuck to his stand that the presumptive loss in the radiowave allocation was only Rs 2,645 crore (Rs 26.45 billion).
PHOTOS: World's 15 stunning buildings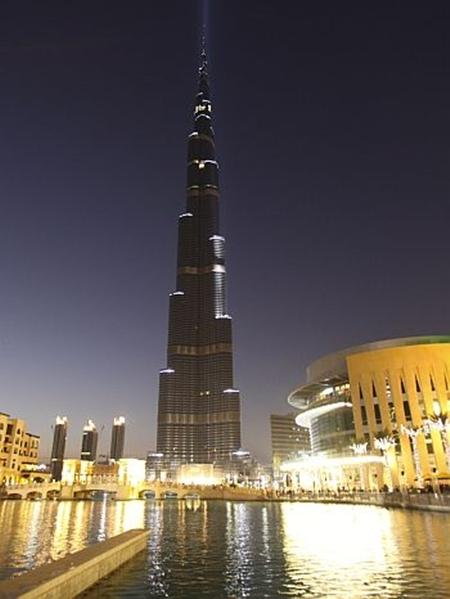 Burj Khalifa is currently the tallest structure in the world, at a height of 829.84 metres (2,723 ft).
IMAGES: The Rs 5.23 lakh Tata Sumo Gold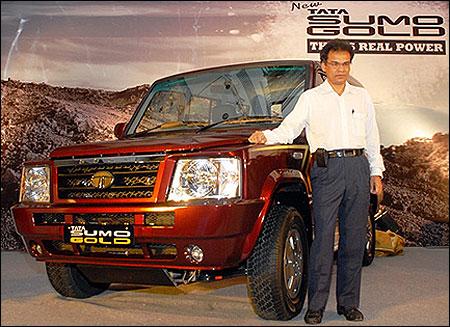 Tata Sumo Gold is available in two engine tunes with four variants.
SPECIAL: How Nokia plans to make it big in India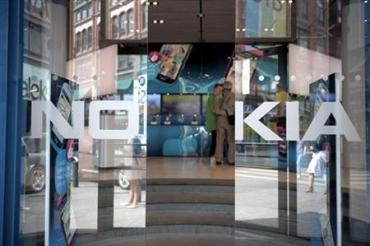 Bringing affordable web access and applications to the masses is the crux of Nokia's new strategy.
Euro crisis hurting India, says Pranab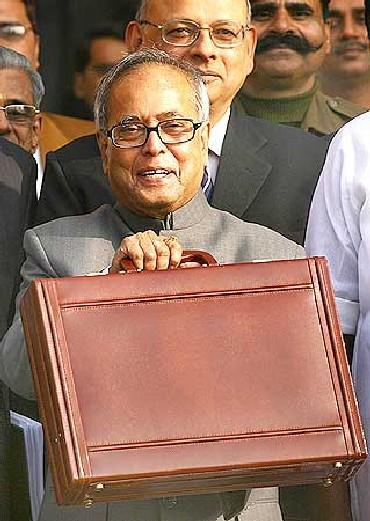 Finance Minister Pranab Mukherjee on Monday said the Euro Zone crisis is impacting the country's growth and will hurt exports in coming months.
Headline inflation inches up to 9.73% in Oct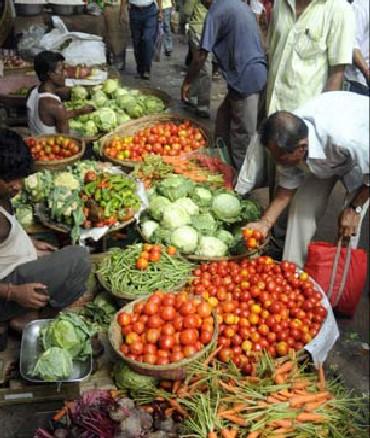 Food inflation was recorded at 9.23 per cent in September.
The world's biggest shoplifters; India ranks No. 1!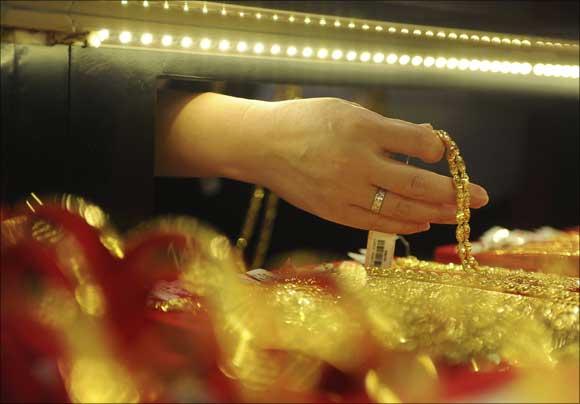 The world over, shoplifters are giving the retail industry a gigantic headache. A $119-billion headache!
SBI asks Kingfisher to raise fresh equity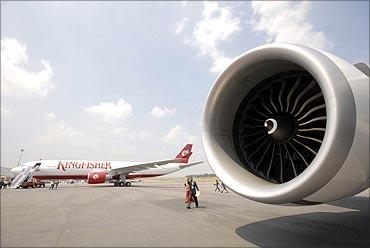 On whether the bank will consider making fresh advances to Kingfisher, SBI managing director Hemant Contractor said, "We have to be satisfied about the viability of the company.
IITs remain the big daddy of fund-raisers
IIT Bombay has, over the last decade, generated Rs 200 crore (Rs 2 billion), only via donations from its alumni.
Kingfisher in crisis; Jet goes for the kill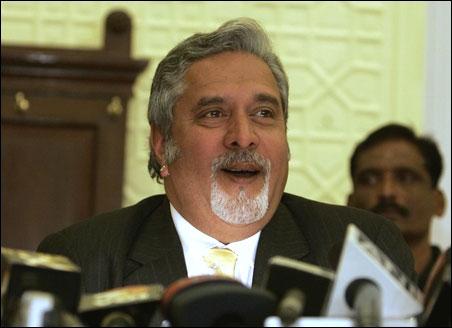 Airline to increase full-service flights as Kingfisher curtails operations.
Kingfisher mess deepens: More flight disruptions likely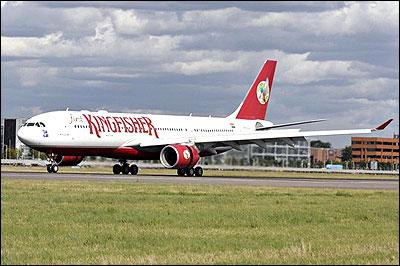 Flight schedules to be affected more than thought earlier.
SPECIAL: Why Niira Radia shut India's largest PR firm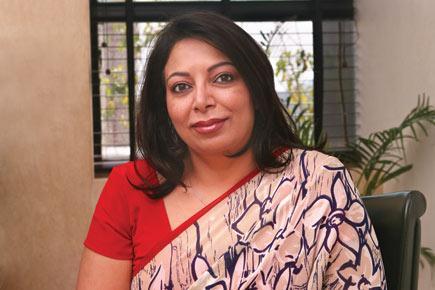 Radia's decision to close shop was as dramatic as her entry into the country's close-knit world of public relations.
November 11, 2011
Railway Minister for linking train fare to fuel cost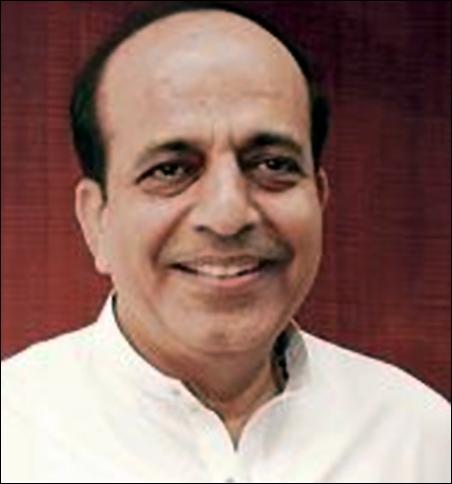 Railway Minister Dinesh Trivedi said the passenger fare should to be linked to fuel price.
Petrol prices may be CUT next week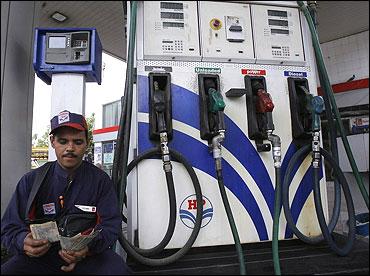 With global oil rates softening, state-owned oil companies may next week cut petrol price by about Rs 0.80 per litre which could be the first reduction since January 2009.
Good news! Interest rate on PPF, NSC, post office savings hiked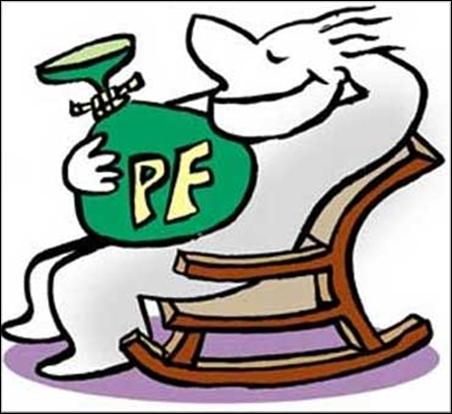 The government has hiked the interest rate on Public Provident Fund account (PPF) to 8.6 per cent from 8 per cent. The investment ceiling has been raised to Rs 1 lakh a year.
INTERVIEW: 'Merger with Tech Mahindra likely next year'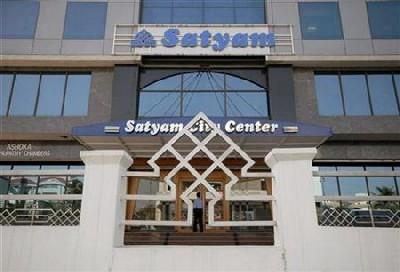 After announcing the second quarter results, Chairman Vineet Nayyar, Chief Executive C P Gurnani and Chief Financial Officer Vasant Krishnan share their views.
Kingfisher cries out for help; govt may bail it out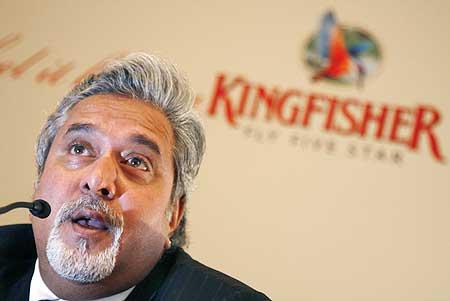 Facing serious financial turbulence, Kingfisher Airlines has sought government help for a bailout even as it continued its flight curtailment spree for the fifth consecutive day on Friday and its stocks plummeted by over 19 per cent to an all-time low but recovered slightly later.
Annuity now mandatory in pension products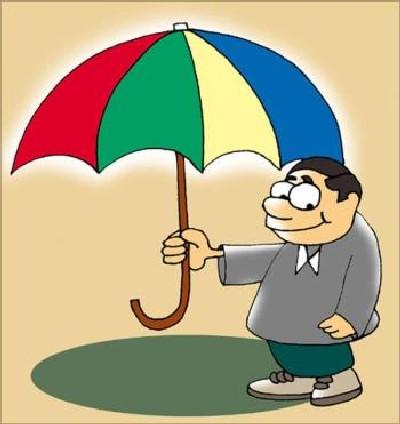 Positive return guarantee but with conservative bias; rider to check insurer hopping by customers.
Oops! Standard & Poor's downgrades France by mistake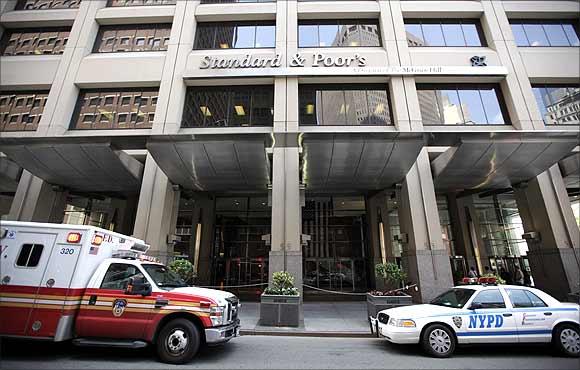 In a major goof-up, US-based ratings agency Standard & Poor's accidentally disseminated a message to subscribers earlier that it has downgraded its top-notch credit rating of France from 'AAA', but has since issued a clarification and is investigating the cause of the error.
The rags-to-riches story of a billionaire BARBER!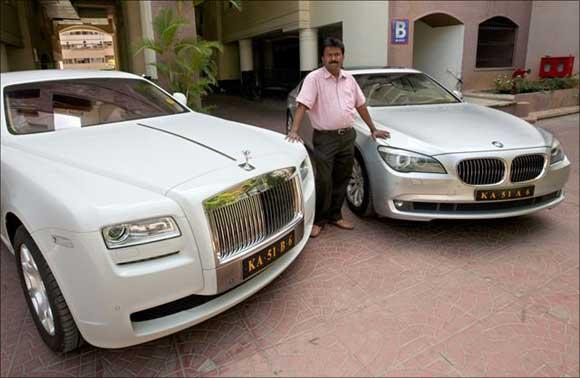 Ramesh Babu has a barber shop and a booming car rental business in Bengaluru, but still prefers to cut hair so that he never forgets his humble beginnings, writes .
IIP nos disappointing, 6% growth likely: Rangarajan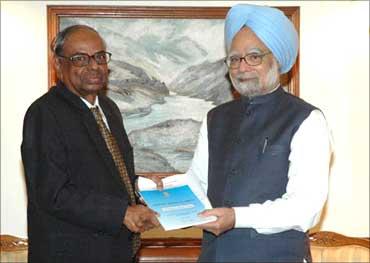 Prime Minister's economic advisory panel chief C Rangarajan has described the dip in factory output in September as 'disappointing' and said industry may grow by just 6 per cent in the current fiscal, as against the earlier projection of 7 per cent.
Here's what Horlicks is doing to succeed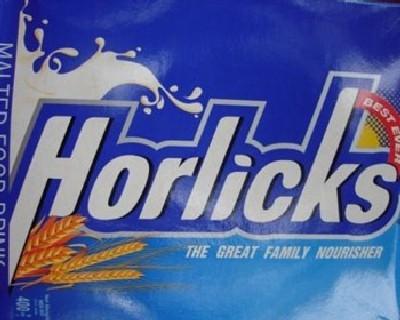 GlaxoSmithKline is piggybacking the Rs 1,600-crore (Rs 16-billion) brand to step into newer product categories.
Visa misuse case: US court rejects Infy's plea for arbitration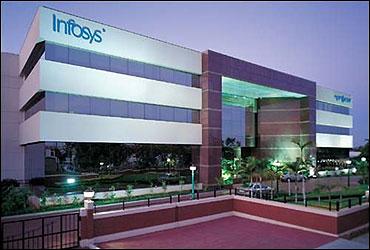 Infosys had earlier requested the court to decide the case filed by its former employee Jack Palmer on the alleged B-1 business visa misuse by an arbitrator instead of a judge or a jury.
Slowdown: India's industrial growth falls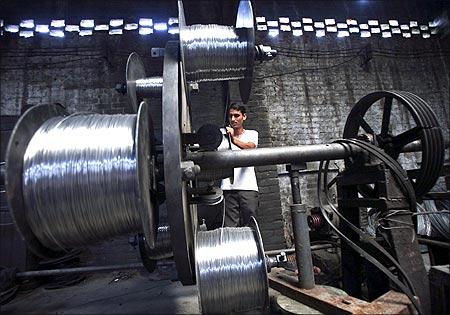 Continuing its dismal performance, industrial growth fell further to 1.9 per cent in September, mainly due to poor output from the manufacturing sector.
World's 20 most powerful people in finance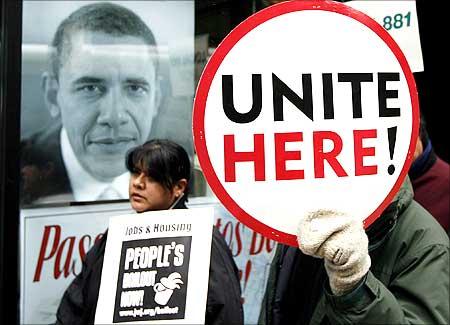 Euro Zone is reeling under a debt crisis, USA is downgraded and world leaders are losing sleep over their attempts to find ways to beat slowdown.
Six personal loan truths that you MUST know!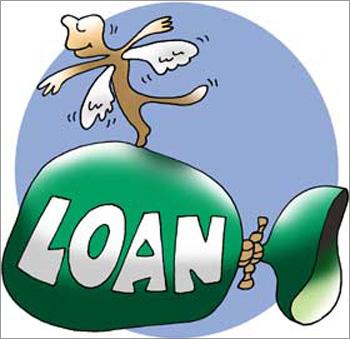 Since the documentation required is little and the disbursement is faster, it automatically tops the list of anyone who is in need of emergency cash.
Tata Motors launches revamped Sumo in Pune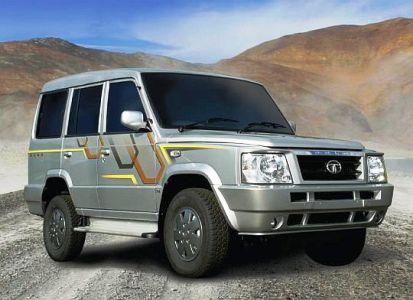 The vehicle is being manufactured in the company's Bhosari plant.
IMAGES: India's biggest infrastructure projects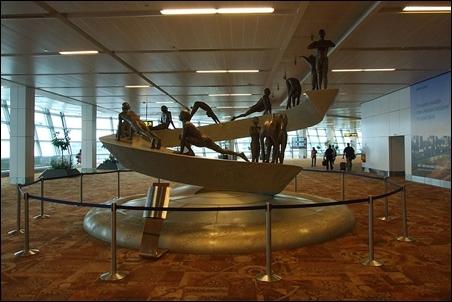 India has seen rapid progress in various big-budget infrastructure projects.
Biggest crisis: Kingfisher hits air pocket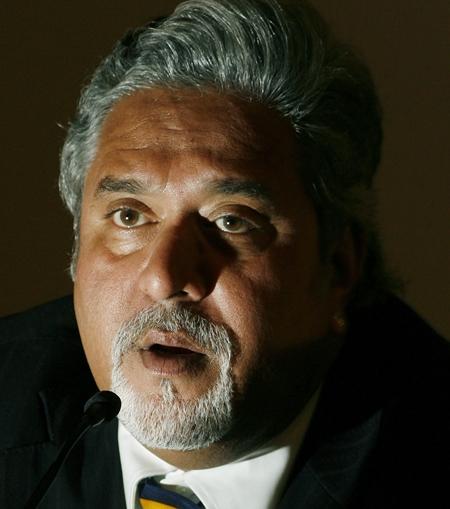 After oil firms' rebuff over dues, rival Jet refuses to accommodate Kingfisher passengers due to non-payment.
Ratan Tata may remain head of group trusts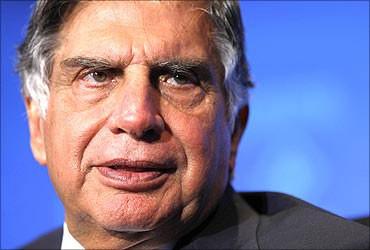 He may play an indirect role in group beyond Dec next year.
IMAGES: The stunning Skoda Rapid soon in India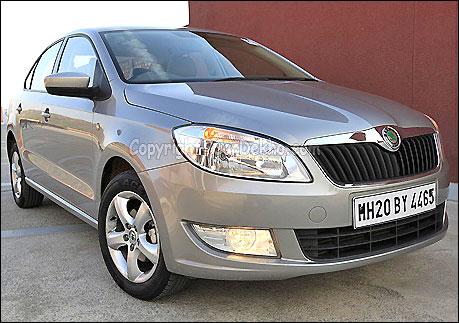 Reports suggest that this new sedan has a lot of potential to beat its competitors in the segment.
The ASTOUNDING story of the fall of Kingfisher Airlines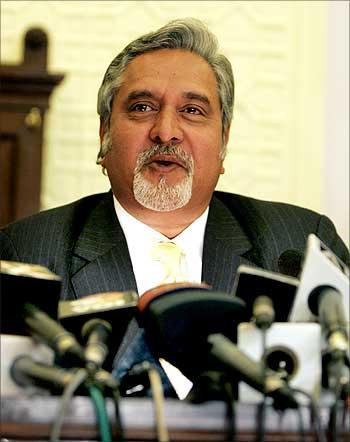 After recast, Kingfisher Airlines total debt reportedly came down to Rs 7,057 crore (Rs 7,057 billion) which is still considered very high for a private domestic carrier.
India's top 5 PC makers by market share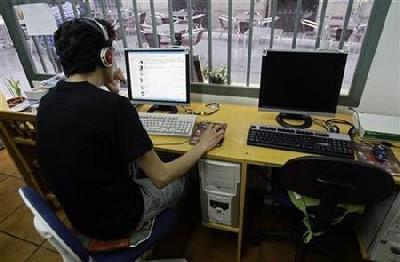 "This growth was primarily driven by the mobile PC market which grew 29 per cent year-on-year in the third quarter of 2011," said Vishal Tripathi, principal research analyst at Gartner.
November 10, 2011
S&P differs with Moody's, upgrades Indian banks!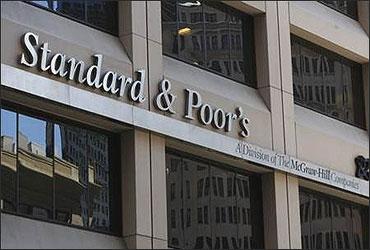 Differing with the downgrade accorded by Moody's, leading ratings agency Standard & Poor's has upgraded the Indian banking sector saying its domestic regulations are in line with international standards.
India, Pak agree to move towards a new trade deal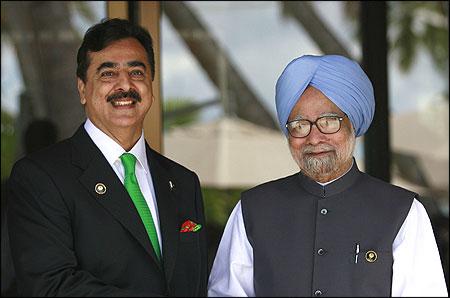 The two leaders also agreed that bilateral trade will be conducted on Most Favoured Nation basis.
COLUMN: How will the MFN status help India and Pakistan?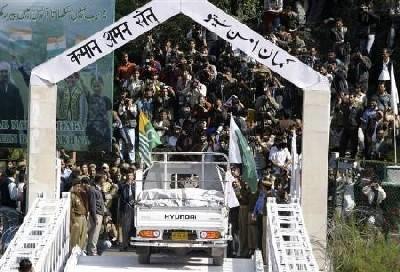 New Delhi and Islamabad have, in the recent past, taken many positive steps to make bilateral relations cordial. For instance, the two countries have firmed up a draft bilateral visa agreement that will ease travel between the two countries.
2G scam: Ambani, other executives may be examined on Friday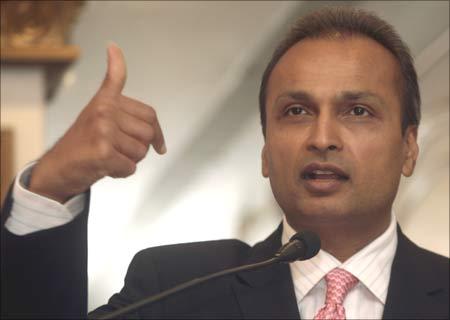 The much-awaited trial in the 2G spectrum allocation scam case, involving high-profile accused, including former Telecom Minister A Raja, DMK MP Kanimozhi, top corporate honchos and telecom firms, is likely to commence from Friday before a Delhi court.
Slowdown blow: Hyundai drops diesel engine plant plan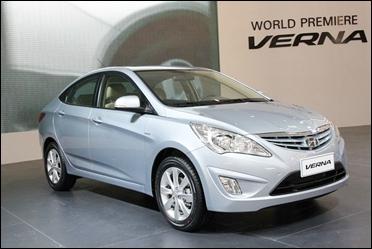 The slowdown in the Indian automotive market has resulted in its first major casualty, with the country's second largest car-maker Hyundai Motor shelving a plan to set up a diesel engine manufacturing plant at an investment of Rs 400 crore (Rs 4 billion).
Global audio brand Harman tunes in to India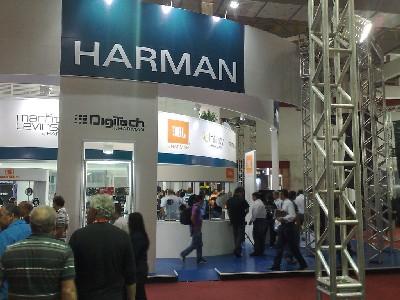 Harman, the premium global audio and infotainment group, which retails brands such as JBL, AKG and Harman-Kardon, is training Indian engineers based at its research and development centre in Bangalore to work on audio components for brands like BMW and Audi. This business contributes an estimated $600 million to the company's sales.
Mamata must learn the limits of populism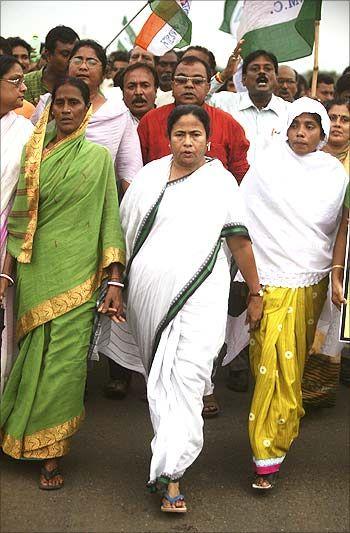 No doubt Finance Minister Pranab Mukherjee's gentle reminder that she did not oppose the Cabinet's June decision to decontrol fuel prices also encouraged her to soften her opposition.
Another SCAM on rupee depreciation, exports boom?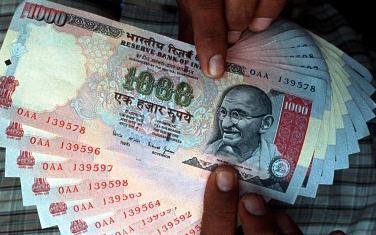 Who are the gainers from all these economic policies of SEZs, weakening Rupee, tax breaks, etc? Obviously, it is fictitious exporters and shady foreign investors.
Jet staff union says it won't allow job cuts
The airline, on its part, on Wednesday denied retrenchment plans.
Tata Motors goes on Nano overdrive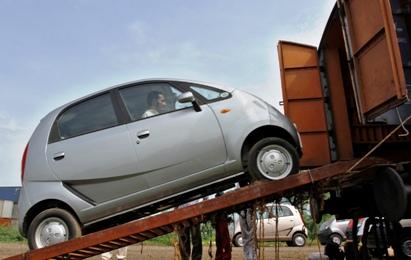 During the festive season, dealers of Tata Motors reported a robust pick-up in demand for the Nano.
Lipton Tea found with TOXIC content in China
The five tea brands were among 19 oolong products that were found not adhering to regulatory standards.
PHOTOS: India's 20 most powerful women in business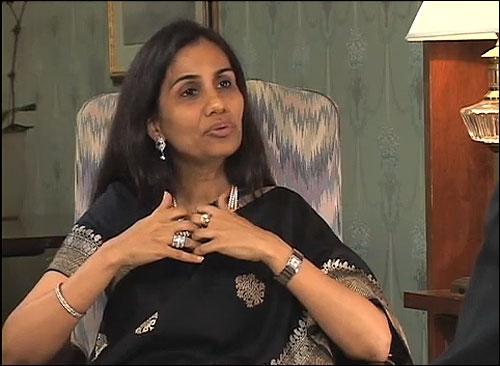 Chanda Kochchar has been ranked as the most powerful woman in business.
Kingfisher woes add tailwind to air fares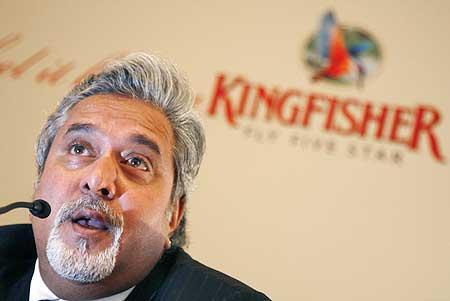 A partial withdrawal of flights by Kingfisher Airlines has led to a more than 100 per cent rise in spot fares on key metro routes.
20 nations with the WEAKEST pension systems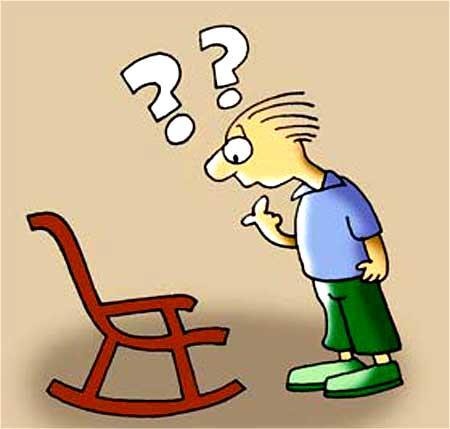 Pension is a regular (normally monthly) payment that a person gets when he/she has retired from a job. This regular payment is obtained from an investment fund to which that person, or his/her employer, contributed during the time the person was working.
IMAGES: India's top 13 tourist destinations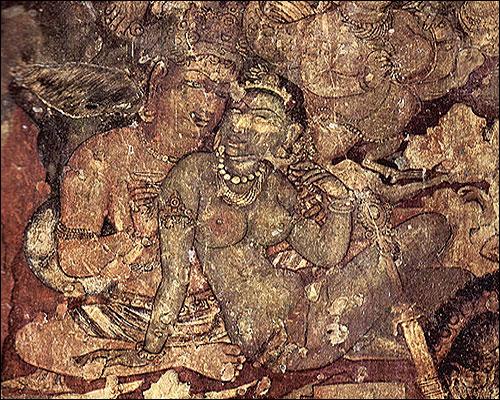 Tourism in India is the largest service industry.
November 09, 2011
SAARC nations more pragmatic than EU, ASEAN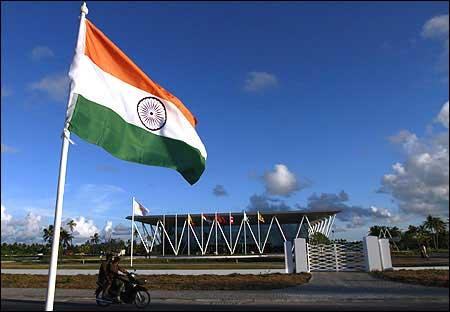 The SAARC nations have been more pragmatic than their peers in the ASEAN and EU, indicated an official source on the eve of the 17th SAARC Summit to be held in Male on November 10-11, even as Prime Minister Manmohan Singh left for Maldives for the SAARC Summit on Wednesday.
Pakistan will not backtrack: Khar on MFN status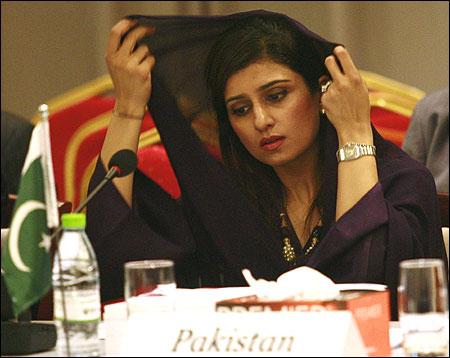 Pakistan Foreign Minister Hina Rabbani Khar on Wednesday said Islamabad is not backtracking on its decision to normalise bilateral trade with New Delhi.
Gold zooms to an all-time high of Rs 29,000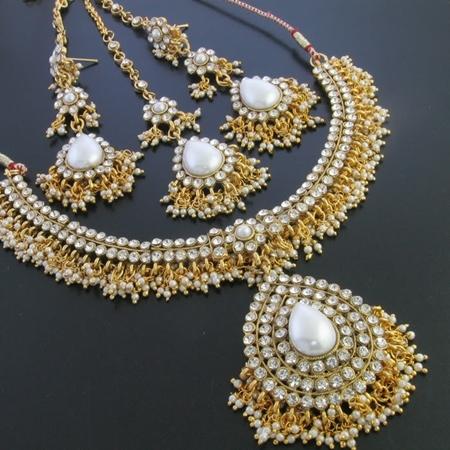 Gold crossed the all-time high level of Rs 29,000 while silver coins touched the record Rs 68,000 mark in the bullion market here on strong demand propelled by ongoing marriage season and deepening financial worries.
Walmart sets up R&D centre in India for e-commerce biz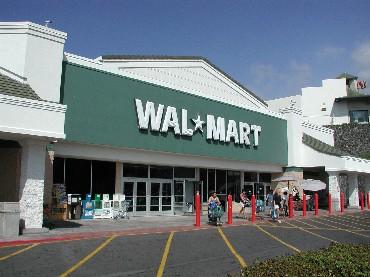 US-based retailer Walmart is setting up a research centre in India to develop technologies and solutions for its global e-commerce business.
Modi's visit to China creates a buzz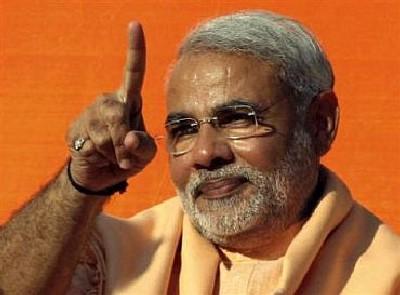 He pitched for Gujarat while Chinese businessmen heard him with rapt attention. Modi is on a five day visit to China on an invitation from Communist party of China.
Future Quotient: Just what is it all about?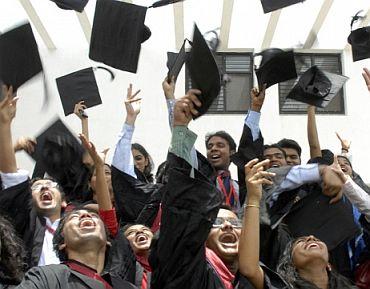 Future Quotient (FQ) is both an idea and a business concept designed to measure the ability to think and act not merely for the present but future generations.
Stunning PIX: World's 20 best architectural marvels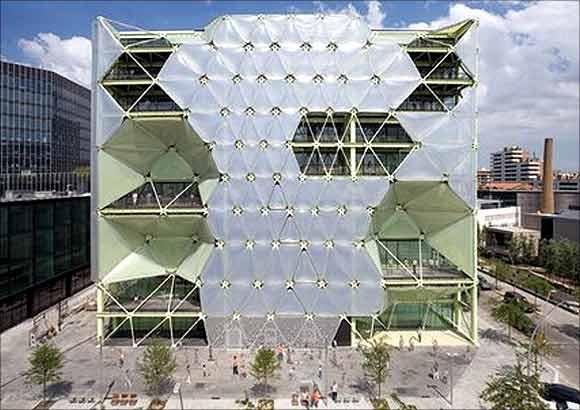 Take a look at the amazing projects that won the World Architecture awards in 2011.
EXPLAINED: The Eurozone's impending disaster!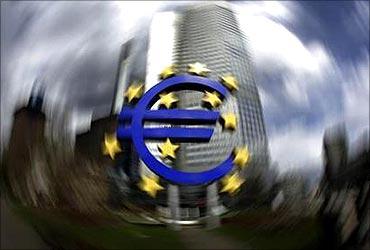 with low interest rates these countries went on a borrowing spree and since they borrowed much more than their repayment capacity is, they are in a mess. Greece is the smallest of these countries and is in the biggest mess.
PIX: India's car sales see biggest fall in a decade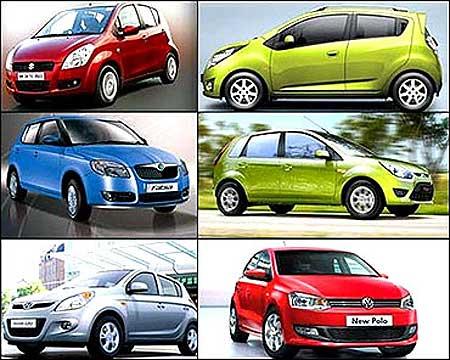 Domestic passenger car sales declined by 23.77 per cent to 1,38,521 units in October, 2011, from 1,81,704 units in the same month last year.
Moody's downgrades Indian banks, govt fumes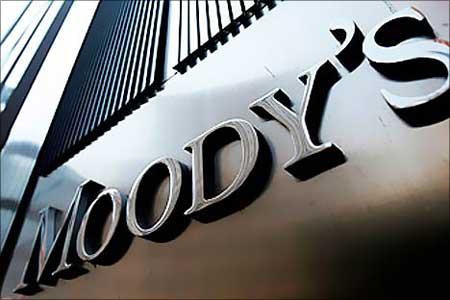 International credit ratings agency Moody's Investors Service changed its outlook for India's banking system to negative from stable due to concerns that an increasingly challenging operating environment will adversely affect asset quality, capitalisation, and profitability.
Rajaratnam to pay $ 92 million as penalty in insider trading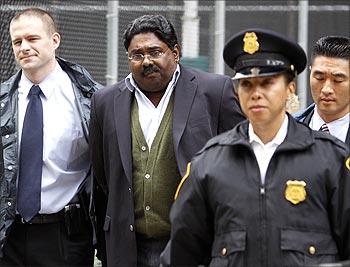 A US judge has ordered disgraced billionaire Raj Rajaratnam to pay over USD 92 million as penalty in the insider trading case filed against him by the US financial regulator, saying the "huge and brazen nature" of his fraud "cries out" for such an unprecedented fine.
Kingfisher to CANCEL 31 flights daily till Nov 19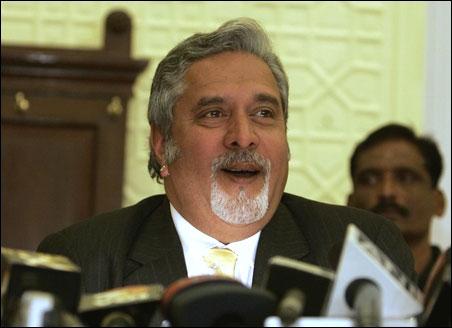 At least 34 flights of Kingfisher airlines were cancelled on Tuesday with the Vijay Mallya-owned carrier maintaining these were planned curtailments.
India has 18,000 tonne of gold in private hands!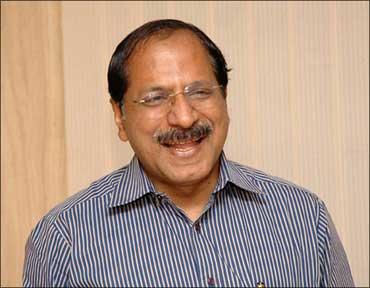 , Manappuram had commissioned ICRA Management Consulting Services (IMaCS) to study the gold loans market in the country and they came out with a report, 'Gold Loans Market in India, 2009'. This was a pioneering study; the first time that a scientific study of the gold loans market in India was carried out.
IMAGES: 5 most expensive SUVs in the world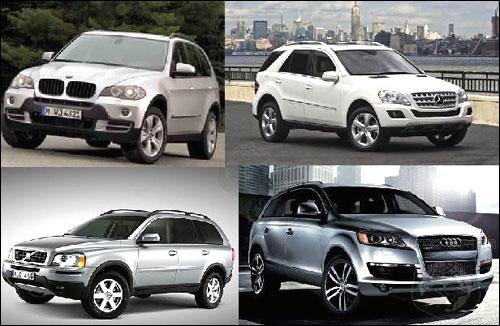 Most SUVs are designed with an engine compartment, a combined passenger and cargo compartment, and no dedicated trunk.
November 08, 2011
PM gave no assurance on petro price rollback: TMC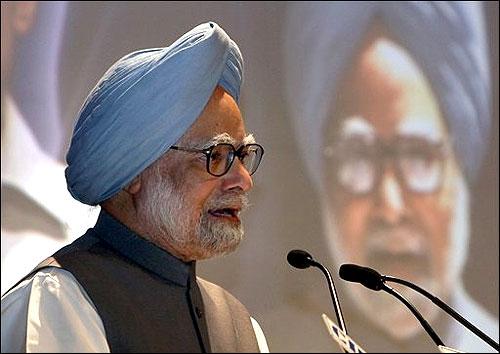 They registered their protest with a warning that any other such increase would make the party consider its future ties with the UPA.
IMAGES: India's 10 highest paid CEOs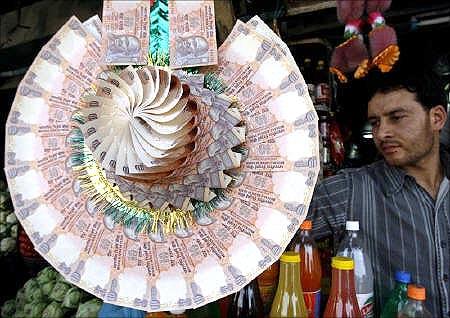 Naveen Jindal remains the highest paid corporate head in India for the second consecutive year.
Taxes account for 38% of new petrol price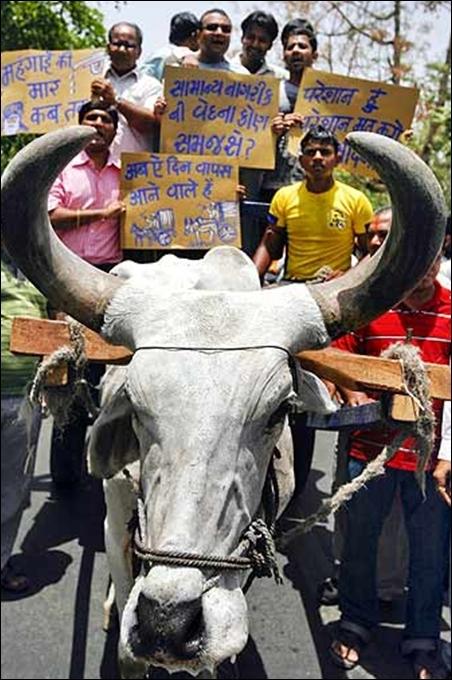 The new rate is based on a basic price of petrol, without including any taxes, refining cost or margin, of Rs 41.38 per litre, oil company officials said.
Brussels: Finance ministers begin the daunting task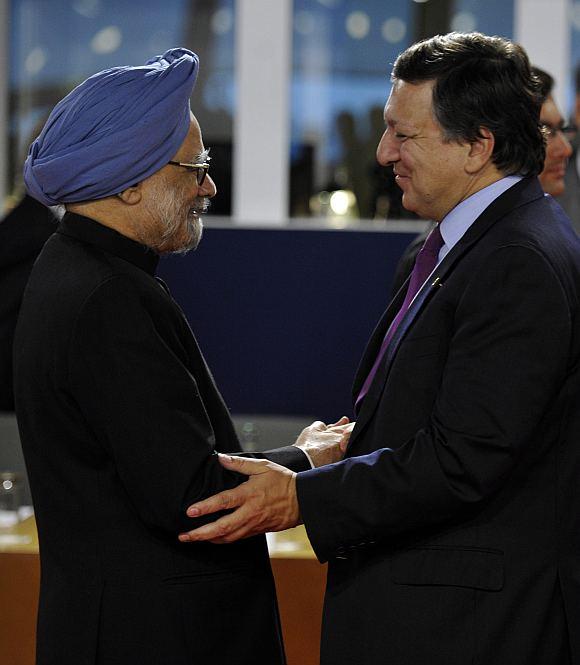 The finance chiefs face the daunting task of putting flesh on the bare bones of the agreement reached by EU leaders last month, intended to stem the fiscal bleed afflicting the region.
What it costs to get an electricity connection around the world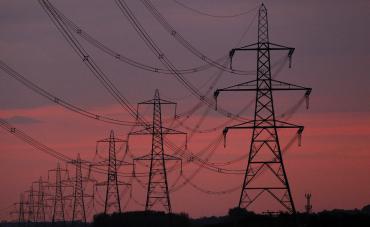 Getting electricity connection in a new building or a new factory is not an easy task.
28% drop in American L-1 visas to Indians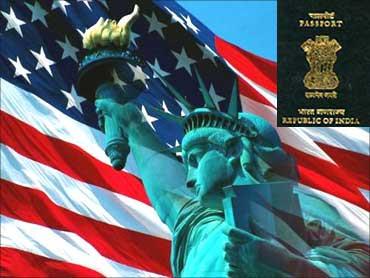 This data was obtained from the US Department of State in a new report by the National Foundation for American Policy, an Arlington, Virginia-based policy research group, which focuses on US immigration policy.
How food inflation can be tamed, an expert's view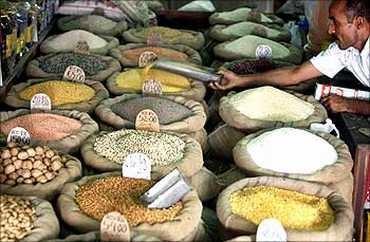 Food inflation, which remains remarkably high at over 12 per cent, could be tamed through innovative agriculture business models, a KPMG report said.
Why is the US keen on investing in India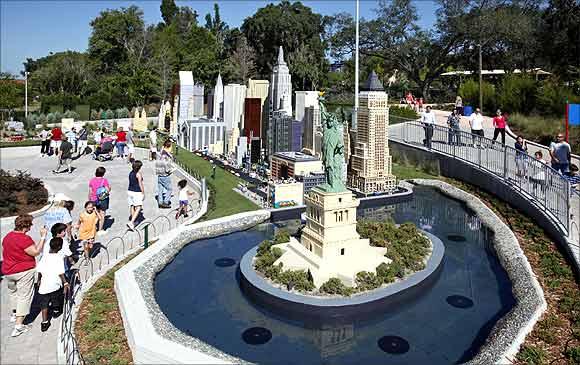 But cautions about some damage in short term, next three quarters may see high volatility.
SPECIAL: Can IIMs break free from government's clutches?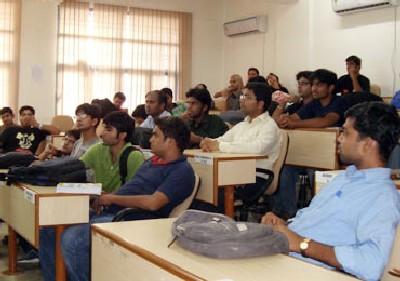 While IIM-Bangalore wrenches free from the government, heated disagreements remain over corporate donations for board seats as well as mandatory teaching hours.
IPL, MNCs offer internship to IIM-K students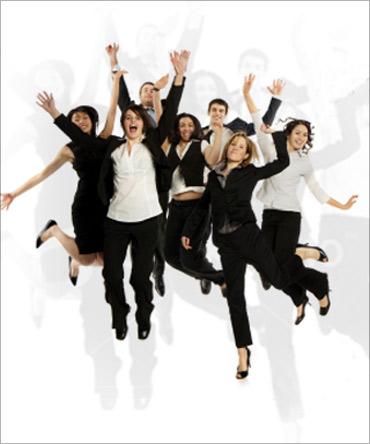 In the two year programme, after the first year, every student has to undertake 8 week internship in an organisation.
Investing tips for the new 'Crorepati', Sushil Kumar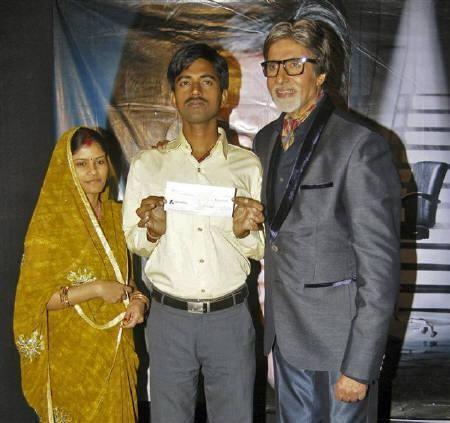 "I haven't thought about how I should spend this money as yet. The first thing I will do, though, is build a house for my family," says Sushil.
Goan miners fear a Karnataka-like crisis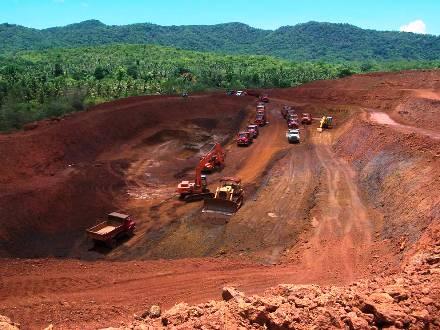 With the probe of the Centre-appointed Shah commission into alleged irregularities entering its last lap, Goan miners have started bracing themselves for a possible Karnataka-like blanket ban on mining and exports.
IMAGES: World's 20 most powerful business people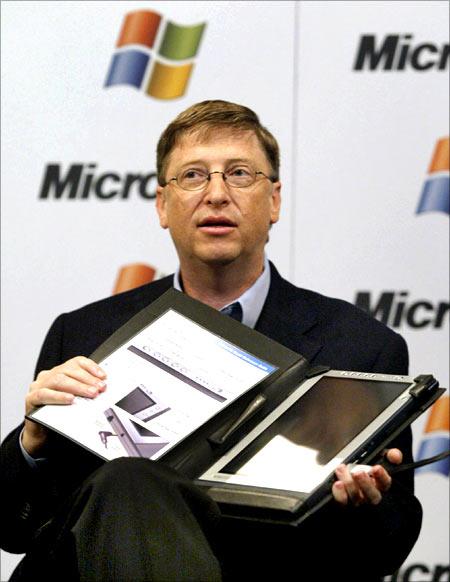 They are the world's most powerful people in the corporate world. They lead big companies or world's leading financial institutions.
PHOTOS: Delhi, Mumbai among world's richest cities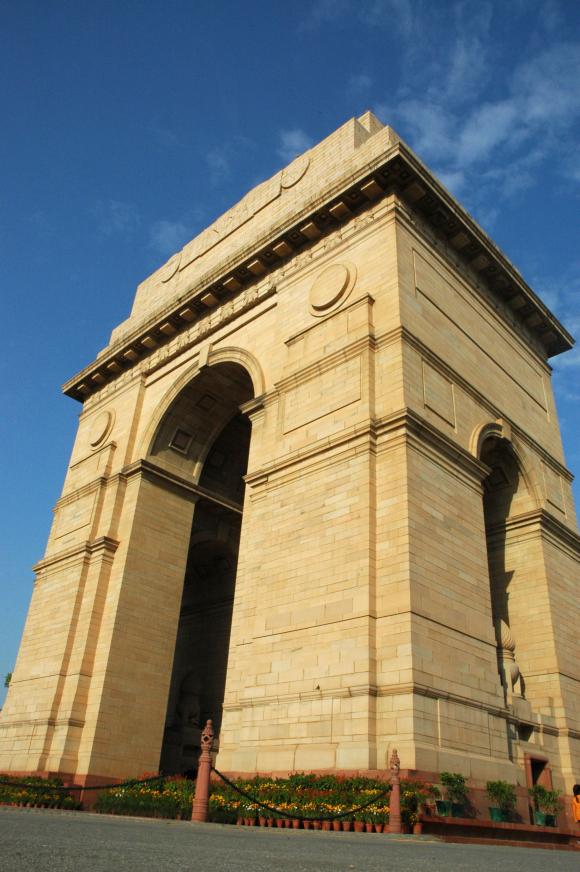 There are some cities in the world where earnings are really high.
November 07, 2011
How advertising is blending virtual, real worlds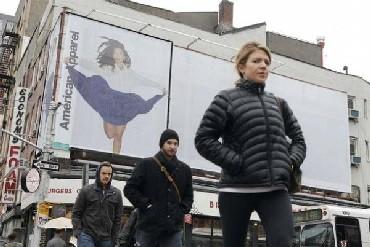 Moving beyond the virtual world, brands are using user testimonials in mainstream ads.
Barclays pegs India's growth at 7-8%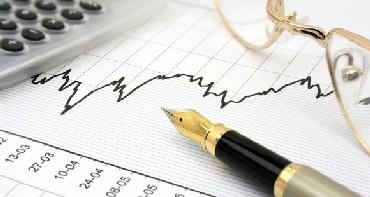 According to the financial services firm, India's growth pattern remains skewed towards the services sector and is heavily dependent on domestic consumption, which it said, raises the possibility that the imbalance between the services and other sectors may widen even further.
Yachting: The new sunrise sport in India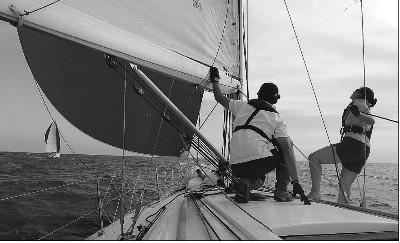 "World over the cruising industry has grown consistently. Its compounded annual growth rate is 6.5-7 per cent. In India, cruising is growing 8-10 per cent year-on-year (albeit on a much smaller base) for the three-four years. It can improve with better infrastructure," said Royal Caribbean Cruise India representative Gautam Chadha.
'A double-dip recession not unlikely'
In a wide-ranging interview with Business Standard, the professor with Columbia University says economic power is already shifting to emerging market economies.
India will continue to dominate KPO sector: Report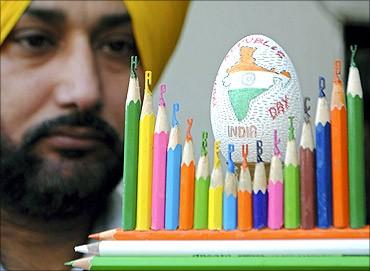 The potential KPO delivery locations, including China, the Philippines and Sri Lanka, are unlikely to challenge India's dominant position in the market, but they have enabled many vendors to pursue a multi-shore strategy, it said.
Indian activist drums support for Occupy Wall Street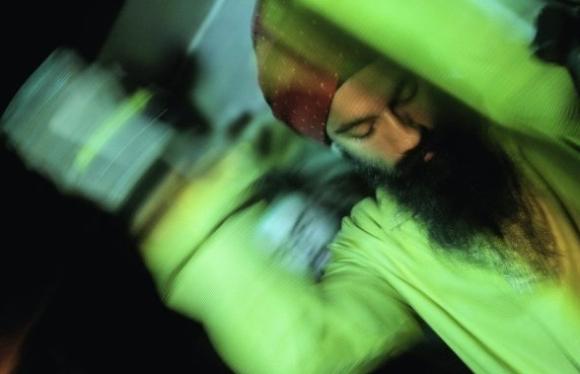 In conversation with , activist and musician Sonny Singh drums in the importance of the Occupy Wall Street protests.
Why the king of fruits did not make it to Australia?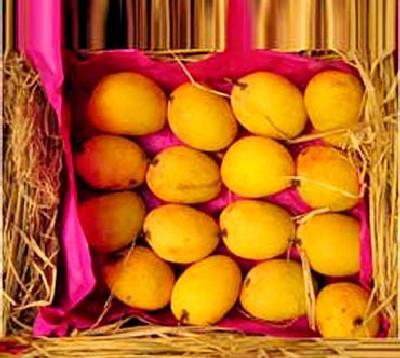 Australia finally gave a green signal to imports of mangoes from India this year, but the king of fruits didn't make it to the market shelves. The initial 1.267 tonnes of mangoes were found to be rotten or over ripe on arrival in Australia and had to be destroyed, resulting in the two importers incurring losses of nearly A$100,000.
COLUMN: The investor's dilemma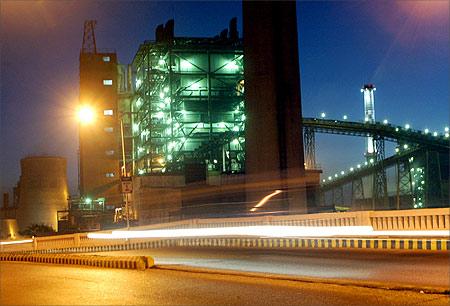 India Inc will regain its appetite for investing only when better governance improves the market mood.
COLUMN: The power of the Chinese economy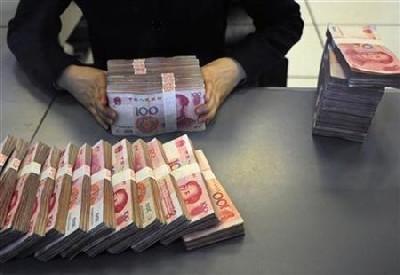 The head of the European monetary authority stepped off the plane at Beijing airport, and was transported by a high-speed train faster than France's TGV, to the centre of Beijing.
Using Facebook in office? Beware of threats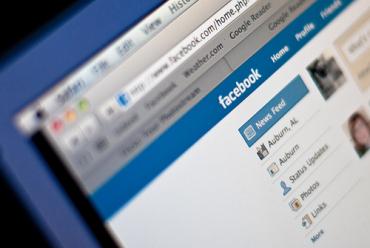 A global survey on social media risks reveals a dangerous gap in corporate social media security.
INSIDER Story: How Hero Honda became Hero MotoCorp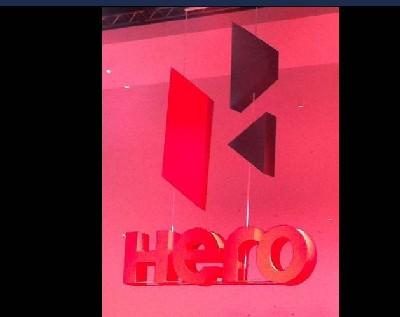 On December 16 last year, Hero Honda informed the stock markets that the partnership was over and Honda would soon exit the company.
Petrol pumps in Manipur go dry as blockade continues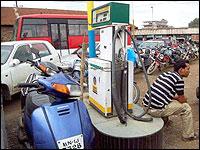 Only one petrol pump has stock but it will supply petrol and diesel only to school buses and school vans, official sources said.
IMAGES: How Delhi airport plans to earn more money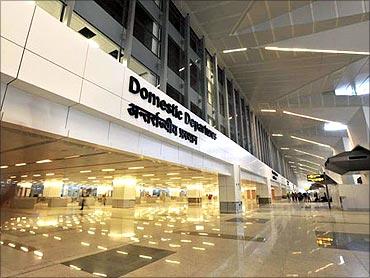 DIAL has seen a sixfold rise in the number of transit passengers to 6,000 in the past one year, but it's just 7.5 per cent of the 80,000 passengers handled daily and contributes only six per cent to the total sales at the airport.
Investors question golden handshake to Maruti workers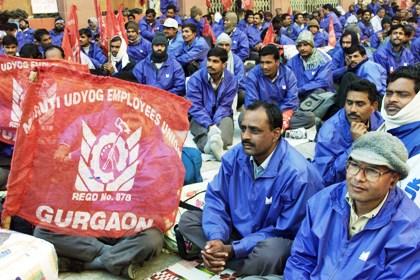 Institutional investors and independent advisors are questioning the company's crisis-handling process in the wake of reports that several workers, including strike leaders Sonu Gujjar and Shiv Kumar, quietly resigned after pocketing hefty payouts.
November 04, 2011
Unfazed PM virtually JUSTIFIES fuel price hike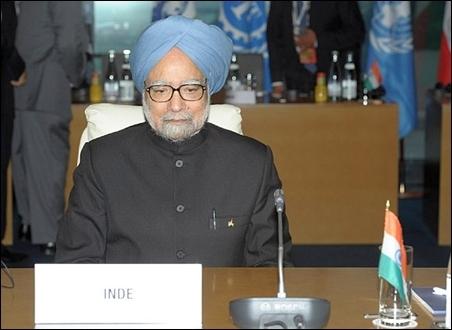 Unfazed by ally Trinamool Congress' threat of even withdrawing support, Prime Minister Manmohan Singh today virtually justified the hike in petrol prices, saying there should be further movement towards deregulation of fuel prices.
Allies slam petro price hike, a roll back possible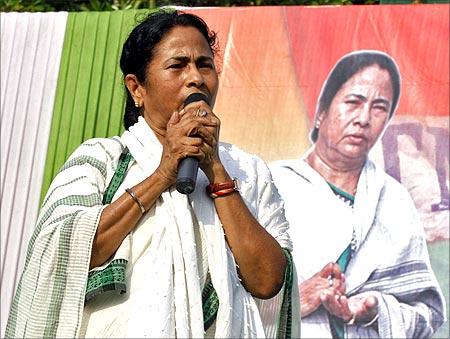 UPA's largest ally Trinamool Congress on Friday strongly protested the unilateral petrol price hike, but said it has not taken any decision to pull out of the government and entrusted party supremo Mamata Banerjee to have the 'final word' on the issue.
Now, no more prepayment penalty on home loan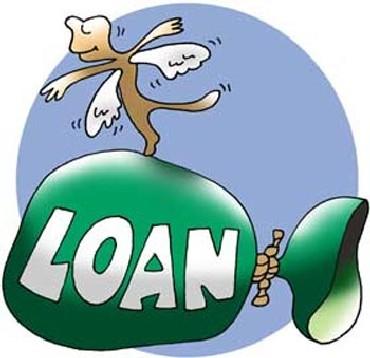 These decisions by NHB will come into effect immediately and will cover all housing finance companies including LIC housing finance.
Nooyi wants 50% revenues from emerging markets in 5 years
She expects to expand the Indian distribution system in a big way.
IMAGES: World's 10 largest stock exchanges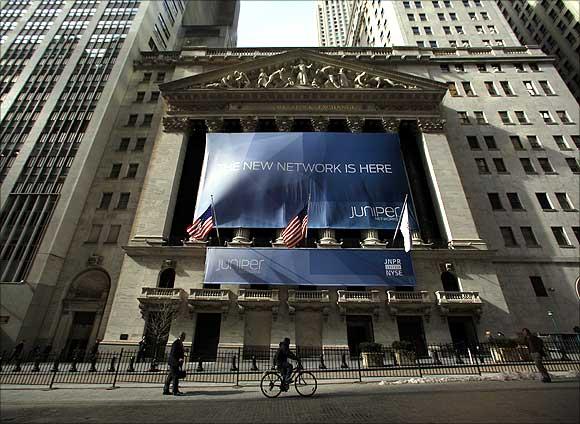 Trillions of transactions take place in these bourses making investors poorer or richer...
Want to invest in gold? Read this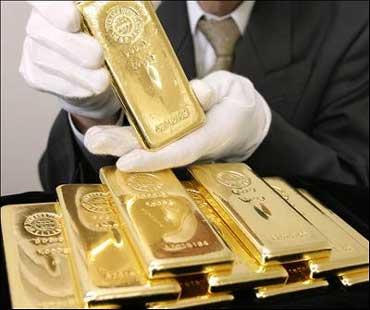 Media, brokers and bullion traders have been predicting various numbers which gold will touch subsequently.
Here's what you need to know about hybrid loans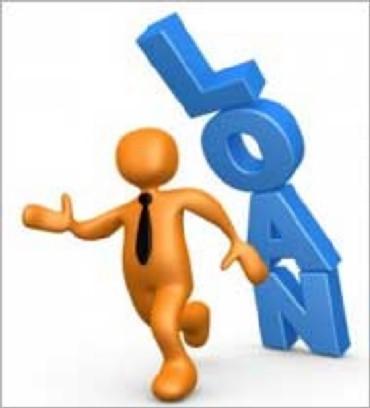 In a rising interest rate scenario, borrowers generally tend to hold back on procuring loans.
IN PIX: How 20 Indian states fare against the world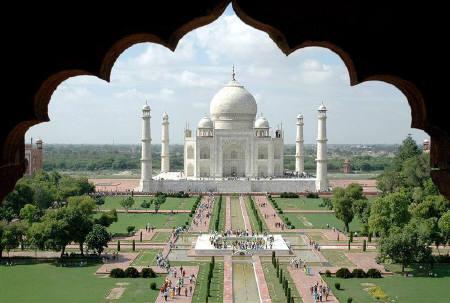 Despite India's two decades of rapid growth, Uttar Pradesh's GDP per head is close to that of Kenya.
COLUMN: Has the rupee truly recovered?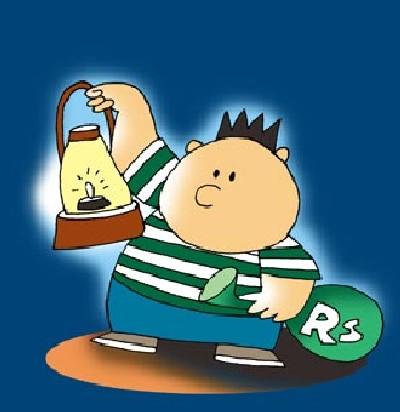 The near-vertical rise in rupee volatility (from 5.4 per cent to 9.5 per cent) since mid-August, accompanied by a collapse in the rupee to below 50 to the dollar, has rattled most companies. While the rupee has recovered somewhat, volatility – and nervousness – remains high.
SC grants bail to Ramalinga Raju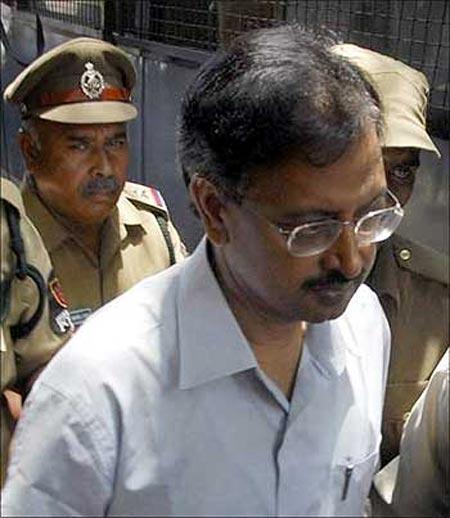 The Supreme Court has granted bail to Satyam's founder B Ramalinga Raju in multi-crore accounting fraud case.
SPECIAL: Can the Planning Commission reinvent itself?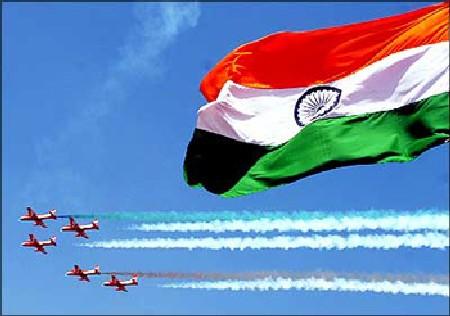 Caught in the middle of a maelstrom of controversies, the Planning Commission has been accused of being disconnected from ground realities. Its 12th Plan hopes to fix that.
Black money: Manmohan Singh urges G20 to take strong steps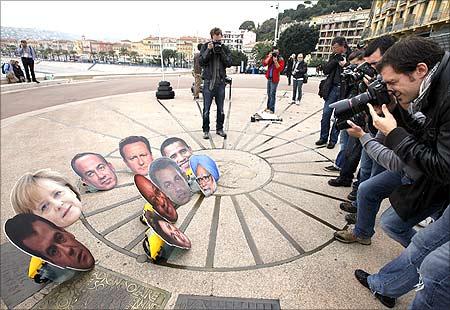 Prime Minister Manmohan Singh has urged the G20 nations to send a strong message to control the 'serious problems' of tax evasion and illicit flows that have grave bearing on the developing nations' future.
IN PIX: World's 10 most expensive watches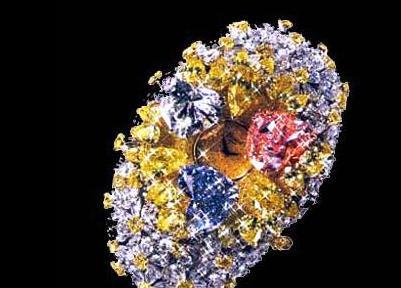 One cannot afford a watch costing millions of dollars but any information on it makes an interesting piece to read.
IMAGES: New SUV in town. The sizzling Range Rover Evoque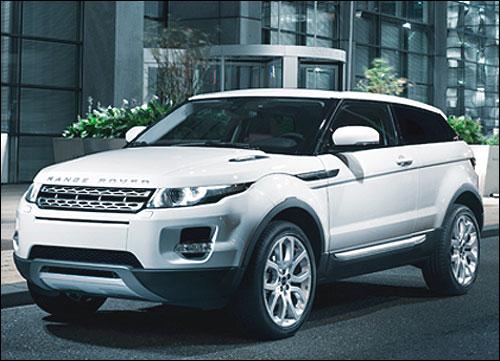 Range Rover Evoque, being a high-segment SUV, is loaded with exciting and brilliant features, which makes this car an exquisite model.
What Mahatma Gandhi and Steve Jobs had in common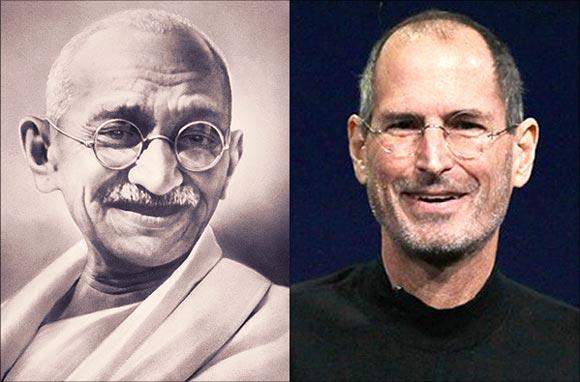 The icons from two different eras had an intuitive sense of what it took to strike a chord with the masses.
'Indian markets unlikely to slip below Oct lows'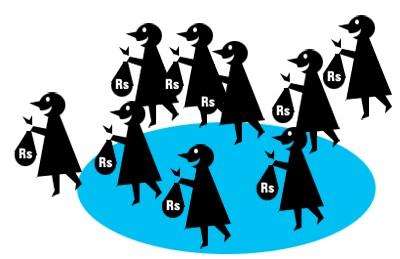 A meaningful correction in global oil prices and/or progress on key reforms would be important re-rating triggers for the Indian stock market, says Bharat Iyer, executive director and the head of India equity research at JPMorgan.
Nita Ambani - woman with a middle class heart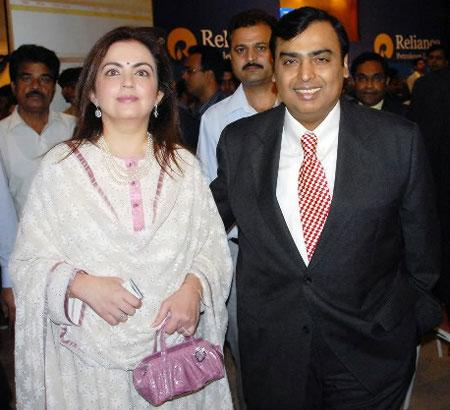 She has been described as Reliance's real programme manager.
Bharti's Q2 net profit down by 38.17% at Rs 1,027 cr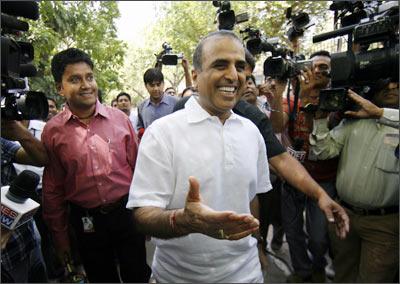 This is the seventh straight quarter in which Bharti Airtel has reported a consecutive decline in its net profit.
IMAGES: 20 best nations to live in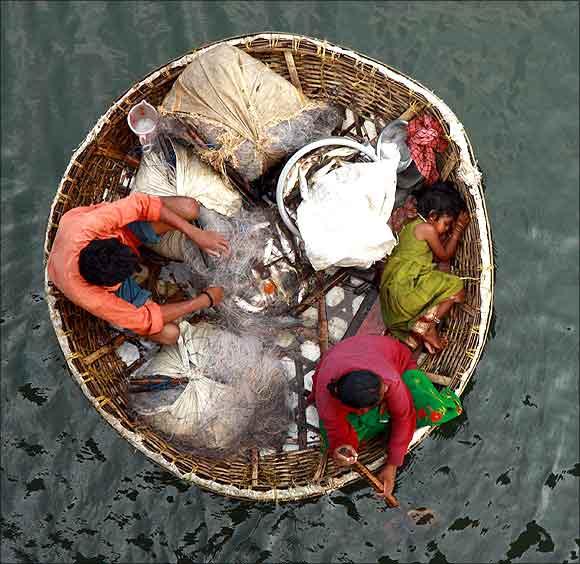 Latin America has the largest income inequality, although it is more equitable than sub-Saharan Africa and South Asia in life expectancy and schooling, states a UNDP report.
IMAGES: The stunning Rs 3.69 crore Lamborghini Aventador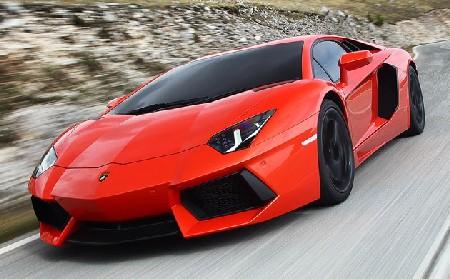 Looking to tap the fast-growing Indian market, Italian luxury sports car-maker Automobili Lamborghini SpA on Thursday launched its latest model, the 'Lamborghini Aventador LP700-4', priced at Rs 3.69 crore (ex-showroom, Delhi), in the country.
November 03, 2011
India for big IMF role for support to Eurozone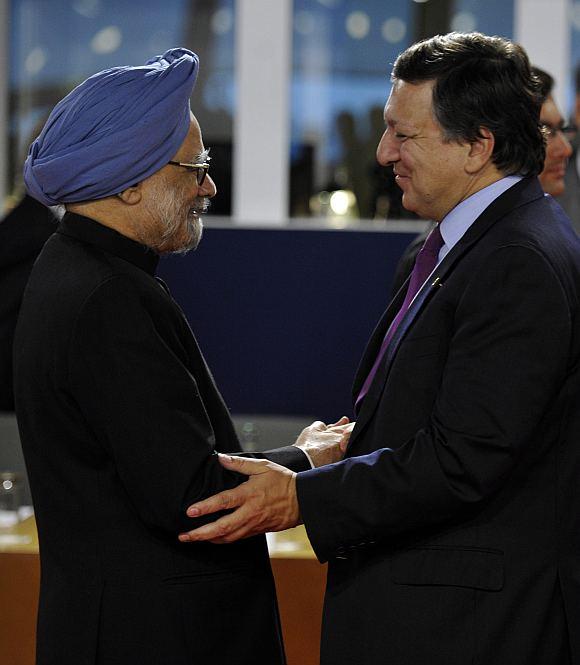 Extending full support to Europe, Prime Minister Manmohan Singh said on Thursday that a quick solution to the Eurozone sovereign debt crisis was required but it should not be at the cost of growth of the developing nations like India.
BJP calls petro hike as 'midnight deceit', Left wants roll back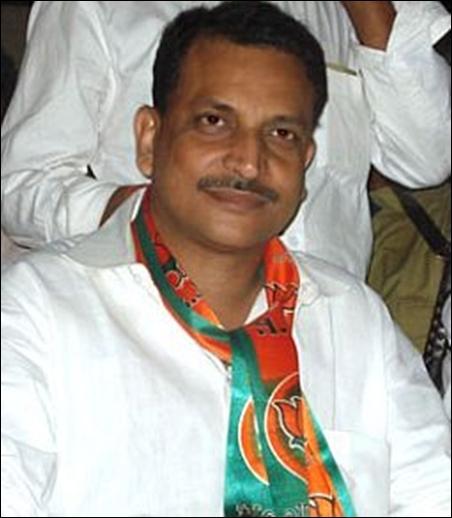 The Bharatiya Janata Party on Thursday alleged that the hike in petrol prices was yet another act of "midnight deceit" by the UPA and insisted that the common man would not spare the dispensation led by the "economist" Prime Minister for its arrogance.
Yet another blow! Petrol price hiked by Rs 1.80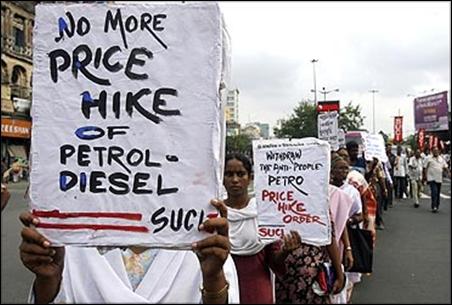 Oil companies on Thursday again hiked petrol prices by Rs 1.80 per litre to offset the fall in rupee that has made imports of crude costlier.
India tops Asia for family-controlled listed companies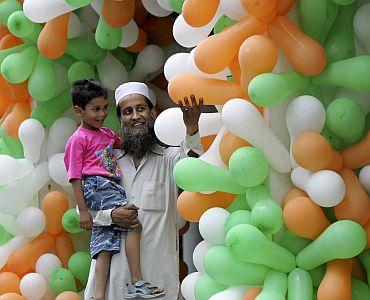 The study, conducted by global financial services major Credit Suisse, found that 67 per cent of all listed companies in India were family-controlled entities.
MFN status to India: Pak govt issues confusing statements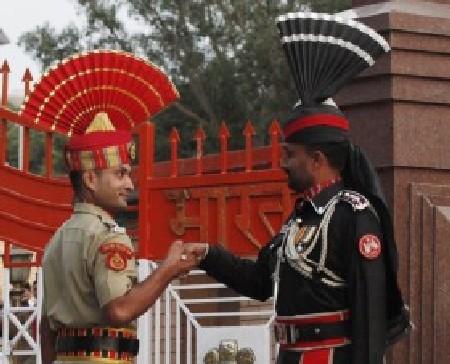 Hours after announcing that it would grant the much-delayed MFN status to India, Pakistan government issued several confusing statements which made no direct mention of the significant step aimed at boosting bilateral trade.
IMAGES: World's 10 largest shopping malls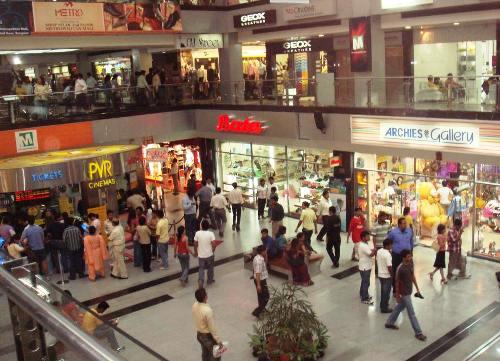 Malls have become an inevitable part of the retail boom all over the world.
US welcomes Pakistan's MFN status to India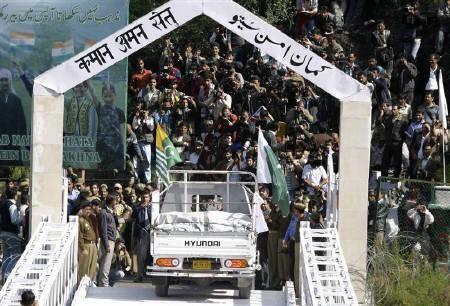 The US has welcomed Pakistani cabinet's move to grant the much-delayed Most Favoured Nation trade status to India, terming it a positive development towards the economic integration of the region.
Gold costlier by Rs 50, silver plunges by Rs 200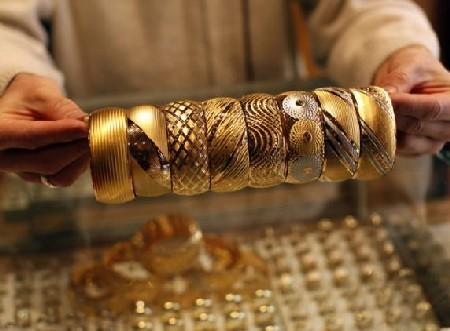 Gold in global markets, which normally sets the price trend on the domestic front, recorded a sharp gain of USD 17.50 to USD 1,738.40 an ounce and silver rose by 2.45 per cent to USD 34.27 an ounce in New York last evening.
IMAGES: 6 cheapest SUVs in India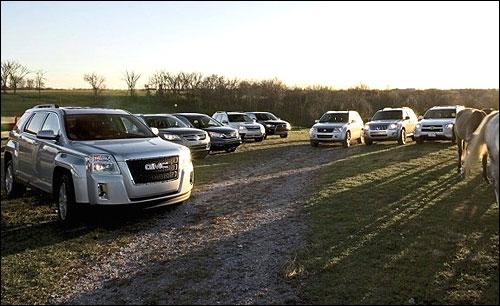 The diesel engine option for almost all SUVs cuts down the burden on commoners, thanks to low diesel price.
Why younger employees prefer mobility over money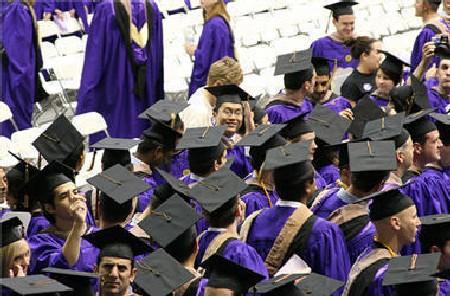 A good salary is important for the youngsters, but many of them would prefer a job that allows mobile connectivity to the workplace and provides social media freedom, a study has found.
Misery continues: Food inflation surges to 12.21%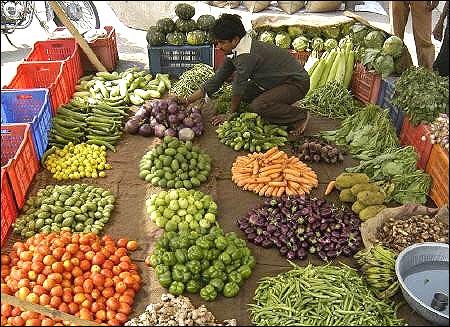 Eggs, meat and fish also became 13.36 per cent more expensive on an annual basis, while cereal prices were up 4.13 per cent.
Black money: India urges G-20 to take strong actions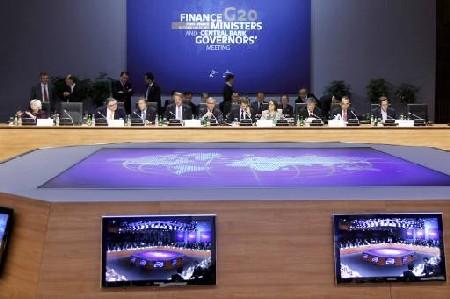 India on Wednesday said it hopes the G-20 nations will pay heed to its call for a strong action on the issue of black money stashed in tax havens during their crucial summit in Cannes.
BAD NEWS! Diesel, LPG prices set to rise again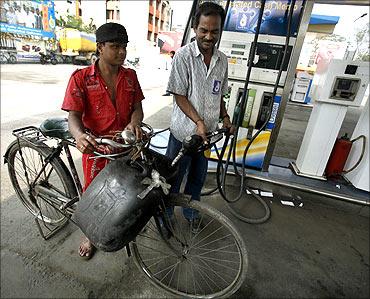 Time opportune before state polls as inflation is moderating.
Quality of life? India ranks at a dismal 134!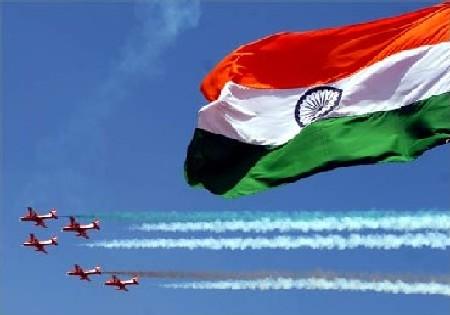 In the 2010 Human Development Report, prepared by UNDP, India had been ranked at 119 out of 169 countries.
VP Nandakumar: Man with the Midas touch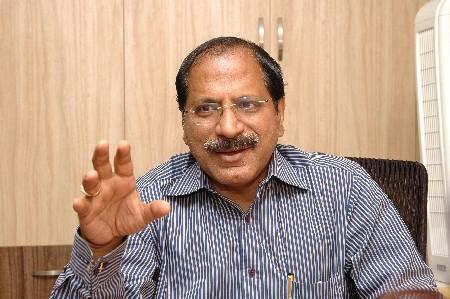 The man behind this miraculous growth is 57-year-old VP Nandakumar, the executive chairman of Manappuram Group. He took over the reigns of the shop in 1986 when his father fell ill.
Photos: Petrol is CHEAPEST in these 10 nations!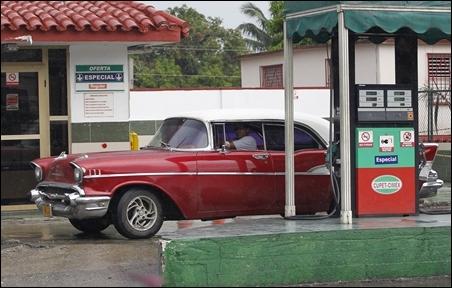 Demand, supply imbalance and taxes influence petrol and diesel prices.
Images: World's most STUNNING car parks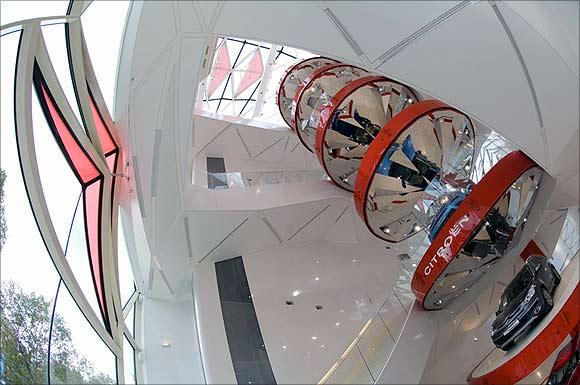 Some of the world's best car parking spaces and auto dealerships are architectural wonders.
How these 30 nations treat their women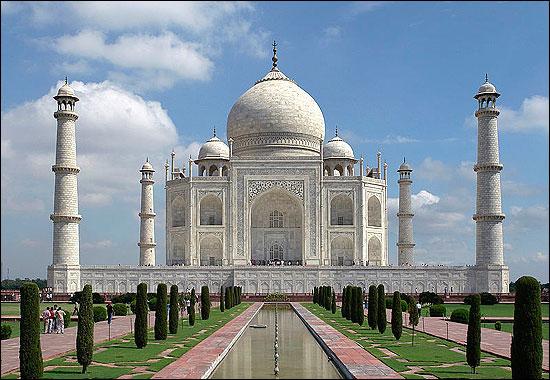 per cent of countries have improved their gender equality ratios.
India at G20: Will big economies be able to deliver the goods?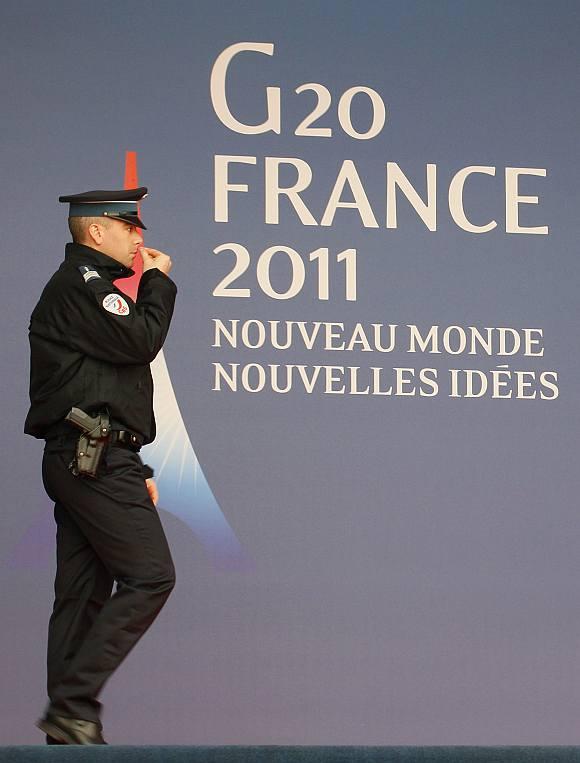 Even as Prime Minister Manmohan Singh arrived in the quaint, quiet resort of Cannes in southern France on Wednesday for the G20 Summit, the air was thick with doubt if the leaders of the world's largest economies would be able to deliver the goods and rein in the galloping debt crisis. reports from Cannes.
November 02, 2011
India may consider financing bailout of Eurozone: FM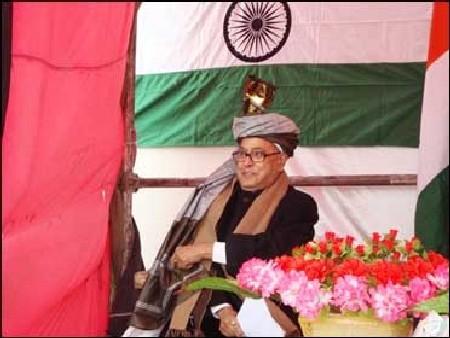 Finance Minister Pranab Mukherjee on Wednesday hinted at financing for sorting out Eurozone crisis after a credible assessment of solvency problem is made.
Jobs will woo 3 lakh NRIs to return by 2015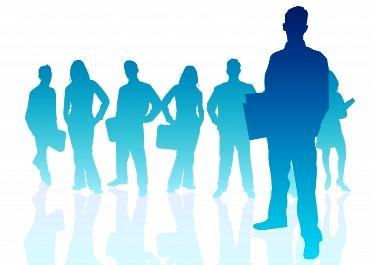 The finding also highlights that for a majority of reverse migrants, job satisfaction levels in India will outshine their previous overseas jobs within the next 2-3 years.
'Left govt's unrestrained borrowing led to Rs 1.92 lakh-cr debt'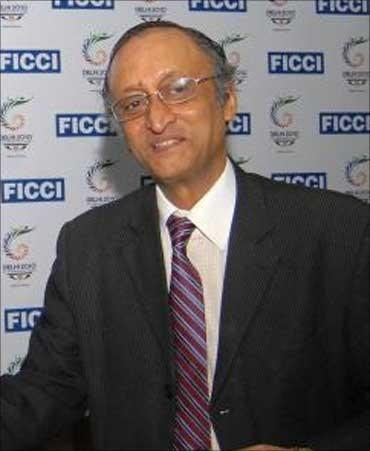 In a telephonic conversation, Mitra explains to how the state is reeling under a huge debt, a 'legacy' of the Left government.
IMAGES: Technology at its best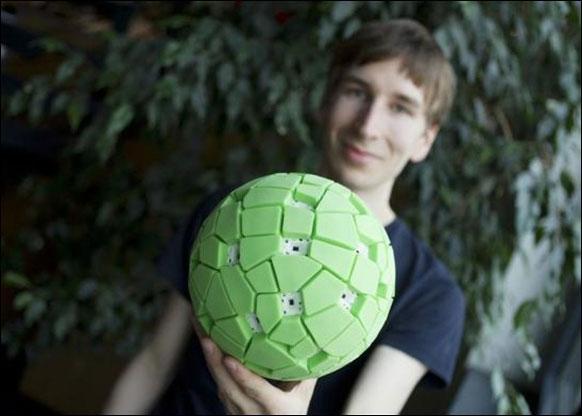 Take a look at stunning photos from the technology world...
PM hopes G20 leaders will put global economy on track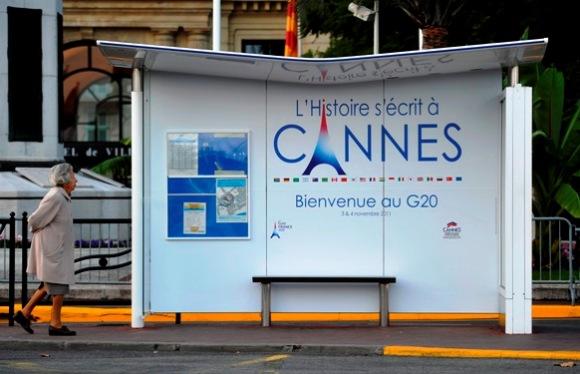 Prime Minister Manmohan Singh on Tuesday expected the Summit of world's 20 leading economies to signal a 'strong and coordinated approach' to put the global economy back on track, while addressing medium term structural issues.
28 nations that pay LEAST and MOST bribes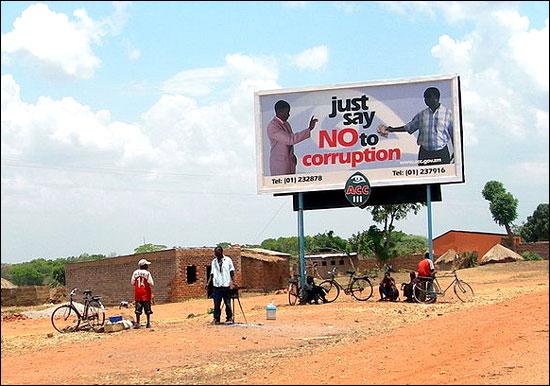 Transparency International, a global anti-corruption group, has just released the Bribe Payers 2011 Index.
IN PIX: 10 countries with most billionaires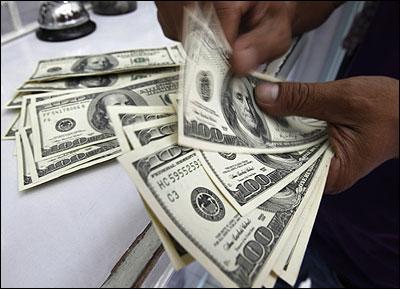 The 2011 Wealth Report published a list of 10 countries with most billionaires.
Is RBI's credit policy a volte-face?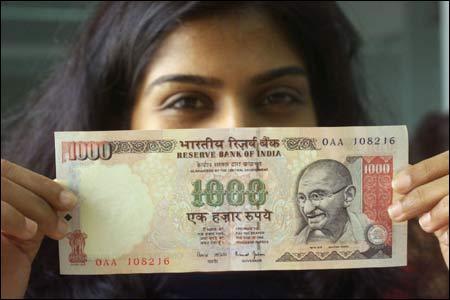 explains how the central bank's acceptance of a new normal for inflation could drive future policy decisions.
PHOTOS: World's 17 biggest employers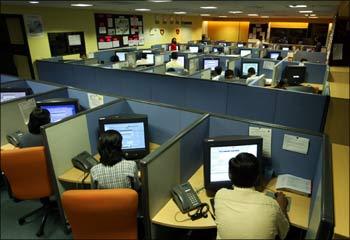 While the world is going through tough economic times, there are some organisations that are adding jobs instead of cutting.
How to maximise WEALTH? Few golden tips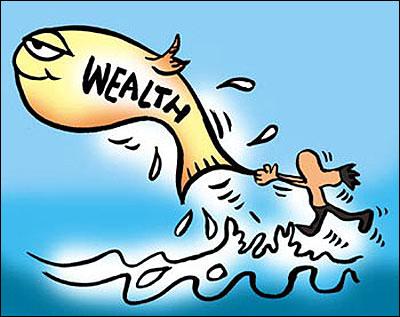 During high inflation times, calculate real returns to maximise wealth.
Pakistan grants MFN status to India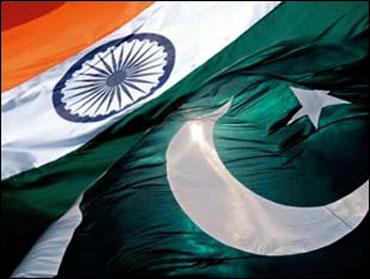 The MFN status, which means that Pakistan will give trade treatment to India at par with its other partners, is likely to boost bilateral economic ties.
PIX: InterGlobe launches Atom in India at Rs 85 lakh!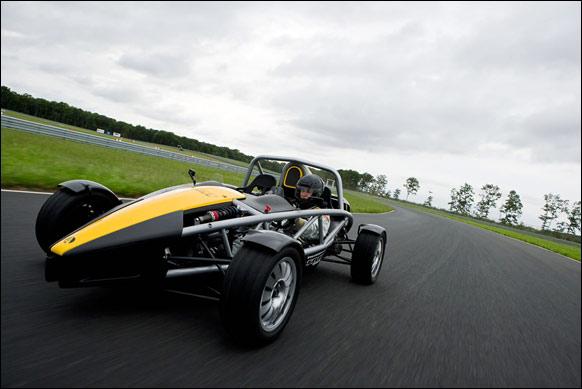 Diversified business house InterGlobe Enterprises on Wednesday said it has launched British sportscar maker Ariel Motor's Atom range of cars in India, priced up to Rs 85 lakh.
Is govt an enlightened shareholder?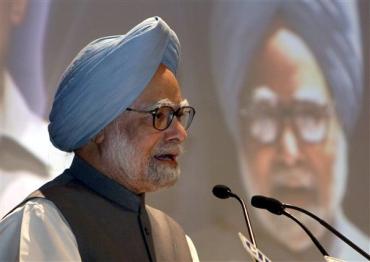 Does the UPA govt have any other options if it wants to exploit its public sector assets to raise resources and bridge its fiscal deficit?
India improves score in global bribery index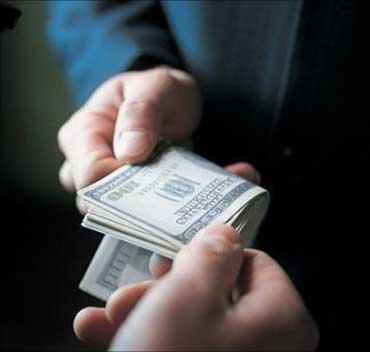 In a list of 28 countries, India has been ranked 19th, while China and Russia were fared the worst, at 27th and 28th positions, respectively.
November 01, 2011
PM to take up India's concerns at G20 Summit in Cannes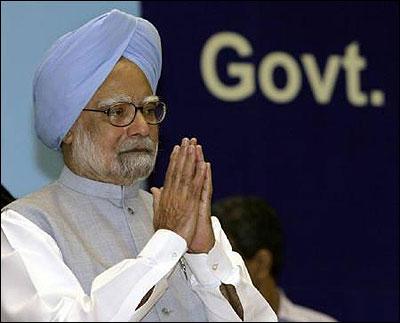 The prime minister will be assisted by Planning Commission Deputy Chairman Montek Singh Ahluwalia, India's Sherpa to the G20 process.
Petrol prices likely to go up by Rs 1.82/litre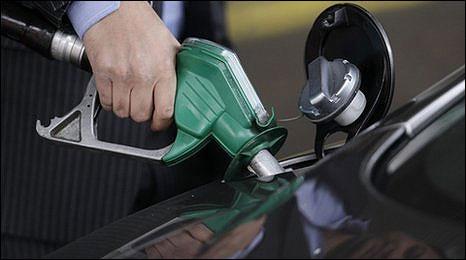 It remains to be seen if the government will concede to the demand of oil companies just before the winter session of Parliament.
Govt must reveal names of all 700 black money holders: BJP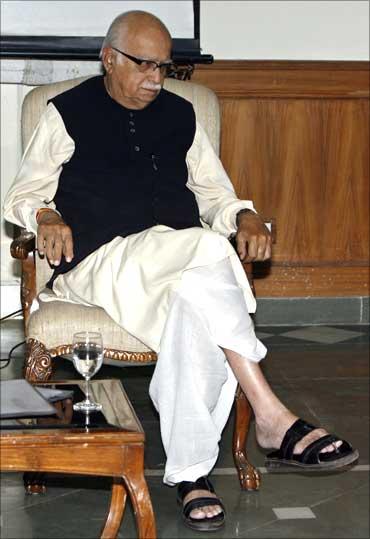 BJP also demanded that the government make public the action taken to bring back Indian money stashed abroad and steps initiated to prosecute such tax evaders.
Govt disagrees with Wipro chief's remarks on governance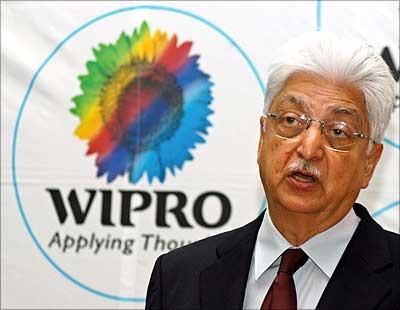 "I cannot agree with any statement which says that there is lack of governance. I cannot agree with that perception at all," Information and Broadcasting Minister Ambika Soni told reporters.
Auto majors record mixed sales in Oct; Maruti slips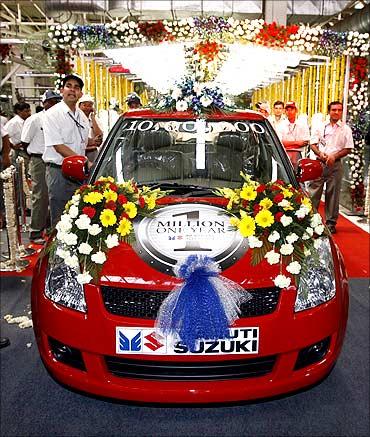 Auto majors, except Maruti, register marginal growth in sales in October.
Planning to retire? Take a look at India's BEST places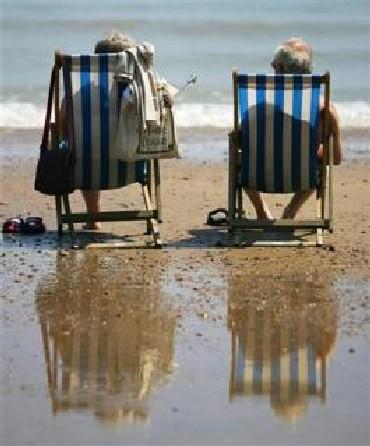 These places are best suited for retirement in India, in terms of it's proximity to the city, medical and infrastructure facilities, good location with interesting local activities and places to explore, safety and a cosmopolitan outlook with low cost of living.
Occupy Wall Street gets a desi flavour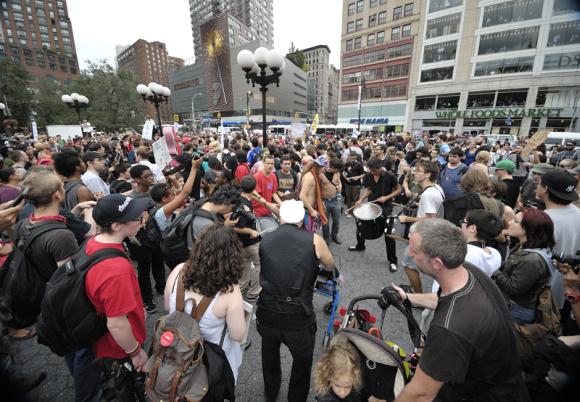 Occupy Wall Street protests have a distinct desi flavour that goes beyond the belief in militant non-violence.
IMAGES: The 4 closest rivals of Hyundai Eon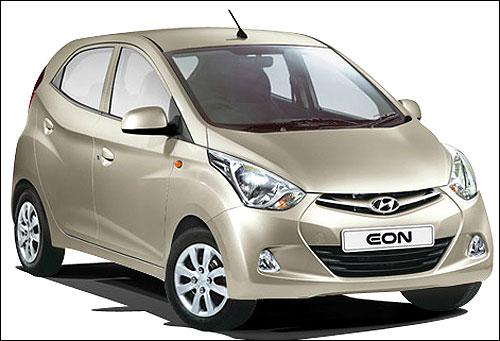 Maruti Alto or Hyundai Eon? The comparison is here!
How Wipro recorded positive growth despite global economic issues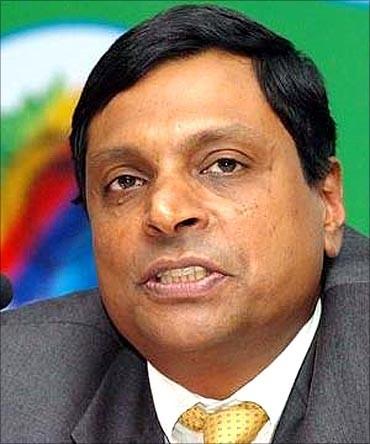 We saw the highest growth coming in from BFSI (banking, financial services and insurance) last quarter than any of our competitors. It has grown very well. But the others have also now stepped up their focus on BFSI.
Mumbai homes may just become CHEAPER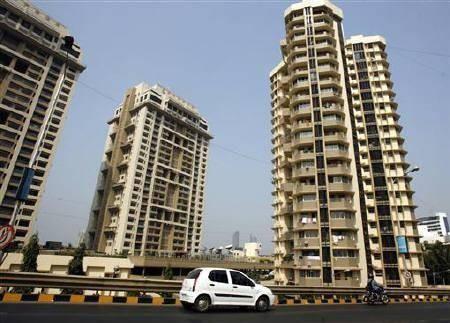 Home prices in Mumbai are headed for a sharp correction, while others may remain stagnant due to rising unsold stock, says a report from Bank of India Merrill Lynch.
Images: The making of the world's LARGEST gold coin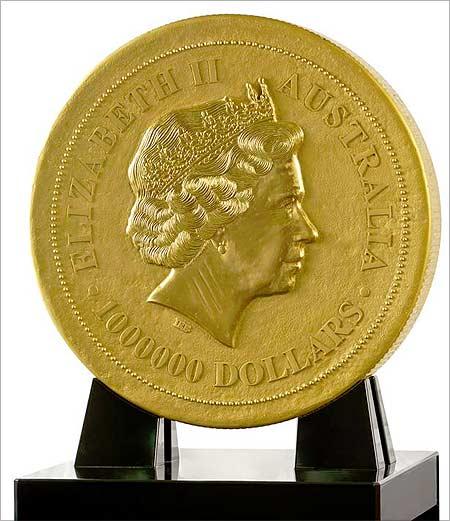 Australia has unveiled the world's largest gold coin, weighing a massive 1,000 kg to mark the visit of Queen Elizabeth II.
New savings rate: A bonanza for small depositors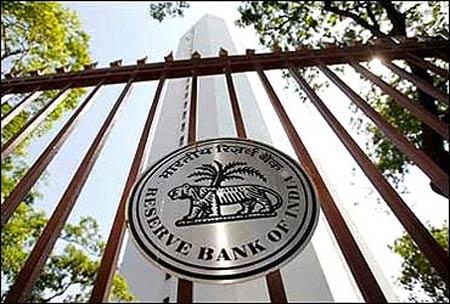 The Reserve Bank of India (RBI) has at last rung down the curtain on administered lending rates by freeing the interest rate on savings bank accounts.
Stunning PHOTOS: Rise of the megacities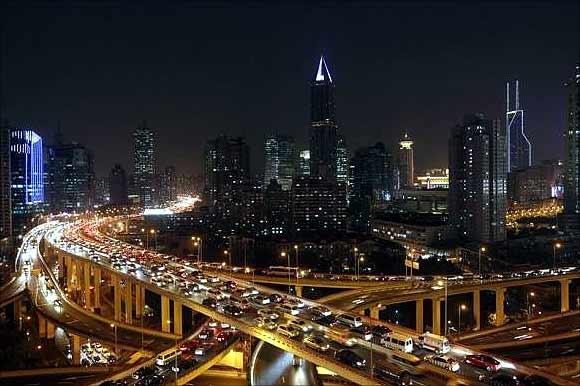 Take a look at the rise of megacities across the world...
93-day Manipur economic blockade partially off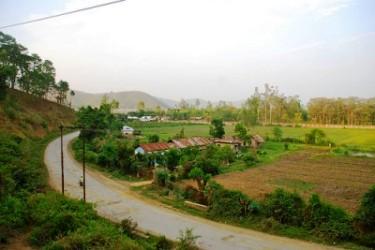 Senapati district happens to be inhabited largely by different communities of the Kukis, the Nepalis, and the Nagas. Within the district, Sadar Hills is dominated demographically by the Kukis.
Richard Branson lends a hand to tiger conservation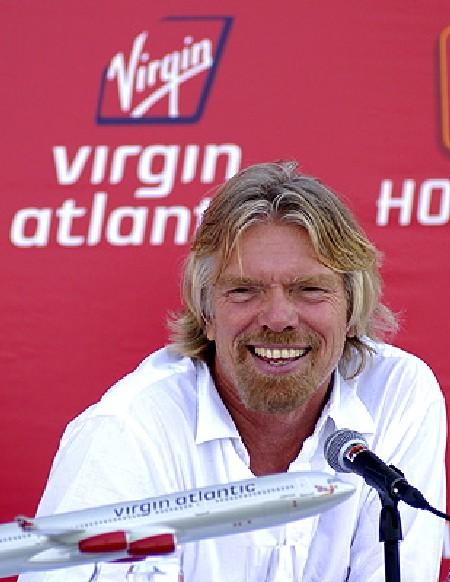 The 61-year British business tycoon flew into New Delhi on Saturday evening to help efforts in conservation of tiger, which he says his favourite animal.
October 31, 2011
India growth projection at 7.6% for 2011-12: Citigroup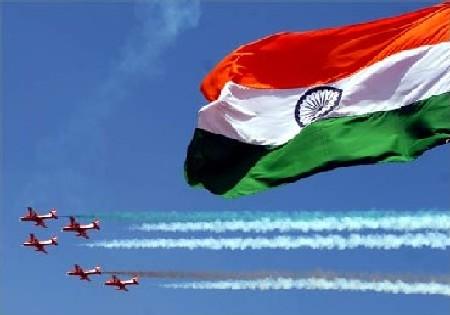 Maintaining its growth forecast for the Indian economy at 7.6 per cent for 2011-12, financial services major Citigroup on Monday said higher farm output is expected to offset sluggishness in the industrial sector.
Who is to blame for America's financial mess?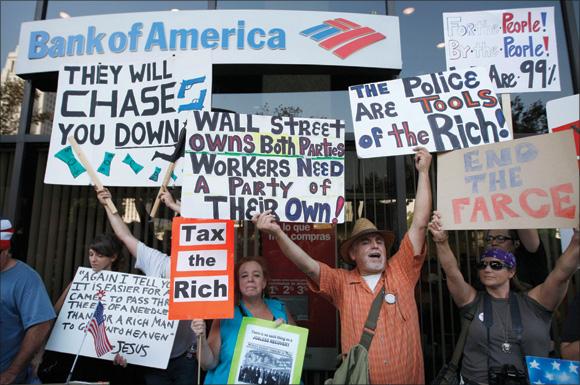 The money from America that ends up abroad brings prosperity and generates more jobs at the cost of jobs in the US.
Global giants plan thousands of job cuts to save costs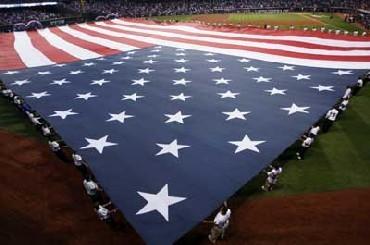 More than 1,35,000 job cuts have been announced by just about a dozen multi-national companies in past few months in their efforts to slash costs and those from the financial services space are among the worst hit.
Prices will begin to drop soon, says Pranab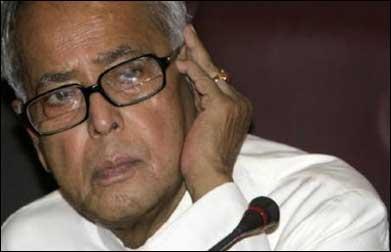 Finance Minister Pranab Mukherjee on Monday said that inflation will start easing soon as the government's efforts to remove supply-side bottlenecks have started yielding results.
Catch a glimpse of the NEW Renault Pulse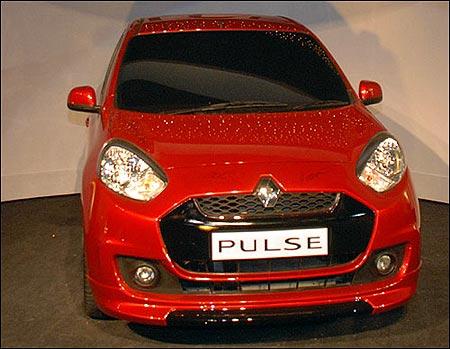 Powered by a new 1.5L diesel engine, Renault Pulse delivers an impressive mileage of 23 kmpl.
How PSU giants are eating up India's precious resources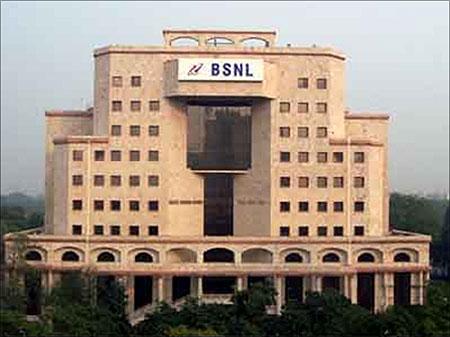 Historically, public sector units were conceived of under the assumption that they will control the 'commanding heights' of the Indian economy, which were necessary for rapid industrial growth but where private investment was unwilling to enter.
EU's rescue plan offers temporary reprieve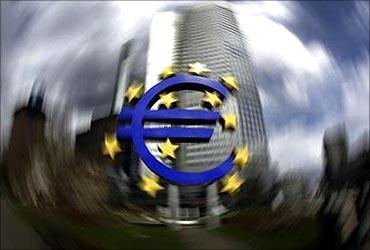 Perhaps the most important thing that has come out of it is clarity about the extent of private sector involvement in the Greek bail-out programme.
S Ramadorai on life after TCS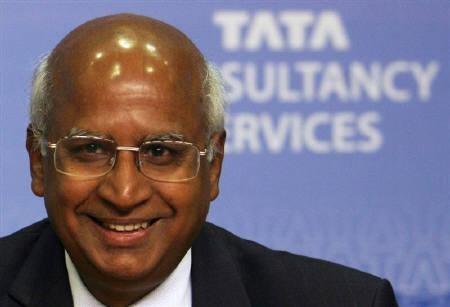 S Ramadorai is now the vice-chairman of Tata Consultancy Services (TCS) after being its MD and CEO for a decade. He is also advisor to the Prime Minister on the National Skill Development Council (NSDC).
A big food crisis likely, prices to RISE further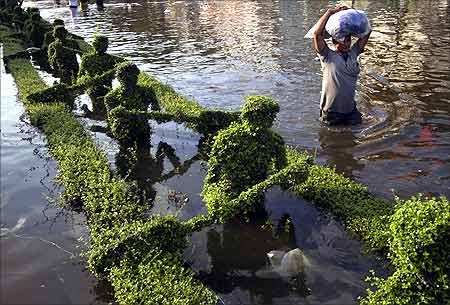 Catastrophic flooding and crop losses in Thailand - the world's leading rice exporter - are raising concerns that another food crisis may be in the offing.
AI to train pilots for Boeing 787 in Singapore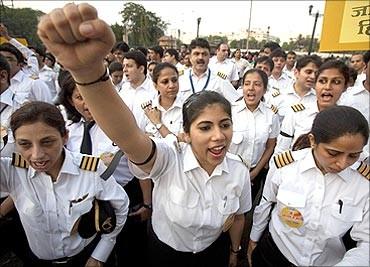 Air India will train its pilots in Singapore for the Boeing 787 Dreamliner aircraft, due for delivery from December. The move is sparking a protest from one of its pilots' unions, on promotion issues.
India needs change in policies to boost manufacturing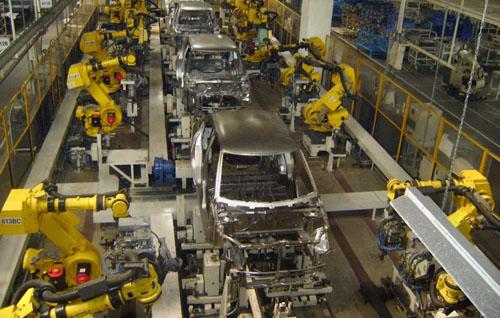 India needs manufacturing sector growth for a variety of reasons.
Qantas resumes operations after 44-hour shutdown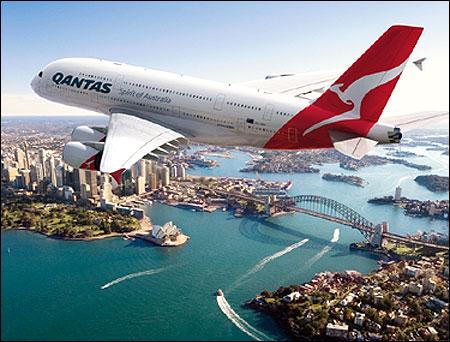 The first Qantas domestic flight took off from the airport in Melbourne with passengers cheering as boarding began after the airline was grounded on Saturday following series of union issues.
'Occupy Dalal Street' seeks the spotlight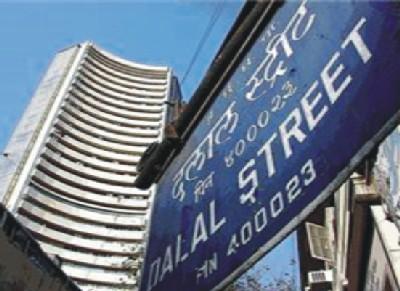 Starting this Friday, Prakash Reddy, secretary of the Communist Party of India, plans to occupy Dalal Street accompanied by whoever he manages to woo by then.
COLUMN: Fixing India's broken education system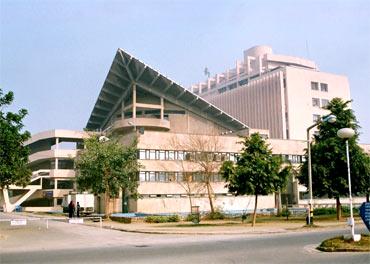 Education is merely seen as a means to further one's career. A bunch of entrepreneurs are trying to change this.
The rise and fall of Rajat Gupta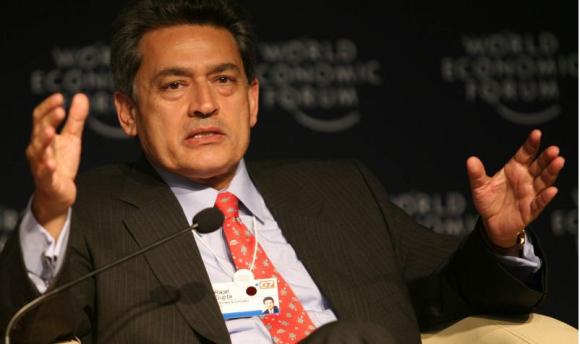 From a man used to rubbing shoulders with the most powerful businessmen in the world, Rajat Gupta is now staring at a lengthy prison sentence.
Population @ 7 billion: Chilling IMAGES from around the globe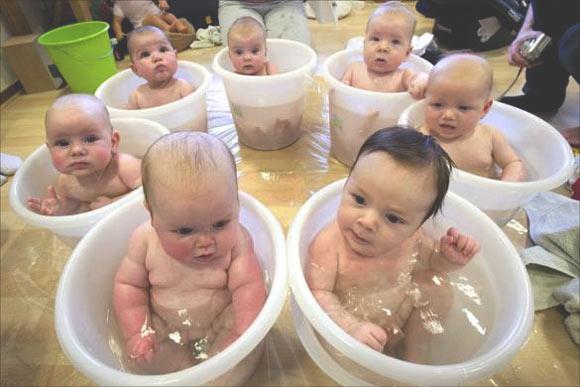 Overpopulation is the biggest threat to our planet.
Japan Delhi Metro's knight in shining armour again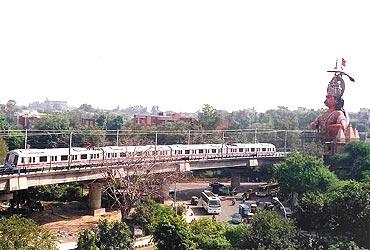 Sharp jump in soft loans to help DMRC finance surge in construction cost.
Wipro Q2 net up 1.24% at Rs 1,300 cr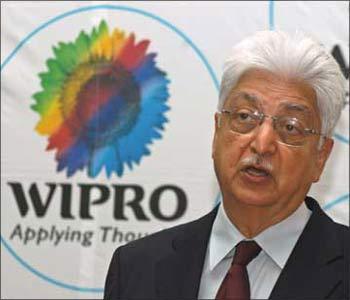 Last year, the company had posted a net profit of Rs 1,284.9 crore (Rs 12.84 billion) for the second quarter, as per international accounting standards.
October 30, 2011
Niira Radia exits communication consultancy biz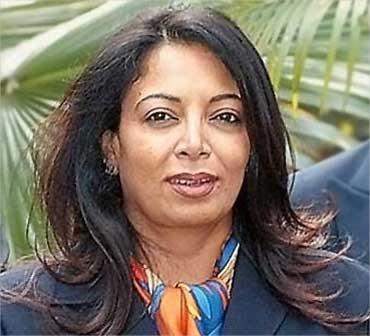 In a surprise move, Niira Radia, owner and promoter of Vaishnavi Group which has the mandate from Tata Group and Mukesh Ambani-led Reliance Industries Ltd, has announced her exit from the business of communication consultancy.
October 28, 2011
Sulking Maya complains against Jairam to PM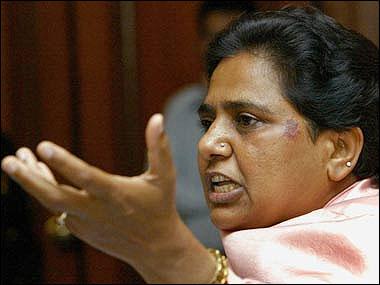 Accusing Jairam of making a mountain out of a molehill, she has sought to draw the prime minister's attention to the minister's bid to generalise some information.
COLUMN: Can Occupy London transform the financial world?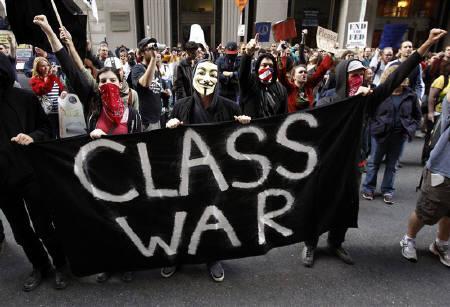 The encampment of protestors started out in the square at the front of the towering St Paul's cathedral, one of London's best loved landmarks.
Post-Diwali investors richer by Rs 1,500,000,000,000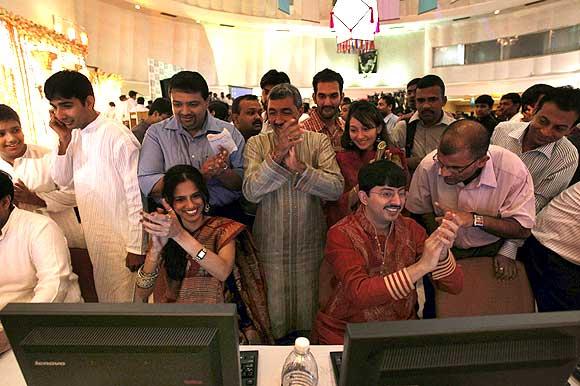 A strong rally in the stock market, the biggest in the last two months, on Friday added an estimated Rs 1.5 lakh crore to the investors' wealth.
Meet the wannabe poster boys of e-commerce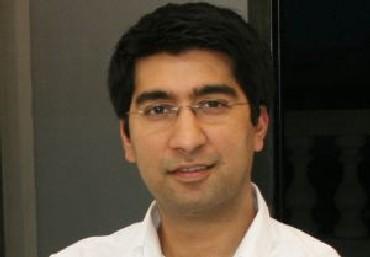 Flipkart's Sachin and Binny Bansal may have become the poster boys of the Indian e-commerce industry, but there are a host of others who are emerging from the shadows.
SPECIAL: The changing face of Sivakasi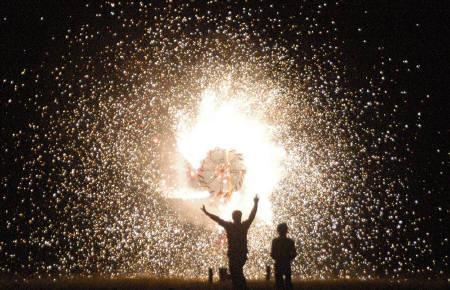 Sivakasi of today is not the Sivakasi of yesteryear.
What kind of superpower will China be?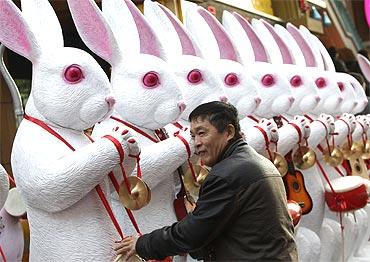 By 2030, China will exercise dominance while still being only an upper middle-income country.
World's 25 best firms to work for, Microsoft No.1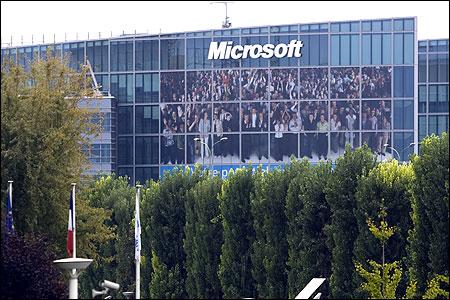 Software giant Microsoft has topped a list of the world's best multinational companies to work for, where all the top-ten positions have been bagged by American firms.
Savings rate deregulation: How does it affect you?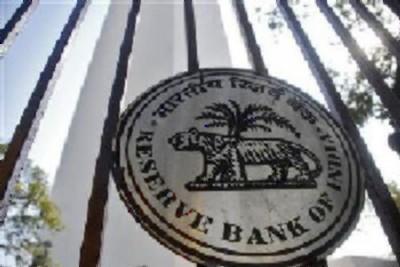 The deregulation has also helped build efficiency in the system where there is not much difference between savings deposit rates and market rate. There is no reason why India should not have this norm as well.
Mangu Singh: The man who will run Delhi Metro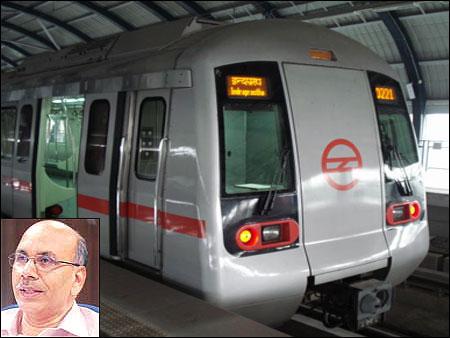 Mangu Singh will take over from E Sreedharan.
EXCLUSIVE! It's Maharashtra's turn to draw flak on rural jobs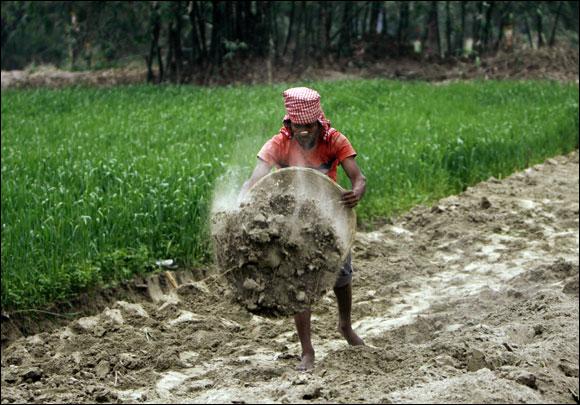 Ramesh wants Maharashtra to be a pace setter.
PHOTOS: World's 20 most generous nations
A report, released recently by the British-based Charities Aid Foundation, showed striking variations in charitable behaviour across the world.
Indian airlines go on penny-pinching spree!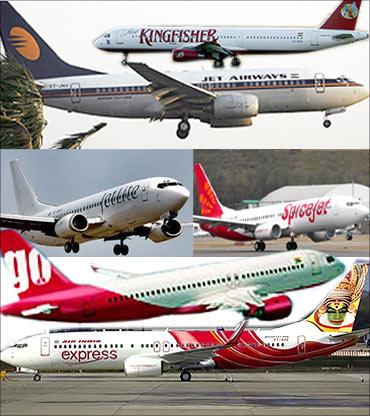 Amid surging oil prices and depreciating rupee, Indian carriers are becoming frugal.
IMAGES: This is where the Internet was born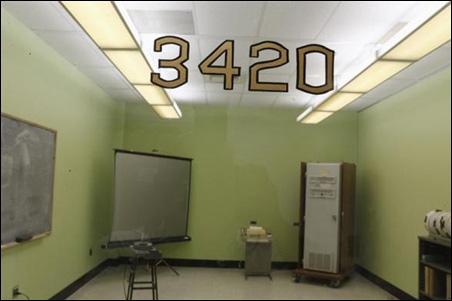 The original lab, which for years had been used as a classroom, has been recreated as it was in 1969.
2G scam: How Raja's secretary overruled advice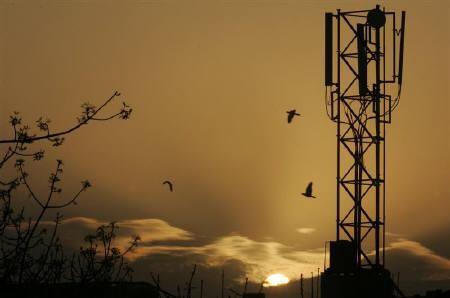 Instructions of the personal secretary to the minister were taken as instructions of the minister himself.
October 27, 2011
Rajat Gupta's arrest sends shockwaves through ISB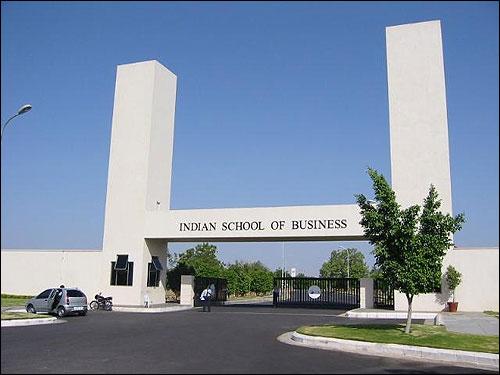 The $130-million world class premier Indian School of Business in Hyderabad, a brain child of Rajat Gupta, was nurtured by him and his other colleagues in McKinsey through the nineties and the last decade.
A childhood friend on why Rajat Gupta surrendered on Diwali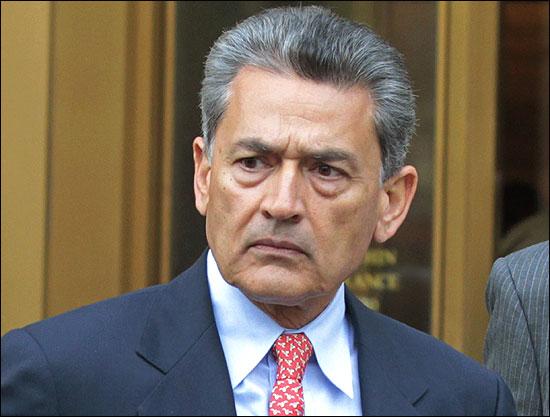 Julka recalls that after the May conviction of Gupta's billionaire friend hedge fund founder Raj Rajaratnam, Gupta seemed worried and nervous about his own future.
IN PIX: India's 25 richest people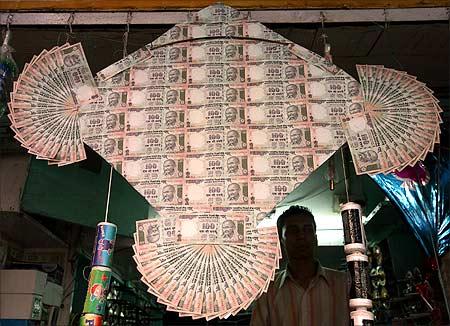 The combined wealth of India's 100 richest people is down 20 per cent from a year ago to $241 billion.
Nokia launches 'Asha' with eye on India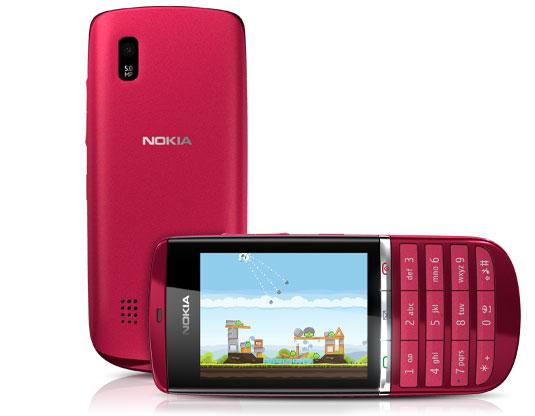 Nokia has launched two new phones.
Food inflation rises sharply to 11.43 per cent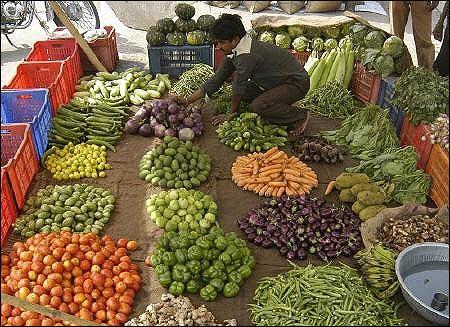 Food inflation, as measured by Wholesale Price Index, stood at 10.60 per cent in the previous week.
REVEALED: The New BMW 3-series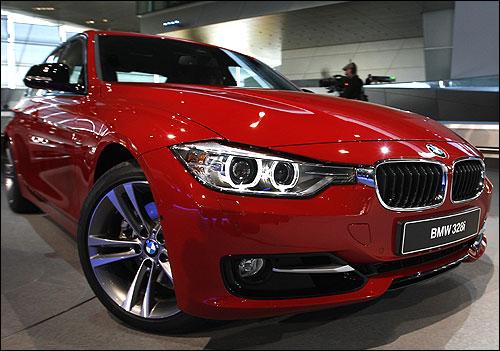 German carmaker BMW AG has unveiled its longer, lighter version of its core 3-Series midsize car.
PHOTOS: Dreamliner takes off on maiden flight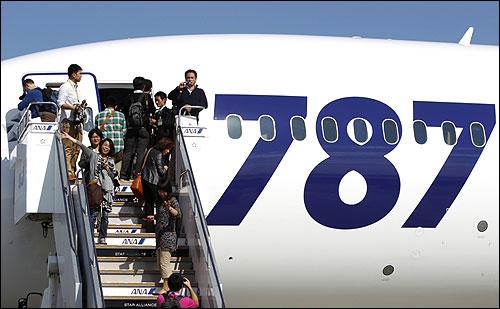 The All Nippon Airways Flight NH7871 left Tokyo shortly after noon, arriving four hours and eight minutes later to be greeted by traditional dance and music.
World population to hit 7 bn on Oct 31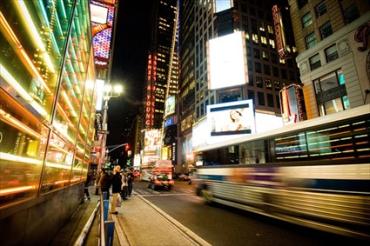 The UN urges the global community to seize the opportunity and invest in health and education of its youth.
Gupta pleads not guilty in insider trading, released on bail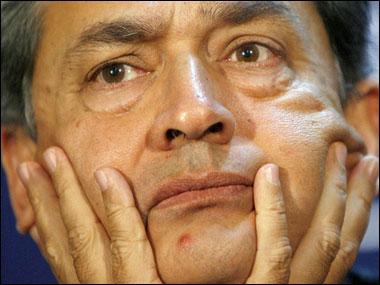 He will be arraigned before US District Judge Jed Rakoff in the US District Court, Southern District of New York.
IMAGES: World's 10 busiest ports!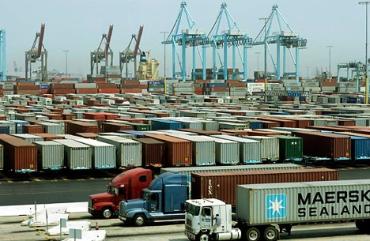 Global consumer demand dictates the flow of container shipping.
Internet surfers: Mumbai scores, Bangalore falls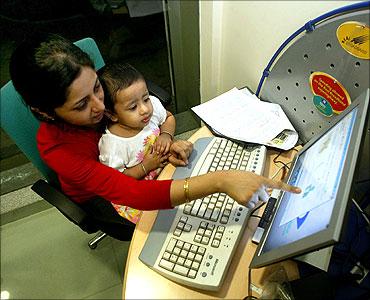 The survey found that towns with less than 2 lakh population collectively returned a much higher number of internet users that the top four metros put together.
October 25, 2011
Ashok Soota on starting from scratch at age 69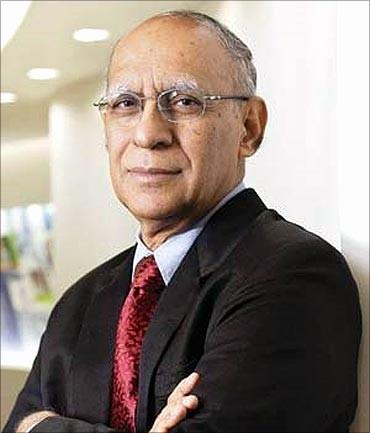 For MindTree, he met the other co-founders through the VC. He is enjoying himself thoroughly and "excited and very pleased with the team" he has been able to build. Given the depth of experience assembled, he considers it "the strongest start-up team for an IT services company."
COLUMN: Will America see economic revolution?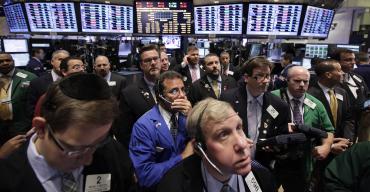 US financial sector not only dominates the US economy, it also in effect controls the US politics, policies and programmes.
RBI rate hike: Home, auto loans to be costlier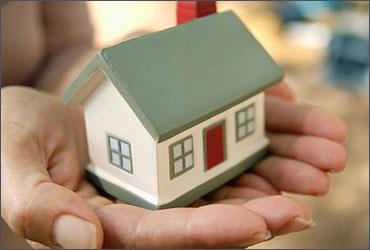 Banks have not raised interest rates following the September review of credit policy.
COLUMN: What it takes to be Ratan Tata?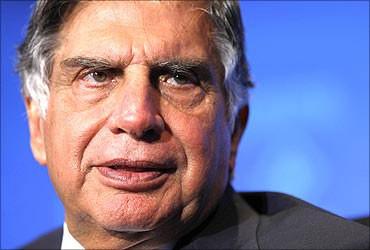 Those in charge of the search for a suitable successor to , who heads the group that bears his name, seem to be sweating for a solution.
RBI frees savings bank interest rate, depositors may get more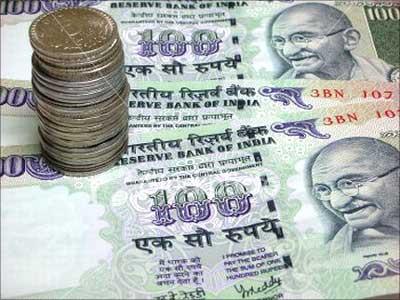 While freeing interest rates on savings bank accounts, the RBI has said that banks will have to offer a uniform interest rate on deposits of up to Rs 100,000.
NREGA fraud: Where is the money, Jairam asks Maya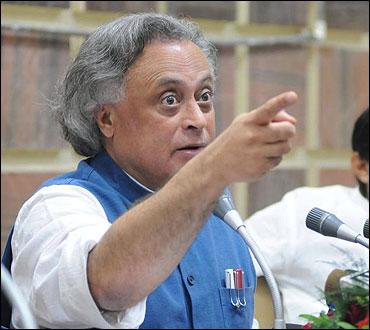 The National Level Monitors have pointed out grave irregularities in the NREGA scheme in Uttar Pradesh.
IMAGES: Amazing interiors of Boeing's business jet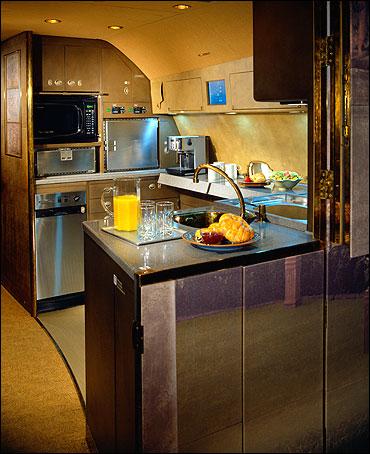 The Boeing Business Jet series are variants of Boeing airliners for the corporate jet market.
Bad News! RBI hikes rates by another 25 bps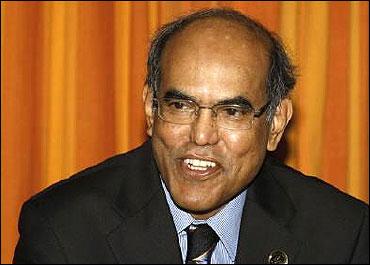 Reserve Bank on Tuesday raised key interest rates by 25 basis points, its 13th such hike since March, 2010.
Investing in gold? MUST READ this!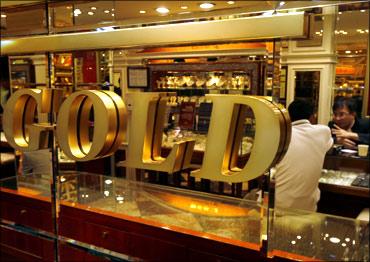 India (NRIs included) goes crazy about gold jewellery.
India to grow FASTER than China in 2013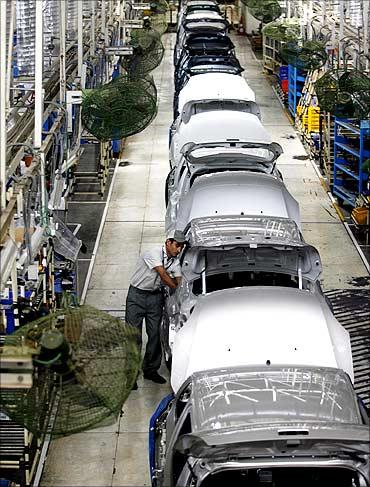 Bolstered by industrialisation, India is projected to grow at a faster clip than neighbouring China with a 9 per cent economic expansion in 2013, says a report by global consultancy firm Ernst & Young.
What's on offer for home buyers?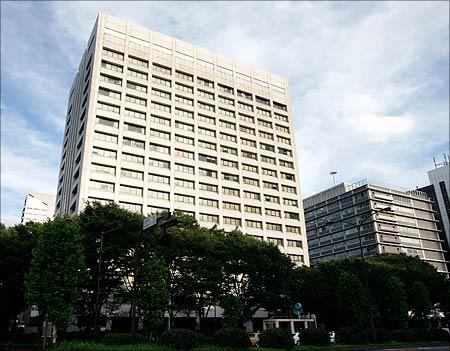 Real estate firms are facing a cash crunch because of low sales, increasing inventory costs and higher cost of funds.
Indians pay the HIGHEST for petrol and diesel!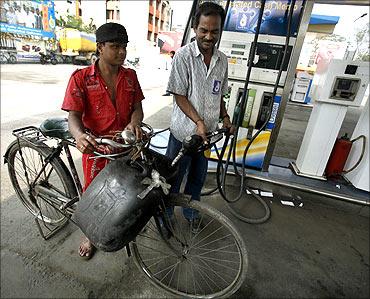 Petrol costs less than a dollar in the OPEC region.
Why India is grappling with labour issues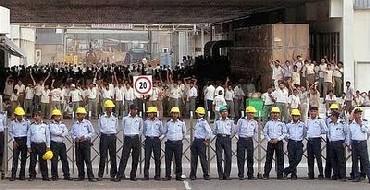 Although India is a labour-surplus economy with an unlimited number of workers willing to work at a subsistence wage a paradoxical feature of the labour market is the rising incidence of scarcity or shortages amid a situation of potential plenty.
This is how India can sustain its growth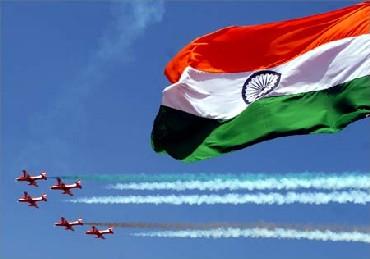 In 2008-09 boosting consumption helped sustain growth. Now it's investment that needs a boost.
IMAGES: World's most and least happy countries!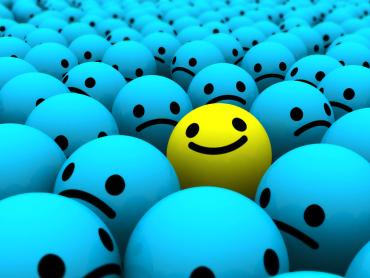 A new report by the Organization for Economic Cooperation and Development offers a comprehensive picture of people's lives in 40 countries worldwide.
October 24, 2011
'India's environment for entrepreneurship positive'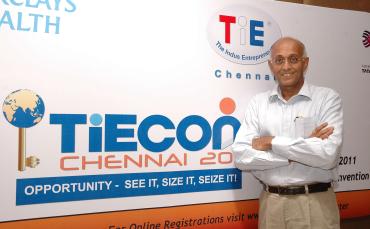 Fourth edition of TiE Chennai's TiECON, Chennai 2011 will be held on November 24.
BAD NEWS! India Inc set to register worst growth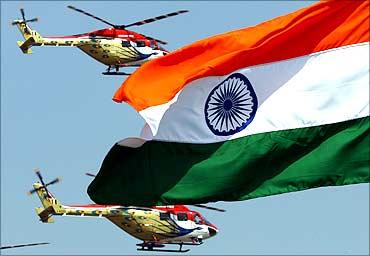 Costly inputs, dearer loans, volatile rupee squeeze profits, margins in Q2.
Prince Charles plans to turn Buckingham Palace into hotel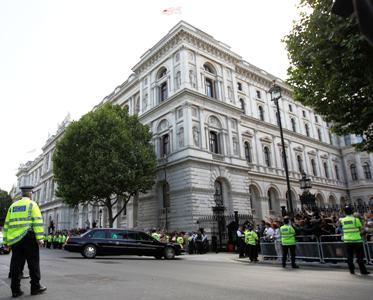 According to sources quoted in the upcoming book penned by BBC broadcaster Andrew Marr, the 62-year-old Prince wants to put his own stamp on monarchy by formulating a 'detailed plan for a first year of change under King Charles III'.
Is it time to privatise oil trade in India?
Indian consumers and oil companies are losing out because buying remains a government monopoly.
Diwali 2011: India Inc's wishlist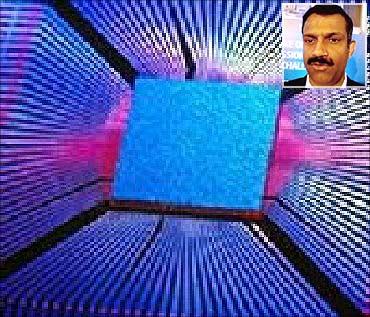 Gadgets and gizmos that the big bosses of the business world are hoping to lay their hands on this gifting season.
IMAGES: The stunning Rs 2.69 lakh Hyundai Eon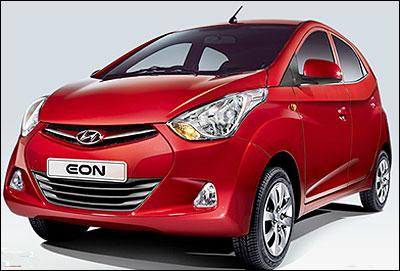 The Hyundai Eon is all set to take the game to the Maruti Suzuki Alto.
Yashwant Sinha on DTC and Services Tax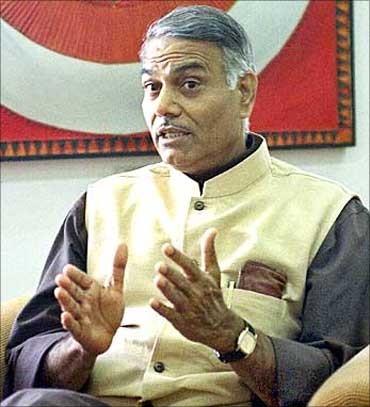 As chairman of the parliamentary standing committee on finance, former finance minister, Yashwant Sinha, says he is committed to expediting the legislative work associated with important Bills, including the direct taxes code (DTC) and Goods and Servies Tax.
'Mean' Jobs admired Facebook CEO Zuckerberg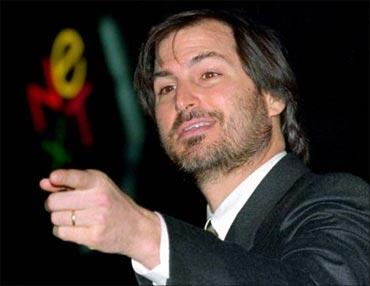 Apple's late co-founder Steve Jobs, who is described by his biographer as being "brittle and very mean to people," had high regards for Facebook CEO Mark Zuckerberg and admired his Silicon valley counterpart for "not selling out."
Tatas mull Group CEO post to ease chairman's workload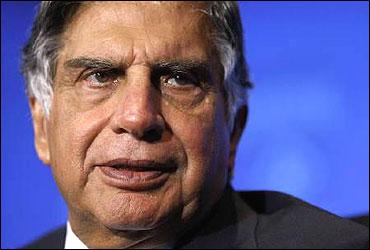 This move is seen as a way to create an enabling structure for the new chairman, where he or she will have the support of an experienced team to share some of the responsibilities in running the conglomerate through Tata Sons.
Will Mysore play host to mass rapid transit system?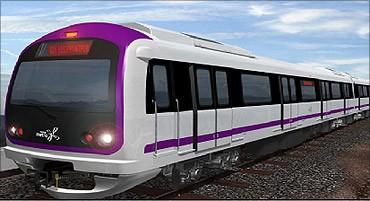 Now that Bangalore has the 'Namma Metro', will Mysore too play host to a mass rapid transit system?
REVEALED! Steve Jobs learnt intuition in India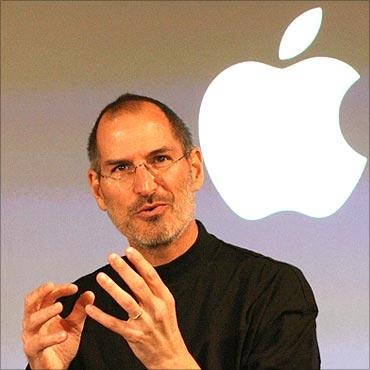 Walter Isaacson says Jobs' design sense was greatly influenced by the "simplicities of Zen Buddhism."
Images: 28 nations with highest UNEMPLOYMENT rate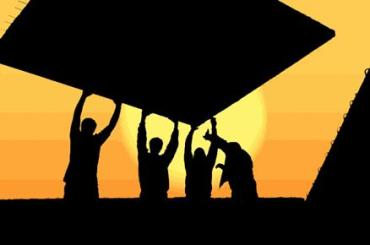 There is no doubt that the global economic crisis has further exposed the fragility of youth in the labour market.
Early birds catch very little worm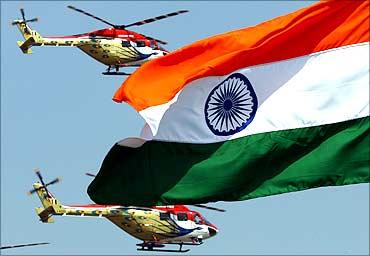 Costly inputs, dearer loans, volatile rupee squeeze profits, margins in Q2.
Images: Onboard the STUNNING Norwegian Epic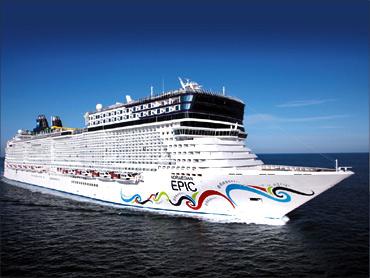 Norwegian Epic has one of the best accommodation facilities, dining and entertainment avenues for passengers on a luxury cruise.
World's top 20 RICE producing nations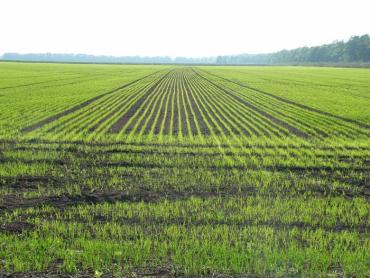 One of the reasons why food prices are increasing all across the world is the shortfall in agricultural output.
October 21, 2011
Human Development Index: Kerala No. 1, Delhi 2nd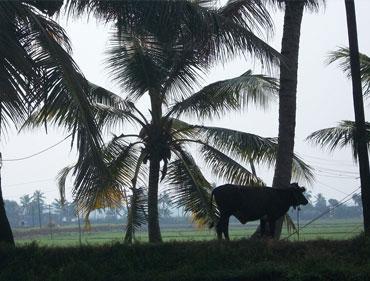 The Human Development Index in the country rose by 21 per cent, according to a report which cautions that health, nutrition and sanitation remain the key challenges for India.
Manesar strike loss pegged at Rs 700 cr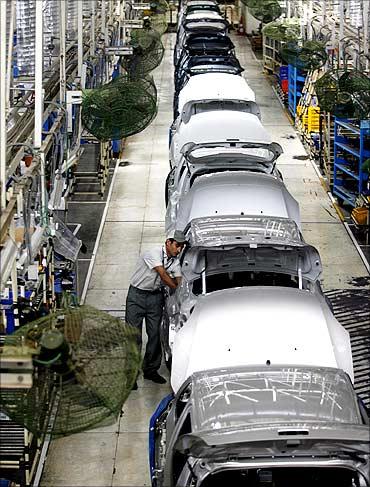 The agreement provides for reinstatement of 64 dismissed permanent workers by MSI, which will also take back 1,200 casual workers.
Govt working to make private sector bribery criminal: PM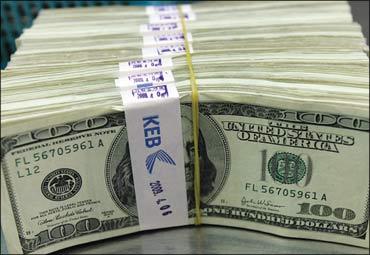 Speaking at the Biennial Conference of CBI and state anti-corruption bureaux, the Prime Minister said India has ratified UN Conventions against corruption and to meet its requirements a slew of measures which include amendments in laws pertaining to anti-graft measures.
IMAGES: 12 hatchbacks that cost between Rs 300,000 and Rs 500,000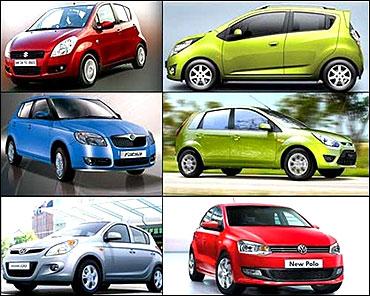 Indians are offered ample choice in the Rs 300,000 - Rs 500,000 category, where consumers can buy a car, which is not only loaded with remarkable features but is also high on brand value.
Why Greece can't be rescued, but is still being rescued!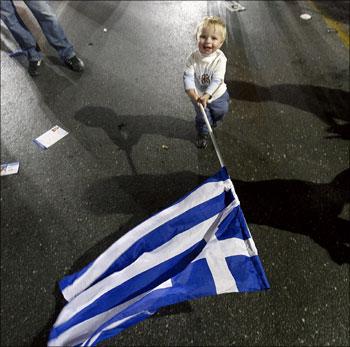 If profligate Greece defaults on its debt, it will pull down many other European economies, says .
IMAGES: 29 countries with most economic freedom
In some countries opening and running a business is as easy as travelling from one city to another, while in some it means battling layers of bureaucracy.
In Pix: ICICI's Chanda Kochhar is among the world's sexiest CEOs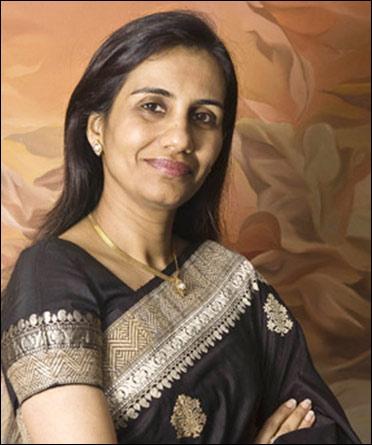 Chief executive officers (CEOs) are known not just for their outstanding capabilities, they are also famous as style icons.
IMAGES: World's 10 most precious gems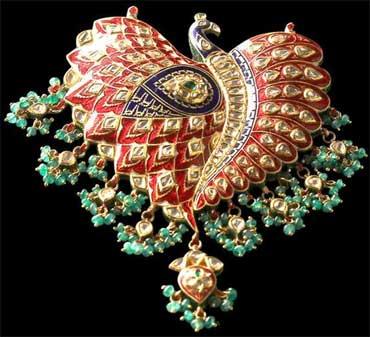 We present here a list of some of the world's most precious, rare and valuable gems.
SBI hikes home loan tenure to 30 years
Rising rates prompt extension by 10 more years; others may follow suit.
Firms in India, China, US facing high FRAUD risk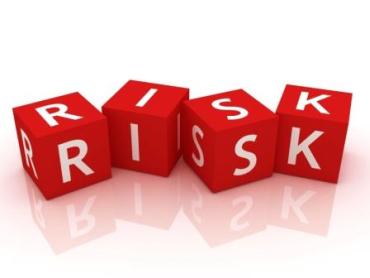 Organizations operating in multiple geographies, legal environments and cultures face a complex set of challenges and risks as they develop their business.
How to eliminate corruption? Abolish the laws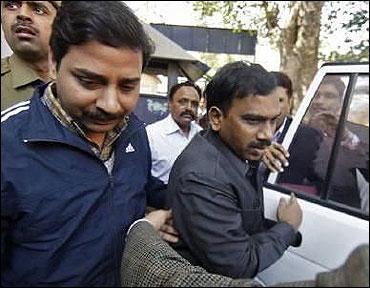 Inexplicably, the Law Minister does not realise that all these economic crimes are highly damaging to our economy and social fabric.
IMAGES: World's most business-friendly countries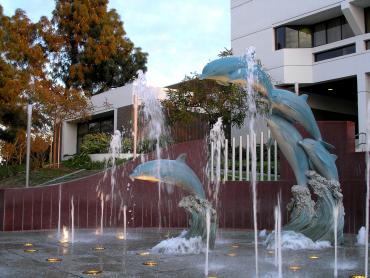 While some countries are business friendly, others are not.
October 20, 2011
Telecom ministry targets Rs 650,000-crore investment!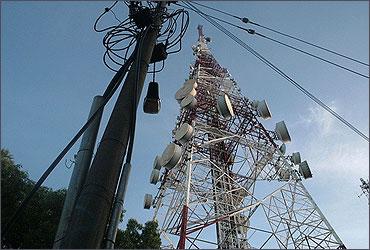 According to a background note prepared for the Economic Editors conference, the Telecom Ministry has made a provision of adding 1,200 million new telephone connections by 2017.
Maruti's next auto hub: Will Gujarat clinch the deal?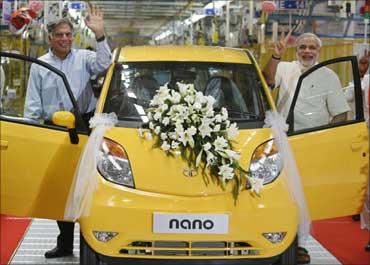 It is a raging battle between the states as automobile companies explore ideal locations to set up manufacturing bases.
Bad news! Food inflation zooms to 10.60%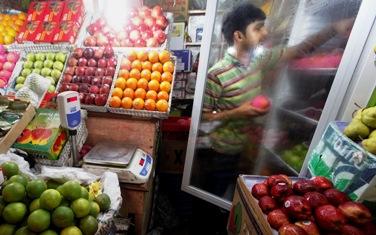 Food inflation is back in double digits after a gap of a month-and-a-half and stood at 10.60 per cent for the week ending October 8 on the back of costlier vegetables, fruits, milk and protein-based items.
Stunning PICS: World's longest suspension bridges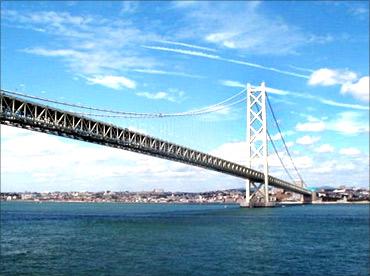 These bridges are one of the world's best engineering marvels.
IMAGES: Bengaluru's swanky metro rail starts service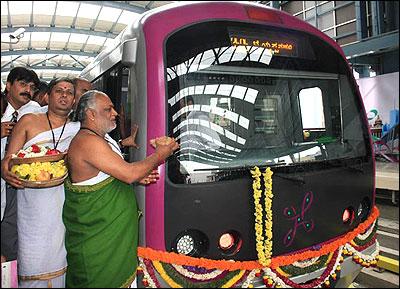 The IT capital's much awaited Bangalore's metro rail service, 'Namma Metro' will start operations from 20 October, 2011.
IMAGES: Stunning buildings in 10 future cities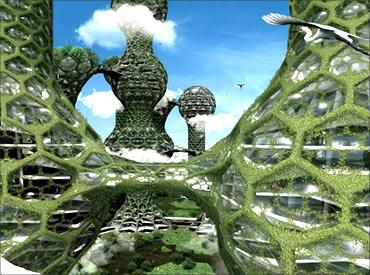 With cities getting cluttered with concrete jungles, there is a need for innovative building designs.
17 countries that waste MOST food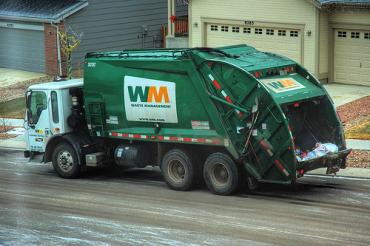 With people consuming more every day, the problem of waste is increasing.
Indian market not cheaper than global peers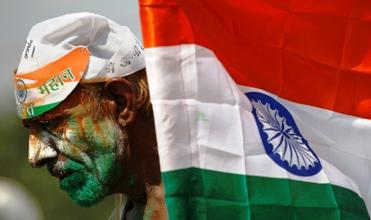 The Bombay Stock Exchange benchmark Sensex has declined 17 per cent in this calendar year and has underperformed the US and European markets.
Average wealth of an Indian triples to Rs 270,000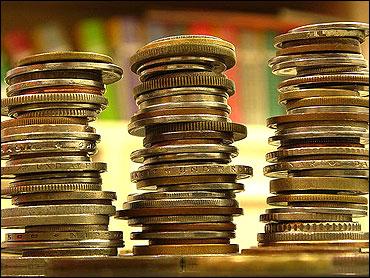 Still, the average wealth for Indians was way below the global average of $51,000.
October 19, 2011
Know about UPA ministers' travel travails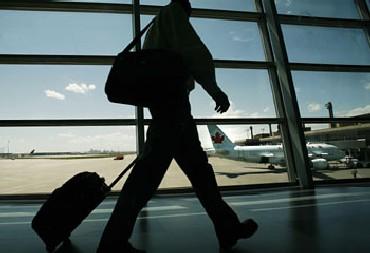 Ministers in UPA-II had undertaken over 460 official foreign trips in the first 18 months of its tenure and spent more than 1,800 days abroad.
IMAGES: World's amazing monorail systems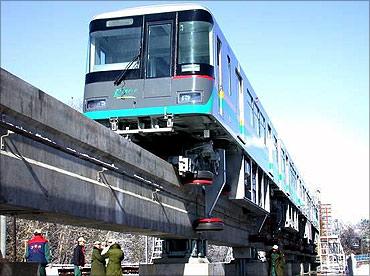 Monorail is an advanced transportation system based on a single rail, which acts as its support and guide way.
Is the quality of IIT students declining?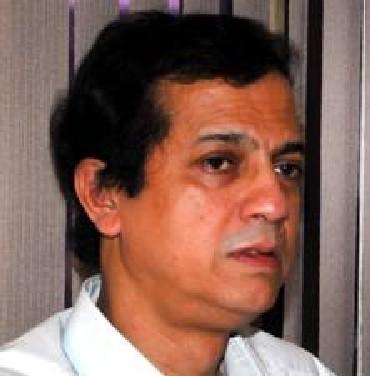 Yes, thanks to coaching classes and, paradoxically, the IIT brand but let's also give credit where it is due.
Slowdown to hit economy, inflation to moderate soon: FM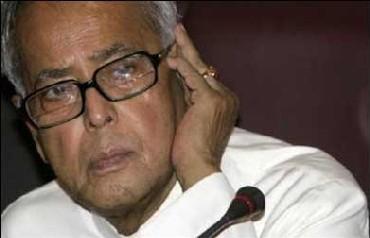 Finance Minister Pranab Mukherjee today said the global slowdown will impact India's growth prospects, but expressed hope that inflation will start moderating from December.
How to get the right health cover under portability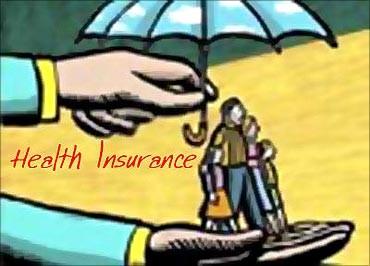 "Customers can only take the policy in totality. So it's important to understand the benefits offered under the existing health policy and to match those with the plan one wishes to port to," says Apollo Munich Health Insurance CEO Antony Jacob.
Mumbai's changing face hurts dabbawalas' growth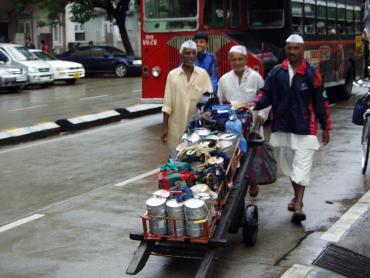 Craze for fast food and growing trend among the youngsters to eat out have led to near stagnation in the customer base of famed Mumbai dabbawalas.
IMAGES: Top 10 gold producing nations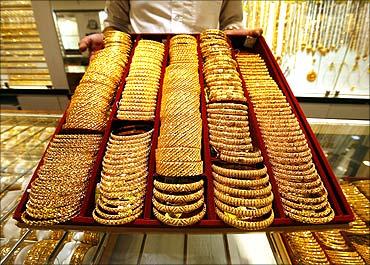 British Geological Survey accessed in September 2011 produced a list of countries by production of gold.
IMAGES: World's 10 biggest cruise ships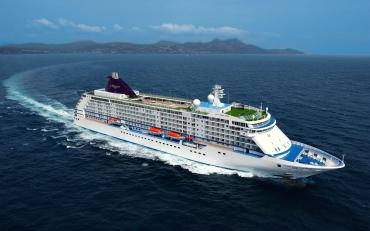 The oceans are full of beautiful and massive cruise liners.
You've got mail, it has a fake job offer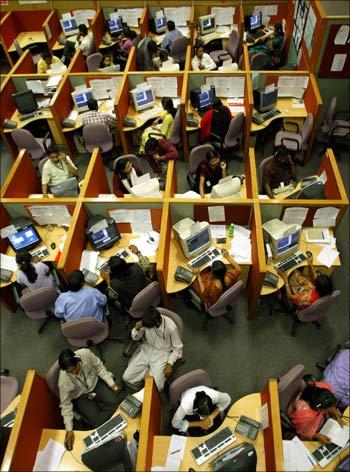 TCS, on the careers page of its web site, has put an alert about fake job offers. It has also created a toll-free TCS Careers Serviceline (1800-209-3111) for people to report such job alerts.
Photos: The rich-poor divide in Mumbai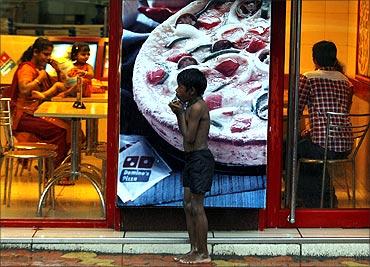 One of the world's top 10 centres of commerce in terms of global financial flow, Mumbai is also home to Asia's largest slum.
IMAGES: Countries with most broadband connections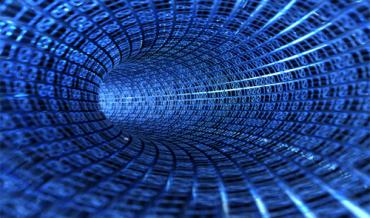 With the increase in the number of Internet users, demand for broadband connection is also growing.
IMAGES: These cars cost less than Rs 300,000!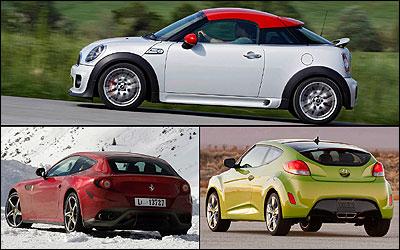 Indian consumers with their inherent nature to choose a good value proposition place a low cost hatchback on top of their priority list.
October 18, 2011
Best ways to invest for your child's future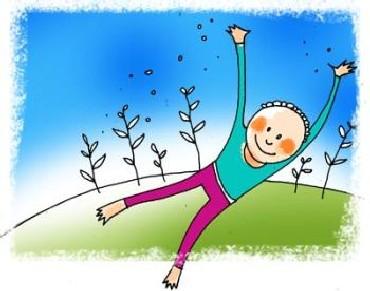 Planning for your child's future is very crucial to your child's well-being. There are certain points which one should keep in mind before choosing the investment options as it will help you generate optimum capital in future.
Tips on how to manage your home loan smartly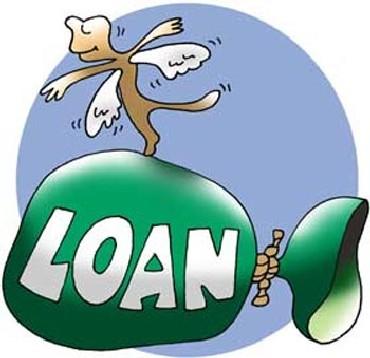 Taking informed decisions to manage the asset that we call home and the liability that we call housing loan. By being prudent, you can get high "returns" in the form of saving on interest outflow.
Intel gears up to woo the Indian consumer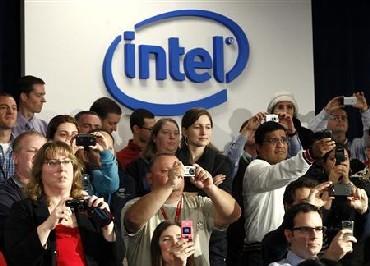 With its Ultrabooks, leading chipmaker, Intel, has brought enterprise features like cloud services, lighter devices with longer battery periods and remote data security on devices like laptops, smartphones and PCs to the consumer.
All about EMI and loan repayment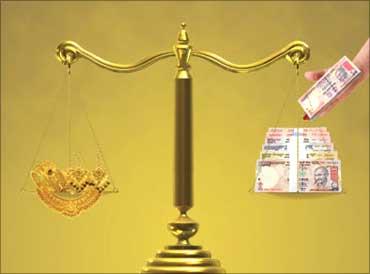 In the current scenario of rising interest rates, it is vital that you understand important elements in the loan-taking process.
Tourists flock to Kashmir, highest in 25 years!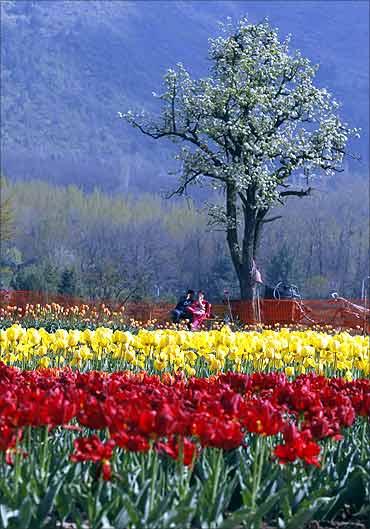 With tourists coming back to the valley since early spring, Kashmir and its people are brimming with joy.
Why TCS failed to impress post-Infosys cheer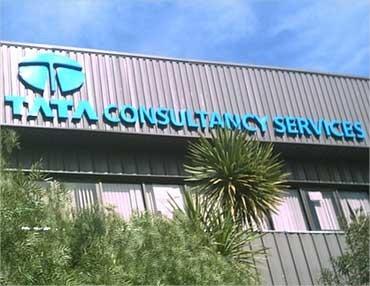 Posts a fall in net profit sequentially despite clocking higher volume growth.
Two contrasting realities rule Asia, says ADB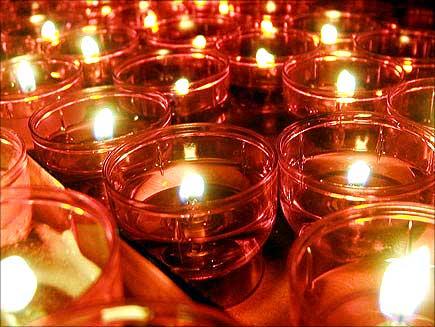 While the world's largest and the most populous continent has more than doubled its share in the global gross domestic product from 15 per cent in 1950 to 35 per cent currently, billions of its people do not get even basic amenities of life, the Philippines-based institutions president Haruhiko Kuroda said.
EXPLAINED! Why the US dollar is still in demand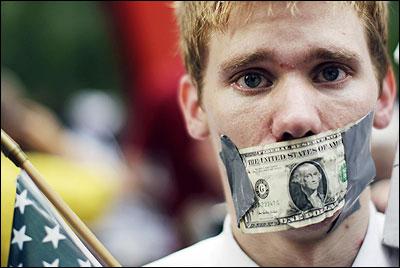 At the beginning of September 100 dollars could buy 70 euros, now they can buy 72.5 euros.
China's Q3 GDP slows down to 9.1% on drop in exports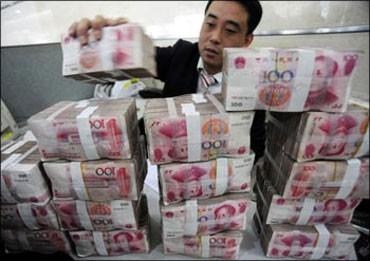 Hit hard by a sharp drop in its trade surplus due to decreasing exports and rising inflation, China's GDP growth rate slowed to 9.1 per cent in the third quarter, the lowest since the fourth quarter of 2010, sparking concerns about a possible hard landing of its economy.
11 things that you can do through ATMs, now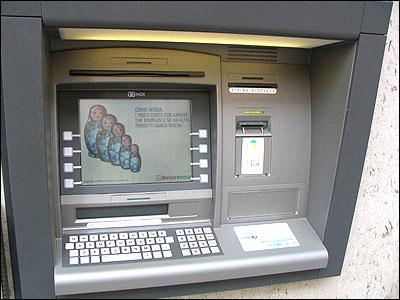 A visit to an ATM today can help you accomplish myriad value-added transaction services like utility payments, pre-paid mobile re-charge, credit card payments, tax payments and much more.
Highways: At less than 9 km a day, it is still in slow lane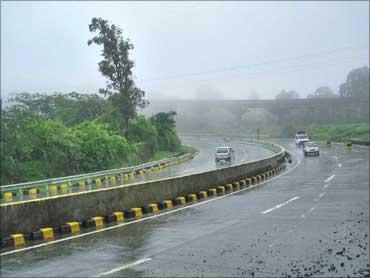 The National Highways Authority of India and the road transport ministry together have constructed 1,314 km of highways in the current financial year till August 31.
15 countries with BIGGEST oil reserves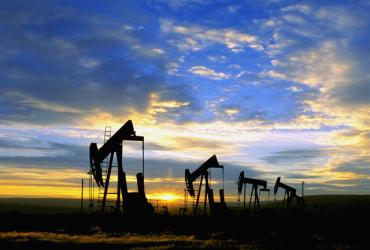 Big movements in the price of oil can have significant impact on the economy.
IMAGES: Bengaluru's swanky metro rail to start on Oct 20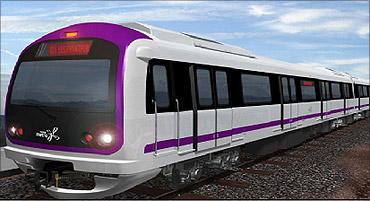 The IT capital's much awaited Bangalore's metro rail service, 'Namma Metro' will start operations from 20 October, 2011.
BMW to launch Rs 25-lakh Mini in India next year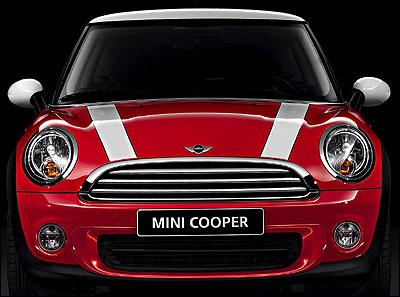 The company also said it will set up separate showrooms for the brand and aims to have up to 12 dealerships across the country for the Mini in the coming years.
October 17, 2011
'Better India-Pak trade will be win-win for all'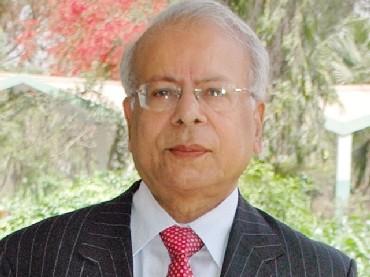 Pakistan is not raising revenues to the optimum extent. The tax to the GDP ratio is below 10 per cent.
SPECIAL: The secrets behind Titan's success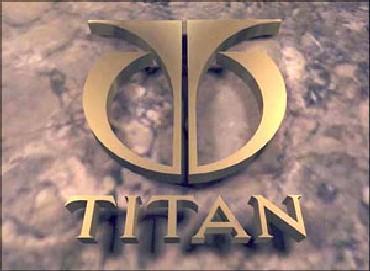 With a smart combination of edgy design and value pricing Titan's Fastrack has managed to keep a firm grasp on the capricious youth market.
8 reasons why food prices are rising globally, and MORE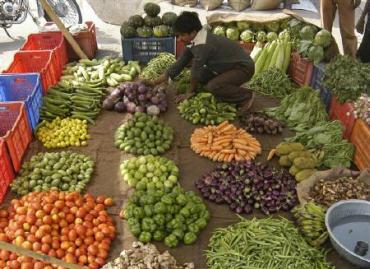 It is not just India that is witnessing a continuous increase in food prices.
Many see lack of focus in Occupy Wall Street movement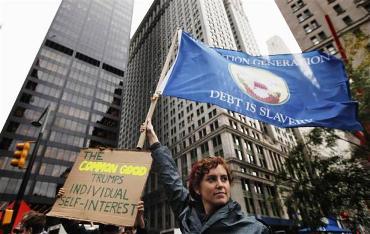 The protests that began on September 17 by a small group of people in Manhattan have snowballed into a movement against the financial institutions, income inequality and corporate bailouts with thousands taking to the streets and courting arrests.
What is not so 'saral' or 'sahaj' about IT returns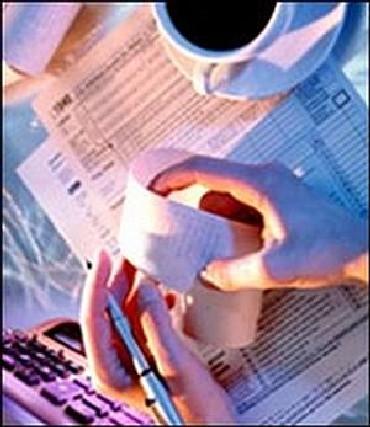 The forms for simplified income tax returns are anything but Saral, Sahaj and Sugam: for many readers these would have a familiar ring particularly in the month of July.
Can Sidhartha Mallya turn Kingfisher to 'good times'?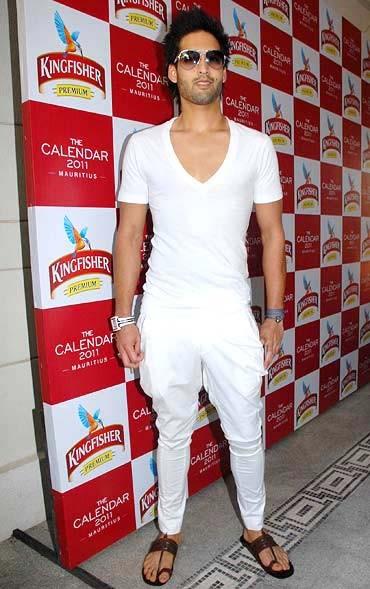 A familiar face in the glamour circles, Sidhartha Mallya is being groomed to eventually step into his father's shoes.
IMAGES: Look at the building boom world over!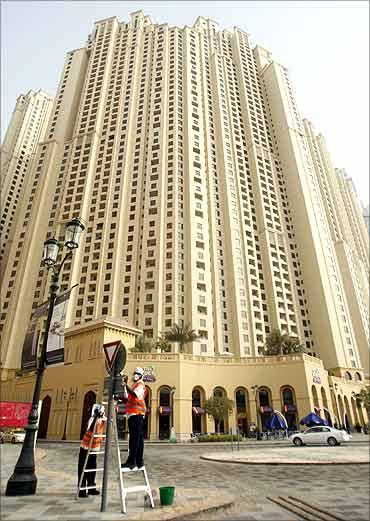 Fast paced urbanisation has taken a toll on the environment.
IMAGES: Top 10 tablet PCs in India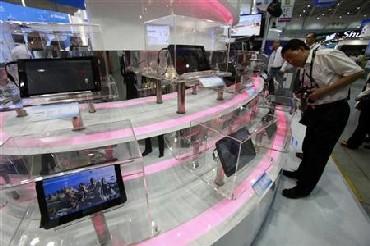 Tablet PCs are getting bolder, sleeker and more alluring than ever. What more? The market is only getting bigger and the competition more fierce.
Sharing tax info: India expresses concern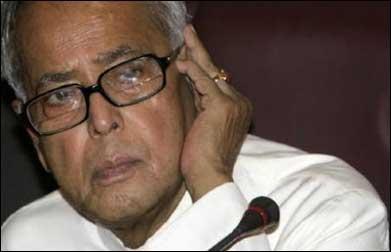 During a short halt at Tabriz airport in Iran on his way back home, Mukherjee gave i a brief account of the summit, euro zone crisis and what it meant for India.
IMAGES: World's top 15 car manufacturers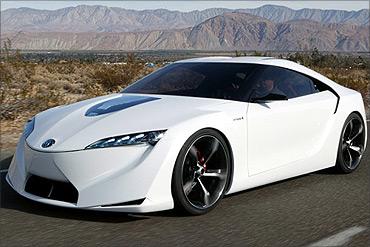 China, United States and Japan are the world's top automobile manufacturing countries.
The framework behind executive compensation in India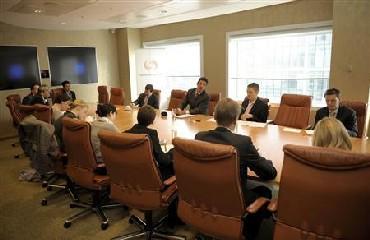 A recent study by Indian Business School, Hyderabad says that Chief executive officers (CEOs) in India are paid considerably higher compensation than executive directors.
Global rich list: Indians one of the WEALTHIEST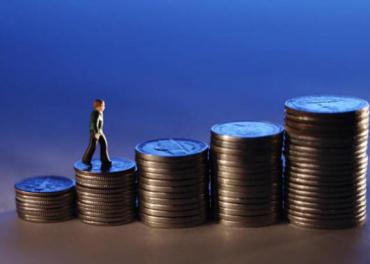 A research company has unveiled the results of the biggest global study into the attitudes and investment priorities of the affluent.
October 14, 2011
Pranab's prescription to tackle global economic woes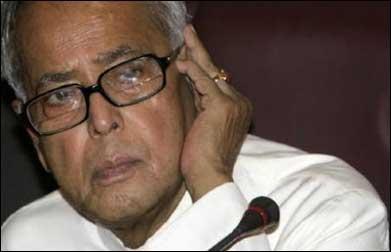 Amid fears of double-dip recession, Finance Minister Pranab Mukherjee on Friday called for concerted action by G-20 nations to provide impetus to the world economy and deal with the related problems.
Billionaire's prison pay: 17 cents an hour cleaning toilets!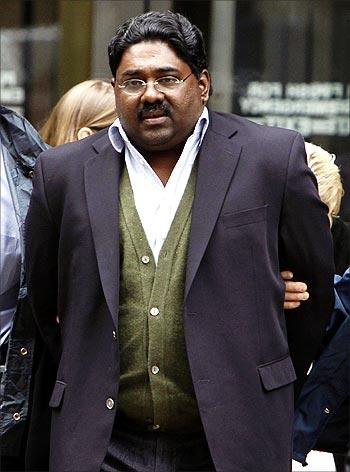 He might have presided over assets worth billions of dollars, but Raj Rajaratnam will have to work for 12 to 17 cents an hour cleaning the kitchen or the toilet in prison.
The man behind Rajaratnam's sentencing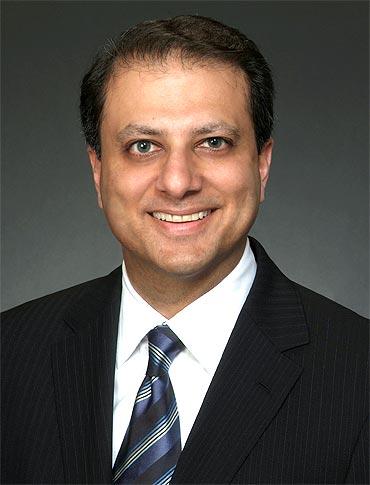 Raj Rajaratnam's 11-year sentence might be far less than what United States District Attorney Preet Bharara sought, but the legal eagle and his team have won a "huge victory," felt Ravi Batra, another high-profile desi lawyer in Manhattan.
Rajaratnam's sentencing: A warning to Wall Street!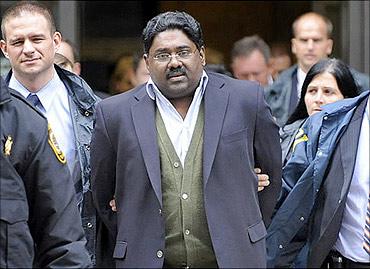 The sentence -- which some legal considered light -- seemed to be the result of the consideration by the court that Rajaratnam, 54, was apparently in poor health and despite being on the wrong side of the law, had contributed over the years to charities and for benevolent activities.
Dennis Ritchie - Father of Unix and C dies at 70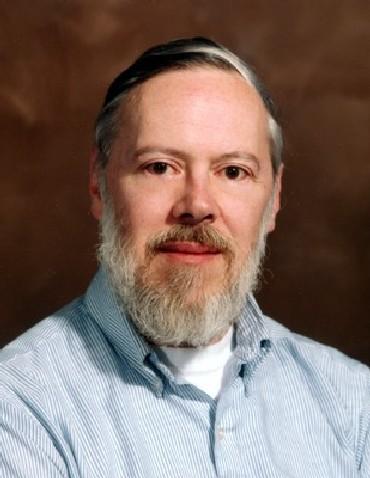 In the late 1960s and early 1970s, working at Bell Labs, Ritchie made a pair of lasting and very significant contributions to computer science.
IMAGES: Must-see unusual, innovative products!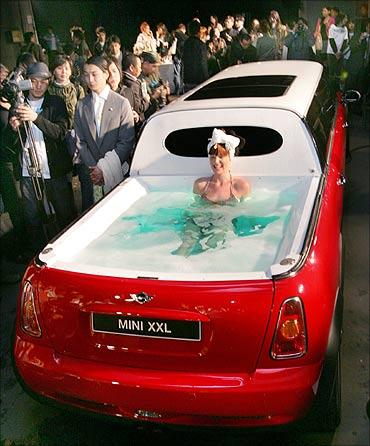 Take a look at some amazing products from across the world
Australia bets on Indians to triple tourism revenue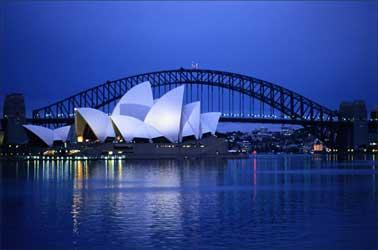 Tourist arrivals declined by 6% in Australia after attacks on Indian students.
Slowdown effect: 30% fall in Mumbai realty biz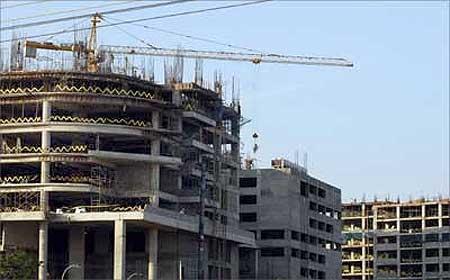 The government and realty players have admitted that the prices are likely to move upwards and the supply would be affected.
How to get discounts from your mobile app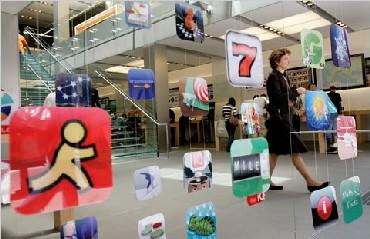 So, here's another app -- Red Anar -- that not only allows you to explore a city, but also promises to find offers and promotions near you. How's that? Read on . . .
6 tricks that malls use to make you buy MORE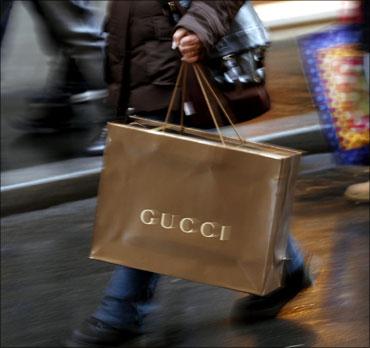 Here is a list of six things that I learnt about how the mall environment can encourage you to buy more.
IMAGES: The stunning Rs 76 lakh Volkswagen Phaeton!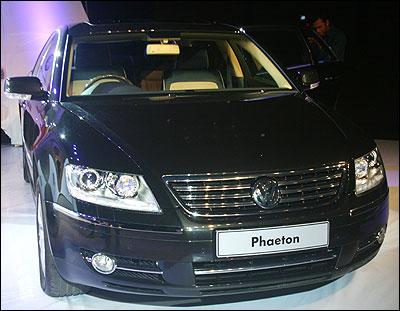 The decision to release the Phaeton was, in part, a response to Mercedes' decision to compete directly with Volkswagen in the European marketplace with the low-cost A-Class.
Govt not using tax money ideally: Shaw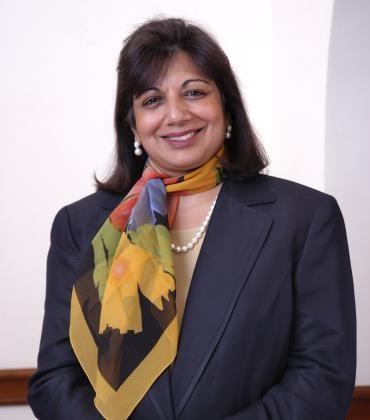 "My view on taxation levels in India is that it is at a reasonable level and I think what is more important is how the government uses taxpayers' money," said Kiran Mazumdar-Shaw, the Chairman and Managing Director of Biocon, India's largest biotech company by revenue, said.
World's 9 most-famous insider trading cases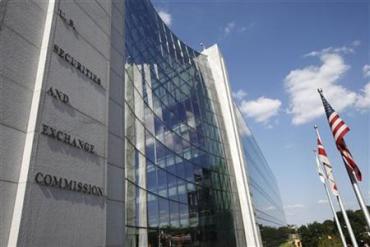 There are some who play by the book and there are some who don't. Stock markets are no different.
Income inequality: Where does India stand globally?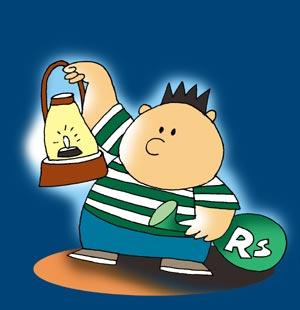 With India witnessing massive economic growth, there is a feeling that the gap between the rich and the poor is getting increasingly bigger.
Why US is keen to forge 'education ties' with India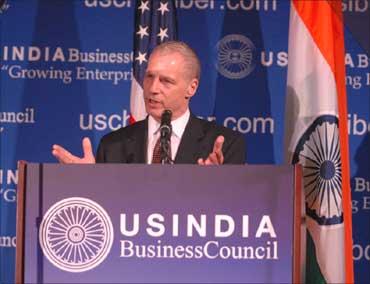 Ron Somers, president of the US-India Business Council, said that the reason the USIBC is so keen to deepen linkages with India across the education sector is 'because our knowledge partnership with India depends on it.'
India vs China: Battle of the tigers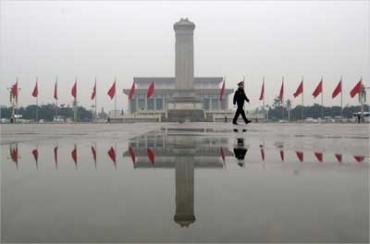 It is no secret that India and China are in a race to become the biggest Asian tiger.
PICTURES: 10 most expensive laptops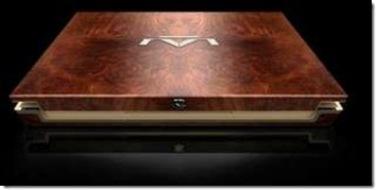 Some cost just about a few thousands of dollars but some are worth more than a million.
October 13, 2011
Rajaratnam gets 11-year sentence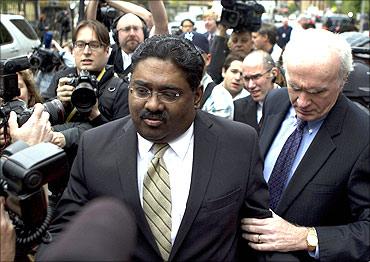 The sentencing caps a prosecution, marked by secret wiretaps of Rajaratnam and his associates that shocked the investment world.
Inflation, faltering growth hitting the rich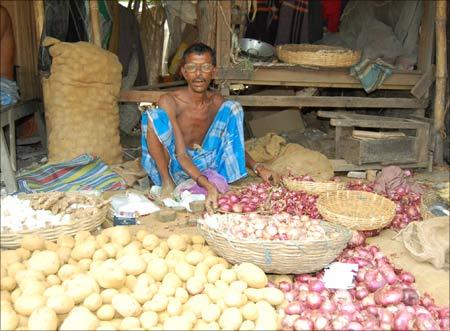 The rise in the toasted category of high networth individuals in the country is getting affected in the 'high inflation, slow growth' scenario being witnessed at present, a top official of Merrill Lynch Wealth Management said in Mumbai on Thursday.
PHOTOS: Hyundai Eon unveiled, starting at Rs 2.69 lakh!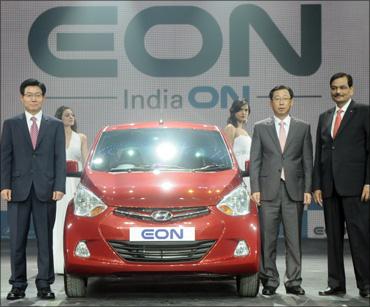 Korean auto major Hyundai Motor Co on Thursday launched entry level compact car Eon that has been developed specifically for the Indian market, at an introductory price of between Rs 2.69 lakh (Rs 269,000) and Rs 3.71 lakh (Rs 371,000), ex-showroom Delhi.
Clear your tax dues for seamless transfers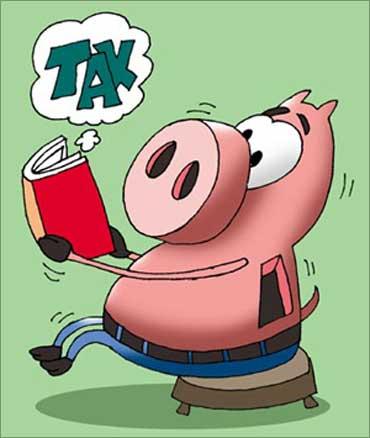 According to the Income Tax Act, certain transfers can be considered void without a tax-clearance certificate (Section 281B).
Corporate culture: Why US beats India!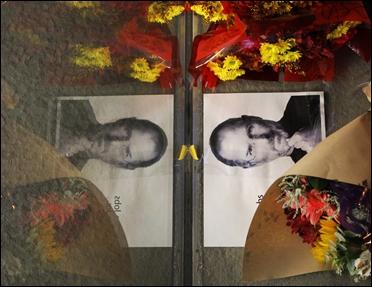 The practice of corporate inheritance is so ingrained in Indian corporate culture that no one really thinks about it.
Users get BlackBerry blues, corporate productivity hit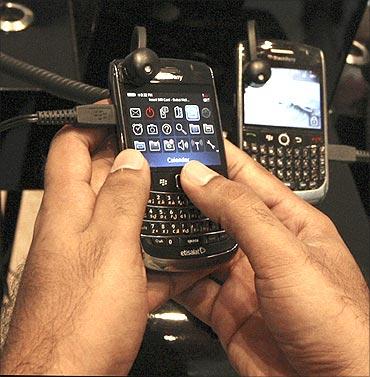 Financial institutions, banks and other companies, which use enterprise email services by BlackBerry-maker Research In Motion, were affected.
US seeks stronger educational ties with India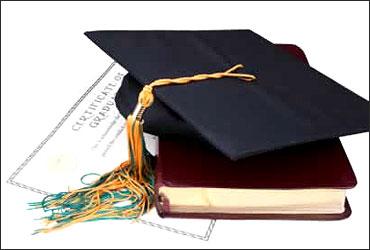 US Deputy Secretary of State Williams J Burns said that several Indian leaders -- both business and political -- educated in the US are testament to the quality of an American education.
International tourist arrivals: Top 10 countries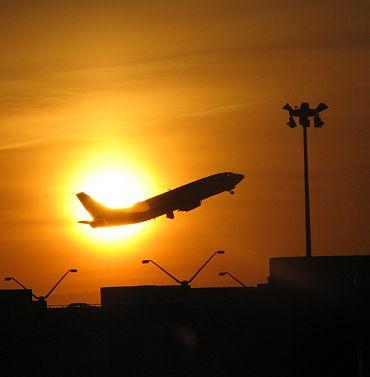 India does not figure in the list of top 10 countries that saw the highest number of international tourists in 2010.
South Africa: Dream meets reality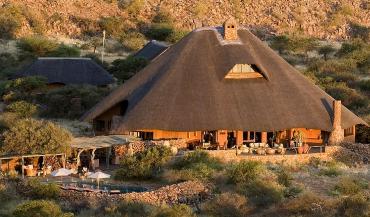 Only time will tell how well the rainbow shines in the African sun.
20 countries with best and worst Internet speed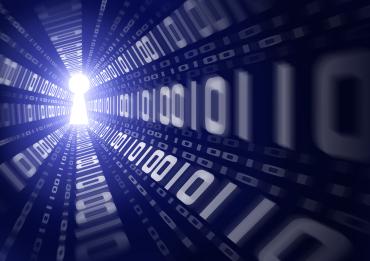 A study conducted by Pando Networks reveals the speed and reliability of Internet connections around the world with some surprising findings.
PHOTOS: India's impressive railway stations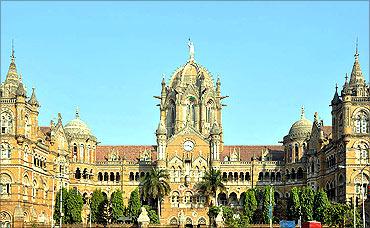 India has over 7,000 railway stations.
IMAGES: World's 20 largest economies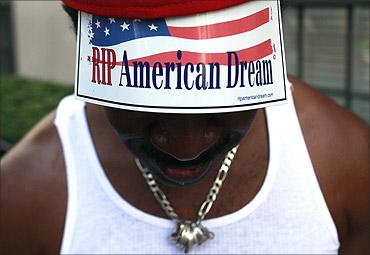 The United States' reign as the world's largest economy will end in less than a decade. China is all set to surge ahead as the world's biggest economy.
Lenovo tablets to take on Samsung, Apple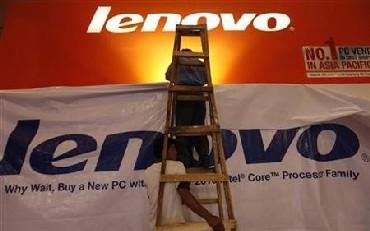 After increasing its market share from 7.2 per cent in the first quarter of 2010 to 10 per cent in the first quarter this year, Lenovo India is ready to take on Apple, Samsung and domestic tablet PC vendors with its own Lenovo Ideapad and Thinkpad tablets.
October 12, 2011
World's 20 least hungry nations; India's record worsens!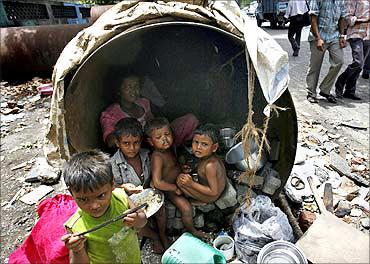 According to the Global Hunger Index released by the International Food Policy Research Institute, India ranks 67th out of 84 countries, having slipped by 2 ranks since the last year, with a hunger rate of 23.7.
India's IT sector grew 19% in FY'11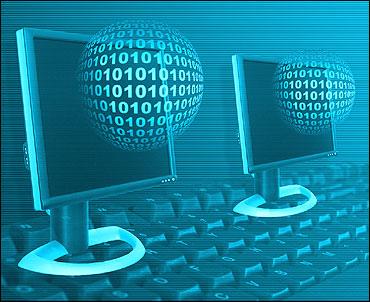 The growth is a significant recovery for the industry, which recorded just 8 per cent growth in 2009-10.
Trai to showcause telcos over 3G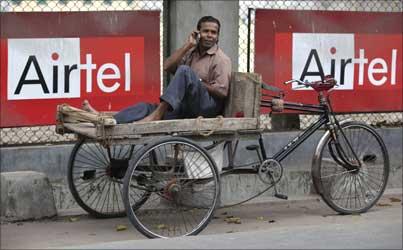 The telcos have been offering 3G services through roaming agreements among themselves.
5 Satyam accounting fraud accused get bail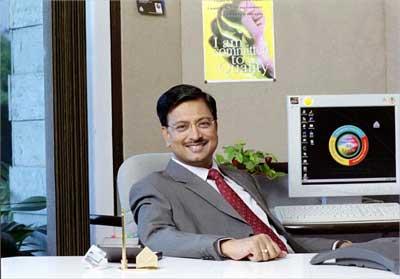 The former Satyam employees, who were granted bail, were its former internal chief auditor V S Prabhakar Gupta besides executives G Ramakrishna, D Venkatpathi Raju and Ch Srisailam. The fifth accused, who got the bail, is PWC's former auditor Subramani Gopalakrishnan.
All new Hyundai EON to cost below Rs 300,000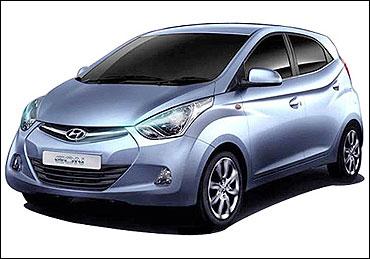 Apart from pricing it attractively, Hyundai has taken enough precaution to see that EON's quality, at no point, has been compromised.
Jobs death livens up sales of books and memorabilia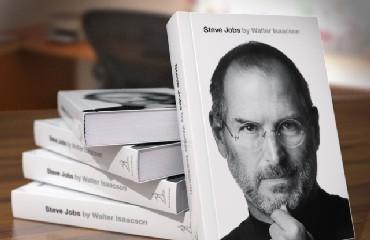 Several online stores have listed Steve Jobs books as top sellers after the man behind the iconic i-products passed away last week. Faced with huge demand, many stores across cities have had to put up 'out of stock' signs.
Spectre of zero production looms at Maruti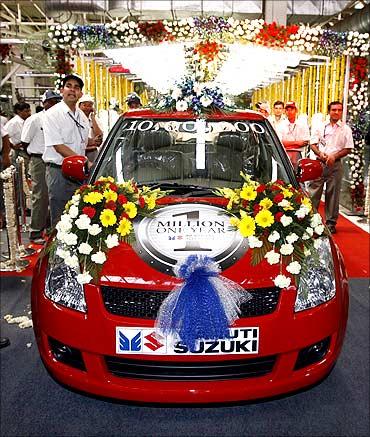 Workers across Suzuki Motor Corporation's three subsidiaries in the country are standing firm on their decision to continue an indefinite sit-in strike at the company's Manesar facility.
World's 10 most influential companies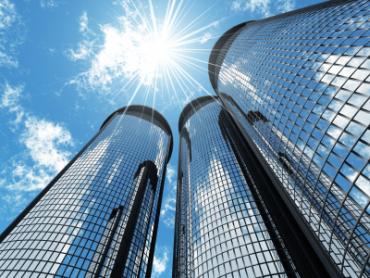 There are some companies that not only play not only a big role in their own industry, but also reshape the corporate world.
Sebi consent order on RIL may be delayed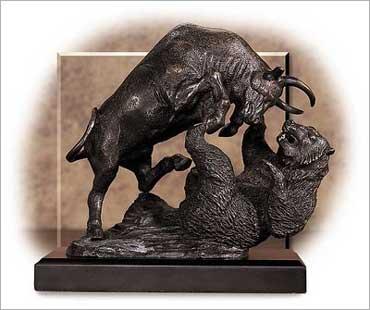 The RIL order is critical as the estimated penalty amount of Rs 1,500 crore (Rs 15 billion) could be the highest ever levied by Sebi.
Seven billionth person will be born on Oct 31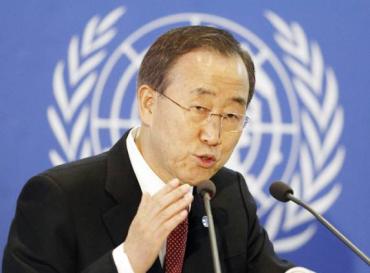 Secretary-General Ban Ki-moon says the world needs sustainable development.
What do super-rich Americans own? Nearly the whole country!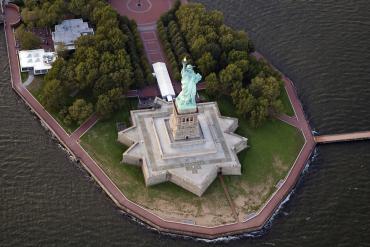 Rich are increasingly accumulating a greater share of the national wealth.
How big is Facebook? Let's find out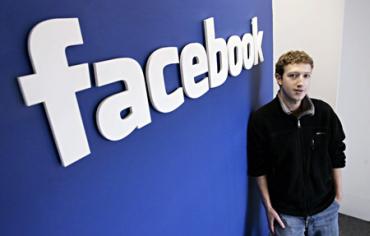 At a recent conference Facebook revealed that they now have 800 million active users.
How Raymond CMD plans a turnaround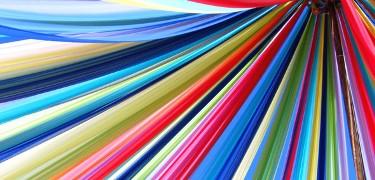 In an interaction with Business Standard, chairman and managing director Gautam Hari Singhania talks about the company's plans.
Maruti strike costs govt Rs 350 crore in excise duty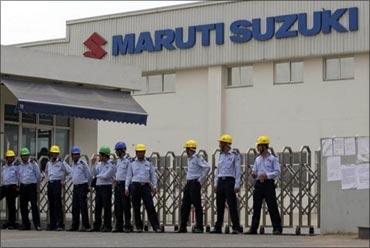 A series of strikes at the country's largest carmaker Maruti Suzuki India's Manesar plant since June this year has resulted in excise revenue losses to the tune of nearly Rs 350 crore (Rs 3.50 billion) for the government, while the company has already suffered a hit of up to Rs 1,540 crore (Rs 15.40 billion).
IMAGES: 36 cities that will shape India's future!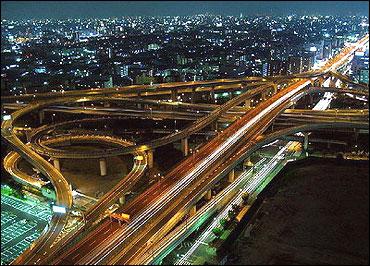 GIREM 36 is focusing on a new strategy to develop smaller cities as a magnet for allied investments in development of key areas of infrastructure, education and research, and industry.
Infosys' consolidated Q2 net up 9.72%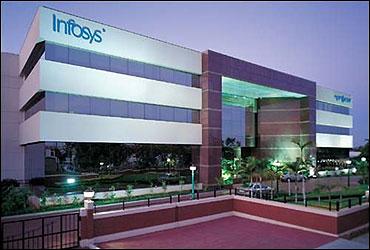 Its revenue rises to Rs 8,099 crore.
Lenovo unveils Android tablets in novel launch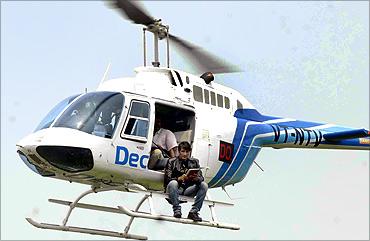 Lenovo, one of the fastest growing PC makers on Tuesday amongst much fanfare launched its IdeaPad K1 and ThinkPad tablets in India.
October 11, 2011
Government considering raising FDI cap in single-brand retail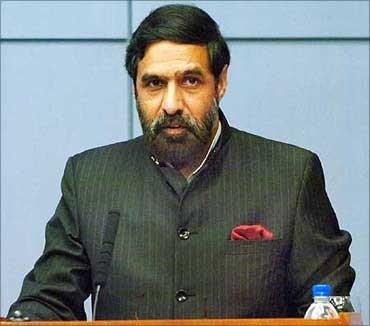 "We are seriously considering raising the bar further- that means to allow increased FDI," Commerce and Industry Minister Anand Sharma said at a CII event on Indian luxury market.
Botched debate over poverty line: A Catch-22 for UPA?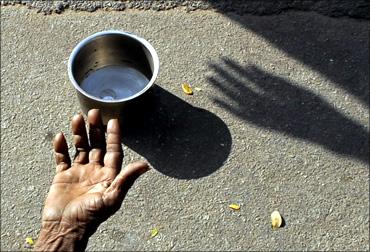 The manner in which the government and the political opposition in Delhi have been guilt-tripped into this debate on the poverty line is a reflection of a broader phenomenon that has taken root within the minds of the thinking class at large, says .
Beware of fake job offers in the IT industry!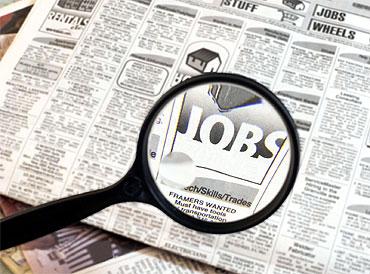 The IT and ITeS Industry Association of Andhra Pradesh (ITsAP) has cautioned the youth to be vigilant over fake job offers in these sectors.
PHOTOS: Amazing view of China's richest village!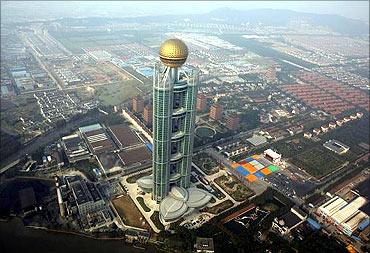 China's richest village Huaxi has a new landmark - a stunning 74-storey International Hotel.
Biggest worry for economy? Idea-less economists!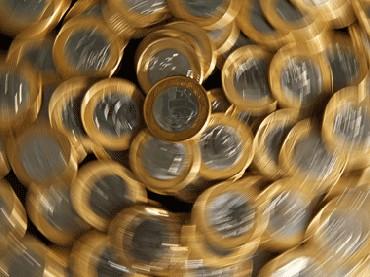 When it comes to newer prescriptions, there is not much in the form of solution on offer by economists even from the IMF stable. Every report, including this one in September 2011, is a mere rehash of existing ideas, theories and ideologies.
Should you invest in gold? The pros and cons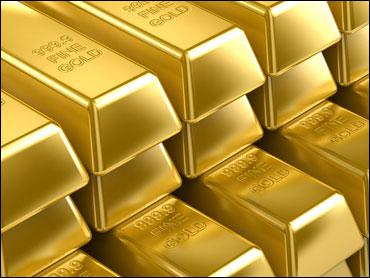 Is there any one avenue, where your hard earned money will not only be safe, but also give you the maximum return?
Crack this case and win Rs 25,000!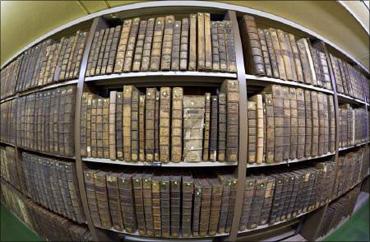 All you have to do is read the case, see the question you have to answer on the last slide, click on The Smart Manager logo below, and post your solutions by October 16, 2011. All the best!
What do Wall Street protests mean for India?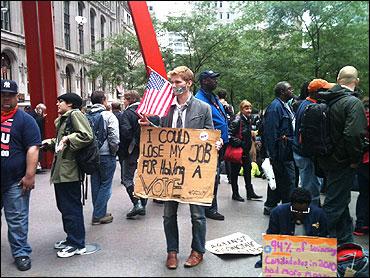 As the agitation, which claims to speak for 99 per cent Americans, spreads to many cities across the United States of America it is evoking a range of responses here -- from admiration to scorn.
Calculating poverty: How India does it!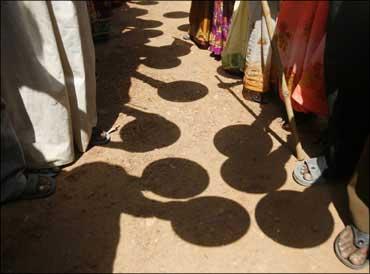 There is certainly something missing with the way poverty is measured in India.
World's 20 most valuable brands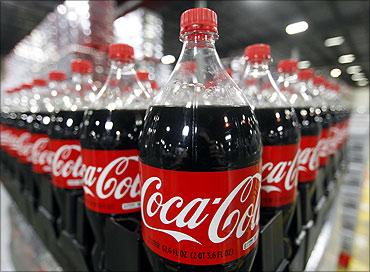 Seven of the top 10 brands, four of the five biggest risers and the one of the few new entrants to the Best Global Brands report are from the tech sector.
Surviving the legacy: Ness Wadia's biggest challenge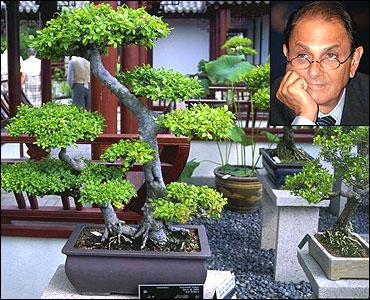 Bombay Burmah sees quick divestments, eyes buyouts.
October 10, 2011
Fewer Indians will buy cars in 2012: SIAM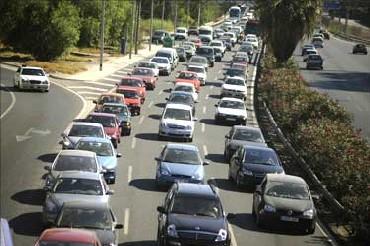 The Society of Indian Automobile Manufacturers had earlier revised the sales forecast for financial year 2012 downwards for the passenger cars at 10-12 per cent in July against 16-18 per cent announced at the beginning of the fiscal.
American duo wins Economics Nobel; more interesting facts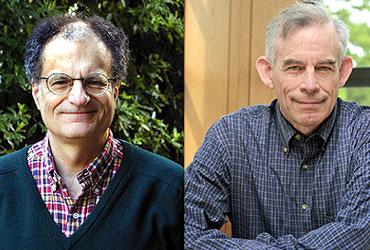 In 1968, Sveriges Riksbank (Sweden's central bank) established The Sveriges Riksbank Prize in Economic Sciences in Memory of Alfred Nobel.
Corruption: Bigwigs write 2nd open letter to leaders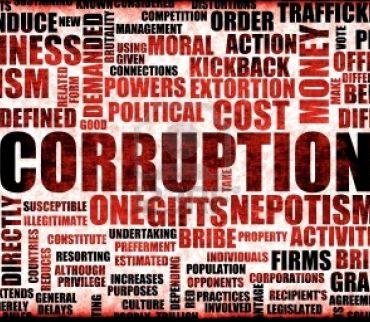 A group of prominent personalities, including industrialists Azim Premji, Keshub Mahindra and Deepak Parekh, have expressed concern over a series of scams leading to 'governance deficit', but said that national challenges like fighting corruption cannot be solved by urban protests and posturing.
India's car sales slip; bikes zoom 20% in Sep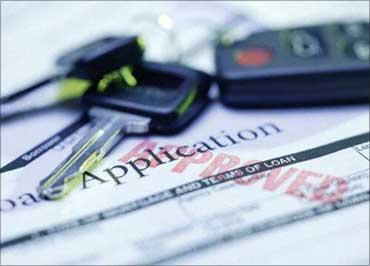 According to figures released by the Society of Indian Automobile Manufacturers on Monday, motorcycle sales in the country grew by 19.92 per cent during the month to 9,33,465 units from 7,78,351 units in the corresponding month last year.
New formula to cut inflation: Cut salaries by half!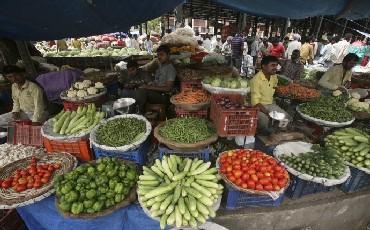 Farm activists say low MSP is fine, if salaries revised under the Sixth Pay Commission are lowered.
Why early birds end up RICHER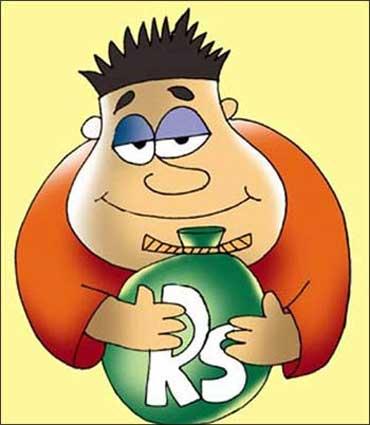 Compounding advantage helps even those investing for a limited period.
Why corporate India is on a green hiring drive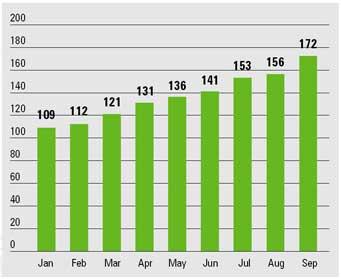 While the reason for this may be genuine concern for the environment in the case of some firms, others may have gone ahead with the exercise simply to be branded as 'green' firms.
Plan panel, DIPP slugfest: PM to mediate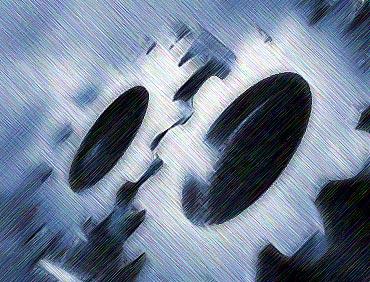 The Department of Industrial Policy & Promotion and Planning Commission member Arun Maira are sticking to their guns on foreign direct investment in the pharmaceutical sector.
How work culture in India differs from rest of the world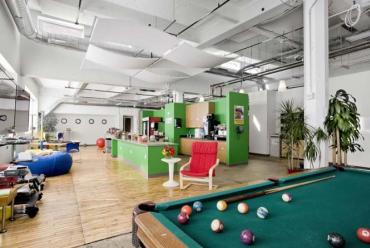 In an increasingly global business world, where teams work across borders, understanding different work cultures is the key to success.
Tatas may bring Starbucks to India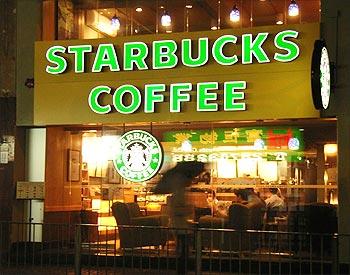 Starbucks, which runs the world's largest coffee shop chain and enjoys cult status among coffee lovers, has been trying to enter India for many years, but has been unsuccessful in its efforts so far.
Why Indian stocks are sensitive to dollar movement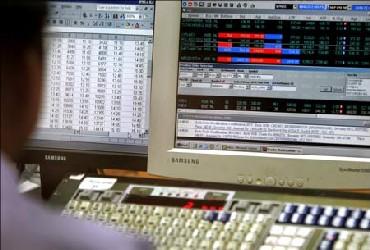 Since its low on July 26, the US dollar index has gained a little over eight per cent. In the same period, the Bombay Stock Exchange Sensitive Index, or Sensex, has lost 12.4 per cent, establishing a negative correlation of about 1.5 times.
How Nokia is trying to make a comeback in India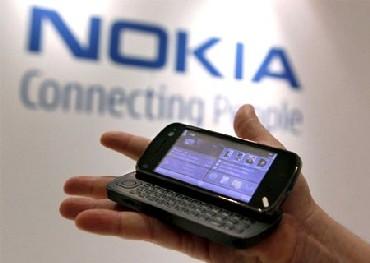 The phone maker seeks to protect market share via budget smart phones, dual-SIM devices and more.
The 'bogey' of green clearances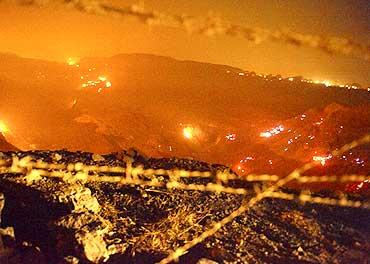 Environment is holding up growth and economic development is a common refrain.
IMAGES: Four closest rivals of iPhone 4S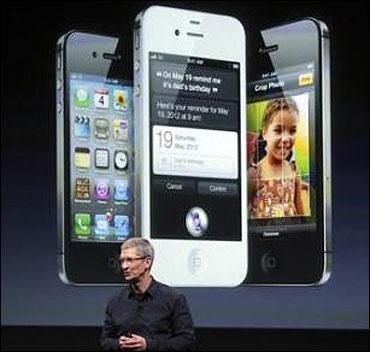 Apple CEO Tim Cook has revealed the hardware that would be packed inside the iPhone 4S.
How Steve Jobs changed Apple with the greatest ad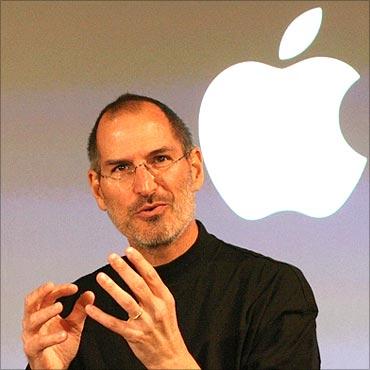 It's what made Apple famous. '1984' wasn't just about personal computers. It was more personal than that.
How PC architecture will give way to mobiles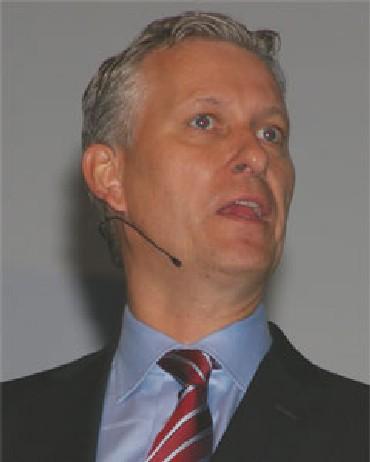 Peter Sondergaard, senior vice-president at Gartner, thinks Indian service providers are capable of dealing with the shift mainly because of their broad understanding of business processes.
2G spectrum loss? It's actually a boon for mobile users!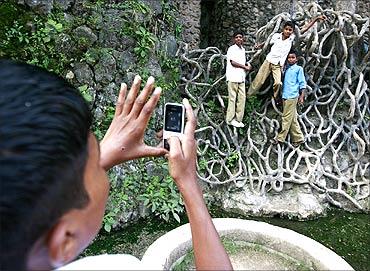 The 'presumptive loss to the exchequer' from 2G allocations actually represents a huge benefit to citizens.
CBI books Maran brothers in Aircel-Maxis deal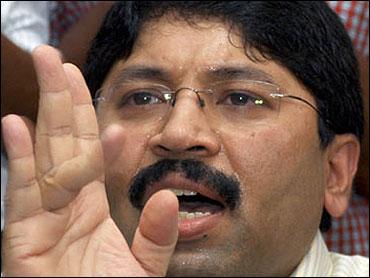 After registering the case, the agency carried out searches at the premises of Maran brothers in Delhi and Chennai.
RICH households: India ranks 2nd after US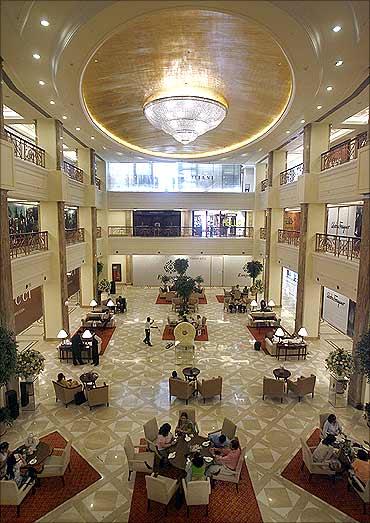 Strange as it may sound, with as many as one-third of its population still living in poverty, the country is also home to the second largest number of affluent people with a whopping three million households which have over $1 lakh of investible funds.
Services negative list likely in next Budget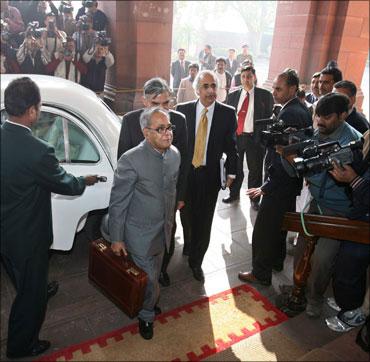 In a negative list approach, barring a few services listed by the government, all others will be taxed.
PHOTOS: India's amazing railway bridges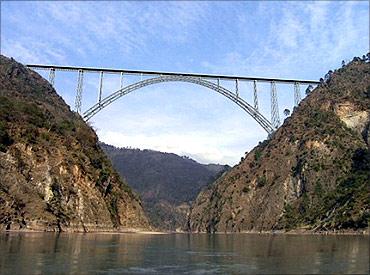 The Indian Railways has some of the best railway bridges in the world.
Naresh Goyal's next plan: Operate a low-cost carrier!
Kingfisher's departure from the Low Cost Carrier (LCC) segment shows that running an LCC is no cakewalk, requiring a whole new management philosophy.
October 07, 2011
Tata Motors launches Manza, Prima in South Africa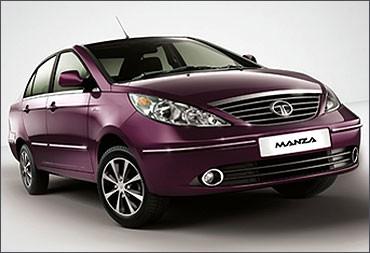 Tata Motors is showcasing its Manza sedan and Prima range of world trucks at the Johannesburg International Motor Show in South Africa, with plans to formally launch these vehicles in the country early next year.
EXCLUSIVE: The man who blew the whistle on Swiss banks!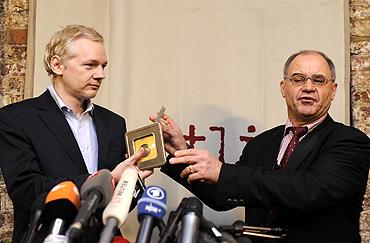 A former employee of Swiss bank Julius Baer, Rudolf Elmer shot into limelight as a whistleblower in 2008.
Sino-Indian trade marked by caution and suspicion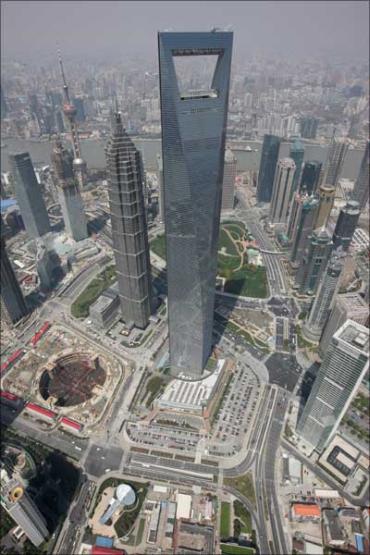 More than 200 Indian companies have invested in China.
Rakesh Jhunjhunwala's portfolio: One up on Dalal Street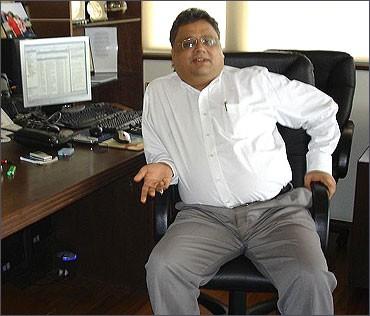 While many are sweating in the current environment, Rakesh Jhunjhunwala's portfolio has done well and seen new additions.
Ravi Pillai: Amazing journey of the 'Ambani of the Gulf'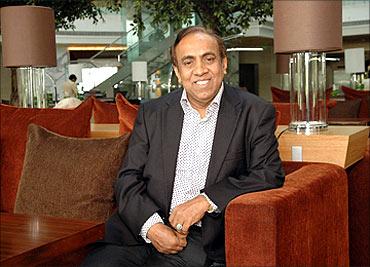 Ravi Pillai, is the founder-managing director of the Bahrain-based construction services major Naseer S Al Hajri Corporation (NSH), and Petrochem, Saudi Arabia. With 60,000 people working for him, he is the largest employer of Indians in the Middle East. His company has a turnover of $2.5 billion.
Porting polices? Wait and watch, say experts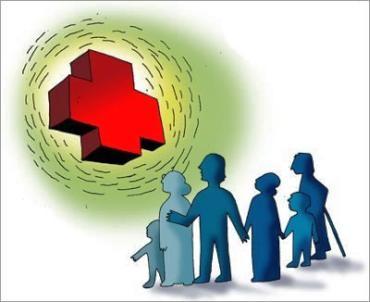 Health portability came into force this month. However, financial planner Gajendra Kothari is advising health insurance clients to wait and watch before shifting one's insurer.
Jobs was in tight control of his choices till his final days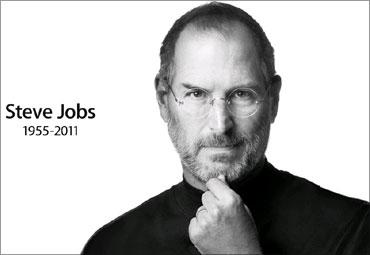 In his final months, Jobs' concerns were for people who depended on him, 'the people who worked for him at Apple and his four children and his wife,' a report in the New York Times quoted his sister Mona Simpson as saying.
Why rich nations are not happier than poor countries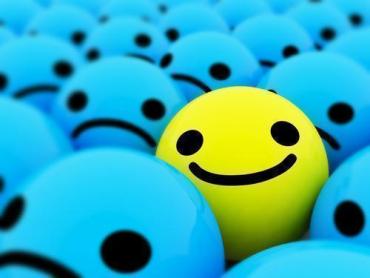 The policy lesson from the complex relationship between income growth and well-being is to accelerate growth.
Steve Jobs: Turning smallest ideas into life-changing products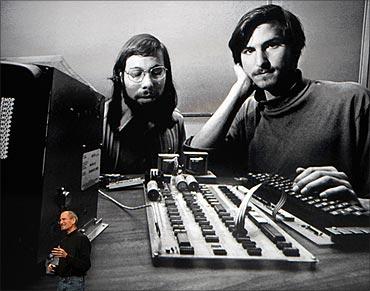 Steve Jobs (1955-2011) showed what it takes to turn the smallest of ideas into life-changing products, says .
6 lessons from brand Anna for marketers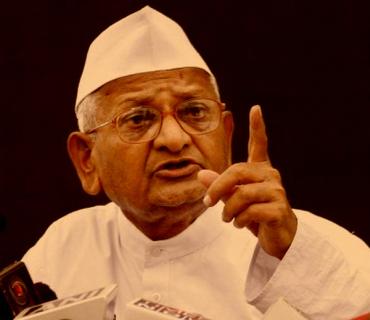 Hazare campaign has some valuable pointers for marketers.
Jobs agreed to biography as he wanted his children to know him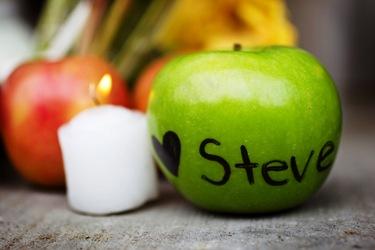 In his final weeks, a severely ill Jobs had met Isaacson, the author of his biography Steve Jobs at his Palo Alto, California home.
Markets jump 3%, metals and bankex rally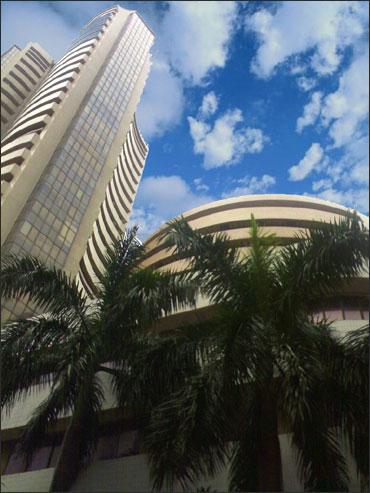 The markets across the globe advanced after the European Central Bank announced a series of policy measures aimed at raising liquidity in European banks, easing concerns that an escalating debt crisis could trigger the collapse of European banks.
REVEALED! 7 cars that will soon blaze Indian roads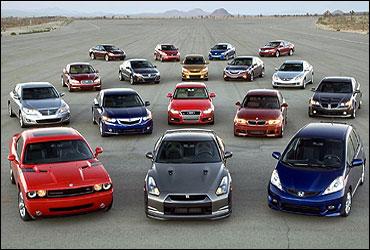 Diwali, considered as one of the the most auspicious times for new launches, will witness cars of all contours -- right from hatchbacks and sedans to tight-built SUVs.
7 Indian cities to see shortage of 2.3 mn homes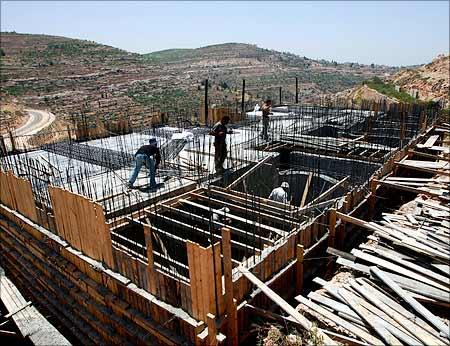 The study further said the mid-range housing segment is expected to drive the maximum demand of 45 per cent.
Down South, women shake up male job bastions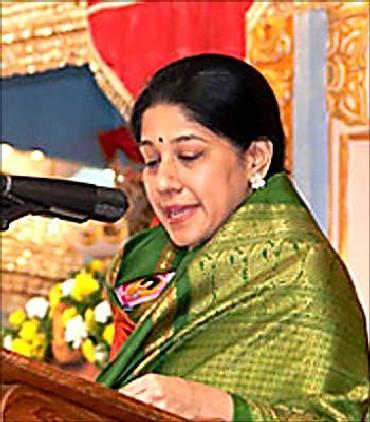 Whether it is in medicine, hospitals or the testosterone-dominated world of tractors, a surprising number of women have inherited the top job down south. Here is the first in a series on women who have taken charge of a traditionally male-dominated world.
Financial secrecy: Blame these 20 nations!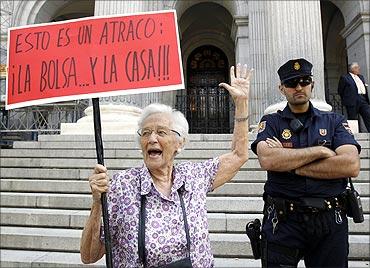 Financial secrecy takes place when there is a refusal to share this information with the legitimate authorities, in order to tax wealthy taxpayers appropriately or to enforce its criminal laws.
October 06, 2011
The incredible success story of Steve Jobs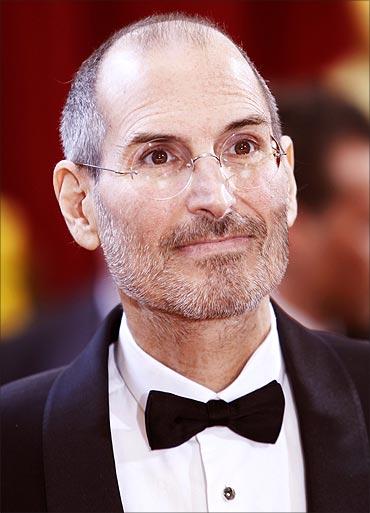 From a college dropout to heading an over $350 billion Apple empire, Steve Jobs dramatically transformed the worlds of personal computing, music and mobile phones, ushering in a new digital era.
Steve Jobs: The monk who left India to make i-Products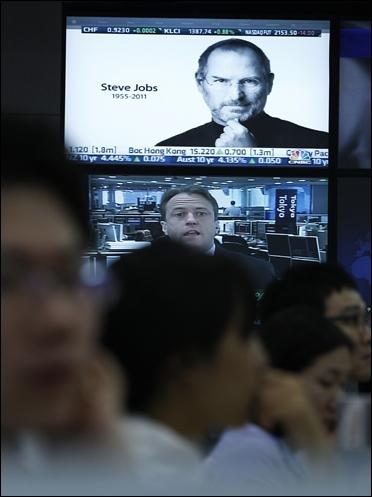 The cost factor notwithstanding, the products that Jobs brought to this world achieved unmatched fashion value and cult status across the world, including in India.
Indians remember Steve Jobs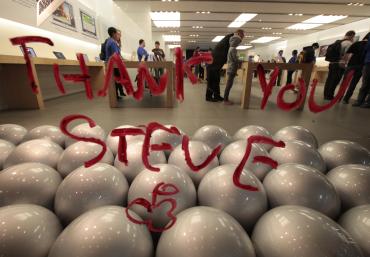 Steve Jobs had been struggling with health issues for quite some time.
Tears and tributes for Steve Jobs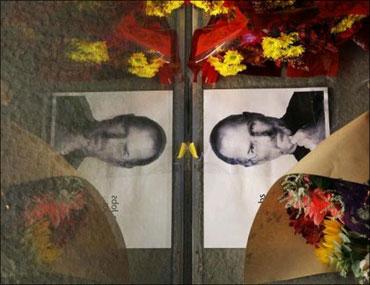 The world today mourns the death of Apple's iconic visionary Steve Jobs.
Must read! Steve Jobs and his words of wisdom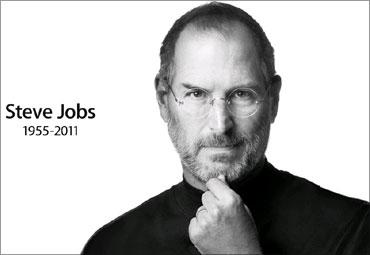 On Thursday, Steve Jobs resigned as Apple's chief executive officer and named Tim Cook as his successor.
PHOTOS: The many faces of Steve Jobs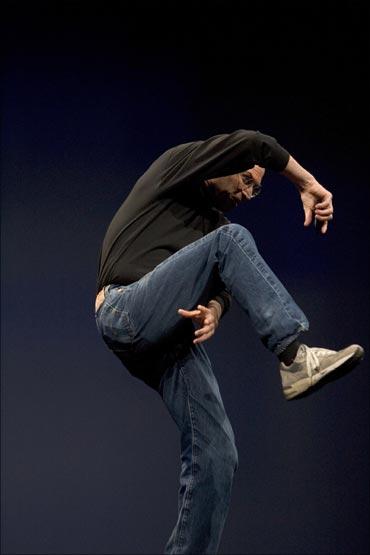 Steve Jobs, billionaire co-founder of Apple and the genius behind revolutionary products that stunned the world and made his company one of the world's top technology companies, died in California at the age of 56 on Wednesday.
Apple founder Steve Jobs dies at 56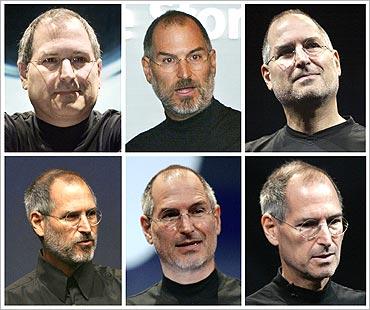 In a somber statement on Wednesday, the Apple board of directors said: "We are deeply saddened to announce that Steve Jobs passed away today. Steve's brilliance, passion and energy were the source of countless innovations that enrich and improve all of our lives. The world is immeasurably better because of Steve."
October 05, 2011
India unveils world's cheapest tablet PC at $35!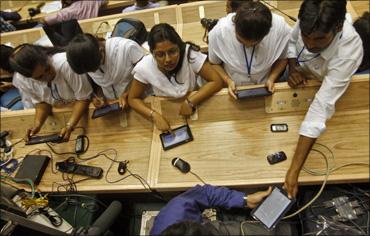 Tablet PC, named Aakash, will cost the government Rs 2,276.
New rules to stop Indian workers settling in UK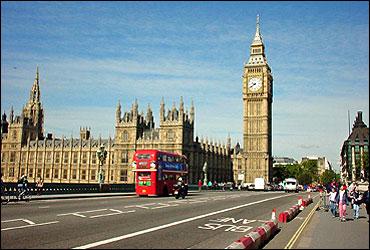 Currently, immigration rules allow non-EU professionals to settle in Britain indefinitely after working for five years.
Rolls-Royce launches new Ghost at Rs 3 crore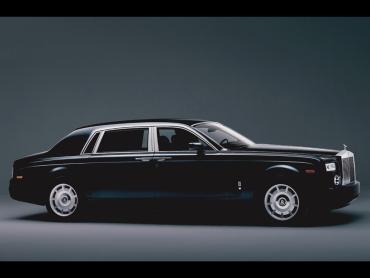 Ghost Extended Wheelbase is powered by a 6.6 litre petrol engine.
Moody's reaffirms ICICI Bank ratings, calls it robust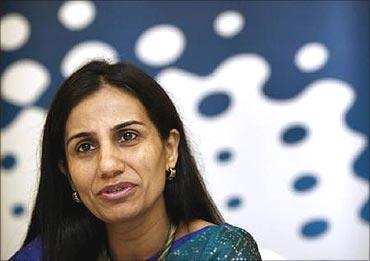 A day after downgrading its rating of public sector lender SBI's financial strength, Moody's on Wednesday re-affirmed its rating for ICICI Bank and said the private sector lender continues to maintain a robust franchise and a strong liquidity, capitalisation and earnings profile.
IMAGES: Finally it's here! The Apple iPhone 4S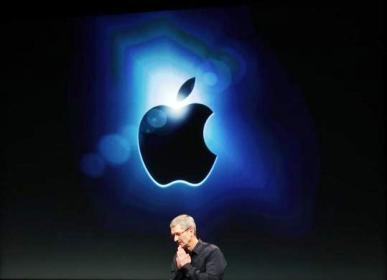 The iPhone 4S is packed with a variety of new features, including Apple's dual-core A5 chip for fast performance and vivid graphics, an all-new camera with advanced optics, full 1080p HD resolution video recording and and Siri, an assistant that helps get things done just by asking.
India, Switzerland to share tax info from next year
Move comes at a time when the issue of black money stashed in Swiss banks has become a major concern in India with political parties and civil society taking up the matter.
RIL to stop gas supply to 4 UP fertiliser plants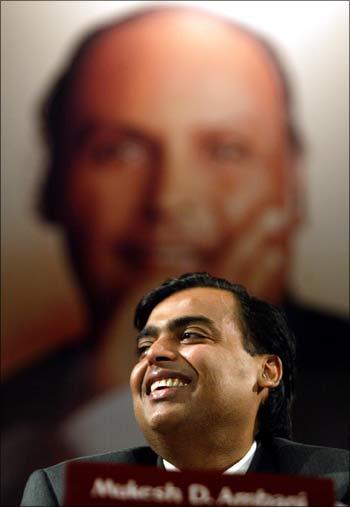 Reliance Industries has served a notice for suspension of gas supplies to four fertiliser plants in Uttar Pradesh from Thursday unless they enhance their financial guarantees to cover for state sales tax.
India Inc's finest: Best of Karnataka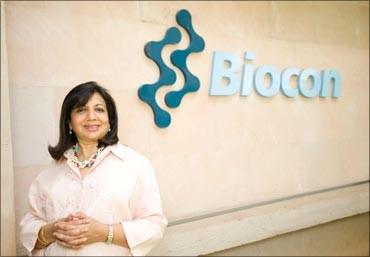 In this part, we highlight some of Karnataka's leading entrepreneurs. They are the ones who played a key role in defining its present cosmopolitan status, giving Karnataka a resonance in history and in international relations.
Union Budget exercise kicked off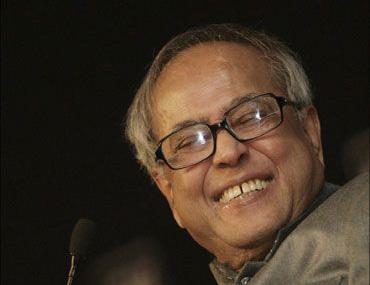 The Union finance ministry has kicked off the exercise for preparation of the Union Budget for the fiscal year 2012-13 and has asked all ministries to rush proposals by October 31 for inclusion in the second supplementary budget for 2011-12 to be presented in the winter session of Parliament.
2G scam: Some questions without answers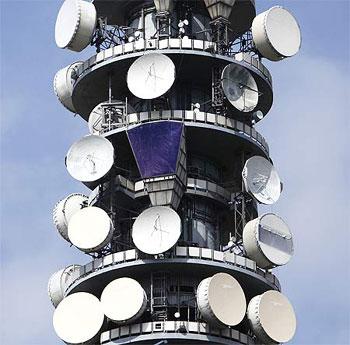 If improving tele-density was the avowed objective, what is the benchmark? At what level of tele-density will the government auction spectrum? And that is the crux of the issue.
Skilled Indians may have to wait 70 years for US green card!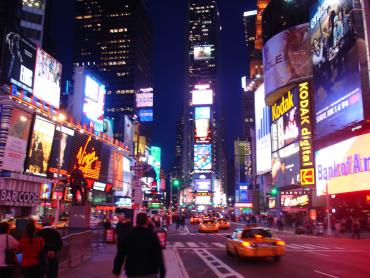 Two new reports urge government to ease green card process.
Why diamond industry is in for a dull festive season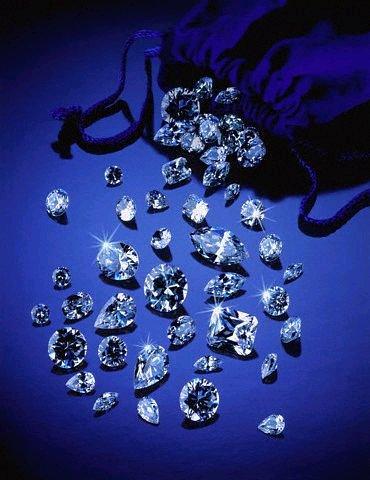 The erosion of rupee value against the dollar and sluggish demand from key foreign markets are cited as the main reasons for declining sales.
Mid-size corporate loans, agri portfolio worries SBI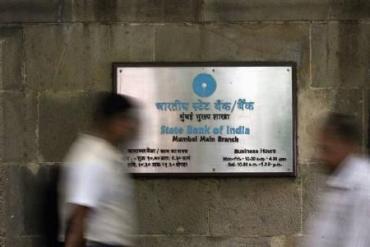 SBI says the downgrade will not hurt the bank that much.
IMAGES: World's 20 best companies to work for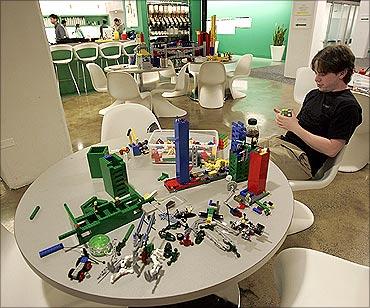 In a world where top performing employees are becoming scarce, finding the right people is crucial for business success.
Murthy's comment on IIT students' quality sparks debate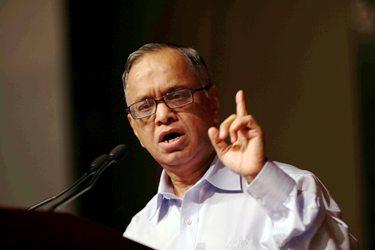 The Indian Institutes of Technology and IIT-JEE coaching institutes have not taken kindly to Infosys Technologies founder, N R Narayana Murthy's comment that questioned the quality of students at these institutions.
PHOTOS: The 10 fastest cars in the world
Cars with spectacular pace never fail to hit the headlines.
A peek into China's incredible future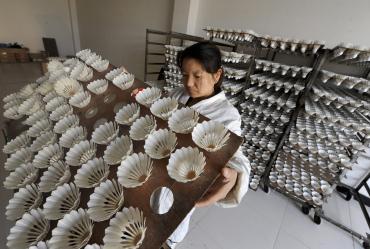 China currently ranks as the world's second-largest economy after the United States.
Here's what top tech companies are paying in US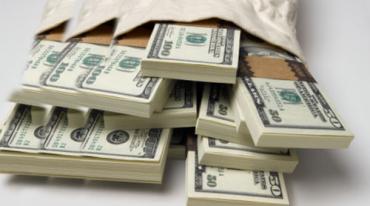 With the technology industry booming across the world, highly sought-after experts are seeing their salaries hit the roof.
US index's eerie coincidence spooks Indian stock market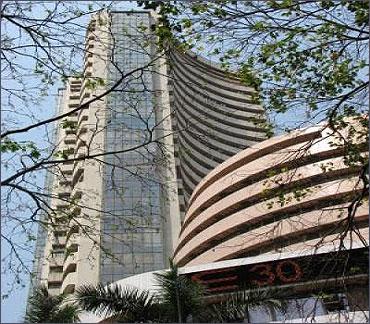 The Dalal Street was on Tuesday abuzz with an eerie coincidence that took place last night in the Wall Street, the US stock market, with its benchmark index S&P 500 closing at a level exactly same as that of October 3, 2008.
October 04, 2011
Renault to uncover its compact car in October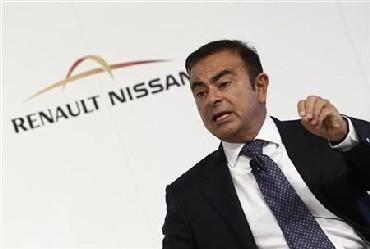 Carlos Ghosn, 57, will unveil the concept version of Paris-based Renault's compact car prior to the start of the inaugural Formula One Grand Prix of India, which is scheduled to take place in October 28-30.
Zurich: Where the world's richest come for banking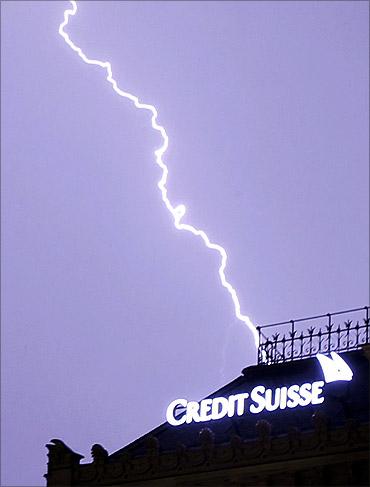 If Mumbai's Zaveri Bazaar is full of jewellery shops and Delhi's Chandni Chowk has got hundreds of saree merchants vying for customers' attention, Zurich has got a street full of Swiss banks -- known for their secrecy veils.
Why Moody's downgraded SBI
Moody's cited a likely rise in the bank's non-performing assets in the near future as one of the reasons for the downgrade.
IMAGES: Anti-Wall Street protests spread across America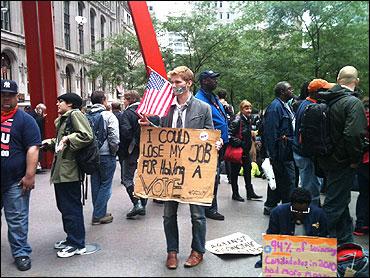 The Occupy Wall Street protests entered their third week in New York.
Manufacturing growth lowest in 30 months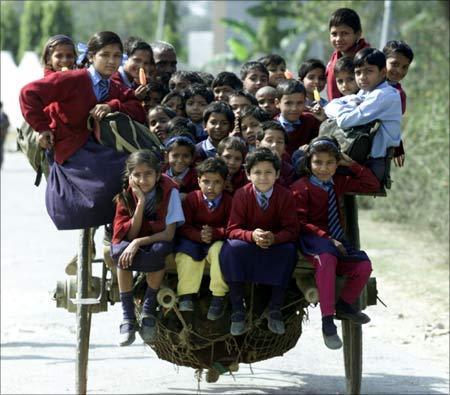 Weak PMI gives rise to fears of sub-8 per cent economic growth for the third quarter in a row.
New Indo-Swiss pact will help unearth black money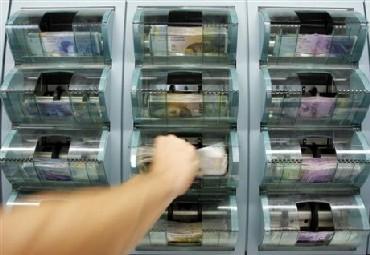 The MoU deals with creation of a useful forum for exchange of views on financial and macro-economic issues. Official sources said the MoU will facilitate dialogue between the tax authorities of the two countries.
Why Railways is going downhill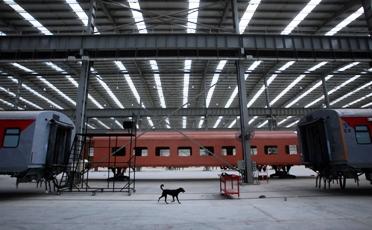 This is unfortunate, not unexpected. When the Budget was presented, it was anticipated that the improvement in the operating ratio would be 'hollow'.
Wealth distribution: Which nations are the best?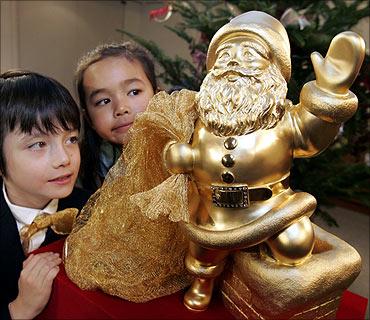 The global wealth currently held by 4.4 billion adults has increased by 72 per cent since 2000 to reach $195 trillion.
Buzz of new iPhone hits sales of earlier models
Some hope Apple Inc would lower the prices of its earlier models -- the iPhone4 and 3GS.
Here's how Apple became a success in China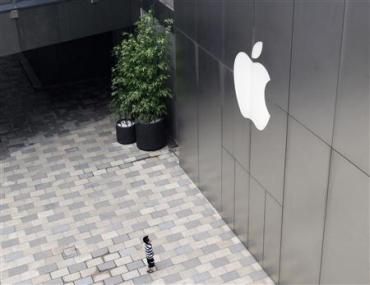 One of the most fascinating areas of Apple's rise is how the company has managed to find growth in emerging markets like China.
Why Tata Nano sales have suddenly shot up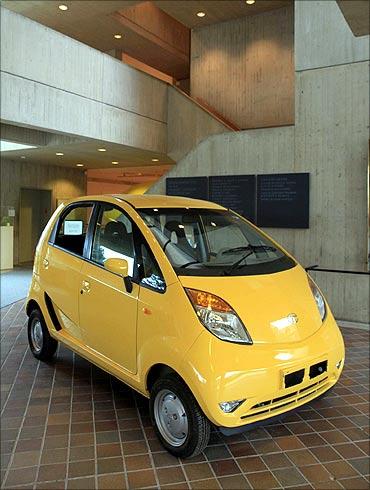 Its wholesale numbers may be on the decline, but Tata's small car Nano is picking up in sales at retail level as dealers at different parts of the country cash in on the reduced down payment scheme introduced by the company ahead of the festival season.
Two Indian cities among world's most polluted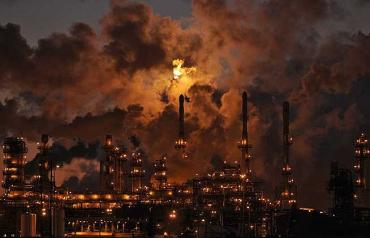 WHO estimates 1.34 million people died in 2008 from breathing in the tiny particles present in polluted outdoor air.
Falling rupee: Gainers and losers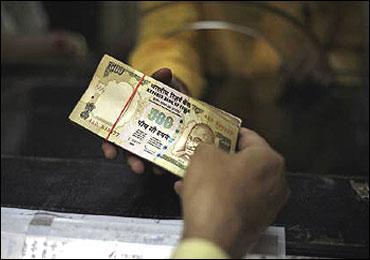 The Indian rupee has fallen by almost 11 per cent since August 1, thanks to rising risk aversion.
Images: Check out these 20 STUNNING green cars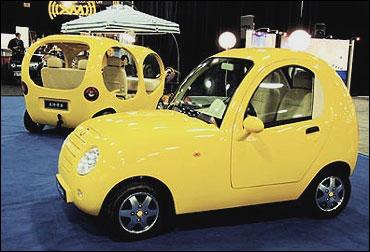 Globally there are about 850 million vehicles, on average 13 people in 100 have a car.
October 03, 2011
Why airlines' mergers are failing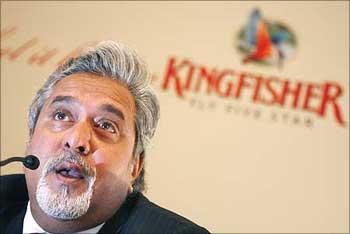 Analysts say mergers by India's airlines have not been successful so far because of their objectives: it's to either kill competition or acquire flying rights to fly international.
Honda plans to launch diesel cars in India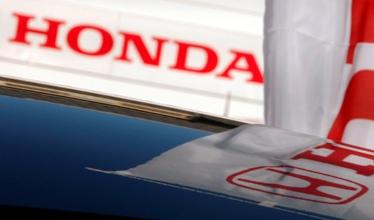 The company is engaged in developing diesel engines back in Japan.
Rs 32-a-day definition of poverty not our view: Plan panel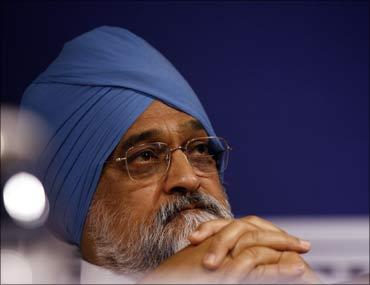 Under attack over the Rs 32 per capita per day (in urban India and Rs 26 per day per person in rural areas) cut off for poverty line, the Planning Commission on Monday distanced itself from the controversial definition presented to the Supreme Court saying it did not represent its views.
How Godrej plans to be good and green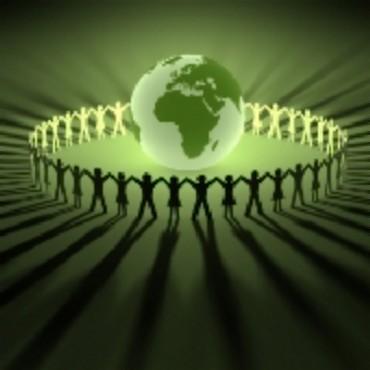 The Godrej Group is walking the talk on 'Good and Green', its brand campaign.
Students entering IITs are of poor quality: Murthy
Infosys founder said that apart from the top 20 per cent of students who crack the tough IIT entrance examination and can 'stand among the best anywhere in the world,' quality of the remaining 80 per cent of students leave much to be desired.
Rs 32 a day: Issues resolved, say Montek, Ramesh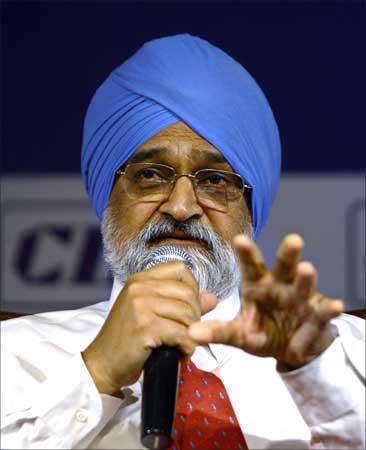 Amid the controversy raging over the definition of poverty, Planning Commission Deputy Chairman Montek Singh Ahluwalia and Union Rural Development Minister Jairam Ramesh on Monday claimed that they have resolved the issue.
IMAGES: India's 1st double-decker AC train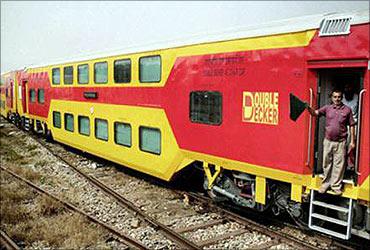 The first double decker air conditioned train between Howrah and Dhanbad was flagged off on 1 Oct 2011.
Why India should take lesson from Greece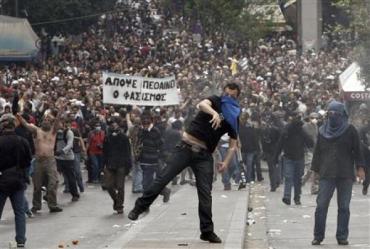 It is now the Greeks who have been gifted a 'Trojan' horse.
So how far can Rs 32 a day take you?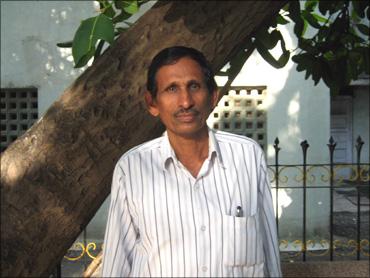 Planning Commission Deputy Chairman Montek Singh Alhluwalia has said that a person who can spend Rs 32 a day in urban India -- and Rs 26 a day in rural India -- is not poor and that he is above the poverty line.
Is it too late for govt to improve economic mood?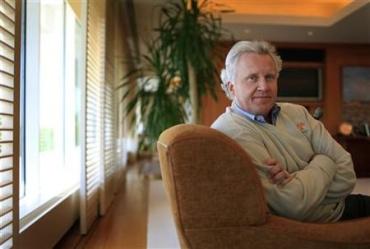 Managing expectations lies at the core of economic governance in a modern economy.
Pitroda favours transparent e-auction of spectrum
In this regard, Pitroda noted the 3G auction in the country last year was transparent and there were no complications whatsoever in the bidding process.
Can renewable energy help solve India's power woes?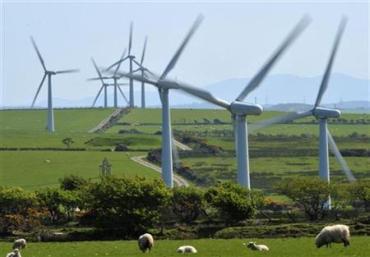 India must look at renewable power as a commercially viable solution rather than just a green and exotic option.
Why the Delhi airport is in a financial mess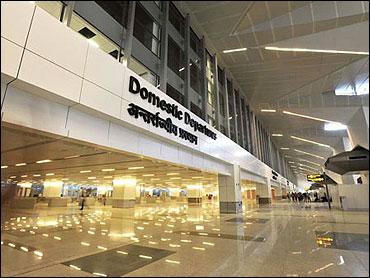 The proposal was mooted at a Prime Minister's Office meeting.
How Metro is changing Delhi's image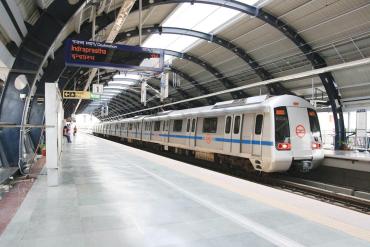 New modes of public transport in Delhi are changing the way its citizens live.
Markets end lower on global cues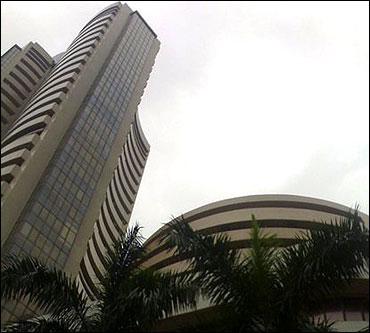 Most Asian markets are also trading in the negative over deepening concerns that the euro zone's debt crisis will dampen global growth
Slowdown may not check travel boom this season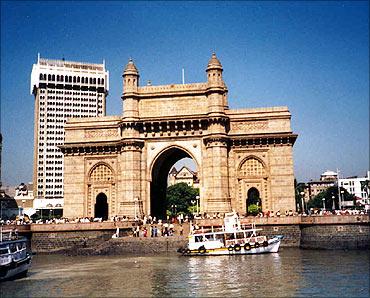 As the last three months of a year form the peak season for travel and leisure holidays, the country will also witness room rates rising by 10 per cent and airlines doubling fares on popular routes.
H1B visa: Who is spending how much and where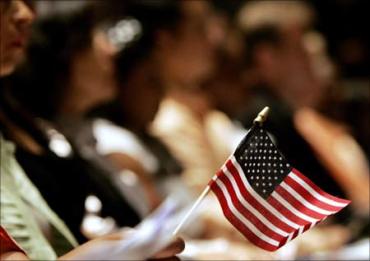 Many foreigners, including Indians, have benefitted from the immigration visa.
World's 5 biggest tea exporters; India 4th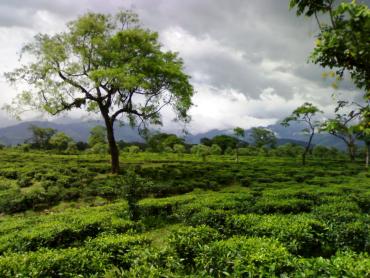 Indian tea industry is concerned over the discouraging export scenario in 2011.
September 30, 2011
BJP on all that is wrong with UPA's economic policies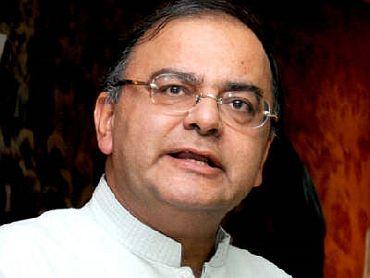 "The economic environment in the country has suddenly become dismal. The UPA blamed the Left Front for the paralysis in economic decision making during UPA-I. However, there is no such compulsion during UPA-II."
Watch: The new Tata Indica eV2 commercial
Here's an sneak peek at the new commercial for India's most fuel-efficient cars.
Don't miss! The amazing story of Levelfield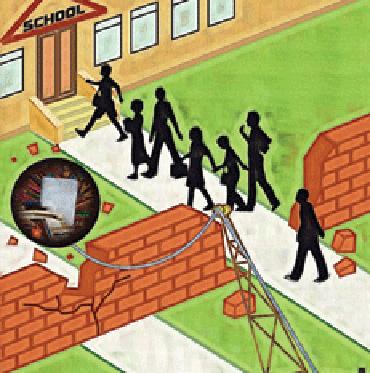 The much-advertised hunger for success among the denizens of India's tier-II and tier-III cities has been the big story of the past decade. How relevant is it to memorize Ampere's Law, Charles's Law and the dates of the battles of Panipat in this brave new world?
Railway staff to get 78 days' bonus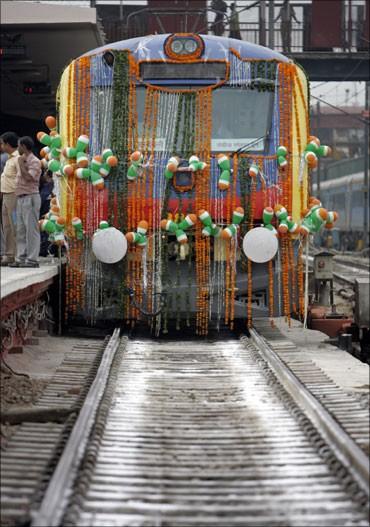 Information and Broadcasting Minister Ambika Soni said the Union Cabinet has accepted the proposal of the Ministry of Railways for payment of PLB equivalent to 78 days' wages for 2010-11 for all eligible non-gazetted Railway employees.
Rift between Jairam and Pawar over farm labour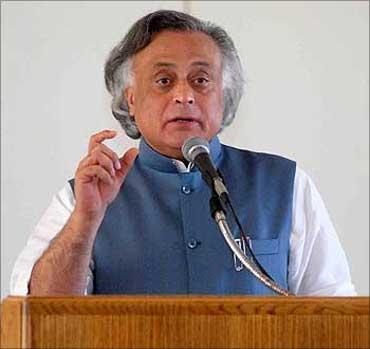 Ramesh opposes Pawar's plan to provide cheap labour to farmers under NREGS.
'India is cooling, not collapsing'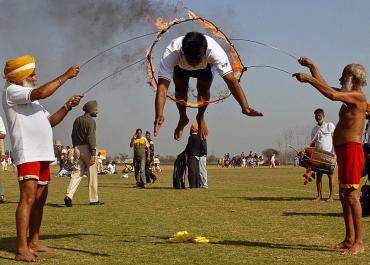 Economies the world over are facing different sets of challenges.
Minister upset with ex-babus joining private sector firms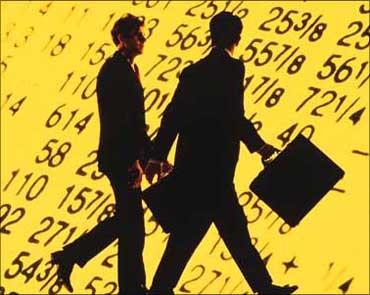 The latest move to increase the cooling-off period for bureaucrats is meaningless.
CBI probe news makes Anil Ambani Group firms shed 10%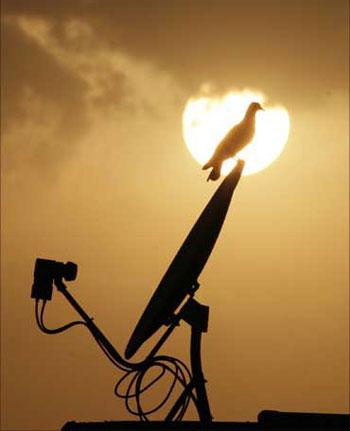 The group's telecom arm, RCom, saw its shares plunge by 8.11 per cent to a low of Rs 71.35 in morning trade, while Reliance Capital tumbled by 9.91 per cent to a 52-week low of Rs 323.55 on the Bombay Stock Exchange.
Nilekani's UID under siege
Once a star programme of the government, the UID has become everybody's favourite whipping boy.
How to keep your smartphone safe from cybercriminals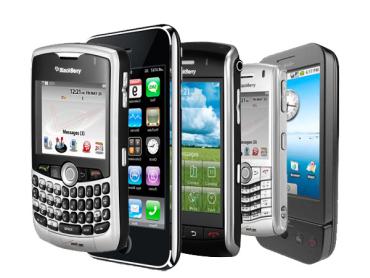 The season for holiday travel begins soon. As we create our checklists while planning our vacations, here's one more item to tick-off -- smartphone security.
New Takeover Code will keep raiders away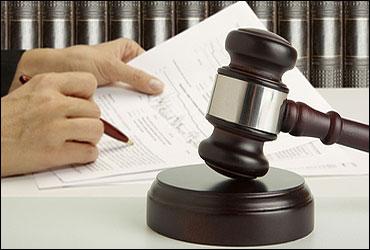 Definition of voluntary offers rules out hostile bids, say corporate lawyers.
Column: The skewed story of India's infrastructure boom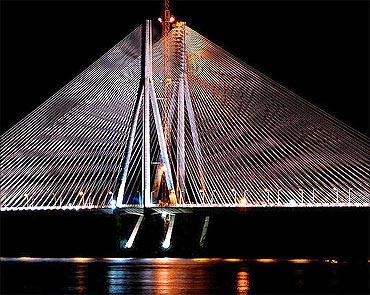 Infra projects are enormous cash guzzlers and funding such low-return projects might unwittingly pull down the overall growth rates.
Excessive nutrition kills more people than hunger!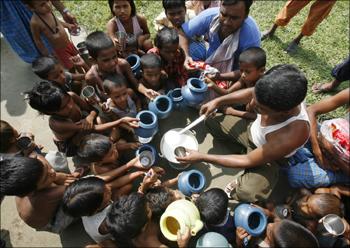 Almost one billion people around the globe go to bed hungry every night, but it is 'excess Nutrition' that kills more, according to world's largest humanitarian organisation IFRC.
20 amazing facts you must know about India
India is set to emerge as the world's third largest economy by 2030.
Made a mistake in filing I-T returns? Here's help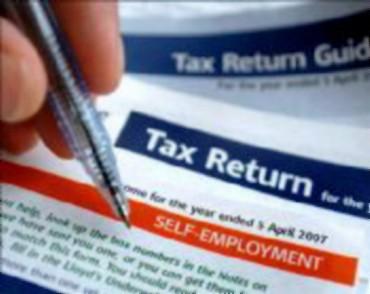 The department allows you to revise these, but there are strict conditions to be noted.
September 29, 2011
LAUNCHED! Mahindra XUV500 at a competitive Rs 10.8 lakh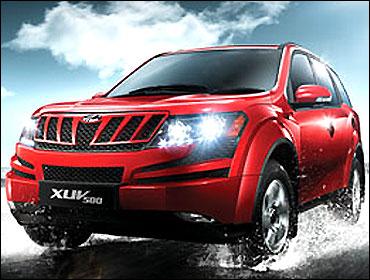 The vehicle was designed and developed by the company's Chennai-based research team.
Govt for probe into why airfares are rising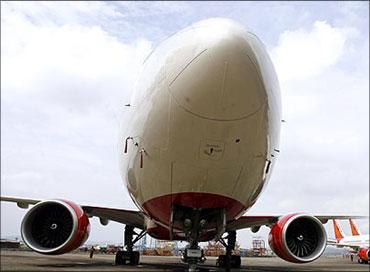 With high festive season demand pushing up airfares, aviation regulator DGCA has been asked by the Union civil aviation ministry to examine if it could take some steps provide any relief to air travellers.
Property developers dole out festive freebies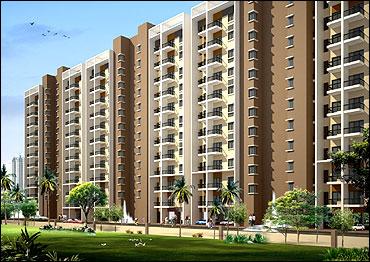 Faced with a sharp decline in home sales and declining cash flows, property developers are doling out minor discounts and freebies to boost home sales during the ongoing festive season.
America's 10 highest-paid bank CEOs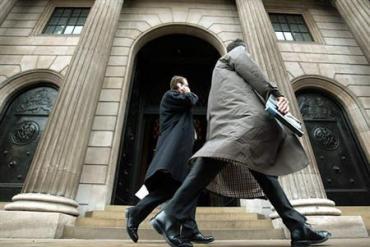 Some banks continue to pay exorbitant salaries to their chief executives.
Polaris to launch low-speed electric vehicles in India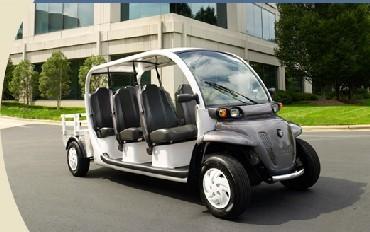 US-based off-road vehicle (ORV) manufacturer Polaris Industries is considering introducing low-speed electric vehicles in India from the Global Electric Motorcars (GEM) portfolio. It had acquired GEM from Chrysler in June.
Jhunjhunwala, Damani pick up 14 per cent in Sterling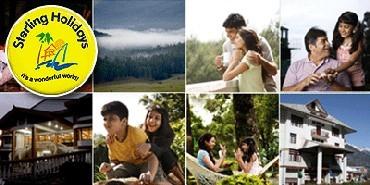 Billionaire Rakesh Jhunjhunwala and investor Radhakrishna Damani have invested around Rs 80 crore (Rs 800 million) for a little over 14 per cent stake in Chennai-based Sterling Holiday Resorts India Ltd, founded by timesharing veteran R Subramanian in 1986.
IMAGES: Good news! Bonanza for car buyers this festive season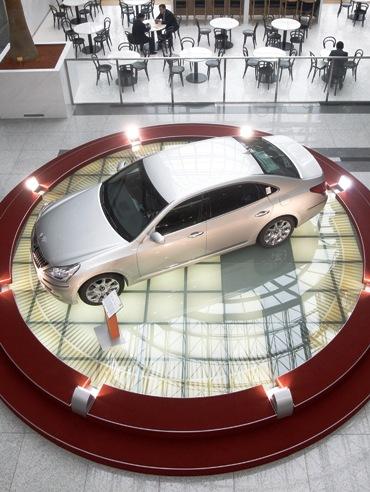 They opt for upfront discounts rather than reduced interest rate offers.
IMAGES: The making of the Boeing 787 Dreamliner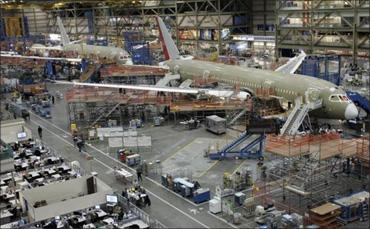 The Boeing 787 Dreamliner is an engineering marvel. Here's how it's made....
SPECIAL: Why printing money is simply not working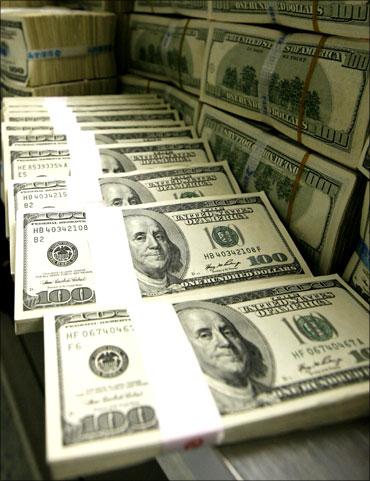 Nearly $2.3 trillion was printed and used to buy financial securities. And of this nearly $1.6 trillion of this lay sitting idle on the reserves of banks. A lot of this money simply went into the dollar carry trade
Photos: The world's 10 biggest polluters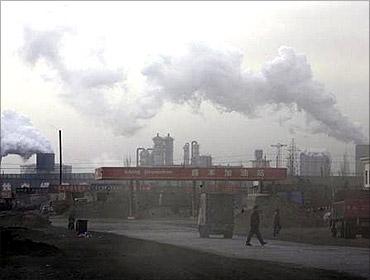 Cities around the world account for 71 per cent of the world's greenhouse gas emissions.
7 Indian cities with highest Internet speed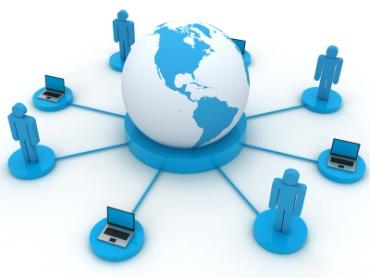 The average worldwide download speed is 580KBps.
September 28, 2011
Ambani brothers meet Chidambaram, separately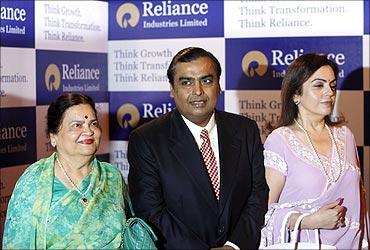 Chairman of Reliance Industries Ltd Mukesh Ambani and his younger brother Anil today met Home Minister P Chidambaram separately at his North Block office within a span of 50 minutes.
Watch live: The Mahindra XUV500 launch
Live telecast from the launchpad of the most discussed XUV.
Mallya to shut down Kingfisher Red in 4 months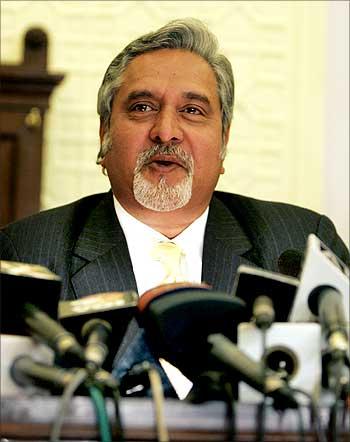 Low-cost carrier Kingfisher Red will shut down in four months with the airline group chief Vijay Mallya on Wednesday saying several measures have been initiated to face financial problems caused by high interest burden and burgeoning fuel costs.
The $35-computer is back! Launch on Oct 5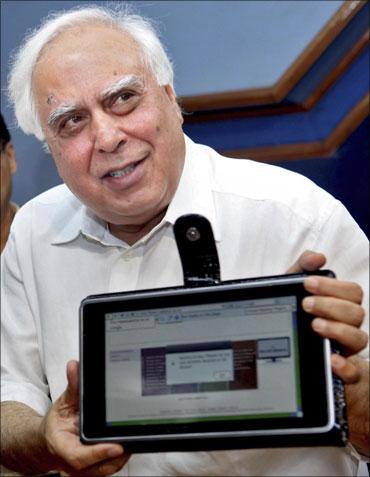 The much-awaited $35 computing-cum-access device, to be made available to students right from primary schools to universities, will be launched on October 5.
Walmart to invest more if FDI policy is relaxed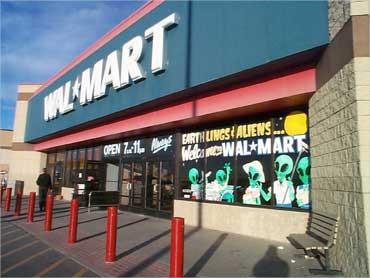 The world's largest retailer Walmart on Wednesday said its investments in India will grow manifold if foreign direct investment regulations on multi-brand retail are relaxed in the country.
Mukesh Ambani praises 'exemplary' leadership of Modi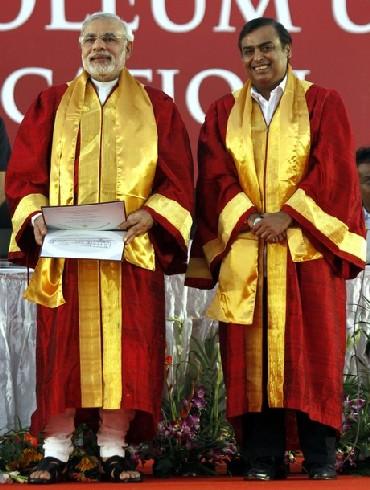 "You have made India and Indians proud by putting Gujarat on the global map. Gujarat is blessed to have an inspiring leadership like you," said Mukesh Ambani.
CEO pay hike: Indian bourses beat global leaders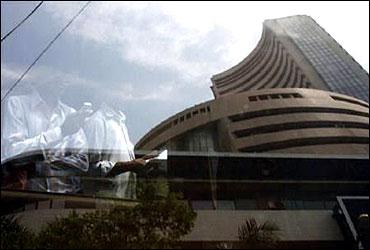 The two largest stock exchanges of the world cut salaries of their CEOs.
Ramdev blames Congress for 'loot and corruption'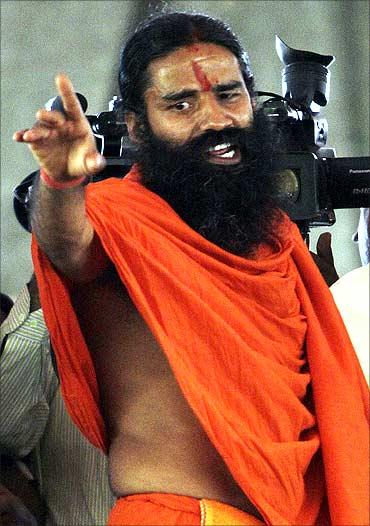 Yoga guru Ramdev on Wednesday blamed the Congress-led UPA government for "loot" and "corruption" in the country and said he was trying to build public opinion against it.
The rich must be taxed more, says Chidambaram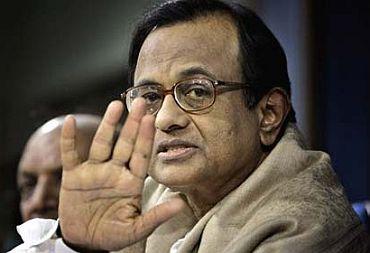 Home Minister P Chidambaram, who as finance minister had slashed taxes, on Wednesday suggested that rich should be taxed more even though 'many people' would not like the idea.
IMAGES: India's 20 best IT employers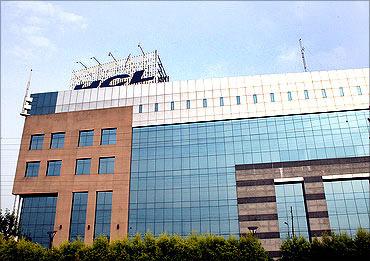 HCL Infosystems has emerged as the best employer among IT companies in India.
Now, get rewarded for spending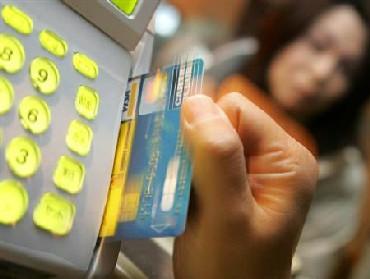 Credit card offers - discounts, reward points and cashback - could range across shopping, phone bill payments, dining and entertainment.
The top 8 cellphone sellers in India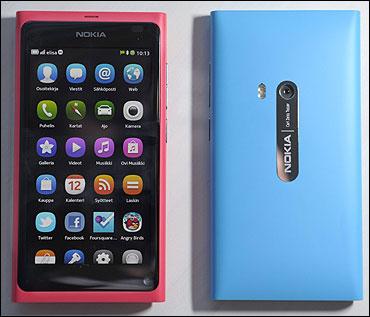 Mobile handset shipments to India declined by 3 per cent in the April-June period compared to the previous quarter due to inventory build-up and reworking on product line-up by vendors, says research firm IDC.
Singur land deal: Mamata wins, Tata loses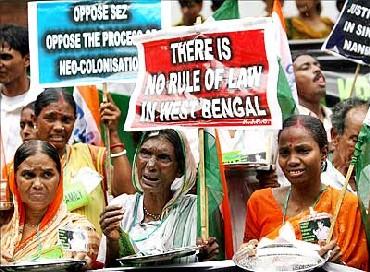 The Tatas have received a setback in the Singur land deal.
PHOTOS: Top 10 business cities of the world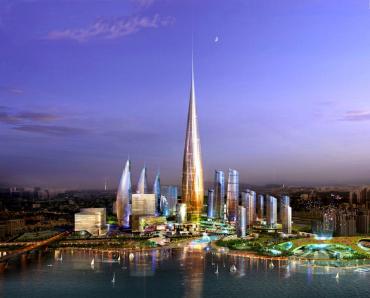 Some cities have become world-class business hubs.
IMAGES: World's 10 most famous hackers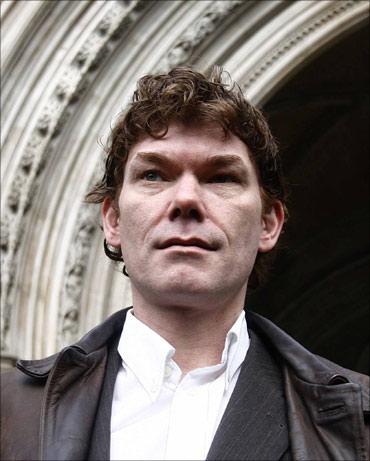 While ethical hackers attack a security system to find out vulnerabilities that a malicious hacker could use to his advantage, unethical hackers discreetly wreck havoc on computer systems and steal confidential information.
PHOTOS: The world's 20 safest banks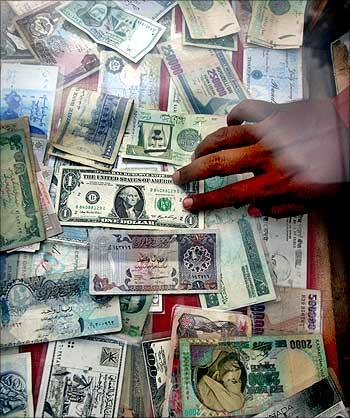 Global Finance announced its 20th Annual Ranking of the World's 50 safest banks.
September 27, 2011
Funding Naxals: Essar Steel GM arrested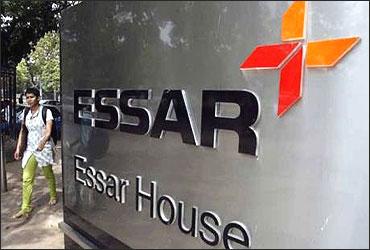 J S Verma, general manager of Essar Steel, was on Tuesday arrested for allegedly conspiring in funding Naxal groups in Dantewada area of Chhattisgarh.
US may revive trade benefits to India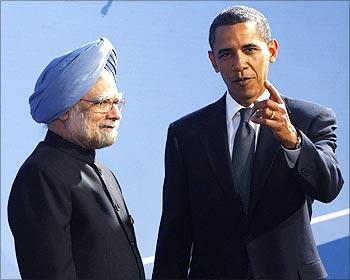 The US Congress is likely to approve trade preferences for the least developed and developing countries in the next few weeks, a move which will help Indian exporters as well.
Protestors take on Wall Street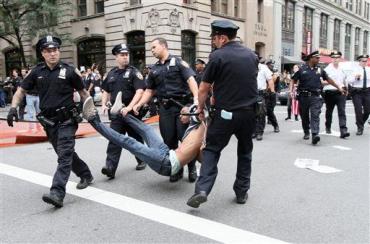 'Occupy Wall Street' protest is 10 days old today.
IMAGES: Honda Brio launched @ Rs 395,000!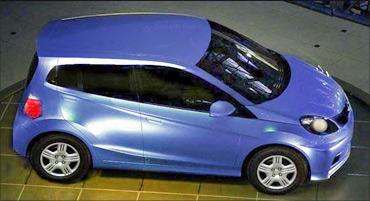 So, does the Brio live up to the hype, in the end? After this first-drive, I would have to answer in the affirmative.
A refreshing holiday and a shopping festival? Kerala beckons you!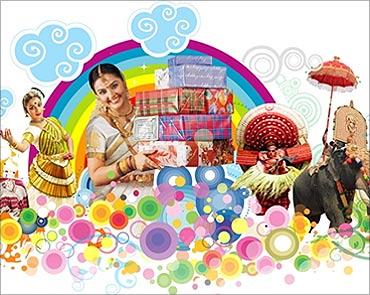 Kerala has been a favourite tourist destination for many in India and abroad, thanks to its beaches, the lush greens, the backwaters, ayurveda...
SMS limit: Trai clears confusion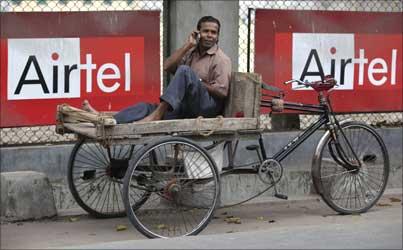 On September 5, after much delay, Trai had come out with recommendations to stop pesky calls and text messages from September 27, ordering that no access provider (operators) shall permit the transmission of more than 100 SMSes per day per SIM.
Explained: Why gold prices are falling now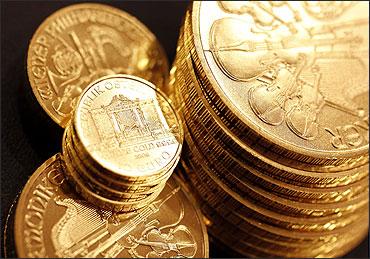 As more and more paper currency gets printed and dumped into the financial systems around the world, there is more the danger that paper currency will lose its value. So people are queuing up to buy gold. Unlike paper money, gold cannot be created out of thin air.
Meet the 'unconventional' chief of Britannia Industries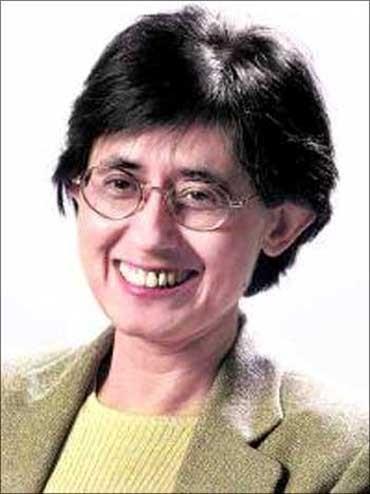 Certainly, she seems to have voluntarily subjected herself to adventure in her professional life after her MBA from Jamnalal Bajaj.
Anil Ambani may set up Reliance Bank soon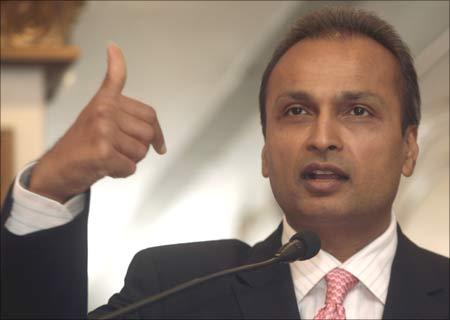 The banking entity of the group could be called Reliance Bank, Ambani told the shareholders of Reliance Capital.
Rs 26 a day! Garibi Hatao in the Congress-BJP way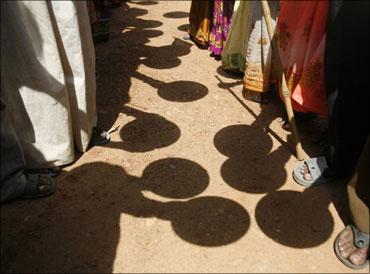 The question is how to genuinely assess the felt needs of citizens who are below a decent way of living, based on their consumption of food and arrangement for housing.
FIRST LOOK: The all-new Mahindra XUV 500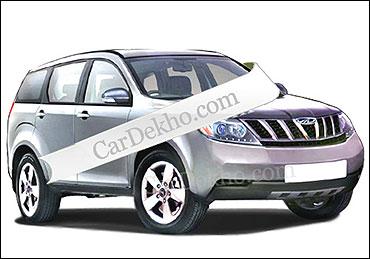 This stunning SUV is likely to be prices at Rs 15 lakh.
Where India can benefit from Chinese investments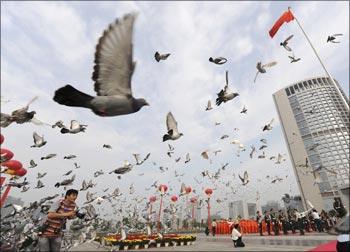 China's surplus foreign exchange reserves and India's long-term fund requirement complement each other.
India's rising dependence on energy imports a concern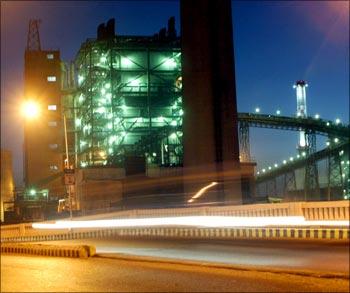 Planning Commission's warning over rising dependence on imports is timely.
Mobiles per 1,000 in various Indian states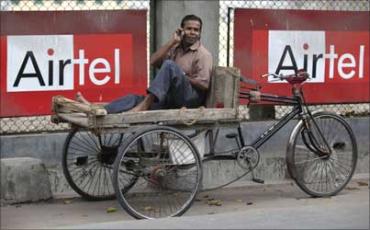 Indian Telecommunications network is the third-largest in the world and the second-largest among the emerging economies of Asia.
Indian Railways mulls trains zooming @ 300 km per hour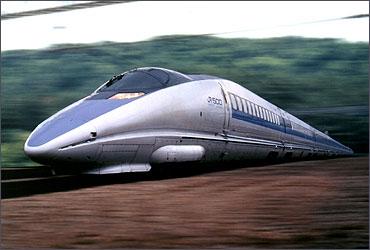 The Bill is likely to be introduced in the winter session of Parliament.
The best of Inc: Maharashtra's leading entrepreneurs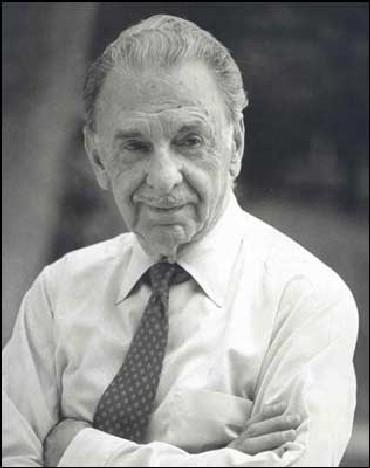 In this series, we feature some of the top businessmen across different states in India. Featured here are the top entrepreneurs (in no particular order) from Maharashtra.
September 26, 2011
IMAGES: The 3 closest rivals of Nissan Sunny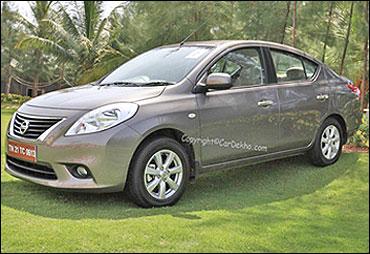 The Sunny is built inside-out.
ICAI: Mis-governance and a tin of ghee!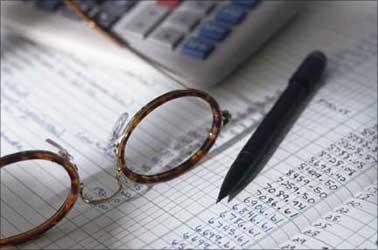 The functioning of the ICAI has come under greater public scrutiny and at times it is unable to meet the high expectations from its members and general public. Surely, something is wrong somewhere, says .
Gadget war: Who is the smartest of them all?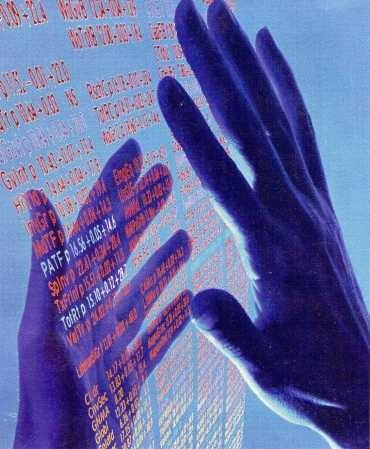 some avant-garde gadgets make the buy worth all the money you pay for them.
N Chandrasekaran: The driving force behind TCS!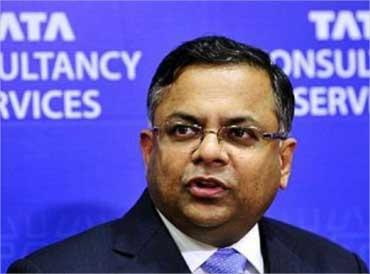 The country's largest IT services provider has managed to stay nimble despite a ballooning workforce.
How the global fight against money laundering going ahead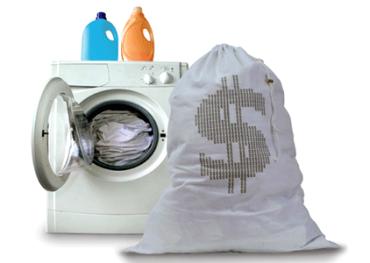 After the terrorists attacks on the United States in September 2001, financial institutions across the world launched an unprecedented campaign to crack down on money laundering.
Gold suffers biggest fall, silver follows suit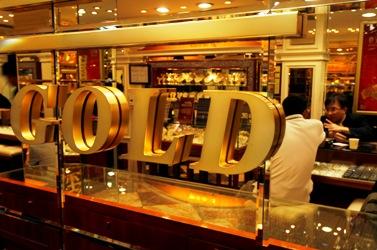 In Asia, the metal tumbled about $124, followed by over $100 in the previous session.
How to chase the evasive tax payer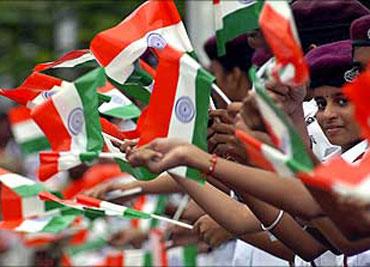 Search and seizure operations are necessary in an India that seems more dishonest.
Column: Who is 'poor' in India?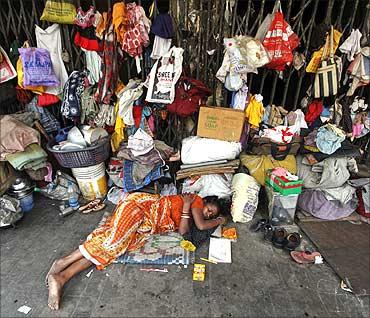 The official poverty line, which goes back 40 years, focused on a single parameter - what it would cost to get the minimum calorie intake.
10 popular company logos and their history

Many corporate brands change their logos with time to keep pace with their changing business.
Big gaps in US-India trade positions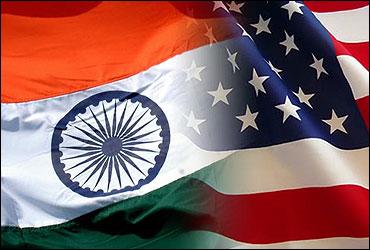 The United States has ruled out signing a Totalization Agreement with India for now.
Now, India and China to deepen bilateral investment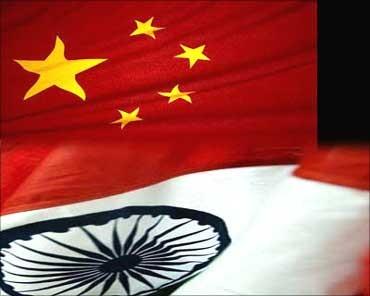 Holding their first comprehensive Strategic Economic Dialogue (SED) in Beijing on Monday, India and China have reached an understanding to deepen bilateral investment cooperation, further open up markets to each other and improve the investment environment.
Singapore: A country that plans to go completely green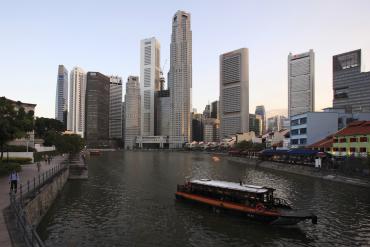 Encouraged by the government, sustainable architecture has become the latest fad in Singapore.
Bears may tighten grip on D-street this week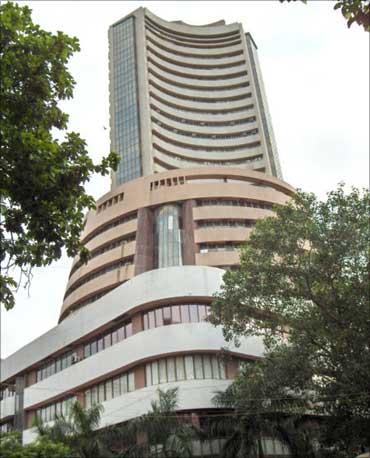 Risk aversion to continue on euro zone debt crisis, weak US economy.
Markets end in red while IT shares recover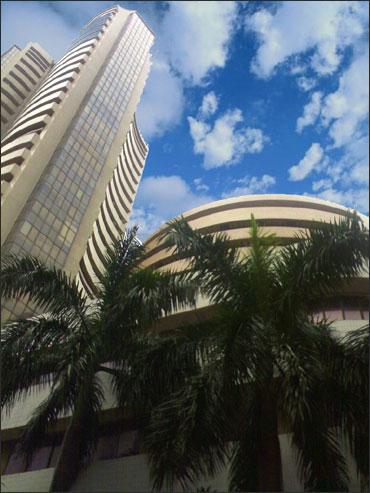 A recovery in European markets and buying in IT stocks helped the Sensex to recover around 250 points from the day's low of 15,801.
Special report: 3G roaming pacts under scrutiny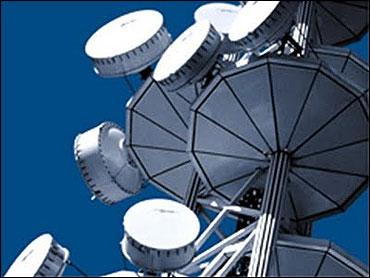 Vodafone, Airtel, Idea provide services without spectrum.
IMAGES: World's biggest electricity producers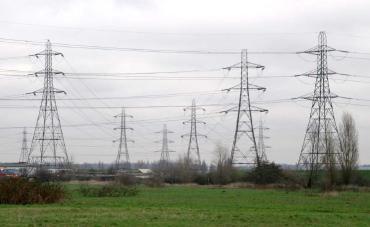 Countries around the globe are racing to meet electricity demand.
Gold rush in India has now become a sprint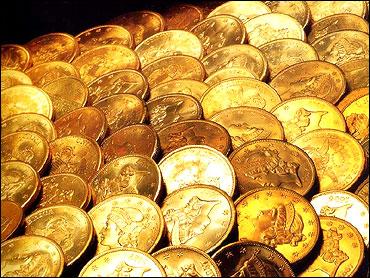 Around 700 post offices across the country would sell gold coins this year.
How to gain from property sale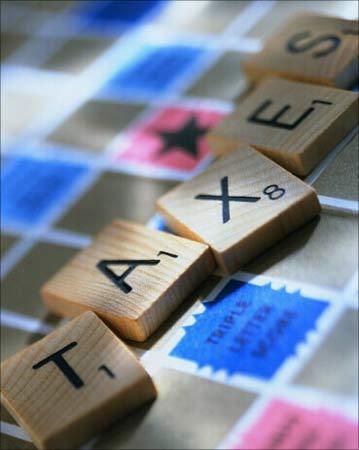 Invest in bonds and another property to save tax on capital gains.
September 23, 2011
Has population growth hurt or benefited India?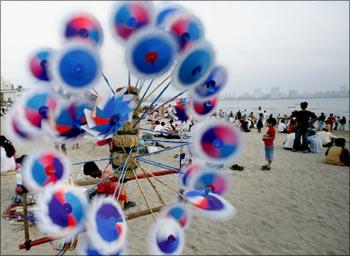 Many Indians blame the nation's high population for all that is wrong with the country, but they forget that it is because of our numbers that we have become such an attractive economy.
Two Indians in Forbes richest Americans' list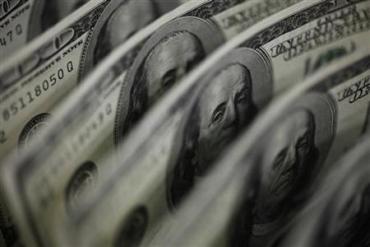 Two Indians have made it to the Forbes list of 400 Richest Americans.
Weak rupee: How it will affect Indians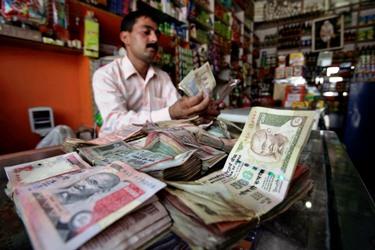 Travelling and studying will become more expensive. Even your stock portfolio is likely to suffer.
Channelise surpluses for infra in developing nations: Pranab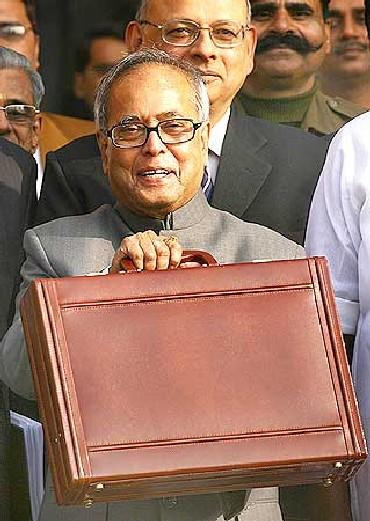 Amid recessionary fears in advanced economies, India's Finance Minister Pranab Mukherjee has called for channelising global surpluses to build infrastructure in developing nations to boost world economy.
Who is behind the success of India-US trade ties?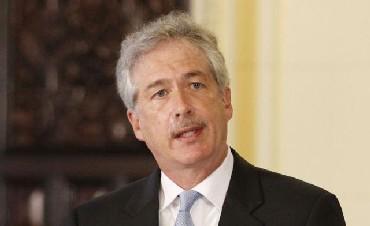 The private sector in India and the United States has succeeded in fostering historic trade relationships between the two largest democracies of the world, a top Obama Administration official said on Thursday.
Investors lose Rs 2 lakh crore in a day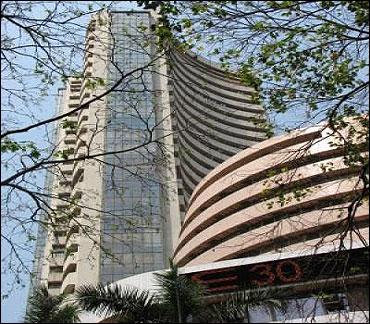 Of this, more than half or Rs 121,416 crore got eroded just from the 30-share BSE Sensex companies.
How South Asia can reduce poverty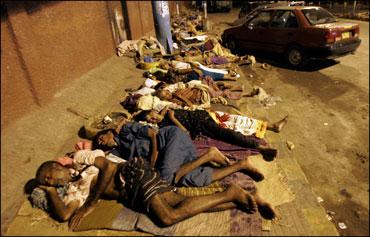 The report, 'More and Better Jobs in South Asia', released on Thursday said the required new jobs will be equivalent to about 40 per cent of the increase in the global labour force during the period.
What cost Rs 100 in 1947 would cost Rs 5,920.91 now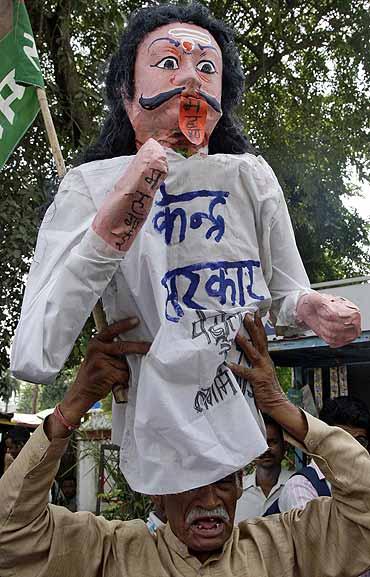 Inflation is one of the biggest challenges facing India. With prices rising to all time highs, there seems to be little respite for the common man.
Explained! The US 'twist' that MELTED stock markets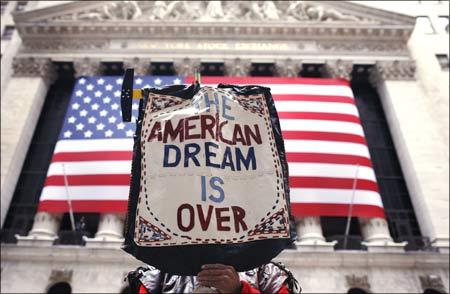 The United States Federal Reserve, the US central bank, has announced a new $400-billion rescue plan, which is being called the 'twist'.
PHOTOS: World's 10 most expensive classic cars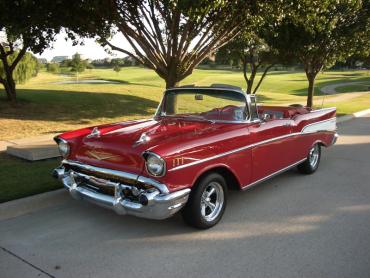 Vintage cars attract top dollars at auctions.
Revised AI plan projects operational profit in 5 years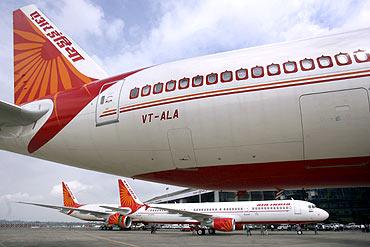 The new plan is likely to be discussed in the meeting of the group of ministers to be held next week.
Ratan Tata: One of the world's most RESPECTED leaders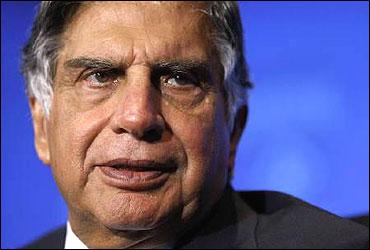 Their reputation was measured on a 0-100 point scale based on four attributes - the degree to which a person is liked, respected, admired, and trusted.
September 22, 2011
Reliance calls govt move on KG-D6 cost-recovery illegal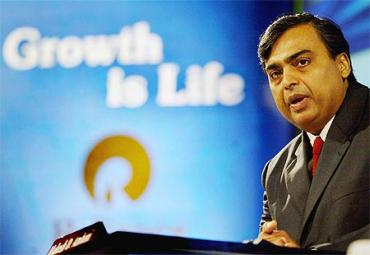 The ministry has attributed the fall in output to non-fulfilment of RIL's commitment to drill 22 wells in the field.
Special: Will Jairam Ramesh's new plan fix NREGA?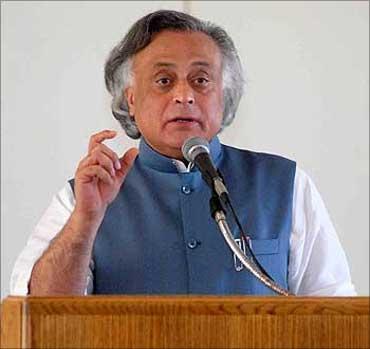 The new rural development minister wants to use technology to force states to make payments. Critics suggest that he should fix existing problems first.
Why the world may prefer India to China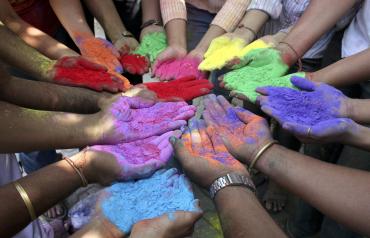 explains what makes India a favourable destination for business in the long run.
Food inflation slips to 8.84%, but no relief for common man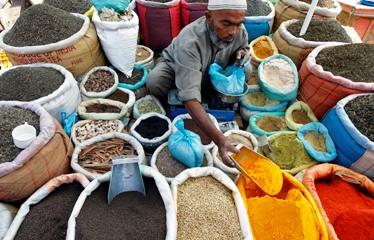 Prices of most commodities, barring wheat, continued to remain firm on an annual basis, as per Wholesale Price Index data released by the government in New Delhi.
Indo-Pak trade high on hope, low on execution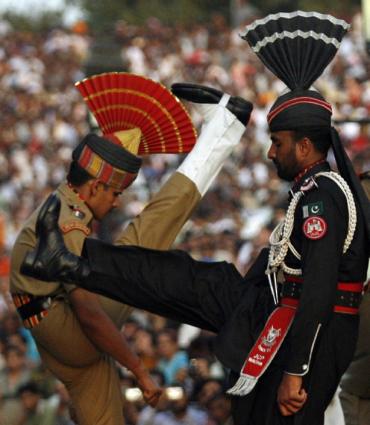 An unfinished Integrated Check Post, a shabby passenger terminal, the lack of a connecting road on the Pakistani side and pending permissions, all threaten to undermine a historical trade agreement.
America Inc urges US govt to embrace India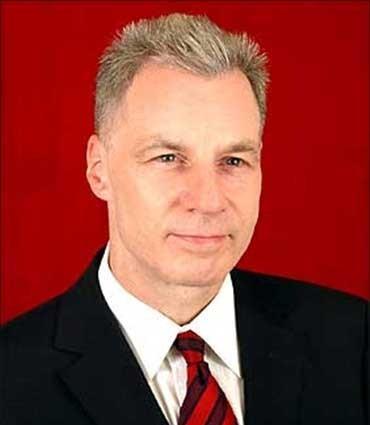 As India's top Cabinet Ministers and industry leaders landed in Washington for crucial talks with their US counterparts in Washington, Corporate America on Wednesday urged the Obama Administration to embrace India as a knowledge partner.
IMAGES: Rs 2.5-lakh Hyundai Eon may take India by storm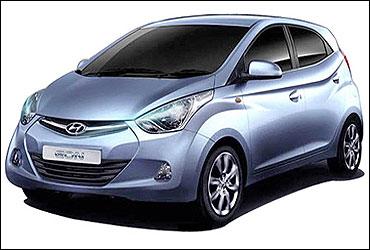 The festive season is the time when car manufacturers offer major discounts and freebies to lure customers and Hyundai has decided to cash in on the occasion with Eon.
A car that may run 480,000 km before refuelling!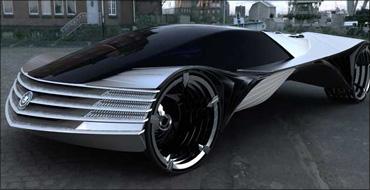 Charles Stevens, CEO and chairman of Laser Power System, a small R&D start-up in Connecticut, said that his design uses just 8 gm of thorium to help a car run for years.
Pranab confident of India attracting FDI in infra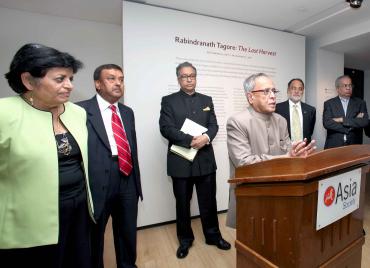 'I think we will be able able to inspire confidence in the minds of prospective investors,' says Mukherjee.
BLOODBATH! Why Sensex crashed by over 700 points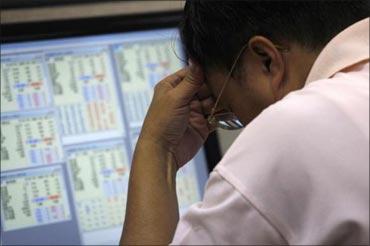 The Bombay Stock Exchange benchmark Sensex has lost 478.60 points, or -2.80 per cent, to slip to 16,586.55 in afternoon trade on Thursday amid panic selling in markets worldwide following the US Federal Reserve's warning that the outlook for the world's largest economy is grim.
IMAGES: These 20 firms are richer than several nations!
Believe it or not, the revenues of some of the world biggest companies beat the GDP figures of several nations.
Buffett is back, to invest in Gujarat chemical JV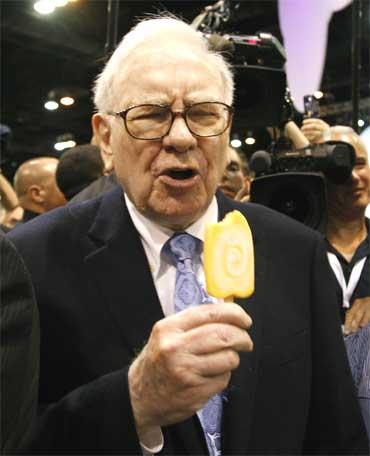 Oracle of Omaha will initially invest Rs 1,177 crore (Rs 11.77 billion) in the venture.
Here's what techies earn in Silicon Valley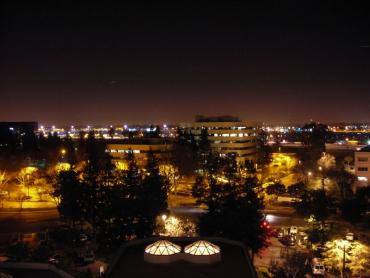 Silicon Valley has the highest concentration of high-tech workers of any metropolitan area.
India Inc won't make enough money to enjoy any festivity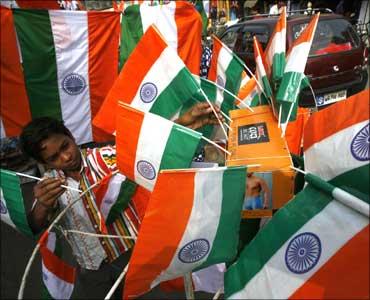 General Motors vice-president P Balendran is less diplomatic and talks about a 'severe blow'.
The world's MOST reputable companies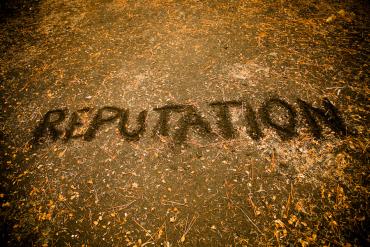 Consumers want to know more about the companies that stand behind the products and services that they buy.
September 21, 2011
The IMF's gloom-doom report for India, world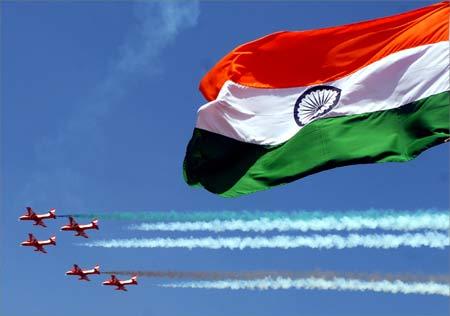 The International Monetary Fund expects India's economic growth rate to moderate to 7.5-7.75 per cent this fiscal, from 8.5 per cent in 2010-11, on account slowing investments and sluggish global recovery.
20 most popular car logos & their history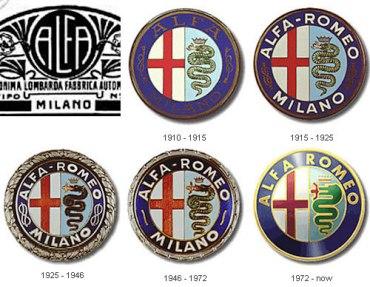 car logos and the story behind each one.
Go glocal with these tablet PCs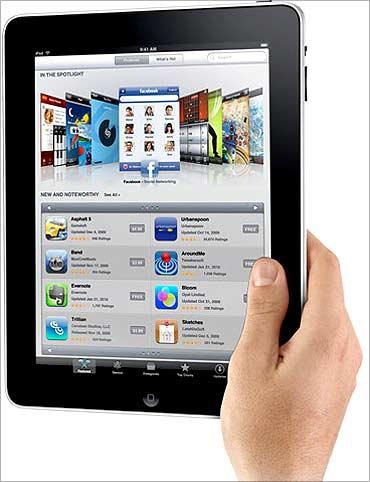 As the rest of the world raves about 10-inch tablet PCs from Samsung and Apple, Indian vendors seem to be betting on cheaper 7-inch tablet PCs to lure buyers.
How China is rebalancing its economy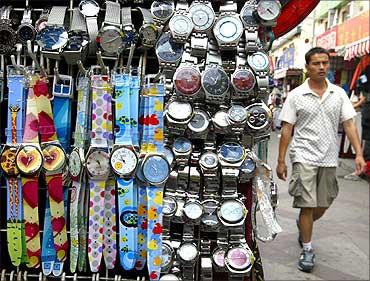 The country has become the world's workshop, lifting millions out of dire poverty.
Highest and lowest petrol prices in Indian cities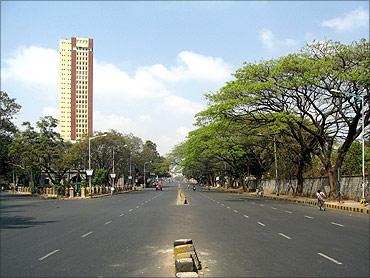 Petrol prices in India are amongst the highest in the world.
'Biggest employment generators will be MSMEs'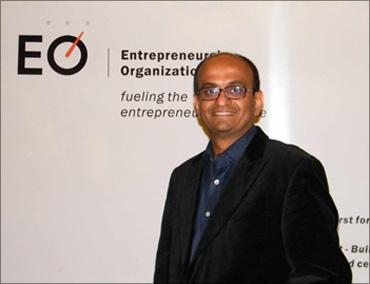 An interview with Annush Ramasamy, programme director, South Asia, Global Student Entrepreneur Awards (GSEA).
IMAGES: Nissan unveils the Rs 5.78 lakh Sunny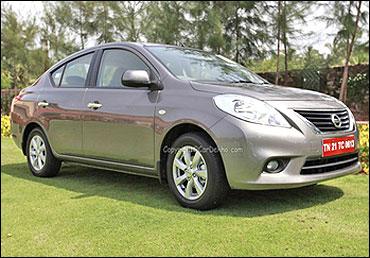 Nissan Sunny is one of the most complete sedans in the mid-size segment.
If you earn over Rs 32 a day, you are NOT poor!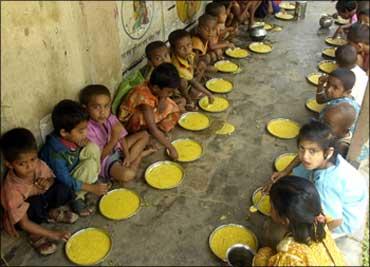 Urban households having five members with daily consumption basket of food and other items of more than Rs 161 will not be entitled to benefits provided to Below Poverty Line (BPL) families, as per the Plan panel's latest definition of poverty.
Pitroda to help Railways modernise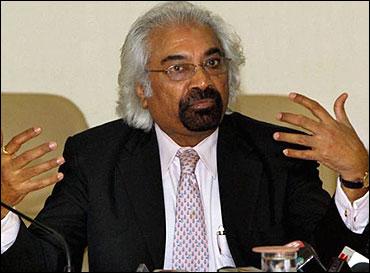 Deepak Parekh, HDFC Bank Chairman, M S Verma, former SBI Chairman, Raghuram, Professor IIM, Ahmedabad, Rajiv Lal, IDFC MD and Vinayak Chatterjee, Feedback, Infrastructure Services Chairman are members of the committee.
IMAGES: Delhi Metro's success attracts Yale, Stanford grads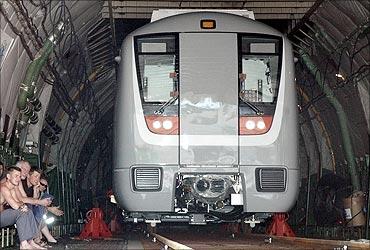 Its doors are open not just for commuters, but also for management graduates from across the globe, engineers, bureaucrats and others who flock the Delhi Metro wanting to know its success mantra and management practices.
September 20, 2011
Now, S&P downgrades Italy's credit rating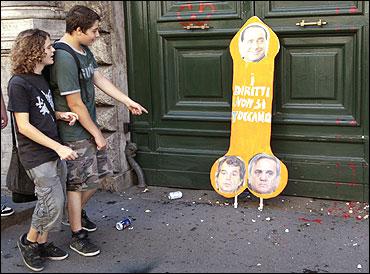 The rating, however, is still five steps above junk status.
Sharad Pawar heads GoM on manufacturing policy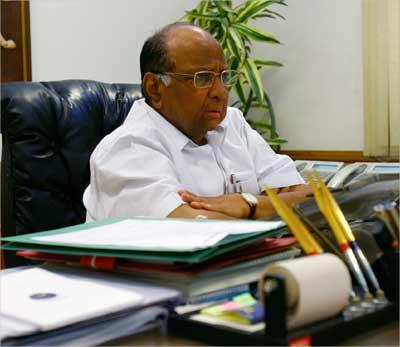 A group of ministers, headed by Agriculture Minister Sharad Pawar, has been formed to resolve inter-ministerial differences stalling the national manufacturing policy which aims at giving a boost to the sector.
Rupee plummets; hits 2-year low of 48.25 per $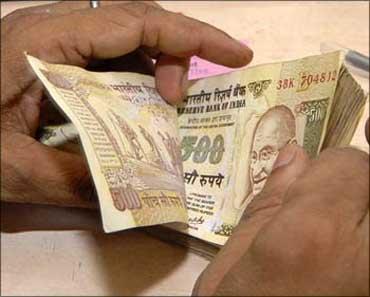 The Indian rupee was down by 44 paise at a fresh two-year low of Rs 48.25 per United States dollar in early trade on Tuesday on persistent demand for the American currency from banks and importers on the back of dollar firmness in overseas market.
Why America is the new Japan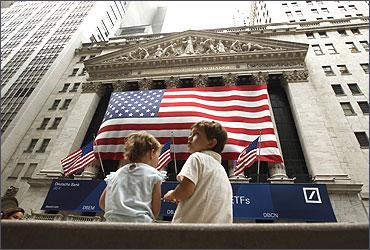 Despite the US government having low interest rates and printing a lot of money in the hope that people will spend it and revive the economy, that is clearly not happening.
Special: All about the Reliance-KG Basin controversy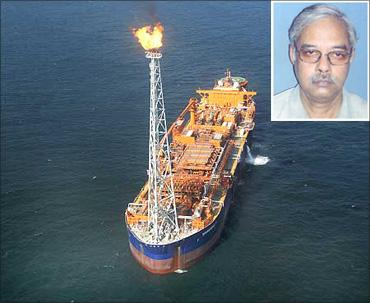 CPI(M) Rajya Sabha Tapan Sen, in an interview to Rediff.com, explains what he believes are the irregularities committed by Reliance Industries and how UPA government has allowed it to get away with it.
Want to insure art? Be ready for tough norms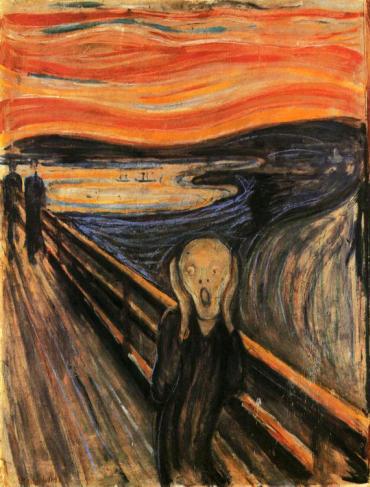 While select private insurers like ICICI Lombard, Tata AIG and IFFCO Tokio provide specialised insurance covers for 'art' items, the minimum value they look at is in excess of Rs 1 crore.
NASA plans to spend $1.6 bn on space taxis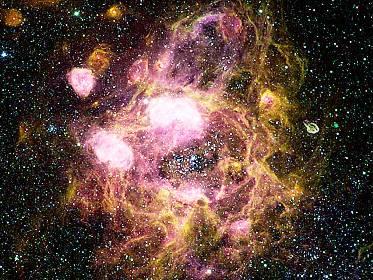 The US space agency will be looking for complete systems -- launchers, spaceships, mission operations and ground support -- to ferry astronauts to the InternationalSpace Station by the middle of the decade, The Daily Telegraph online reported.
Important infra projects mirred in trouble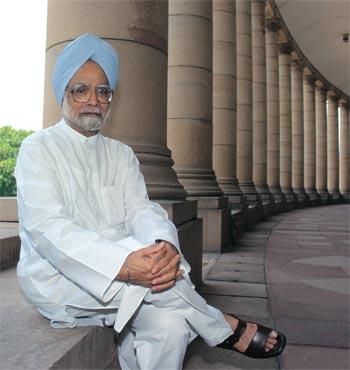 With such projects not getting commissioned on schedule, growth target of nine per cent will remain elusive.
Savers in dilemma over channelling excessive capital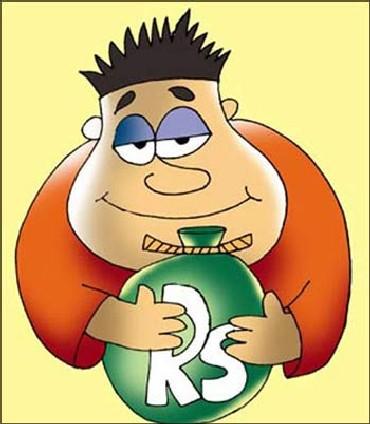 Heart of any economy is the mechanism by which funds are channelled from savers to investors.
Why US should invest in India's power sector
Shinde said the average plant load factor of Indian generation units improved to 77.5 per cent during 2009-10 from 73.6 per cent in 2006.
Here are some brilliant cars you will soon see in India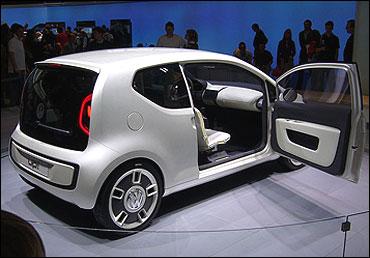 A look at India's share of the Frankfurt Motor Show pie!
IMAGES: World's 20 most stunning buildings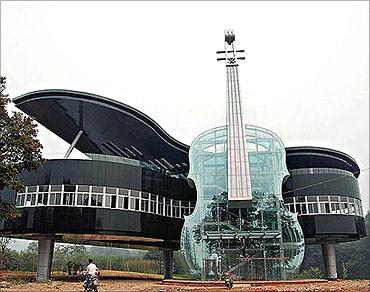 Architects have over the years designed unique and mind blowing buildings across the world.
IMAGES: Low-cost homes from $300 to $1,000!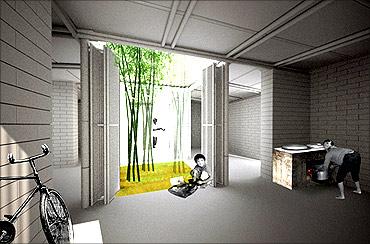 The 'Pinwheel House' has been designed by Ying Chee Chui, a graduate of MIT's Department of Architecture, has been built in Mianyang, in Sichuan Province, China.
Special: The SAD state of 'other' India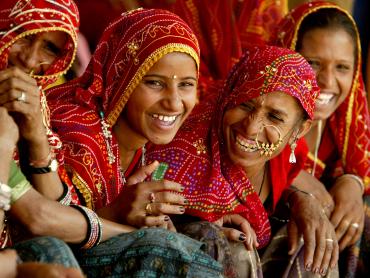 By focusing only on urban India, the government is not only making the situation of villagers worse, it is also putting extra pressure on cities.
IMAGES: Ratan Tata unveils the Rs 22-crore Nano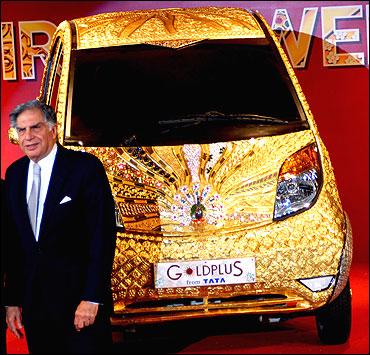 At its current price - $1,819 per troy ounce - the gold alone adds $4.68 million.
Corruption? Railways tops, banks are 2nd, says CVC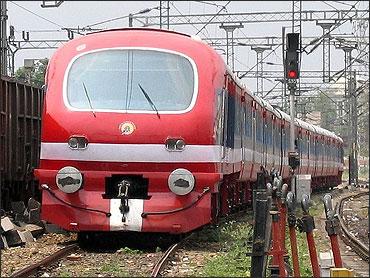 Out of the total of 25,359 complaints received during 2010, the highest of 8,330 were against Railways, 6,520 against banks, 1,836 against petroleum department and 1,572 were against telecom officials.
September 19, 2011
Prices keep rising: Food, clothing more expensive now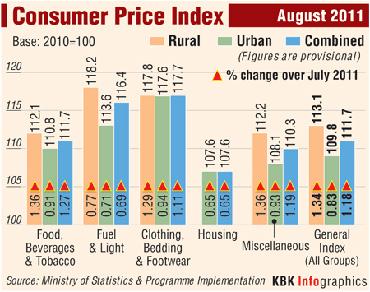 Expensive food and clothing pushed up the Consumer Price Index (CPI) by 1.18 per cent in August vis-a-vis the previous month, but experts said too much should not be read into the numbers, as the data on retail prices is yet to stabilise.
New tax wing to probe poll funding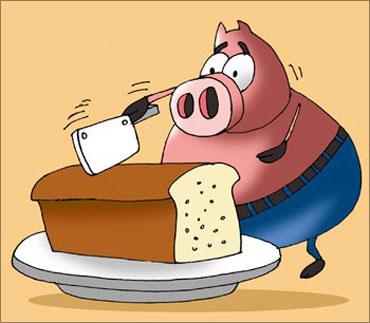 The Union finance ministry has set up a special investigation unit to 'regulate' the funding and donations made to political parties.
Pranab goes to US seeking big bucks for infrastructure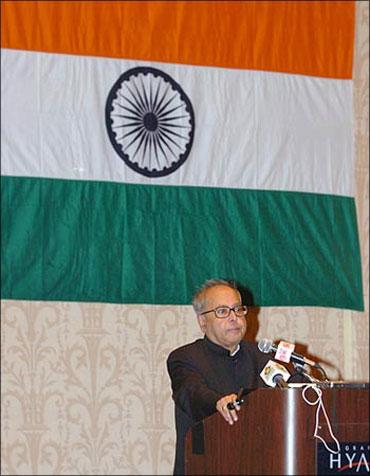 Pranab Mukherjee, who will be on a five-day visit to US from September 21, will address the 8th Annual India Investment Forum Meeting.
Mahindra's civilian plane makes its maiden flight!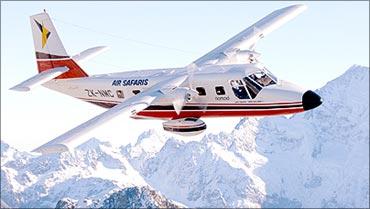 Mahindra Aerospace, the aircraft and aero-structures arm of the Mahindra Group, on Thursday said it has successfully flown its maiden five-seater civilian plane.
Strike: Is Maruti harassing its workers?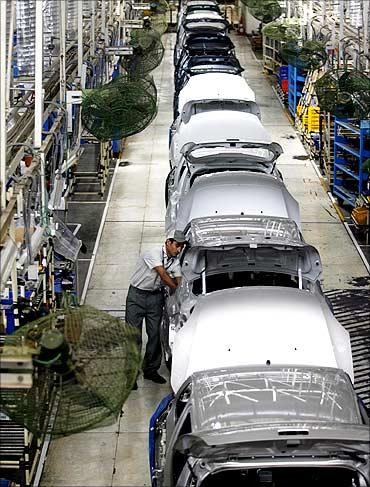 Workers want a union, while Maruti wants a 'Good Conduct Bond.' Both refuse to give in to each other. The real issue, however, is something else.
Getting the right keyboard for your tablet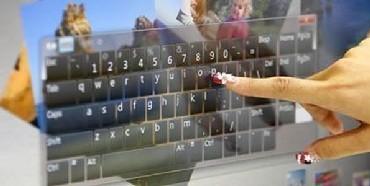 Investing in an external keyboard for your tablet PC is advised for users who would be doing a lot of typing on the device (longer emails, document creation or keying in work sheets).
10 economic experts who advise the prime minister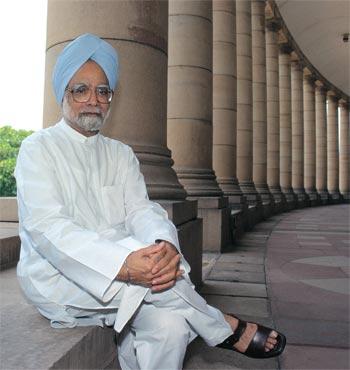 With inflation, oil prices and interest rates rising, Indians are finding it extremely difficult to make ends meet.
The next crisis will be worse than the one in 2008: Marc Faber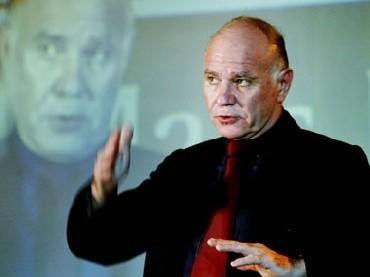 My view is that they can probably muddle through for another two-three years by piling up the fiscal deficit or printing more money. I do not know when it will happen in 2012 or in 2018, but the next crisis will be worse than the one in 2008.
Mafatlal feud: A brand new family drama unfolds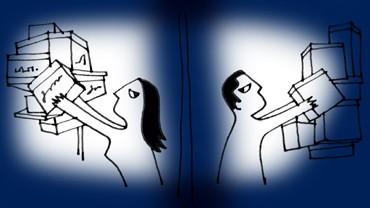 For, the low-profile promoter of what was once known as the Sungrace-Mafatlal group would never have wanted the world to know what's going on inside his 10,000 square feet second-floor apartment. It's where his wife Madhuri, son Atulya and Atulya's second wife, Sheetal, now live.
Special: The secret behind Ashok Soota's success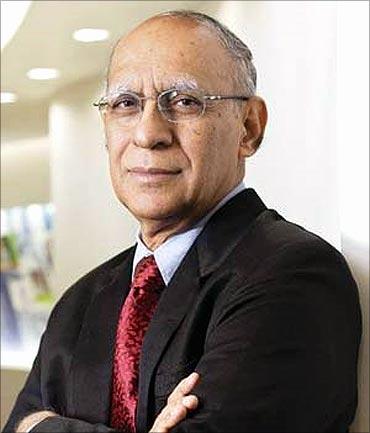 Ashok Soota has launched a new firm, Happiest Minds, at the age of sixty-nine, proving that there is no such thing as retirement.
20 fastest-growing companies in the world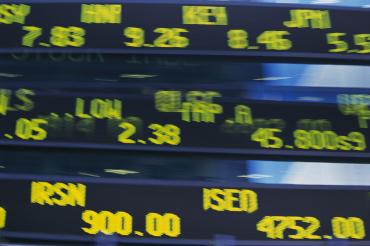 There are some companies that are witnessing booming growth.
September 16, 2011
PE firm Silver Lake mulls buying out Yahoo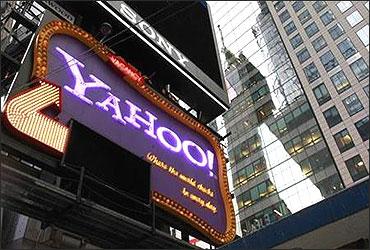 Various news reports suggest that the PE firm, if it buys out Yahoo, would first sell off the Internet company's Asian assets. Silver Lake would thereafter, a report said, try to either turn the 'remaining' company around or find yet another buyer for the main operations.
Govt cuts sops on exports; 1100 items to be hit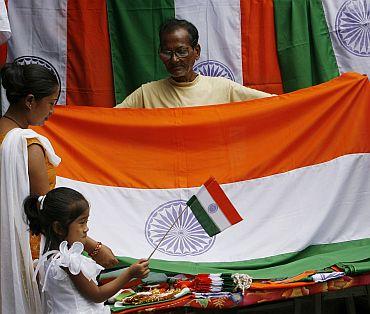 As a setback to exporters, shipments of 1,100 items will be entitled to lower tax refunds from October 1 when curtains draw on the popular DEPB scheme, government announced on Friday.
Fuel price hike is good news: Montek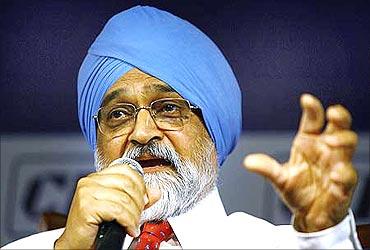 The Planning Commission said the decision of oil marketing companies to raise petrol price by Rs 3.14 per litre is a good news and will provide credibility to the economic reforms process.
12th rate hike by RBI; loans to cost more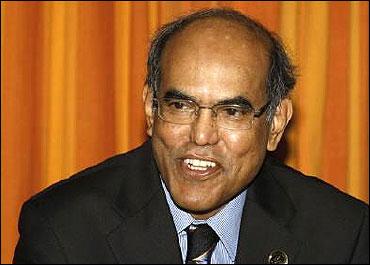 The Reserve Bank of India has increased the repo rate under the liquidity adjustment facility (LAF) by 25 basis points from 8.0 per cent to 8.25 per cent with immediate effect.
Maruti finds Swift allure sticky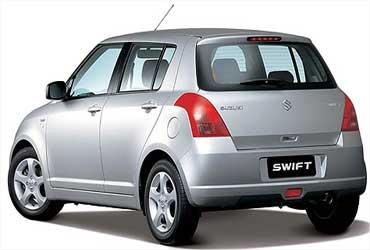 ,000 customers are awaiting delivery of the new Maruti Suzuki Swift.
India's trade policy lacks transparency: US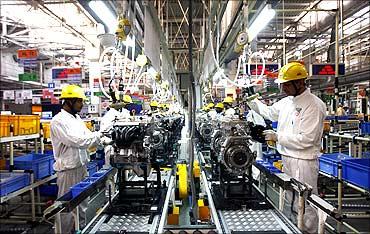 The US has expressed concern over India's lack of transparency in its trade policy, as a result of which small and medium-sized enterprises have difficulties in investing and doing business in the country.
Images: STUNNING Lamborghini cars since 1963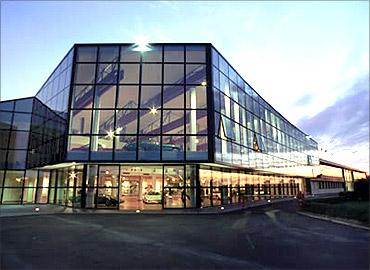 This sprawling complex is the home to the Lamborghini factory and a mind blowing museum.
Solar power use: Top 10 countries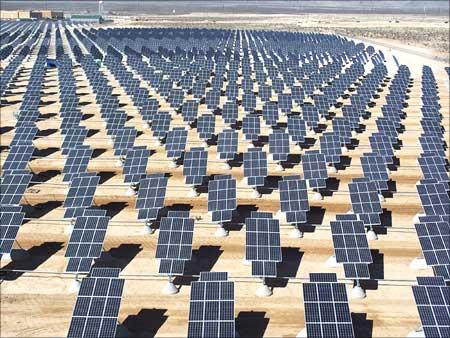 On the world map, India lags far behind other countries as far as generating solar power is concerned though the country has made significant progress in wind energy generation.
Snapshots: 10 best concept cars of 2011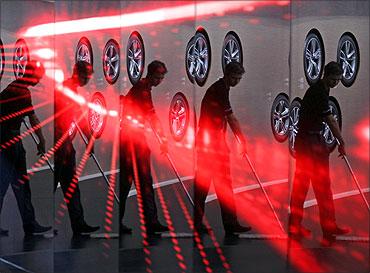 A look into 10 best concept cars of 2011.
Photos: Top 20 items that India, China trade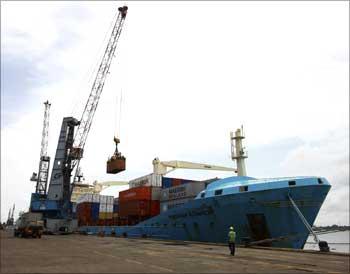 Bilateral trade between India and China exceeded the two countries' $60 billion target in 2010.
Renault to launch 3 new cars by 2012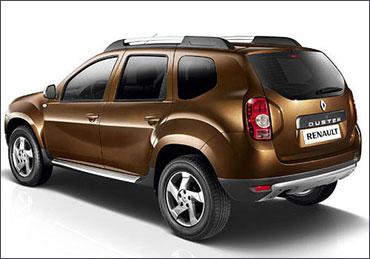 The three launches are part of the plans of the company, which is the fully owned subsidiary of Renault s.a.s, to introduce five new cars in the market, Renault India vice-president (sales and marketing) Len Curran told reporters in Kochi.
Protests erupt: Petro price hike hits common man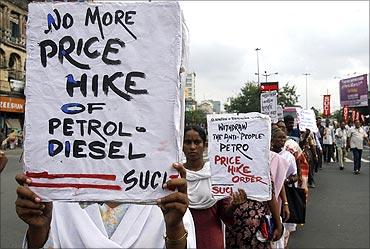 Terming the government's move to hike petrol prices as "callous", the CPI(M) on Friday demanded immediate roll back of the hike and restoration of the administrative regulation of petrol pricing.
Why India's foreign policy needs strong economic element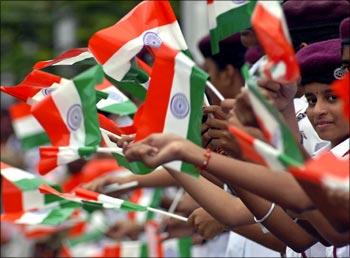 India can be a major politico-economic force, but it needs leadership that understands the power of billion-dollar investments and is not afraid to flex its muscle, says .
Spain to sell this STUNNING airport to cut debt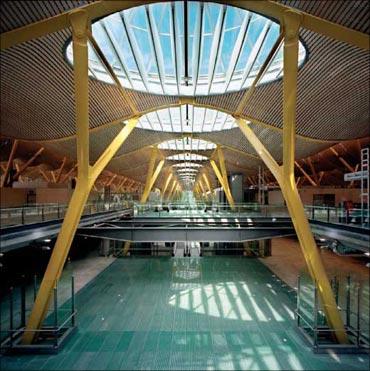 Debt-ridden Spain plans to sell off part of its airports operator AENA, which the government says could be worth up to 30 billion euros (Rs 1,964 billion), as it seeks ways to reduce the national debt.
PM takes metro to keep Mamata on track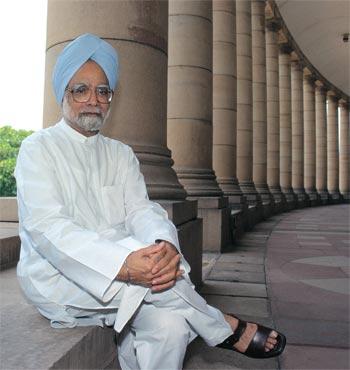 UPA government has decided to take full responsibility for the Rs 4,874 crore East-West Metro Corridor project.
What lies ahead for Kingfisher Airlines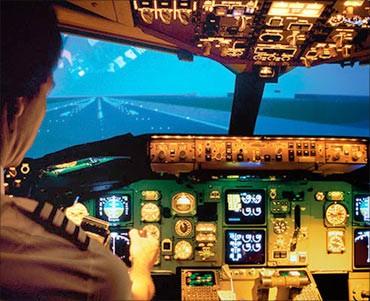 While higher fuel costs and irrational pricing are key concerns, infusion of funds to retire debt is crucial if Kingfisher Airlines has to improve its financials.
Why the RBI rate hike will NOT curb inflation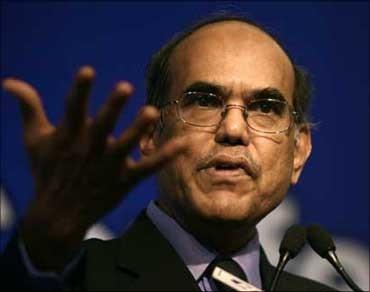 There is not much that the RBI can do to address India's inflation. Solutions to the problem lie with Pranab Mukherjee and Sharad Pawar, who run the ministries of finance and agriculture, respectively.
September 15, 2011
You may get only 4 gas cylinders a year at low rates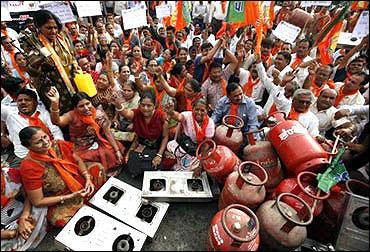 All subsequent cylinders will have a non-subsidised rate that will be fixed every month.
Petrol prices hiked by Rs 3.14 a litre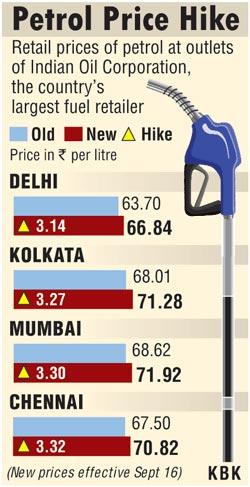 State-owned oil companies are all set to hike petrol prices by around Rs 3 per litre which will be effective from midnight on Friday.
Crisis a win-win situation for Indian IT: Kamath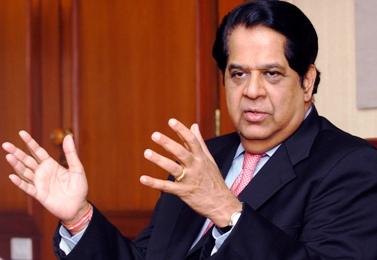 Kamath, who succeeded N R Narayana Murthy at the Bengaluru-headquartered, Nasdaq-listed firm, nearly a month ago, said Infosys is a well-established company with processes which are clearly defined, and his role would be what is expected of an independent non executive board chairman, namely governance oversight.
US will not lose long-term bet on India: Rao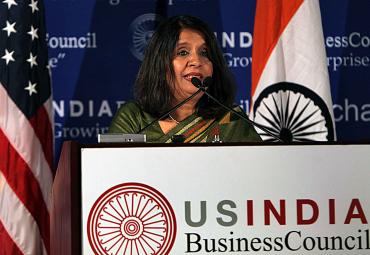 Like in any expanding relationship, there will always be transactional issues to address between the two sides, says Rao.
IMAGES: World's 9 weirdest hotels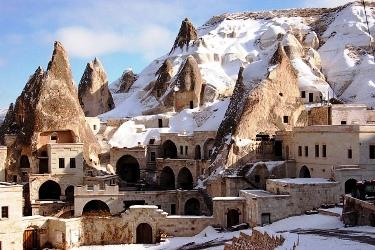 A peep into 9 weirdest hotels of the world.
Solar energy market: China much ahead of others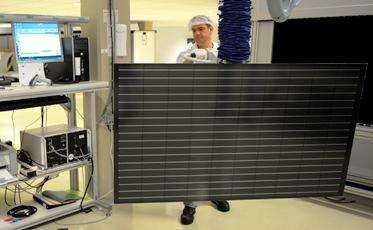 China's solar energy budget still stands roughly 20 times larger than America's investment in the same period, Jonathan Silver, executive director, Department of Energy told US lawmakers on Saturday.
The trillion-dollar question nobody can answer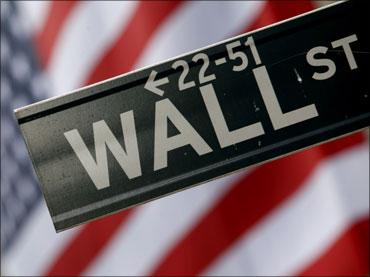 The United States government over the years has been spending more than what it earns. Like for the year 2011, the expected revenues for the US government stand at $2.17 trillion, whereas the expected expenditure is much higher at $3.82 trillion, leaving a difference of $1.65 trillion between what the government earns and spends.
Intel to launch Ultrabooks for $1,000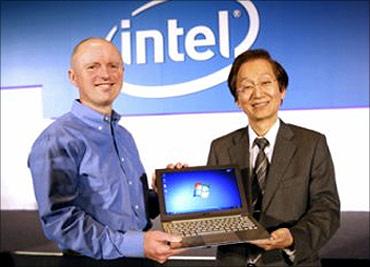 The world's largest chip-maker Intel Corporation on Thursday said the new 'Ultrabook' devices being developed with its technology will initially cost around $1,000, but the price tag should fall below $799 in coming years.
Maruti workers' strike turns violent, 5 injured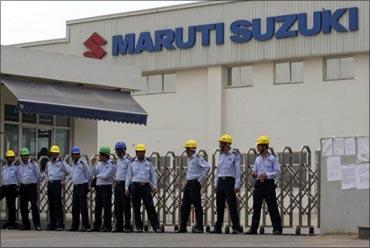 The labour unrest at Maruti Suzuki India's Manesar plant took a violent turn on Thursday when a group of supervisors were attacked on their way to work, with five of them sustaining injuries.
PHOTOS: 18 great cars from the world's largest auto show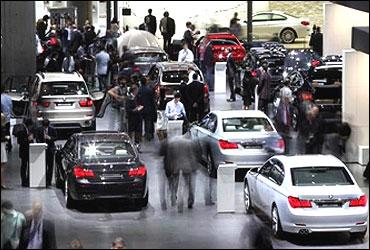 Around 1,000 exhibitors are taking part from 35 countries and at least 80 world premieres are expected over the coming days.
Column: Are ministers working for us or corporates?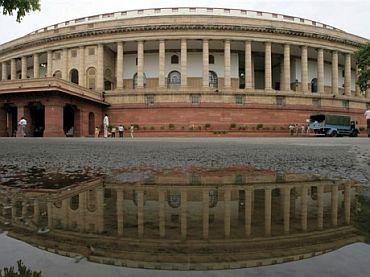 From the looks of it, it seems that ministers are more interested in pushing corporate India's agenda than people's agenda.
Infosys closes in on $700 mn foreign acquisition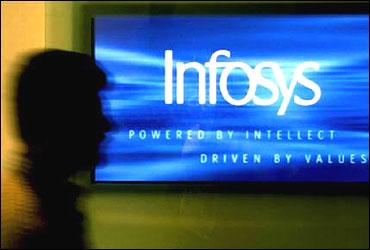 IT giant close to acquiring Thomson Reuters' health care business.
IMAGES: The world's 10 largest airlines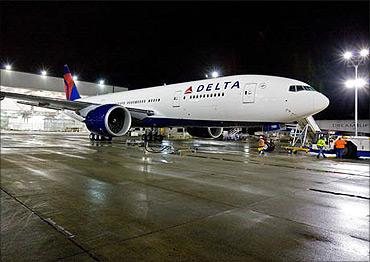 Airlines are set to buy 30,900 aircraft valued at $3.6 trillion in the next 20 years.
PHOTOS: World's top consumers of electricity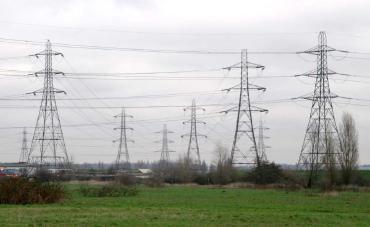 At the world level, electricity consumption fell by 1.5 per cent.
The story of Air India's slow death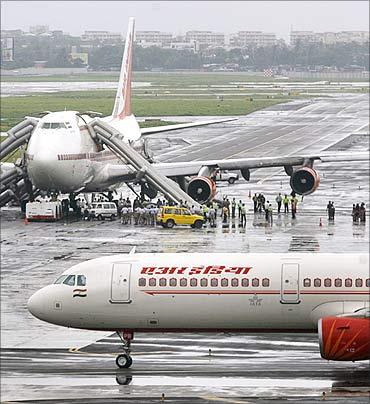 In popular perception, the villain of the piece is former civil aviation minister Praful Patel.
RBI set to hike rates, once more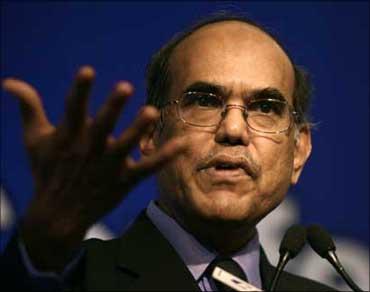 As long as inflation does not decline to a significant level, the Reserve Bank of India would continue its tight monetary stance.
September 14, 2011
IMAGES: World's 10 worst cities to live in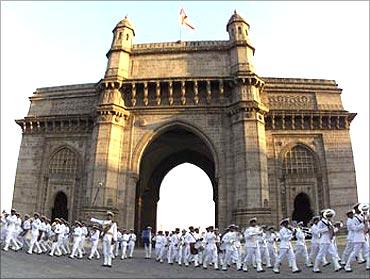 The survey assessed living conditions in 140 global cities.
With Rs 1,500 he built a Rs 1-crore company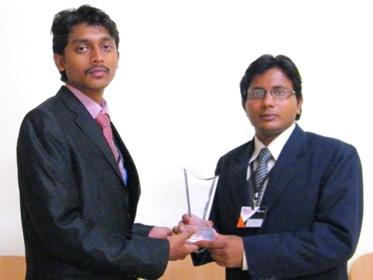 Amazing Youth has been adjudged the second runner up at the recently concluded Global Student Entrepreneur Awards at the John Cook School of Business at Saint Louis University.
India's top 20 IT services export companies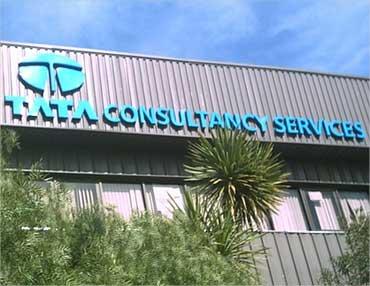 Indian information technology companies are making a huge splash all across the world.
Harshad Mehta scam: Rs 650 cr to settle claims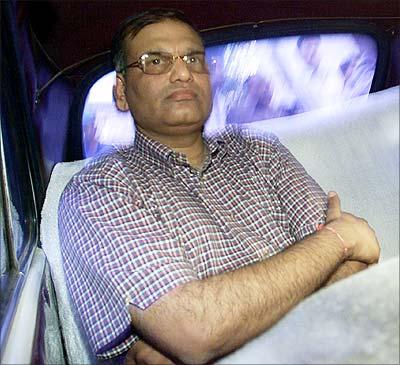 The Ministry of Finance has secured another order from the Special Court, Mumbai, allowing a release of a total amount of Rs 650 crore (Rs 6.5 billion) to the Income Tax Department, banks and financial institutions from the liquidated assets of the Harshad Mehta Group of entities, against pending claims.
Top 4 IT cos: TCS, Cognizant race ahead of Infy, Wipro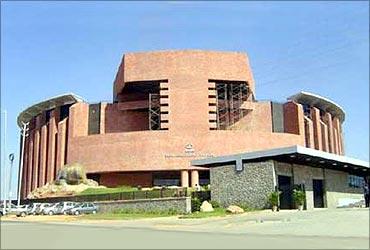 Analysts said the transition period at Infosys and Wipro have given an opportunity to TCS and Cognizant to increase their lead.
BAD NEWS! Petrol price may go up again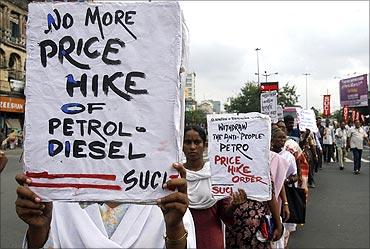 Firm crude and weaker rupee mean more losses for oil marketing companies. Jet fuel also set to rise, stressing airline finances.
One in six Americans living BELOW poverty line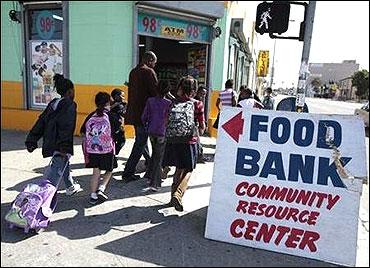 The nation's official poverty rate in 2010 was 15.1 per cent, up from 14.3 per cent in 2009.
REVIEW: The new diesel Toyota Etios and Liva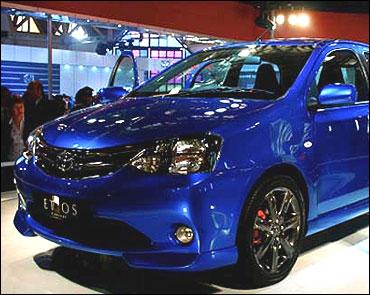 The new diesel Toyota Etios and Liva find themselves in a highly competitive scenario.
PHOTOS: 20 countries with highest income tax rate!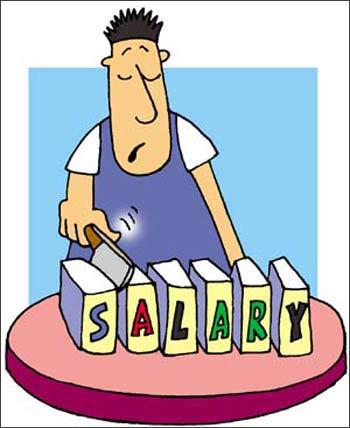 There are some countries where more than 50 per cent of the income goes to taxes.
September 13, 2011
How this 21-yr-old became a social entrepreneur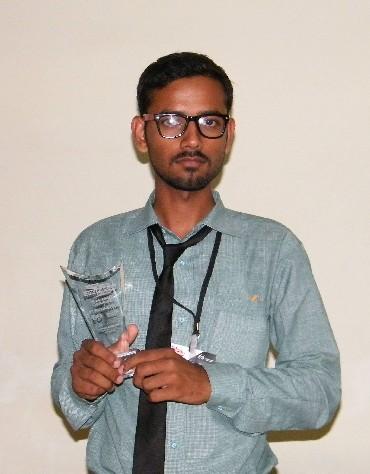 Twenty-one year old Durgesh Nandan, the founder and CEO of AutomotionAds, is an engineer who passed out in April 2011. And, he has been running a venture for the last one year.
Sensex to touch 22K by Dec: JP Morgan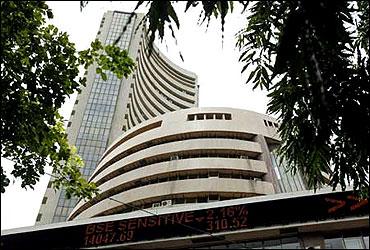 Even though investment sentiment is dampened by the worsening macroeconomic factors, investors are optmistic.
Here's why desktops won't die so soon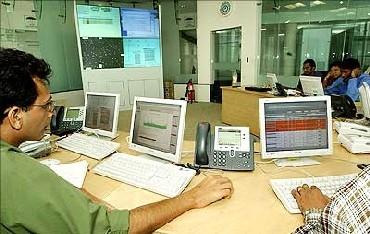 The growth in the desktop market is driven by the assembled desktop market and sales of desktops to the government and small- and medium-sized enterprises in Tier-II and Tier-III towns.
1 in 4 Indian employers uncertain about Q4 hiring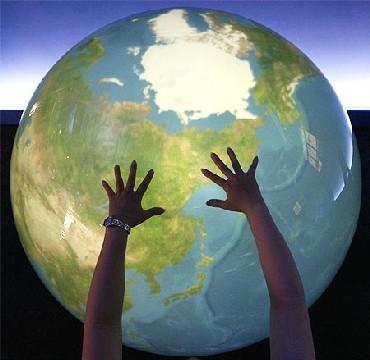 India has one of the most bullish employment outlooks across the globe, according to the Manpower Employment Outlook Survey released on Tuesday.
Incredible India attracts 4 lakh foreigners in August!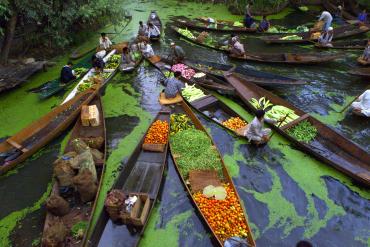 Incredible India campaign has proved to be pretty successful.
SPECTACULAR IMAGES: Frankfurt Motor Show 2011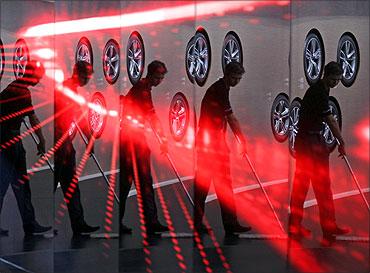 The Frankfurt Motor Show is the largest auto show in the world, and is held every two years. This year the auto show opens on September 13.
SPECIAL: She is one of the world's most powerful women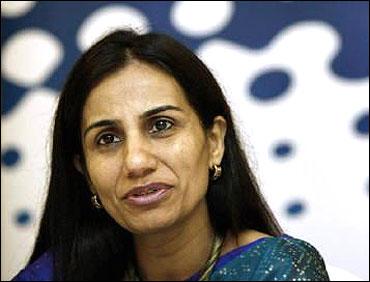 Chanda Kochhar on fate and hard work - the cornerstones of her career in the banking world.
From default risk to booming economy: India's comeback tale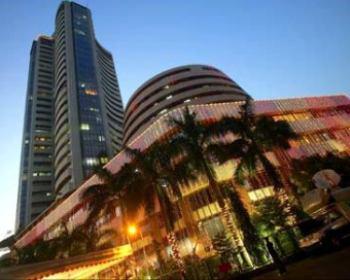 Post-1991 reforms have brought unrecognisable change.
PHOTOS: World's 10 most beautiful currencies
We present a brief history of Indian currency as also 10 most beautiful currencies of the world.
Special: Here's why corruption will NOT end in India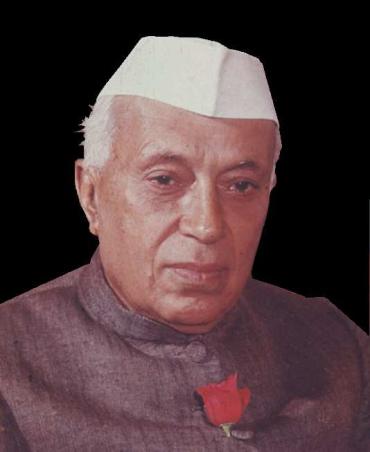 Corruption, subsidies and infrastructure problems are still pockmarks on India's face.
PHOTOS: Cars India's ministers own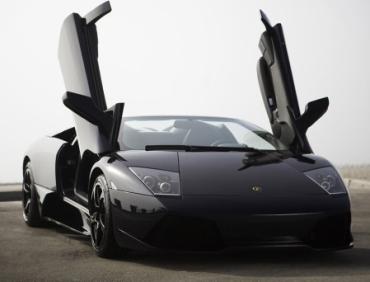 In their asset declarations, Indian ministers reveal the cars they dig.
Special: 10 countries with HIGHEST tax ratio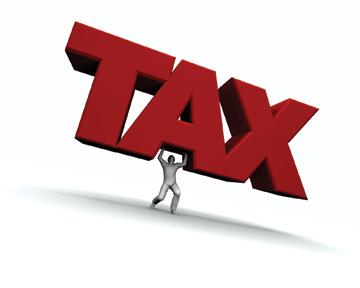 In some countries taxes are high, while in others they are low.
7 major food items that India IMPORTS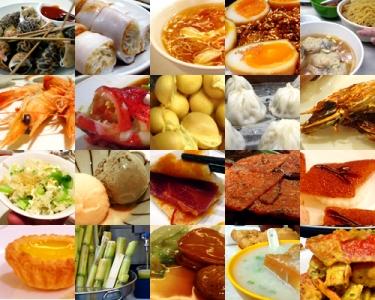 India's import trade is regulated by the office of the Director General of Foreign Trade and its regional offices functioning under the Ministry of Commerce.
September 12, 2011
Gold down by Rs 150, silver sheds Rs 300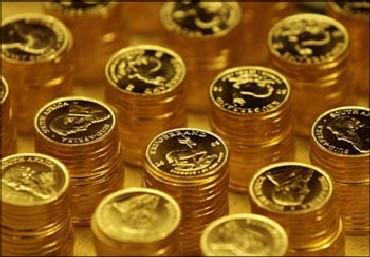 Extending losses for the second straight session, both gold and silver today declined in the national capital due to subdued demand from stockists at prevailing higher levels amid a weak Asian trend.
Special: Can the absence of government be a boon?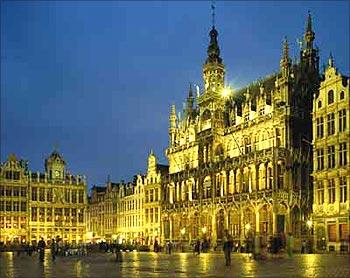 Belgium has been without a government for a record 450 days but has managed to grow all the same.
Global tremors, IIP nos drag markets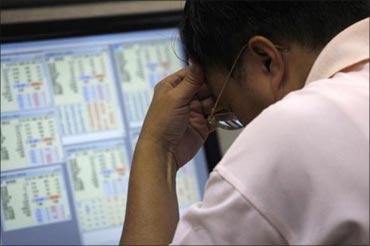 The 30-share barometer dropped by 402.22, or 2.37 per cent to 16,464.75 at 1200 hrs with all sectoral indices trading in the negative zone.
The STUNNING Rs 30 lakh new Mercedes C-Class!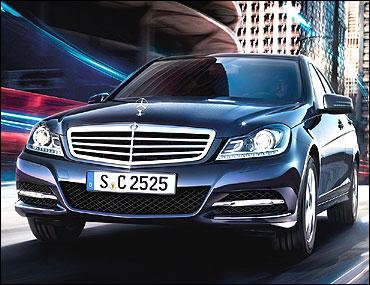 The facelifted C-Class has a lot of things sorted.
The curious case of Nilgiris, Ooty and Coonoor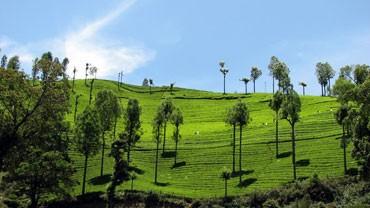 A holiday allows you to get away from routine and invigorate yourself in as many ways as possible. Well, yes and no, if you have decided to go, for a change, on a conventional holiday to that evergreen duo in the Nilgiris, Ooty and Coonoor.
Here's how India can stop tax dodging!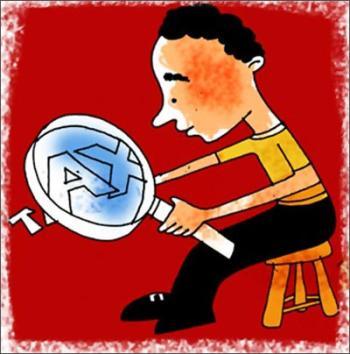 India needs to develop ways to estimate the cost of tax dodging.
WikiLeaks: US embassy backs AI-Boeing deal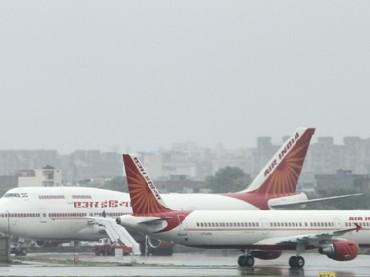 The embassy observations are part of a confidential official cable released by whistleblower website WikiLeaks on August 30.
Buying used cars? Some useful tips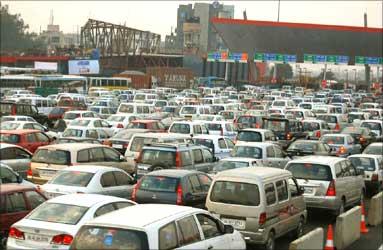 The used car business is widespread in India, but has now grown in leaps and bounds to bring down the costs of the cars and to make it much easily available to the commoners in India; many auto companies have introduced the concept of used cars in India to combat the factors pulling back the car sales.
Home sales take a big knock, set to WORSEN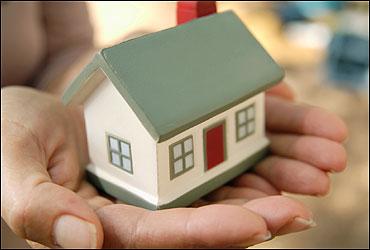 Developers blame credit rates, bankers say prices too high.
Nations with the world's BEST infrastructure!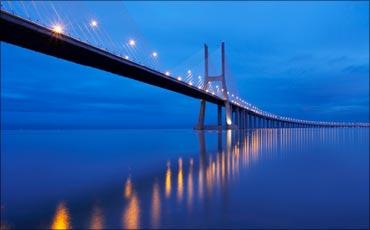 A report by the Switzerland-based World Economic Forum for the year 2011-12 says that many Asian countries have better and more modern infrastructure than the United States.
How the govt sounded Air India's death knell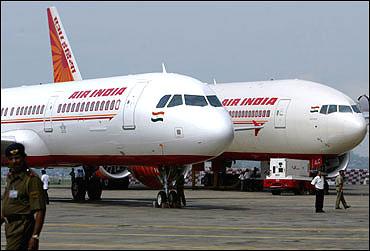 Foreign carriers leveraged the sixth freedom rights to grab Indian market share.
A quick guide to online filing of tax returns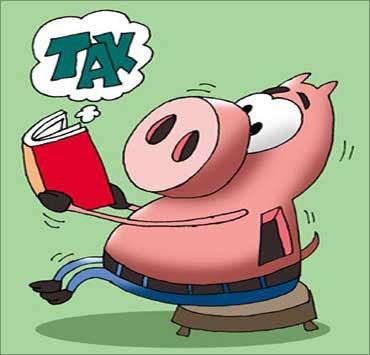 Easier access, less time consumed and agency assistance at a small cost have helped online filing of income tax returns catch up in the past couple of years. Tax experts say about one in three returns are now filed online. Experts expect this to rise to 50 per cent.
September 09, 2011
Toyota launches DIESEL versions of Etios and Liva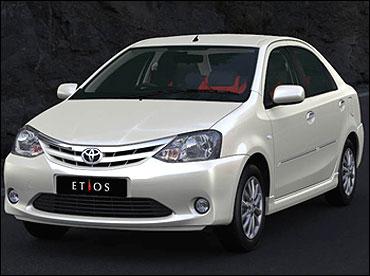 Both the diesel variants will be powered by a 1.4-litre engine.
By 2013, computers will be 1000 times faster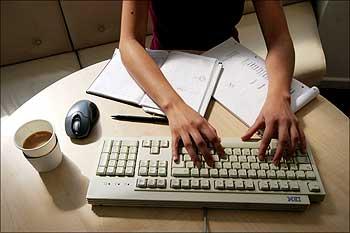 Computer maker IBM is developing 'skyscraper' computers using huge sandwiches of silicon chips by sticking layer after layer of chips covered with tiny components together.
Special: Off to the US with a business plan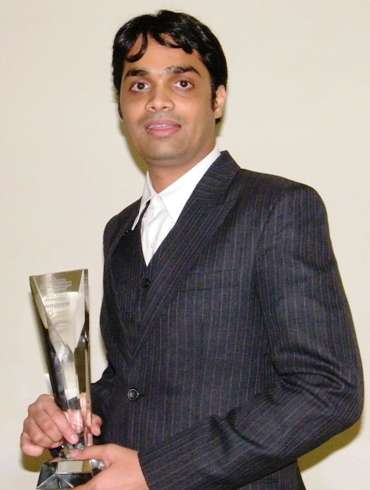 For the first time, an entry from the South Asia region will go to compete at the international level. Kadakia would represent South Asia at the 30 Global Dorm Room Student Entrepreneur of the Year Award on November 17.
Pesky SMSes/calls: What YOU can do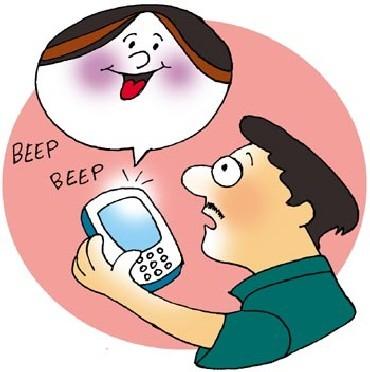 As India, the second largest telecom market in the world, has taken the lead in designing a system unique in the world that includes two databases -- a 'Do Not Call' and a 'Do Call' registry with 7 preference categories for customers who would like to receive only select calls and SMSes.
Carol Bartz SLAMS Yahoo board for firing her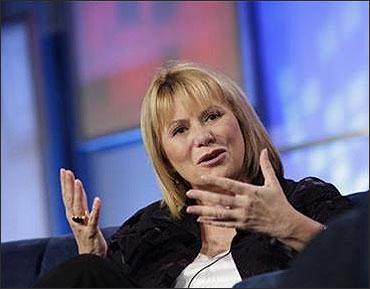 Yahoo!'s fired chief executive officer Carol Bartz blasted the online media company's board of directors in a no-holds-barred interview with Fortune magazine, calling the people who fired her 'doofuses'.
Bank of America may fire 40,000 employees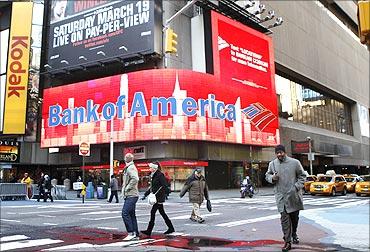 Officials of United States financial giant Bank of America Corp have discussed slashing about 40,000 jobs under the first phase of a proposed restructuring exercise, according to a media report on Friday.
ICICI Bank to hire 6,000 people this fiscal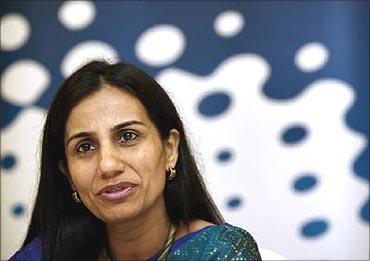 "Our business is growing between 18 to 20 per cent and we are also adding branches... it's expected that we would hire between five and six thousand people in our workforce," the bank's managing director and chief executive Chanda Kochhar told reporters.
Why smart cars can be a threat to you!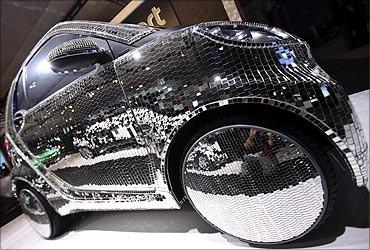 More and more digital technology is introduced into automobiles, the threat of malicious software and hardware manipulation only increases, cautions a new McAfee report, 'Caution: Malware Ahead'.
India lost Rs 34,200 crore to cybercrime last year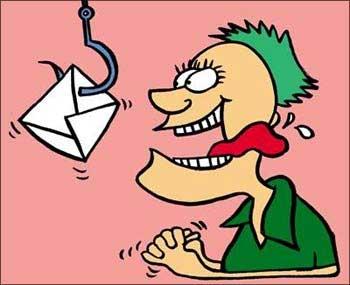 In India, approximately 2.9 crore (29 million) people fell victim to cybercrimes and cumulatively suffered a loss of $7.6 billion (approx Rs 34,200 crore) in 2010, a report by Norton has said.
Rupee plummets to fresh 1-yr low vs USD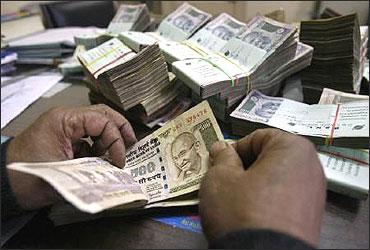 Persistent dollar demand from banks and importers on the back of a higher dollar in the New York market mainly affected the rupee.
Is the US slipping into another Recession?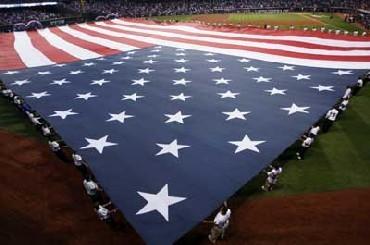 The more forward-looking survey data show significant deterioration. The Philadelphia Fed Index has dropped to -30.7, a level only observed previously during or on the cusp of a recession.
10 reasons why one should do business in India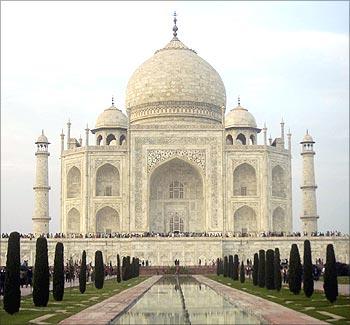 A look into 10 positive aspects of the Indian economy.
Nations with MOST number of cars per 1,000 people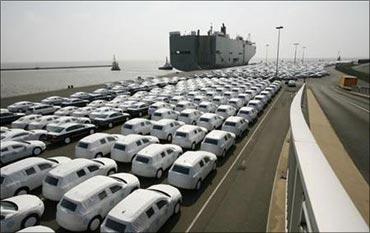 As aspirations and incomes grow in tandem, more people are buying cars now than at any other time in the history of mankind. Some of the world's biggest car markets are now located in Asia: China, India, Japan . . .
Which is the best laptop to buy?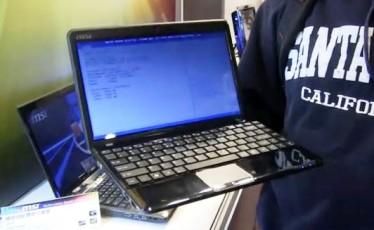 Cutting across the bewildering number of options in the market, here are some latest value-for-money laptop options that compliment user's computing needs.
The STUNNING Rs 23 lakh Renault Koleos is here!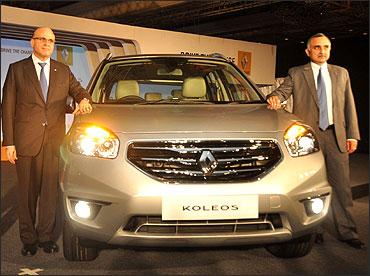 The Koleos is powered by a 2 litre diesel engine and is available in four wheeled drive option with six speed automatic transmission.
Roti, kapda, makaan aur mobile!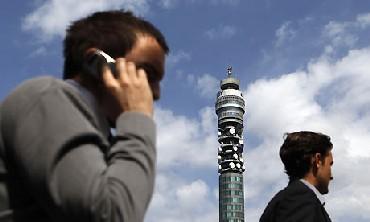 India is ranked third when it comes to minutes of mobile usage across the globe. The telecom sector alone directly contributes as much as $35 billion annually to the economy.
PHOTOS: The 4 closest rivals of Volkwagen Jetta
New Volkswagen Jetta price starts at Rs 14.12 lakh.
FDI inflows: India's top 10 sectors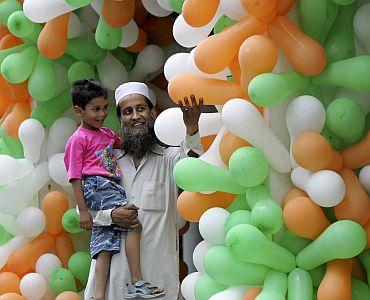 In 1998 and 1999, the Indian government announced a number of reforms designed to encourage and promote a favourable business environment for investors.
September 08, 2011
Food inflation slips but no relief for common man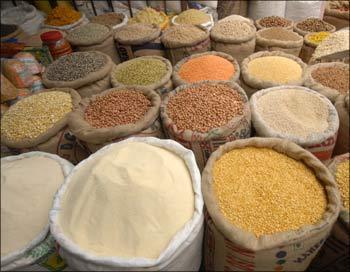 Finance Minister Pranab Mukherjee expressed hope that food prices will fall further after the festive season, even as he expressed concern over the high prices of non-food and fuel products.
AI move to acquire 111 planes is disastrous: CAG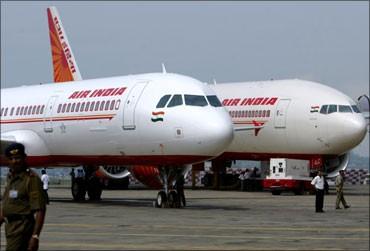 Terming the move for getting of a "large number" of planes as "risky", the CAG said the aircraft acquisition had "contributed predominantly" to the airline's massive debt liability of Rs 38,423 crore (Rs 384.23 billion) as on March 31 last year.
CEO Bartz's exit clouds Yahoo! India prospects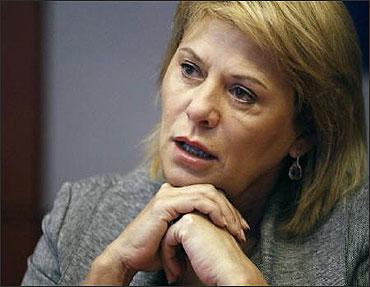 Now, with her departure, the company's future is once again being questioned. "Yahoo! was earlier directionless. Now it's headless," says Mahesh Murthy, founder and chief executive, Pinstorm.
Land Bill: Here's how Jairam Ramesh explains it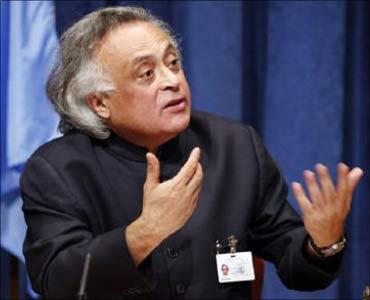 Speaking to Business Standard about the Land Acquisition Bill recently cleared by the Cabinet, Union Rural Development Minister Jairam Ramesh said though the farmers' protests in Uttar Pradesh provided the impetus, the Bill was as much a political response to a poll problem as a legal response to a social issue.
PHOTOS: The world's 15 most beautiful cars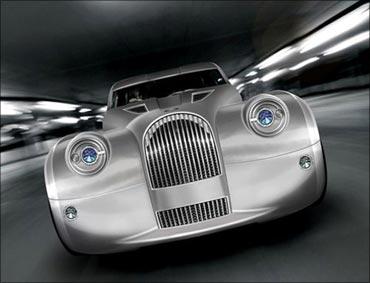 A peek into world's 15 most beautiful cars compiled by msn.com
Murthy was unsure of growth in China: WikiLeaks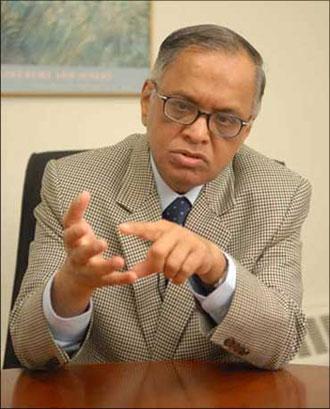 True, Infosys is on course to starting its first overseas campus in China, but only four years ago the Indian IT major's co-founder and ex-chairman, N R Narayana Murthy, was apprehensive about its expansion in the East Asian nation, according to WikiLeaks.
Just what is happening to the Indian stock market?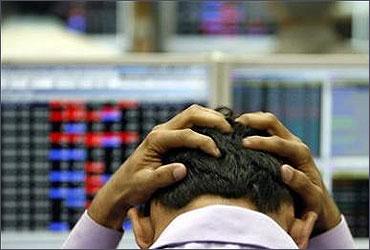 While many would say volatility is the new normal, it wouldn't be far off the mark to say this turnaround may be short-lived, as India's domestic problems and global risk aversion continue.
Suzuki set to meet Modi to finalise Maruti plant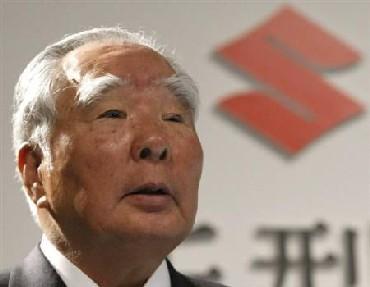 Osamu Suzuki, chairman, Suzuki Motor Corporation, is likely to meet Gujarat Chief Minister Narendra Modi to finalise plans to set up a manufacturing plant for Maruti Suzuki India.
Visa woes: Infosys hires top criminal lawyer in US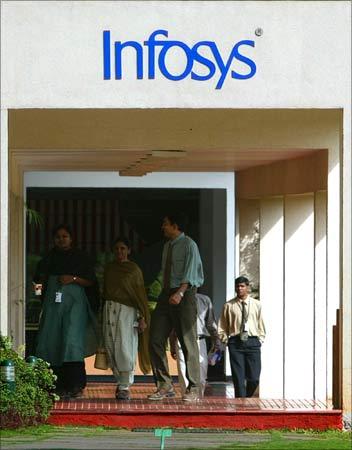 Infosys, India's third-largest information technology services company, is putting in all-out efforts to douse the visa fire that erupted almost six months ago, with the filing of a lawsuit by one of its United States employees, and is spreading wings further.
Festive cheer unlikely for auto firms
The coming festive season is unlikely to bring cheer for the automobile companies. Leading manufacturers said on they did not expect consumer demand to rev up sales substantially this October, due to uncertainties over increasing lending rates and fuel prices.
Share trading may become cheaper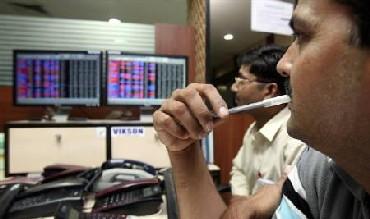 Finance ministry takes up a review of the STT regime after a meeting with stock exchange officials.
The only way EMIs can now go is UP!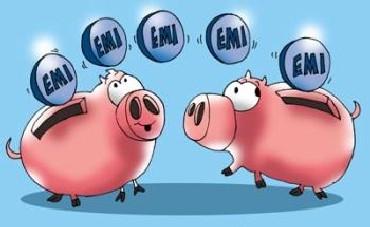 The central government is worried about the rising home loan burden on consumers. On August 23, it wrote a letter to public sector banks, which account for over 50 per cent of the home loan market, to give borrowers the option to increase the tenure of their loans and not raise the EMIs.
Why the situation in Europe is like a forest fire!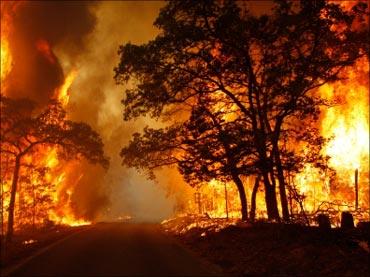 The borrowing binge indulged in by European nations has attained catastrophic proportions.
Did Warren Buffett firm try back-door entry?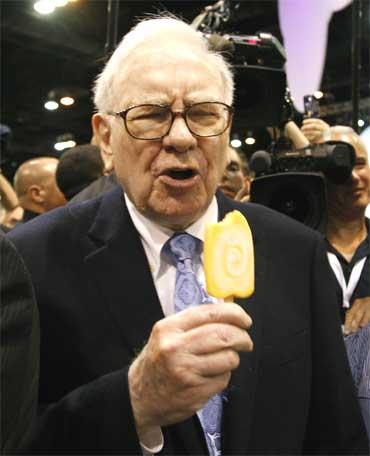 There is a buzz in insurance circles that Berkshire Hathaway might have resorted to a back-door entry into India in order to circumvent the caps on foreign direct investment in the insurance industry.
Is 'Group Buying' a good way to buy your home?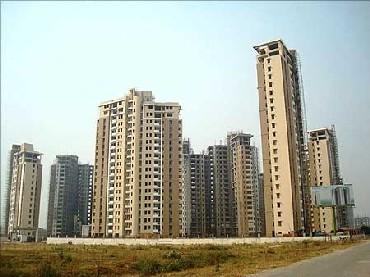 Since the last few years, group buying has been touted as a viable option for home buyers looking forward to get attractive discounts.
Special: Madhya Pradesh's hi-tech solution for PDS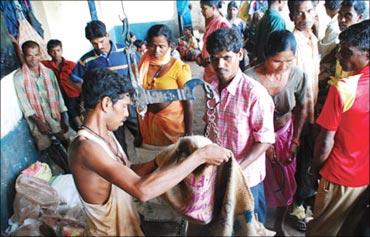 State links PDS to UID to plug leakages in food supplies but gaps remain.
FDI: The top 10 nations investing in India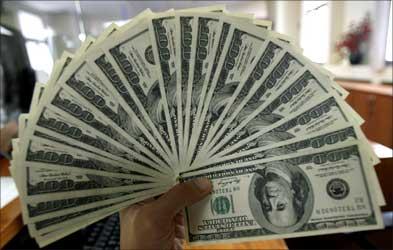 A Department of Industrial Policy and Promotion fact sheet mentioned India's top 10 FDI generating countries.
PHOTOS: Will Force One beat other SUVs in India?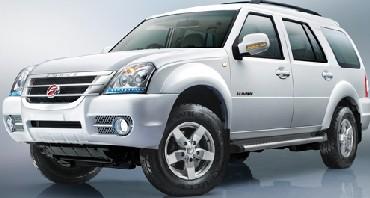 Force Motors marked its entrance into the Passenger Vehicle segment by introducing Force One SUV in August this year.
World's 20 MOST competitive nations; US slips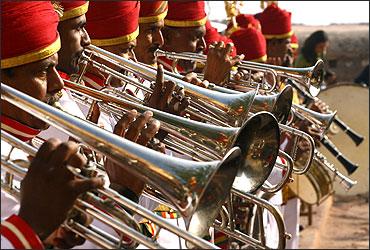 While the top 10 countries in the list continue to be dominated by European nations, India dropped 5 places from 51 to rank 56 in the latest list.
September 07, 2011
Taxman's special agents may soon carry guns!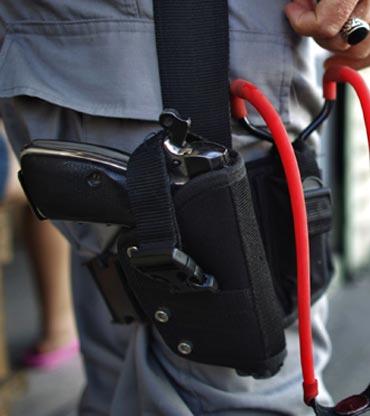 The Income Tax department is mulling to arm its soon-to-be-appointed 'special agents' who will be tasked to crack high-profile tax evasion and money laundering cases in the country.
Yahoo for sale? And why CEO was fired over phone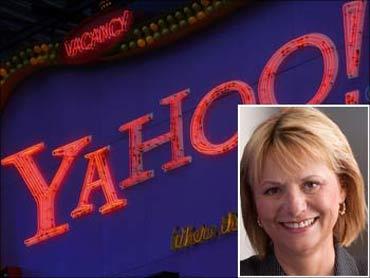 A Wall Street Journal report quoted a Yahoo insider as saying that 'Yahoo is open to selling itself to the right bidder'.
A brave new world for Infosys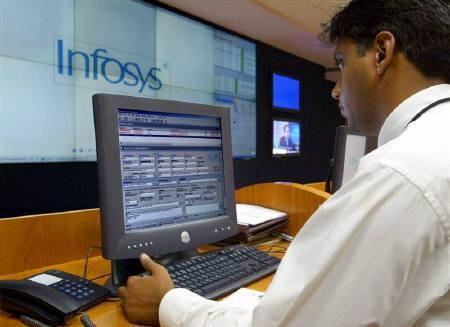 Infosys has been hobbled by leadership issues, a dearth of bold decision-making and dissatisfied customers. It needs to fix these to rise back to the top.
Loan against shares: What one should know!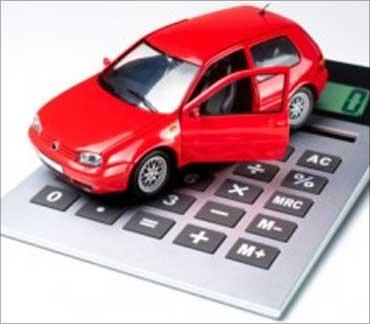 With consumer spending on rise and loans getting expensive, individuals are finding new ways to fulfil their money requirements.
Singh announces major trade sops for Bangladesh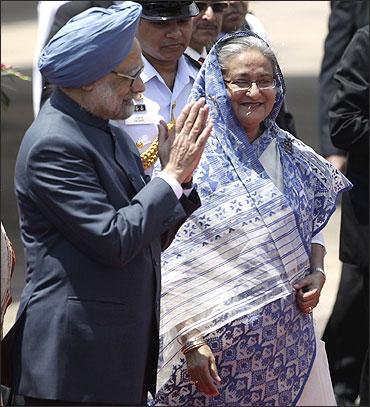 A majority of these items - 46 to be precise, relate to textiles, particularly readymade garments.
Buying a home? Do this reality check first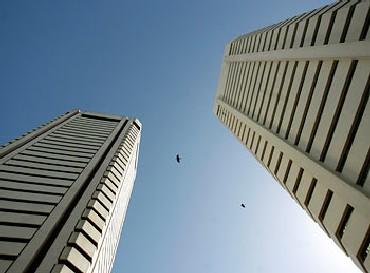 The buy/sale agreement between the two parties is back in focus.
Special: Sanand now a MAJOR auto hub in India!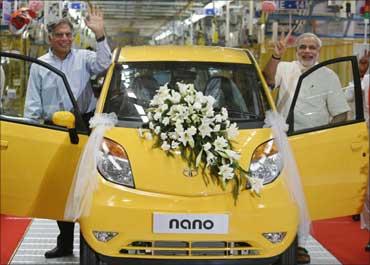 Following the re-entry of French car maker PSA Peugeot Citroen, the erstwhile sleepy town -- already home to Tata Motors' manufacturing plant for small car Nano -- finds itself along the country's prominent auto hubs like Pune in Maharashtra and Sriperumbudur in Tamil Nadu.
Yahoo fires CEO Carol Bartz over the phone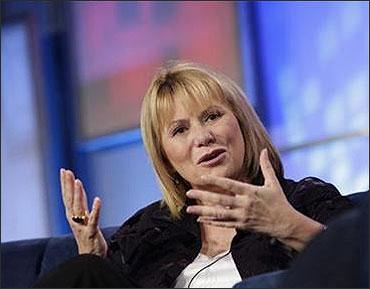 It named chief financial officer Tim Morse as interim chief executive.
Vodafone Blue to woo users with Facebook phone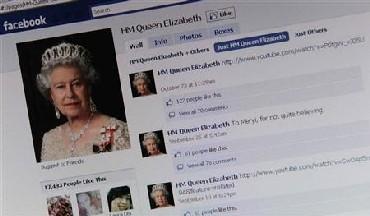 The company is relying on Vodafone Blue, a device that will be manufactured by Alcatel, to find a consumer following in non-metros.
PHOTOS: 12 luxurious homes of business titans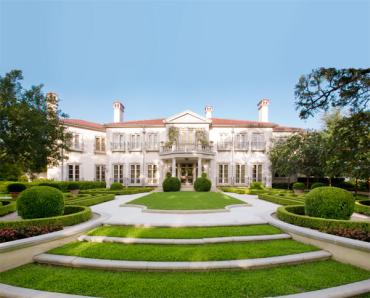 Some CEOs are living in houses that not only have helipads, but also multi-storey car parks.
Race to the bottom: It's India versus Bangladesh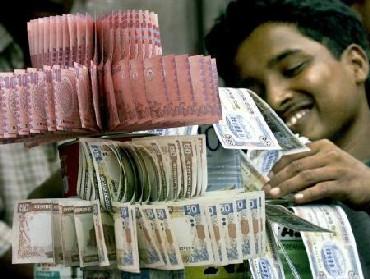 The Indian stock market, hit by global fears and a high inflation-interest rate regime, has been the second-worst performer in Asia this calendar year - a shade above Bangladesh.
Here comes Koleos, the stunning SUV from Renault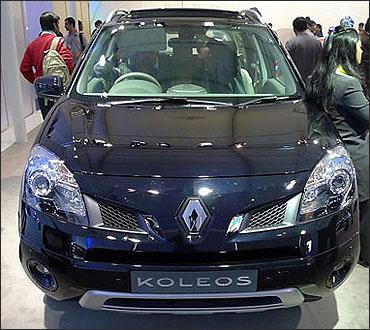 The model which is to be launched in India is actually a facelifted version.
September 06, 2011
'India can grow @12% if it were South, West ONLY'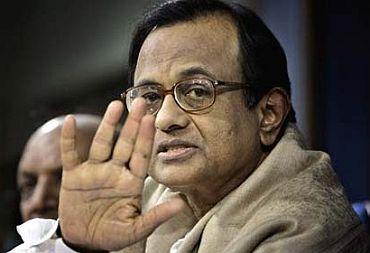 Chidambaram also commented US Ambassador Timothy Roemer on the vast disparity between South India and the rest of the country, with the South being the entrepreneurial and business hub of the nation.
How Sachin would have made you a RICHER investor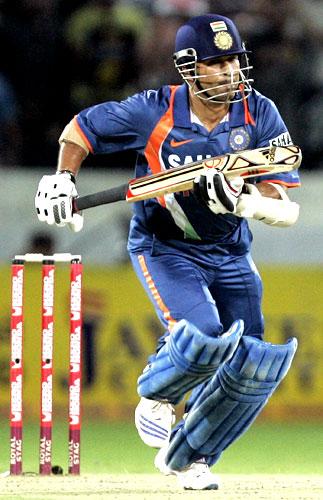 So just keep on playing the game like Tendulkar has done over the past two decades . . . not bothering about short-term declines in form but practicing to be a master in the long term.
Stuck with shares of a scam-hit company? Read on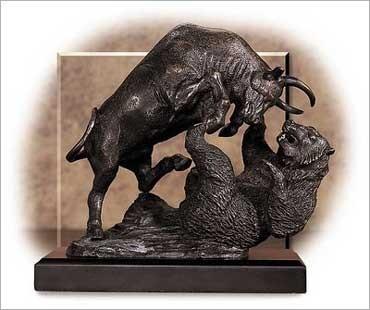 Keep your nerve and don't exit at once. For all you know, there could be a turnaround story.
There'll be regulations if . . .: Sibal to telcos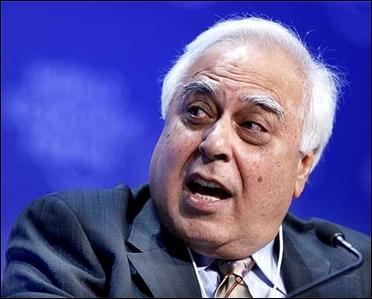 Telecom Minister Kapil Sibal on Tuesday warned that the growth of the telecom industry would be hurt if companies did not align their profit-making motives with the national interest and such a scenario could lead to over-regulation of the sector.
Budding entrepreneurs! Clean potable water for all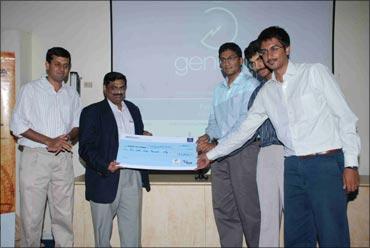 It was an event for budding entrepreneurs to showcase their Innovative Socio-Business Projects at IIT Madras organised by Genesis, a joint initiative of the Siva group (a $3-billion global conglomerate) and C-Tides (Cell for Technology Innovation, Development and Entrepreneurship Support), IIT Madras.
Toyota to HIRE 1,500 people in India by 2012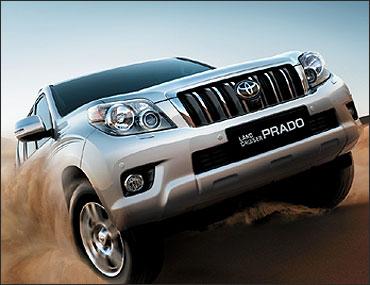 The company, which is present in India through a joint venture with the Kirloskar Group, is investing Rs 1,650 crore.
How India dismantled textile regime with Bangla
The radical nature of the trade package is sure to take everyone's breath away when Manmohan Singh meets Bangladeshi Prime Minister Sheikh Hasina.
HDFC joins pricing war with dual home loan rate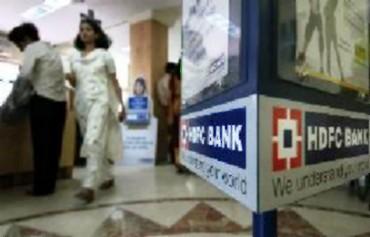 Housing Development and Finance Corp Ltd (HDFC), the largest mortgage finance company in the country, on Monday launched a fixed-cum-floating rate scheme which would offer home loans at a fixed rate for the initial three or five years and at a floating rate thereafter.
'Won't start production until workers sign bond'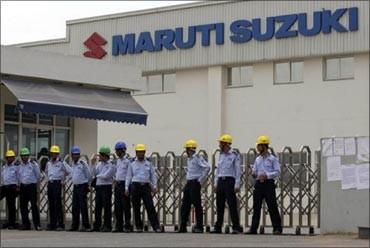 Maruti Suzuki India (MSI) on Tuesday said it will not resume full-scale production at its Manesar plant till workers sign a 'good conduct bond', as demanded by the company to ensure there is no repeat of quality issues that have surfaced at the plant.
The IMPRESSIVE Honda Brio could scare other cars!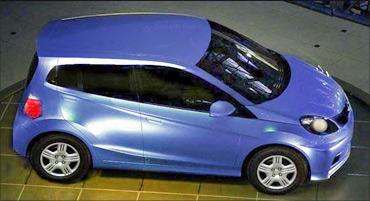 So, does the Brio live up to the hype, in the end? After this first-drive, I would have to answer in the affirmative.
Workers FAKING sick leave: India 2nd worst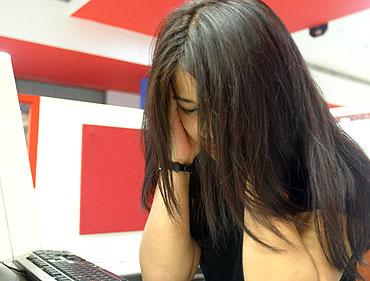 The survey, conducted by Australian workforce managers Kronos across Australia, China, France, the UK, India, Mexico and the US, found China taking first place at 71 per cent, followed by India at 62 per cent and then Australia at 58 per cent.
What parivartan? It's business as usual at Haldia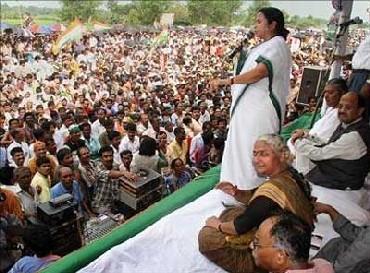 Mamata Banerjee promised a new era in West Bengal. Yet, workers at Haldia say that old habits of extortion and violence continue under the Trinamool flag.
'Corruption, scandals impair India's biz climate'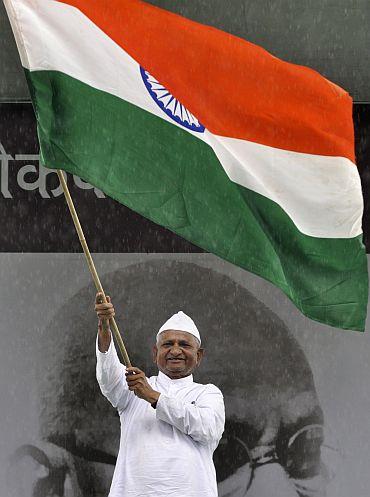 Besides corruption, the agency mentioned bureaucratic logjam and slow pace of judicial decision-making as factors hindering the Indian economy.
Railways may hike passenger fares by 8-12%, soon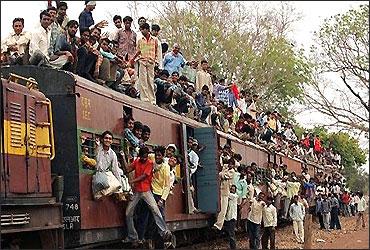 Railway board chairman Vinay Mittal has written to railway minister Dinesh Trivedi, seeking a fare hike to address earning concerns.
Mumbai Metro to be operational by next year!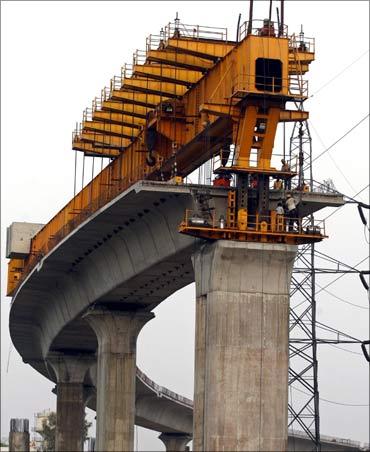 In a development that is bound to bring cheer for Mumbai's weary commuters and overburdened transportation facilities, authorities for the Mumbai Metro 1 project estimate that the Metro will be fully functional by next year.
IMAGES: The 8 CHEAPEST hatchbacks in India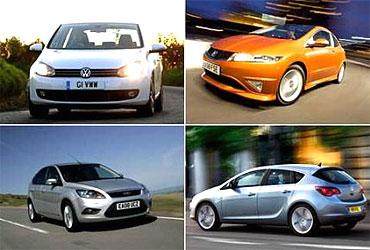 With the hatchbacks selling like hotcakes, almost every car manufacturer is keen to launch a hatch in India.
Now, a 'Facebook phone' for Vodafone users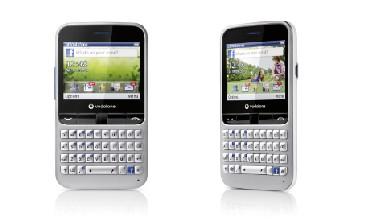 Vodafone is partnering social networking site Facebook to launch a 'Facebook' phone. This would give users one-click access to the site.
September 05, 2011
Honda to recall over 72,000 City sedans in India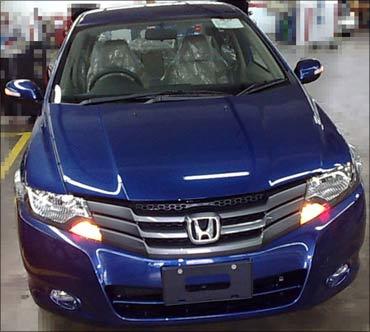 Japanese auto major Honda on Monday said it will recall 72,115 units of its mid-sized sedan City in India to replace defective power window switches as part of a global exercise.
World economy in a new danger zone: Zoellick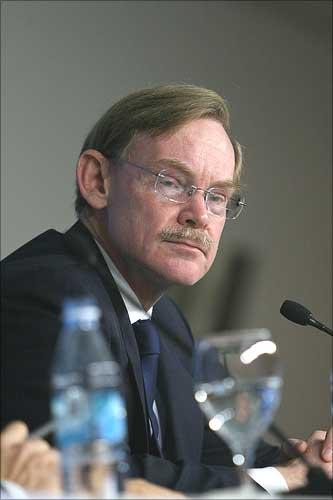 World Bank Chief Robert Zoellick has asked the Chinese government to hasten planned structural reforms to shift the focus of its export-driven economy toward domestic consumption-led growth as the global economy entered a 'new danger zone' this autumn.
India's textiles exports to top $32 bn in FY-12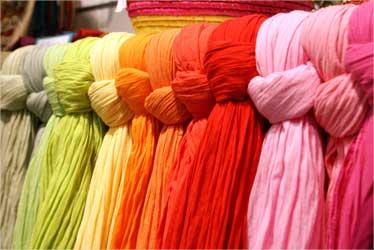 The country's textiles and clothing exports are expected to touch $32.35 billion in the 2011-12 fiscal, Parliament was informed on Monday.
Say bye to pesky calls, SMS from Sep 27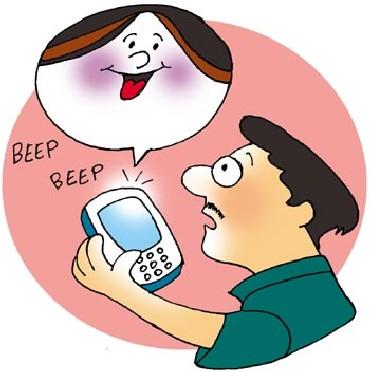 All those subscribers who have registered with the National Customer Preference Registry (earlier known as 'Do Not Call Registry') would get relief from all commercial
IMAGES: India's MOST fuel-efficient sedan is here!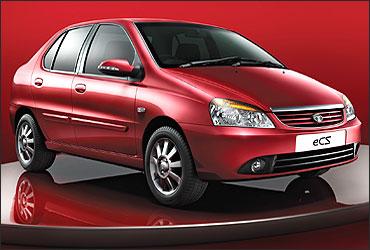 KMPL mileage now on the new Tata Indigo e-CS VX
Pakistan debt: Case of the missing $5.7 billion!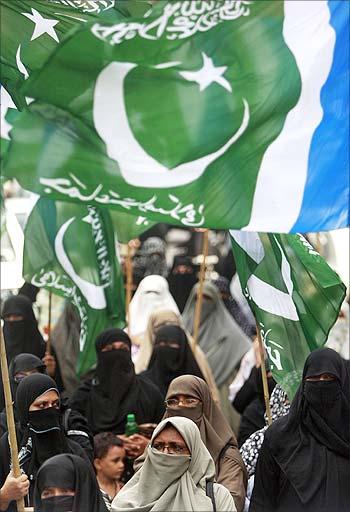 It seems Pakistan's finance ministry and its central bank are not on the same page when it comes to calculating the government's short-term borrowing activity as their figures have an apparent discrepancy of $5.7 billion.
Everything about Dell's BIG plans for India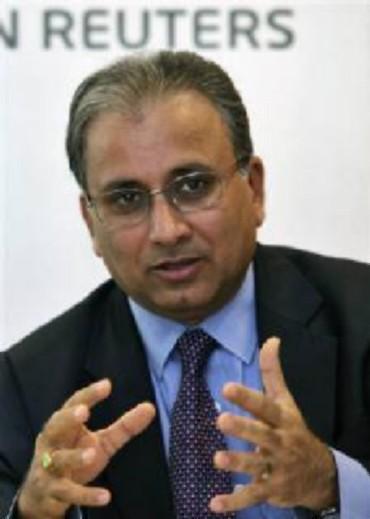 To achieve his objectives, the chairman of Dell India has a blueprint that spans across organic and inorganic (acquisitions) growth opportunities besides capitalising on Dell's "existing solutions for clients".
Images: This will be India's LONGEST road tunnel!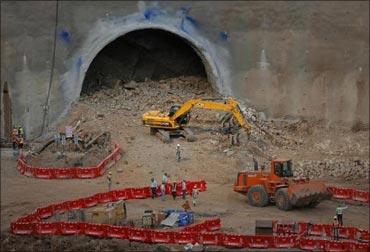 The work on India's longest road tunnel has begun, with engineers blasting a part of a hill to make way for the construction of the 9-km-long Chenani-Nashri tunnel in Udhampur district in Jammu and Kashmir.
Corruption: Time to get religion on the issue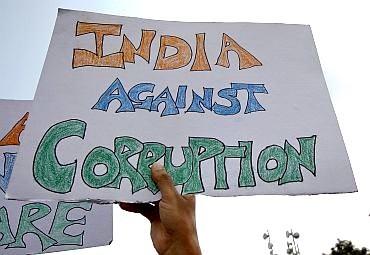 Now that the crowds have gone home, Anna Hazare is back in Ralegan Siddhi, and the TV Rottweilers are looking for other ways to boost their rating points, we can have a rational debate about not just the Lok Pal but the larger issue of corruption.
Rajan Pillai death: HC notice to Centre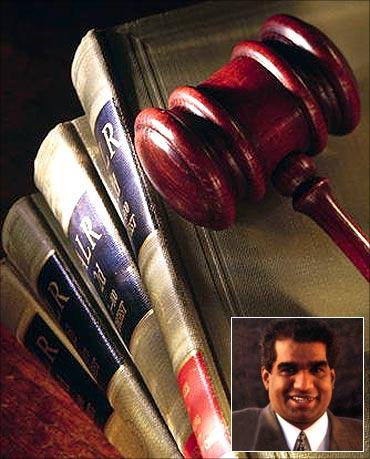 Nina Pillai, in her petition, had alleged that the mandatory medical examination of her husband was not conducted at Tihar for even two days after his arrest.
Mumbai airport: It's growth versus slum-dwellers!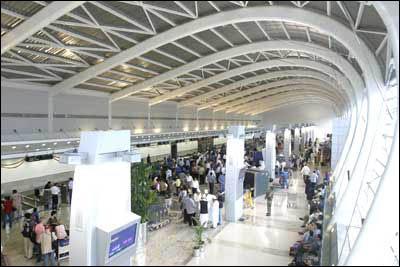 Runways, taxiways, hangars, terminals, roads, offices, et cetera need to be built. But there is no land to do that on. The airport, which offers many overseas travellers their first impression of India, is choked by slums on several sides, and Sahar is the largest of them.
Why India Inc is SCARED to fly in business jets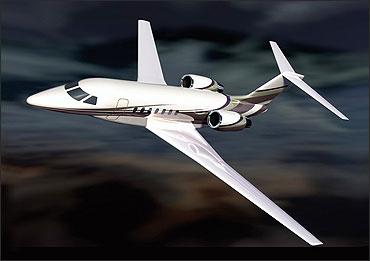 Business jets and chartered flights have been an unlikely victim of the recent corruption scandals involving India Inc.
Anna's victory: 11 MANTRAS for entrepreneurs!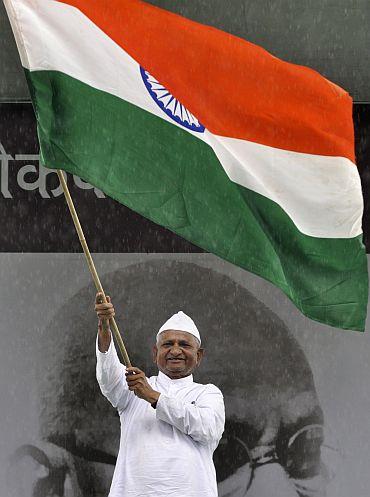 Anna's movement is likely to be a game-changer and will shift the rules of the game in favour of value-creators.
Mobile social networking sees explosive growth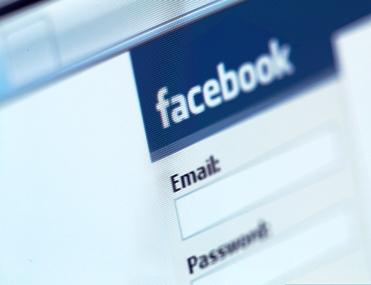 Players bank on video messaging to attract users.
IMAGES: World's 10 BEST cities to live in!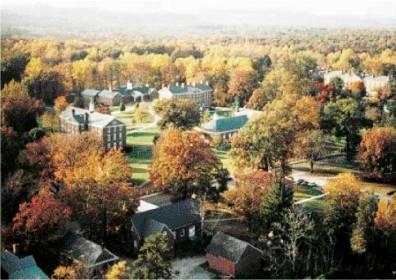 The survey, an annual exercise, assessed living conditions in 140 global cities.
Honda to launch SMALL and CHEAP cars soon in India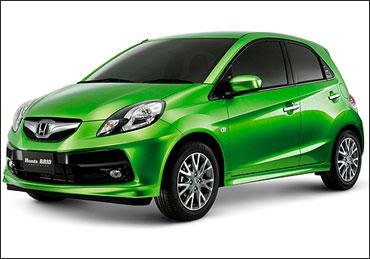 Brio, cheaper City and Jazz and diesels could pave the way for growth in India.
35 Indian cos in Asia's Best under a Billion list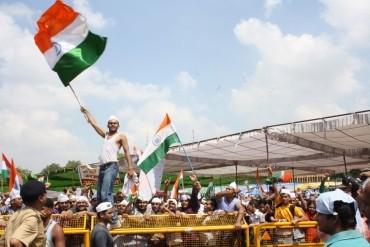 Recently, Forbes announced its Best under a Billion List of Asian corporation based on sales and earnings growth. To qualify the companies were required to have annual revenue between $5 million and $1 billion, and be publicly traded for at least a year.
September 02, 2011
Why Tamil Nadu is NO longer a favoured auto hub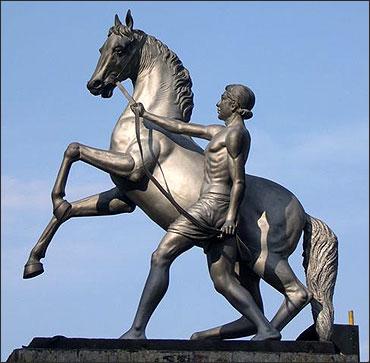 Chronic power outages, labour issues and unaffordable real estate have taken the sheen off TN's vaunted ecosystem for global auto makers.
RICH feel the pinch too! Lifestyle inflation soars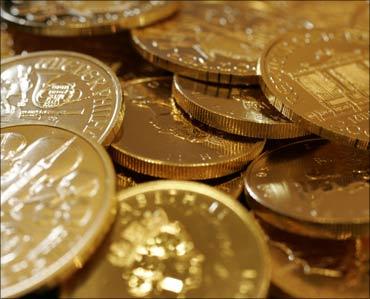 If rising prices of food and fuel are hurting the common man, the richie-rich club has its own inflation-related worries -- that is in prices of Chanel bags and Rolex watches, among other high-end lifestyle products.
Stranded on road? SOS your insurer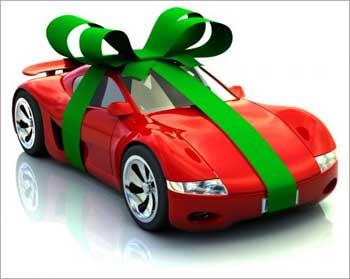 Your car maker could also offer a service for free, provided your vehicle is within warranty period.
BOND problem: Why Maruti needs a political answer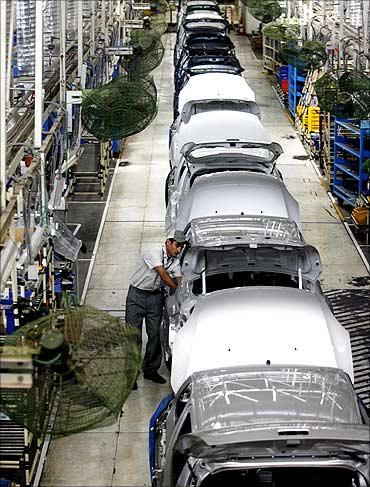 Good conduct bonds and contract workers won't help.
Murthy, Kamath on how REFORMS helped India!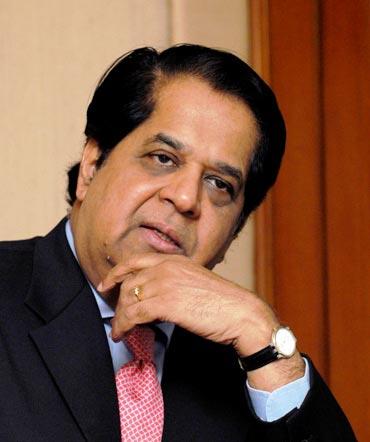 Things have changed dramatically for India Inc post liberalisation in 1991. Business Standard catches up with three industry veterans on what reforms meant in the early days and what lies ahead . . .
PHOTOS: The world's grooviest small cars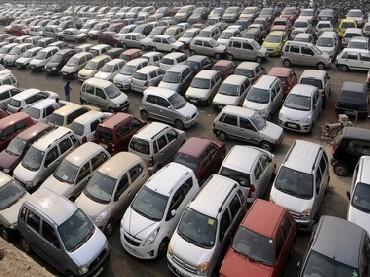 A compact car or small family car is a classification of cars which are larger than a supermini, but smaller than or equal to a mid-size car.
Mamata's 100 days: Industry is the casualty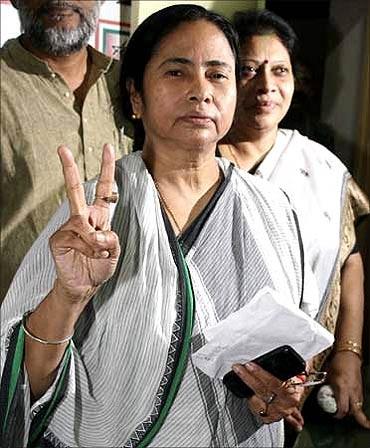 "I am slogging like a demon," Banerjee said recently. What she left out was that she's made sure that everyone at Writers' the red-bricked colonial structure that houses the state secretariat is doing the same.
IMAGES: How Merc plans to regain its supremacy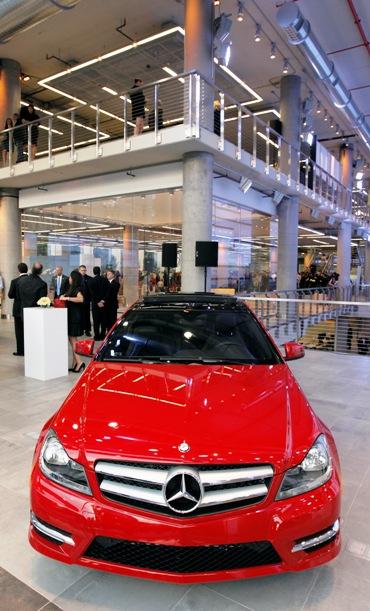 Ironically, the loss of the number one position happened at a time when Benz has grown at a record 80 per cent clip last year.
Still Single? Set short-term goals for yourself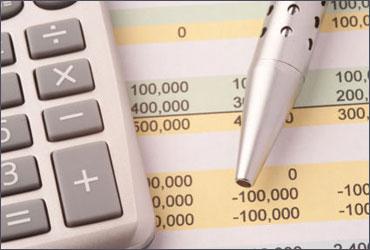 Creating a strong corpus through equity will reduce later need for debt to make big purchases.
CBI turns the heat on Essar, ex-BJP ministers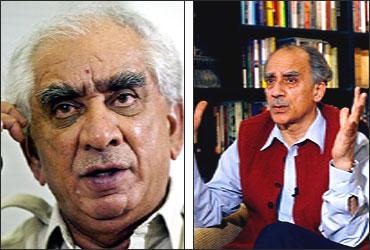 Says no evidence yet to incriminate Maran for coercion in Aircel-Maxis deal.
Maruti to start production at 2nd Manesar plant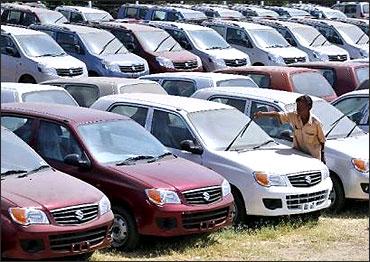 The move to commission the new facility a month ahead of schedule comes in a bid to deal with the production impasse the company finds itself in.
IMAGES: World's 30 most powerful businesswomen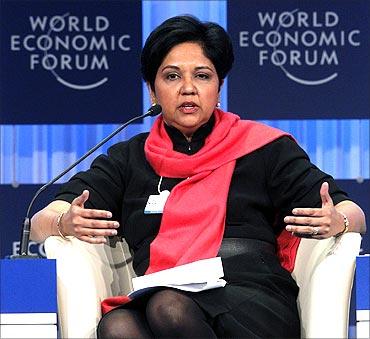 Three Indians PepsiCo chief Indra Nooyi, ICICI Bank's CEO Chanda Kocchar and Kiran Mazumdar Shaw of Biocon -- have been listed in 'The World's 100 Most Powerful Women' list by Forbes magazine.
SPECIAL: 20 stocks that you can GAIN from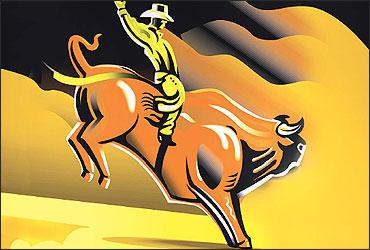 Amid slowing growth and global uncertainties, here are the top recommendations of leading research houses.
September 01, 2011
Why Tamil Nadu is NO longer a favoured auto hub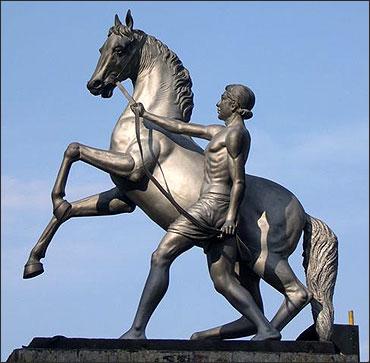 Chronic power outages, labour issues and unaffordable real estate have taken the sheen off TN's vaunted ecosystem for global auto makers.
Cars, bikes in India: The gainers and losers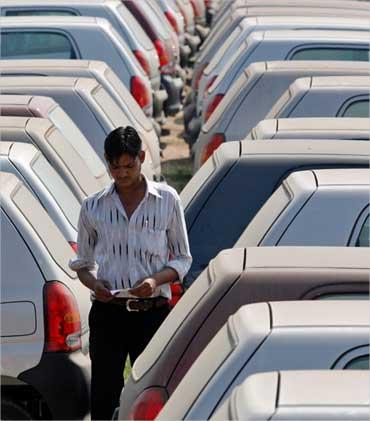 Makers of cars and bikes posted missed results for August amid high inflation rate hike worries.
Why an 'insider' will SUCCEED Ratan Tata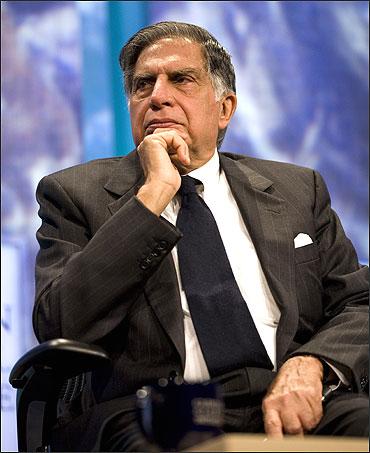 But even if we set aside suspicions of future nepotism, the search committee could have saved itself a lot of time if it had taken that decision from the start.
BAD NEWS! Food inflation in double-digit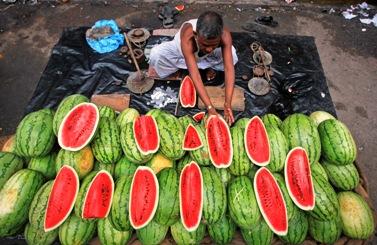 The rate of price rise of food items was over 15 per cent during the same week last year.
Tablet PCs to spell doom for desktops, laptops?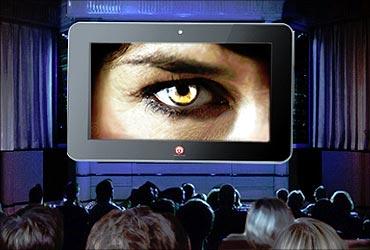 People on the move may not need to carry laptops and may not need desktops at all like they did earlier.
Buying a home? Wait and watch is the MANTRA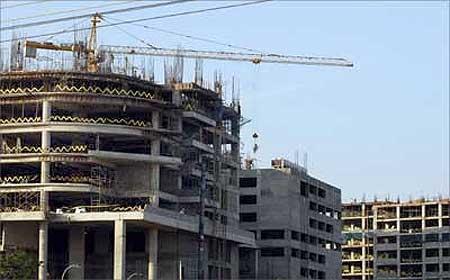 Even if we are entering a high interest rate scenario, over a 15-20 year period, there will be cycles when rates will come down.
SLIDESHOW: The next Steve Jobs?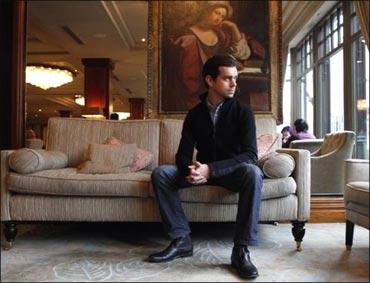 Will any of these corporate bigwigs be the next Steve Jobs, the iconic Apple CEO who just stepped down from the company's helm of affairs?
PHOTOS: The stunning NEW Volkswagen Jetta is here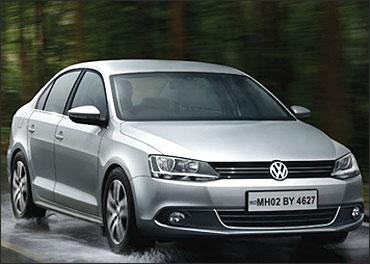 The Jetta looks nothing like its predecessor and it now has more of a coupe-like stance.
August 31, 2011
August agony cost investors Rs 1.13 cr/second
The benchmark index lost over 1,500 points in the entire month.
Special: Dark patches mar Bihar's growth story
Bihar's development is not uniformly sweeping over the state. There are less visible aspects of the state's society and polity is which this wave bypasses.
How Maruti plans to CUT costs
Will sign agreement with vendors to make sure indigenisation takes place within given timeframe.
Best way to use a debit card with a fixed limit
A debit card with a credit limit works like an overdraft facility. Use it only for small expenses.
Know all about China's new currency policy
The country might favour a stronger renminbi against the US dollar for a variety of reasons.
SPECIAL: No jargon please, talk sense managers!
Management-speak is all about disguising simplicity with complexity.
B-schools trying hard to beat 2008 placement blues
Leading B-schools are not taking any chances and are inviting more companies than usual.
Melbourne best city to live, Mumbai among worst!
According to the Economic Intelligence Unit's new Global Liveability Survey, Melbourne dislodged Vancouver to become the best city in the world to live.
August 30, 2011
Will invest in WB if there's no hostility: Tata
Tata Sons chairman Ratan Tata on Tuesday said that further investments in West Bengal would be made when there is a "feeling to satisfy that there is no hostility against us".
My Sunny Balcony: A passion that is a business
We have lost the front and the back yards. So, the only place left for us is the balcony. People buy flats with French windows and spacious balconies that can be used creatively, says the My Sunny Balcony team.
GDP data disappointing, need to work hard: FM
The government on Tuesday expressed disappointment over the slowdown in the country's gross domestic product growth rate and said hard work is needed by all sections, including industry and farmers, to ensure inclusive growth, keeping in mind uncertainty over the global economy and monsoon.
No White Paper on black money, says Pranab
White Papers, which are issued by the government, lay out the policy or proposed action on topics of current concern.
Strauss Kahn visits IMF headquarters to bid adieu
This was Strauss Khan's first visit to the IMF headquarters in Washington after he was forced to resign from the global lending institution following his arrest in New York early this year on sexual assault charges.
What is the perfect cure for corruption?
This is understandable very few people who do illegal things do so because they love doing illegal things. People are corrupt in India because the material life resulting from corruption an illegal act is better than a corruption-free existence.
Are the glory days over for the aviation industry?
The ultimate irony of today's air travel scene is that most of the firms that are intensively competing with each other to offer easy availability and service that was unimaginable earlier are not making money.
The failing health of India's higher education
Students seem to trip up when it comes to applying what they have learnt in one context to solve a similar problem in another context.
India's GDP growth slows to 7.7 per cent
Confirming fears of a slowdown, India's economy grew by just 7.7 per cent in the first quarter of the 2011-12 financial year, compared to 8.8 per cent growth in the same three-month period last fiscal, which was mainly due to the poor performance of the manufacturing sector.
Maruti suspends 16 more, fires 12 trainees
Production has not started yet, but there are indications that it will resume today with alternate arrangements like contract workers and hiring technicians.
Fixed income safer for higher loan
Avoid shares as collateral, as you may need to pay for the decline in stock price in volatile market.
A rocky road for Hindustan Motors
Declining sales and an inability to meet its capacity have hobbled the car maker.
India may be 3rd largest economy a decade earlier!
India's GDP would more than treble in dollar terms by 2021, be as big as a stagnant Japan's, and therefore poised to become the third largest economy in the world -- a decade ahead of the Goldman schedule.
Banks helping to hide black money? I-T to probe
In its pursuit to unearth black money, the Income Tax Department will probe certain banks and their officials suspected to be helping customers hide illicit funds through multiple accounts.
Get ready for the next bull run in GOLD
The likes of J P Morgan will now have to buy back gold in order to repay the Venezuelan government and this will drive the price of gold up globally.
August 29, 2011
Soaring gold prices bring cheers, and tears
With gold breaching the Rs 20,000-mark for a sovereign recently, market figures show there has been no let-up in retail buying, as gold is an integral part of marriage, cutting across caste and community divides in Kerala.
Game for gaming: Gen-Y geeks go pro
The reception area is packed with young turks in their early 20s, dressed in jeans and T-shirts, waiting patiently for their interview.
Global investors renew interest in Indian realty
With their home markets in turmoil, large global investors such as Blackstone, Carlyle, Morgan Stanley, JP Morgan and the Government of Singapore Investment Corporation are actively scouting for and signing deals in the Indian property sector.
Consensus grows on internal Tata successor
Sources familiar with the developments say the growing consensus in the committee set up to find a successor to chairman Ratan Tata is that an internal candidate should be the preferred option.
Falling rupee begins to HURT dollar investors
While Sensex fell 14.4% since July 26, dollar investors lost 18.07%.
KV Kamath: From a banker to Infosys leader
The new chairman assumes his role at perhaps one of the most challenging times for both the company and the industry.
Production HALTED at Maruti's Manesar unit
The firm has suffered production loss of about 1,200 units, valued at around Rs 60 crore.
Global weakness spells new opportunities for India
Finance Minister Pranab Mukherjee on Monday said adverse global economic developments, including the fallout of downgrade of the United States sovereign rating, present new opportunities to India and the country could become a source of stability for the world economy.
Sensex soars! Ends up 568 points
Heavyweights have continued to buoy markets higher today with Reliance and Infosys leading the upmove.
Minimum Rs 500-crore capital MUST to set up a bank
The Reserve Bank of India on Monday released the draft norms for licensing of new banks in the private sector, pegging the minimum capital requirement at Rs 500 crore (Rs 5 billion).
Look out for the great American tamasha
The political fall-out of the US downgrade is not over. Republicans and Democrats are both trying to pin the blame on the other party, displaying their great skill in spinning news to score partisan political points.
A scientist who is a social ENTREPRENEUR
Svati Bhogle, managing director of Sustaintech India Pvt Ltd, is not a typical entrepreneur: she is more a scientist than an entrepreneur.
August 26, 2011
MAYHEM! Investors lose Rs 250,000 crore!
The total investor wealth, measured in terms of cumulative value of all listed shares, fell by about Rs 1,22,000 crore (Rs 1,220 billion) on Friday, when the market benchmark Sensex fell by 297.50 points to its lowest level in over 18 months.
US praises Tata Steel for creating jobs in America
The Obama administration is appreciative of the investment made by Indian-owned multinationals to create new jobs in the United States as is evident from the visit of Acting United States Secretary of Commerce Rebecca Blank to Thomas Steel Strip, a Warren, Ohio-based Tata Steel unit.
PHOTOS: 4 Indians among MIT's top innovators
The innovators are blazing new paths in a wide range of fields.
Teaser, floating, fixed loans explained
Home loan rates, which have been rising consistently, and sometimes even on a monthly basis, have had borrowers on tenterhooks.
Governance bigger worry than inflation: Nomura
Nomura has come a long way since launching its first India-dedicated fund six years ago.
Gold, silver prices see sharp decline
Recent rise may be nearing peak, analysts say long-term trend remains bullish.
Indian BPOs head to China
After information technology, it's now the turn of Indian business process outsourcing services companies to harness China as a delivery location.
Foreign investors paint gloomy India picture
If the latest strategy reports of some leading foreign institutional investors (FIIs) are anything to go by, then the outlook for the Indian equity market appears bleak. This is, despite section of experts pitching for the current attractive valuations.
Finmin readies GST for 2012-13 rollout
The GST Constitutional Amendment Bill is with the standing committee.
Apple isn't going to change: New CEO
Terming his decision to join Apple as the 'best' one he ever made, Cook said it has been the 'privilege of a lifetime' to work for Apple and Jobs for over 13 years.
Now, Belgium agrees to share black money info
The move is likely to help the government track black money parked by Indians in Belgium - a huge diamond trading hub.
Gujarat biggest home to vanishing companies
With 26 companies, state tops list of vanishing companies in the country.
Steve Jobs clearly 'Apple' of Indian eyes
No other global chief executive officer's exit elicited such a response in blogosphere.
IMAGES: India's billionaire sons and daughters
Heirs to India's most wealthy companies, they command an enviable position.
Rahul Dravid and GOLD are the last men standing!
People hoard gold, whenever there is crisis of confidence on the paper currency.
PHOTOS: 10 SUPER expensive cars!
These super cars are not for everyday use.
RARE photos: A look at 63 years of computers!
History of computers can be traced way back to 1939.
Home growth can help ride over global slowdown
Pessimists argue that India cannot be decoupled from disturbing global trends.
How to safeguard oneself when buying a plot
A buyer has the right to ask and verify the certificates and documents cleared by the respective agencies or boards with regard to the property.
Reducing exposure to capital flows can help region
Reducing exposure to capital flows can help the region shield itself against volatility in global markets.
Want to be India's first Tech Idol? Try your luck!
Here's an opportunity to win the title of India's first Tech Idol. If you are the best developer and ready to take up a challenge, Gild.com offers you a lifetime opportunity to prove your mettle.
August 25, 2011
Switzerland to tax UK citizen's black money
It follows a similar deal agreed earlier this month between Germany and the Swiss authorities.
WARNING! High prices, tough times ahead, says RBI
The Reserve Bank of India on Thursday warned of difficult days ahead, saying inflation will remain at elevated levels for some more time while the economic growth rate will moderate in the current fiscal.pp
PHOTOS: The many faces of Steve Jobs
On Thursday (August 25), Steve Jobs resigned as Apple's chief executive officer and named Tim Cook as his successor.
Timeline: Steve Jobs's amazing innings at Apple
Steve Jobs' resignation is biggest blow to Apple, which is at the peak of its success.
Soaring inflation is bad news, am worried: FM
Finance Minister Pranab Mukherjee on Thursday expressed concern over rising food inflation, saying it is perilously near double digits.
Steve Jobs: The man and his words of wisdom
On Thursday, Steve Jobs resigned as Apple's chief executive officer and named Tim Cook as his successor.
Food inflation rises to 9.80 per cent
During the week ended August 13, fruits became dearer by 27.01 per cent and eggs, meat and fish by 13.37 per cent on an annual basis.
Challenges facing Apple post Jobs
Jobs will now be the chairman of Apple's board.
The man who messed with the average American
Sharma hit the Average Joe hard, though not directly. The fact that other raters Moody's and Fitch maintained their top rating on US debt only added to the discomfort.
PHOTOS: The new Rs 388,000 Indica Vista is here
The new Tata Vista delivers a sedan-like experience.
Nano gets a big lift within Tata Group firms
Higher price tag and soaring fuel costs have swayed buyers away from the ultra compact car over the months.
TCS to open BPO centre in Ahmedabad
India's largest information technology (IT) services provider, TCS, is setting up a greenfield business process outsourcing (BPO) centre in Ahmedabad that can house 2,000 people.
PHOTOS: World's top 20 vehicle-producing nations
Number of vehicles in operation worldwide surpassed the one billion-unit mark in 2010.
Indian states with highest per capita INCOME!
Per capita income in India has doubled between 2004-05 and 2010-11 to touch Rs 54,835 per annum. The PCI figure gives a fair idea of the standard of living of the people. India's per capita income in 2009-10 was Rs 46,492.
Jobs resigns; Tim Cook is new Apple CEO
According to his letter 'to the Apple Board of Directors and the Apple Community', posted on the Wall Street Journal website, Jobs said, "I hereby resign as CEO of Apple. I would like to serve, if the Board sees fit, as Chairman of the Board, director and Apple employee."
IMAGES: This Rolls-Royce may fetch pound 400,000
The vehicle once belonged to Krishna Raja Wadiyar IV.
Laptops dress up to woo tablet buyers
Since the introduction of Apple's iPad in 2010, tablet PCs have been dominating retail space.
August 24, 2011
Can automakers tide over the crisis?
Continuing slide in demand for new cars in Europe has made Maruti Suzuki edgy about business, but the automobile major is still looking forward to bagging export order for hatchbacks from Nissan this year.
SPECIAL: How the world is drowning in excess debt!
countries need to borrow to repay bonds that are maturing. And they also need to borrow to meet their current expenditure. So the debt just keeps growing.
SPECIAL: How unrestrained mining RUINED Bellary
Initially, it was all gold. But Justice Hegde's report exposed the dingy substrate of Bellary's mining operations.
How India plans to cut its loan pipeline
India may cut its loan pipeline from the World Bank or pre-pay some of the amount as it is running the risk of exceeding the borrowing limit from the global lender in next three years.
More jobs? Make trade unions LESS relevant!
Trade unions have to become much less relevant to India's future if we have to recognise that job-creation is more important than job preservation, says TeamLease CEO Manish Sabharwal.
Corruption in India has become worse: Ratan Tata
Top industrialists have expressed concern over the impact that worsening corruption has on their businesses and said there is no short-cut to becoming a billion-dollar company other than doing things the right way.
Will call PM, Chidambaram as witnesses: Raja
Jailed former Telecom Minister A Raja on Wednesday told a Delhi court that he would get Prime Minister Manmohan Singh, the then finance minister P Chidambaram and the current Telecom Minister Kapil Sibal summoned as witnesses to prove that the government did not incur any loss in the 2G allocation.
How Renault plans to capture the Indian market
The French carmaker wants to erase the Logan memory by opting for a premium play before going down the value chain.
Raise tenure, not EMI, says FinMin
In a letter to chairmen and managing directors of public sector banks, the finance ministry has asked state-run banks not to increase the equated monthly installment, in order to provide some relief to the borrowers since interest rates have risen sharply.
Mumbai world's cheapest city, claims study!
According to UBS Prices and Earnings Update, August 2011, Mumbai overtook 73 cities of the world to take the cheapest city crown with 40.2 points.
'India may have competitive edge over China'
The think-tank, however, said that in next two decades, China would continue to maintain technological and economic edge over India, but would have demographic disadvantage over its Asian neighbour.
US court rejects appeal, Strauss-Kahn free
A judge had earlier dismissed all charges against Strauss-Kahn, who was accused of forcing the maid into a sex act at a luxury Manhattan hotel, but her lawyers had filed an appeal to a higher court seeking a special prosecutor, the report added.
Financial inclusion: India's TOP 23 states!
The essence of financial inclusion is to ensure that a range of appropriate financial services is available to every individual and enable them to understand and access those services.
IMAGES: World's most amazing workplaces!
From office headquarters to car factories and elegantly designed-institutes, these buildings are truly architectural masterpieces.
Special: Hyderabad's new Nizams
Heart of the old city is a spectacle of all-night shopping and feasting.
August 23, 2011
Petrol in India costlier than in US, Pakistan!
Petrol prices in India are costlier than the United States but cheaper than European countries, Minister of State for Petroleum and Natural Gas R P N Singh said on Tuesday.
Now, bulbs can be used to broadcast broadband
Prof Harald Hass says the invention, dubbed D-Light, can send data faster than 10 megabits per second, which is the speed of a typical broadband connection, by altering the frequency of the ambient light in the room.
Why India's largest textile exports hub is DYING!
An 84-year-old farmer's court injunction has converted a booming export hub into a ghost town, causing exports to plummet and businesses to relocate.
PHOTOS: Ferrari sells for $16.4 mn at auction!
In auctions held this weekend, nine much-desired cars were on the block.
Now, Google+ issues verification badges
Being anonymous or using a pseudonym is no longer an option on Google+.
Arvind Virmani: Economist who became a diplomat
Former chief economic advisor on life in government and the reform years.
Strauss-Kahn: Prosecutors want charges dropped
The lawyer for hotel housekeeper Nafissatou Diallo also met with prosecutors briefly.
Cars from India, China? DON'T WANT say Americans
Market research firm GfK Automotive's Barometer of Automotive Awareness and Imagery Study found that Chinese and Indian auto-makers could face a similar purchase consideration curve to Korean vehicles when they launched in the US.
Deven Sharma to resign as Standard and Poor's head
Indian-American Deven Sharma, the president of Standard and Poor's, is stepping down by year end, an announcement coming only weeks after the credit rating agency downgraded American credit rating.
ITC, Tatas vie for hotel market share
ITC Hotels and Tatas' Indian Hotels Company will invest strongly over the next few years to add properties in the segment, considered a booming one.
IMAGES: India's top 20 BPO companies
India's top business process outsourcing (BPO) companies posted a total revenue of Rs 32,246 crore (Rs 322.46 billion) in 2010-2011.
How Bombardier plans to make it big in India
Starting with SpiceJet deliveries from this week, aircraft maker sees 'very exciting opportunity'.
PHOTOS: China's counterfeit culture!
Chinese counterfeiters have had a field day pumping out knockoffs of Apple Inc's best-selling iPhones and iPads, but one appears to have gone a step further -- a near flawless fake Apple Store that even employees believe is the real deal.
PM tells IIM grads how corruption can be curbed
Prime Minister Manmohan Singh addressed the Golden Jubilee of Indian Institute of Management-Calcutta in Kolkata on August 22, 2011.
PM exhorts IIT-ians to build a vibrant India
Even as Prime Minister Manmohan Singh addressed the 57th Annual Convocation and Launching of Diamond Jubilee of IIT, Kharagpur on Monday, some IIT students and others held a demonstration near the campus of the premier technical institute here in support of Anna Hazare's movement hours.
August 22, 2011
IMAGES: India's top 20 BPO companies
India's top business process outsourcing (BPO) companies posted a total revenue of Rs 32,246 crore (Rs 322.46 billion) in 2010-2011.
How Mumbai can cope with urbanisation
Developing new mass rapid transit system (MRTS) will help decongest the already choked roads of Mumbai and cope with rapid urbanisation, according to a report by industry body Assocham.
Business-as-usual will not work for 9% growth: PM
A 'business-as-usual' approach will not work if the Indian economy is to achieve its long-term 9 per cent annual growth target, which is "very ambitious" in the backdrop of global uncertainties, Prime Minister Manmohan Singh.
More pain: RBI may hike interest rates in Sept
RBI is likely to continue with its tight monetary policy.
Tutoring US students from Indian homes
Tutorvista teaches 20,000 students, 95 per cent of them from the United States. The rest are from 24 different countries. Ganesh plans to enter the United Kingdom, Canada and Australia next year.
Can hero live up to its name?
Now standing on one foot, Hero MotoCorp has to decide if it wants to play offence or defence.
How MindTree can rectify its biggest mistakes
MindTree tried its hand at making wireless handsets but failed. Now co-founder Ashok Soota has moved on to start a competing business.
The all new Reliance 3G tab plays out good
Everyone who has looked at a tablet PC and backed off because of the price will see sense in the Reliance 3G Tab, an Android tablet PC that costs just Rs 13,000 (data prices extra).
SPECIAL: Why China is at America's mercy
China exports, US buys. China gets the money. The money is in turn invested in US government bonds, i.e. lent to the US. The US, in turn, buys goods from China from the money that is lent, and China earns dollars in the process. These dollars are again lent to the US and so the cycle continues
Force One: The STUNNING Rs 11-lakh SUV
drives the new SUV from Force Motors and tells you all about it.
Narayana Murthy bids farewell to Infosys
Infosys employees presented Murthy and his family members a sketch of his on a rice grain.
Online classifieds: The next big thing on the Net
If you are looking for a free and effective way to get rid of used merchandise, this is the perfect platform to reach out to interested buyers/sellers beyond your circle of friends.
What is the KEY to India's economic success?
The key to the success of India's 12th Plan lies in what state governments can and will do.
13 US companies that offer amazing perks!
There are some companies that provide just about everything.
Mahindra plans compact Verito to get excise sops
Mahindra & Mahindra Ltd, the country's largest utility vehicle maker, will roll out a sub-four metre compact model of Verito, the rechristened Mahindra Logan, which is expected to attract only 10 per cent excise duty instead of the earlier 22 per cent. Also, it will have a lower price tag.
Maruti may make engines to meet diesel car demand
The surge in diesel vehicle demand has prompted the companies to explore options such as developing new engines as well as buying these from other companies.
IMAGES: China's aircraft carrier hotel!
A former Soviet warship has been converted by China into a floating luxury hotel. A look inside the hotel/aircraft carrier Kiev.
Must read! When you become an NRI
One cannot open a savings bank account, have a fixed deposit or a public provident fund.
Ambassador set to get a facelift!
With over 35 brands offering their cars, Hindustan Motors is on the brink of being forgotten.
August 19, 2011
India's economy robust; growth story intact: FM
Finance Minister Pranab Mukherjee on Friday asserted that India's economy is 'robust' and its growth story is intact, amid fears of another global economic turmoil that sent the world stocks into a tailspin.
Swiss banks info-sharing to be effective in Sept
Finance Minister Pranab Mukherjee on Friday said the agreement signed with Switzerland for sharing banking information on demand is likely to come into force by September.
Gold on fire; zooms to record high of Rs 28,150!
Gold climbed to an all-time high of Rs 28,150 per 10 grams in the national capital on Friday, posting its biggest-ever single day gain of Rs 1,310 amid frantic buying triggered by robust demand in global markets.
Why retail investors are flocking to gold ETFs
During April-July, the investor-base in gold ETFs expanded 24 per cent.
PHOTOS: 13 best diesel hatchbacks in India
Diesel is 40 per cent cheaper than petrol and some of the diesel cars are 30 per cent more fuel efficient as compared to their petrol variant.
Special: How to make PROFITS in a bear market
Bear markets are often shorter in duration than bull markets but they can have a devastating impact.
25 nations with most MILLIONAIRES by 2020
A study by New York-based Deloitte Center for Financial Services, titled The next decade in global wealth among millionaire households, says India is likely to experience the largest growth of a whopping 405 per cent in total millionaire wealth over the next decade.
SpiceJet chief says higher fares can fix finances
High fuel prices are not only taking a toll on airline companies' balance sheets, but also forcing them to innovate to cut costs.
PHOTOS: World's 10 worst oil disasters
An oil spill is a release of a liquid petroleum hydrocarbon into the environment.
Facebook not hit by social media fatigue
Facebook is the top social network in India.
Tough road ahead for new Air India chief
Biggest problem that Nandan faces is being able to simultaneously improve Air India's earnings and decrease debt.
Hackers cost finance firms Rs 7 crore a year
Indian banks saw their losses nearly double to Rs 12.6 crore.
Sensex plunges below 16K after 15 months
As many as 132 companies declined to their all-time low levels in morning trade on the Bombay Stock Exchange on Friday as weak global cues dragged the benchmark Sensex down by over 300 points.
PHOTOS: World's 10 richest diamond mines!
Diamonds are such a highly traded commodity that multiple organizations have been created for grading and certifying them.
They gave up BIG salaries to do GOOD for the world
Meet these corporates who chose to give up their high-income jobs, only to take up the cause they strongly believe in.
European debt crisis: Explained in SIMPLE terms!
The European debt crisis is possibly even bigger than the American one. But just what is the crisis all about? Here's a dummies guide to it. Read on . . .
Why the gold bubble will soon BURST!
Many are selling stocks and corporate bonds and putting their money into gold.
After 30 years, it is Murthy's last day at Infosys
Murthy will hand over his role to K V Kamath, who has been an independent director on the Infosys board since May, 2009.
August 18, 2011
Gujarat, preferred location for new Maruti plant
Top carmaker Maruti Suzuki on Thursday said that Gujarat is a preferred location for the company to set up its new manufacturing plant.
IN PIX: Gold rises to record Rs 26,840
Gold of 99.9 and 99.5 per cent purity advanced by Rs 160 each.
ICICI fined Rs 25,000; told to compensate customer
ICICI Bank has been slapped with a fine of Rs 25,000 by a Delhi district consumer forum for wrongly deducting Rs 40,578 from the account of one of its customers.
PHOTOS: 10 countries with least population density
There are some countries that have more animals than humans.
US probing S&P's rating of mortgages: Report
The investigation began before it cut the United States' AAA credit rating.
India Inc uneasy at Hazare standoff
Broader sentiment of lack of transparency bothers most in India Inc.
Morgan Stanley downgrades India ratings
Report maintains its underweight call on India.
How tablet PCs are SLUGGING it out in India
After mobile handsets, a price war is now brewing in the tablet PC segment.
PHOTOS: And now a hotel in space!
It will house seven guests in four cabins.
The 5 largest computer sellers in India
The combined desk-based and mobile PC market in India totalled nearly 2.5 million units in the April June quarter, a 2.5 per cent increase over the same quarter last year.
Crony capitalism: Why property prices don't fall!
So crony capitalism might be better than no capitalism but it comes with costs attached. And this should serve as a warning.
Gold jewellery will now fetch LESS loan
Companies change the way they calculate the value of gold, leading to a lower loan-to-value for customers.
UNVEILED! The all new Maruti SWIFT
Longer and wider platform, more fuel efficient, improved acceleration, plush interiors.
August 17, 2011
What India earns from telecom despite defaults
The government on Wednesday said it has received over Rs 2.15 lakh crore (Rs 2.15 trillion) so far from telecom operators as spectrum fee and licence fee.
India to be $5.6 trillion economy by 2020
India will see a three-fold jump in GDP.
Black money: UPA government loves tax evaders
'Considering that there was an estimated Rs 10 lakh crores of Indian money stolen and kept in foreign tax havens, the UPA government with one stroke of its tainted pen has granted immunity to tax-evaders who had stashed the loot in tax havens.'
Rajaratnam plea against conviction thrown out
A US court has denied a bid by billionaire hedge fund founder Raj Rajaratnam, convicted in May this year on insider trading charges, to reverse the verdict handed by the jury in his case.
India's 10 MOST valuable companies
State-run Coal India on Wednesday toppled billionaire Mukesh Ambani-led Reliance Industries as the country's most valued company, with a slightly higher market valuation around mid-day.
Now, scratch cards are a marketing tool
Mobile advertising industry is generating responses that are as high as 40 per cent.
Must-see: The GOLDEN Amul ads
Cartoon artist Bharat Dabholkar has been involved with sketching the Amul ads since the 1980s.
Is the high margin story OVER for Indian IT firms?
Adverse economic and political conditions in the US and rising costs could see margins drop for the IT biggies.
IMAGES: 10 BIG projects that can transform India
The current lacklustre mood of the nation could well be revitalised with a clutch of game-changing projects.
Economist PM highly economical about economics
India had time to plan and improve its competitiveness and infrastructure. Yet it chose not to. And for that we need to blame our government, says .
PHOTOS: The STUNNING new VW Jetta hits roads
German name Volkswagen translates into English as the 'people's car'.
India: A scoop of vegetarianism and Americanism
Germ-dreading, bottled water-dependent upper-class Indian has to be reassured that what is on offer is safe to slurp.
Airbag for mobile phone? It's possible!
Mobile phone could someday have an airbag.
Here's what IBM and IIT are doing for the Ganga!
Given the tonnes of sewage and filth that have accumulated in the Ganga over the years, this may seem to be a drop in the ocean.
Why people hoard gold and buy it during crises
If you hoard a metal like copper, you will be taking it away from its genuine industrial users. So in the end people hoard gold, whenever there is crisis of confidence on the paper currency.
August 16, 2011
Automakers in trouble: Tatas, Maruti cut output
With the domestic auto market going on a downhill slide, Tata Motors and Maruti Suzuki have cut production as the automobile industry braces up for a single digit sales growth this fiscal.
Being a nice guy doesn't pay off, literally!
Nen with disagreeable personalities are 18 per cent more likely to earn more than nice guys.
Inflation at 8-month low of 9.22%
On an annual basis, prices of food articles went up by 8.19 per cent in July, which is lower than the 8.38 per cent inflation recorded in June.
Will Microsoft now woo Nokia?
The possibilities are: Apple, Google and a third player. The pursuit of that third slot is where there will be blood on the streets -- who will win, RIM or HP or Microsoft?
Battle over smartphones: Samsung takes on Nokia
Samsung is counting on snazzy new products, innovative marketing and vaulting ambition to close the gap on rival Nokia in this lucrative segment.
How US beat its 1st debt crisis in 18th century
Both Europe and the US can learn a lesson from American history to overcome their debt problems.
IMAGES: World's 10 STUNNING yachts
The world's largest luxury yacht is Eclipse.
IMAGES: 20 most POPULAR cars in India
Sales plunged to 133,747 units from 158,767 in the same month last year.
IMAGES: India's best and worst performing states
The sustainable competitiveness report measures of the responsible growth of a state.
PIX: T3 to remain India's largest airport for now
The existing capacity will be able to match passenger growth.
August 15, 2011
Google to buy Motorola Mobility for $12.5 bn
The all-cash deal will boost Google's competitive edge in the mobile computing arena as well as give it access to Motorola's range of Android operating system-based offerings.
Govt debts crossed $41 trillion globally in 2010
Many governments, especially in the developed world, have resorted to massive stimulus measures to bolster their economies since the 2008 global financial meltdown.
India may see about 1 mn 'green jobs' by 2013
As green jobs exist in all sectors, this means more engineering, more construction and more management jobs.
India to be downgraded? No such immediate threat
The ratings are opinions that reflect the ability and willingness of the rated entity to meet financial obligations.
IMAGES: A new SMALL car from Hyundai soon
This car has been codenamed H800 and is also called Hyundai HA and it will take on Tata Nano, Maruti Alto and New Maruti 800.
When Dhoni's team WILTED, ad rates went for a toss
While no one knows whether the Indian cricket team will be able to regain its number one Test nation status in the near future, the consensus is that advertisers will refuse to play ball for some time at least.
When bears come calling, what brokers DO
Many have downgraded EPS estimates for the Sensex in FY12.
Use your mobile to drive, explore a car
Technology is operational in 2,000 high-footfall areas such as malls, hangout locations, airports, stadiums and showrooms across the country.
August 12, 2011
Buy a Mahindra aircraft for the price of a Ferrari
India's first private sector made civilian aircraft -- NM5 -- is all set to take off within the next six weeks. Developed by Mahindra Aerospace and NAL, it costs up to Rs 1.8 crore (Rs 18 million).
Auto sector slowdown! Maruti cuts production
The country's largest car maker Maruri Suzuki India on Friday said it has cut down production on most of its models this month due to slowdown in the market.
India 5th most indebted among developing nations
The government on Friday said that India is the fifth most indebted country among the 20 developing nations but its debt is within manageable limits.
Direct Taxes Code set to miss deadline again
The Direct Taxes Code Bill, introduced in Parliament on August 30 last year, proposes to replace the 50-year-old Income Tax Act.
END to pesky calls, SMSes likely in 6 weeks
In a relief to millions of mobile phone users, telecom regulator Trai on Friday said it will take 4-6 weeks to curb the menace of unsolicited calls and SMSes after DoT cleared the '140' number series exclusively for landline phones of telemarketing companies.
India's industrial growth jumps to 8.8% in June
Industrial growth in the country revived moderately to 8.8 per cent in June this year on the back of a smart recovery in the manufacturing sector and better offtake of capital goods.
In GRAPHICS: The booming Indian economy
Here are some aspects of the Indian economy in graphics.
PIX: How India can be a global business powerhouse
Marketers need to build on the country's core values to strengthen Brand India's presence abroad.
Air India will NOT be privatised, says govt
Crying foul, the Opposition on Friday alleged in the Lok Sabha that there was a deliberate design to make state carrier Air India bankrupt in order to privatise it, prompting the government to rule out privatisation and promise administrative and monetary steps to turn it around.
RARE images: Mumbai's infrastructure since 1864!
Mumbai, formerly called Bombay, is India's financial powerhouse. It is also home to close to 2.10 crore (21 million) people, making it the most populous city in the country.
Is Hyderabad going the Kolkata way?
Movement for a separate statehood to the Telangana region is taking its toll.
The Man who brought the US down
The US treasury bond has been perhaps the most resilient feature of the American economy.
IMAGES: Gold never glittered more!
Gold prices have hit a record high of Rs 26,000 per 10 grams for the first time ever.
SPECIAL: How India became a ROARING Asian tiger!
Twenty years of economic reforms later, the Indian elephant has morphed into a tiger, averaging 8.5 per cent growth in the last decade. . .
MUST READ! Does India have cash to repay its debt?
Here we try to give you a basic understanding of the whole US debt crisis and also give insights into the Indian scenario.
Do we really need B-schools? Solve & WIN Rs 25,000
What is the core objective of a bschool?
August 11, 2011
Sebi to keep an eye on rating agencies
The regulator will revisit the rules for credit rating agencies after monitoring the domestic and global developments in this regard.
SBI raises lending rates by 0.50%
SBI held its asset liability committee meeting on Thursday evening to finalise its rate hike move.
BlackBerry Bold 9900 hits Indian market
It comes with a keyboard along with touch display.
The secret behind Cognizant's AMAZING success
Hiring during a recession and leveraging a stable succession gameplan are just a few amongst many other things that this firm did right.
Now France is in a mess! World markets shudder
Banking shares led the free fall and dragged almost all major European indexes down with them.
No respite: Food inflation rockets to 9.90%
Food inflation surged to a four-and-a-half month high of 9.90 per cent during the week ended July 30 on the back of costlier onions, fruits, vegetables and protein-based items.
How markets came to hold nations to ransom!
Standard and Poor's action has left many speechless.
Why Air India is plagued by mounting losses
The government-owned carrier has asked for withdrawal of flights from destinations such as Hyderabad, Ahmedabad, Bangalore, Lucknow, Chennai and Jaipur, among others.
Photos: America's WORST economic disaster!
The Great Depression, that began almost 10 years before World War II broke out, is said to be the worst-ever financial crisis that the United States and many other nations across the world ever witness to.
Telecom policy to allow pooling of spectrum
The policy is also pushing for a one-country-one-licence regime, which means removal of roaming charges.
SPECIAL: 5 stocks investors can bet on
Experts believe investors should focus on protecting capital rather than chasing returns.
20 nations with the HIGHEST debt in the world
Once the envy of the world, these nations are now posing a threat to the world economy.
Special: Has US managed to avert RECESSION?
The recession scare is back with the United States' economy plunging into another grave crisis.
August 10, 2011
Oil companies STOP fuel supply to Air India!
State-owned oil marketing companies on Wednesday stopped jet fuel supplies to Air India in the four metros after cheques from the national carrier towards payment for fuel bounced, raising fears that the airline's flight schedules might be badly disrupted.
EXCLUSIVE! Kiran Mazumdar-Shaw on entrepreneurship
The story of Kiran Mazumdar-Shaw is one of grit, self confidence and courage. If today she is one of the most successful entrepreneurs in the world, it is because of her determination.
Aura of America's economic might has faded
The US political system might not be as broke as some thought but the deal came a bit too late to allay apprehensions.
DEBT: How much does India OWE to whom
India's gross public debt to GDP ratio fell from 75.8 per cent to 66.2 per cent.
IMAGES: The 10 most searched NEW cars in India
Internet search giant Google tabulated the searches by consumers in India from January 2010 to May 2011.
Apple's STUNNING success at the bourses!
Technology giant Apple on Tuesday briefly displaced energy major Exxon Mobil to become the world's most valuable company.
The Web is 20 years old! What next?
Twenty years ago, a British computer scientist, Tim Berners-Lee, posted a short summary of a project on the alt.hypertext newsgroup, and also designed a crude website, with a few hyperlinks and some text to describe a project he christened the 'world wide web', or W3.
Why the world needs true LEADERS to avert crises
The crisis in Europe and the US and the short-sightedness with which it has been handled is enough to make people lose faith in governments across the world.
Now, Facebook and Twitter under govt SCANNER
The government has the power to monitor, intercept and even block online conversations and websites.
Most Indians will hop jobs in next 5 years: Study
According to a survey by global workforce solutions leader Kelly Service -- Kelly Global Workforce Index 59 per cent of Indian employees surveyed expect to switch careers within the next five years due to money and lifestyle issues.
Markets in roaring form; Sensex above 300 pts
...helped by a Wall Street rally after the US Federal Reserve yesterday pledged to keep US interest rates low at least through mid-2013.
US downgrade worries Indian business schools
While the rating cut will raise borrowing costs for the US government, companies and consumers, Indian educational institutes fear it may also impact recruitment plans of international companies.
Mayawati's budget: Rs 50 cr for personal comfort!
This came to light on the floor of the Uttar Pradesh Assembly where a supplementary budget of Rs 10,879 crore (Rs 108.79 billion) was tabled during the course of the on-going monsoon session in Lucknow on Tuesday.
August 09, 2011
Gold retains its sheen, hits new peak of Rs 25,840
Riding high on a firm trend in overseas market, gold prices today added Rs 610 to touch an all-time high of Rs 25,840 per 10 grams, as the turmoil in global financial markets increased the metal's demand as protection on wealth.
RIL's stake sale to BP gets govt nod
Cabinet Committee on Economic Affairs had on July 22 cleared the sale of stake by RIL to BP in 21 blocks.
IMAGES: New luxury Aria at Rs 11.85 lakh
Tata Motors said it has completed its luxurious crossover range with the launch of the new premium car Aria 4x2.
India ready to face any challenge: FM
Pranab Mukherjee says India's economic fundamentals are strong.
RARE photos! America's Great Depression of 1930s
Here are some great photographs of daily life during the Great Depression of the 1930s in the United States.
US must borrow and spend MORE: Indian-born expert
The Chief Financial Officer of Washington DC, Natwar Gandhi, who is credited with turning around the financial fortunes of the US capital, on Monday said America needs to borrow more and spend more money in order to stimulate the economy.
Subbarao to remain RBI Governor for 2 more years
Ending months of suspense, Prime Minister Manmohan Singh on Tuesday gave a two-year extension to RBI Governor D Subbarao beyond September.
While market experts in India were sleeping . . .
All the newspapers and business news channels on Monday morning told us that the world is now going to change again. But these very guys had no clue till a few days back, and were gung ho about the Indian economy, the Sensex and pretty much everything else.
Air India chief might be offloaded
Civil aviation ministry has also reached a consensus to give a five-year term to the next CMD of the ailing state-owned airline.
Why the US downgrade is a BOON for India
Fall in oil prices is good news, as every $10/bbl price swing impacts the current account deficit by $8 billion.
Knives are out! S&P's US downgrade may be probed
The unprecedented downgrade of the US' creditworthiness by ratings agency Standard and Poor's may face a probe by a Senate committee, reports have said.
Stocks NOT plunging due to downgrade: US official
A top US official said the Dow Jones Industrial Average's 600 points plunge on Monday was not due to the downgrade of America's credit rating, but reflects the deep unease in the market about conditions in other parts of the world and the strength of the economic recovery.
PHOTOS: Global job cuts show economy on brink!
In an effort to improve their balance sheets, many of the major multinationals have started to lay-off employees.
Obama on why US will always be a 'triple-A' nation
President Barack Obama on Monday strongly defended US credit after a historic debt downgrade by rating agency S&P and said America will always be AAA nation as its economic problems were 'eminently solvable', given the political will.
Indian behind US downgrade SPEAKS out!
Facing criticism inside the United States for downgrading America's credit rating from AAA to AA+, the Standard and Poor's Indian-American president Deven Sharma has said that the agency's decision was made mainly because of the rising debt levels and the process of resolving things.
Global markets crash; Indian stocks recover
The market meltdown triggered by the US debt downgrade continued with full force on Tuesday too as the Indian stock markets tanked again.
SPECIAL: All about credit rating agencies!
A credit agency evaluates the credit worthiness of an issuer of specific types of debt.
US debt still worth 'AAA' rating: Warren Buffett
Legendary investor Warren Buffett feels that the US debt is still worth 'AAA' rating and if anything has to change, it may be his opinion about rating agency S&P rather than his view on US Treasury bills.
US crisis: How will it impact your MFs, gold
With fear of a slowdown looming, a steep fall in world's markets last week and the US being downgraded first the time in seven decades, domestic retail investors have made losses in their most-favoured schemes this year.
US crisis: Just what is 'double dip', 'tea party?
Facing a 'double-dip' risk, the United States government is blaming 'tea party' politicians for the situation, though these are the jargons associated with the economic scenario of the world's largest economy.
US crisis: What investors MUST do and NOT do now
Here are three ways you can use your emotional intelligence while investing in stock markets:
August 08, 2011
Good news! Goldman upgrades India rating
Citing expected improvement in macroeconomic situation, Goldman Sachs on Monday upgraded India's rating to 'market weight', indicating bullishness in the short-term.
Gold breaches Rs 25K mark, to hit Rs 27K by Diwali
Gold prices breached the crucial Rs 25,000-level for the first time ever in history, tracking strong trends in global markets where financial uncertainty increased the metal's appeal as a safe investment haven.
'Slump a panic reaction, stocks will bounce back'
Describing the slump in the market early Monday morning as a knee-jerk reaction to the negative global sentiment, experts said the markets will soon bounce back and lots of value buying will happen at lower levels.
US downgrade: The consequences are CHILLING!
This could lead to an unprecedented bloodbath in the global financial markets.
Crisis? US will still remain on top
Economics may be shifting power from the West to the East but the US would remain on top.
Now India, several other nations face downgrade!
Ratings agency Standard & Poor's on Monday cautioned that it could lower the sovereign ratings of countries like India, Japan and Malaysia, which 'are still to come out of the economic meltdown of 2008'.
CRASH! Why stock markets will continue to fall!
With the downgrade there is a danger that investors who hold these financial securities may sell out. Of course, the level of selling will depend on the way the investors react to this downgrade.
The Indian behind the US rating downgrade
There is an Indian at the helm of affairs surrounding the historic downgrade of the United States' creditworthiness, as ratings agency S&P's unprecedented move was taken under the leadership of Deven Sharma.
Sensex crash: Indian blue-chips in freefall
Blue-chips like Infosys, Reliance Industries and TCS went into a tailspin on the bourses today as investors abandoned their holdings in companies that rely heavily on exports after the US lost its top-notch credit rating.
US blues make Indian markets see red
Investors say stocks to drift further, but impact of rating downgrade may be short-term.
MAYHEM: Sensex plunges, world markets crash!
The Bombay Stock Exchange's Sensex plummeted to 16,865.58 on Monday early morning trade, down 440.29 points or -2.54%, while the Nifty crashed to 5,077.05 points, down 134.20 or 2.58%.
PHOTOS: 17 countries with the STRONGEST economy
Out of 200-odd countries, just 16 nations have the coveted triple-A rating.
FDI into India rockets to $5.65 billion in June
Foreign direct investment (FDI) into India saw a whopping 310 per cent increase in June to $5.65 billion, the highest monthly inflow in the last 11 financial years, indicating the revival of investor confidence in the Indian economy.
August 05, 2011
Market crash: Investors lose Rs 1,300,000,000,000
The investors were left poorer by over Rs 1.33 lakh crore after today's stock market crash, even as the market managed to recover nearly half of the losses suffered earlier during the day.
Markets crash: What investors MUST do
The common Indian is already under pressure from rising inflation, investments giving poor returns and lower salary hikes too!
PIX: Raj Thackeray visits Nano plant in Gujarat
Maharashtra Navnirman Sena (MNS) chief Raj Thackeray who is on a 'study tour' to Gujarat showered praises on Chief Minister Narendra Modi for his business development skills.
This tablet PC costs only Rs 13,999!
A tablet PC, though smaller in size, has PC-like functionalities.
Amazing pics: How CHINA changed through the years
It has been an incredible journey for the Chinese economy.
Price rejigs put luxury cars on fast lane in India
General Motors, Nissan Motor India and Volkswagen managed to ride the tide with new launches.
SPECIAL: Sensex is sinking. Blame the Americans
Since its close on Monday (August 1), the Sensex has fallen more than 1,000 points or around 6.4 per cent.
Diesel subsidy end good news for smaller cars
Dynamics of auto business will change if the government ends diesel subsidy to passenger vehicles.
AI wants Lufthansa punished over Star Alliance
Lufthansa is a founder member of Star Alliance and was the mentor airline for facilitating Air India's entry.
Markets sink on global meltdown
The stock markets tanked in morning trade on Friday and sent the benchmark Sensex down to its lowest level in 13 months.
Jhunjhunwala pledges 25% of wealth for charity
Jhunjhunwala said that his decision was personal and might not have anything to do with Buffett's pledge.
IMAGES: New TALLEST buildings in India!
Most of the new skyscrapers in India are coming up in the financial hub of Mumbai.
IMAGES: Nissan Sunny, the NEW car in town
The price is expected to remain around Rs 700,000 to Rs 900,000.
India's airlines: Biggest losers and gainers
National carrier Air India incurred a loss of over Rs 5,500 crore during the 2009-10 fiscal, the government said on Wednesday.
August 04, 2011
PIX: First transatlantic flight powered by biofuel
Aeromexico successfully completed a 11-hour flight from Mexico City to Madrid on a biofuel-powered Boeing 777-200ER airplane.
Own a car? Forget subsidised diesel
With passenger cars consuming about 15 per cent of the diesel, the government on Thursday indicated that it might do away with the subsidy enjoyed by such vehicle owners.
IMAGES: World's 15 most STUNNING libraries
IMAGES: World's 15 most STUNNING libraries
No CBI probe into Mukesh Ambani's Antilla
An inquiry is on into the land dispute regarding Mukesh Ambani's Antilla skyscraper.
India most popular source of spam in June
Brazil returned to second place with an increase of 4.4 percentage points.
Stunning images: The world's NEW tallest tower
The overall construction cost of the tower is $1.2 billion.
PHOTOS: World's 10 best airports!
World Airport Awards Skytrax 2011 held in Copenhagen has honoured the airports.
Mamata likely to issue notice to Hindustan Motors
Government sources say they believe the company gave a false picture of what it proposed to do with the money from the sale.
Modi: Iron man to ladies' man with focus on growth
The Gujarat chief minister is going all out to make Modiland a safe haven for women.
How to tackle high food prices? BJP has an ANSWER
Former finance minister Yashwant Sinha of the Bhartiya Janata Party (BJP) on Wednesday asked the government to supply 25 million tonnes of food grains to the markets from 65.5 million tonnes stored in its coffers.
SPECIAL: IT can be India's economic driver
Breakthrough comes when you can innovate and produce a new product.
Unveiled! The STUNNING new Nissan Sunny
The vehicle will be soon available in 1.5 litre petrol version.
August 03, 2011
We have not bribed Raja: Ratan Tata
We have not paid Rs 20 crore as bribe to former telecom minister A Raja, says Ratan Tata.
Earn Rs 6 lakh/year? Pay Rs 642 for LPG cylinder
The government should end subsidised domestic cooking gas (LPG) for people with income of more than Rs 6 lakh per annum, a Parliamentary Panel has suggested.
IMAGES: Top 20 IT companies in India
The top 200 IT companies in India posted the highest growth in four years.
IMAGES: World's top 10 gambling nations
Gambling is a major revenue spinner globally.
How SWIFT plans to continue as king of hatchbacks
Competition and capacity issues have led to a drop in market share for Maruti's premium hatchback. A new version aims to re-capture it.
PIX: Toyota Etios Liva and its 3 BIGGEST rivals
Toyota Liva has hit the Indian B segment car market with a bang and is priced aggressively at a starting price of Rs 399,000.
17 signs that the Indian economy is SLOWING down
The Prime Minister's Economic Advisory Council said on Monday that India's GDP growth will slow down to 8.2 per cent in the current fiscal. Its earlier growth projection was at 9 per cent.
Putin calls US a PARASITE on global economy
Calling the United States a 'parasite' on the global economy, Russian Prime Minister Vladimir Putin said, "They are living beyond their means and shifting a part of the weight of their problems to the world economy."
EXPOSED! UK financial data sold in India
The report once again raised questions about data protection laws in India and demands that the UK companies bring back call centres to Britain.
Senate passes debt bill; Obama vows for new jobs
United States President Barack Obama on Tuesday vowed to focus on job creation and faster economic growth as the US senate passed the debt ceiling bill to avert a major economic crisis at the last moment.
August 02, 2011
FinMin trying to scuttle probe into 2G scam case?
As the role of the powers-that-be in the government comes under the scanner, pressure is being mounted on the two ED officers investigating the 2G case from the highest level, particularly the finance ministry.
HSBC: No plan to cut jobs, hard to fill posts
HASBC says India is a strategic market and one of the key profit centres.
Bankmen across India to strike on Friday
Demands include non-privatisation of nationalised banks.
India sees sharp decline in FDI
India's global ranking as a destination for FDI has fallen from eight to 14.
US crisis: How to stop the scary rise of debt
There is need for trans-national political mobilization in favour of more equitable systems, says .
NEW Maruti Swift and its 8 closest rivals
The New Maruti Swift has been around in the UK since 2010 and has also been voted the safest super-mini there lately.
Only the RICH can live comfortably in India
Only those who can "afford" to not depend on the Indian state can live comfortably in it.
20 years of reforms: Where UPA has gone wrong
There is a requirement for a fresh push, especially in agriculture, education and health which would deliver the inclusive growth -- the target of policy.
World's BIGGEST gold reserves; India at 11
A gold reserve is held by a central bank or nation as a valuable resource.
10 Indian CEOs ruling global biz of over $400 bn!
Indians are increasingly rising to the top of global corporate ladders and just 10 of them are together managing business worth over $400 billion -- an amount nearly double the total exports from India in a year.
PIX: Fall in love with the stunning Ferrari 458!
The F458 is a great piece of design, flowing smoothly from end to end.
PHOTOS: World's top 20 convention cities!
Singapore has retained its position as Asia's Top Convention City.
Realty slump? Bah! Property worth crores sold
This time the targets were the colonial style bungalows in the southern tip of the country's financial capital.
August 01, 2011
W Bengal's huge debt: Centre plans rescue package
The Centre is working out a financial package for West Bengal to tide over the huge problems the new government has inherited from the Left Front administration, Union Finance Minister Pranab Mukherjee said on Monday.
Rs 70 crore! Pay packet proposed for Sunil Mittal
Telecom giant Bharti Airtel on Monday proposed an annual pay package of up to Rs 70 crore (Rs 700 million) for its chief Sunil Mittal, besides other benefits, while seeking its shareholders' nod for his remuneration.
Star Alliance dumps Air India
Government called the move 'unexpected and disappointing'.
Maruti suffers biggest sales fall in July
The country's largest carmaker Maruti Suzuki India on Monday reported a 25.34 per cent fall in total sales for July to 75,300 units, mainly due to sluggish market condition and non-production of hatchback Swift as the company is preparing to launch a new version of the car soon.
MUST READ: Why the US debt crisis will hit us all
At the core of the present conundrum are certain fundamental theories of macroeconomics -- much of which was debated, celebrated and even imposed on others -- without even considering the possibility that such ideas could be plainly wrong or unworkable in entirely different circumstances, countries or cultures.
SPECIAL: The success story of Mitticool's inventor
Mitticool turned out to be a hit - its maintenance costs were minimal, and the fact that it ran without electricity was a boon for villages where power was in short supply.
HIGHLIGHTS: GDP to grow 8.2%, FIIs may shun India!
The main worry is that the inflation rate is expected to remain high at 9 per cent till October, the Prime Minister's Economic Advisory Council said.
IMAGES: World's 25 STUNNING metro stations
The world's first metro system, London Underground opened in 1863.
India to become mobile manufacturing hub
Fourteen years ago, the telecom market was thrown open to private and foreign players.
Get ready to welcome these CHEAP sedans and SUVs
Several manufacturers such as Mahindra
SPECIAL: Tips to make email marketing effective
As more and more marketers turn to email marketing, the email recipient's inbox is getting cluttered.
US debt crisis: Lawmakers finally reach agreement
The first part of this agreement will cut about $1trillion in spending over the next 10 years.
IMAGES: Urban India faces mobile glut
Everyone in urban India has, on an average, a mobile connection.
Someone's stealing your vehicle, SMS alerts you!
Vazhikatti Systems' pager-sized device, powered by a GSM module, detects tampering and immediately sends an SMS to alert the owner whose phone the device is connected to.
Archives
July 2011
|
June 2011
|
May 2011
|
April 2011
|
March 2011
|
February 2011
|
January 2011
|
December 2010
|
November 2010
|
October 2010
|
September 2010
|
August 2010
|
July 2010
|
June 2010
|
May 2010
|
April 2010
|
March 2010
|
February 2010