Discuss the Budget with journalist-analyst Shankkar Aiyar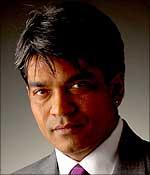 Journalist-analyst
Shankkar Aiyar
is the author of
Accidental India: A History of the Nation's Passage through Crisis and Change
.
Aiyar, an award-winning journalist who has reported on the political economy of India for more than 30 years, says Indians live in the 21st century while the government is still lost in physical queues, paper trails of triplicates and red tape.
A specialist in the interface of politics and economics, he will take your questions on the Union Budget at
4 pm on Friday, March 1.
Do join us.
Also read
'Every transformation in India has come amidst crises'
(
The date and time of the chat may change due to circumstances beyond our control.
)