Chat: Union Budget with Dr Sanjaya Baru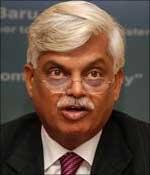 D
r Sanjaya Baru
is one of India's most respected commentators on political and economic issues.
From May 2004 until August 2008, he was the official spokesman and media advisor to the prime minister of India.
His research work spans a wide range of areas including Indian industrial, fiscal and trade policies and the regional aspects of India's development, with a focus on emergence of first generation business enterprise.
He has had long stints in both academia and the media, where his last designation was editor,
The Business Standard
.
Dr Baru will answer your questions on the Union Budget at
4.30 pm
on
February 28
. Do join us.
(
The date and time of the chat may change due to circumstances beyond our control.
)